A Detailed Look At The 10 Most Important Instagram Features
post
Without a doubt, Instagram is one of the biggest social media platforms nowadays. It's almost impossible to have a successful social media marketing campaign without Instagram. As a social network built around photos and videos, Instagram made its way to popularity thanks to its simple filter feature that can make any photo look high-quality with little effort. But if the platform only had one feature, it wouldn't be where it is right now.
There are tons of Instagram features that are being updated constantly. In fact, it can be quite overwhelming trying to keep up with all of them. But if you want to make the most out of your Instagram, there's a few that you should focus on. So we're discussing the 10 most important Instagram features that you should be utilizing in your Instagram marketing strategy.
1. Instagram Live Video
What Is Live Video?
Live Video is a feature that enables Instagram users to stream video in real-time. Users can directly communicate with their followers and engage by comments and reactions.
While users broadcast a live video on their Instagram account, the profile photo, which is in the story section, has a light ring that notifies their followers to join the live broadcast.
Instagram Live Features
Instagram Live Video includes quite a lot of useful features that enable users to engage with followers. The noteworthy ones are:
Broadcast video in real-time
Save your live video to replay in Instagram Stories
Followers can comment and react
Pin comments to the top of the video
Invite a friend who is watching the live video to stream together
View engagement numbers after broadcasting
Instagram Live Best Practices
Talk to your followers like a friend: With this Instagram feature, your followers can watch their favored brand' s representatives engage with them, they ask questions in the comment section that you can answer in real time, and followers can react using heart and smiley face emojis.
Encourage genuine interaction: If you're hungry for real customers' opinions or feedback on your products, this is definitely a good chance to ask for that. Let's say you're developing a new product, and want to know your customers' opinion about it. Instead of simply announcing it in a post, stream a video and ask them about it directly.
Instagram Live ideas: Many brands have incorporated these ideas into their live videos and got better results in customer engagement. You should try them out too:
Reveal a new product
Explain a product's features
Announce a sale campaign
Show the behind-the-scenes work
Hold a Q&A session
Sell products directly
2. Instagram TV – IGTV
What Is IGTV?
IGTV is an in-app platform that allows accounts to upload long-form videos. Users can find the IGTV page on the Explore page. Instead of beginning with the search box, videos are displayed automatically once users open the IGTV tab.
IGTV Features
Instagram shows certain IGTV videos based on the users' activities and interests. Any user from both personal account and business account groups can upload IGTV videos to interact with their audience and friends.
Allows videos up to one-hour-long
Vertical and horizontal video forms
Videos are recommended based on user's following accounts
Allow IGTV search
Share one minute preview on the main feed
IGTV Best Practices
You can deliver a huge amount of information through IGTV videos with a maximum of one hour. You can cross-promote your content and upload your Youtube videos to your Instagram so that your followers won't need to go to the other app to watch your long-form content. There are various ideas to diversify your videos' content:
Vlog: capture your everyday work and share them to your audiences
Company's culture: make your business more human and lively, make videos including employee interviews, office games, birthday parties, etc.
Interview: invite a well-known public figure or an influencer to add credibility to your brand
Testimonial: tackle concerns about buying your products by showing real customers with their feedback and stories
Tutorial: provide useful tips about your products or how to use them
Behind-the-scenes: Show behind-the-scenes footage of productions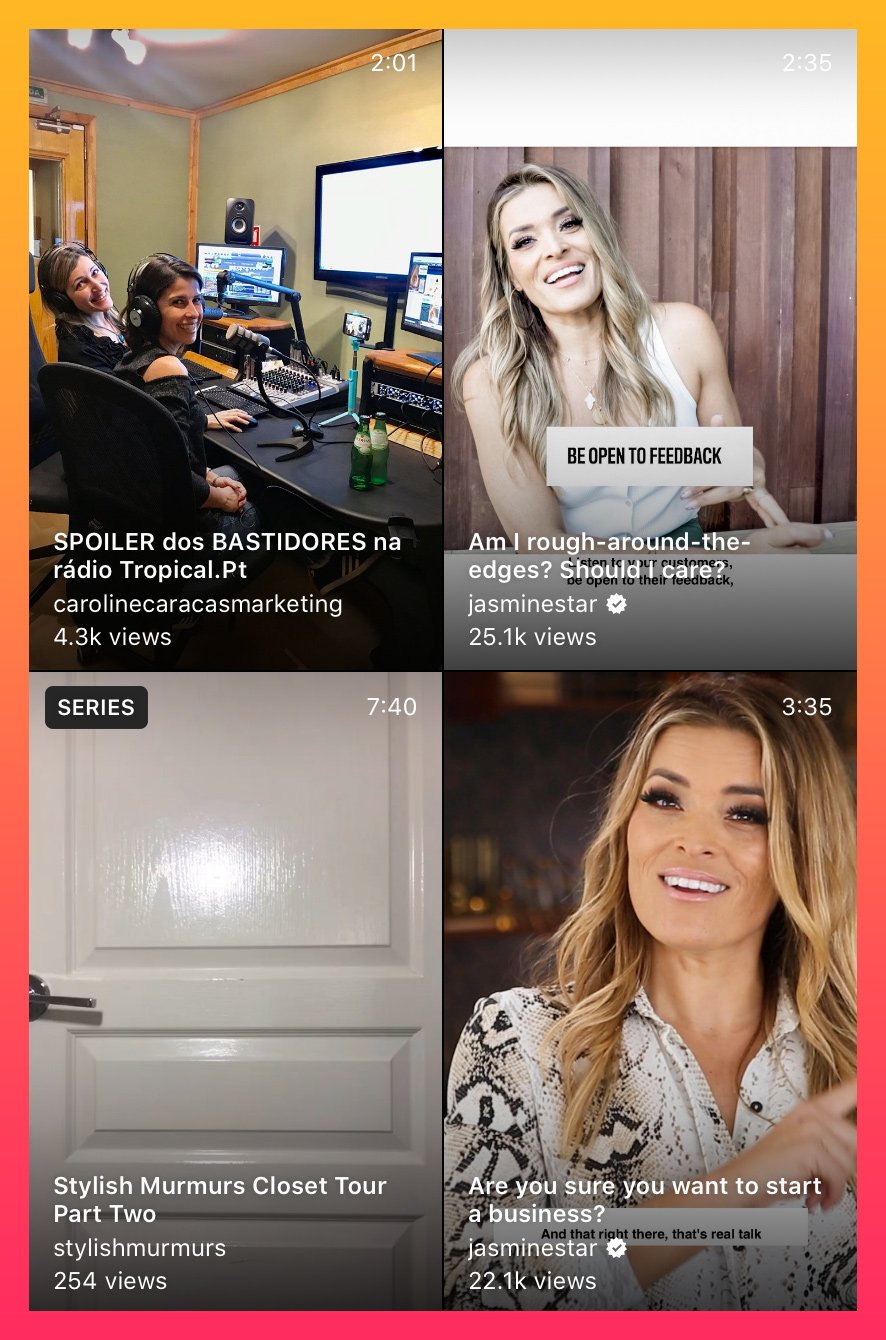 To promote your IGTV well, add a one-minute preview on the main feed. IGTV videos naturally float on customer's feed while they scroll. At the same time, make sure to edit your videos' beginning and the thumbnail image to make it attractive to your followers.
People who make the effort to go to your IGTV channel, like, or comment on your IGTV videos, are surely interested in your brand. This is a great Instagram feature to use to nurture your audience and turn them into customers in the future.
3. Geo-Tagged Content
What is an Instagram Geo-tag?
Geo-tagging is an Instagram feature that allows users to tag a physical location to your content. When someone clicks on the location in a random post or story post, they'll be taken to a location library that keeps all the posts tagged with that location.
Instagram Geo-Tag Features
Users can create an Instagram location through Facebook
Add location to posts, stories, hashtags
Add location stickers to stories
Geo-Tagging Best Practices
Let guests check-in on Instagram: When you create a location, customers can pin it to photos or stories. It's a great way to let customers see more than just your Instagram account's posts and find your content through that location. Also, when checking-in at your place, customers spread your brand name to their friends. Utilizing this feature can help you grow your audience, and get more followers on Instagram.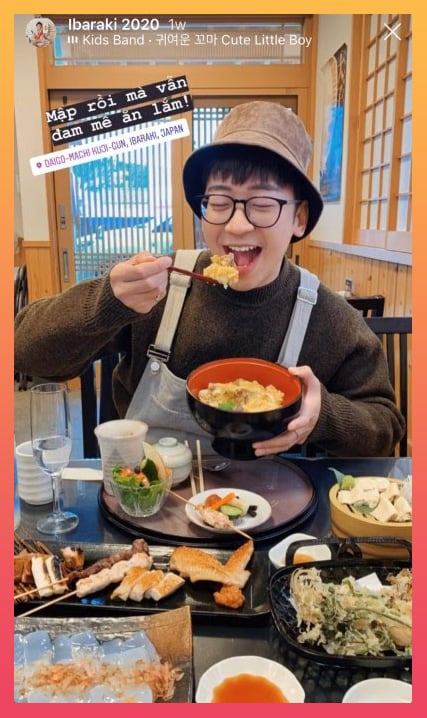 4. Instagram Hashtag
What Is An Instagram Hashtag?
This is probably one of the most popular Instagram features. Simply put, hashtags are a tag in the form of a string of words and symbols. Users include this string in the post caption. This tag links all posts that have the same tag and it's clickable. When someone clicks on it, they'll be taken to a tag page with all posts with the same tag.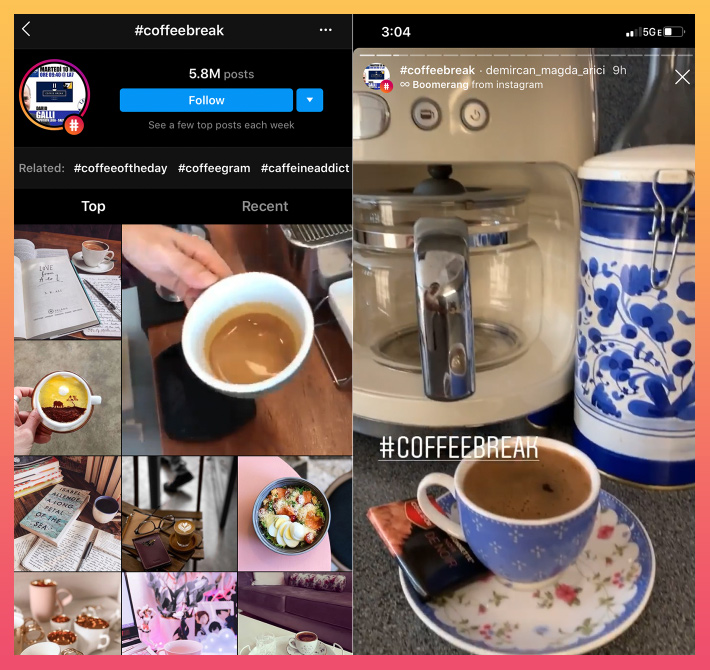 Instagram Hashtag Features:
Add hashtags to stories, images, video, IGTV videos
Create a new hashtag if it hasn't been created
Search for hashtags
Find related hashtags
Add up to 30 hashtags on each post
Best Hashtag Practices
Use the right keywords to let customers find your content: It's not Google, but Instagram users use the search tool frequently to find people or certain topics through hashtags. Instagram matches the searched term with hashtags to show results. So when you add hashtags to your posts they are cataloged, and Instagram users who are searching that particular word or phrase can see them.
The right hashtags can put you in front of your target audience even if they haven't followed you yet. The best hashtags are ones that are specific to your brand or most-searched by Instagram users.
Consider these kinds of Instagram hashtags:
Community Hashtags connect like-minded people. E.g: #travelphotographer, #coffeelover, #healthyeating, #romanticgetaway, #newyorkbar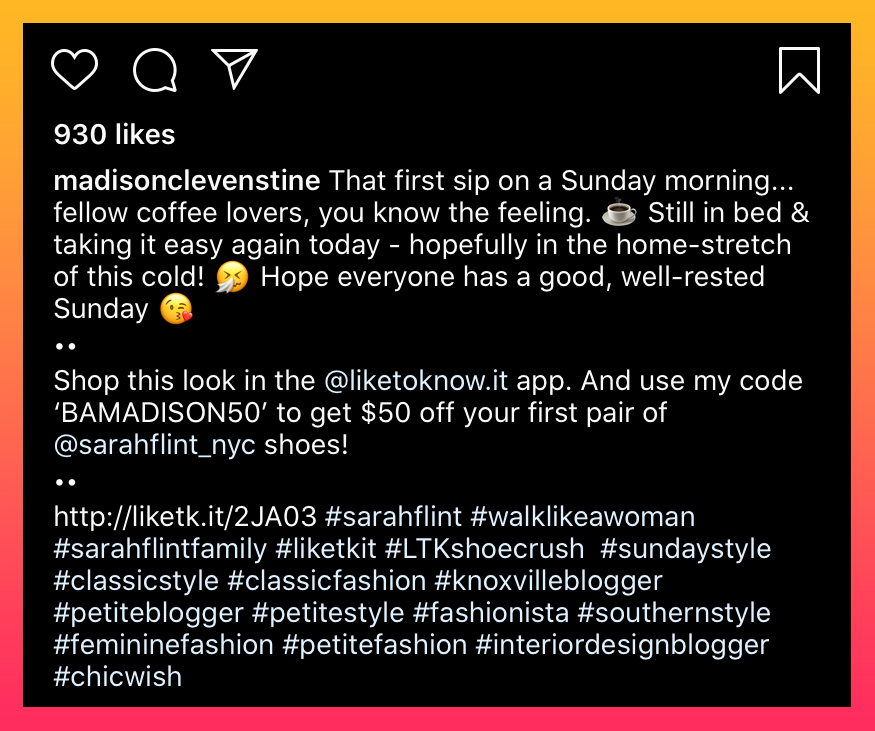 Branded Hashtags that are unique to your brand and help increase brand awareness. E.g: #doveswomen, #lushwomen, #adopnotshop
Campaign hashtags which show current campaigns, events or giveaways. E.g: #plantatree, #12daysdiet
5. Instagram Stories
What Are Instagram Stories?
500 million people use Instagram Stories every day. Every Instagram user feed has a story section right under the Instagram logo. In this section, you'll see images or videos in the form of a slideshow.
All Instagram users can capture content and post it into Instagram Stories.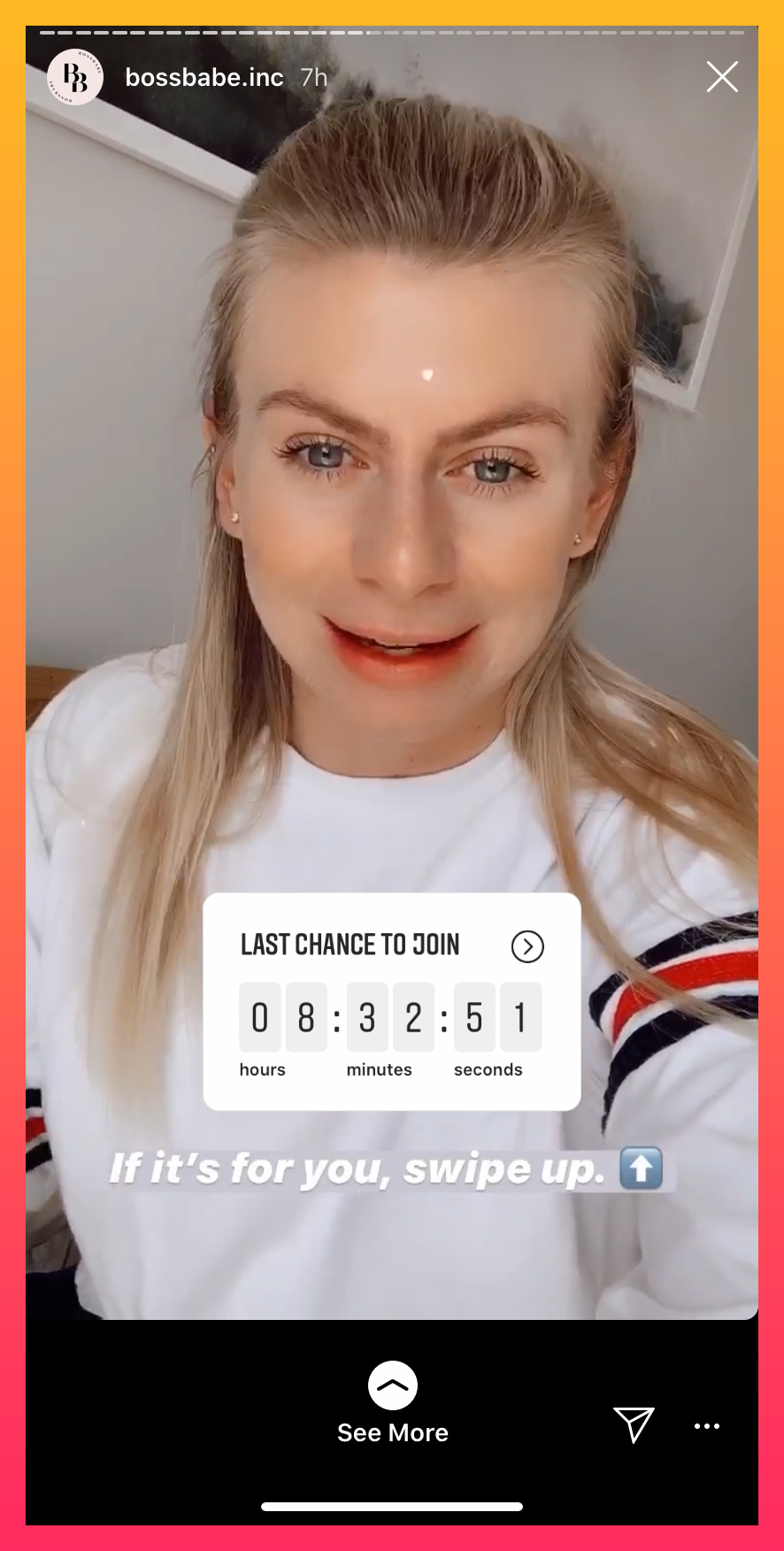 You can play around with stories feature and don't have to worry about it will ruining your Instagram style. Why? Because each story only lasts for 24 hours, after that, it will automatically disappear from the story section. However, if you want, you can add your stories permanently to your highlights and organize them in categories.
Instagram Stories Features
Since the beginning, the Instagram team has been continually adding features to this tool. Here are the best of the bunch: 
Unlimited story posts
Edit images and videos
Instagram Story Ads
Add stickers to photo and videos
Sticker Q&A, poll survey to stories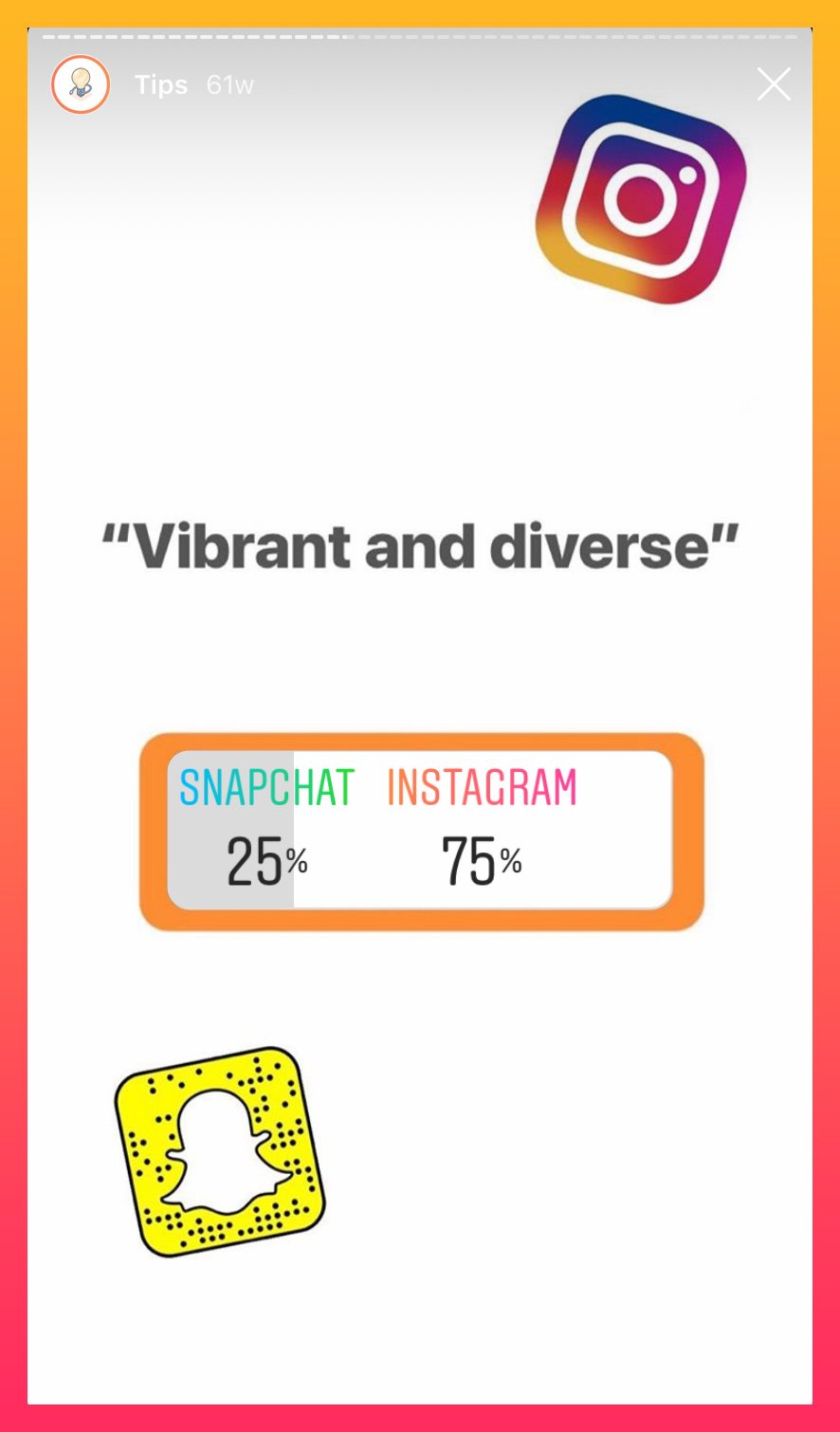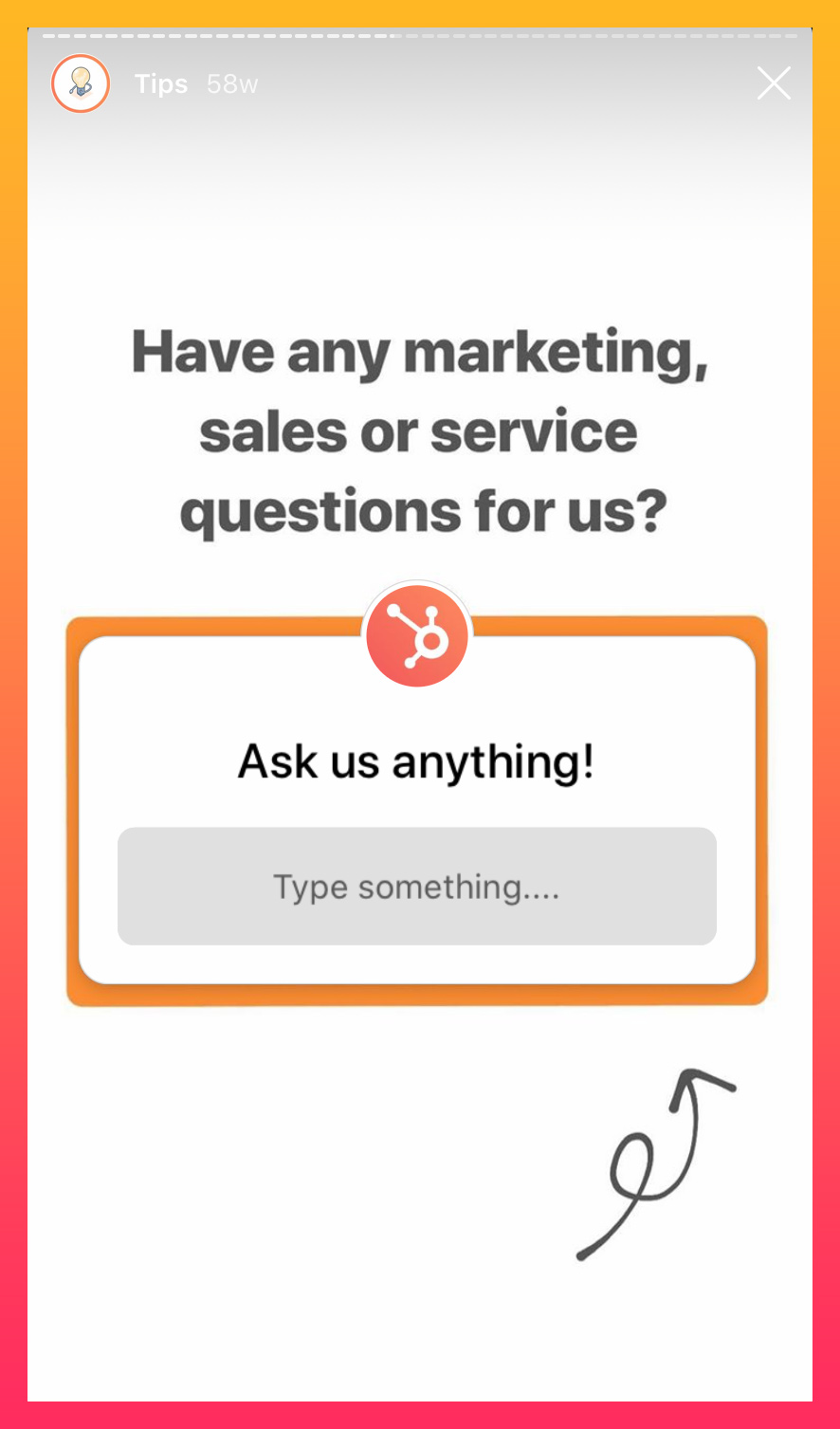 Use hashtags in your stories
Use location tags in stories
Pin stories to your Instagram profile by Story Highlights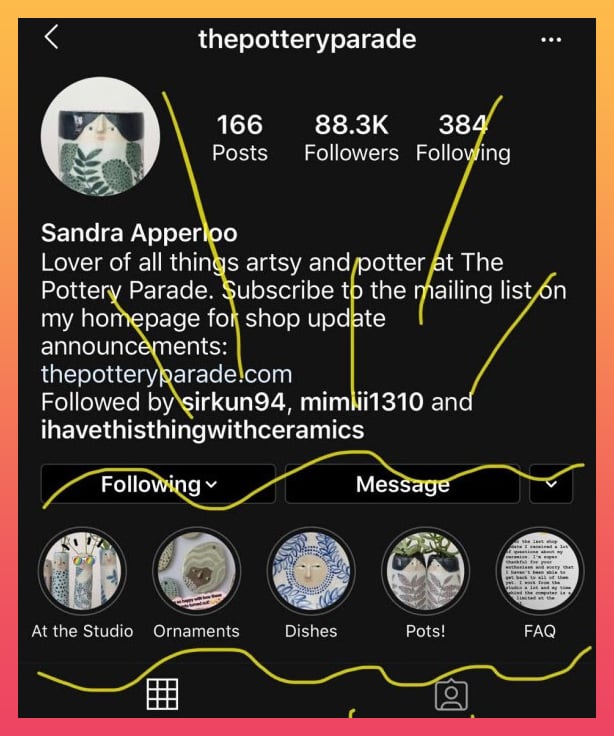 Instagram Story Best Practices
Shorter is sometimes better: Each story automatically switches to the next one at a maximum of 15s, which is why followers will hardly get bored. If the content is informative enough, it can easily get the attention of your followers. However, there are people who are successful with long stories. Their stories have so much information that you have to hold them down to read. So go out there and experiment, see which strategy works for you and go with it.
Carry out interactive surveys: Get your followers to engage with surveys and receive feedback and opinions. There are three options, which are polls, question stickers, and emoji sliders. Just choose a suitable format to show your message.
Announce time-sensitive deals: Yes, stories can be the best place to announce good/hot/special offers. Since these stories are very visible on the Instagram user's interface, they're pretty hard to ignore.
Don't forget these following content types for your stories. They're also highly interactive types of content that your customers will enjoy:
Tutorials
Behind the scenes
Testimonials
6. Image & Video Editing
What Is Image & Video Editing?
Instagram image editing works as an image editor system with various useful filters and editing tools. Users can upload or take a photo in-app then proceed to edit before posting.
Image & Videos Editing Features
Crop, rotate and resize images
Include up to 10 images and videos in 1 post
More than 20 useful filters
More than 10 edit tools
Best Photo Editing Practices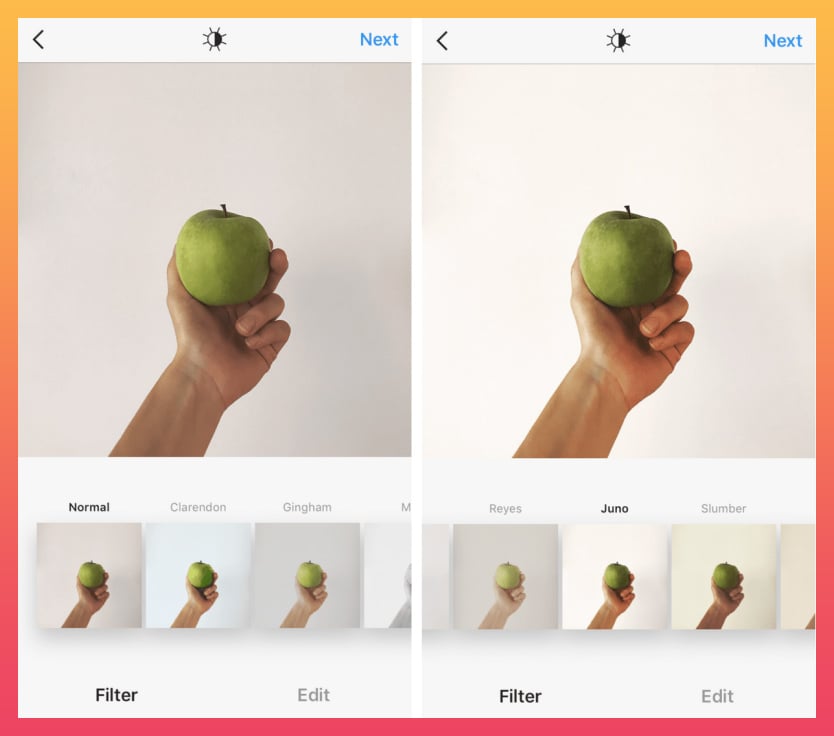 Make your products look more appealing: If you don't have a photographer in-house, you can still make your content look stunning with helpful editing tools of Instagram. It enables you to reduce the cost of hiring professional photographers, and still keep the posting frequency on Instagram.
Utilize multiple-images posts: You can add a collection of images that are related to each other. The following are some ideas on how to use this feature to create captivating Instagram posts:
Add one photo per product and make a product category
Tell a story in a sequential series
Post a long video
Show before and after shots
Show different angles of the product
7. Instagram Ads
Do you know that 47% of Instagram users search for more information and make a purchase online or offline after seeing a post on the platform? This is the reason why Instagram Ads are increasingly effective for brands.
What are Instagram Ads?
Instagram Ads are sponsored content that you pay for, to post on the platform. While there are many reasons behind using ads, this Insta feature is a helpful tool for you to expand your brand presence, generate new leads, increase website traffic, and drive sales.
Launching an Instagram Ads campaign requires you to have a Facebook advertising account or a Creator Account.
Instagram Ads Features
Instagram ads can help you reach many marketing goals:
Brand awareness: show ads to more potential people that are likely to be interested in your brand
Reach: show ads to a specific number of people
Traffic (for clicks to your website or to the app store for your app): send more customers to your website
App installs: send more customers to the store where they can purchase your app
Lead generation: collect lead email when they click on your ad and confirm their entry
Conversions: helps you drive leads to purchase customers
To display ads in front of the right people, you have to build the right audience persona. Here are elements that Instagram provides for you to target audiences:
Location
Age
Gender
Languages
Demographics
Interests
Behaviors
While the location, age, gender, or languages of prospects can be determined easily, to analyze their demographics, interests, behaviors needs a great deal of market research. Try to learn about your target audience thoroughly, if you want to build a solid audience persona.
How does Instagram display your ads to your audience? Here are the options:
Stories ads
Image ads
Video ads
Carousel ads
IGTV ads
To maximize the benefits of this Instagram feature, you need to create engaging stories, posts, and videos first. Then, use this material to run the ads and measure performance.
Instagram Ads Tips
Pay attention to what your audience is saying
Create ads that are relevant to your audience
Prioritize visual, make your ads look as attractive as possible
Try different ad forms and split test
Use the right call-to-action
Match ad content with website content
8. Instagram Analytics
What Are Instagram Analytics?
To optimize Instagram performance, you need reliable data about your audience. Who are they? What do they like? What kind of content can trigger their action? These are what Instagram Analytics provides you.
Instagram Analytics is an in-app analytics tool that provides you data to improve your performance on Instagram. It shows data like:
"Activity", tells you:
Interaction: profile visits, website clicks, email, and call
Discoverability: reach, impression
"Content":
Feed: the number of unique accounts that take action because of your post. This includes calls, comments, emails, engagement, follows, impressions, likes, profile visits, reach, saved, and website clicks.
Stories: impressions, reach, exited, replies, viewers, forward, backward, next story.
Promotions: profile visits, impressions, reach, engagement, audience's gender, age, and location.
With this kind of data, you'll know exactly which kind of posts and stories engages your audience the most. By seeing these metrics for each post and story, you can cater to your Instagram posts and stories marketing according to your audience preferences.
For "Audience":
Age range, top locations, followers, and active time. Using this data can help you get a better understanding of your followers, and schedule your Instagram posts to reach as many users as possible.
9. Instagram Shoppable Tag
What Are Shoppable Tags?
Also called Instagram Shopping, this great feature allows people to purchase an item without leaving the app.
You can tag items in your Instagram posts or stories, and potential customers who click on those tagged items will be taken to the product page on the company's website.
Instagram Shoppable Tag Features
Add tags to images post, and story posts
Clickable tags
Direct customers to shopping site after they click on tags
How To Take Advantage Of Shoppable Tags
Shorten the customer journey: While users browse around their Instagram, they might discover the shopping channel. If something interests them, they can go straight to the category page and the website's product page.
This Instagram feature has seamlessly combined shopping and social media. Utilize it to increase site traffic and drive sales.
Instagram Shoppable Tags Tips
Use only engaging posts, stories or IGTVs
Don't overuse tags, only use tags that most accurately describe your product
Briefly describe tagged items in the caption
Use images that feel natural to your Instagram profile
Be result-oriented. Make customers picture themselves using your products to drive the most sales
10. Instagram Creator Studio
What Is Instagram Creator Studio?
In 2019, Instagram rolled out the Creator Account to their accounts list together with Personal Account and Business Account. Creator Account is a product of Instagram for the unstoppable rising number of content creators such as influencers or gurus.
According to Ashley Yuki, (a product manager of Instagram), "We want to make sure that Instagram is the best place, and the easiest place to build fan communities and also build personal brands." That's why they created this feature.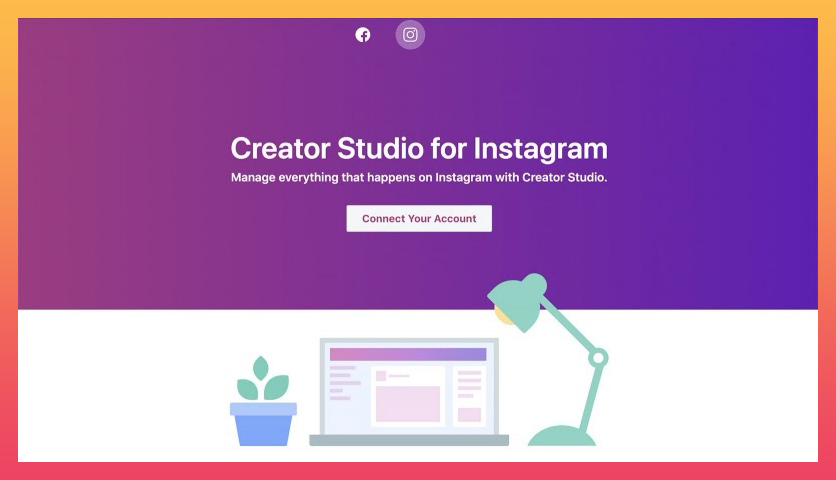 Instagram Creator Studio is an Instagram tool that provides audience insights and posting management.
Instagram Creator Studio Features
Creator Studio brings insights to the next level with detailed data on daily audience growth.
Follower insights: ages, genders, and their active time
See what actions people take when they engage with your content
Access all videos, photos, carousel, stories, and IGTV videos
Create and post both Instagram feed content and IGTVs
Schedule posts
Search for and organize content
How To Take Advantage of Instagram Creator Studio
Manage posts better than ever: features such as search and organize help you to manage your content in a smart way. For example, the post-schedule feature enables you to schedule posts when your audiences are online.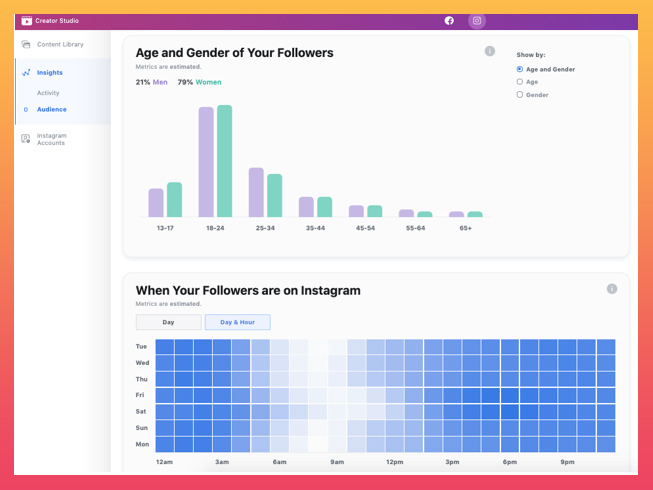 Create Content: Besides visual enhancing tools that Instagram provides, you can use Sound Collections to add music to your content. This enables you to utilize various types of sounds from already-made or most-liked content, mix them together, or create a new one. There are many ways to utilize this feature, so take your time and experiment with it.
Optimize content based on data: On Creator Studio, you can see how many minutes your videos have been watched or how audiences engaged with your posts. This data is great feedback to use when creating your content strategy.
Are You Ready?
Instagram is a great channel to attract customers to your business. One of the reasons why is because the platform is always evolving and adding new features to improve user experience. Even though we've given you what we believe is the list of 10 most important Instagram features, don't forget to test out new features as well. We hope that you'll apply what you've learned in this post and test it with your own strategies.
---
Author Bio: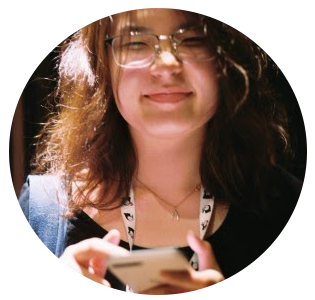 Wings Nguyen is a content creator at Avada Commerce who frequently writes about new trends of e-commerce & content marketing. You can find strategic thinking methods, new ideas, and motivation from her articles where she pours all of her e-commerce practical experiences and creativity. On the weekend, you can see her at a park in the morning and in a pub in the evening.
Instagram Growth Hacks
Join over 100k+ marketers and influencers who get the latest Instagram tips & tricks sent to their inbox every week