How To Use Instagram Live To Beat The Algorithm
post
Instagram Live was released in 2016 shortly after the stories feature, it's much more widely used counterpart. Despite being around for almost four years now, brands and influencers are still a little confused on how exactly to use it.
A New York Magazine study found that 81% of consumers watched more live video in 2016 than they did in 2015, and 80% of consumers would rather watch live video from a brand than read a blog. They also found that 82% prefer live video from a brand over a static social media post. That means anyone who isn't taking advantage of Instagram Live is leaving a valuable (free!) resource untouched.

As we know, the new IG algorithm rewards users who have high engagement rates and 'Going Live' on IG is a great way to raise engagement quickly, while entertaining and connecting with your followers in real time. However, not all businesses and content creators are using it to their advantage. Let's explore how you can use this tool effectively to further build your brand.
What Is Instagram Live?
Instagram Live allows users to stream video in real time, view which of their followers are watching, and lets viewers comment on the activity as it's happening, so you can engage in meaningful dialogue with them. When your video is over, you can view exactly who was watching. Instagram Live is similar to "Stories" in that it's a video post with a 24-hour shelf life.
Should I Use Instagram Live Instead Of Facebook Live?
The good news is, you can use both! The better question is, which should you channel your time and energy into? The answer is Instagram Live, it's just a more popular platform at the moment. Studies have found that Instagram has a higher engagement rate than Facebook, with 2-7 percent of users interacting with each post. Twitter has the lowest percentage of engaged users, coming in at around .2%, and Facebook varies, but tends to fall between Instagram and Twitter.

The Verge, a leading technology news network, dedicated an article to the lack of user engagement with Facebook Stories; citing that the social network hasn't given users a reason to post to it instead of Instagram or Snapchat.

Going live is a great way to push engagement quickly because Instagram has built in two ways to promote your stream.
They will send push notifications to your followers that you've gone live, as long as those followers have their push notifications turned on.
Instagram will also push your stream to the front of your followers stories queue, and will appear with a red ring around it to highlight it. This will draw followers into the stream.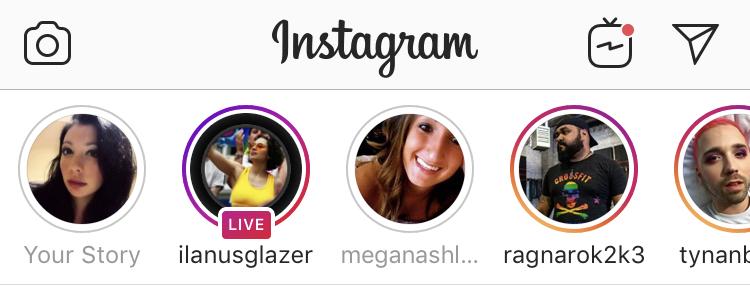 How Is Instagram Live Different From Stories And IGTV?
Instagram Stories:
Instagram Stories is a feature that allow users to post videos and pictures that disappear after 24 hours. Users can identify who has viewed their stories, and viewers are encouraged to send reactions or messages, or share stories they have watched. This is a great tool for longer narratives told in short bursts of video, or still pictures. Users can also use this feature to post polls, ask and answer questions in writing, and business accounts and influencers with large followings can use the'swipe up' feature to link to articles or websites.

IGTV:
IGTV is the newest kid on the block. To access IGTV, users can click the little TV icon on the upper right-hand corner of their screen. IGTV has also been added to the 'explore' page, so users can find channels they want to watch.

IGTV was designed with long-form video content in mind. Like your Instagram feed, the videos don't disappear and followers can leave comments and likes. Instagram Live is great for increasing engagement, but IGTV provides value for your loyal audience who is already engaged with your brand. IGTV is a newer format and brands and influencers are still experimenting to figure out how it works best for them.

Instagram Live is different from IGTV in that it conveys a sense of urgency to viewers. A recent survey has found that online live viewers want to feel excitement, immediacy, and connection. They want to feel that they are informed, involved, and connected with the world.

To summarize – Instagram Live, Stories and IGTV are all useful tools. The best way to maximize your social media presence is to master all of these formats. Taylor Loren, the head of marketing at Later, stated that Instagram's algorithm prioritizes profiles that utilize all of the different formats. So use all of the tools and know when to use which format to best get your messaging into the market.
The Business Case For Instagram Live
While Instagram Live is a free feature, it does cost time and resources to develop content and a strategy for tackling this social media channel. So, why should you invest in it? Yahoo found that viewing growth for live videos is increasing rapidly. In fact, it's outgrowing other forms of online video by 113%. They also found that ads seen during live content drive "greater emotional engagement" by 75%, and there's a 700% increase in the positive emotions people feel towards ads in live streams. Yahoo calls this a halo effect – purchase likelihood increased by 77% and brand favorability goes up by 481%.
Below is a list of ways many social media savvy brands are using Instagram Live.

1. Demonstrate Your Newest Products:
Want to show your consumers the best way to use your new product? Or build excitement around a new product launch? No one wants to read an instruction manual anymore. This is a great way to showcase what your new product does, and how to get the most use out of it in a fun, exciting forum.
2. Feedback On Products In Development
Customer feedback is an important tool when you are shaping your products. Use this tool to collect feedback from your followers about what they want to see from you. You don't have to give away the 'secret sauce' when you ask for their input. But people love to have their voices heard, and you can walk away with invaluable insights to take back to your team.

3. Communicate Important Announcements
Changing a CEO? Just completed a merger? Offering a new service? Changing locations? Instagram Live is a great way to share this information. A live feed makes the announcement feel more momentous of an occasion than simply posting a story, and it allows consumers to voice their concerns, confusion, or offer their congratulations in real time.

4. Answer Customer Questions
Now is your chance to provide excellent customer service. Cut out the middleman of email and phones, and provide your customers with the answers they need, ASAP. Quick and easy solutions to their problems will keep them loyal to your brand for years to come.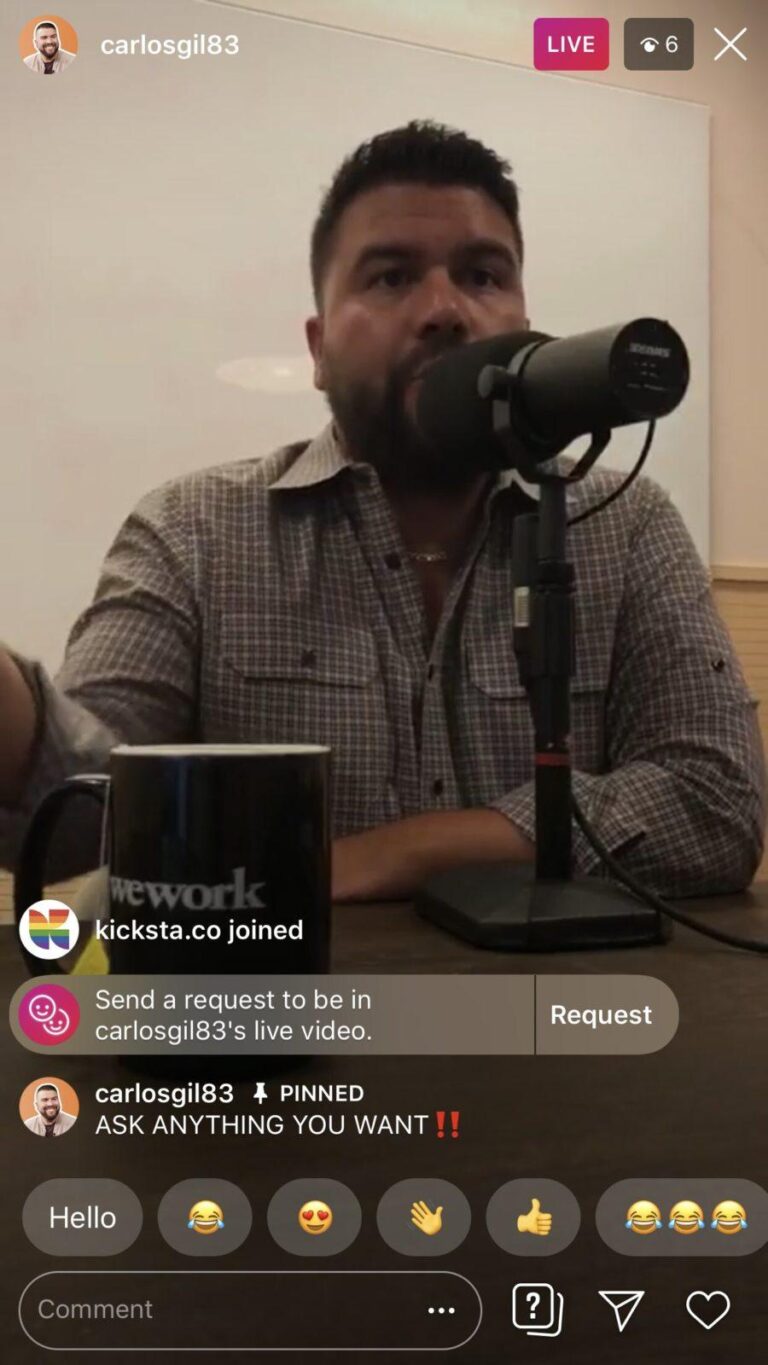 5. Generate Sales Leads
At the end of your session, you will see the number of people who participated in the live feed, along with their usernames. Keep track of who attended. Also, have someone make notes of which users are interacting during the chat and what their concerns are. If there are users who are watching your stream, and have questions or concerns about the product, reach out to them afterward. Did someone watch the live stream but they don't follow you? Follow them first, shoot them a message, and say thanks for watching your broadcast. In other words, be proactive – and you can change these 'fence-sitters' to customers.
6. 'Behind The Scenes' Tours
Livestream.com found that 87% of audiences want 'behind the scenes' content, and are willing to watch social media channels over traditional TV in order to access it. During New York Fashion week, many designers took to their live feeds to show exclusive 'behind the runway' footage to keep followers engaged and excited about their walkway offerings. This technique can also be applied to offices showing happy and innovative employees at work, or production line assemblage.
Instagram Live Ideas For Influencers
Influencers depend on their personality and lifestyle to promote their brand. Instagram Live is a great space to connect with your followers and add that personal touch to keep them invested in you. Here are some ways successful influencers use Instagram Live:

1. Include Followers In Your Everyday Routine
Authenticity is what followers crave in an influencer. Being seen as "fake" or "staged" leads your audience to feel less invested in you. Successful influencers will take their followers with them as they cook dinner, apply their 'everyday' makeup, or run to the grocery store. American Politician Alexandria Ocasio-Cortez is burning up social media and making headlines with her homey cooking tutorials and skincare routine.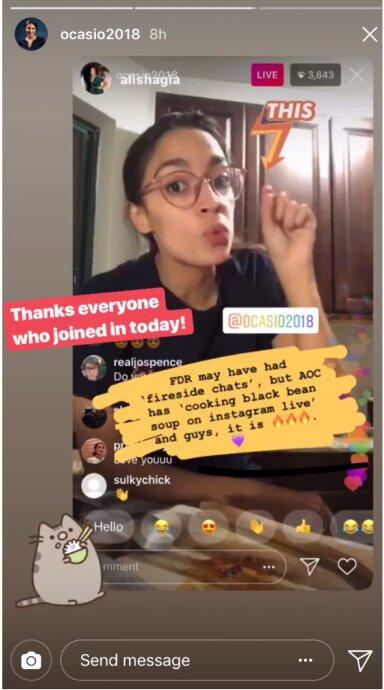 2. Engage, Engage, Engage
Instagram Live gives you the power to directly respond to your followers. Many influencers use this space to answer questions from their followers about their lives, or how to become an influencer themselves, etc. Have some fun with it! Talk to your followers and show that you care about them as much as they care about you. Maybe even turn the tables and ask them the questions. Lifestyle blogger Lauryn Evarts Bosstick, of The Skinny Confidential, is particularly great at engaging with her followers, who will follow her across multi-media platforms. Lauryn also has a successful podcast and is a published author.

3. Content Generation
Let's face it, influencers across all platforms need to produce a ton of content to keep their audiences. Use this space as a way to find out what your followers want to look at/learn about/read about, and use that to create your next viral post. The burden doesn't have to be all on you! Listen to your audience and give them what they want.
4. Event Coverage
Take your followers with you as you attend fashion events, walk a red carpet, and more! If your lifestyle is aspirational, make sure to include the glamorous parts. Many influencers also strike deals with brands through live streaming events sponsored by the brand.
Getting Started: Preparing To Go Live
Below are some useful tips to consider when you're preparing for your Live stream:
1. Set Your Intention For Your Live Stream
Do you want to host a Q&A? Do you want to tease a new product you are rolling out? Figure out what you want to accomplish with this stream.
2. Find The Benefit For Your Viewer
How will your live stream add value to your viewer's day? If you want people to tune in, you need to make it worth their while, or they won't be back. If you can communicate this to yourself, you have a better chance of successfully conveying it to your viewers.
3. Map Out Your Content For Your Live Stream
Write out a script, complete with directors notes. This is especially valuable if there are multiple people involved in the stream. 67% of consumers say that quality is the most important factor when watching a live stream, so make sure your content is on point.
4. Rehearse!
Do a few 'dress rehearsals' before you start streaming to make sure you are comfortable with the content and can deliver it naturally and coherently.
5. Promote, Promote, Promote!
Promoting your live stream is so important. Post on all your social media channels before you start your live stream. Tease the time and date a few days before in your stories, post the day before on your timeline, send an email blast, and cross promote on your other social media channels. Make sure your audience knows when the stream is, so your most devoted followers don't miss out.


Pro Tip: You must have a strong, stable internet connection. Do not attempt a live video if your internet connection is shaky, it will be a blurry disaster.
Getting Started: How To Use Instagram Live
Swipe right to access your camera on IG. On the bottom of the screen, scroll until you see the "Go Live" button highlighted on the screen. IG will also show you how many of your followers happen to be online at the moment. If very few of your followers are online, it might be better to try again at a more active time of day for your followers.


Pro Tip: Do some research to figure out when YOUR followers are more likely to be online. If you have a business account, look at your IG insights to find out when your audience is most active. If you don't have a business account, there is data out there that tells brands which times are the best to post, but that data doesn't take your personal followers into account. Check in during the week and keep track of when your followers are most active. Or, use a tool such as Later to find the best times for you to post.
Unlike a Story, there's no stopping and deleting and starting over. As soon as you go 'Live,' your profile will appear to your followers with a red ring around it, as well as the word 'Live' underneath it. If a follower has their alerts turned on, they may even get a push notification that you are live streaming. There are no do-overs!


Pro Tip: If you want to add a filter, click on the emoji button, or the front-facing camera icon.
As you are streaming, you will see usernames popping up on the lower left-hand side of your screen. Those are the names of the users who are watching your stream.

Pro Tip: Feel free to wave at them (button on the lower right hand side) to welcome them to the chat!
As your Live video goes on, you will see your followers comments on your stream populating on the lower left hand side of the screen. When you are ready to end the live stream, press the "End" button on your screen. Make sure to keep your stream less than 60 minutes long. The platform won't let you stream longer than one hour.

In the early days of Instagram Live, your live stream would disappear as soon as you were done recording. However, in June of 2017, IG made it possible to save your Live broadcasts for up to 24 hours, just like a normal "Story." Do this by simply tapping the "Share" button after you have finished your video, then celebrate your first live stream!


Pro Tip: Save your video after filming. You can repurpose your video onto other platforms if you remember to hit the "Save" button after you are done. This can also be helpful for going back and reviewing the feedback you received during the video itself.
How Long Should My Live Stream Be?
Facebook recommends going live for at least 10 minutes each time. The reasoning is that it gives people more time to discover that you are streaming, join the feed, and share with friends. You can go live on Instagram for up to an hour, so plan accordingly.
How Often Should I 'Go Live'?
You should live stream consistently. However, you should also only live stream when you have something valuable to share with your audience.
Instagram Live Gurus
Here are some examples of brands and influencers who have mastered the art of the Live feature. Check out their streams for inspiration.
Sephora slays the IG Live game. They use the live feature to interview beauty creators, influencers, cover events, preview the latest product offerings, and provide demonstrations. They are in tune with the kind of content their audience is interested in, and know how to best provide it to them.


Key Takeaway: Know your audience and align your content strategy to their needs, not yours.
Starbucks is a very well known brand, with a large social media presence. The image above was shared on Starbucks' social media accounts to promote their live stream on Instagram later that day. The Instagram live stream was covering the grand opening of a new Starbucks in Mumbai.


Key Takeaway #1: Promote your live streams before you go live! Even a huge brand like Starbucks knows they need to raise awareness of the stream beforehand.

Key Takeaway #2: Use your live stream to broadcast important announcements, such as a new location's grand opening. If customers don't know the new store exists, they can't spend their dollars there.

Key Takeaway #3: Always live stream events! A Starbucks user in America isn't going to attend a grand opening in Mumbai, but they can feel like they are there when they watch the live stream, thus deepening their relationship with the Starbucks brand.
The star, writer, and director of Comedy Central's Broad City uses Instagram Live frequently to show the creative process behind her hit TV show. You can find her and her co-creator, Abbi Jacobson, having fun and brainstorming on her feed. Showing the 'behind the scenes' creative process helps their fans feel like they have a more intimate relationship with the creators, and are therefore more invested in the characters. Glazer also knows her fans will follow her other projects, as Broad City airs it's final season.


Key Takeaway: Use 'behind the scenes' footage to create intimacy with your followers.
Jaclyn Hill is predominantly known for her Youtube makeup tutorials. Those tutorials have sprung into partnerships with major beauty brands and made her one of the most successful influencers of the past decade. Makeup and fashion are topics that fit well with Instagram's platform, and going live to talk about her latest favorite products and how to use them, is always a hit with her fans. She also uses her live feed as a call to action, to ensure that viewers go to Youtube to watch her latest vlog.


Key Takeaway #1:Provide value for your viewers. Hill gives her viewers a tangible benefit – such as a new makeup look. Think about what value you are providing your viewers in your live stream.

Key Takeaway #2: Don't be afraid to use your live stream to promote your CTA. Just make sure you have provided followers with a benefit first.
Instagram Growth Hacks
Join over 100k+ marketers and influencers who get the latest Instagram tips & tricks sent to their inbox every week