20 Best Instagram Growth Services (Updated 2023 List)
post
Updated September 2023

Gaining followers on Instagram can be hard — and it's only getting more difficult, which is where an Instagram growth service comes in.
Without help, getting more real followers for Instagram is often a tedious and time-consuming process. Going at it alone means adding more pesky tasks to your schedule that you never seem to have enough hours in the day for.
That's why so many Instagram growth services and Instagram marketing services have begun popping up. These tools take on the burden of getting you more followers and let you reap all the benefits.
It's a great idea. But with so many options out there, trying to determine the best Instagram growth service for your brand can be overwhelming.
Think of this guide as a checklist you can follow as you vet organic Instagram growth services and decide which one is right for you.
Now let's first take a look at the 20 best Instagram growth services on the market in 2023:
20 Best Instagram Growth Services
1. Kicksta
Kicksta helps you get real, organic followers by automating engagement marketing tactics.
After you create an account, you provide Kicksta with a few sample accounts whose followers are people you want to target. This can be a list of your competitors, complementary brands, influencers in your niche, etc.
Then Kicksta will automatically engage and interact with the followers of the target accounts that you listed.
This inspires them to come and check out your page, where they decide if they want to follow you – completely organic. Inside your account, you can set your filters so you get the best followers and monitor your growth with tracking.
Here are some of the key features that Kicksta has to offer:
No contract, cancel anytime
7-day free trial
Real Followers Using An Organic Growth Method
No Bots, Spam or Fake Followers
Advanced Targeting & Filtering Options
Trusted By Thousands Of Brands, Influencers & Agencies over the last 8 years with their tried and proven growth methods
Kicksta's Starter Plan is $69/month, and it includes the following features:
Influencer and Competitor Targeting
Account Targeting
Hashtag Targeting
Location Targeting
Follow/Unfollow
Whitelist and blacklist
Automatic whitelist
Like after follow
Clean home feed
Analytics dashboard
Low growth speed
Kicksta's Advanced Plan is available for $129/month, and it includes the features provided by the Standard Plan, along with the following inclusions:
Welcome DM's
Story likes
VIP email support
Gender filtering
Targeting suggestions
Medium growth speed
Finally, Kicksta's Ultimate Plan, for $219/month, includes the features listed above, along with high growth speed and 2,000 guaranteed followers per month. With this plan, Kicksta works with a diverse group of influencers in their network powered by InfluenceGrid to promote your account. This provides you with an increased audience as well as a diversified one!
2. Upleap
Upleap is an Instagram growth service that helps you to gain followers within your target market. According to their website, it only takes a few minutes to get started with Upleap, as you just need to provide them with accounts and hashtags that are relevant to your growth.
Then, the service claims to bring in real followers to your account. According to Upleap, their service will help you to acquire followers that will engage with your content and provide you with natural growth.
Some of the methods that Upleap uses to provide growth to customers are account and hashtag targeting, follow/unfollow automation, and dedicated account managers. The service also includes whitelist and blacklist features as well as various filter options.
Key Features of Upleap
Smart targeting
Simple setup
No bots or fake accounts
3. Nitreo
The next growth service is Nitreo, a platform that claims to help you organically grow your followers and your brand.
Set up your Nitreo account by giving the platform access to your Instagram account and specifying your niche. Then Nitreo will work around the clock to get you more followers by engaging with hashtags you've added, using the follow- and unfollow method, viewing Instagram Stories, and using other features.
Nitreo's Essential plan costs $49/month, while the Speed plan is $79/month.
Key Features of Nitreo
Easy To Set Up
Uses The Follow-Unfollow Method
Multiple Targeting Features
4. UseViral
Next up is UseViral, a platform you can use to grow your following on a wide variety of social media accounts.
With UseViral, you can purchase anywhere between 100 and 25,000 Instagram followers, and they'll begin delivering your followers within a matter of minutes. While they aren't clear on their follower growth methods on their website, they do offer a couple of options to purchase more targeted followers. Depending on what you're looking for, this could be a good fit.
Their cost varies, beginning at $2.97 for 100 followers and going up to $145.50 for 25,000 followers.
Key Features of UseViral
30-day refills
30-day money-back guarantee
24/7 customer support
5. Buzzoid
Buzzoid is a growth platform that claims to offer followers and likes in minutes, and that all orders are delivered within an hour of purchase, or you can get your money back.
They don't detail how they grow your following or get you likes, but after you sign up you can submit your account for followers or specific posts for likes. Their prices range depending on the type and quantity of engagement you want.
Video views range from $1.99 for 500 views, to $74.99 for 50,000 views, whereas their Active followers range from $11.99 for 500 followers to $84.99 for 5,000 followers.
Key Features of Buzzoid
Fast Delivery
No Password Required
24/7 Support
6. Combin
Another Instagram growth service is Combin, whose platform offers "Instagram and Tiktok solutions for marketing and content planning."
With Combin, you can choose between the primary services of growth and scheduling. With their growth service, Combin says you'll gain loyal followers and have access to features for audience targeting, analysis, management and engagement.
You can choose Combin's free trial, or upgrade to a Personal plan for $19.47/month or Business for $38.94/month.
Key Features of Combin
Machine learning user analysis
Growth and performance statistics
Repetitive actions automation
7. SocialViral
SocialViral is a simple-to-use platform that will generate followers quickly without needing your password. They offer two different kinds of followers: premium and high-quality. High-quality followers have profile pictures, but that's the only criterion. Premium followers, on the other hand, are real people who are actively posting on social media.
No matter which kind of followers you choose, you'll get fast delivery times and 24/7 support. Pricing varies depending on how many followers you're purchasing and which kind you're choosing, but high-quality followers begin at $2 for 50 followers or $7 for 500 followers. Premium followers begin at $12 for 500 followers and go as high as $78.70 for 5,000 followers.
Key Features of SocialViral
Fast service from reliable networks
Proactive account monitoring after purchase
No password needed
8. Twicsy
When you're in the market for an Instagram growth service, you can also consider Twicsy.
Follow a few simple steps and you should see growth in your Instagram followers. Start by choosing a package of Instagram likes, followers, or views, depending on your goals.
Then, give them your Instagram handle and make your payment and you should start to see followers rolling in momentarily. Their website doesn't share who they'll provide as followers, but they claim to offer "high-quality" followers at a cheap price.
Speaking of price, you can choose packages from 100 followers for $2.97 to 5,000 followers for $50.
Key Features of Twicsy
Quick Results
Satisfaction Guarantee
Experienced Support Staff
9. Inflact
Inflact is a service that brands itself as a marketing toolkit for Instagram. They offer a wide variety of tools to help you sell more efficiently and effectively on Instagram, full of automation so you can save time.
Their growth-specific option is based on advanced AI and will increase your profile activity to help you generate followers. With automated likes, story views, auto-likes of comments, and follow/unfollow techniques, there are plenty of ways they attract followers. They offer three pricing tiers, depending on what you want to be included from their variety of automation options.
The Basic plan focuses on promo or growth and includes a hashtag generator and VPN for $54 per month. Then, you can choose Advanced for $64 per month which includes bulk messages to your audience. The top tier, known as Pro, is $84 per month and adds scheduled posting, stories saver, and a downloader.
Key Features of Inflact
Additional Instagram Automation Options
Money Back Guarantee
Trial Period for $3
10. Likes.io
As with some of the other platforms, Likes.io promises speedy delivery of real followers without needing your password. However, if you purchase more followers, they'll offer a more gradual delivery to make it look more natural. This is a nice feature that will help keep Instagram from thinking you're a bot.
You can purchase 100 high-quality followers from Likes.io for $3 or 25,000 high-quality followers for $280. Or, choose the active followers route and purchase 100 for $4.43 or 25,000 for $419.99.
As their name suggests, they also sell likes and views, so if you're looking for a bump in engagement they can help with that, too. If you're looking for more followers than they offer in a package, they'll create a special growth plan for you if you reach out to them.
Key Features of Likes.io
Quick delivery times
Custom packages available
High-quality or premium followers
11. Social Buddy
Social Buddy promises real followers, not bots or fake accounts. They target real people based on the information you share, like niche, competitors and hashtags. Then, Social Buddy lets these accounts know that your page exists and encourages them to visit your page and follow you.
They'll also target influencers and the people following your competitors. They estimate that you'll grow your following by about 150-500 followers each week. Social Buddy's Growth plan is $99/month.
Key Features of Social Buddy
Advanced Targeting
Uses The Follow-Unfollow Method
Account Manager Email Support
12. Mr. Insta
Finally, let's talk about Mr. Insta. You can get started for free by following a few select accounts, and then you'll activate your account and see the followers coming in.
You can even ask for more free followers every 12 hours. Or, you can pay for automatic followers, although Mr. Insta doesn't share how they find these followers. You can choose to subscribe on a weekly or monthly basis, or just buy a set number of followers.
You can purchase 250 new followers per month for $9/month, 500 monthly followers for $22.50/month, 1000 monthly followers for $36/month, 2000 monthly followers for $54/month, 5000 monthly followers for $99/month, 10000 monthly followers for $171/month, or 20000 monthly followers for $315/month.
Prices for one-time purchases, weekly subscriptions, and custom packages are all also available.
Key Features of Mr. Insta
No Bots Used
No Password Required
24/7 Support
13. StormsLike
StormsLike offers a free trial so you can test out their service before you even make a purchase, which is a nice perk.
Beyond the free trial, you can choose between purchasing likes, comments, views, or followers. And, it gets more specific than that – among the likes available for purchase, you can choose likes or automatic likes. And, within the comments, you can select random or custom comments.
Each of StormsLike's services has a unique pricing plan, but here are some examples to give you an idea of their prices. You can purchase 300 likes for $4.99, 500 likes for 6.99, or 1000 likes for $11.49. Similarly, you can buy 300 followers for $5.49, 500 followers for $8.99, or 750 followers for $12.49.
If you're looking for even more options and variation, StormsLike also sells likes, views, subscribers, and followers for TikTok and YouTube.
Key Features of StormsLike
Instant start
High-quality followers
Followers refill
14. Blast Up
The next Instagram growth service we're going to discuss is Blastup, which promises real likes, followers, and views.
They claim that they sell high-quality followers, rather than empty profiles. It is easy to use Blastup; simply choose a package, checkout, and see your followers and likes increase. To purchase followers from Blastup, you can choose from three different packages. The first is 100 followers for $2.99. The second is 500 followers for $6.99. The final is 1,000 followers for $9.99.
Key Features of Blastup
Instant delivery
Around-the-clock support
Free trial available
15. AIGrow
If you're looking to grow your following with artificial intelligence, AiGrow offers that. AiGrow likes potential followers' posts for you, and it will follow and unfollow accounts, too. You can hyper-target the types of users you want to follow, based on hashtags, locations, and accounts they follow, and you can control the speed that AiGrow takes action on your behalf.
With AiGrow, you can choose from among the following services: managed growth, managed advanced, managed DMs, managed growth + DMs, mass unfollow plans, and postmate.
If you choose AiGrow's managed growth option, you can select managed growth monthly ($129/month), quarterly ($103/month), half annual ($90/month) or annual ($70/month). Their other services are available for purchase at different rates and prices.
Key Features of Aigrow
Fast Delivery
Follower Growth Guarantee
Dedicated Account Manager
16. Skweezer
Skweezer lets you buy Instagram followers, likes, comments, and views.
This Instagram growth service claims to give you real followers — accounts created by people in Skweezer's network, that get paid a share for following you — so buying followers is supposedly harm- and risk-free.
Choose what you'd like to purchase, enter your profile details, and Skweezer will deliver what you ordered. Pricing varies depending on how many followers or likes you are purchasing.
Key Features of Skweezer
Instant Delivery
1-Year Refill Guarantee
Free Trial Available
17. Growthoid
Growthoid is a newer Instagram growth service that uses AI technology to grow your following. When you choose Growthoid, the platform manually engages with your target accounts to help them find out about your account, much like Kicksta.
Growthoid also includes features such as follow/unfollow methods and auto comments and DMs. It's also important to note that the Growthoid website and landing pages are uncannily similar to Kicksta's, despite the fact that Kicksta has been around much longer.
Growthoid offers two plans at $49 and $99 per month, depending on the amount of growth you'd like to achieve.
Key Features of Growthoid
Dedicated account manager
Analytical reporting
Cancel anytime
18. Instafollowers
Instafollowers actually sells followers, likes, views, and more for almost every social media platform that exists. With Instafollowers, you simply add your username, select the number of followers you want and check out. You can request a custom number of followers using this platform, which is unique from many services. In terms of pricing, you can choose between high-quality and premium followers.
High-quality followers range from $0.70 for 10 followers up to $1,750 for 250,000 followers. Premium followers range from $1.30 for 10 followers up to $1,480 for 100,000 followers.
Key Features of Instafollowers
Online live chat support
Instant delivery
No password required
19. Hublaagram
Hublaagram generates likes and follows for your account by signing into other users' accounts and liking and following your account on their behalf. Hublaagram is also very affordable. You can purchase 1,000 post likes for $2.50. You can also sign up for auto-likes for $20 per month and receive likes every time you post.
Their website is unclear on how to purchase followers, and something to keep in mind is that their dashboard has been showing that their server is overloaded.
Key Features of Hublaagram
20. Social Boost
Social Boost is an Instagram marketing agency that grows your following using an organic growth strategy. When you create a campaign with Social Boost, you will be assigned an account manager who will ask you a few questions regarding your target audience.
According to Social Boost, what they do is "handmade growth" by a real person. It involves having a growth manager doing the liking and following on your behalf based on your targeting preferences. Pricing starts at $59 and goes all the way to $249 per month for their Turbocharged plan – a steep price for what they call "turbocharged growth". However, the specifics of this top-tier plan is not clearly explained.
Key Features of Social Boost
Real Followers
Handmade Growth
Real Instagram Marketers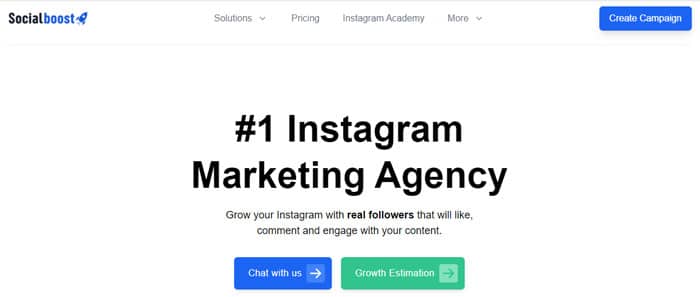 Now let's dive into it. Here's what you should look for to find and choose the best Instagram growth service in 2023.
Instagram Growth Services: The Good, The Bad, and The Ugly
The primary goal of Instagram growth services is to help you increase your followers. Obviously.
But the best Instagram growth service will help you increase your reach organically and gain real followers, not just make your numbers look good.
It's true. Some Instagram growth services have a dark side and can put your account at risk with their spammy tactics, which is why some people are hesitant to use these tools.
Low-quality Instagram growth services have been accused of getting accounts shadowbanned or even disabled by Instagram.
Along with growing your Instagram following, a quality Instagram growth service will:
Save you a lot of time: They automate the process of getting more real followers on Instagram, doing the work for you so you can invest your time into more important tasks.
Increase your social credibility: Having a large number of followers on Instagram gives your brand a sense of authority in your niche and can open the door to more sales, collaborations, and opportunities.
Improve client satisfaction: If you are a Social Media Manager or digital agency,
Instagram growth services ensure your accounts are consistently growing, which keeps clients happy and increases retention. To get the most out of it, try using social media management tools as well!
Increase your sales: If you're an e-commerce brand marketer aiming to earn Instagram affiliate money, having more followers on Instagram means more opportunities to sell your products, especially with Instagram's latest shopping features.
Improve your engagement rate: Given the changes to the Instagram algorithm, having a strong engagement rate on Instagram is just as important as having a high following.
The best Instagram growth service will help you achieve all of these goals on autopilot. Now let's go over how to determine if an IG growth service is legitimate and which ones to avoid.
1. Find an Instagram Growth Service That Focuses On Real Followers
Low-quality Instagram marketing services are notorious for getting people ghost followers— fake or inactive users who don't engage with your content.
You won't see any true growth and you definitely won't see any engagement, website clicks, or sales from their "followers."
The best Instagram growth service will focus on real followers that will not only increase your following but improve your business as well.
Avoid These Types of Instagram Growth Services
Three things that should be instant red flags when looking for an Instagram growth service:
Services that want you to buy followers
Preloaded accounts with "thousands" of followers
Let's unpack each of these concepts a little further.
Buying Followers For Instagram
You should never buy followers for Instagram.
Best case scenario, you'll end up with followers who are uninterested in your page and your engagement rate will suffer. Ghost followers take away from your credibility and make it almost impossible to measure the results of your marketing efforts.
Worst case scenario, Instagram disables your account for spam behavior. This tactic is very clearly outside the terms of service of Instagram and is the number one reason accounts get disabled.
Buying followers on Instagram may seem like a quick fix, but is never worth it.
The Preloaded Account
This is when you buy an account that has thousands of followers. But if something seems too good to be true, it probably is.
Eventually, these followers will drop off. Again, they are probably ghost followers.
On the off chance that they are real people, there is no guarantee that they will be interested in your brand. You have no idea what was being promoted on this account before you, so how can you be sure your brand will resonate with these followers?
It's an unnecessary risky investment.
Instead, Look for These Types of Instagram Growth Services
So, what should you look for in an Instagram marketing service?
First, find a service that talks explicitly about organic growth. When it comes to social media, the term "organic growth" refers to the number of users who happen across your post or profile without boosted distribution. Organic growth is achieved by consistently posting engaging content, usually the result of using the right photo and video editing tools to polish photos to help them resonate with potential followers.
Organic growth is crucial for your brand's reach and reputation.
"Everything nowadays is shifting towards 'organic'. So when pondering upon whether to choose organic or spam tactics to drive more followers, you know what the answer is!"

– Ilona Iftode, Preppr
Second, any service you consider should emphasize real followers for Instagram. We've already covered all the reasons ghost followers are bad. With ghost followers, your business is never going to get off the ground, even if you have thousands of them.
A good organic Instagram growth service will tell you the same.
And finally, find a service that explains to you exactly how it works. Don't settle for a nice tag line with the buzzwords organic and real, look for the proof.
Honesty and transparency are the best qualities you can find in an Instagram growth service, so look for a tool that offers both.
2. Examine Methods Used by the Instagram Growth Service
Each Instagram growth service uses a specific method to get you more organic Instagram followers; this could be liking photos posted by people in your target audience, following users in your audience, auto-commenting, or sending automatic direct messages.
Each of these tactics has its own benefits and drawbacks.
Before choosing a growth service, it's important to identify which method is right for you and your goals.
The Story Liking Method And The Like After Follow Method
Many Instagram marketing services attempt to get you more followers by liking the photos of users in your target audience.
Another great, related method of growth is the Like After Follow method. With this, a growth service may follow accounts on your behalf after liking their content, which is a slightly more engaging or thorough method of growth. This is definitely something to take into consideration when reviewing the features offered by a growth service.
And, while we're on the topic of likes – the Story Liking Method is a tactic that should not be overlooked. Story posts are an important aspect of Instagram accounts and, therefore, Instagram growth. This means that engaging with an account's story by liking its story posts is a relevant tactic when looking to grow through engagement.
The Follow/Unfollow Method
The follow/unfollow method might get you followers faster, as it tends to have a higher touch point.
When your account likes another user's post, and then immediately follows the account, this sends the message that you are particularly interested in engaging with this account. Following someone is even more thorough than simply engaging with their content, as it involves more of a commitment.
Following an account after you engage with its content can be very effective, although you need to ensure that it's being done in a smart way.
Services that follow accounts in a human-like fashion are always going to be on the safe side. And it's an added bonus if the service has an automatic whitelist feature which ensures that the service will not engage with accounts on clients' behalf more than once.
This keeps the growth as organic and natural as possible.
"Steer clear of Instagram growth services that use inauthentic strategies like untargeted engagement, following, and unfollowing.

These strategies produce short-lived growth. Instead, seek a strategy and service that will treat your audience like humans, learn about them and their needs, and respond authentically. In the end, it's this type of authentic engagement that creates sustained growth."

– Alana Rudder, Fit Small Business
The Auto-Comment or Auto-Direct Message Method
Auto-commenting can be a less-popular growth method among account owners, although it has the benefit of showing that your account is interacting with others.
Auto-DMs, on the other hand, tend to be more successful. Kicksta's Advanced and Ultimate plans include a Welcome DMs feature, which automatically sends a DM to new followers of your account on your behalf.
A Welcome DMs feature can help you to grow your account as it initiates a relationship with followers as soon as they join your account's community. This can help to increase engagement and build strong connections with your audience members.
If you're trying to grow your Instagram following, "spammy" is not the vibe you want to put off.
3. Determine the Targeting Options Offered by the Instagram Growth Service
Before you decide on an IG growth service, you need to figure out how they choose which users to target. If they don't target users who would have a genuine interest in your brand, you're not going to see much (if any) true growth.
You might get followers, but you won't get relevant followers who are right for your band.
Some growth services for instance, simply begins liking accounts at random if you do not add specific targets during sign-up.
This is a bad idea!
It makes no sense to engage with people outside your target audience. They're not going to care about your brand, interact with your brand, or become a customer of your brand (which is, after all, your ultimate goal).
Any growth service that doesn't give you multiple methods to target your audience, is not a growth service worth using.
The best Instagram growth services use locations, hashtags, and accounts to find your target audience. As an added bonus, look for IG growth services that teach you how to pick targets and get the most of out their program.
"Most spammers usually target hashtags for targeting their customers so selecting hashtags smartly is the best way to defend yourself against spam."

– Aayush Bhaskar, B for Bloggers
4. Pay Close Attention to the Instagram Growth Service's Filtering Options
Equally as important as interacting with the right audiences, you want to make sure you can avoid the wrong audiences.
Even some of the most organic Instagram growth services don't have enough effective filters in place, which can cause you to like inappropriate pictures and damage your brand's reputation.
There are many different ways to tailor your audience to fit your specific needs.
As an example, here are the filters we offer at Kicksta to help clients segment their audience to their preferences.
Gender filter: Is your audience primarily male? Or primarily female? If so, use this filter to target users that are only male or only female.
Hashtag filter: This allows you to target accounts that engage with posts containing specific hashtags related to your content.
Location filter: If you're a locally-focused business, then it's likely you want to target users within a specific geographic location. With our location filter, you can do that.
Blacklist filter: Kicksta's blacklist filter lets you avoid certain people.
Whitelist filter: This allows you to prioritize certain accounts that you value as followers. Kicksta will be sure to avoid taking any action that could jeopardize your relationships with these accounts.
Automatic Whitelist: Kicksta will proactively whitelist accounts that have already been engaged with on your behalf, to avoid any repeat actions.
Choose an IG growth service that has many diverse filtering options. This will save you time and help you reach as many members of your true target audience as possible.
5. Make Sure Their Dashboard Meets Your Needs
Once you specify your audience and tailor your filters to meet your needs… what's next?
Tracking your growth, of course.
The Instagram growth service you use should provide detailed analytics to show you not only how many followers you've gained, but also how they're interacting with your content.
For example, Kicksta's Dashboard allows you to track overall growth day-by-day to see progress.
"The best way to get fast followers on Instagram is to set up an Instagram growth service directly to your target audience. Analyze the results and set up the tool directly on the audience that likes you the most.

Don't be afraid of low CTRs. The average CTR of a successful promotion is 20-35%."

– Max Dalton, Ingramer
In addition, our target analysis also helps you keep an eye on the status of each target account. You'll be able to view the performance of any given account as well as the stage of your account's interaction with it. This helps you to be fully aware of how well the service is performing in terms of individual targets, in addition to overall growth.
6. Don't Forget About Customer Support
Up to this point, we've covered all the features the best Instagram growth service should have.
But do not underestimate the power of strong customer support.
This is a factor you definitely want to check out before choosing a service.
Companies with poor customer service are hugely frustrating, so choosing a service with quality support will save you lots of time down the road.
Depending on your level of Instagram experience and how serious you are about targeting your audience, you may look for companies that have the following:
FAQ Help Center
Support Videos
Live Chat
Dedicated Customer Support Team
7. Check Out their Online Reputation
Last, but certainly not least, you'll want to check out the overall online reputation of each Instagram marketing service.
Websites like Trustpilot can help you find information on various growth services and learn what kind of experiences other customers have had.
Being fully informed as to what kind of growth a given service provides, in addition to reading honest testimonials, will set you up for success in choosing the best Instagram growth service for your account.
For instance, Upleap got the following review on Trustpilot: "I have had a very positive experience using Upleap so I came here to recommend it. I was able to gather hundreds and hundreds of followers in a matter of a week! My only concern is pricing. Customer service is also very good, very easy to communicate."
On TrustPilot, there is a plethora of positive feedback for Kicksta's performance. Users commonly report that the service saves them time and provides them with the growth they were looking to achieve.
Third-party review websites are a good way to help you make an informed decision.
Case studies and testimonials on a growth service's website can help, too — the more in-depth they are, the better. Kicksta's case studies give you a detailed view of their previous successful work with a variety of accounts. So, if you're looking to find out how Kicksta can help you achieve your growth goals, we recommend taking a look at the case studies.
8. Compare Pricing for Quality
When budgeting for an Instagram growth service, it is important to remember one thing: you get what you pay for.
Growth services can range anywhere from $5 to $250 per month, which is quite a wide range.

As you price each IG growth service, keep your goals in mind. Do you want to gain more quality followers? If so, you're not going to get them from a cheap growth service.

Don't forget to look into:
Special services like these add on to the overall price, so a service that costs $5 won't be giving you everything you need to grow your brand.
Muli-tier pricing is also a big plus!
Some growth services charge a flat fee no matter who you are and what your goals are, but others have 2-4 pricing options, which allow you to choose a plan that's more tailored to you as you select an organic Instagram growth service.
Finally, keep an eye out for money-back guarantees and free trials, which can make it a little easier to go for that initial investment.
5 Instagram Growth Strategies To Use Alongside Your Growth Service
When you use an Instagram growth service, it's important to remember that it's only one part of your Instagram marketing toolkit. A growth service will certainly help you get more followers, but there are many other things you can do to help supplement what your growth service is doing. After all, at the end of the day, your account has to be worth following. Otherwise, the potential followers your growth service attracts and brings you might decide that they'd rather not spend their time and energy with your account.
1. Ramp Up Content Creation
If you really want your Instagram account to grow, you'll need to get into the habit of posting consistently. Most importantly, you'll want to set a schedule that works for you and your team that you can commit to posting regularly. If you need to, batch your content creation so you have plenty of it ready to go. That way you won't have to scramble if you need to post something.
If possible, you should post Stories almost every day, and you should use various types of content. Share your feed posts into your Stories. Post polls and question boxes. Do some questions and answers or other videos of you talking directly to the camera. The algorithm likes when you create a variety of Stories.
If you haven't already, it's time to jump on the Reels bandwagon. Try to create one or two a week (at least) and see how they do with your audience. As much as you can, keep up with trends and post things that are likely to do well with your audience and Instagram users in general. In your content creation, try to use as many features Instagram provides as you can.
Once you're getting traction and your ideal followers are looking at your account, you want to make sure they're seeing quality content. They're more likely to actually hit the follow button if you're active and have good content.
2. Bio Optimization
When someone visits your Instagram page after they're introduced to you by your growth service, the first thing they're going to see is your bio. Head to your Instagram page right now and take a look at your bio. Is it clear what kind of content is likely to be on that page and who the ideal follower is? If not, you'll want to pay special attention to this section.
First of all, know that there are a few pieces of your bio that are actually searchable within Instagram, so you can optimize them like you would your website for SEO. One of these is your account name. Business accounts should also include a word or two describing what they do. Another piece that's searchable is your business type, so choose it wisely from the options Instagram gives you.
Next, you'll want to carefully choose your copy for your bio. It should clearly tell anyone who reads it what you do, who you serve and how you can help them. You have limited space, so choose your words carefully. You'll also want to audit your profile photo and make sure it works well for your brand. Finally, check your highlights to make sure they showcase who your brand is and what you do. Think of some of your highlights as a 101 for your new followers.
3. Beat The Algorithm
We all know that the Instagram algorithm runs the show on the platform, but do you actually know how it works and how to beat it? Well, the Instagram algorithm looks at a post's data, information about the poster, the user's activity, and the user's history with the poster. It takes all of that information and calculates how likely a user is to engage with a post, and that determines whether or not the algorithm shows them a particular post.
In order to beat the algorithm, you want to ensure you're posting at the best time for your audience. The more engagement you get shortly after you post, the better. You should also engage with your audience and respond to their comments. Beating the algorithm is important because it helps increase your engagement on your posts. Having good engagement shows your new potential followers that your posts are valuable.
4. Micro-Influencer Promotions
Partnerships and giveaways with influencers can help boost your growth in short spurts. When you work with an influencer to run a promotion, they'll promote your account on their Stories and Feed, while telling users to follow you. This can help you quickly get new followers. The key here is to work with an influencer whose followers are similar to your ideal followers so that you're attracting the right people.
With Kicksta's Ultimate plan, you'll have access to our premiere, global network of micro-influencers. Thanks to being promoted by these influencers, your account will reach diversified audiences and achieve maximum growth.
In fact, thanks to our platform of influencers, powered by InfluenceGrid, you'll gain a guaranteed 2,000 followers per month. This is a safe and reliable method of fast-tracking your Instagram growth and reaching your goals at max speed.
5. Write Great Captions
Perhaps the most important part of all of this is writing great captions and creating excellent content. Without good content, you likely won't grow much at all. Sure, your Instagram growth service will still help you generate followers, but if they're bored by your content, they're more likely to leave.
A great caption begins with a hook, especially if you're going to write something long. This will capture your audience's attention so they hit the "read more" option to see the rest of your caption. Then, you need to make sure your caption is full of good information that's worthwhile for your audience to spend their time reading.
Finally, ensure that you add a call-to-action in your caption. Tell your followers how they should engage with the post. Should they like it? Should they leave a comment choosing between two options? Should they tag a friend? The options are endless, but be sure you leave that CTA.
What is the Best Instagram Growth Service in 2023?
Basically, it comes down to: How much do you care about the quality of your followers?
There are plenty of services out there that can increase the "number of followers" that is displayed on your profile.
But if you're serious about Instagram marketing, you know that simply having more followers will not improve your brand.
Instagram is constantly improving its platforms and implementing new integrations to help brands and businesses monetize the platforms.
So it's more important than ever to build an engaged community on Instagram.
We may be a little biased…. but we have also been around the block and know how to spot a shady Instagram growth service.
Kicksta was founded on the belief that truly organic tactics are the only way to help brands and businesses gain real followers on Instagram.
For this reason, Kicksta is the Best Instagram growth service in 2023.
Instagram Growth Hacks
Join over 100k+ marketers and influencers who get the latest Instagram tips & tricks sent to their inbox every week