26 Instagram Story Ideas To Help Spark Creativity
post
When you use social media for business or personal, you might be wondering what sort of Instagram story ideas you can or should use. Instagram offers so many different kinds of content that it can feel a little overwhelming at times. Should you post on your feed? To your stories? Do a live? Create a reel? The answer is to should try as many kinds of content as you're interested in and see what you and your audience like the most. For today, let's focus on stories.
What's An Instagram Story?
An Instagram Story is a short video clip or still photo that lasts for 24 hours. You can find the story buttons at the very top of the Instagram app, and they appear in reverse chronological order, with the most recently updated story appearing first on your screen. Then, once you choose it you'll see the first story that account has posted in the past 24 hours.
Instagram itself really likes stories, and they've been pushing them ever since stories were created. That's why stories are essentially the first thing you'll see when you're in the Instagram app. You can do lots of fun things with stories, like add stickers, engagement options (like polls and question boxes), filters, and more.
But, sometimes it can be difficult to know what to post in your stories. There are only so many times you can introduce yourself or share what you're doing on a certain day before your audience (and probably you, too) will get bored. That's where this article can help. We're here to show you 26 different Instagram story ideas you can use to transform how you use that part of the app.
Reasons Why Instagram Stories Are Important
Instagram stories are incredibly important, so if you aren't using them, you'll probably want to start now. They're especially important for businesses and influencers for a number of reasons, but most importantly to encourage engagement, promote your feed posts, and interact with your followers. It's important to maintain a consistent social branding strategy that also takes into account the design of stories and how well they remind your customers about you and your products.
Encourage Engagement
We said that stories can be fun because you can add engagement options like polls and question boxes. This makes it incredibly easy for your followers to engage. They only have to tap a button or type a couple of words. This is often easier and less intimidating than commenting, saving, or sharing a feed post. You know how important engagement is for your general results on Instagram, so you want to improve that everywhere you can. If you're struggling with feed posts, try stories.
Promote Your Feed Posts
Speaking of feed posts, they're still important. But it can be difficult to get people to see your posts sometimes. Most Instagram users follow so many accounts that they don't have time to look at all the posts in their feed. Unless they're actively engaging with your posts already, they might not see your posts often anyway. With Instagram stories, you can share your feed post into your stories and ask people to engage with it there. At the very least, you can let them know that you have a new post up if they haven't gotten a chance to see it yet. This can be a very effective way of boosting your views and engagement of your feed posts, too.
Interact with Your Followers
One of the best aspects of social media is the fact that you can engage with and have conversations with people who like seeing what you, your brand, or your company have to say. It can sometimes be challenging to have conversations with people in the comments of a feed post. With stories, however, you can easily strike up a conversation with your followers. Ask an easy question in your stories and then respond to anyone who replies. Or, create a poll and make a commitment to message everyone who responds. Reference their vote, thank them for engaging, and ask them a question. Not only will this help you build trust and camaraderie with your followers, but it'll also likely help your engagement rate in the future. If people know you're really on the other side of the account waiting for engagement, they'll be more eager to give it.
Join 100k+ savvy Instagram marketers
If you are struggling to get the attention you deserve on Instagram, sign up for Kicksta today and start attracting more followers who are interested in your brand.
26 Instagram Story Ideas To Help Spark Creativity
Now that we've talked a lot about Instagram stories in general, let's dig into the actual Instagram story ideas. We've got plenty of different ideas coming up, so you're sure to find something that fits your brand.
New Post Instagram Story Ideas
We were just talking about this! You can use your Instagram stories to promote your new posts. Earlier we were referring to feed posts, but don't let your creativity stop there.
1. New Feed Post
Okay, this is the obvious one. Share your newest feed post to your stories and ask your followers what they think of it. Give them a little teaser of what it's about, or leave a "Tap Here" sticker over the top so they have to click through to see.
2. New Blog Post
Did you just publish something great on your website? Share it with your Instagram followers! Instagram recently allowed everyone to include links in their stories, so you can even share a link directly to your blog post so your audience knows right where to go.
3. New Product Post
You just launched a new product – how exciting! Make sure all of your Instagram followers know by posting about it to your story. If you create a shoppable feed post about it, add that to your story. Otherwise, brag about your new product and add a link to where to buy it.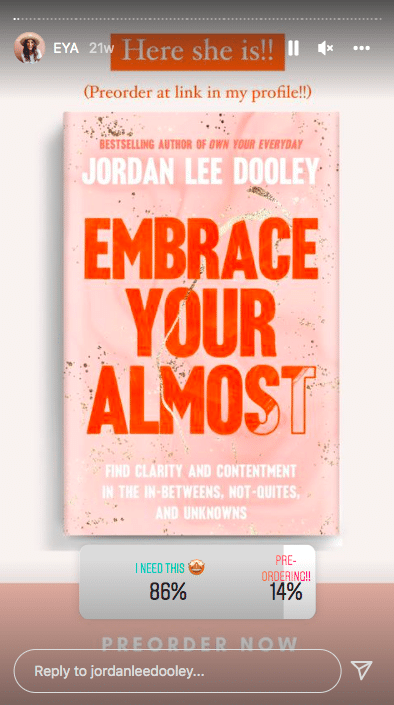 4. New Account Post
If you or someone you know is starting a new account, help boost their follower count from the very beginning. Share their account by sharing one of their feed posts or Reels, or add their account name to your story slide so that your followers know where to find them.
Cute Instagram Story Ideas
As long as it goes with your branding, there's no reason your Instagram stories can't or shouldn't be cute. Cute can mean a lot of different things to different people, but really just post what cute is to you.
5. Bright & Summery
While not traditionally cute, posting something bright and sweet, like this good morning Instagram story idea can bring a smile to your followers' faces. If you add a cute sticker or a fun question, you can increase the cute, too.
6. Florals & A Sweet Message
This is nothing groundbreaking, but a sweet message and some beautiful flowers certainly make for a cute Instagram story. Your followers may even choose to react to this story design.
7. Animal-Focused Story
Many people love animals. They often do funny things, or it's easy to make a funny statement about them, as we see below in this example. You could always add a second story after this asking for people to submit their favorite animal name or animal quote.
Birthday Instagram Story Ideas
Whether you're celebrating your own birthday or a friend's birthday, there are many ideas for Instagram stories you can put together to bring your followers into the celebration.
8. Share A Collage Of Photos
What better way to celebrate a birthday than by sharing more than one photo?! When you can't choose just one, put together a collage of your favorite images from the past year, past birthdays or, really anything you want!
9. Share How You First Met
If you're celebrating a friend, share the story of how you met, bonus points if you have a photo from that day, too! You'll let your followers in on a little bit of backstory, which is always fun.
10. Share A Throwback Photo
Speaking of old photos, everyone loves a good throwback. Show what you looked like years ago. Better yet, if you're celebrating someone who looks similar to you, ask your followers to guess which one is you!
11. Include Emojis & Animations
Okay, this isn't necessarily a story idea, but it's a good recommendation. Add emojis and animations to your birthday celebrations to really emphasize the party aspect. It'll make it lots of fun for everyone!
Instagram Story Question Ideas
We mentioned earlier how great Instagram stories can be for increasing engagement. One of the best ways to do that is through engagement stickers and asking questions. Sure, you can always ask a question and hope that someone will respond through a direct message, but stories give you some easier, more exciting ways to ask questions.
12. Q&A
There's a question box option that you can use on one slide, and then tell your followers that you'll do a Q&A and answer as many as you can. As the questions come in, either create videos to answer the questions or type them out like you would a typical story reply. This is a great way to boost engagement and get to know what your followers want to know about from you.
13. Poll
Polls are great because you can see how your followers feel about things. You can use these in a few different ways. First, you can always post a question that'll let you get to know them better: cats or dogs, Coke or Pepsi, summer or winter, etc. Or, you can ask them a question that can help inform your content. This could be about the format, like Stories or Reels, or it could be about the content itself, for instance, Photography Tips or Writing Prompts. (Obviously, you can and should customize these to meet your brand and expertise.)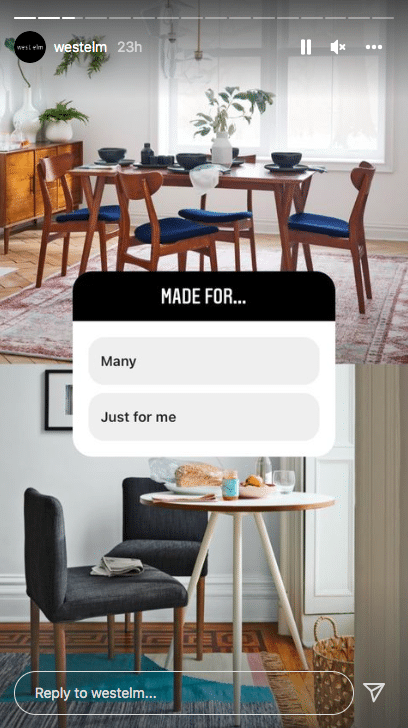 14. Slide Emoji
The slide emoji is one that's a lot of fun. Like the polls, you can use it in a variety of ways. You can ask someone how they're feeling on a scale of (sad emoji) to (happy emoji), or you can ask how much they like a particular option, like a new light fixture you're installing. Many people use the slide emoji as a way for people to confirm that they've met the requirements of a contest, but it's a fun engagement tool that can be used for much more than that.
Educational Instagram Story Ideas
Who said stories just have to be fun? You can use them to teach your audience things, too. In fact, for many businesses and brands, this can be the best use of stories. Here are a few ways you can make your Instagram stories educational. (As a bonus you can save these educational stories to your highlights so your audience can always reference them.)
15. How-To Stories
Teach your audience how to do something. Depending on your brand, the most fitting way to do this is by teaching them how to use your product. If possible, include some really interesting, unique, and not-obvious ways your product can be used. This way you'll give your audience a reason to watch.
16. Behind The Scenes
Everyone wants to take a peek behind the curtain, right? Share what happens in the day-to-day of your business. This will build trust with your target audience and show them that you're willing to share what goes on. You can also combine this and ask questions throughout the day, too.
17. Advice Stories
Give your audience advice – on what? Well, that depends on your account. Obviously, it should be something that you have experience in so that they have a reason to listen to you. Beyond that, though, it should also be meaningful and relevant. This can go along with a Q&A story idea where you ask your audience for questions and then give them advice based on that.
Photo Collage Instagram Story Ideas
Photo collages don't have to be reserved for birthdays. No matter the occasion, there's bound to be a photo collage that fits what your audience wants to see.
18. Layered Photo Collage
This layered photo collage can be a great way to capture people's attention. Depending on how busy your photos are, though, you might need to limit the number of words you use.
19. Animated Photo Collage
An animated photo collage can add a bit of fun to your stories. You can make each photo come in individually or just add the words and stickers as moving elements. Either way, it adds a dynamic look. You don't even have to worry about having any design skills, you can easily create one with a photo collage maker.
20. Promotional Photo Collage
If you're releasing a new collection, give a sneak peek of the whole thing in a collage. Then, you can create individual story slides for each of the new pieces so your audience can take a closer look.
Aesthetic Instagram Story Ideas
Everyone's aesthetic is different, but sometimes your Instagram stories don't have to be complicated. Just show something simple and on-brand.
21. Photo Blog Style
Want to show a recap of your day but you don't want to go into details? Show the more aesthetic and on-brand moments in an easy collage.
22. Simplistic Story
Rather than adding too much, try just posting a photo on a solid-color background and adding a simple phrase on top. It's elegant, aesthetically pleasing, and can be a break from all the noise on social media.
23. Illustrated Story
A simple, illustrated story can go a long way, too. Use colors that match your brand and create a beautiful but uncluttered drawing. Add a few words if you'd like, or leave it as just the image.
Animated Instagram Story Ideas
Did you know you can make your Instagram stories animated? Yep, you can treat them like a video, especially if you're creating and downloading them from a third-party content creation site.
24. Typewriter Animation
Whether this is called the typewriter-style or not, that's what it makes me think of when I see it. The words appear one letter at a time, as if they're being typed on a typewriter. This encourages your audience to wait and see what all your content says. (Don't make it too long, though, because they might lose interest and click away before your whole message is ready.)
25. Add A Video
Yes, you can add a video to your stories, even if you don't film it within the Instagram app! If you have a cute video you love, style the background, and add the whole thing to your stories.
26. Background Animation
Instead of adding a video to the foreground of your story, put it behind the words, images, or anything else you might be sharing. This creates excitement for the eye but still lets viewers focus on what's in front of them.
Start Telling Your Story
So there you have it: 26 different Instagram story ideas. No matter what you start with, it's important to simply start using your stories. This is a great way to connect with your audience, so if you haven't tried it before, let one of these ideas inspire you! Let us know in the comments below which one you're most excited to try.
Instagram Growth Hacks
Join over 100k+ marketers and influencers who get the latest Instagram tips & tricks sent to their inbox every week