How Much Do Instagram Ads Cost?
post
For today's businesses and brands, adding Instagram ads cost to a marketing budget is a step in the right direction. If you're not already taking advantage of Instagram's advertising potential, you should reconsider your marketing strategy. While it can't hurt to spread your reach across several different social media platforms, focusing on using Instagram to promote your brand and discover new customers and clients will significantly impact your brand awareness, conversion rates, and more.
Pricing Breakdown: What Instagram Ads Cost
On average, Instagram ads generally see 2.5x more clicks than any other social media sites, and regular Instagram posts see up to 10x more engagement than Facebook posts. The difference lies within the app's clutter-free layout and a user-friendly mobile experience.
When determining what Instagram ads cost, it's important to look at the whole picture. Instagram ads provide a clear and effective way to reach your niche audience with the content already created for your Instagram campaign. You'll find that by implementing paid Instagram ads within these campaigns, you'll be able to take your marketing efforts to the next level.
Instagram offers several advertisement options depending on your budget and brand image. Given the potential to grasp thousands of loyal new followers, many brands are curious about the various pricing required to use Instagram to reach their target audience.
Curious about how much Instagram ads costs? We've simplified the details and broke it all down for you below:
Instagram Ads' Pricing Breakdown
Defining Your Target Audience
Since Instagram utilizes the same advertising tools as Facebook, brands now have the ability to create more targeted ads to effectively reach their demographic. To determine how much these Instagram ads cost, you'll first need to focus on identifying your target audience.
Do this by researching your demographic and pinpointing users that are more likely to benefit from your brand. Once you've found your target audience, you'll have a better understanding of what type of ads to use and can start calculating how much Instagram ads cost.
Analyze Competing Brands' Campaigns
In addition to identifying your target audience, the next step in determining what type of ads to use in your Instagram campaign is to take note of competing brands and how their followers engage with them. Pay attention to their social media campaigns and marketing efforts to gain a better understanding of how they utilize ads to reach their audience.
Join 100k+ savvy Instagram marketers
Sign up for Kicksta today and start attracting more followers who are interested in your brand.
Consider the Industry, Market Size, and Additional Factors
Figuring out how much Instagram ads cost will vary based on the industry, market size, and what type of products or services your brand sells. Additionally, the pricing will also depend on how extensive your Instagram campaign will be.
The information below is an example of the fashion industry and how the pricing for ads works within a larger market:
Location: United States
Gender: Women
Age: 18-30
Automatic Ad Placements
Price: $4.13 for every 1,000 impressions
Being that the fashion industry's presence is so large on Instagram, it's crucial to narrow your scope to market effectively. In this case, young fashion-savvy users in the United States are the "niche" group that brands might pursue.
Types of Ads
There are a variety of options when it comes to Instagram ads, so calculating how much Instagram ads cost, depends on the type of ads you are considering. One type of ad may be more suitable than others depending on your field and the audience you intend to reach.
With Instagram's ads, brands have the choice of the following:
Photo ads
Video ads
Story ads
Carousel ads
The following is an example of a single photo ad:
While single photo ads are typically more expensive, it doesn't mean they always perform the best.
In fact, carousel ads and videos tend to perform better than single photos. For those curious about "carousel ads," they are the latest feature that enables users to upload up to 10 photos per post in a slideshow format.
Before calculating what Instagram ads cost, take some time to review statistics regarding Instagram ads to make sure your efforts are effective. As we look further into the way Instagrammers use the app, it's clear that various demographics tend to use different features more than others.

For instance, Gen Z'ers that are used to using apps like Snapchat and TikTok tend to use Instagram Stories more than any other feature on the app.
Exploring Instagram Ads Manager: What Each Ad Costs
When figuring out what Instagram ads cost, it helps to investigate how Instagram Ads Manager works. Take a look at the various contributing factors that go into the cost of Instagram ads:
1.The percentage of your budget that you're willing to spend on Instagram ads.
2. The Relevance Score for your Instagram ad.
Facebook/Instagram rates each advertisement based on how relevant they appear to be to your target audience.
3. The estimated Action Rate is based on the likelihood that people will take the intended action after seeing your ads. This information relates to the estimated rate of conversion for your Instagram ad.
In addition to these contributing factors, it's important to note that the price for Instagram advertising isn't just based on your bid.

Brands can reduce what Instagram ads cost by developing quality ads that will be of more value to their audience. If these ads are effectively reaching the target audience, you're less likely to overpay for your Instagram ads.

The Structure of An Instagram Ad
Part of what goes into determining what Instagram ads cost is the initial process of creating the ad. By taking the time to analyze the structure of an Instagram ad, you'll be better equipped to create effective ads that are worth every penny you spend on them.

The following is an example of an Instagram Stories Single Image ad: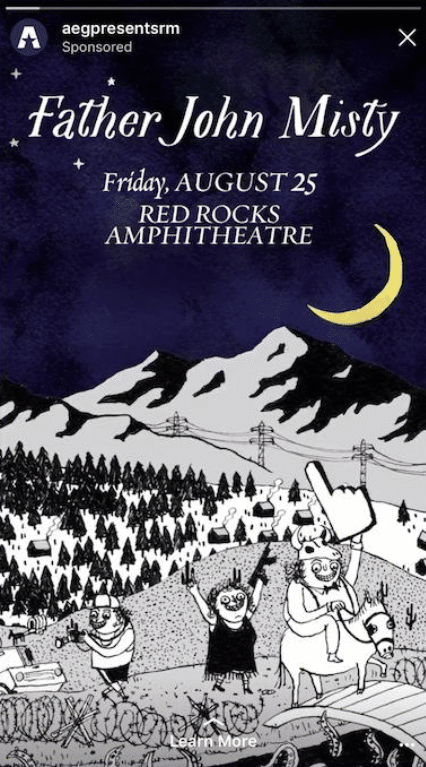 Instagram's Ads Manager is split into three sections:
These sections help you build up your ads with the following process:
Set Campaign Details
Begin the process of choosing you ads by selecting the objective for your Instagram marketing campaign.
Join 100k+ savvy Instagram marketers
Increase your following and engagement on Instagram organically.
The best way to start this process is to determine your end goal. By defining these objectives, you'll have a clearer idea of how to tailor your ads to reach your audience.
Use the Ads Managers to pick between 11 different objectives:
This process will help you to choose relevant objectives on Instagram that will make the cost of Instagram ads worth it.
Set Details for Ad Sets
Creating details for your ad depends on your objectives.
For example, to increase traffic, the Instagram Ads Manager will ask whether you're targeting Messenger, an app,or a website. Then it will ask if you're creating an offer that's focused on converting your audience.
Here you have the opportunity to define the audience. By picking the most receptive audience you'll be able to use your money most effectively. For this reason, it's best to avoid broad targeting as you'll overpay while failing to reach the niche demographic that is more likely to purchase products or services from you.
Target based on the following selections:
Connections
Behaviors
Interests
Demographics
Languages
Gender
Age
Location
During this process, you'll have the choice to choose between CPM (cost by impressions) or CPC (cost per click) as well as decide between manual or automatic bidding.
With manual beginning, you'll need to decide whether or not to set the price to average or maximum bids. By selecting the maximum bid, Instagram won't show your ads if their cost per result exceeds your bid. This selection is best if you hope to maximize your ROI.
Set Details for Specific Ads
At this stage, you'll need to select the ad format from the following:
Slideshow
Single Video
Single Image
Carousel
Instagram Stories Single Video
Instagram Stories Single Image
Experts suggest that carousel ads are the most cost effective. After selecting the format, you'll provide other details including videos, images, links, and the call-to action.
Native Ads and Cost Effectiveness
Instagram users tend to respond best to ads that are disguised as relevant posts. By making your ad look like a standard post of content your audience appreciates, you'll get the most for your money. With native ads that blend in with your regular content, you'll find that you are able to better target your intended demographic.
Best Practices
When deciding what types of Instagram ads to use in your campaigns, it's important to be mindful of the current trends. With the constant shifts and advancements in digital marketing, it can be tough to keep up with the trends. One minute we're all clicking on banner ads while browsing the Web, and soon after we all find those ads "spammy" and completely stop engaging.
Right now, Instagram is trending in the world of marketing as they have proven to be versatile and unobtrusive enough to appeal to more users than any other social media platform.
However, this does not mean that certain methods eventually decline in performance as newer mediums present themselves. As such, before you ask yourself how much Instagram ads cost, consider their true value for your brand and market respectively.
While some advertisements serve to attract new Instagrammers to your brand, the wrong choice will make your company appear too desperate.
For example, using too many Instagram ads as part of your campaign will cause your intended goal to backfire. To make sure the ads you invest in are effective, make sure to be strategic by researching the ways in which your target demographic likes to engage with the app.
Instagram ads are only effective if they are the type of content that your target audience wants to engage with. By conducting the necessary research and factoring in relevant pricing, you'll be able to find a way to benefit from Instagram ads in your next campaign.
Instagram Growth Hacks
Join over 100k+ marketers and influencers who get the latest Instagram tips & tricks sent to their inbox every week