Everything You Need To Know About Instagram Notifications In 2023
post
It's time to learn about Instagram notifications.
Getting the best results from your Instagram campaign means knowing how to use every feature and functionality correctly.
From capturing the hearts of customers with strategic Stories, to showcase your fun side with Reels, there's a purpose for every capability.
One of the latest tools available to deliver more followers for Instagram is Instagram notifications. Use them correctly, and these notifications will help you to keep track of your tribe, plan strategies for success, and even stay ahead of the competition.
We'll be covering everything from what Instagram notifications are, how to turn them on and off, and Instagram troubleshooting techniques you can use to fix any issues you're having with your Instagram notifications.
What Are Instagram Notifications?
Instagram notifications are a tool on Instagram designed to keep you up to date with the evolving platform. There are various kinds of notifications available on Instagram to help you keep track of things like:
· Posts, stories and comments
· Following and followers
· Live and IGTV
· Direct Messages
· From Instagram
Instagram notifications, like any Instagram update, aim to give users the best experience of the platform. Your notifications are even customizable, so you can determine what you want to hear about from the platform, based on your personal preferences.
Notifications are ideal for staying updated about crucial content on Instagram.
How To Get Notifications From Instagram
According to Instagram's support page, you'll automatically get notifications for any activity that involves you. This could include when you get a direct message, are @mentioned in a post, and so on. However, as each Instagram update continues to roll out new functionality, you may want to be a little more granular about the way you manage your notifications.
The notifications section for Instagram allows you to turn alerts on and off for a range of different things, including when you get comments on your posts, or receive a message from Instagram.
How To Turn On Instagram Notifications
How to turn on Instagram notifications is simple enough:
How To Turn On Instagram Notifications On iOS
· Open the Instagram app on your device
· Tap on the Settings cogwheel
· Tap Notifications
Decide whether you want to allow or pause your push notifications with the toggle switch.
You can also turn Instagram notifications on or off within the Settings section of your iPhone. Tap into 'Settings', then scroll go to 'Notifications'. Tap on Instagram, and next to Allow Notifications, you'll see a slider.
Slide the switch to green to allow notifications.
Once you've done this, go into your Instagram app and Settings to check that the right notifications are enabled.
How To Turn On Instagram Notifications On Android
For Android devices, the process is slightly different.
Start by opening your Android Settings, and selecting Apps.
Scroll through your apps until you find Instagram, then tap on it.
Select Notifications.
Here, you can check if you have Notifications turned on or off. You can also customize which notifications you want to receive directly from your Android settings.
Once you know your Notifications are enabled, head into the Instagram app to ensure everything is set up correctly there. Just like on an iPhone, you'll need to go to your Settings on Instagram. Tap on your profile page, then choose the three horizontal lines on the top right of your screen.
Tap on Notifications and you'll be able to choose your notification settings for various Instagram options. Tap on any category in the list to customize your settings for that category.
Join 100k+ savvy Instagram marketers
If you are struggling to get the attention you deserve on Instagram, sign up for Kicksta today and start attracting more followers who are interested in your brand.
How To Check Instagram Notifications
The best way to make sure you never miss out on an Instagram notification in real time is to enable push notifications. You'll need to tap on your Profile tab in the Instagram app and go into Push notification settings to do this. This will ensure that your phone gets an alert whenever one of your approved notifications comes through.
If you want to go into your account and scroll through previous notifications, you'll need to go into your Instagram profile again.
In 2020, Instagram moved the heart-shaped notifications icon from the home feed to the profile page, in the top right-hand corner. Tap the heart-shaped icon to see all your most recent friend requests, comments, likes, mentions, and more, since you previously used the app.
How To Set Up Notification Sounds
You can set up your Instagram alerts within the Instagram application.
Start by making sure you're logged into your account with your username and password. From your personal profile page, go into the menu by tapping the three bars on the top left of the screen. Open the "control page" through the gear icon at the bottom of the page, and select the required ID.
On iOS
Go to the Settings section on your iPhone and scroll down in the menu until you find "Notifications." Under the sub menu for Notification style, you can select third-party apps that you want to change the notification for.
Tap on Instagram, and make sure that "Allow Notifications" is toggled on. A list will appear of notification options, so you can choose which notifications should make a sound. Make sure the sound on your iPhone is turned up.
On Android
Go into your device's Settings page and tap on "Accessibility." Choose "Sound Notifications," and open this tab. Here, you can change permissions, and decide whether sounds should be turned on for different apps.
How To Change Instagram Notification Sounds
On iOS
On iPhone, there doesn't appear to be a way to change your notification sounds specifically for Instagram. However, you can change the notification sounds for other alerts, like emails and text messages.
On Android
You have a little more freedom with an Android phone to tweak your Instagram notifications.
Go into Settings on your smartphone and scroll until you see the "Apps and Notifications" section. Once you tap on this, go into the submenu called "Notifications" and scroll until you find the "Advanced" tab.
Choose "Default Notification sounds" at the bottom.
If you want to change the sound specifically for Instagram and nothing else, then you can go from the "Apps and Notifications" option in your Settings and tap to "Recently Opened Apps." Choose Instagram, then go into the Advanced tab again.
Visit your default sound library and select which notification sound you want to assign to Instagram. You can even set different notifications for your Instagram notifications, like getting a bell chime when you're @mentioned, or a bird sound when you receive a direct message.
Although you don't have a lot of options on an iPhone for Instagram notifications, Android will give you the option to change your sounds as much as you like. You can even download third-party apps which give you a wider selection of sounds to choose from.
Reasons Why Your Instagram Notification Is Not Working
If all of your Instagram Notifications are switched on, your sound is turned up, and you know you're logged into your Instagram profile, it can be stressful to discover you're still not getting notifications.
Unfortunately, like with any app, it's possible for something to go wrong with your Instagram alerts.
Start by making sure your notifications are switched on, using the guidelines mentioned above. If this doesn't work, you can try these options:
1. Clear Your Cache And Storage Data
If you're not receiving Instagram notifications, try removing the cache and storage data for your Instagram app. The stored cache could be corrupted which may prevent your app from working properly. Go to the apps section in your phone settings, and long press on the Instagram app.
Select "App Info" and click on "Storage and Cache." Select the options to clear both your cache, and your storage, then log back into Instagram. Hopefully, you'll start to receive notifications.
2. Check Do Not Disturb Mode
It sounds silly, but if you're not getting your Instagram notifications, you may have forgotten to turn off Do Not Disturb mode after a recent trip to the cinema, or a school lecture. DND mode cuts all notifications off and keeps them silent. You also won't get your notifications in the notification panel.
To turn off Do Not Disturb, go into your quick settings panel by swiping down from the top of your phone screen, and locate DND. If you can't find it here, you can go into the Settings section of your phone, then click "Sounds" and "Do Not Disturb."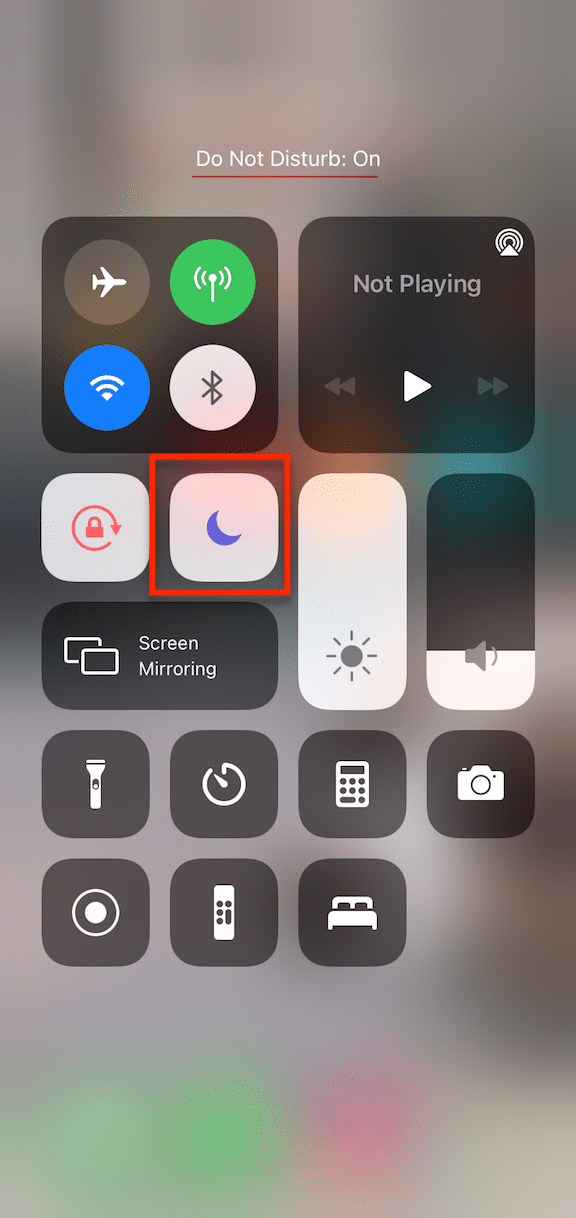 3. Update Your Phone
Sometimes, an outdated operating system can cause a range of problems with your phone's performance – including making it impossible to receive notifications. System updates are an important way to keep your device working as it should and get rid of unwanted bugs.
If you're not getting Instagram notifications on Android or your iPhone, check for any pending updates on your device. You can do this by going into your phone's "Settings" page and looking for "System." Tap into the System option and select "System update." Try restarting your phone after this to ensure everything is fully updated.
4. Uninstall And Reinstall The App
Sometimes it's not a problem with your phone that stops Instagram notifications from working, but an issue with the app itself. Your Instagram app may be buggy or broken, so try deleting it, and downloading it again.
You can delete your Instagram app by visiting the Apps section in your phone settings, and long pressing on the Instagram app to remove it. To reinstall Instagram, simply go back to the Apple or Google Play app store, and search for Instagram. Download the app and log in to your account again.
Check that Notifications are turned on once you're back in.
5. Disable Power-Saving Mode
Power-Saving mode can be just as problematic as Do Not Disturb when it comes to missing out on Instagram notifications. If you're low on battery, your phone can stop you from getting various notifications to save on energy. Even if you still get texts, you may not receive Instagram notifications.
Go into your device Settings and look for "Battery Optimization."
Within the battery optimization menu, you should be able to view all of your apps. Find Instagram and set it to the "Not Optimized" mode. This will ensure that you don't cut out Instagram notifications when attempting to save energy.
6. Other Options
If none of the fixes above work for you, then you might have to do something about your internet connection. Instagram needs a strong network connection to communicate with your device. If you're in an area with low coverage, you might not receive any alerts.
If finding a strong internet connection doesn't work, then there may be an issue with something in your device on a greater scale.
Why Your Instagram Notification Is Not Going Away
Failing to receive Instagram Notifications isn't the only example of something that can go wrong with your Instagram app. If your Instagram notifications won't go away, then your phone can end up getting cluttered with too much information.
If your notifications aren't going away, visit the Instagram app and go into your profile. Tap on the heart icon to see all of your Instagram notifications and make sure you scroll all the way down to the bottom, to inform Instagram you've looked at everything.
Go into the requests in your direct message section and check the general "messages" section for anything you might have missed. To check your message request, go into your Instagram direct messages, and at the top of the page, you should see "Primary" and "General," and next to this, you may see "1 request." Tap on the "request" section.
If this doesn't work, you can try uninstalling and reinstalling the app to get rid of any lingering bugs or corrupted files. Alternatively, go into your Settings on your phone, and tap the Instagram app to check if any updates are needed.
Making The Most Of Instagram Notifications
Instagram Notifications are excellent for keeping track of all the information you need to examine on Instagram.
Hopefully, this article has given you all the information you need to check your Instagram notifications, choose which alerts you want to track, and even change the sounds that play for each notification.
Instagram Growth Hacks
Join over 100k+ marketers and influencers who get the latest Instagram tips & tricks sent to their inbox every week