The Influencer's Guide to Using Instagram Creator Studio
post
Alongside existing personal and business accounts, the new Instagram Creator Studio has introduced a new type of account—the Instagram Creator Account.
In its initial stages, everyone on Instagram had a personal account. As the social media giant evolved, business profiles were introduced, which gave users access to tools like insights, action buttons, and better DM features.
What is Instagram Creator Studio?
Instagram's aim is to separate business profiles from influencers via the creator studio by designing a profile system that is suited solely to influencers and content creators.
Instagram's creator studio gives influencers access to flexible profile controls, categorized messaging, and the ability to manage, measure, post, and monetize their content across their Instagram accounts.
Instagram had offered the creator studio feature to profiles with more than 10,000 followers in its testing phase but it is now available to all users regardless of their follower numbers.
Features of Instagram Creator Accounts
The Instagram Creator account was created with influencers in mind. The features and functions make it very easy and accessible for users to use, track, analyze, and monetize their creator profiles.
Influencers had been asking for a personalized account, and so Instagram analyzed that buyer persona to evaluate and understand the needs of its customers, eventually designing the creator account.
Though many influencers know how SEO works, many don't. The introduction of the new creator account will give content creators an idea about how SEO can be used to their advantage.
Let's discuss a few features of the newly rolled out Instagram Creator Studio:
Increased Growth Tools
Instagram has become a hub for influencers, and it only makes sense that the photo-sharing network designed the creator profile feature with influencer analytics in mind. The previously used business profiles analytics wasn't catering to this group.
The creator studio analytics on the other hand, tracks follower growth and unfollow/ follow data over time.
The dashboard is available with other analytics that are hugely helpful to content creators working on developing their businesses, including daily and weekly data across various functions like IGTV, stories, and posts.
Creators can also directly access their dashboard and metrics from their desktop without the need for a third party application. Desktop access is granted through the management system's connection to your Facebook page or profile.
Below is a breakdown of the kind of analytics the Instagram Creator Studio offers:
Performance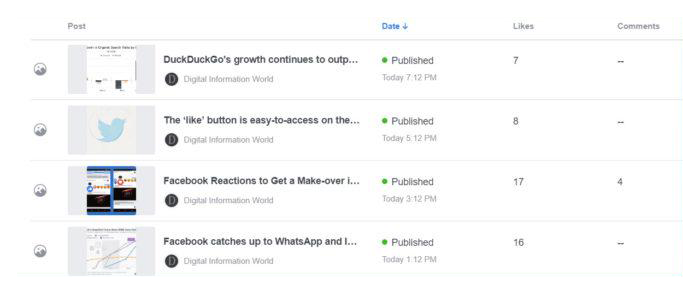 The creator account shows you detailed performance analytics on all your posts since you converted from your personal account for the last seven days.
The kind of metrics you will see are similar to those found in business accounts:
Comments
Engagement
Impressions
Likes
Reach
Saved
You can see the performance analytics for all your Instagram content, or you can filter it according to the type of content you have created, such as:
Carousel
IGTV
Photo
Stories
Video
Furthermore, you can filter according to dates or keywords, so you can measure the effectiveness of your posts' copy.
Audience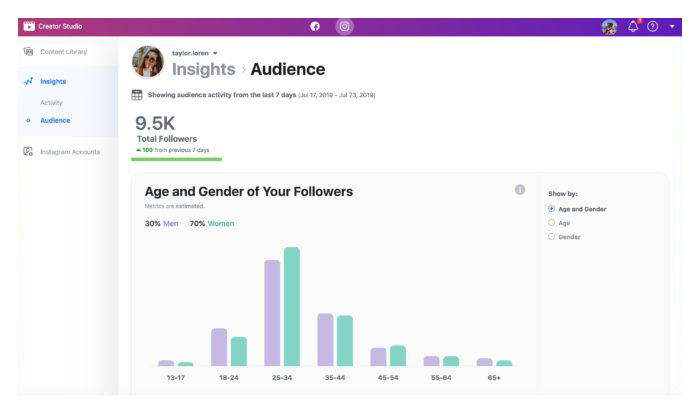 The audience insights of the Creator Studio are also similar to the ones business accounts offered creators. These analytics show you details about the following:
Age
Gender
Location
Active Times
But apart from these insights, you can also see the kind of engagement and reach you are receiving from followers. You can see the following actions that are taken by followers on your account:
Taps to Call You
Taps to Send You Texts
Taps to Send You Emails
Taps to Get Directions for Your Store/ Business
Retention
Instagram Creator Studio's discovery data and growth measurements are by far the most exciting aspect of this type of account.
Instagram follower number, growth insights, and discovery data are some of the kinds of information that you will have access to.
Through the Creator Studio insights, you will be able to view a growth graph which you can delve into for detailed information about which posts are attracting followers, and which ones are receiving little engagement.
On the growth graph itself, you can click on a particular day and then see detailed notes about the posts you shared that day.
Via this method, you can see what content is performing better than others as well as study trends related to the kind of images, text, and hashtags you are posting that are receiving high engagement.
Earnings
We will speak in detail about Shoppable posts in a moment, but we wanted to touch on the kind of analytics that you could see on Shoppable posts on Instagram Creator Studio.
As of now, there isn't much information regarding Shoppable analytics, but it is safe to assume that you will be able to see the following insights:
How many users tapped on a product tag
How many people clicked 'view more'
Who clicked the 'next' button
How many times the purchase button was clicked
With analytics like the above, it is clear that Instagram Creator Studio is designed with all the features that matter most to content creators.
Flexible Profile Control
The Creator Studio gives users oversight over how they manage and control their profiles, and how you can be contacted.
Content creators have the ability to designate the preferred method through which you would like to be contacted. This gives you the ability to manage and filter out irrelevant messages, so you can dedicate more time to engaging in relevant and meaningful conversations.
Simplified Messaging Functions
Influencers on Instagram receive all kinds of messages—ranging from casual direct messages to collaboration messages—on a daily basis.
Currently on Instagram, you have no control over what kinds of messages you receive. This can be overwhelming for influencers with thousands or even millions of followers.
Join 100k+ savvy Instagram marketers
Join the 10,000+ influencers and bloggers who grow their following with Kicksta.
The creator profile on Instagram has introduced features such as high-quality filters for direct messages.
With the options of these new features, users can distinguish between general messages, so they can prioritize important messages related to collaboration requests, or messages from friends and family.
Users can move messages into the categorized inbox of choice and can also choose if they want to receive notifications for their general messages or not.
Monetization through Shoppable Posts
One of the newest and most cherished features of the Creator Studio is the introduction of shoppable posts for creators. This feature had only been available to brands until now.
Shoppable allows you to tag products in their posts with links to the product being showcased.
With the help of the shoppable feature, users can shop directly from an influencer's post without having to leave Instagram—accomplished through the 'checkout' feature that allows you to make purchases within the frame of the application.
This feature offers a simple yet effective way to immediately monetize on Instagram, but keep in mind that, as of now, this feature is limited to only a select group of influencers and celebrities.
IGTV Videos
With Instagram Creator Studio, you can now post and schedule IGTV videos (you can do the same for posts on your Instagram feed).
Simply upload your video to the creator studio from your computer or profile, and then add the necessary details, such as:
Title
Description
Cover Image
Once you have added those details, you can choose to share a minute-long preview to your Instagram feed, as well as on your Facebook page.
You can publish your IGTV video immediately or click on the 'schedule' option beside the publish button.
Sound Collection
Creators can now jazz up their videos with the Sound Collection feature available in Facebook and Instagram Creator Studio.
You can choose from a list of available tracks or sound effects that you can download. Add the tracks to your videos as is, or edit them into your videos as needed.
As of now, you need to download the tracks off the library to your computer and use a third party application to mix them into your videos before uploading it to the studio to share on Instagram.
Whether this feature will be updated to reflect YouTube's successful creator studio remains to be seen.
How to Switch to the Instagram Creator Studio
Switching from a personal or business account to a creator account is quite straightforward. You need to follow these steps:
To convert your personal profile to a creator account, open your Instagram profile and click on the hamburger menu on the top-right corner.
Once the options are open, tap on the Settings button at the bottom of the screen. Then click on the option that says 'Account.'
The account page will give you the option at the bottom of the page to 'Switch to Creator Account.
This setup process will guide you through a few screens to confirm your creator account.
You will then be given the option to select a category that describes the nature of your work. For example, you could choose 'blogger', 'writer', or 'photographer'.
After selecting a category, you will be able to decide whether to hide or display the category you have selected on your profile.
The same option, to hide or display, is available for your contact details.
These are the few steps you will have to follow to switch to a creator account. As soon as you switch your account, you will be able to see the latest insights and use the newest features of the creator studio.
Create and design innovative Instagram posts and publish them to use and analyze your progress on your new creator account.
Conclusion
The introduction of the creator account brings some new and exciting features for content creators on Instagram. Hootsuite academy also helps you learn the latest marketing techniques for Instagram which you can use for marketing through the creator's account.
The new introduction holds a great deal of value for influencers on Instagram and is going to give the growth strategy of content creators on the platform a significant boost.
Kavita Verma is a digital marketing expert and a content marketer at Venngage, an online infographic and design platform. She has more than seven years of experience in content writing and in her free time, she enjoys researching and writing about on digital marketing topics.
Ronita Mohan is a content marketer at Venngage. She has a keen interest in writing about subjects related to marketing, productivity, pop culture, and diversity.
Instagram Growth Hacks
Join over 100k+ marketers and influencers who get the latest Instagram tips & tricks sent to their inbox every week