Marketing With Instagram: What Makes It The Ideal Social Media Platform For Businesses
post
Since its launch in the social media world, Instagram has quickly earned its place as one of the most used platforms. Over the years, Instagram has transformed itself from a social media platform into a full-fledged marketing channel. With over one billion active monthly users and 500 million daily Instagram stories, it's no more just for personal use.
So, what does it tell marketers?
Day by day, businesses are humanizing their content to target relevant audiences, and the competition is like never before. After knowing that 80% of Instagram users follow at least one business, and 72% of users purchased a product they've seen on the platform, it's inevitable that Instagram for business is rolling its wheels at a higher speed. There are no possible reasons for a business to not market on Instagram, and if you're still confused, let's go over reasons to choose Instagram as a marketing tool for your business.
Why Choose Instagram As A Marketing Tool For Your Business?
1. Keep Up With The Trends
Content on Instagram is continuously evolving, and very often, you might have to come up with something new to keep up if you want to stay in the game.
Businesses on Instagram work merely on improvisation, which is also an open opportunity for them to nail their marketing techniques. It's one of the important platforms where your brand can showcase its ability to keep up with the trends. Take a look at how brands like @adobe and @thecocacolaco did it right. By following the #blacklivesmatter trend, these brands showed how they empathize with the community's sensitive issues.
2. Let Your Customer Reach You In A Click
Instagram has been known to be a mobile-friendly platform, and even after the desktop version existed, it's still most preferred to be used on mobile phones. This suggests that customers can reach your brand within just a click. With the increasing number of social media users, it has become much easier for global as well as local social media businesses to reach their customers.
3. Promote Your Business To A Younger Demographic
Unlike Facebook and Twitter, Instagram is the most used social media platform amongst the younger audience. Statistically speaking, 33.8 percent of global Instagram audiences are aged between 25-34 years old. This clearly states the potential of businesses to target and reach the people of this particular age group.
4. Market Your Visual Content
There are numerous types of content in the digital marketing funnel, but visual content produces 650% more engagement than text-based posts, according to an Inc. research. Instagram is the best possible platform to regularly post visual content that will be seen and appreciated.

Pro Tip: Consistency throughout your Instagram feed is necessary to maintain a brand image that represents your identity. You can also give a shot to editing apps like Instasize to properly resize your images, so you don't lose important details of it once published.
5. Keep An Eye On The Market
Whether you're an Instagram fan or not, almost all brands are now on the platform and are working to increase their engagement with their audience. Instagram can be beneficial for businesses not just for engagement, but also to keep up to date with what's going on. Knowing what your competitor is doing can give a great deal of direction to your Instagram marketing strategy.
Now that you're caught up on why marketing with Instagram is a good idea, let's move forward to the step-by-step process of creating an effective Instagram marketing strategy for your business.
How To Create An Effective Instagram Marketing Strategy For Your Business
1. Determine Your Audience And Objectives
This step is the foundation of your marketing with Instagram. It's important to know what you're trying to achieve with your Instagram marketing strategy. You can begin by asking these questions to develop a better perspective of your strategy:
Who is my target audience and what are their demographics?
What am I trying to accomplish by marketing on Instagram?
What kind of content does my target audience usually engage with?
Who do they follow on Instagram?
Each of these objectives will have different metrics to track, which will guide you further in developing your content strategy. Knowing what you want to achieve before executing your strategy is the right way to do it. The research around your objectives and target audience can give you a kick start to work towards the next steps.
2. Create A Compelling Instagram Profile
Remember, this is your business profile and it shouldn't be anything like your personal profile. Your business profile should reflect your brand through all means possible, including color, theme, and tone of voice.
To be able to hook the viewers to your brand profile, you need to convince them that your content will benefit them. You can begin with minor details like crafting a compelling bio, focusing on aesthetically pleasing visuals, and using precise hashtags.
@petco maintains its well-known brand voice throughout their Instagram bio:
@cocacola is consistent with their colors and themes, drawing their viewers in: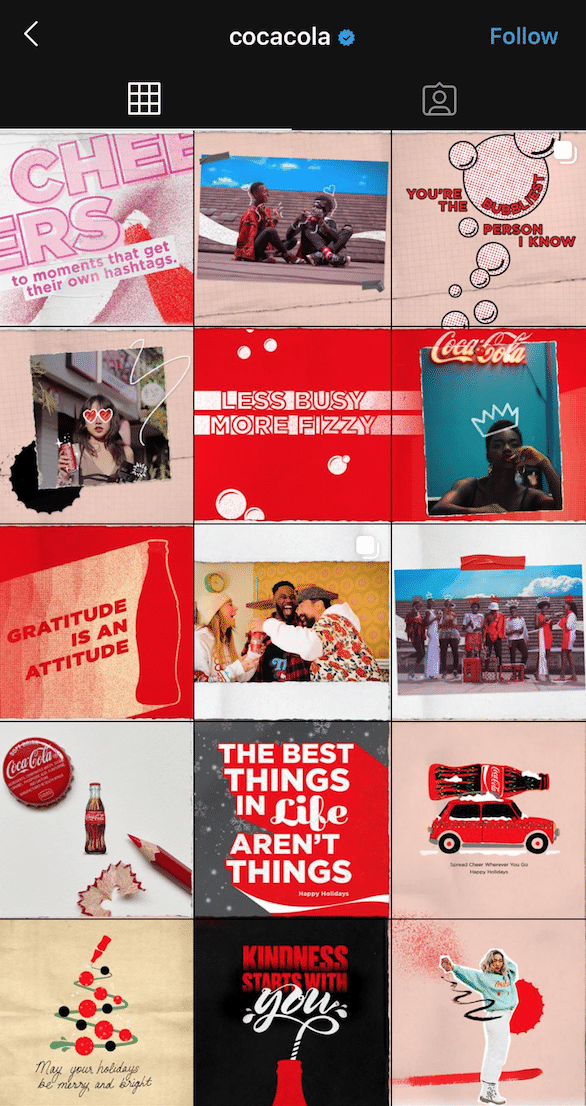 3. Use An Instagram Growth Service
As the number of users on Instagram are increasing every single day, it's getting harder for businesses to gain likes, shares, and followers. Instagram growth services are now needed more than ever. These services can help you accelerate your organic reach by helping you gain a genuine organic audience on your business profile.
When you decide to start looking for an Instagram growth service, find a tool that provides you utmost transparency.
Kicksta utilizes AI to bring your business in front of authentic users on Instagram. You provide a list of target accounts (influencers in your niche, complimentary brands, competitors, etc.), and Kicksta auto engages with the followers of those target accounts by liking the posts of those users. Utilizing tools like this can save you time, help you target the right audience, and gain real followers on Instagram.
4. Work On A Content Strategy
This could be the most challenging aspect to work on, but when done, it will provide answers to what to post and when. A well-developed Instagram content strategy will always tell you what to do next. This step involves realizing the types of content and its importance for your business, including:
Images
Videos
Stories
Infographics as carousel
User-generated content
You can also think of giving a shot to the following:
Influencer Marketing
Content/Giveaways
Instagram Takeovers

Pro Tip: When you're working on a content strategy, do some keyword research beforehand to know what content your audience is already looking for.
5. Schedule Content In Advance
While developing a content strategy, you can never ignore a content calendar. When you know what you're going to post, it's better to decide when to post and schedule in advance. There are many social media management tools available in the market that can help you with scheduling content in bulk prior to the posting date.
Using a calendar and scheduling content will not just help you to post regularly, but remind you of the gaps in your content strategy. You can also reflect on the best time to post on your social media calendar. For example, tools like SocialPilot come with features such as bulk scheduling, content curation, and social media analytics.
6. Use Strategic Hashtags
Hashtags on Instagram are similar to open communities where you can engage and interact with users and increase your visibility. Hashtags are used now more than ever, and with the increasing usage, it's essential to plan which ones to use. While it's important to put hashtags to good use, you also want to avoid using too many of them. A good average per post is 10 hashtags, so select which ones you're using carefully.
In case you're launching a campaign, it's recommended to have a branded hashtag. If your campaign is launched in a specific location, using a location-based hashtag can also be beneficial.
7. Utilize Stories Features To Gain Audience Insight
Each of your social media efforts is to get your audience to engage, and to proceed with that, you need to gain some audience insight.. Apart from analytics, Instagram comes with a poll feature that you can use to tell you your audience's preferences and interests.
This can help you improve your product/service by directly reflecting on what your audience thinks. Polls/Questions on Instagram are also known for bridging the gap between a brand and a customer. It's always recommended to include them in your Instagram marketing strategy. If you do receive positive product feedback or a compliment from a customer, do not forget to create social proof by sharing it on your Instagram story.
Here is how @starbucks targeted its audience with an interactive question using the Instagram questions feature. Such attempts by brands can help bring valuable insights and feedback.
8. Collaborate With Influencers In Your Niche
The incredible reach of influencers on Instagram is undeniable, and businesses tend to make the most of it. Working with influencers can not only improve your brand image but also help you reach potential customers. It has brought overnight success to many brands, but that only happens when you choose the right influencer.
Influencers on Instagram have unique niches of audiences. For example, a fashion blogger will have a completely different audience than a social media activist. Be sure to do your research before deciding to collaborate with any influencers. This will help you reach your targeted audience in a strategic manner.
For example, Puma utilized influencer marketing to reach a younger audience by collaborating on a collection with Selena Gomez.
9. Keep An Eye On Your Competitors
While creating your Instagram marketing strategy, it's also important to keep an eye on your competitors. Keeping a check on what's working for them can bring significant benefits to your Instagram marketing. Think about:
What kind of content is bringing engagement to them?
What is their hashtag strategy?
How often are they posting?
The answers to these questions will help you gain valuable insights into your competitor's strategy. You can use it to improve your Instagram marketing techniques and even have a chance of knocking them down with your high-quality and engaging content.
10. Track Your Progress
What keeps you relevant on Instagram is regular posting, but what keeps you improving is continually tracking your progress. Tracking your progress also includes consistently learning, optimizing, and improvising your content. Using Instagram Insights can also help you with basic analytics to improve your strategy.
If you're ready to dive into your Instagram's detailed analytics, there are several Instagram analytics tools available in the market. Give yourself plenty of time to do this step, because without tracking your progress, it's difficult to improvise your marketing game.
Marketing With Instagram
Instagram is an ever-evolving platform, and that's how your brand should be. Don't hesitate to experiment with new things, and excel at your marketing by using one or more Instagram tools available in the market.
Make sure you always use high-quality images, videos, trending topics, user-generated content, and make sure you're up to date. Good luck with building your Instagram marketing strategy!
Author Bio
Instagram Growth Hacks
Join over 100k+ marketers and influencers who get the latest Instagram tips & tricks sent to their inbox every week