Influencer For Instagram: 50 Top Influencers And Their Blueprint To Success
post
The top Instagram Influencers did not achieve success overnight. What started out as simply sharing their lives on Instagram has turned these normal individuals into celebrities in their own right. Becoming an influencer for Instagram is no easy feat; quite the opposite.
"Influencing" for many started as a hobby or side gig and has turned into a full business bringing in six figures, brand deals and dream trips around the world. So, how does one become one of the top Instagram influencers in the world?
While it may be difficult to beat the current pros, there is a lot of room in the space to create a name for yourself and make a career in Instagram influencer marketing.
Whether you're looking to find Instagram influencers to partner with or become a top Instagram influencer yourself, we're breaking down the best tips, strategies and information on the top influencers for Instagram to get you one step closer.
Quick Links
1. Focus On Resonating With Your Audience
The top instagram influencers are where they are today because they resonated with their audience; even in the beginning when their followings were significantly lower.
If you want to grow in the Instagram influencer marketing space, you have to find ways to connect with your audience. Your main goal can not be to make as much money and say yes to every brand deal that comes your way. Engaging and providing value to your current audience will propel you further than inauthentic brand collabs.
So how do you resonate with your audience? If you want to be a notable influencer for Instagram, bring something of value to your audience. Start using your camera for Instagram and capture every beautiful moment that will connect with your audience. If they are able to connect with you and gain something from your content they will stay loyal. 
The top instagram influencers are passionate about a specific topic and share information for free. Yes, you read that correctly. Start by sharing insider tips and products you personally like and do not expect anything in return.
2. Find Your Unique Voice
The difference between the top instagram influencers and ones who aren't as successful is unique voice and presence. Many influencers for instagram essentially piggy back on more popular influencers and never build a loyal following.
This is only doing them a disservice. Be honest, authentic and vulnerable with your followers, it will go a long way and propel you closer to being a top Instagram influencer. If your audience trusts your recommendations and enjoys your content they will engage more with your content!
3. Focus On The Insights That Matter
It can be easy to get caught up in having the largest following. While follower count does have some impact on your overall you should pay close attention to engagement and return on investment.
If you have a large following, but they aren't engaging with your posts then what's the point! The more people who engage with your content and buy the content you're promoting the better off you will be if you want to make money doing Instagram influencer marketing.
This is why you should not take shortcuts and purchase bot followers or likes. Be transparent and build an audience you can genuinely influence. Influencers gain reputations and you do not want to be known for being dishonest and purchasing likes or followers.
"Your insights will reflect your true following, so don't sabotage that with fake followers."
We've established what it takes to be an influencer, but what if you're a brand searching looking to find Instagram influencers to collaborate with on campaigns?
If you work in the Instagram influencer marketing space, keep reading for our tips on finding influencers for Instagram.
1. Decide Why Your Business Needs Influencers
Before you start searching for influencers, you'll want to decide why your business needs them in the first place. Once you establish your brand's vision, you can find Instagram influencers.
There are many ways in which influencers can help businesses. They add a human element around advertisements, bring value and have a built in loyal audience that will be likely to purchase your product or service.
The role of influencers has become key in brand communication. Utilizing them to their fullest potential will boost your sales.
2. Check Your Brand's Followers
If you have a decent following on social, it is likely influencers are already following your account and you might not even know it.
The best part about these influencers is that they already acknowledge and are fans of your brand. Half of the battle is convincing someone to partner with you, so if he or she is already a fan of the product you're one step closer to a successful collaboration. Just to make sure, find the right influencer outreach template that fits their profile, and send them a message.
3. Search Hashtags
If your followers do not work out, it's time to take it a step further and search popular hashtags that align with your brand.
Type in a hashtag that's relevant to your brand, or scroll through the list of people the app recommends. When the posts populate, check out the ones that are most visually appealing and of high quality to see if the influencer would be a good match for your campaign.
4. Use a Third Party Software
Finally, if you have exhausted all options on the app, it's time to call in backup. Social media professionals like Influence Grid help brands find influencers.
These companies are Instagram influencer marketing pros and are constantly looking for new influencers to pair with brands.
Join 100k+ savvy Instagram marketers
If you are struggling to get the attention you deserve on Instagram, sign up for Kicksta today and start attracting more followers who are interested in your brand.
1. Danielle Bernstein- @weworewhat
Danielle is a fashion icon with over 2.5 million followers on Instagram. She is so successful because she started as a street fashion blog before Instagram grew in popularity, and eventually began sharing her own outfits.
She now has multiple companies and brands of her own and her following continues to grow from her authenticity and passion for fashion. Her net worth is around $4 million.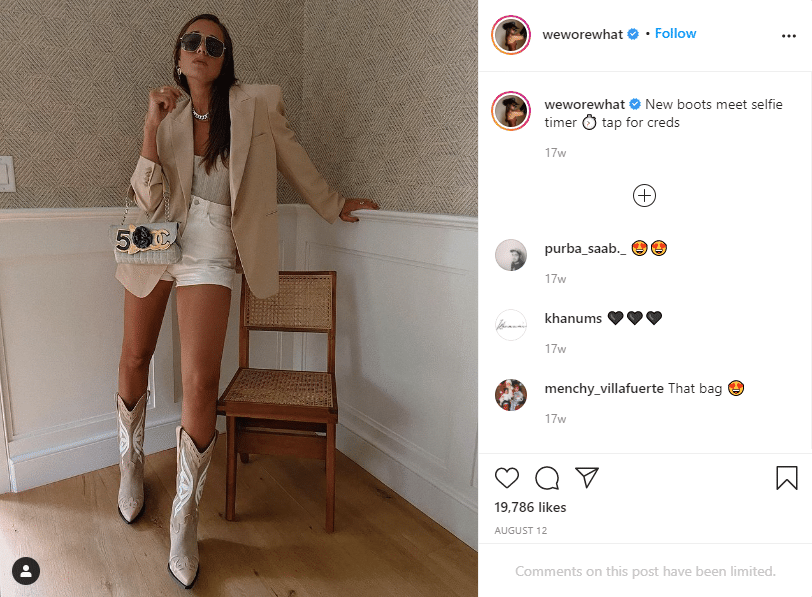 Brittany is another fashion powerhouse with 1.5 million followers as an influencer for instagram and a huge following on Tik Tok. She started posting photos of her affordable outfits years ago and has become a high fashion icon.
She gained popularity through her incredible combinations of designer and fast fashion pieces in the same outfit. She recently launched a collection with Revolve. Her net worth is estimated between $1 and $5 million dollars.
Paola, also known as her blog name, Blank Itinerary, is a fashion blogger and designer. She focuses on a mix of high and low fashion while preaching positivity on her platform of 1.1 million people.
She has also been in the game for a long time and has gained a steady following through her incredible content, designer collaborations and incredibly curated fashion and beauty content. Her net worth is estimated between $1 and $5 million dollars.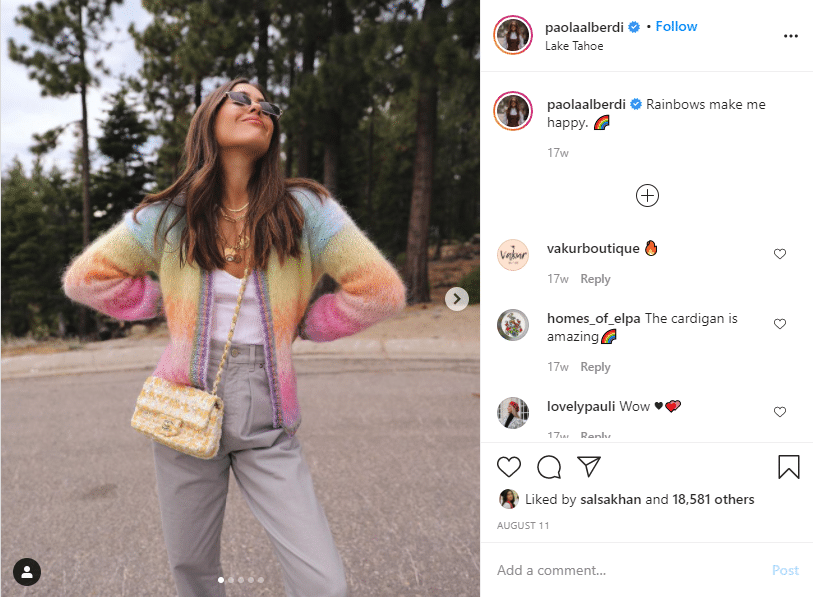 Camila is a fashion, beauty and lifestyle blogger. She has created collections for Revolve and with almost 9 million followers on Instagram and nearly 5 million on YouTube, she is a force to be reckoned with in the fashion influencer world. She gained her incredible following not only from her incredible fashion and lifestyle tips, but also because of her transparency and relatability.
Her net worth is estimated between $1 and $5 million dollars.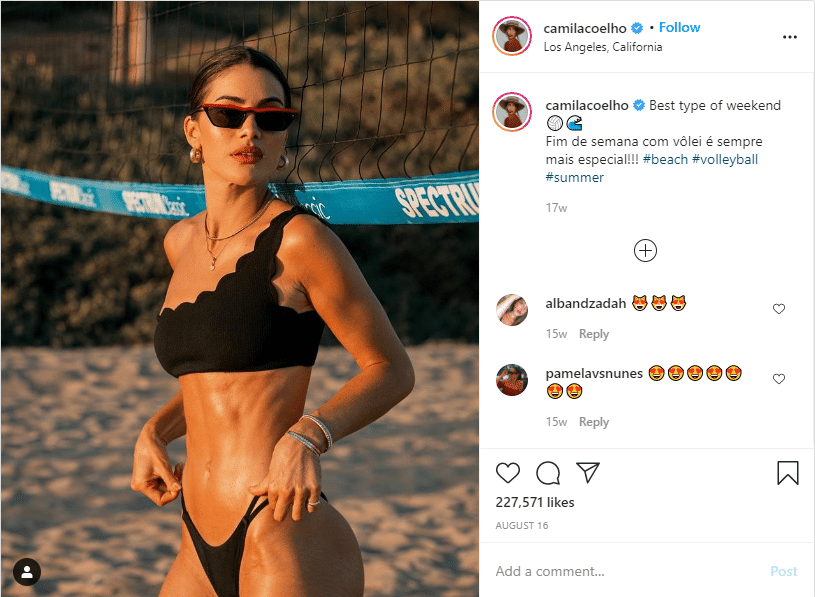 Fashion Icon and New York Times Best Selling Author, Aimee (pronounced Ah-Me) is one of the top fashion influencers. She made the Forbes 30 under 30 list and has her own collection Song of Style.
She has collaborated with incredible designers and well known brands like Armani and Dior. Her net worth is between $1 and $5 million.
With over 12 million followers, Kayla is one of the most popular trainers in the fitness world. She is the creator of the SWEAT app and multiple BBG workout programs. She is a recent mom, but that doesn't stop her from working out, even if it's just a 13 minute circuit.
Kayla's page grew in popularity after women around the world started doing her quick 30 minute circuit training workout guides. Her and her fiance (who is part of her business) have an estimated combined net worth of close to 700 million.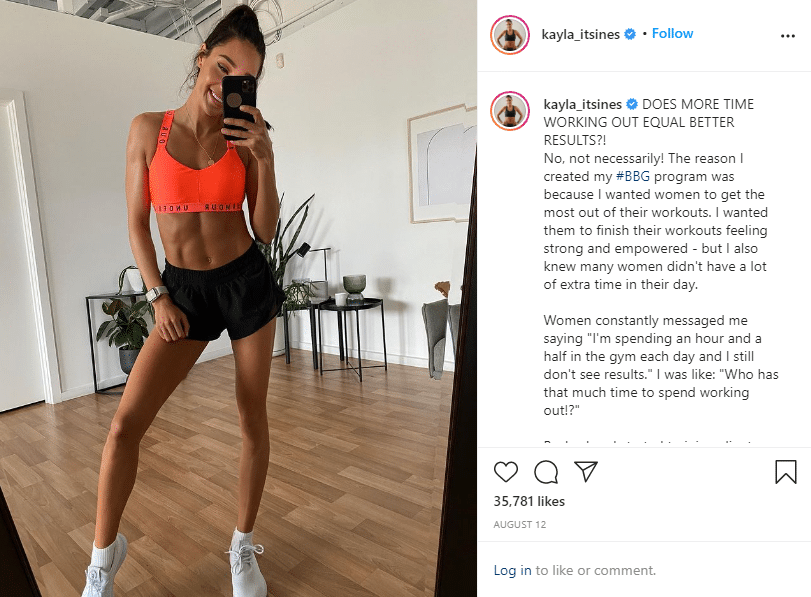 Need a trainer? Michelle has you covered. This Venezuelan model turned fitness pro is uber popular on the gram with over 13 million followers. Her rock hard abs and fitness programs draw in her millions of fans. Her estimated net worth is around $4 million.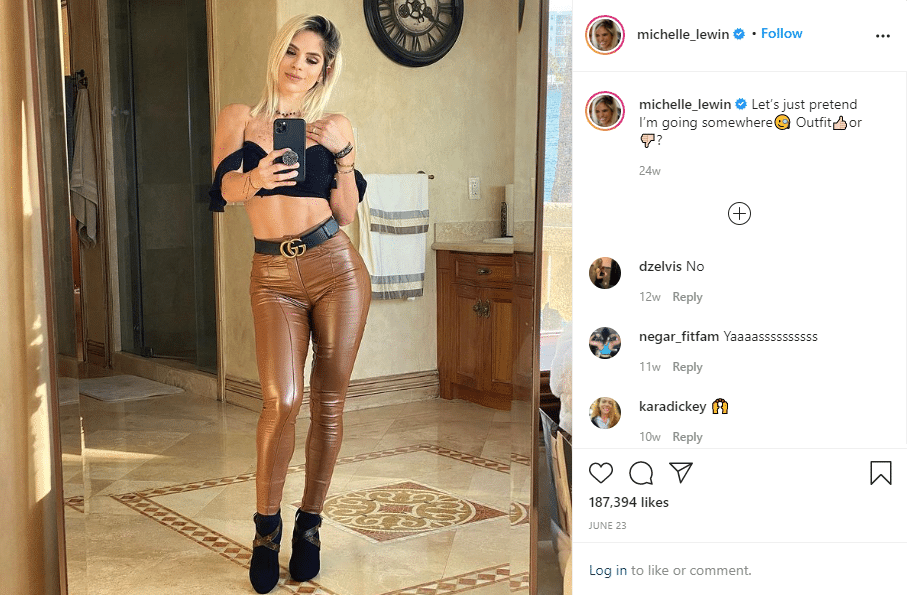 Jen Selter started her fitness journey in high school while working at the front desk at a local gym. What started as a hobby turned into a mission: to help others and a few years later she has nearly 13 million followers on Instagram.
You can have the opportunity to train with her through her digital fitplan online. Her estimated net worth is $600,000.
Listen up – Simeon Panda is not messing around when it comes to your fitness goals. This British fitness artist, entrepreneur, and professional bodybuilder is best known for his appearance in different bodybuilding competitions and also winning them.
He also owns the famous fitness apparel line named SP Aesthetics and Just Lift. He also has graced publications like Train Mag, MuscleMag, and Fitness RX. His net worth is estimated around $500,000.
Known for his shredded 8-pack, Ulisses Jr succeeded in achieving one of the greatest physiques in the world. He defied what many believed a natural bodybuilder was capable of and has since become an icon in the fitness industry.
He has won numerous bodybuilding competitions. His net worth is around 1 million.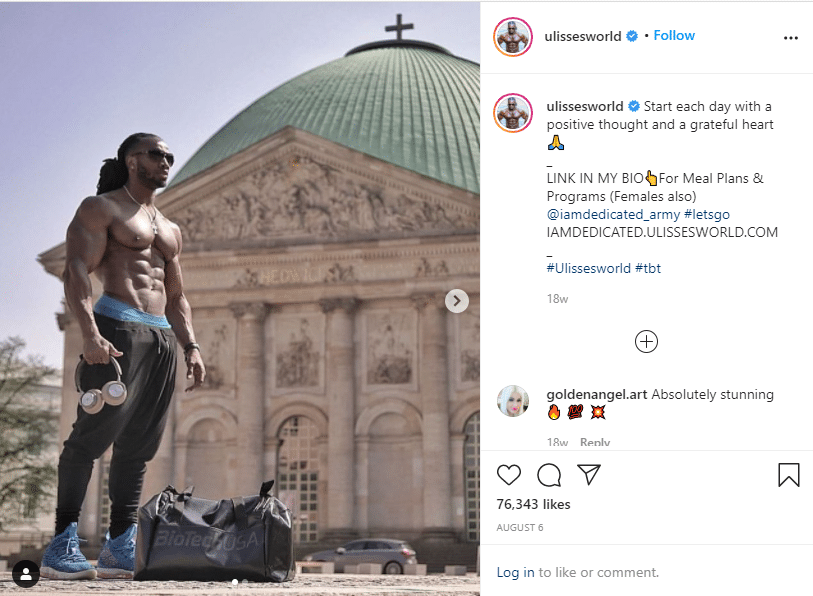 Started as a food porn account turned adventures of founder Jeremy Jacobowitz' Brunch life around the world, Brunch Boys is one of the OG food accounts. Brunch Boys has almost 500k followers and is your guide to all things brunch.
This account grew quickly in popularity due to the insane brunch creations they posted from restaurants around New York and beyond. His net worth is unknown but his full-time gig is running Brunch Boys.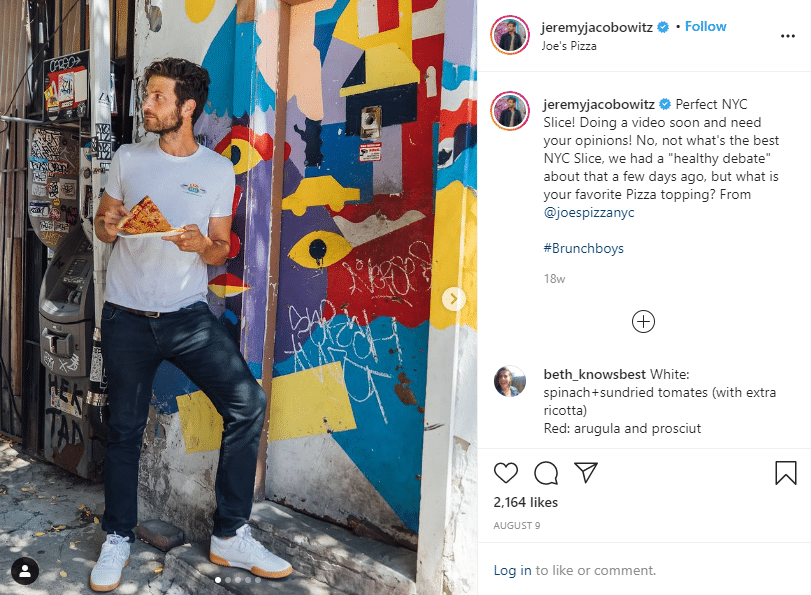 Sam Schnur, founder of the Naughty Fork is just shy of 1 million followers on this account. Her tagline "my diet starts tomorrow" is no joke with these drool worthy creations she posts. Sam grew her food porn account quickly as she posted Miami's most delicious and ridiculous food creations.
She has since traveled all around the world and her followers have stuck by her. She made Forbes 30 under 30 and her net worth is unknown, but we can assume this food blogger and restaurant sharing app developer is doing just fine.
Tieghan is your go-to for good mood food. She is a New York Times best selling author of HBH Super Simple Cookbook and her fans gravitate toward her impeccable cuisine and magazine worthy photography. Half Baked Harvest has almost 2 million followers.
She gained popularity as fans fell in love with her wholesome recipes made with real ingredients and crazy stories of mountain life in a family of 9! Her net worth is estimated between $1 and $5 million.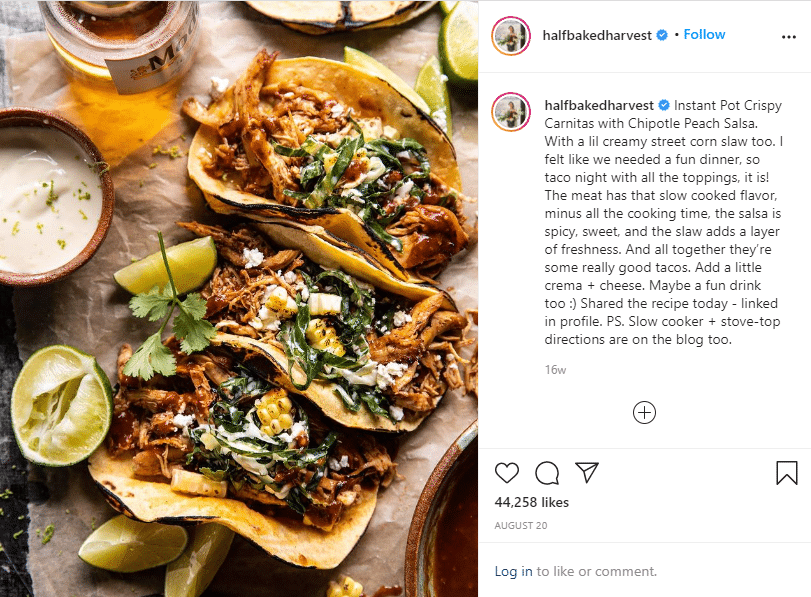 Dana is known for creating simple recipes that make you feel good with 10 ingredients, 1 bowl, in 30 minutes or less. She has over 2 million followers and is one of the very well known cooking accounts.
Her followers stick around for her reliability and the accessibility of her recipes. She works on the account with the help of her husband. Her net worth is unknown.
With over $1 million it's no wonder Greg and Rebecca "quit their jobs to DEVOUR & travel!" They grew a following showcasing their crazy creations and incredible food finds around New York and beyond. Their net worth is unknown.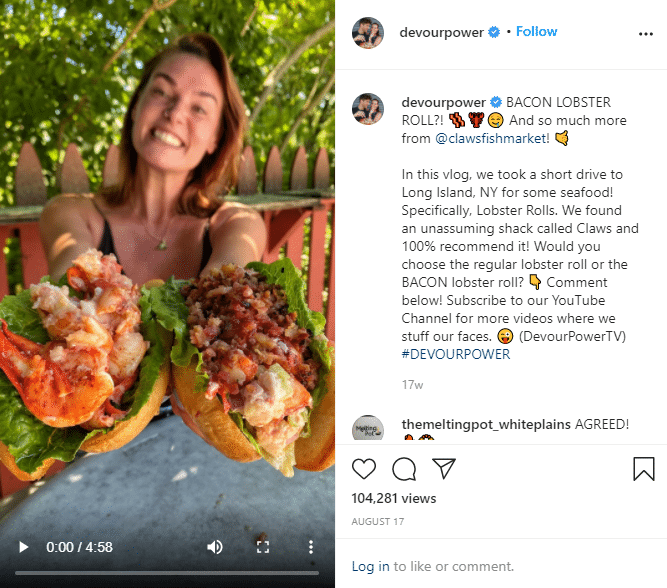 Tennis phenomenon Serena Williams is as big of a deal on the gram as she is on the court. She is obviously known for her powerhouse tennis skills and strength, but also for her clothing line Serena, Inspired by strong women everywhere.
She is a mom to daughter Olympia and is already prepping her to be a star. Her net worth is around $200 million.
2x Olympic Medalist, April Ross, shines on the beach volleyball court. Her 161k followers are behind her all the way to the Tokyo 2021 olympics. She is sponsored by Mizuno, Gatorade, KTTape and Oakley. Her net worth is around $500k.
Shawn Johnson is an olympic gymnastics legend, new mom and wife to Andrew East. After her gymnastic career ended, she turned to the world of influencing and promoting various lifestyle products. She influences an audience of over 2 million people. Her net worth is around $9 million and Shawn's fan base consists of gymnastic fans, moms and overall Shawn stans.
Can you deadlift 500kg four years in a row? Most people can't and that's what makes Eddie Hall so impressive. He was even named the strongest man in 2017.
The beast, as he's also called, grew an impressive following of 2.3 million from people who are in the fitness community and fans of lifting competitions. His estimated net worth is around $5 million.
5. Cristiano Ronaldo- @cristiano
Not only is Cristiano Ronaldo a Portuguese soccer superstar, he's also one of the most followed people on Instagram with 235 million followers on Instagram.
His content is not only soccer focused, but also promotional posts and travel content with his family. This likely attracts a wide variety of Ronaldo fans.
Ronaldo's net worth at 2020 is roughly $460 million coming from his playing contracts, endorsements, business deals, and fashion endeavors.
1. Brian Kelly "The Points Guy" -@briankelly
Brian Kelly aka The Points Guy is a travel legend. He started to grow a following as he shared his best credit card tips and hacks that optimized points and could allow a normal person to travel in luxury.
He has grown so much in popularity that he not only posts to his 236k fans, but The Points Guy page additionally posts for 406k. The company now operates out of multiple offices with full time staff.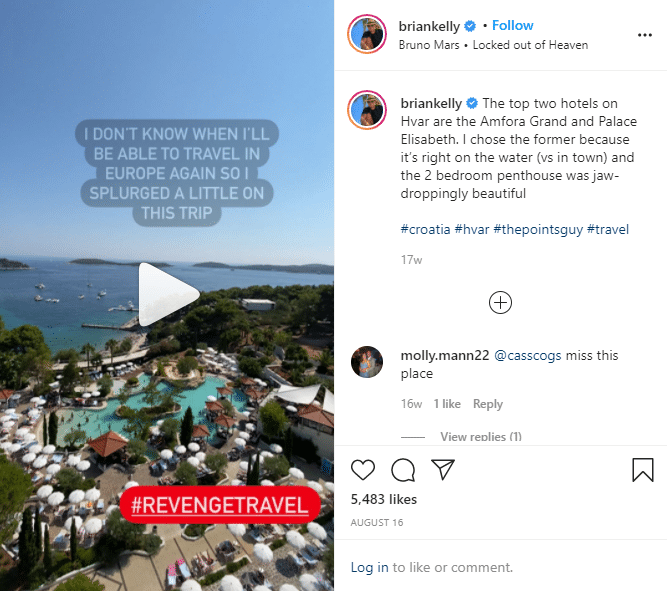 What's cooler than traveling to 83 countries? How about doing it before the age of 10. The Bucketlist family is, you guessed it, a family of photojournalists. This family of 5 travels all around the world and documents it on their Instagram and Youtube channels.
They have become a huge phenomena. Their authenticity, spark and love for life keeps their 2.3 million Instagram followers engaged. Their net worth is estimated around $80 million.
This 25 year old Aussie has a deep passion for travelling & creating imagery. Her and her partner have recently based themselves in Bali, Indonesia between travels.
She taught herself how to photograph over the past couple of years, and is lucky enough to be able to use this skill and work with many different clients to create unique content around the world.
She posts about Travel, Fashion & Lifestyle and what keeps her 2.1 million followers engaged is her spunk and incredibly aesthetic feed. Her net worth is estimated around $3 million.
With almost 4 million followers it's no surprise this film producer, Russian photographer and travel guru won Influencer of the Year and Top 3 Travel Influencer by Forbes.
Murad posts photos that are so vibrant and unique, his followers can't help but keep coming back for more. He started the #followmeto hashtag, which is added to photos of him holding his wives hand with beautiful landscapes in front of her. His estimated net worth is around $1 million.
This Sydney girl's content makes you stop and say Wow. Tara's attention to detail and elaborate floral content keep you coming back for more. It's no wonder her 1.3 million followers engage on every post whether it's travel, lifestyle, fashion or DIY. Her estimated net worth is between $1 and $5 million.
Join 100k+ savvy Instagram marketers
If you are struggling to get the attention you deserve on Instagram, sign up for Kicksta today and start attracting more followers who are interested in your brand.
Minimal, clean and modern. These are the best words to describe Benjamin Vandiver's Interiors.
He has almost 45k followers and his followers love the rooms, nooks and corners he shares. His net worth is unknown, but head to his Instagram or website to see more of these incredible interior designs.
Justina Blakeney is the founder of @thejungalow, a place that celebrates the human/nature connection. She posts the most colorful prints, tiles, bed scapes and rooms. It's no wonder 1.4 million latch on to every post she shares.
So what's this designer and best-selling author's secret? She loves sharing prints, patterns, products and processes from her wild mind. Her estimated net worth is estimated between $1 million – $5 million.
Since founding her eponymous firm, Alyssa Kapito has developed a reputation for creating elegant, bespoke interiors that focus on beautiful textures and clean lines. Alyssa has been widely recognized for work in the design field and was recently added to the prestigious "Elle Decor A-list" of the top interior designers in the world.
She has been named one of the top "7 Design Stars to Watch" and has also been named a "Rising Star" by both Traditional Home and New York Cottages and Gardens. Her 173k followers can agree, her designs are absolutely incredible. Her net worth is unknown.
Looking for a designer that can bring you modern with a vintage twist? Megan is the one. Her nearly 40k followers love this about her and her occasional elevated DIYs.
Megan and her husband became first- time homeowners, taking on the renovation of a 1901 row house in Brooklyn and blogging all about it. Now, she invites you to come along for the ride as she renovates and decorates her way across New York City and beyond. Her net worth is unknown.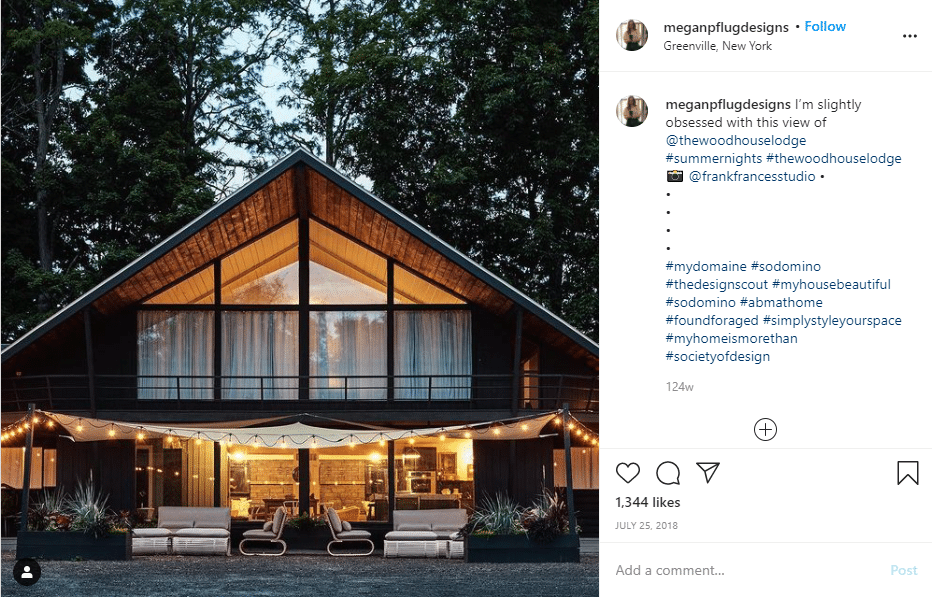 Founder of Wit and Delight, Kate Arends is a different kind of lifestyle and design brand. Her website reads, "We aren't interior designers, but we understand the importance of creating an interior that gives a sense of solace from the outside world."
Kate showcases to her 352k followers the ins and outs of design, aesthetic and what brings a space together. Her net worth is between $1 Million – $5 Million.
1. Janni Olsson Delér- @jannid
This Travel turned Lifestyle blogger loves exploring and searching for beautiful places to shoot. Fashion is a big part of her life, and has always been. She loves to create something that becomes reality.
After starting her blog in 2013, her Instagram has blown up in more recent years with a following of 1.3 million people. Her net worth is unknown.
Chelsea is a Hawaii based Luxury travel blogger and content creator. She has visited more than 53 countries in the past 3 years and documents her journey to almost 1 million people.
She has partnered with luxury brands such as Shangri La, Four Seasons, Land Rover and much more. Her followers continue to engage with her incredible photos and travel landscapes. She had a net worth of more than $12 million in 2019.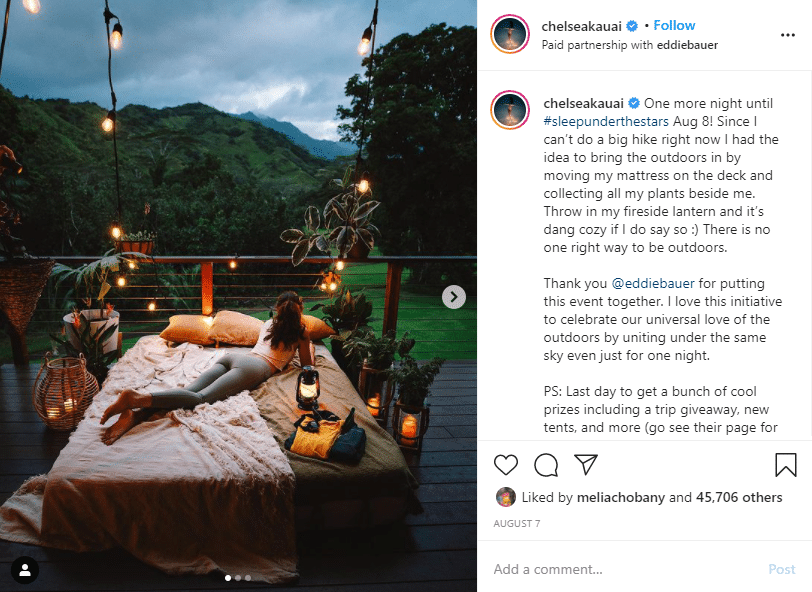 Louis Nicolas Darbon is a french London-based artist and luxury lifestyle influencer. He loves to share two sides of his life: his creations and the luxury lifestyle he cultivates with his 243k followers.
Besides creating art on canvas, Louis has collaborated with some of the world's biggest luxury brands like Jaeger LeCoultre, Chopard and Bentley. His net worth is unknown.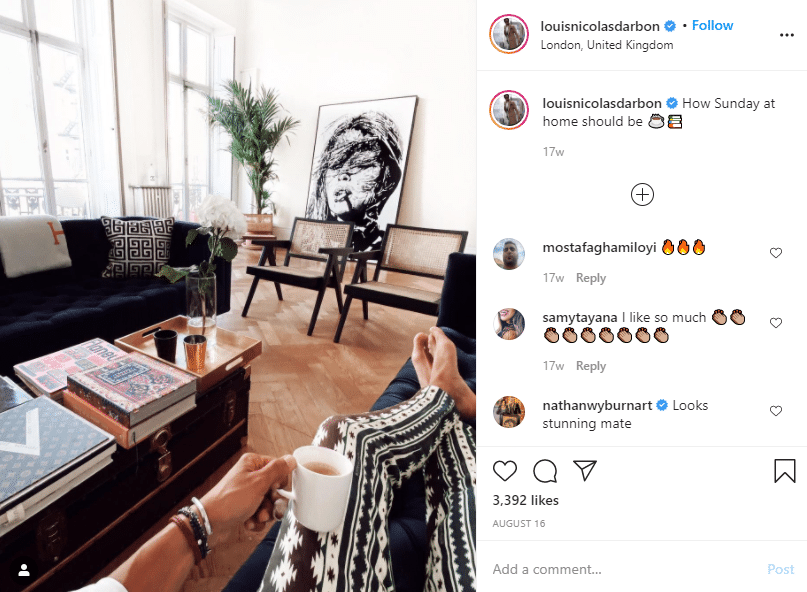 Shiva Safai is a model, entrepreneur, and influencer based in Monaco. Not only does Shiva share her luxurious lifestyle on Instagram, but also her entrepreneurial journey.
One notable collaboration of hers is Piaget amongst others. She has 787k followers and a net worth of around $10 million.
Tom believes in taking the art of living to its highest level. He is a producer, film director and actor. He has been specializing in luxury cars but also in the high-end luxury niche market for the past few years.
He makes it known to all of Monaco and especially his 578k followers that he lives for the elegant way of life. He has worked with brands such as Louis Vuitton, Chopard, Porsche, Bentley and Don Perignon. His net worth is unknown.
Chances are, you've heard of Jeffree Star. This American Youtuber and founder of Jeffree Star Cosmetics is a beauty powerhouse. This makeup reviewer shares his beauty tips with almost 15 million Instagram followers.
In 2018, Star earned $18 million from his YouTube endeavors alone, according to Forbes. That was enough to make him the fifth-highest-paid YouTube star as of December 2018. His total net worth is close to $75 million.
Can you say eye shadow goals? Vancouver based makeup artist, Samantha Ravndahl shares her beauty tips with her 2 million followers as an influencer for instagram.
What keeps her followers coming back is she always shares her real opinion even in a world where brands reward influencers for sharing positive feedback with fans. Her net worth is between $1 Million – $5 Million.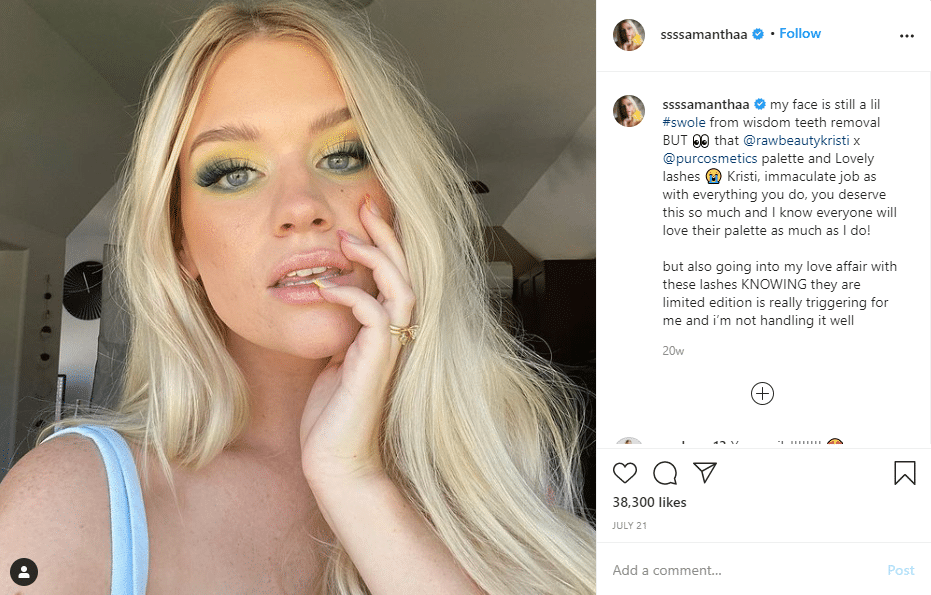 Manny Gutierrez brings the jokes and the glam on his Instagram profile, where 4.2 million people follow his life.
Professionally known as Manny MUA, he is a make-up artist, YouTuber, and beauty blogger. He is the first male brand ambassador for the make-up brand Maybelline. His net worth is around $1.2 million.
"Blend, don't blend in", James Charles preaches to his 20.1 million Instagram fans. James is an American Internet personality, beauty YouTuber and make-up artist. In 2016, he became the first male ambassador for CoverGirl.
He is extremely popular on YouTube where he got started sharing makeup and beauty tips. He currently has 20.3 million subscribers, making him the #1 most subscribed beauty guru. His net worth is estimated at $12 million.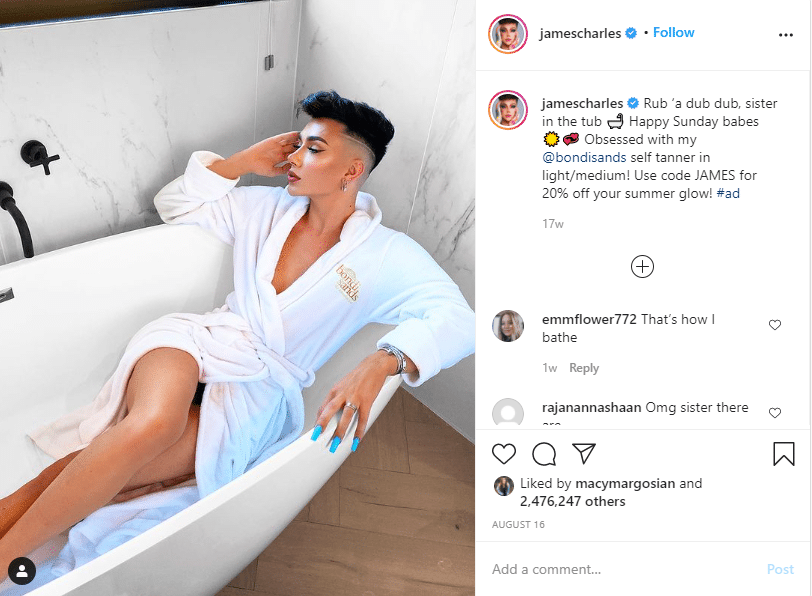 Shayla wants to help her 2.7 million followers achieve their perfect makeup look. She initially aspired to be a celebrity makeup artist, but has become an internet celebrity herself.
Her followers love the tutorials on her makeupshaylalive website. Her net worth is estimated between $1 and $1.5 million.
1. Gary Vaynerchuk- @garyvee
If you want to start a business and be successful, drop everything and follow Gary V. He is the chairman of VaynerX, a modern-day media and communications holding company and the active CEO of VaynerMedia, a full-service advertising agency servicing Fortune 100 clients across the company's four locations.
Gary is a highly sought after public speaker, a 5-time New York Times bestselling author, as well as a prolific angel investor with early investments in companies such as Facebook, Twitter, Tumblr, Venmo, and Uber. He even is making a splash in the Tik Tok community influencing a younger generation.
He has 8.3 million followers and his net worth is estimated at $160 million. He shares a ton of free content on social, making him a great example of someone accomplishing a lot and not taking the first brand deal that comes their way.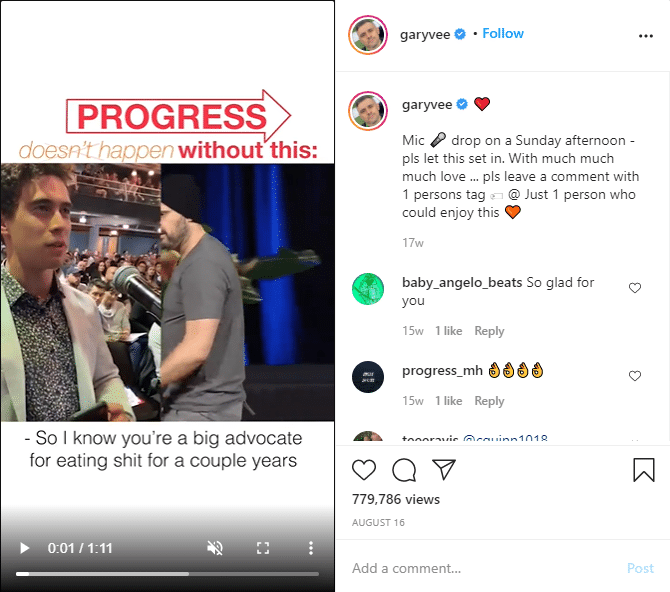 Erik Bergman made $50 million before age 30. He preaches to his 241k followers how to start companies and make money.
Pro Tip: His best content is saved to his Instagram highlights. His estimated net worth is around $400 million.
Branson wanted to be an entrepreneur at a young age and he's definitely fulfilled that dream.
Sir Richard Charles Nicholas Branson is an English business magnate, investor, author and philanthropist. He founded the Virgin Group in the 1970s, which controls more than 400 companies in various fields. He has 4.3 million Instagram followers and his net worth is estimated around 4.6 billion. Yes, billion with a b.
Grant Cardone is a bestselling author, world's #1 sales trainer, renowned speaker, international social media influencer and real estate mogul. He has nearly 3 million Instagram followers where he posts memes and tips about making money. His estimated net worth is $300 million.
If you watch Shark Tank, you know Daymond. Daymond is an American businessman, investor, television personality, author, and motivational speaker. He is best known as the founder, president, and CEO of FUBU.
He shares his business strategies and life with his over 1 million followers on Instagram. His net worth is estimated at $300 million.
Join 100k+ savvy Instagram marketers
If you are struggling to get the attention you deserve on Instagram, sign up for Kicksta today and start attracting more followers who are interested in your brand.
Amber Fillerup is mom goals. What started as casually sharing photos of her family has turned Amber into internet royalty with 1.3 million followers.
Deemed a "relatable influencer for instagram," Amber is someone whom hundreds of thousands of women trust as a friend and whom companies pay handsomely to name-drop their products. She now even has her own hair products called "dae" that you've likely seen in your local Target. Her net worth is estimated between $1 million – $5 million.
Christine started her blog in 2011 and it has continued to take off since. She now has 1 million followers. She started this online diary as a way to share favorite sales, buys and fashion finds. Now she shares everything from family and travel to fashion, beauty, and home decor. Her net worth is estimated between $1 Million – $5 Million.
3. Joanna Goddard- @cupofjo
Cup of Jo is a daily women's lifestyle site. Joanna jokes, "come for the blog, stay for the comments". She has 217k followers as an influencer for instagram, and her site covers everything from style and design to culture, food and travel then even relationships, and parenting. She is incredibly well rounded which seems to be why her followers love her content so much. Her net worth is estimated to be over $1 million.
Jessica Shyba seems like a supermom juggling 4 crazy kids. The Author of Momma's Gone City and popular internet sensation "Naptime with Theo & Beau", Jessica has been blogging since 2009.
She started her blog to stay in touch with friends when they moved from California to New York City. They have since returned to the West coast. The budding friendship between the baby Beau & puppy Theo catapulted Jessica's blog & Instagram into international fame (406k Instagram followers) when she started documenting their daily side-by-side naps. Along with that fame, came opportunities for sponsorships on Momma's Gone City, and a book deal which allowed Jessica to showcase her writing & photography. Her net worth is estimated over $1 million.
Ilana aka Mommy Shorts is a proud New Yorker and Author of Remarkably Average Parenting. She is a working mom who "writes a blog instead of sleeping." She has two daughters with her husband, Harlow (7) and Mazzy (10).
She shares their lives with almost 200k followers daily as an influencer for instagram. She worked as a creative director in advertising for over 15 years before quitting to focus on Mommy Shorts full-time in November 2013. She says, "using this blog to earn a living is more work than I ever imagined but nothing beats the flexibility of running your own business when you have kids." Her net worth is estimated between $1 and $5 million.
Instagram influencer marketing can help grow your business more than you ever imagined. Whether you work with some of the legends listed above or search more for micro-influencers, the work you do with them will get your brand's name out there and boost your sales on Instagram.
Now that we have laid out the steps it takes to become an influencer, how to partner with influencers and who is currently running the show in the space, no matter what category you fall under, this blueprint will surely set you up for success.
Instagram Growth Hacks
Join over 100k+ marketers and influencers who get the latest Instagram tips & tricks sent to their inbox every week