How to Use Hashtags on Instagram and Increase Engagement by 25% – An Instagram Strategist Case Study
post
If you're a social media manager or a business owner managing your brand's Instagram, then you probably want to know how to use hashtags on Instagram the right way, in order to improve your Instagram marketing strategy and to increase Instagram growth and engagement.
Everyone on social media these days knows how to use hashtags, but are you doing it effectively? Whether you're trying to attract a larger audience for potential customers, or increasing engagement on your account we're providing you with effective tips and examples for how to use hashtags on Instagram from an Instagram strategist.
Meet Ella Mae, Instagram Strategist and Business Coach
Ella Mae is an Instagram Strategist & Business Mentor. She started her career as a copywriter but always had an interest in growing her personal Instagram following. Sometimes the biggest things in life aren't planned, and this was one of them.
By successfully growing her own account it was the catalyst that opened a floodgate of opportunities to mentor other entrepreneurs on the methods to grow their Instagram and use the platform to connect with their mentors, peers, and potential clients.
She primarily spends her days teaching personal brands and businesses how to connect with new people on Instagram and turn their account into a lead generation machine, and anytime she's not doing that she's with her family, swimming in the ocean, hanging out with her horse or breaking a sweat running some trails!
Here's Ella…
Tell us a little but about working as an Instagram Strategist?
I help personal brands and businesses learn exactly what to do to convey their message in a way that relates to their audience on Instagram. We help them grow their Instagram, get in front of people that need their products and services, and turn it into a lead and opportunity generation machine for their business.
One of the coolest things about having an Instagram following is you'll get leads for your business (and that's awesome), but you also get the chance to get the stuff you already buy for free, or page views with influencer collaborations.
"I really enjoy my job and showing people exactly what to do when strategizing on Instagram."
We do 'done for you' packages for busy businesses, and we also teach an Instagram academy – it's an 8 week live group training program where I take people through exactly what to do to grow their Instagram following.
Why is it important to use hashtags on Instagram?
You want to use hashtags on Instagram to be found, that is the main key. If you're posting a generic photo and using a hashtag like #love (I get it, that's a super cute tag), but this hashtag has 1.6 billion photos. The chance of you showing up in these top photos are next to none. I usually tell my clients to find niche relevant hashtags that are under one million. Under a million photos you have a much higher chance of showing up in those top photos.
Walk us through your process & strategy for finding hashtags?
What you want to do is find hashtags that someone might actually be searching for if they needed your help, service, or product.
For example, if you're a fitness blogger and you're trying to be a fitness influencer living in Vancouver, a hashtag that would be really great for you to use would be something like #yvrfitness.
I especially like this hashtag because it was 35k photos. Also, if there are companies that are looking for fitness influencers in Vancouver, they could be searching this hashtag to see who could be the next influencer for their brand.
Here's another example for how to use hashtags on Instagram:
Let's say you're a graphic designer, when you type in #graphicdesigner there are 7 million posts for that hashtag. The hashtag below #graphicdesigner, which is #graphicdesignerclub would be a much better choice to use because it has 59k posts.
Now if you want to get really niche you could use, #graphicdesignersandiego. That only has 56 posts, but if I'm someone in that area looking for a graphic designer, I'm probably going to be able to find one.
A perfect example of this is I like to travel a lot, and I was recently in Laguna Beach and when I was there I was trying to find somewhere to eat. I googled 'Laguna Beach restaurants', and what happens when you Google is you see what's around you, paid ads, and essentially who has SEO on their website, which is who's showing up on the front page.
I didn't feel like I was getting authentic results, so I went on Instagram and used the hashtag, #lagunabeachrestaurants (528 posts), and it was a much different experience. I was able to see who's out and about, found some local food bloggers, and saw who's really active in the community. So this was a much better way for me to find what I was looking for.
Pro Tip: Think of the search box in Instagram as almost like a Google search engine; if the person you want to work with was looking for you, would they be able to find you through the hashtags you're using?
That's where hashtags are really effective. I've gotten brand partnerships and business deals from using certain hashtags, so it's a really cool way to expand your reach.
How do you decide what hashtags to use?
The very first thing I do is I think about what somebody would be searching if they needed the product or service that my client offers. If it's under a million photos that's a huge bonus.
How many hashtags do recommend using per post?
You can use 30 hashtags per post. The way I think of it is that's 30 different ways to be found on the platform, so use all 30. If you have room in the caption you can throw them in there.
Pro Tip: If you want to work your hashtags into the caption, what you can do is actually hashtag words as you type.
Here is an example:
There's a lot of back and forth between whether it's best to have hashtags in the caption or in the first comment and here's an update on the information surrounding that: 
There was a recent A/B test done on how to use hashtags on Instagram about whether you should put hashtags in your caption or in the first comment. What was found was that hashtags in the caption have a 29% higher reach than hashtags in the first comment. However, Instagram has gone through a lot of changes in the last couple of weeks so I'm hoping this can be retested. For now I would say don't worry about putting it in the caption or the first comment, just make sure to use hashtags relevant to your photo, message & niche.
How much does your hashtag selection depend on the type of content you're creating?
Instagram has pretty sophisticated image recognition technology. What that means is if you post a picture of a mountain and you use the hashtag #kimkardashian, your picture might not show up for that hashtag. Reason for that is Instagram knows that people searching through #kimkardashian probably don't want to see a picture of a mountain.
What you want to do is keep the hashtags relevant to the photo, and you want to avoid spammy hashtags such as, #likeforlike or #followforfollow. Instagram doesn't like those as they want an authentic community where people are actually engaged. If you're using those types of hashtags your reach could actually be throttled. It would be flagged by the algorithm as something that makes users disengage, and that tells Instagram that this content is something that makes people close or spend less time on the app.
Join 100k+ savvy Instagram marketers
Expand your audience, build your social influence, promote your brand. Get started today.
This is called shadowbanning, which Instagram has never confirmed or denied. Being shadow banned basically means your posts don't get seen as much because it's causing enough users to disengage and it will throttle the reach of your posts. Again, Instagram has never confirmed or denied that they do this, but we've seen many cases via insights where impressions were dramatically lowered after using certain hashtags.
Pro Tip:
If you think you've been shadowbanned or your photo reach has been throttled in some way, a really easy way to get around it is just spend $10 boosting a post. Instagram's whole goal is to have authentic, engaged users who buy the things that ads are trying to sell on the app, and people keep spending money on ads. Bottom line is it's a business. If you feel like your posts aren't being seen just do what they want you to do – spend a small amount of money boosting a post. They have to show it to people as that's the primary source of revenue for them and you'll usually see your engagement go back up.
How has your method of using hashtags helped increase your engagement rate?
I don't have real time stats, it's just not something we measure. The thing about hashtags is Instagram is always changing the way our content is seen, so it can be tough to determine if an increase in engagement on a post was due to a hashtag, the location, the time posted, if you posted a story about the post, the type of photo, etc. Other factors (such as adding value to your audience or making an effort to engage with other users profiles) have a way bigger pull so we focus on those.
I still haven't found an accurate tool that allows me to measure the reach and effectiveness of hashtags, so it's really hard to track. Don't get me wrong – there are tools out there claiming they can do this, I just haven't seen one that's up to my standards, and I try to be careful with what I put my name behind.
What you should do is pay attention to how people find you. So if clients or companies are reaching out, ask them how they found you. I've definitely found some people that have found me from hashtags, and those are the hashtags that I keep using.
Why is it so important to increase your engagement rate on Instagram?
Engagement rate is huge, hashtags are one way that you can get in front of people. One of the reasons why Instagram is so powerful is because it's an 'open platform'. Meaning that you can find users from a hashtag, where Facebook on the other hand, you have to send a friend request or search for a group, making it a closed platform. So with Instagram being an open platform, take advantage of the fact that people are able to find you simply because you have similar interests or lines of work, and use it as a connection tool.
Pro Tip: If I wanted to look for someone to add to my team I could look up the hashtag #instagramexpert and look through what they're posting, what's their engagement like, what kind of work they do, etc. This would allow me to vet them before having to spend my time in a formal interview. Using hashtags relevant to your line of work (or your interests/blog topics if you want to be an influencer) is really powerful in this way.
I use an engagement rate calculator, and it tells you exactly how often your audience is seeing your posts, and how engaged they are in your content. The issue that we see with users that have bought followers, is that they've got 100k followers but their engagement rate is 0.2%. This is because their followers aren't real, or they are not really interested in their content.
"A good engagement rate generally from 1k-10k followers is usually between 3%-10%."
For 10k-100k followers the average engagement rate is around 2-4%, and companies and brands know that as you grow your followers, your engagement rate goes down.
A good way to keep your engagement rate up is by adding a CTA to your caption so that your followers engage with your content. Another great way to get your audience to engage is through stories, by asking your followers to answer a poll, or clicking on a new post your just posted.
Pro Tip: Instagram tracks how much time you spend on a post.
So even if your followers spend an extra 3 seconds than they normally do on your post because they had to read a long caption, swipe through a carousel of photos, or watch a video, Instagram recognizes that as there is more time being spent on that post and more people want to see and will show it to a wider audience.
How do you measure how effective your hashtags are for each post?
To be honest, we play around a lot with hashtags and we're not going to spend 5 hours a week digging into how to use hashtags on Instagram. But the biggest thing again, is they have to be relevant to what somebody would be searching, and it's a huge bonus if they're under 1 million posts.
Join 100k+ savvy Instagram marketers
Sign up for Kicksta today and start attracting more followers who are interested in your brand.
The reason for that is the whole goal on Instagram for my clients is to make it so they can be found. They're all successful business owners and we want to help them reach more people with their service or message. When someone searches a hashtag, the first photos they look at are always the top photos on that page. When a hashtag has under 1 million photos and you use it, you have a much higher chance of showing up in those top photos.
What are your top 3 tips for findings good hashtags?
Find niche relevant hashtags
Try using photos with under 1 million posts if possible.
Stay away from using spammy hashtags (#likeforlike, #followforfollow, etc.)
Do you use any branded hashtags for your business, and do you have any tips about creating them?
So this is an interesting question, I see this with a lot of people if they're hashtagging the name of their business.
For example, let's say your business is called 'XYZ Business' and in your photos you use the hashtag #xyzbusiness. This is really handy if you want your photos all in one place, but when it comes to being found, there probably aren't a lot of people that are going to be searching this hashtag unless you have a really well known business.
It's useful if you're running a contest and you tell users to post and use a specific hashtag so that you can find all the contest entries under that specific hashtag.
"While your building your business, stick to hashtags that people would use if they needed your services, and only use branded hashtags when it's a really well-known business."
Another thing is if you want to work with a brand, check their bio for hashtags. That's their way of basically telling you use this hashtag so that we can find you.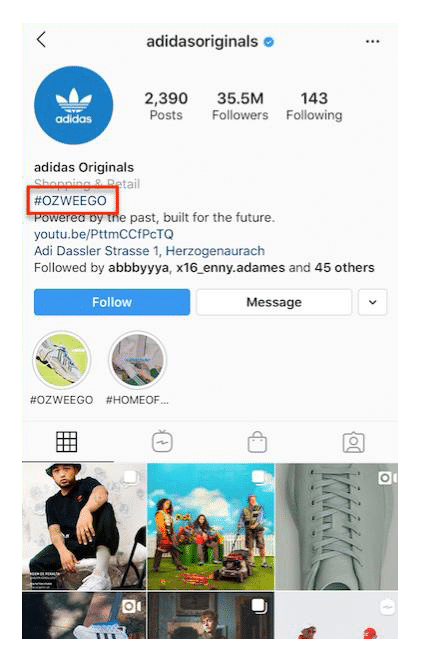 I don't personally use branded hashtags, I use hashtags for audiences that are looking for the services that I have to offer.
Any advice you have for other businesses & social media managers about managing a client's or their own Instagram accounts and utilizing hashtags?
Biggest thing I would say is you get 30 hashtags so use all 30!
Here's an example: Let's say you are a life coach. What I would do is go into the search on Instagram and look for an account that is similar to yours but has a larger, more engaged audience, like @lifecoachschool. This is an account that has followers that are interested in life coaching, and are obviously interested in what you do because they're already following and engaging with a similar account.
I would go through the last couple of posts, and choose one that has had good engagement (lots of comments and likes), and then I'm going to see WHO engaged. I would click on an account of someone that had left a comment and look through their posts to see what hashtags they're using. This will tell me what types of hashtags people are using who are interested in life coaching services.
With hashtags I recommend playing around with them. If there is a fail safe proven formula of how to use hashtags on Instagram, then I haven't heard of it yet, and hashtags are hard to track. You want to give yourself the best chance possible to get in front of the people who want what you have to offer.
Instagram Growth Hacks
Join over 100k+ marketers and influencers who get the latest Instagram tips & tricks sent to their inbox every week