12 Free Instagram Analytics Tools You Can Use Today
post
As a marketer, you should be on top of your Instagram analytics. With 1 billion people using Instagram every month, that seems like a no brainer! But just like you can't cook a great meal without the best ingredients, you can't seek the best insights without great Instagram analytics tools. So we're focusing this entire post on 12 tools that let you use Instagram analytics for free, so you can seek insights to make wise marketing decisions.
Why should you as a social media manager or agency owner spend time analyzing Instagram activity, stats, and data?
Well, looking into this data will help you understand how Instagram is performing as a marketing channel, as part of your overall marketing strategy, help with Instagram growth, increase customer enquiries, connect with customers at a personalized level through messaging, and give you the ability to connect with influencers who can amplify your reach.
If you're not using Instagram analytics tools, you could be:
Approaching the wrong target market on the platform
Not capturing opportunities to sell or connect with your audience
Misrepresenting your brand
Sending irrelevant and uninterested traffic to your website
Not posting content frequently enough
Posting content that's not engaging enough for your audience
Missing out on social mentions, tags, and other social signals
So if you want to ride the wave of Instagram growth, you should take Instagram analytics seriously. Let's now get started with talking about some tools that will help you make your Instagram brand shine.
This is a great tool for "looking beyond the numbers". Over 25,000 agencies now use it, as it presents advanced analytics insights in an easily understandable format, while also letting you compare your Instagram performance against industry benchmarks.
Here's what this tool is great for:
You'll be able to understand metrics like social reach, engagement, impressions, Instagram growth, and more, for all of your instagram promoted posts.
Produce PDF reports for all instagram accounts you're managing, which show you the split between organic, and paid traffic across all metrics.
Manage multiple instagram accounts as a social media manager or agency owner.
Schedule when your content will be posted on your Instagram account, so you can focus on the strategic aspects of your marketing strategy, while the tool does all the manual hard work of posting content for you.
Conduct competitor analysis, get notified when your brand is tagged or mentioned anywhere on Instagram, respond to customer comments so you never miss an important conversation, and track the performance of your Instagram hashtags.
They offer a 14-day trial where you can view your Instagram analytics for free, with absolutely no credit card needed, so you can get started on this tool right away. The best part about this tool is that it's easily accessible on a smartphone as it offers its users the ability to download a mobile app.
Another great benefit this tool offers you is the ability to do a fully comprehensive audit to ensure that any Instagram account you're managing is 'fully complete' in its entirety. You'll also get a score at the end of the audit to tell you how you're performing with your Instagram marketing, as per the image below: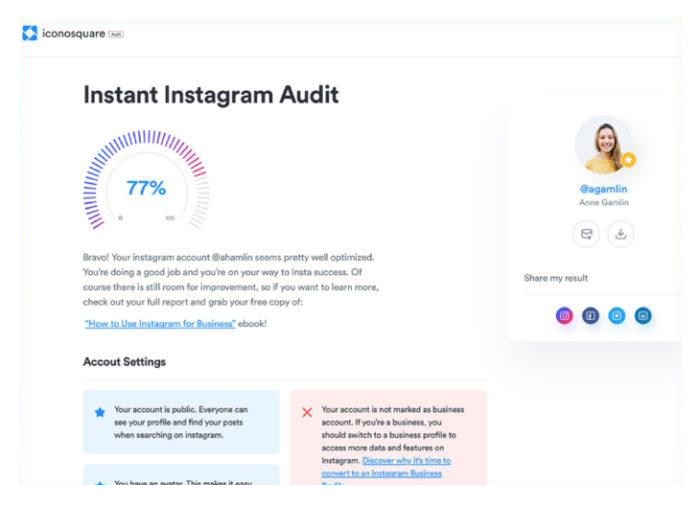 You'll get concrete insights on how to improve your instagram marketing campaigns, which never hurts no matter how good your Instagram marketing strategy is.
This is a super visual tool that tells you about your most popular, best performing posts, hashtags, filters, and more. Their marketing punchline on their landing page says "Learn what gets your audience double tapping", which is exactly what you'll learn.


The great thing about this Instagram tool is that you'll be able to connect it to your Google Analytics and seek insights for both personal and business accounts. This tool let's you see your Instagram analytics for free, and is best to be utilized for learning about the posts that invited the maximum number of comments, distribution of all of you posts during the month, the most tagged users, and top performing hashtags. Check out their dashboard view as follows: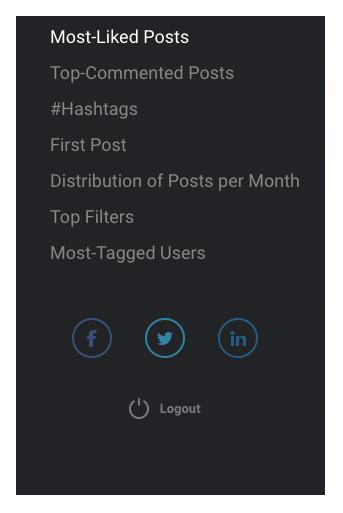 You'll get a birds eye view of your audience's behavior, be able to map the persona of Instagram users to know who your audience really is, and monitor your Instagram engagement closely to find ways to capture the attention and interest of your Instagram audience.

Pixlee is another tool that lets you see your Instagram analytics for free. It's great for identifying top influencers who can help you amplify the reach of your content. The tool provides in depth weekly reports about brand advocates, so you can reach out to them and seek their help for evangelising your brand.

Like most other Instagram analytics tools, this one also lets you track hashtag performance, monitor your Instagram growth, and identify your most engaging posts. However, the main focus of this tool remains tracking and analyzing influencers.

With this tool you can increase your social engagement, enhance your social stories, and drive Instagram growth overall. The highlight of this tool is the ability to compare engagement rates on different posts.


This gives you the ability to rank the type of posts that are performing well based on their engagement rate. It also allows you to see what is the best time to post based on when you're followers are most active, and lets you use location data to pinpoint the top time zones to post content.

With these insights, you'll be able to attract the right Instagram followers and increase your Instagram growth.

This Instagram analytics app is specifically for making Instagram influencer marketing more effective, transparent, and fair. Being an AI powered tool, it helps you spot fake influencers, and find real ones through auditing their social activity, and empower you to conduct Instagram influencer campaigns with confidence, for the long term. You'll learn to invest only in those influencers who have a quality target audience, and eliminate the rest.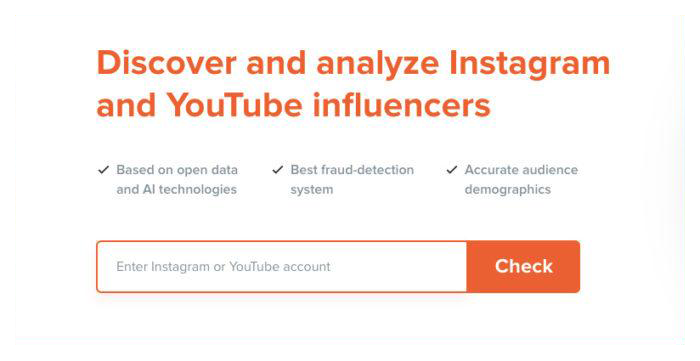 This tool has a plan which allows you to look at your Instagram analytics for individuals, and also offers other plans for agencies, small business owners, and a 'reports only' plan which allows you to download more detailed reports on Instagram influencer credibility. There are also some similar alternative platforms like Modash or Grin which can give data on Instagram influencers.

Join 100k+ savvy Instagram marketers
Sign up Kicksta today and start attracting more followers who are interested in your brand.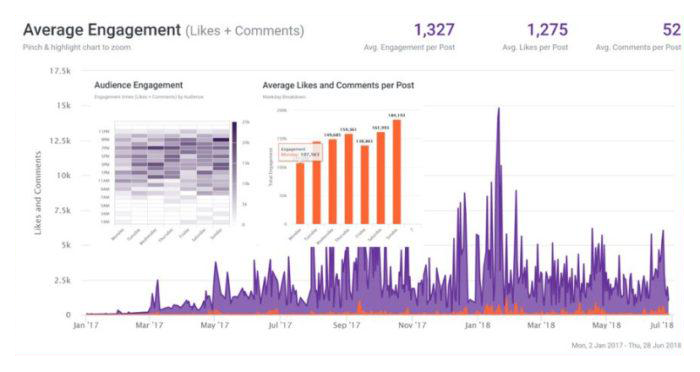 This tool is great for influencer marketing, especially for small businesses. It gives you the ability to analyze influencer profiles, determine the composition of their audience, and analyze their data to learn more about the nature of the 'likes' and 'comments' on their profile so you can make an informed choice about selecting the right influencers.
There are 2 main kinds of reports you can run with this tool, i.e. an account report, which gives you all the data you need in relation to an Instagram profile, and a hashtag report, which gives you concrete insights about how your hashtags are performing.

This tool lets you look at your potential influencer's Instagram analytics for free for the first user at your small business, and also offers a paid premium plan if you want more detailed Instagram analytics.

#7: Followers Track
This app is very useful for analyzing your Instagram data in the context of who's following your Instagram account, and who's unfollowing it. By tracking your follower activity, you're able to determine how effective you are in attracting new followers, and then retaining their interest in your content. You'll also be able to track your unfollowers, blockers, and deleted likes. This app is only available to iOS users.
This is a fantastic tool to discover insights about your Instagram growth, track likes and comments, review the performance of your posts and audience interactions. Squarelovin helps you understand when your posts are best received by your audience. You'll also learn about which are the best hashtags and filters to use to amplify your reach. It's easy to get started, all you need is your name, email address, and a password.
What's unique about Crowdfire is it helps you identify potential followers on Instagram. Apart from being able to track your Instagram growth, post performance, and follower details, you'll be able to locate users who are relevant to your current followers. Then you can attract them to follow your desired Instagram account.

Another great feature about this tool is that it helps you identify your inactive users that aren't engaging with your content. It's possible to reignite the relationship with these dormant users and followers by stimulating their interest with engaging content and even reaching out to them via the Instagram messaging function.

Crowdfire is free to use for up to one user, includes a chrome extension for sharing any content you have, allows you to curate images for Instagram, and provides hashtag recommendations as well.
Instagram has its own insights tool you will have access to if you have a business account with them. The tool offers basic insights on gender, location, age range of your audience, along with which posts your audience engages with most, reach, profile visits, and and website clicks. Here is what the displayed insights look like on this tool: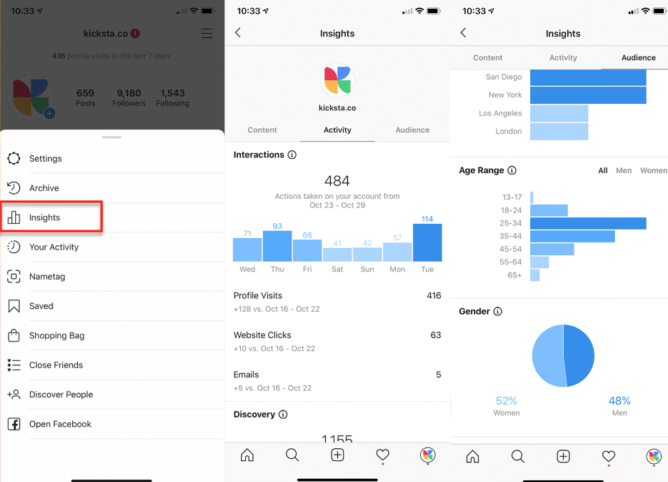 And of course, it allows you to see your Instagram analytics for free once you've set up your business account on Instagram. So you can get started in no time!
SmartMetrics brands itself as the 'complete Instagram account and hashtag analytics tool'. It's trusted by over 1,000 users, so quite clearly, it's growing in popularity. It lets you uncover information on followers geography, followers demographic information and age, engagement rates, and competitors analytics. It can give you hourly updates, and allow you to export all the insights and data to PDF and CSV Data Formats.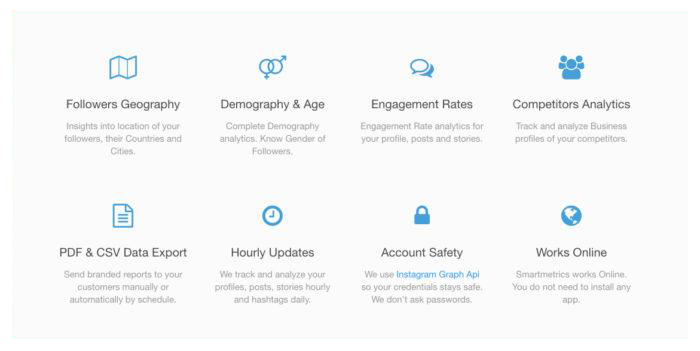 Since this tool is designed for brands and agencies, it helps you get a birds eye view on all of the Instagram accounts you're managing. Along with Instagram hashtag and account analytics, this tool also has a 'mentions tracking' function which allows you to track Instagram mentions, so you can respond to anyone who mentions you in real time. SmartMetrics allows you to see your Instagram analytics for free with a 14-day trial, no credit card needed.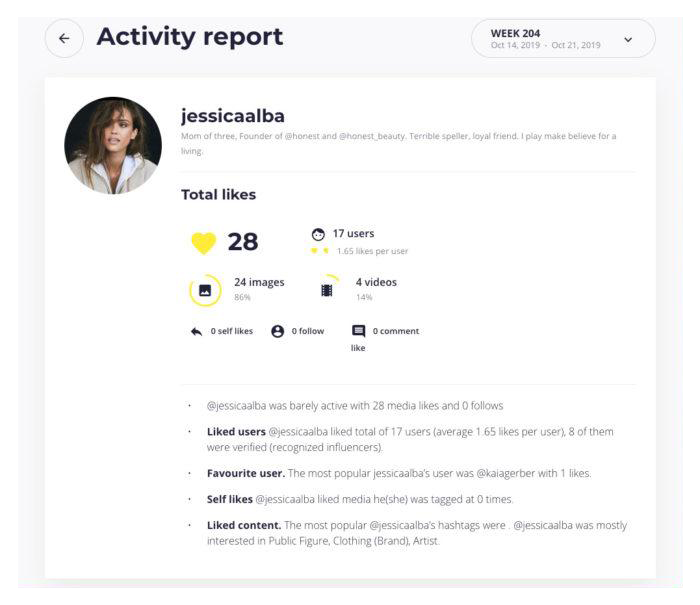 SnoopReport is your complete Instagram activity tracker, letting you see what content a user likes, comments on, and who they follow. The best part about this tool is its ability to help you track who's following your competitors, and uncover their Instagram marketing strategy. You'll learn about which users they interact with most, so you can adopt a similar approach with your own unique spin on it.

While it's free to sign up, they offer monthly subscription plans at very affordable rates, letting you take full advantage of their advanced features.

Instagram Analytics For Free
Make the most of these tools to manage Instagram accounts like a professional! If you like the free versions, you can always upgrade or subscribe to take advantage of their more advanced features to boost instagram growth and engagement.
Author's Bio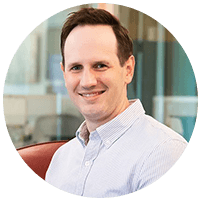 Ryan Gould, Vice President of Strategy and Marketing Services at Elevation Marketing
From legacy Fortune 100 institutions to inventive start-ups, Ryan brings extensive experience with a wide range of B2B clients. He skillfully architects and manages the delivery of integrated marketing programs, and believes strongly in strategy, not just tactics, that effectively aligns sales and marketing teams within organizations. LinkedIn: https://www.linkedin.com/in/rygould/
Instagram Growth Hacks
Join over 100k+ marketers and influencers who get the latest Instagram tips & tricks sent to their inbox every week