Everything You Need To Know About Instagram Photo Sizes In 2023
post
Choosing the right photo size for Instagram matters, especially when you want to effectively convey your brand on the social media landscape. Since your feed is basically the "face" of your brand, it's the first thing your audience sees and remembers about you. So, to even get more people to browse through your posts, you will need to optimize your image size and dimensions. We've put together this Instagram post size guide to make things a lot easier for you.
The Best Resolution Possible For Instagram
1080 pixels wide is the maximum resolution for Instagram. It's the best visual quality you can upload, and it does a great job of ensuring high-quality images on both your mobile device and the web. So, whether you're using Instagram for iPhone or Android, Instagram's help hub advises making sure to upload the photo at its best quality resolution possible (up to a width of 1080 pixels).
If the width of the photo you share is between 320 and 1080 pixels, Instagram keeps that photo at its original resolution, as long as its aspect ratio is between 1.91:1 and 4:5 (a height between 566 and 1350 pixels and a width of 1080 pixels). If this aspect ratio isn't supported, it will be automatically cropped to fit a supported ratio.
If you share a photo with a lower resolution, Instagram enlarges it to a width of 320 pixels. On the other hand, when you share a photo at a higher resolution, Instagram will size this down to a width of 1080 pixels. To make sure that your photo is shared with a width of 1080 pixels, follow these three steps:
Be certain that you have the most recent version of the Instagram app.
Check that the photo you're uploading has a width of at least 1080 pixels, with an aspect ratio between 1.91:1 and 4:5.
Make sure you're using a phone with a high-quality camera since different phones have cameras of varying qualities.

What Is The Difference Between Aspect Ratio And Photo Size?
The aspect ratio of an image refers to the proportional relationship of the width to the height. It does not have units attached, but it represents just how large the width is compared to the image's height. So, an image that's measured in centimeters will have the same aspect ratio, even if it's measured in inches. This is why it's the relationship between the width and height that determines the ratio and shape, and not an image's actual size (when measured in centimeters of inches).
The aspect ratio of an image changes depending on which medium it's presented. For example, the aspect ratio of an image displayed on the phone is different from the aspect ratio of the same image displayed on a computer. This is why aspect ratios are critical to web content, especially visual web content. You need to upload different aspect ratios for specific uses like Instagram. The common types of aspect ratios for Instagram are the Square aspect ratio 1:1, Horizontal (Wide) with an aspect ratio of 1.8:1 (or 16.9), Horizontal (Tall) at 1.91:1 (wide), and Vertical with an aspect ratio of 0.8:1 (or 4:5).
Now, if aspect ratio refers to a photo's proportional relationship, photo size is particular with a photo's actual width and height in pixels. It's the dimensions of an image, and you can use any unit in measuring dimensions. However, for web and digital images, pixels are typically used. When you talk about aspect ratio and photo size, it's important to know that two different images that have the same aspect ratio may not have the same image size. For example, if an image is sized at 1280 x 720 pixels has an aspect ratio of 16:9, it's possible to have an image sized at 1920 x 1080 pixels to have the same ratio of 16:9.
The important thing to remember is choosing the right photo size for Instagram and aspect ratio ensures your images display as intended, not stretched, and without resolution loss.
Here's a simple visual guide on Instagram photo sizes. Check out this infographic.
Share this Image On Your Site
What To Know About Instagram Feed Posts
Knowing the best photo size for Instagram is essential when it comes to building your brand. This helps you upload your images quickly with the proper dimensions and the best quality. On Instagram, there are three types of feed posts you need to get to know better.
The Square (1.1 Or 1080x1080PX)
The traditional photo post on Instagram is the 1:1 square. It's the first type of photo size for Instagram. There was even a time when Instagram feed posts were limited to the Instagram square post. It has always been the popular choice on Instagram because the profile grid naturally crops content to a 1:1 ratio.
Among the pros of posting squares is that it brings a natural flow when scrolling through a feed. This is because the UI of Instagram was basically built for 1:1. When a new user scrolls through your feed, they will find consistent and quality photos when you use the square ratio all throughout.
If you want to try the square post, there are things to look out for. First, it's best to make square photos 1080 by 1080 pixels in size, so that when Instagram compresses the image file, the displayed version is close to 600 by 600 pixels. Another important thing is to frame your shot with the 1:1 ratio in mind. Keep the usability of the image in mind if it were cropped into a 1:1 format. Use the built-in framing functions on your cameras and smartphones to get that square photo precisely. And finally, remember that if your photo doesn't look right when cropped to the 1:1 ratio, then it might not be meant to be an Instagram photo.
Here are some examples of profiles that use the square photo size for Instagram:
Landscape (1.91:1 Or 1080 x 608PX)
The landscape post is best for scenes, street photography, event photography, group shots, nature, and outdoor images that appear vast and expansive. To capture as much of this as possible, while creating a dramatic and exciting image, use the landscape orientation.
In your Instagram feed, landscape images appear with less image height, so your caption appears without scrolling further down. When working with landscape images, make sure the height is at least 1080 px to keep the quality high. But to be more precise, the recommended resolution is 1080 x 566 pixels.
But, you should know that adding these types of images is a bit tricky because most landscape images are of 16:9 aspect ratio as opposed to 1.91:1. So, what happens is most pictures that you upload will automatically get added with a black border around it.
Here are some examples of profiles that use the landscape photo size for Instagram: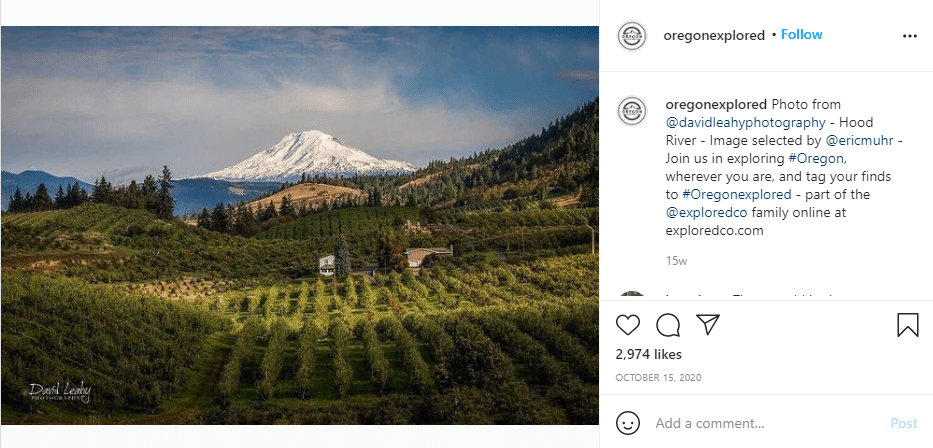 The Portrait (1080x1350PX)
Otherwise known as the portrait dimensions, images set to portrait shows content vertically. This is one of the common photo sizes for Instagram it works as a preset within the app, and you can take a portrait image from your mobile's camera.
These types of images take up the majority of the screen, and sometimes you'd need to scroll down to read the captions. For the best quality for a vertical or portrait picture, the recommended resolution is 1080 x 1350 pixels. Once it's uploaded, Instagram will show this as a 600 x 749-pixel image. This is why it's important to have an aspect ratio of 4.5; if not, it will be cropped.
Here are some examples of profiles that use the portrait photo size for Instagram:
Final Thoughts On Portrait And Landscape Photos
If you want to upload a full portrait or landscape creation to Instagram without cropping it to a square, use the full-size button when uploading your photo. This button automatically adjusts your portrait or landscape photo to the maximum aspect ratio available. All you have to do is tap the expanded arrows in the bottom left corner of your photo. Your whole picture will fit on Instagram perfectly!
Tools For Perfecting Photo Size For Instagram
If you want to make sure all of your content has the perfect photo size for Instagram, you can use an app to edit your photo size for you. Some tools you can use are Sprout Social, KapWing, and Canva.
Sprout Social has a nifty image resizer called Landscape by Sprout Social. It makes it a lot easier for content creators, influencers, and social media marketers to resize images like a pro.
Landscape works wonders with your images in a few steps. All you have to do is upload the image, choose which social platform and format you'd like your image resized for, crop, scale, and export it, ready to use. You'll have perfect images, optimized, and ready to bring the results you need.
KapWing uses a free template to resize or crop an image, video, or GIF. It automatically sets the size to 1080 x 1080, which is the best photo size for Instagram. Your photo does not have to be square. Simply upload the image to the frame and get a download of the image in its proper dimensions. You can then easily post this to your Instagram feed without cropping out your visual content.
Canva has ready-to-use, professionally designed Instagram templates that you can choose from for whatever graphic you need. Whether you need to create a profile photo, post a story, or publish square, portrait, or landscape-oriented photos and videos, Canva's templates make it easy for you to stand out.
These tools will definitely give your branded content the x-factor you're going for.
Instagram Carousel Post Sizes
Carousel posts allow you to scroll horizontally through additional images. This is great for brands that sell a product, would like to feature variants or a list of products, or simply show a visual narrative. Carousel images can have a maximum number of 10 "cards" or images. It can also be any of the three dimensions. But once you have chosen a dimension for your first photo, the rest will have to be cropped in the same aspect ratio. So, you cannot start with a portrait image and have the next one be a square.
According to the latest Social Insider study, carousel posts are the most engaging Instagram post format. So, why not bring out your creativity and create a carousel post? For best results, create a carousel post with 8 or more cards or slides. You may also want to mix images with videos to bring the highest engagement rates per post.
Another helpful thing to use in creating carousels is to use the AIDA Principle: Attention, Interest, Desire, Action. To grab attention, make your first image the headline, and the second the introduction. Second, build Interest. Use the next three to seven slides to provide a solution, key points, or features of the subject of your post. Third, create desire by further enticing your viewers with a feast for their eyes in Slides 8 to 9. Finally, conclude with a CTA (call to action) in the last slide.
Don't forget to create your unique style with the choice of your color palette, fonts, visual elements, shapes, and writing a good copy. This is visual storytelling at its best!
Here are some examples of carousel posts:
Instagram Video Dimensions
The Instagram post size for videos is similar to the dimensions of photo posts. They can be shared with a square, horizontal, or vertical orientation. Instagram square videos are cut-and-dry. Similar to images, square videos should have an aspect ratio of 1:1 and a size that's close to 1080 by 1080 pixels.
Here are some examples of Square Instagram videos:
Horizontal or Landscape videos can have an aspect ratio between 1.91:1 and 16:9. In reality, it's a lot easier to shoot videos in 16:9 than 1.91:1 — simply shoot horizontally on your iPhone or camera. It's best to stick to a 16:9 ratio for your horizontal videos. And when it comes to size, the video should be around 1080 by 607 pixels.
Here are some examples of Landscape Instagram videos:
For Vertical or Portrait videos, you can have a maximum aspect ratio of 4:5; otherwise, they get cropped. For size, it's best to go with 1080 by 1350 pixels as much as possible. Instagram compresses the video displayed to 478 by 597 pixels.
Here are some examples of Portrait Instagram videos: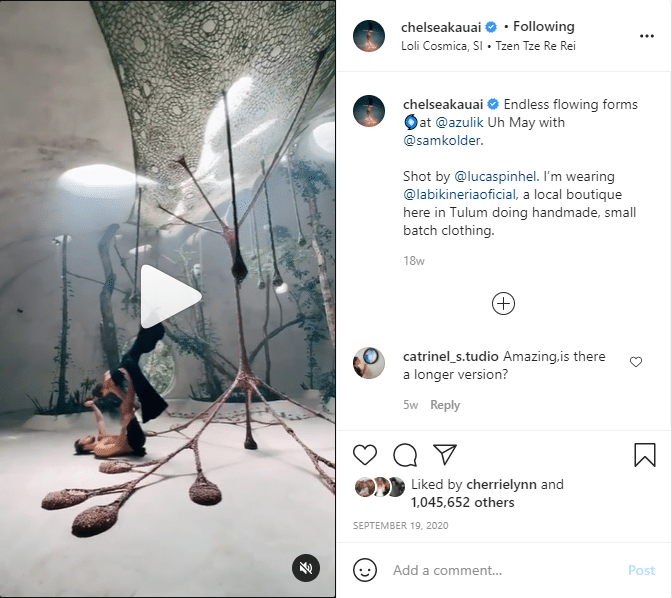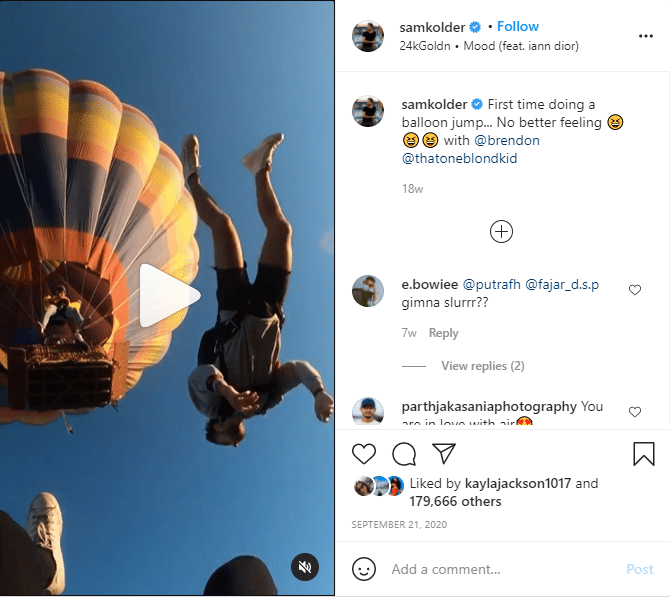 Carousel video posts can also be square, horizontal, or vertical. Similar to images, once you've selected a certain aspect ratio for your first video, the following videos you select will follow your aspect ratio selection.
Here are some examples of Carousel Instagram videos:
Join 100k+ savvy Instagram marketers
If you are struggling to get the attention you deserve on Instagram, sign up for Kicksta today and start attracting more followers who are interested in your brand.
How You Shoot Your Video Matters
With what you know about Instagram post sizes, it has become a lot clearer now that having a compelling video depends on how you shoot your raw videos. Use the specific dimensions of Instagram videos strategically. Take advantage of every pixel of space Instagram gives you to share your video. Since you only have 60 seconds, make the most of it.
Keep your video focused on a single goal. It has to be laser-focused, depending on what you want to achieve. Are you trying to get someone to share your video? Are you raising brand awareness? Are you trying to get someone to click the "buy now" button? Whatever goal you have, make sure that your visual content fulfills it specifically. You don't want to confuse your viewers.
Finally, when working with Instagram videos, make it your rule to always use maximum resolution no matter how long these videos can be since these videos will be compressed when downloaded. Here is a detailed guide to the maximum resolution for Instagram videos:
Square Instagram Video Maximum Resolution is 1080 x 1080
Portrait Instagram Video Maximum Resolution is 1080 x 1350
Landscape Instagram Video Maximum Resolution is 1080 x 608
Carousel Instagram Video Maximum Resolution is 1080 x 1080.

Instagram Story Sizes
The Instagram photo size for stories is a lot more flexible than posts on your feed. You can share anything on your Instagram Stories as long as it has a minimum aspect ratio of 1.91:1 and a maximum aspect ratio of 9:16. But since people prefer that stories take up the whole screen without borders, it's best to stick with what is recommended: an aspect ratio of 9:16, with a size of 1080 by 1920 pixels.
Take note that the maximum photo size for Instagram stories is 30 MB. Anything above this won't work. As for videos, they need to be less than 4GB and last for 15 seconds or less. If you upload a video that's longer than 15 seconds, Instagram will break the video down into multiple segments of 15-second videos. And since Instagram stories allow you to upload only up to 4 video stories, it's better to create short videos that are 15 seconds long. Instagrammers are used to seeing small story videos.
Additionally, because the exact dimensions of stories depend highly on the device they're displayed on, leave roughly about 250 pixels (14%) of the top and bottom of your image free from text and logos, so they don't get covered by your profile photo and Instagram buttons. In designing Instagram stories, remember that images consisting of more than 20% text might experience reduced delivery due to the rules of Instagram about the text in images.
Apps To Help You Create Visually Appealing Stories
Instagram Stories get more and more creative and interactive because of some pretty cool apps like Over, StoryArt, and Unfold.
Over is a great app for Instagram Stories because you can overlay text and graphics onto your videos and photos. You have tons of photos, fonts, graphics, tools, and templates to choose from for that on-brand content.
StoryArt provides a huge variety of preset templates that you can directly use for your Stories. You also get to add design effects, themes, varying fonts, and filters to attract more followers.
Unfold is an app that's more minimalistic and elegant with their design templates. It supports both video and photo stories, and you get access to a lot of design options for each. To use Unfold, you aren't required to set up an account. Simply download the app and begin creating high-resolution Instagram stories.
What's great about all these apps is that they will automatically set your content to the optimal dimensions, creating a lot less stress for content creators.
IGTV Size Optimization
IGTV is basically a long-form video channel accessible from Instagram. There are so many creative ideas for creating IGTV videos. For whatever purpose, users can upload 10 minute long videos, but for verified users, videos can be up to one hour. It's helpful to know that videos can either be horizontal (16:9) or vertical (9:16), and can have a minimum resolution of 720 pixels.
After you've uploaded your IGTV video, you won't be able to edit your cover photo anymore. So, be particular with this before the upload.
IGTV Cover Photos
An IGTV cover photo is a smaller thumbnail of the IGTV channel that allows users to preview. It includes the title of the video content and the user. These cover photos are shown in a scrollable wall of channels, which means that the quality of the cover photo is important to entice users to view your content. When creating your IGTV cover, remember that any text or graphics you need to add should be in the "Title Safe Area" — an area where your text or graphic isn't at risk of being cut when viewed from various devices.
The recommended dimensions for an IGTV cover photo is 1:1.55 and 420 by 654 pixels. Its aspect ratio is 16:9. It's good to keep in mind how it will look on the feed and on the Instagram profile grid.
Check these out for some IGTV inspo: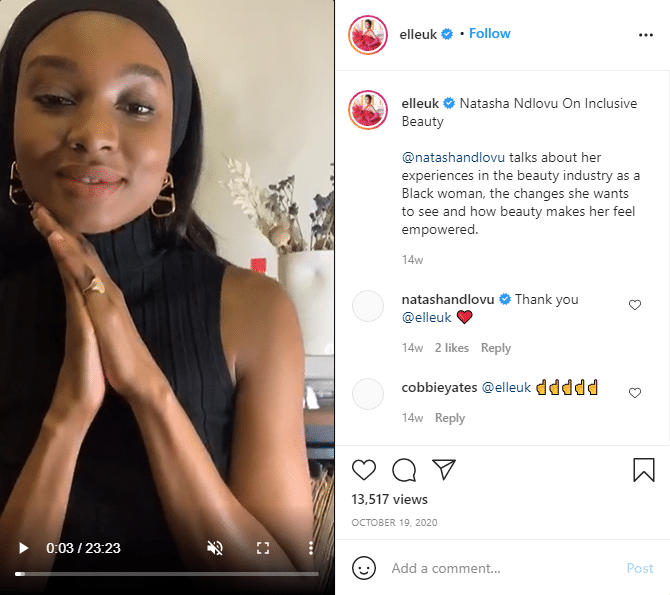 Instagram Live Videos
Instagram Live lets you broadcast videos to your followers in real-time. Videos must be a maximum of 60 minutes. These videos must be shot vertical with an aspect ratio of 9:16. Its minimum resolution is 720 pixels.
For the best Instagram Live videos that are engaging, remember to be authentic and professional. The reason why people want to see you live is that you're a real genuine human being. People need a real and authentic connection, which is possible through a mobile phone. It's also helpful to be consistent with your ongoing series. Whether you post Live videos weekly or monthly, being consistent with your live stream gets your followers excited, boosting Instagram Live success.
Profile Photo Size
Your profile photo is an important part of your IG account. For many people, it's the first impression they'll get of your overall Instagram account (and maybe even your entire brand). So it's essential that your photo provides an accurate visual representation of your company — whether it uses your logo, your face, or something else altogether.
If possible, upload the same profile photo that you use on other social media platforms where you have a presence. This creates consistency and improves brand recognition as your followers will learn to spot you anywhere.
So, what size should your Instagram profile picture be? In short, the higher resolution, the better — 1000 x 1000 pixels or higher is the best photo size for Instagram profile pictures.
Your profile photo will display at 110 x 110. This is the size at which Instagram users will view your profile photo on the mobile app. However, for people who are looking at your profile on desktop, the photo might appear grainy or low-res. Avoid this by using a photo that's at least 180 x 180, and ideally 1000 x 1000 or more. This will ensure your photo appears clear and sharp to everyone.
If you're using a square photo, you'll want to make sure the aspect ratio is 1:1. Instagram will automatically help you crop your photo into a circle when you upload your profile pic to the app.
Here are a few good examples of high-quality profile photos on Instagram:
Instagram Ad Dimensions
Instagram native ads are a good way to get your product in front of Instagram users. These ads appear in the user's feed; at first glance, they simply look like a normal post. Since Instagram ads aren't overtly salesy, they can be highly effective in increasing both brand awareness and conversions.
You can create several different types of ads, using photos or videos to get your point across. If one of your recent posts is performing well, try promoting the post to reach even more people. You'll be able to monitor your ad's progress after you set up the ad.
When you create an Instagram ad using a photo, you have three options for sizing: Create a landscape ad, a square image ad or a vertical ad.
A landscape ad should be 1200 x 628 pixels with a minimum resolution of 600 x 315, while the recommended aspect ratio is 1.9:1.
For a square image ad, the best photo size for Instagram is 1080 x 1080 with a resolution of at least 600 x 600 and an aspect ratio of 1:1. (These dimensions also apply to any photos used in carousel ads.)
Finally, if you choose to create a vertical ad, make sure your photo size is 1080 x 1350 with a minimum resolution of 600 x 750 and a 4:5 aspect ratio.
You can also run an ad on Instagram stories. Any photo you use for a Stories ad will need a resolution of at least 600 x 1067. The ideal resolution is 1080 x 1920 pixels, and your aspect ratio should be 9:16.
Here are some examples of different types of Instagram ads with photos in the correct dimensions:
Don't Forget to Have Fun With Your Instagram Post Size
Even if it becomes daunting sometimes to think of the best photo size for Instagram, you can most definitely have fun in the process! Think of this as a way to guarantee that your viewers and followers keep getting the best experience with your content as a social media influencer, content creator, brand ambassador, or social marketer. Whether it's to promote your brand, raise awareness, educate or increase engagement, make it a point to include your personal touch in things you create.
Instagram Growth Hacks
Join over 100k+ marketers and influencers who get the latest Instagram tips & tricks sent to their inbox every week