Top Tips from Photographers on Instagram
post
We've said it before and we'll say it again, Instagram is all about the visuals. That's why photographers on Instagram are some of the most successful content creators on the platform.
With their natural eye for design, it's no surprise that Instagram photographers are the masters of creating aesthetically appealing feeds that leave their followers inspired.
If you're a photographer yourself looking to step up your Instagram game or simply hoping to create high-quality content for your page, these professional photographers on Instagram are the ones you should be looking to for inspiration.
We've gathered the top tips from actual photographers on how to successfully market on Instagram. They've shared everything from how to edit images to ways to maximize your reach on Instagram– and much more!
Here are the Top Tips from Photographers on Instagram:
"Use Instagram stories throughout the day. It really helps to drive follower engagement. I get tons of questions though DM's related to my Instastories. Often times those questions will lead to blog post which help drive traffic to my website."
-Nick Bumgardner
Nickbumgardnerphoto.com, @bumgardnerphoto
"The best way to grow your audience through Instagram is to be authentic. It's also important to engage with your audience, have a call to action, and interact. Genuine interaction, collaboration, and authenticity are key to building a solid social media audience!"
-Gretchen Robards
Gretchenrobards.com, @gretchenrobardsphoto

"For photography specifically, I think hashtags are very helpful. A lot of my clients will tell me that they've searched a specific hashtag on Instagram to find a photographer that way. Hashtags also help bring new followers to your feed."
-Sidney  Nichols
Sidneyellenphotography.com, @sidneyellenphotography
BONUS TIP: Hashtags are one of the best ways to expand your reach. Click here to learn how to pick the best hashtags for growth.
"Save yourself time by using an app on your computer like 'Later' to schedule uploads in advance. Not only can you upload higher quality images but you can spend less time doing it and more time actually taking photos or enjoying the places you go."
-Josh Sterrett
Mexicophotoworkshops.com, @daysofwandermust
"The most important component of your Instagram feed is to make sure you maintain consistency in your content – both in the visual appearance of the images you are sharing, and that the type of content you are sharing is consistent with the clientele you are trying to attract."
-Jessica Savard
Handandarrow.com, @handandarrowphoto
"The key to all social media is engagement. Your followers will only grow while you're commenting, replying, and posting."
-Peter Mahon
Lostnorfound.com, @lostnorfound
"Want to leverage your IG followers and grow your email list? Rather than using the link in your IG profile to send people to your home page, send 'em right to your opt-in offer. If you've got a goodie for people who want to join your list, don't make 'em look for it – make it EASY for them!"
-Misha Hettie
Uncommonlygoodbiz.com, @hellomisha
"My biggest tip would be to stay consistent. I post every day except Sunday and I have watched my following grow tremendously just because I am always showing up for my followers.
Try to post once per day on your stories, and once per day on your feed. I plan everything out a week in advance at the time when my followers are the most active. I switch up my hashtags on each photo, so I am always reaching new audiences. Building hashtag lists takes some time, but it is SO worth it to insure you're targeting different users every day."
-Emily Reedstrom
Emilyreedstrom.com, @emilyreedstromphotography
"Biggest and best advice is to always adjust your image color! Colors on phones are wack. They are usually super yellow or green and not appealing. Using apps like FilmBorn, which allow you to adjust all settings the way a professional does. White balance, which is the cool or warmth of an image. Hence, yellow vs blue tones. As well as adding in tint which is magenta or green. Images taken outside standing on grass could be given a green color cast. Which is the grass reflecting up onto the skin of your subject? Pinching in some magenta cancels out the green in the skin and makes the skin look more lifelike!
By bumping up the exposure, which is the overall brightness of the image, you will be able to highlight the subject you took a photo with as well as eliminating wonky colors given by your phone!"
-Cassidy Mister
Cassidymr.com, @cassidy_mr
"I am completely obsessed with Planoly!
You can upload and manage your Instagram from your computer and schedule out posts for the future. The best is that it helps you see what your ig page will look like before it posts and it also helps you find popular hashtags to use for your brand.
It really makes Instagram an easy process! I love planning out the week of my photography sneak peeks or if I love a photo I just edited I can easily upload it from my computer (or phone)."
–Bree Garcia
Jessieandbree.com, @jandb_photos
"The key to Instagram is consistency and reciprocity. People love knowing not only that you are going to show up for a post every day, but that if they leave a comment or a like on your photos that you will, in turn, return the favor. Instagram is a very community-based platform. To get the best results, you have to participate in the community."
–Teagan Alex
Thesweatpantdiaries.com, @talex
BONUS TIP: For more tips on how to grow your Instagram account organically, click here to learn how to get real followers for Instagram.
"Always be sure to tag people & places (stores, restaurants, cities, etc) that are featured in your post image! More often than not I've had big brands & locations repost my images with photo credits! This is a huge way to be seen on IG!"
-Jennifer Collins
JenniferCollinsPhotography.com, @jcollinsphotog
"Before using your Instagram to attract clients, you need to stop for a moment, and ask yourself 'what kind of brands do I want to work with?'"
If you're more of a travel photographer, posting landscapes photos, but you still want to work with clothing companies (The North Face for example), you'll need to post some photos including human subjects.
This doesn't mean that you need to post a portrait; but try to incorporate a human subject in your landscape shot, on which we can clearly see the clothes.
This way, when an adventure clothing brand looks at your photos, they will see this photo with someone in it and think « oh wow I can totally see this person wearing our clothes!"
-Kevin Mrc
Kevmrc.com, @kev_mrc
"The best thing about Instagram is that it allows you to show people a personal side to your business. I like to keep my IG feed as my portfolio and I use IG stories for special offers, behind the scenes of my business/products, pointing potential clients to my website, and shouting out the brands and people I love connecting with. This way, my feed stays on brand and I can focus on reaching people who can connect with my personality through stories."
-Mylina Russell
Mylinarussell.com, @mylinarussell
"Remember to be grateful. Whether your hawking photo sessions, promoting mental health or showing off your biceps – It's important to show appreciation, for your resources, talent, and voice. I don't think anything is less appealing than a person who can't recognize their advantages."
-Wyatt Traughber
Wyatt.photo, @wyatt.posts
"The secret to Instagram is and will always be (regardless of algorithm changes)-to produce consistently high-quality engaging content. That's it.
Yes, hashtags, engaging with other people, and tagging feature accounts will always be a part of strategy… but in the end, long-term success on IG isn't about playing games or "beating the algorithm." It's about putting valuable content out there every day that people have a reason to stop and read, double tap, and swipe up to view more.
We've found that talking less about ourselves and more about things people care about, giving valuable tips, advice, ideas, and suggestions that actually help people get the most engagement.
Give people a reason to keep following your feed-give people a reason to tag their friends in your posts. Whenever you're about to click "post", ask yourself… "Why does this matter to my followers? Why should they care?" Good quality, consistent, valuable content will always win on IG-no matter what-and that's actually the secret to all other marketing platforms too!"
-Maddie Wilbur
Maddiemaephoto.com, @maddiemaephoto
"Quality content is really important. You don't necessarily need an expensive camera, your phone is fine. Just make use of editing apps or Lightroom and try to create a consistent theme."
-Lydia Arnold
Lydiarachel.com, @lydiarachelphoto

BONUS TIP: Learn how to take better Instagram photos with photo grids.
"Post the work you want to be doing. Sometimes we have to create our own opportunities, so don't wait for the opportunities to come to you; collaborate with other creators to make the work that you want your followers to see from you. A simple DM to a couple of creators can turn into one of your favorite shoots you've done. Plus you get to meet other artists while sharpening your own skills. The great thing about social media is that we have all the access to models, influencers, photographers, brands, etc. at our fingertips, so use it to your advantage!"
-Caroline Japal
Carolinejapal.com, @carolinejapal


"Provide more information in a caption rather than just an emoji. The more words, the more people connect."
-Alex B
Alexandraboncek.com, @alibphotography
"My best advice would be to be authentic and vulnerable! People want to follow people, not products – they want to see parts of you and your life. Share stories and experiences that your audience will connect with and relate to."
-Whitney Finuf
Whitneyfinuf.com, @whitneyfinuf

"My favorite tip to share about Instagram is using text replacement to save your hashtags, so if I am posting a general image about wedding planning, I just type 'ndehash' and then all my hashtags will populate. It's a huge time saver."
-Sarah-Daye Hand
Nightanddayeevents.com, @nightanddayeevents
"Maintaining consistency and uniformity in style throughout your images is incredibly important. This sets a standard of quality that your viewers will learn to familiarize with, trust and ultimately know your brand by."
-Joshua Best
@joshuamichaelbest


"One thing I've struggled with a lot in the past was finding the right hashtags to use on my posts.
I used to have a little note pad on my iPhone that saved some ones that have worked in the past, but now I found the best tool!
I use "For Daily Purposes Only". You just go to the site, type in what your image is about (example: Engagement Pictures) and it comes up with up to 30 hashtags that are hot and relate directly to your post.
I always add some specific hashtags like #washingtonweddingphotographer, #seattleweddingphotographer, etc just to land where any potential clients might be looking."
-Sarah Jane Brown
Worksbysarahjane.com, @sarahjane_brown
"Instagram is a powerful tool for any photographer, but as with any power tool it has the ability to hurt as much as help. People expect instant results. They see high profile users and want their audience without the effort of building a community. Avoid services that promise you hundreds of followers or thousands of likes. These will only hurt your account….Don't focus on the numbers of followers. Focus on building an engaged audience."
-Simon Salt
Simonsaltphoto.com, @simonsaltphoto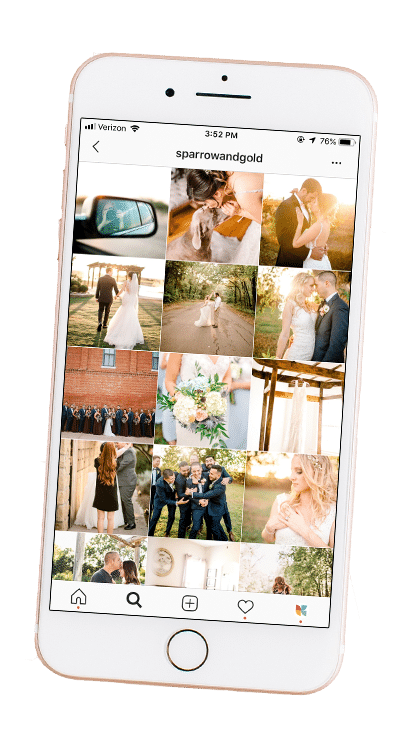 "Beating the Instagram algorithm is all I hear about nowadays but a go-to way to be seen is by using hashtags that relate to your brand + where you are based (or where you're wanting to gain clients), consistently engaging with other creatives + interacting as much as you can, & being yourself in your posts. Captions don't have to be stiff when it comes to business, having fun, making jokes, + showing who you are can connect others to you!"
-Jessica Rivera
Sparrowandgold.com, @sparrowandgold
"You only get what you give. Think of it – your Instagram profile is like a radio channel, if you aren't saying anything, how will people know to tune in?"
-Cristina St. Germain
Stgermainphotography.com, @stgermainphotography"
I'm a photographer and the method I use to choose Instagram images is that they 1. Tell a story and 2. make me happy."
-Sara Weidner
Eastmancreativerva.com, @eastmancreative
"Forget trying to people please or having the "perfect" content – be passionate and real and post what excites YOU as a creative."
-Clara Hildebrand
Claracecilia.com, @claraceciliaphotography
"Run a contest on Instagram that generates a lot of response and buzz. Set up the contest in a way that followers would "like the post", follow the business IG page, have their friends involved in the contest such as 'tag 3 friends.'This will drive the post engagement to high levels and subsequently receive new followers!"
-Jorge Polio
Jorgepoliophotography.com, @jorgepoliophotography
"When I started using Instagram I was going in blinding mixing photos of my breakfast with photos of my clients. Once I sat and focused my energy, my Instagram got focused as well. It's all about knowing WHO you are targeting and WHAT you're advertising.
Everyone likes coffee, but if you aren't selling coffee you can probably lose the daily coffee insta filter post. Know your brand, know your target audience and use Instagram to highlight yourself to said audience with strategically used hashtags."
-Allison Elliott
Allisonbadelyphotography.com, @allisonbadelyphoto
"Finding your niche and posting consistently are two of the most important factors and usually, go hand in hand. The more you post (high-quality content) you begin to develop and dive deeper into what your page represents and how you want your Instagram to be viewed.
Finding that key factor is what allows followers and businesses to connect with you, work with you and ultimately take your Instagram page to the next level with a core follower base."
-Tyler Barks
Tylerbarks.com, @TylerBarks
"Whatever your content is make sure you pour 100% effort into so that you get something that you will be proud of posting. Whether it's videos, fashions shots, food photography etc, if it's not worth your time it's not worth posting. Your @instagram in your business card not your currency"
-Neldy Germain
Neldy.co, @neldyg
"I don't have a lot of IG followers, but one thing I've realized is the power of IG stories. I was a late bloomer with them; but ever since I started creating them more regularly, I've developed genuine connections with clients and other photographers based on shared interests. Plus, they're more fun to watch than just scrolling through the photo feed."
-Lee Weston
Leewestonphoto.com, @_leannweston_


"Don't just think about your content and hashtags. Look at your insights and your traffic, and plan your posts to be fresh on peoples feeds when they tend to browse. Get your post up a little ahead of peak times to get engagement and really drive it up the feed quickly."
-Sam Meggs
Samuelmeggs.com, @samuelmeggsphoto
"Consistency in having at least one post per day. I utilize Later.com to be consistent. This allows me to plan, be strategic in my posts and more time off social media with my family. They allow 30 free posts per month or 100 for just 9.00. (I swear I'm not paid by them)."
-Candy Thomas
Lovecandyb.com, @lovecandyb
BONUS TIP: Check out the entire list for Instagram approved apps for business to save you time and perfect your grid.
"Finding a social media vs. real life balance is a struggle for most solo entrepreneurs. The biggest thing that has helped me is actually turning OFF all my instagram notifications. This allows me to choose times set aside for engaging on IG instead of being notified or tempted to check in every few minutes. This small change has boosted my productivity and given me greater peace of mind. It's ok to disconnect a little! "
-Kelsey Watroba
Kelseygenephotography.com, @kelseygene_photos
"Be your genuine self! Not a polished, put together version. Genuinely YOU! The feedback I get the most from potential clients is how relatable I am and that is what drew them in!! Being a perfect Instagrammer is overrated!"
-Tarah Munter
Tarahelisephotography.com, @tarahelisephoto
"I get noticed by people I want to be noticed by is by tagging certain accounts in each photo. For example, when I post a high school senior, I tag big Instagram accounts such as senior style guide or senior collective and so on. When I post a wedding image I tag accounts like green wedding shoes and Wisconsin bride. I find it puts me in their tagged photos for a little bit and people are able to see my posts!"
-Carlee Secor
Carleesecor.com, @carleesecorphotography
"Instagram Story is a powerful marketing tool. Don't be afraid to use it extensively to engage with your potential and existing customers, showcase your products, and drive traffic to your website. On average we post 7 stories a day, and have seen our engagement soar as a result."
-Alina
Dreamypresets.com, @dreamypresets
How Photographers on Instagram Grow with Kicksta
Kicksta is dedicated to helping photographers on Instagram take their passion for photography and turn it into a profit.
Take Todd Pinckney, a wedding and events photographer, who utilized his Instagram as a virtual portfolio and partnered with Kicksta to help get his amazing photographs in front of the right people.
"I love Kicksta's approach because they successfully target followers of other pages similar to mine, thus increasing the likelihood of voluntarily following my page. Kicksta has helped me consistently gain legitimate and engaged followers each month."
With the help of Kicksta, Todd is now averaging 12 leads per month directly from Instagram.
Since joining Kicksta, Todd has found the time to put the focus back on his passion—growing his business and capturing the priceless moments of his clients. Find out how Kicksta can help take your photography account to the next level.
Instagram Growth Hacks
Join over 100k+ marketers and influencers who get the latest Instagram tips & tricks sent to their inbox every week