How to Get Verified on Instagram in 2022
post
Have you ever scrolled through your feed, noticed a blue checkmark next to the account name and wondered how to get verified on Instagram? Everyone seeks validation, but how do you receive it from Instagram itself? As one of the most popular social media networks in the world, it has become a vital platform for influencers, brands, and businesses.
In today's society, having thousands of Instagram followers has allowed people to use the platform to create a full-time job. Unfortunately, there is no set formula to become Instagram famous overnight. It takes time, strategy, and epic content to gain more Instagram followers. Lucky for you we have some serious insight to help you understand how to gain real Instagram followers and ultimately how to get verified on Instagram.
What Does It Mean To Be Verified On Instagram
According to Instagram, Instagram verification is given to accounts confirmed to have an authentic presence, public figures, celebrities, or global brands. Accounts with the blue check are the real deal and are guaranteed to have genuine Instagram followers.
For example, Kobe Bryant has been verified due to his authentic Instagram followers and presence. The blue checkmark on this profile makes it known that the account is verified and not a fan account.
With many accounts, it can be deceiving if they are associated with the person/brand itself due to the account's high number of Instagram followers. There may be other accounts that Kobe Bryant's name or try to appear as if they are an authentic account, but the blue check confirms this is his actual Instagram profile.
Why Would You Want To Be Verified On Instagram
One of the ultimate goals is to get Instagram verification. When using Instagram as a business tool, Instagram verification adds a level of credibility to your account. The blue checkmark holds more power than just being an additional accessory to your profile. With a blue checkmark by your name, your profile looks legit and gives Instagram followers a reason to trust your content. Now that you recognize a blue checkmark, let's break down the process of how to get verified on Instagram.
How To Get Verified On Instagram
Instagram verification isn't given to just anyone. If you're trying to figure out how to get verified on Instagram, here are a few places to start.
Produce High-Quality Content
Learning how to get verified on Instagram organically starts with establishing a presence on the platform.
Instagram is all about aesthetics, so producing high-quality content with a consistent theme is the best place to start. For example, how do you think influencers attract new followers? In most cases, it's because these content creators know how to appeal to their audience. They create visually compelling content that their followers enjoy and want to continue viewing on their feeds. 
What types of content should you post? The most successful Instagram accounts post photos and videos in their feed in addition to sharing Instagram Stories, reels and IGTV videos. Let's look at Grammarly's Instagram account as an example. Grammarly's Instagram feed is very aesthetically pleasing: All of its posts follow the same general color scheme, with a good mixture of photos and text-based graphics.
Grammarly also makes a point to interact with its followers on Instagram Stories, like this recent example:
Talking with your followers on Instagram Stories is a great way to boost engagement. And Grammarly also regularly shares Reels on topics that are relevant to its followers (such as the writing tip shown here).
It's also important to be active on Instagram. Creating one piece of high-quality content is great. But it isn't enough. To grow your account and eventually get verified, you need to post high-quality content over and over and over again. This will "teach" your followers that you're never short on content or inspiration — and add to the credibility we discussed earlier.
Grow Your Followers
Creating eye-catching content is only half the battle. The more real followers you have, the more likely you are to get verified on IG. Having a large and authentic following will get you closer to being on the app's radar. If you're trying to gain more Instagram followers, you can do so by creating incredible content, engaging with other accounts, and using an Instagram growth service.
Growth services like Kicksta will help you organically gain real followers, not bots — and working with Kicksta to grow your account is easy and effortless. When you register with Kicksta, you'll give the growth service some information about your company and the type of followers you're looking to attract. Then Kicksta will use your account to "like'' photos from users in that target audience.
Ideally, those people will come back to check out your account — and then all you need to do is continue posting high-quality content to get them to follow along. Unlike other growth services, Kicksta focuses on organic growth, and the company's spam-proof tactics ensure you won't get banned.
Instagram's growing popularity has indirectly resulted in an unspoken competition among users to have more followers and likes. Companies looking to work with influencers and users are aware of people buying followers and likes. And if you buy followers, that can hurt your account in many ways.
If you want to get verified on Instagram, you'll need your follower count and like ratio to be real.
Use Hashtags Wisely
Another way to grow your account and eventually get verified on Instagram is by using hashtags — and using them the right way. Having at least one hashtag can increase engagement by 12.6%! So this is an important step to keep you moving forward toward the end goal.
Aim to use anywhere from eight to 14 hashtags per post. If that number doesn't work well for your business, do some experimenting to find your sweet spot for hashtag volume. Try using a combination of general hashtags (such as #fitness) and ones that are more specific to your brand (you can even create your own branded hashtag). Whichever hashtags you choose, though, make sure they're all highly relevant.
Don't use spammy hashtags or any that are banned. Do some research to find trending hashtags to incorporate into your IG strategy. And finally, don't limit hashtags to just your posts — Instagram Stories, Reels and IGTV videos need hashtags, too.
What does this look like in practice? Here, Partake Foods uses a mixture of branded hashtags, seasonal hashtags and more general tags that relate to cookies and food.
In this Reel, David's Bridal uses product hashtags to make it easy for customers to shop.
And here, Byrdie uses the hashtag #ManiMonday to help more beauty-conscious users find this beauty brand.
Using hashtags correctly is a great way to keep growing your account and get ready for verification.
Improve Your Engagement
Instagram engagement is important. The more engagement you get, the more Instagram will prioritize your content — which means more people will see your posts and your account will continue to grow.
There are a few good ways to increase your engagement. Looking at your Instagram Insights is helpful as you set out to improve engagement; when you see what types of posts performed well in the past, you can duplicate those posts to give your followers the kind of content they want.
Instagram Stories are also a great place to focus on improving engagement. Use the interactive features like poll stickers and question boxes to get your followers talking, and make sure to respond to any comments or DM's you receive. Here, Hollister Co shares a product poll to boost engagement.
Finally, videos are an excellent way to increase Instagram engagement. Sponsored videos receive three times more engagement than photos. If you don't already post videos on a regular basis, like this video from DeMarini Fastpitch, now is the time to start!
Post At Optimal Times
Posting at the right time of day is important to make sure as many people see your content as possible. However, the "right" time of day will vary from brand to brand, so it can take a little experimentation to figure out what's best for yours.
A comprehensive report from Sprout Social shows that the best day of the week to post on Instagram, and the best time of day is between 2:00 P.M. and 3:00 P.M. Central Time. If you aren't sure when to post on Instagram, try starting here and then adjusting based on the response you get.
It's also helpful to pay attention to your followers' activity and think about what times of day they're most likely to be surfing the 'gram. For example, if you target a younger demographic that's still in high school, you might see a spike in their Instagram activity after 3:00 P.M. when school lets out. Putting yourself in your followers' shoes and looking at the data can help you figure out the optimal time to schedule your Instagram posts.
Avoid Spammy Tactics
Spammy Instagram tactics are one of the fastest ways to lose a good reputation or potentially even get banned. So don't fall prey to any spammy Instagram strategies! Buying followers or likes is a no-go. Doing so will skew your engagement and make your account look fake, and since it's against Instagram's terms of service, it also might get your account suspended. Staying away from spammy tactics and staying on the straight and narrow will get you closer and closer to Instagram verification.
How to Request Instagram Verification
There's always been an air of mystery surrounding Instagram verification. Recently, the popular app answered many user's prayers by removing the question of how to get verified on Instagram by allowing users to apply for Instagram verification themselves.
The Instagram verification application process is rather simple and can be done directly from the app. First, if you run more than one Instagram account, make sure you're logged into the correct account you wish to verify.
Next, once in the app, open your profile and click the icon with three lines in the top right corner of your screen. This will give you access to the Instagram settings menu.

Scroll to the bottom and click the button with a gear that says "Account" which will direct you to the "Request Verification" tab.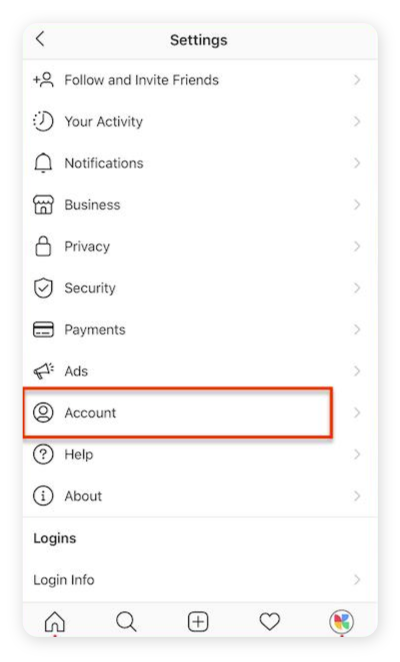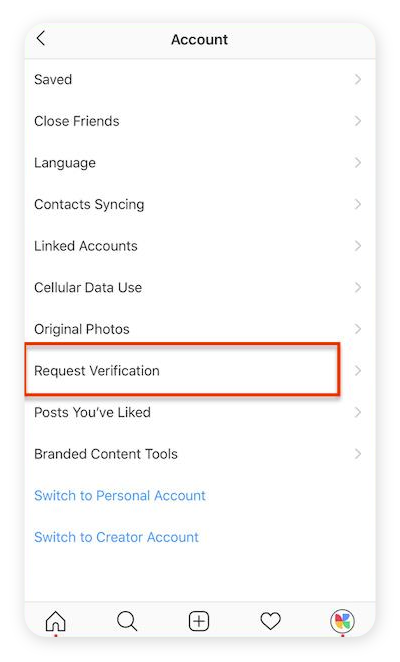 This page fill is the official submission for Instagram verification through the app. Receiving an email or another offer about how to get verified on Instagram is likely a scam. At the top of this menu, it reads "Apply for Instagram Verification" and below is where you enter your full name, nickname, category, and then attach a government-issued ID to validate your identity.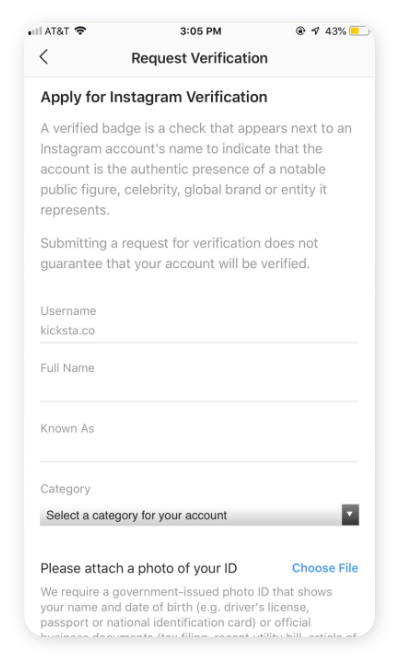 What Should You Do If You Can't Get Verified?
Getting verified on Instagram can be a long process, and unfortunately, you might run into a dead end. If you can't get verified on Instagram, take a step back and look closely at your account, picking apart your IG profile and strategy to see if there are any holes in your plan. For example, maybe you have fake followers and didn't realize it.
The reason your request for verification got denied won't necessarily be the same reason that somebody else's was. So in the end, it's up to you to try to figure out why your account wasn't verified and what you can do about it.
If your verification request was denied, spend some time fully focusing on your Instagram marketing. Create as much high-quality content as you can and interact with your followers. Consider working with a growth service like Kicksta to increase your number of real, genuine followers. And stay far away from any tactics that could potentially earmark your account as spam, such as purchasing followers.
Once you have a more authentic, engaged group of followers and it's clear that you have a track record of posting high-quality content, submit your verification request again. This time, there should be a better chance that your request will be accepted.
Is Instagram Verification for Everyone?
Now that you have a little more insight on how to get verified on Instagram, you can decide if it's worth it for your account. There's a lot of work and planning that goes into this process, so it's imperative to have a good reason before you get started. The benefits at the end of the day are advantageous and will give your brand credibility and an instant stronger social presence.
While getting verified on Instagram proves your potential, optimizes your searches, helps you gain Instagram followers, and makes you feel some type of way, it doesn't mean that non-verified accounts can't be just as successful. Thousands of influencers, brands, and businesses have found extreme success on the app, and are making money and promoting their products and services without the badge on their profile.
Bonus Content
You may embed this infographic on "How to get verified on Instagram" on your website or share it on social media!
Share this Image On Your Site
Instagram Growth Hacks
Join over 100k+ marketers and influencers who get the latest Instagram tips & tricks sent to their inbox every week