9 Instagram Planners That Make Social Media Management A Breeze
post
Managing social media accounts is a job that requires a clear vision and organization, and using an Instagram planner is one of the best ways to achieve this. There are many components involved in social media management, and keeping track of everything can become hectic and challenging. Using an Instagram post planner will help you to lay out upcoming posts in such a way that keeps you feeling organized and ahead of the game.
Why You Should Use An Instagram Planner
There are many benefits that come with using an Instagram planner. For starters, using a planner gives you a clear overall view of your upcoming posts. This is a great asset for keeping your Instagram account within a consistent theme or aesthetic; having a clear vision of what photos will be posted soon gives you the ability to plan and arrange posts in a way that is visually appealing to those who visit your page.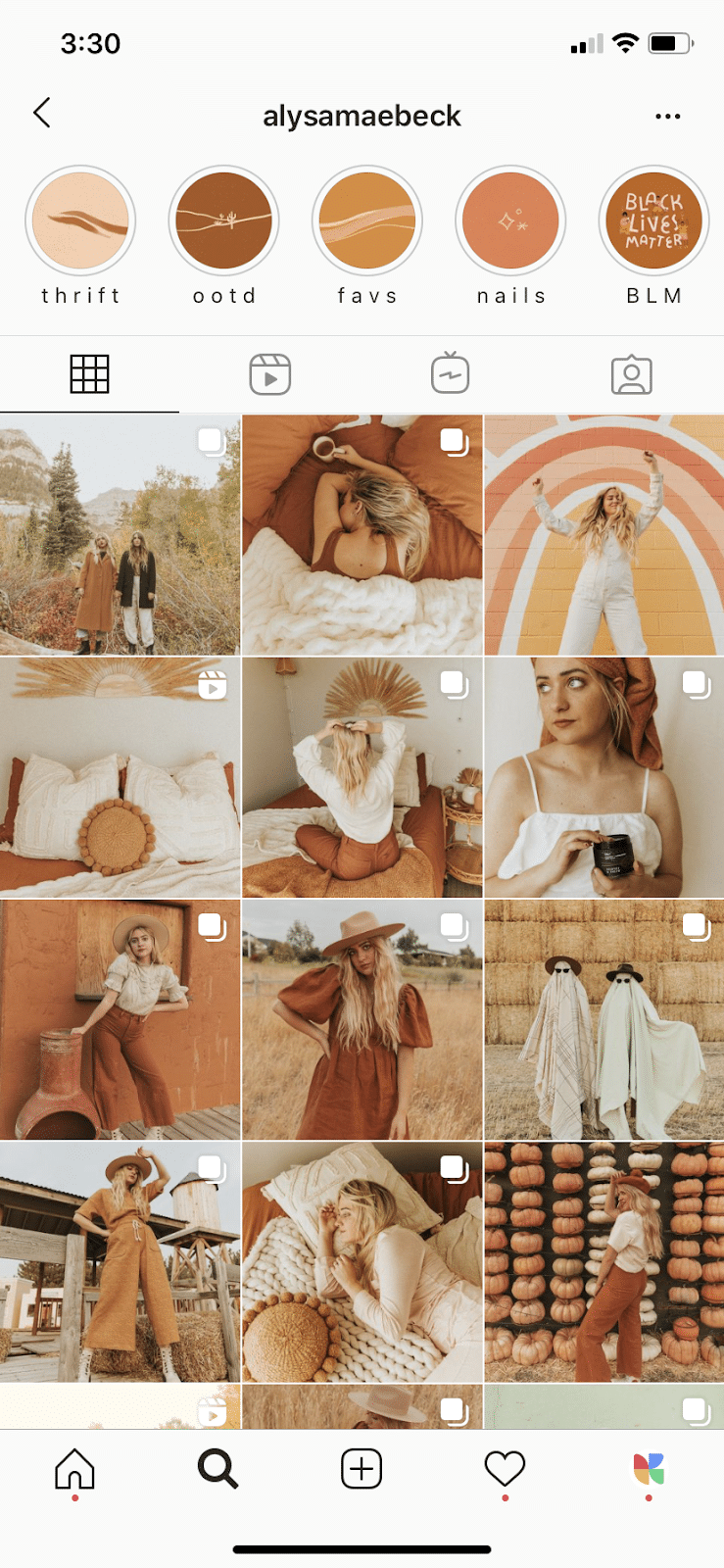 Managing Your Time
Most social media managers know that there are optimal times to post every day in order to garner the most follower engagement on posts. However, it's neither convenient nor feasible to plan to log in to Instagram every day at a specific time to publish a post. So, it's a great idea to plan out your posts ahead of time and pop them into a scheduler. By using an Instagram post planner, you will have the power to create posts and set them to be published at any date and time, so you never have to worry about specific scheduling again.
Publishing Optimal Content
We get it, you're busy, and your mind seems to be running in a hundred different directions at once. It only makes sense that you won't be in a creative mood every single day and up to creating quality content for your brand's Instagram feed. But sometimes, those creative juices are just flowing and it feels like there's no turning them off. These are the times when you should be pumping out content for your business's socials.
This is another beautiful thing about Instagram post planners – when you're in the creative mood and you have all sorts of ideas for aesthetically-pleasing posts and strategic brand moves, you can make them all a reality AND get them queued up to be posted. Creating a set of posts all at once will keep them consistent with one another while capitalizing on your own creativity.
Let's Explore The Options
Ready to get started using an Instagram scheduler? Now it's time to wade through the myriad of options available to you and choose which one is best for you. Lucky for you, we're here to help you do just that! Here are 9 of the best planners that will help you kick your company's Insta into high gear.
1. Hopperhq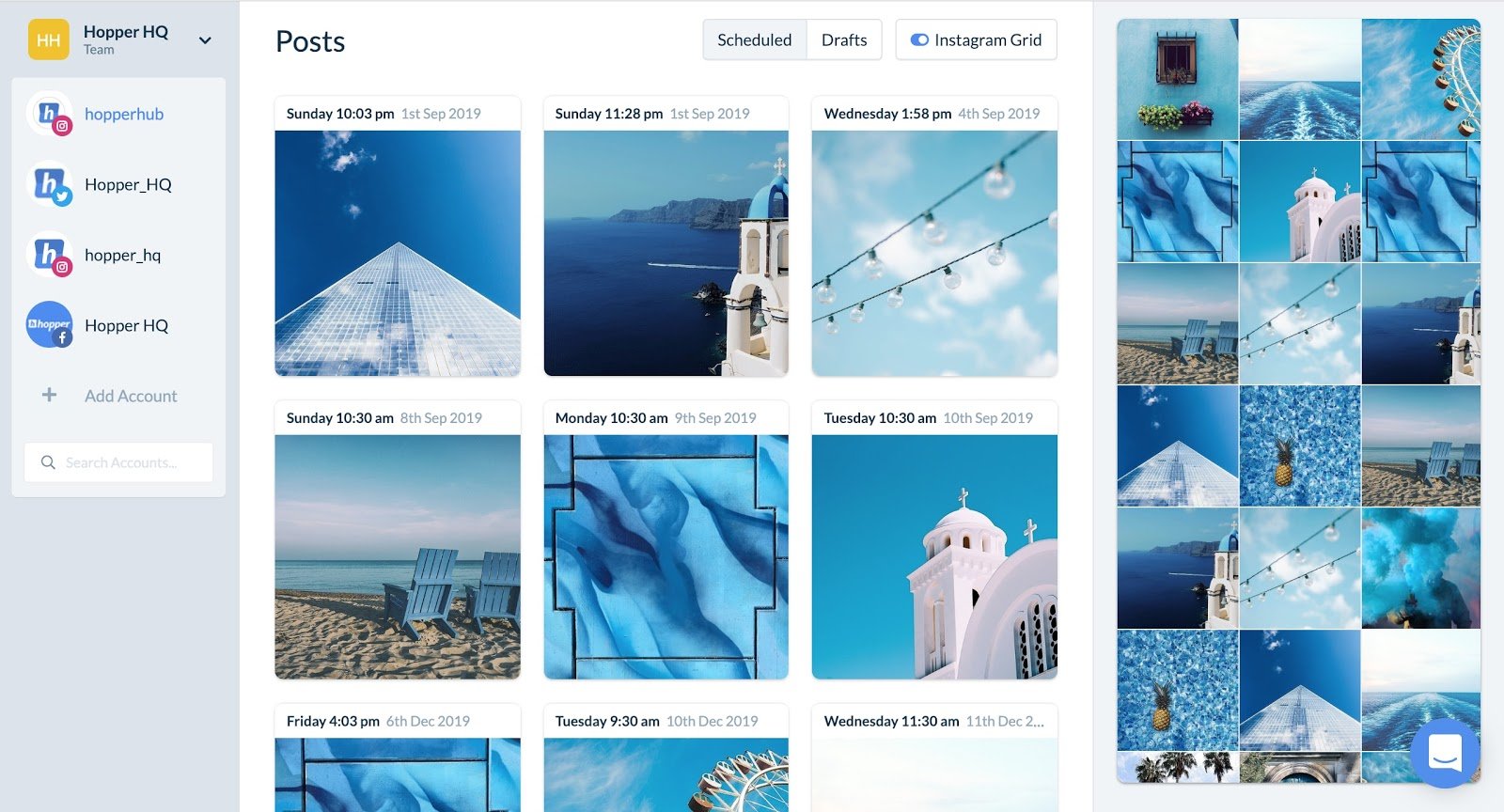 Features
With this Instagram post planner, you have the ability to schedule up to 50 posts at one time, and you can set your various accounts to different time zones. Other features available through Hopperhq include team features, Instagram analytics, an Instagram grid planner, and a social media calendar to help you visualize your plans. You can also include hashtags and first comments in your posts, and you can republish your own old posts quickly and efficiently.
Downsides
While Hopperhq is a well-rounded Instagram feed planner, it does not include contact management, conversion tracking, or keyword filtering, which some users consider to be a disadvantage on the app.
Pricing
After your 14-day free trial, Hopperhq charges $19 per month or $16 per month if you sign up for a whole year. This pricing includes one "account bundle," which refers to one Instagram account, one Facebook account, one Twitter account, and one Linkedin account. Prices increase if you wish to purchase more account bundles.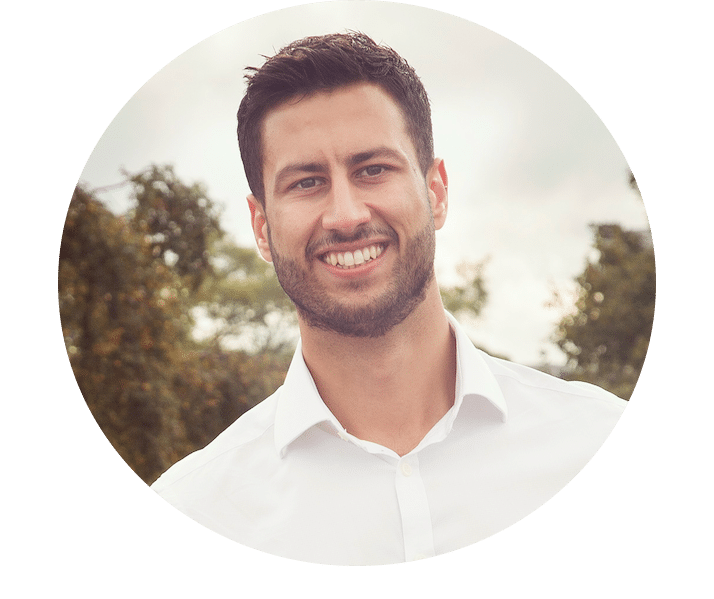 "Social media management is a job of two halves. Firstly about strategy and creativity, deciding and creating the type of content that your audience love. Secondly we're consumed by the administrative side, planning timings, uploading, editing, collaborations, posting and analysis.
Hopper HQ irradiates the countless hours spent on the administrative side and enables social media marketers to focus more on their audience and the creative they are building.
Packed with powerful features from bulk uploading and editing, preset posting time schedules to grid preview to effortlessly plan your feed aesthetic, discovering hashtags or managing brand consistency across all channels." -Mike Bandar
2. Loomly
Features
To help you stay organized, Loomly offers list view, calendar view, master calendar, and post overview features. And, this Instagram planner helps you keep in touch with your team by sending notifications to team members through a variety of platforms. Loomly also offers post inspiration based on current trends, allows you to store media in a central library, helps you to create posts and ads, and offers previews of both. Along with scheduling features, Loomly also offers users the ability to interact with audiences on various media platforms and gives access to analytics and insight on target audiences.
Tips to use Loomly: "As digital & social media marketing gains weigh in overall budgets, and stakes associated with online brand presence keep increasing, previewing and approving every single piece of outgoing content is fundamental for the success of your organization. In Loomly, you can implement a robust approval workflow in minutes, inviting all your collaborators to join your social media calendars, granting them specific permissions, and even building your own Custom Workflow. This makes it a breeze to preview Instagram posts (either individually or in the context of other posts with Grid Preview), assign them to your team for review, and receive approval before publishing. This way, you can make sure that every post you publish is on-brand, fits with your storytelling — and does not include typos."
Downsides
There are a variety of features not offered by this Instagram planner, including availability on the Windows phone, customer support over the phone, video tutorials, and compatibility with many ad platforms. Additionally, there is no free version of Loomly.
Pricing
After the initial free trial, users can choose from a variety of payment plans. Monthly prices are $25 (Base plan), $57 (Standard plan), $119 (Advanced plan), or $249 (Premium plan) for yearly plans. Prices are altered if users opt for a monthly package instead. Additionally, the Enterprise plan is available for pricing upon request.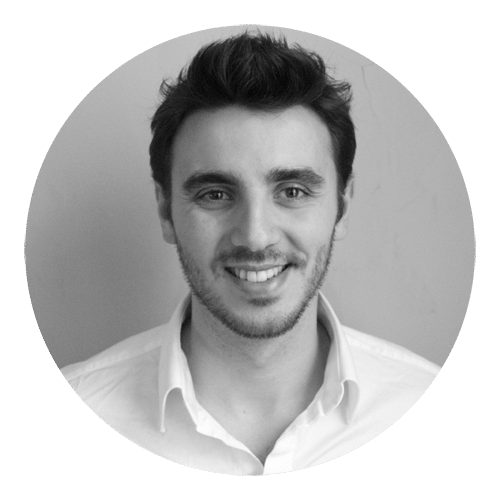 "Back in 2015, I began building software to make the job of my spouse & business partner Noemie easier. We were managing a marketing agency and developed an in-house solution to streamline the process of creating and sharing editorial calendars with our clients (in lieu of using the infamous spreadsheets we all know).
Encouraged by early feedback from our own customers and peers about the prototype, we decided to make it available to other marketing teams: Loomly was born. Flash-forward to today, Loomly has evolved into a full-fledged Brand Success Platform that helps marketing teams collaborate, publish and measure."
-Thibaud Clement
3. Planoly
Features
Planoly gives you the power to schedule posts for both Instagram and Pinterest, keeping your feeds consistent across platforms. With their web and mobile apps, you will have the ability to draft, plan, schedule and publish content. Additionally, Planoly offers an analytics feature that allows you to assess the data from your business's posts, so that you can learn how to publish content your audience enjoys.
With the Sellit feature, you can transform your Instagram into a virtual shop. The process is simple, and the outcome is highly impactful for your brand. You can also use Planoly to design custom story posts that boast a variety of features, including templates and stickers. Utilizing Instagram stories is the latest and greatest way to level up on the platform, so this feature is certainly useful.
Downsides
Planoly's free plan only allows for 30 media uploads per month, so if your brand publishes posts at a high frequency, or if you like to batch-produce for more than a month at a time, this Instagram feed planner may not be for you. Additionally, the organizational system of the media library on Planoly is very basic, so if your planning style is more intricate, you may want to check out other Instagram planners.
Pricing
Planoly offers a free option, or users can pay to employ the Sellit feature. This pricing starts off at $19 per month for the first three months and then elevates to $29 per month after that.
4. Plann
Features
Plann gives you the ability to keep your company's social media on-brand by offering access to stock photos, editing software, and eye-catching templates. Other features include post and story scheduling, access for multiple team members, advanced analytics to help you keep track of your accounts' successes, custom strategy creation, and a drag and drop calendar tool. Here are some tips for using Plann from Karina May:
Plann on your desktop or phone and sync your devices so you can continue planning on the go
Batch create your content using Plann's Canva integration to design gorgeous graphics and carousels from right within Plann
For instant professional content, utilise the in-built stock libraries for access to thousands of royalty-free images and videos
Quickly re-purpose your Instagram content to Facebook using the cross-post feature
Ditch the long chunks of text or unsightly full stops by adding your captions straight into Plann
Use Plann's handy strategy tool to access pre-created themes for a well-rounded content plan, or create your own. Drag and drop them on the grid so you know exactly what type of content to post, and when!
Downsides
Plann, unlike many other Instagram post planners, does not offer an automatic posting option. This is a risky aspect of the app, as some users may end up missing posts because of it. However, the app does send push notifications to remind you to post on schedule in order to counter this problem. Additionally, Plann does not include previous posts in the calendar view, so users do not have the option of assessing their previous account activity.
Pricing
Plann offers a free option, along with the Power User plan that costs $7 per month, the Buil plan that costs $15 per month, the Grow plan that costs $45 per month, and the Play Big plan that costs $105 per month. All paid plans include the same features, but more expensive plans offer access to more team members and more social media accounts.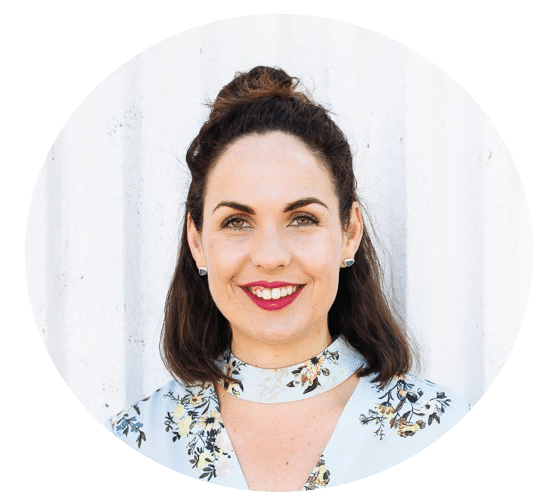 "Plann is a powerful social media suite for planning, scheduling and analytics across Instagram, Facebook and LinkedIn. The tool is used by more than 2 million of the best brands to build influence online, which is especially crucial for small businesses during the time of Covid. We've just released a brand new app with game-changing features designed to make it even easier for businesses to up their social media game by streamlining their workflow.
My favorite features are the calendar view for a birds-eye-view of your content and the text editing features for more engaging content, of course I also love that it syncs to our desktop app, so you can 'plann' from work from your home office, bed or couch!" -Karina May
Join 100k+ savvy Instagram marketers
If you are struggling to get the attention you deserve on Instagram, sign up for Kicksta today and start attracting more followers who are interested in your brand.
5. Social Champ
Features
Social Champ offers a visual planner to schedule and publish your social content across different platforms, including Instagram, through its All-In-One Calendar. You can view, plan, create, schedule, edit, post right away, and delete your social media posts within the content calendar.
You can also drag-and-drop any of your past posts and reschedule them. The tool also has a media library, royalty-free images, GIFs, and an image editor to make your Instagram pictures more aesthetic.
Apart from All-In-One Calendar, the tool provides direct scheduling on Instagram, custom location tagging, and hashtag suggestions. You can also plan and schedule your Instagram posts in Bulk using the Bulk Upload feature.
Social Champ also provides more features like Team Collaboration, Content Suggestions, Recycle Content, and Analytics. It's a perfect planner and scheduler for your social media posts that's pocket-friendly too.
Downsides
The basic plan has limitations, as it only gives you one user to connect. The team collaboration feature is also not available in the basic pricing plan. If you want the Bulk Upload and Recycling feature, you will need to purchase the Champ plan or above.
Pricing
Social Champ offers a 7-day free trial for its "Pro" and "Champ" plans and a 14-day trial for 'Business' plan. The Pro plan costs $10 per month; the Champ plan is $29 per month; the Business plan costs $99 per month; finally, the Agency plan is available for $199.
6. Preview
Features
The Instagram post planner Preview offers a variety of great features. Through the site, you can schedule an unlimited number of posts and edit your photos before publishing them. Preview also offers access to caption ideas and helps you decipher the best hashtags to use on your brand's account. Additionally, you'll have access to your account's analytics, and you will have the power to share your Preview account with multiple team members. Finally, with Preview, you can repost any images and videos on Instagram without worrying about watermarks.
Downsides
Probably the most blatant negative aspect of this Instagram planner is that all posts published through Preview will include a promotional message in the caption that can only be removed for a price. Other features that are only available with purchase are the hashtag manager and account analytics. Instagram strategy planning is not available on the app, and it is not compatible with Android products.
Pricing
Preview offers a free plan, as well as "Pro" and "Premium" options. The Pro plan includes all filter packs, full analytics, hashtag analytics, repost, and hashtag finder all for $6.67 per month. With Premium, unlimited users and devices are granted access to the account, and competitor analytics, caption finder, backup, team features, and a desktop version are all available. This plan costs $12.50 per month.
7. Skedsocial
Features
Sked refers to itself as an "Instagram-first" planner, although the site offers its services to a variety of platforms – services such as automatic posting and visual planning. The Instagram feed planner also offers access to analytics and tags and hashtag services, along with an available Chrome extension.
Downsides
Sked does not allow users to schedule posts for IGTV, which is unfortunate as videos are becoming an increasingly valuable element of Instagram management. Additionally, Sked does not give users the ability to check Facebook and Instagram messages, nor are monetization metrics available.
Pricing
All packages on Sked are available for 7-day free trials. After that period, payment plans begin at $25 per month for the "Fundamentals" package. The "Essentials" package is billed at $75 per month, and the "Professional" package costs $135 per month. Alternate yearly pricing is available as well. Available features increase as packages become more expensive.
8. Hootsuite
Features
With Hootsuite, you can manage social content across platforms in one convenient calendar, create original content in collaboration with your teammates, and schedule posts for automatic publication. This Instagram post planner also offers features that allow you to communicate with followers and customers and monitor activity across platforms. Additionally, users are granted access to a library of content to keep materials organized. Aside from collaborating with team members through Hootsuite, users can also delegate assignments and engage in educational opportunities to advance knowledge.
Downsides
Unfortunately, many features on Hootsuite are only available at the price of extra fees, which can quickly add up to a high bill, especially if the account is being purchased for a team of multiple users. One popular feature that is only available for purchase is access to analytics. Many users choose to employ this option when working with an Instagram planner, so not having free access to analytics is a downside for Hootsuite.
Pricing
Hootsuite offers a free 30-day trial for its "Professional" and "Team" plans. After this, the Professional plan costs $29 per month; the Team plan costs $129 per month; the Business plan costs $599 per month; finally, the Enterprise plan is available for pricing upon request. Users and available social platforms increase as plans increase in price. Additionally, there is a limited plan that is available for free.
9. SproutSocial
Features
This Instagram feed planner offers users access to a central hub, where they can visualize their upcoming posts for multiple platforms. Images and videos can be edited and prepared for posting with SproutSocial. Additionally, users have the ability to analyze what social strategies are most effective and put these into play by scheduling posts for a specific time. Also included with SproutSocial are an asset library, content suggestions, message approval features, tagging, URL tracking, and a shared content calendar feature.
Downsides
SproutSocial offers access to a limited number of platforms, only giving users access to Instagram, Twitter, Facebook, Linkedin and Pinterest. In comparison to some other Instagram planners, this variety is not up to par. Additionally, the pricing of SproutSocial is high in comparison to some of its popular competitors.
Pricing
After the available 30-day free trial, pricing for SproutSocial begins at $99 per month for the Standard plan. The Professional plan costs $149 per month and includes more features, and the Advanced plan, at $249 per month offers the most features to users.
Ready To Get Started?
After all of this talk of special features and business benefits, we're sure you're itching to get started with an Instagram planner. Don't just take our word for it – get going with your own research, and don't be afraid to take advantage of all those free trials listed above. Once you find the best Instagram planner for you, we'd love to hear about what sort of changes you observe in your Instagram success.
Instagram Growth Hacks
Join over 100k+ marketers and influencers who get the latest Instagram tips & tricks sent to their inbox every week