How To Organically Grow Your Instagram Followers: 10 Steps That Work In 2023
post
Are you wondering how to grow Instagram followers organically? Getting more Instagram followers is key for any brand or influencer. The more followers you have, the more opportunities you'll get to convert these leads into customers.
But this won't be possible unless you focus on getting more real followers. The key is to grow your followers for Instagram organically — no bots allowed. So every method you use to grow your account should focus on organic growth and real followers, not spammy shortcuts like buying followers.
Ready to go? Let's get into it. Here's how to grow Instagram followers organically.
How To Grow Your Instagram Followers Organically: 9 Steps
There's a lot of advice out there about how to grow Instagram organically. At the end of the day, if you know which steps are most important, it isn't that hard after all. These are the best 9 ways to grow Instagram organically.
1. Use An Organic Instagram Growth Service
The best way to get more Instagram followers is to use an organic Instagram growth service to grow your account. There are lots of Instagram growth services on the market. However, many of them are unfortunately shady companies that just want to sell you fake followers. To see results, you need to find a high-quality growth service to invest in.
Kicksta is a growth service that uses a proven method to grow your followers organically. Here at Kicksta, we use a proprietary AI-powered technology that we developed in-house. We use this method to reach accounts in your target audience — helping grow your account with real followers who actually care about your brand.
How exactly does this work? You give us a list of target accounts, whose followers you'd like to attract. Then we use your account to interact with profiles in your target audience. You can also set filters to avoid certain accounts, such as profiles that are inactive or use profanity.
In one example, we helped a brand called RangeMe grow its Instagram followers by 90% in just two months. RangeMe loved the smart targeting feature that Kicksta offered. And as the brand's following grew over time, its high-quality content kept people coming back for more.
Kicksta is also a great way to save time as you seek to get more followers. For example, a lot of articles on how to grow your Instagram account will tell you to follow related accounts within your niche and make a list of your competitors. Kicksta streamlines this process for you. All you have to do is sit back and watch your analytics rise.
2. Always Create Engaging Content
In case you forget: content is king. Bill Gates said it, not us. But it's true: Instagram users love to share and comment on photos and videos that they think are good. So you need to create content that your target audience is going to love.
How can you make your content more engaging? The first and most important step is to create content your audience can relate to — which means you need to understand who your audience is. Do you know the pain points of your target audience? What information are they looking for? What's their sense of humor like? What problems do they need to be solved? Who or what do they find inspiring? Questions like these will help you narrow down what kind of content your audience wants to see. Since the performance of your content will depend on your audience, you need a clear understanding of who they are first and foremost.
Our next recommendation is to pivot your strategy from solely images and focus more heavily on video content. Videos get 38% more engagement than posts containing only images. Some brands choose to work with a professional video agency. Others make their own video content using video marketing tools and platforms. There's plenty of free software out there that makes it easy to cut together simple videos.
Another way to get more followers on Instagram is to post about viral topics from other channels. Stay abreast of what's trending on other social media platforms, like Twitter, Facebook, and YouTube. Then adapt that hot content in a format that works for Instagram.
What's more, creating engaging content goes hand-in-hand with using Kicksta. Remember, Kicksta targets accounts that are in your ideal audience. Once those people follow your brand, they're going to want to see content that appeals to them. So by creating content that's highly engaging and crafted with your target audience in mind, you'll be able to retain all of the new followers that Kicksta gets for you.
3. Research Your Niche
There are dozens of niches on Instagram, from food to technology to fashion and back again. And while some pieces of Instagram marketing advice are one-size-fits-all, other best practices vary depending on your niche.
For example, a niche like travel is going to be more visual than a niche like software. While every brand needs to post high-quality visual content on Instagram, a travel brand will want to take extra steps to ensure that its feed is beautiful and appealing to look at.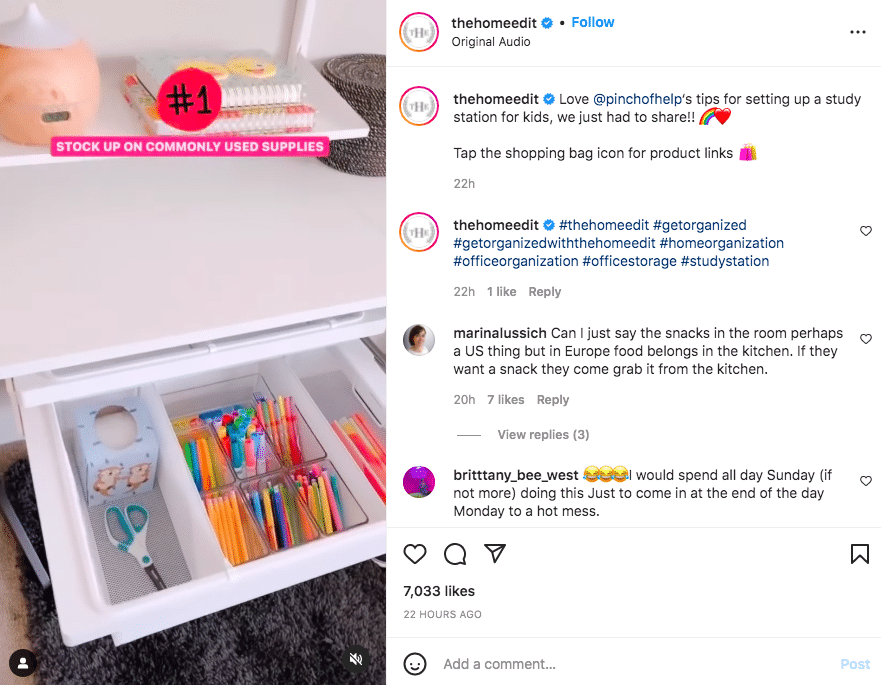 A good way to research your niche is to compile a list of your competitors plus any major accounts on Instagram in your niche (whether those are brands, influencers, or simply informational accounts).
Then, study those accounts to better understand your niche. Comparing these brands and observing what they post and how they interact with followers will help you figure out what you should be doing on Instagram. Ask yourself questions about other accounts like:
What topics does their audience engage with?
Which posts are getting the most likes?
How often do they post?
Once you have several notes in hand, use what you've learned to build your following, too.
4. Find the Best Time to Post
Posting at the right time on Instagram is essential. You don't want your content to get lost in the algorithm. By posting at the best time of day, you'll be able to get the maximum number of eyes on your content — and get some new followers, too.
So, when is the best time to post on Instagram? The answer to this question will vary by industry and by your particular audience. However, social media scheduler Later conducted a major study to answer this question and came up with the following guidelines:
Monday: 6 am, 10 am, and 10 pm EST
Tuesday: 2 am, 4 am, and 9 am EST
Wednesday: 7 am, 8 am and 11 pm EST
Thursday: 9 am, 12 pm, and 7 pm EST
Friday: 5 am, 1 pm, and 3 pm EST
Saturday: 11 am, 7 pm, and 8 pm EST
Sunday: 7am, 8am, and 4pm EST
If you want to know more about when your audience is active, use your Instagram Insights or a third-party analytics tool to get this information. Then try scheduling your posts at the time of day when your audience is on Instagram the most. You can tweak when you're posting to see how your engagement rate varies at different times of the day.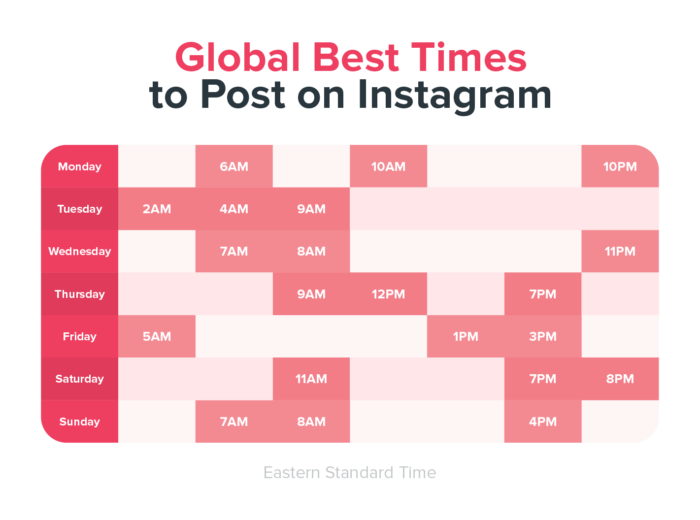 5. Partner with Micro-Influencers
Influencer marketing is well-known as an effective method of getting more Instagram followers and likes. But one strategy you might be overlooking is the power of partnering with micro-influencers.
Micro-influencers are influencers that have 10,000 to 100,000 followers. In some cases, highly niched micro-influencers might even have less than 10K followers (although accounts with only a few thousand followers are called nano-influencers). Most micro-influencers focus on a specific niche. According to Shopify, over half of all influencers are micro-influencers.
Micro-influencers are beneficial because their niched audience is typically more engaged with what they post. These small influencers are also more accessible for brands. You will have a much easier time contacting a micro-influencer in your niche than trying to work with the biggest celebrity in your industry.
When you work with a micro-influencer who has the same target audience as you, you can feel certain that the influencer's followers will be interested in your brand. This helps you grow your followers organically as the influencer's post drives more people your way.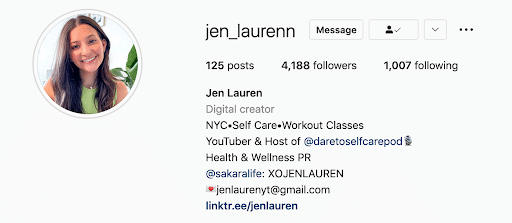 Jen Lauren is an example of a health and wellness micro-influencer who has just over 4,000 followers. She focuses on posting about self-care and workout classes. Jen has partnered with brands including Lesser Evil Snacks, Sakara, Mindset Wellness CBD, and others. For these health and wellness brands, this offered an excellent opportunity to get their product in front of a highly engaged audience.
6. Utilize User-Generated Content
User-generated content (UGC) is defined as any content that's created by your customers, not you. When somebody posts a picture of themselves using or promoting a product or service, the brand in question will often ask for permission to repost. This is UGC.
User-generated content works because it's genuine and authentic. UGC depicts real people benefiting from your brand, and this can go a long way for consumers. This kind of content builds trust and offers social proof — almost like a recommendation from a friend.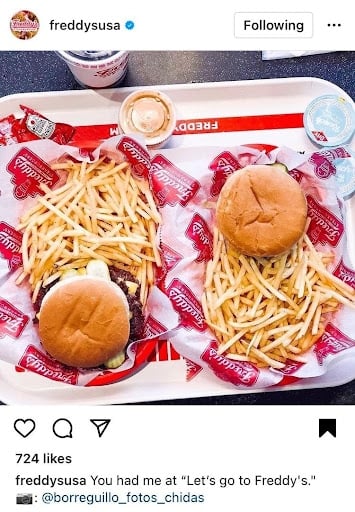 UGC can also save you a lot of time and money because you won't have to create as much from-scratch content for social media. 85% of consumers think UGC is more influential than any form of brand content!
However, even though UGC has a lot of benefits, don't overdo it with this kind of content. Posting too much user-generated content can detract from your branding. And if you solicit too much UGC, you might start getting content that isn't quite up to your standards.
One way to get around this problem is by telling your followers what kind of posts you want them to share. Don't be afraid to spell out exactly what you want from them. Encourage your customers to post whatever you're looking for — videos, reviews, or simple photos of themselves in action with your product. You could even create a unique hashtag to solicit more UGC, creating a campaign based on getting more user-generated content.
7. Use Instagram Reels
Instagram shows Reels to viewers in their feeds. If the content you create is of high interest to a user, there's a good chance Instagram will show your Reel. And that, of course, is exactly what you want.
Make your Instagram Reels more visible by using keywords and hashtags in your captions. Don't overdo it — but strategically adding a few keywords will help boost visibility, showing your Reel to the people whom you want to see it.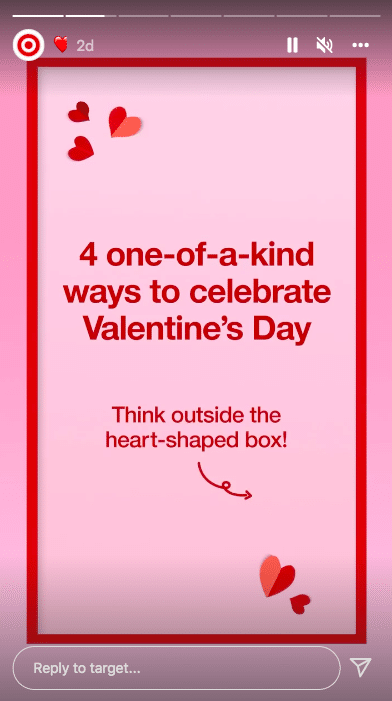 Another way to create Reels that people want to watch is to create a static cover for your Reel. Think of it as a thumbnail on a YouTube video. This will make your Reel more attractive.
Using trending sounds is a good way to grab peoples' attention. Spend time on Instagram watching other Reels to get a feel for what's popular at any given time. Then be ready to jump on top of the trends and use popular sounds, adapting them to create a video that fits your brand or industry. Alternatively, you could also create your own original audio, which could lead to more exposure for your account as other people start using your audio.
8. Craft A Great Instagram Bio
Optimizing your Instagram bio is an important way to help grow Instagram organically. A good bio tells would-be followers who you are and what you do. And by adding important keywords, your Instagram account will be more searchable, opening up the door for as many people as possible to find your page.
Select a username that's simple and easy to find (most brands simply use their brand name). You can also put your business name in the "name" section of your profile. This is a good place to add searchable keywords, too. For example: ": Local Gym."
Your Instagram bio should summarize your brand — making it obvious what you do, and who you do it for. You don't have much space (150 characters), so keep it short and sweet! SoulCycle makes it clear that this is a fitness company catering to people who want to change the world.

You might also choose to include a CTA, such as asking people to tap the link in your bio. A tool such as Linktree provides a custom landing page so you can include multiple links in your Instagram bio. And finally, add a profile photo — your logo is generally a safe bet — that's easily recognizable as you.
9. Upgrade Your Instagram Hashtag Strategy
You probably already know that using hashtags on Instagram is a good way to get more eyes on your content. But social media best practices are always changing and evolving, and your hashtag strategy may need an upgrade for 2023.
Try using hashtags that contain keywords in your industry or niche. You can also add hashtags that relate to your location or to an event you're hosting. Branded hashtags are popular, too — seven out of 10 hashtags on Instagram are brand hashtags.
How many hashtags should you use? Posts with just one tag get 29% more interactions. Posts with more than 11 hashtags get 79% more interactions. And most accounts put their hashtags in the caption, not the first comment. Overhauling your hashtag strategy for this year is an effective way to get more followers.
Grow Instagram Organically
From working with an organic Instagram growth service to partnering with micro-influencers, to revamping your hashtag strategy, there are plenty of ways you can get more real followers on Instagram. Yes, it's going to take some elbow grease. But the results will go a long way for your brand.
Now that you know how to grow Instagram followers organically, it will be easier than ever to boost your following, your engagement, and your brand. Happy posting!
Author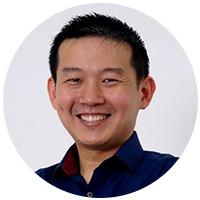 Andre Oentoro is the founder of Breadnbeyond, an award-winning explainer video company. He helps businesses increase conversion rates, close more sales, and get positive ROI from explainer videos.
Twitter: @breadnbeyond
Email: [email protected]
Instagram Growth Hacks
Join over 100k+ marketers and influencers who get the latest Instagram tips & tricks sent to their inbox every week