Pinterest vs Instagram: Choosing the Best Social Media Ecommerce Platform
post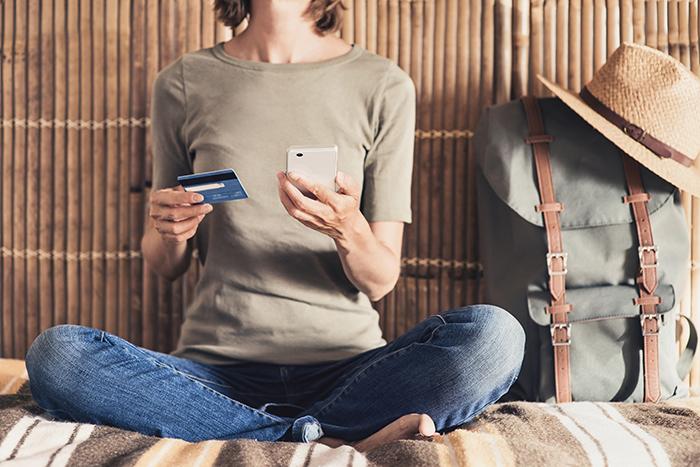 The increasing trend of social media ecommerce has left marketers comparing Pinterest vs Instagram to see which platform will get them more sales.
The appeal to market your ecommerce store on social media has skyrocketed with the introduction of native shopping integrations into platforms like Instagram and Pinterest.
Add that to the rising demand for personalization in marketing and it becomes clear why social media ecommerce is booming.
Instagram and Pinterest are now in the lead and have transformed into influential marketplaces that offer businesses in-app tools for promotion and selling.
But which one should you, as an ecommerce marketer, choose to be sure your efforts will 100% lead to success? Let's break it down.
Get more customers for your ecommerce store with Kicksta.

Pinterest vs Instagram: Comparing the Purpose of the Platforms
Let's take a step back and look at the fundamental purpose each platform.
The main aim of Instagram is sharing and promoting.
The main aim of Pinterest is discovering and distributing.
Images are the main type of content for both platforms. However, on Pinterest, users also expect more value: in the form of a recipe to a photo of a dish, or a DIY-guideline for a home décor idea.
Meanwhile, Instagram is more focused on the lifestyle and aesthetic of a brand's feed, beyond just the individual image.
Now that we are clear on the purpose of each platform, let's look at them more closely.
Pinterest vs Instagram: Comparing the Audiences
Active Users:
In term of popularity, Instagram's 1 billion monthly users speak for themselves and give marketers a much larger audience tap into it.
With approximately 4 times as many potential customers to reach each month than Pinterest, the sheer volume of active users is enough to give Instagram the upper hand in this category.
Grow Your Instagram Following with Kicksta!
Age Distribution:
Both Instagram and Pinterest have a relatively young audience with the majority of their users being between 18-35 year old.
However, Pinterest does have a stronger hold on the 55+ market.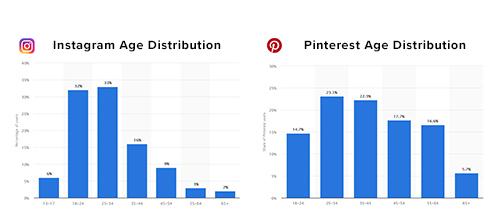 This older demographic is the reason Pinterest users have an average income of $75K a year vs. the average income of $30K a year for Instagram users.
While Pinterest's reach is not as vast as Instagram, the disposable income of Pinterest users is significantly higher.
Therefore, marketers should consider the price of their products and services when decided between Pinterest vs Instagram.
Gender:
With an 81% female user base, Pinterest is a great platform to utilize if women are your ideal customers. But don't count Instagram out just yet.
They may have a lower percentage with only 68% female users, but remember this is 68% of 1 billion active users vs. Pinterest's 250 million active users.
Essentially, if you're trying to market to women, both platforms are a suitable choice to promote your eCommerce business.
However, if men are your ideal target audience, it's a no-brainier that Instagram is the more appropriate marketing choice when comparing Pinterest vs. Instagram.
Targeting Options:
Another beneficial feature of Instagram is its targeting.
Because Instagram and Facebook share the same advertising platform, Instagram allows precise and efficient targeting, which is incredibly valuable for ecommerce marketers.
Pinterest vs Instagram: Comparing the Shoppable Features
Considering the steady growth and popularity of ecommerce, Instagram and Pinterest both recently introduced new shoppable features that enable users to shop without leaving their apps.
Shopping Features on Instagram
Instagram offers three major shoppable features to help companies organically incorporate selling on Instagram in a manner that does not interfere with the user experience.
1. Product Tags
Instagram's product tags allow users to view the price of your products and go directly to a check out by simply clicking on the shoppable post icon.
Major ecommerce sites like Squarespace, eWorldTrade, and Shopify have built native integration with Instagram, allowing users to connect their online ecommerce inventory directly to their Instagram profile.
If you have a Facebook business account with a product store, setting up product tags is relatively easy and can be completed in just a few taps. Learn more.
2. Stories Tags
Similar to tagging products in posts, marketers also have the ability to tag products in Instagram stories.
Given the high engagement rates Instagram stories recieve, this is a huge benefit to brands. In fact, one-third of the most viewed stories are posted by businesses.
The popularity of the stories feature paired with an actionable actionable product tag creates a huge opportunity for brands to drive more sales on Instagram.
Plus, consumers have already show a positive response to this new feature. Over 90 million accounts have engaged with Instagram shoppable stories each month since the launch of the feature.
3. Shop Button
The third feature Instagram has launched directly related to selling on the app is their "shop" button.
With this tool, all posts that have an Instagram product tag will be saved and shown in this section of your business profile.
The real benefit to this feature is it allows your followers to view your product in a more traditional shopping layout with the same high-quality, "Instagram-worthy" photos that bring your products to life.
It also keeps the user directly in the Instagram app; no annoying "link in bio" direction needed.
Shopping Features on Pinterest
Now let's check out what Pinterest offers ecommerce businesses and how they compare to Instagram's shopping features.
1. Product pins
Comparable to Instagram's Shoppable Posts feature, Pinterest's Product Pins have the price and stock information below the image, enabling users to buy an item in a few taps only.
Unlike Instagram, Pinterest Pins allows you to link to multiple ecommerce site versus just the products linked to your Facebook Business account. While this may not fit into your day-to-day strategy, it can be a great option if you participate in collaborations with other ecommerce brand or have multipule sites.
The biggest difference between Instagram's and Pinterest's shoppable posts for ecommerce brands is the ease of set-up. Instagram takes the win here as Pinterest marketers will have to do a bit of coding to get this feature up and running.
Learn how to set up Pinterst Product Pins Here!
2. Pinterest Lens
This feature was appropriately referred to as "the Shazam for products".
Perhaps their most technologically advanced feature, the Pinterest Lens is a ground-breaking tool for product discovery.
The process is simple: Point a camera on an object or access your camera roll.
Then, let Pinterest analyze the image and suggest relevant items based on your personal recommendations and available pins.
This tool is particularly useful for consumer who know what they want to buy, but just don't know where to find it. By simply taking a picture, your products can be displayed automatically to help customer discover your brand instantly.
3. Visual Search
While it is not a direct shopping feature, Pinterest's Visual Search is aimed at making the app more ecommerce-friendly by creating a shortcut for users to discover your products.
Upon holding down on any Home or Style pin, Pinterest will scan elements in the image and then suggests products for users to buy and "get the look."
Most often the pins that are suggested contain Product Pins, so this feature is yet another way for customer to find products they are searching for.
Pinterest vs Instagram: Which social media ecommerce platform is right for you?
Alright. Now that you know the shopping features for both Pinterest and Instagram, let's determine which platform will work best for your ecommerce business.
It really comes down to two factors:
The type of products you are selling
The typical purchaing habits of your customers
Type of Products to Sell on Pinterest vs Instagram
Because Pinterest has an older demographic with a higher level of disposable income, ecommerce brands that sell big-ticket items such as furniture, art, kitchen appliances, etc. may see more sales from Pinterest product tags than that of Instagram.
Just take a look at Pinterest's most popular categories and you'll see that the demand is there.
On the other hand, Instagram has a much stronger hold on the male demographic as well as millennials. Therefore companies that are selling lower priced items that target toward these two demographics are seeing major success with Instagram.
This is particularly true for fashion brands who were among the first businesses allowed to use Instagram's product tags and have enjoyed increased online sales because of the feature.
Since then, Instagram has opened up its shopping to most ecommerce brands who sell physical goods such as home decor, make-up, and jewelry.
Consumers Purchasing Habits on Pinterest vs Instagram
It's no doubt that with the Visual Search and Product Lens features, Pinterest is making some major strides in product discovery technology.
Back in 2016, Ben Silberman, the co-founder and chief executive of Pinterest, announced that their platform is "not a social network", but rather, "Pinterest is really about planning and getting ideas for your own personal life."
For this reason, Pinterest serves customers who are in the ideation phase of a long term, one-time purchase.
However, Instagram is the superior app for recurring purchases and impulse buys.
When users are on Pinterest, they are often scrolling through their custom explore feed searching and pinning photos to their own self-made boards.
It is much less common for users to follow a brand on Pinterest compared to the common practice of following a board or category.
Now consider how consumers interact with brands on Instagram. 80% of Instagram users follow at least one business account and a reported 75% of users engaged with a company after seeing a post.
Once an Instagram user follows your brand's Instagram account you have the opportunity to bring them into your online community and market to them again and again via their newsfeed and stories.
Want to get more sales from Instagram?

Pinterest vs Instagram: Which one is better for ecommerce?
The truth is both platforms have begun to successfully evolve into ecommerce-friendly platforms with the business owner in mind.
However, if you're an ecommerce brand looking to maximize your efforts, Instagram is the ideal social platform to market your business.
To recap some of Instagram's most impressive stats:
Instagram has 1 billion active users
72% of users have bought a product they saw on Instagram
80% of users follow at least one business
There are even rumors that Instagram plans to release a standalone shopping app called IG Shopping with even more shoppable integrations.
As Instagram rolls out more options for ecommerce brands to sell to their followers in a way that is native and fully integrated to the app, the potential of sales from Instagram will only continue to rise.
Instagram Growth Hacks
Join over 100k+ marketers and influencers who get the latest Instagram tips & tricks sent to their inbox every week