Instagram Management: The Ultimate Handbook For Beginners
post
Instagram is a key part of any digital marketer's toolkit these days, and businesses that aren't on the platform are likely missing out. Instagram management can feel like a hurdle for some brands and influencers. After all, adding one more platform to your repertoire can sometimes feel like it will push you over the edge.
Instagram is the place for businesses. The platform has over a billion users, and 90% of them follow a business account on the app. Chances are high that your competitors are on Instagram, and they're building relationships with your potential customers. With so many different options, between feed posts, Stories, Instagram Live and IGTV, you're sure to find a way to make Instagram work for your brand.
Don't let Instagram management scare you away. It's not as overwhelming as it may seem. You don't have to use each of those options we just mentioned as soon as you decide to join the app. Instead, pick one or two and get started slowly. Let's dive in a bit more to how managing an Instagram account can fit into your business.
Elements of Instagram Management
Instagram management can fit into six different elements. This includes everything from planning and creating your strategy through, to reporting and making tweaks to your plans based on data. Here's a closer look at each of the elements.
1. Planning
As with any good marketing strategy, Instagram management begins with planning. The best way to get ahead is by looking first at the big picture. What are your goals for Instagram? Do you want to use the platform for brand awareness, or do you want to use shoppable posts and generate revenue directly within the app? Are you looking to teach your followers and potential customers about your industry, or do you only want a place to promote your product and ask for the sale?
There are no right or wrong answers here, although there are best practices. Planning also means more than just your general goals. Once you have those established, it's time to decide how you'll get there. How often will you post? What will you post about? Begin to answer these questions and start planning your content in advance. Even if you still want to create and publish it in real time, at least start by deciding what you want to post about each day.
2. Content Creation
Once you know what you want to post about and why you're posting on Instagram, it's time to start creating the content you're going to share. You can do this any number of ways, and again, there's not a right or wrong way. If you like to plan ahead, consider taking all the photos and creating the graphics you'll need all at once. Then, sit down and write caption ideas to match. You can also work even farther ahead if you want some branded photos and schedule a photo shoot or two to capture images you can use for months at a time.
If you're just beginning, this is a great place to start. Then, think about adding in Instagram Stories. Not only are they incredibly popular, they're also a great way for you to connect with your audience and get to know them better. Once you master feed posts and Stories, you can start to experiment with Lives and IGTV. The options feel endless, but don't overwhelm yourself with too much at once.
3. Scheduling
Once you've planned and created your content ahead of time, you can start scheduling your posts. There are plenty of apps you can use,There are plenty of apps you can use, (we'll talk about them later), to help you get your content scheduled ahead of time so you don't have to worry about forgetting it.
If you really don't want to use a third-party app, you can also create your posts within Instagram ahead of time.
Simply add your photo, edit it, and add your caption. Then, before you hit "Post," instead hit the back arrow to exit that screen. Eventually you'll see the option that says "Save as Draft." Click that, and then when you're ready to post, open your Instagram app, click add post, and then at the top you'll see your drafts. Choose the one you want and publish it. While publishing it, using a VPN like Surfshark VPN Review or CybergHost etc. are highly recommended for safety purposes as hacking attempts have increased in recent years.
Scheduling is a great way to relieve stress so that you know your audience will see consistent content from you. Consistency is key on Instagram, whatever that means for you. That could be posting daily, on weekdays or even just three times a week. Whatever schedule you choose, you'll need to stick to and publish on time.
"While the goal of marketing on Instagram isn't to gain a million followers, having more real, quality accounts following you means you have a bigger audience to engage with."

– @kicksta_ co
4. Follower Growth
You can build trust with your audience and hopefully convert them into customers. This means at least some of your time managing your Instagram account should be spent growing your following.
The best way to attract new followers to your account is by engagement marketing. Find accounts that you want as followers, and then go engage with their posts. This will pique their interest, and they'll visit your profile and check out your page. If they like your posts, they might follow you.
5. Analytics
As with any marketing strategy, you need to watch your analytics. Instagram provides excellent analytics within their app, and you can see the demographics of your followers, when they're most active online and which posts they liked the best. This information is absolutely crucial to your success on the platform.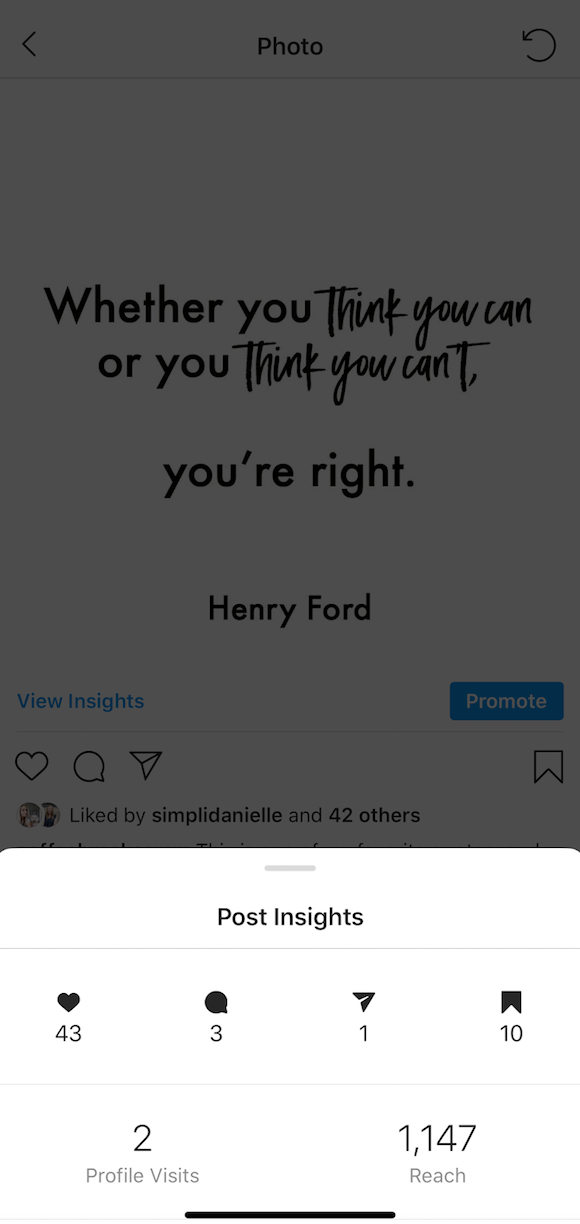 Make it a habit to review your analytics regularly so you always know what's going on with your account and which posts are doing the best. This will help inform your content creation so you only spend your time making posts that your audience wants to see.
6. Reporting
With reporting, you take what you learned in your analytics and document it so you can see trends over time. Then, you can use the information you learn from those trends to tweak your strategy and planning, which impacts your content creation. You can also see when your audience is most active, which can change when you schedule your posts for during the day or the week.
Reporting is the key to success on Instagram because it allows you to go back and make changes to your plan as needed. By being nimble and able to work quickly, you can stay ahead of the game and ensure your investments into Instagram are paying off well.
How To Approach Instagram Management
There are a few different options for how you can manage your Instagram account.
1. Manage your Instagram account yourself or let someone in-house manage it.
2. Hire an Instagram management agency.
3. Hire a freelance Instagram marketing expert.
There are pros and cons to each of these, and which one you pick will depend on a number of factors. If possible, it's a good idea for you to manage your Instagram at least for a little while so you can fully understand how it works.
This gives you the baseline knowledge you need to have intelligent discussions with anyone who might take over managing it later. Managing it yourself can be time-consuming, and depending on the size of your business, you might not have the resources to hire a full-time team member for Instagram management.
If you choose to hire someone, you have two primary options: an agency or a freelancer. Either one can be a great choice. Agencies typically have many resources at their disposal, from designers to dedicated analytics professionals to strategists. A freelance expert, on the other hand, will likely be the only person working on your account, which means you can easily communicate your needs and ideas to them.
No matter which option you choose, Instagram management is an important job that can truly help grow your business.
The Role Of The Instagram Specialist Or Manager
An Instagram manager will fulfill all of the functions we outlined here, from planning to content creation to analytics and everything in between. They can also take on additional tasks, like diving into hashtag research to ensure that your brand is using the best hashtags for your posts. Finally, their role also often includes community management, like responding to Instagram comments and chatting with your followers in the direct message space.
The salary of an Instagram manager can vary, especially depending on exactly the tasks they'll be doing, and whether it includes ongoing support, like Stories and community management. According to Indeed, the average salary for Instagram account managers is $64,000 per year, depending on geographic location and company.
Tools For Instagram Management
If you're wanting to try to manage your Instagram account yourself, there are a number of Instagram business tools that can help you in any of these areas.
1. Planning
The best planning tool is a good Google calendar. You can outline which days you want posts to publish and you can add information about those posts. For example, if you know you want to post about a conference you're attending next week, you can make a note of that and set a reminder for yourself. Since you can't create the content ahead of time, having this planned out can be helpful for keeping you on track.
2. Content Creation
No matter what type of content you want to create, there are softwares and apps available to help you. From photo editors like Adobe Photoshop Express to graphic design software like Canva to the Unfold App for editing Instagram Stories, there's no shortage of tools you can use to keep your Instagram account looking nice.
3. Scheduling
Just like with content creation, there are plenty of scheduling apps available. We recommend apps like Preview so you can see how your feed will look before you post, easy-to-use Later, and Buffer, which also comes with analytics.
4. Follower Growth
As for follower growth, we recommend Kicksta if you're going to use a tool to help you grow. We use engagement marketing principles and methods that work – nothing spammy. We don't violate Instagram's terms of use, and we will help you generate real, organic followers.
5. Analytics
While Instagram itself offers analytics within the app, there are plenty of external platforms that synthesize that information for you. Some of our favorites are Websta (it's free!), Squarelovin' with engagement data, and multi-use platforms like Buffer.
6. Reporting
Finally, reporting all of your data and information can be a pain. That's why we like and recommend platforms that help you do just that. DashThis will automate your reporting, so you don't have to worry about it.
Tackling Instagram Management
Believe it or not, Instagram management isn't too involved once you get into it. As with anything, it can feel overwhelming at first, but after a few months of trying and working at it, you and your team can get into a rhythm that helps you build new relationships and attract new customers. The first step is deciding which part of Instagram management you're ready to get started with first.
Instagram Growth Hacks
Join over 100k+ marketers and influencers who get the latest Instagram tips & tricks sent to their inbox every week