Everything You Need To Know About Instagram Guides
post
Is it time to take advantage of Instagram Guides for your business?
Instagram is easily one of the most powerful social media platforms in the world today. With 2 Billion monthly active users, Instagram has taken the online advertising landscape by storm. Approximately 90% of its users follow at least one business.
Part of what makes Instagram so compelling to brands and consumers alike is the variety of content available. Though Instagram might have started out as a photo-sharing site, it has gradually evolved to introduce everything from long-form video with IGTV, to fast-paced Reels, and Instagram Stories.
Instagram Guides is one of the new feature options introduced by the social network, to help users create curated, scrollable content for their communities. Here's everything you need to know about Instagram Guides, and how you can use them.
What Are Instagram Guides?
Instagram Guides were initially introduced into the social media platform in 2020, as a result of the COVID pandemic. Instagram wanted to provide users with a way to create engaging, helpful, and meaningful support-based content for their marketing strategy. Initially, Guides were focused on wellbeing and mental health, giving followers tips on how to manage the challenges of the pandemic.
However, e-commerce companies and influencers can use Guides in a range of different ways. Instagram Guides features include videos, images, and other content with written insights, similar to interactive blog posts. They can help to set your business apart on Instagram and develop thought leadership.
Businesses can create guides on how to use certain new products or services, or simply design educational and informative content to answer common customer questions. Because you can curate content from your existing Instagram feeds with Guides, it's often very simple to create new pieces.
Where To Find Instagram Guides
One of the things that Instagram users love about Instagram Guides is how easy they are to access. To find the Guides on a company's page, all you need to do is visit their profile, and select the "Guides" icon. This can be found next to the Instagram Reels, Tagged, and Post sections on the page:
If the "Guides" tab isn't present on a company's profile, it's because they haven't published anything yet. You can also discover "Recommended" Guides on Instagram, by visiting the "Shop" tab, and clicking on the "Guides" button at the top of the screen.
Clicking into the Guides tab will show you all of the most recent guides created by the user in question, in the same format you'd see standard posts or videos in.
This will direct you to the recommended Guides curated by Instagram, referencing the kinds of products you generally shop for on Instagram.
Join 100k+ savvy Instagram marketers
If you are struggling to get the attention you deserve on Instagram, sign up for Kicksta today and start attracting more followers who are interested in your brand.
The 3 Most Common Instagram Guide Types
There are different types of Instagram Guides a company or user can create, using cloud collaboration tools. The initial Instagram Guide types introduced by the social media platform are designed to cover some of the most popular segments of Instagram, related to specific posts, places, and products.
1. Instagram Post Guides
One of the most common ways to use the Instagram Guides features available today is with the "Post guides" option. This basically allows you to share a roundup of other Instagram posts you've created and published on your feed. You can collect all of the related Instagram posts you've developed for a specific topic, and even pull posts into your Guide from other users.
Post Guides are an excellent way to combine various posts into a step-by-step walkthrough of a specific topic for your audience. They're great for sharing educational content, commenting on recent news and events, and even making an important statement about your brand. For instance, @BeatsByDre uses its guides to celebrate small black businesses.
You can also use Post-style Instagram Guides as a way of drawing attention to your unique personality. @RedBull has a guide on how to drink a red bull: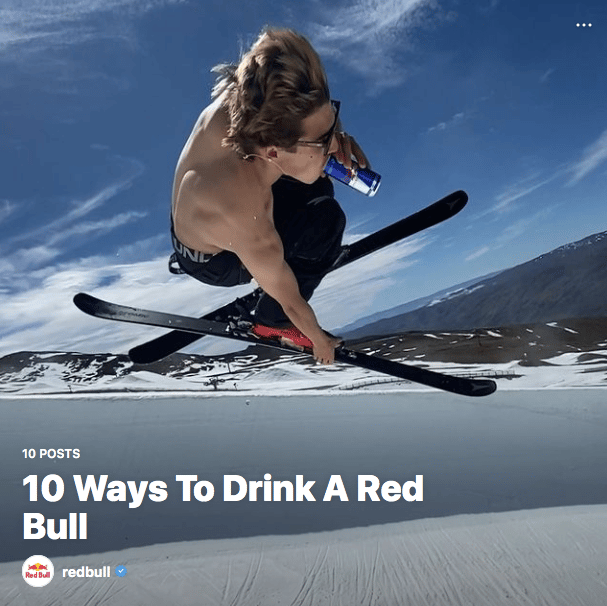 2. Instagram Product Guides
Product Guides are another of the most popular Instagram Guide types, particularly among companies hoping to draw attention to their latest products or trending items. This Instagram Guide option is excellent for providing insights into product releases, and product recommendations.
You can attach and link any product listed on Instagram to your guide, and you can even include products from other shops by adding them to your Wishlist on Instagram Shop.
The @Honest company uses its Product gift guides to provide insights into some of the most popular gift options for customers – which can be an excellent strategy around the holidays.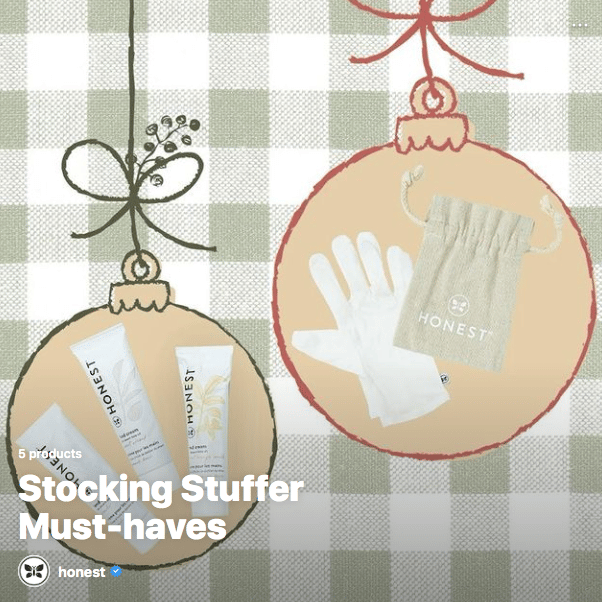 You can also use your Guides to highlight the latest products you have on offer, or the items you're going to be introducing in an upcoming sale like @Gymshark does here:
3. Instagram Places Guides
Places guides are designed to attract travel-focused people on Instagram. They're excellent for companies in the travel and real estate industry, as well as those who want to connect with their target audience in a specific region.
Influencers like @SarahHerron use Place guides to inspire their followers on places to visit at certain times of the year, with pictures curated from their Instagram feed.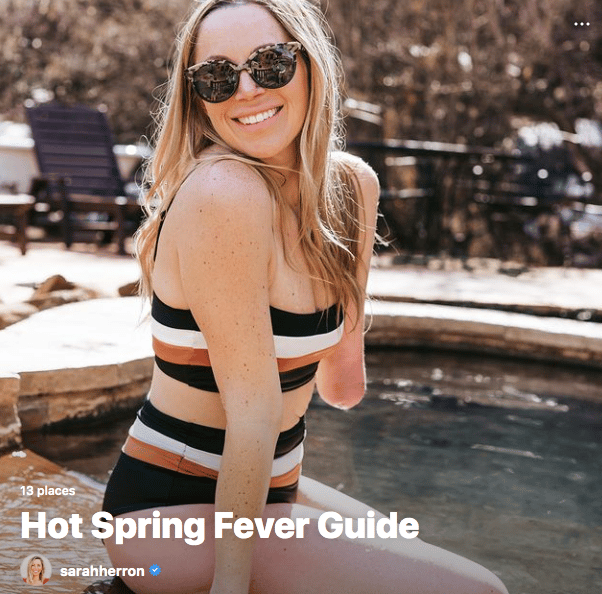 An Instagram Guide focused on places can also be an excellent way to attract attention to your services in the travel industry. For instance, @Condenasttraveller offers a guide on some of the most affordable spots to visit worldwide:
You can search from locations across Instagram, choose from locations you've tagged or saved in feed posts, and more.
Join 100k+ savvy Instagram marketers
If you are struggling to get the attention you deserve on Instagram, sign up for Kicksta today and start attracting more followers who are interested in your brand.
The Benefits Of Creating Instagram Guides
While Instagram Guides have been available on the social platform for some time now, they're still extremely under-utilized. This makes them an excellent way to set your business apart from other vendors or influencers in your space. With Instagram Guides, you can:
1. Introduce Your Brand
Instagram Guides are an excellent way to draw attention to your brand, the industry you're involved in, and the personality you want to share with your customers. You can leverage Instagram Guides to provide information about what you do or highlight your unique selling points. Plus, the Guides section will allow you to attract a much wider audience than Instagram posts alone.
You can even use guide visuals in partnerships with other small business owners, to shine the spotlight on multiple partners and influencers you might be working with to boost your brand presence on Instagram.
2. Leverage User-Generated Content
Instagram gives users plenty of freedom when creating Instagram Guides, you don't need to be the original creator of a piece of content to use it in your round-up or post. This means you can showcase user-generated content as a form of social proof. Customers are more likely to be engaged by your guides if they can see content from real people displayed on your profile.
It's also a great way to show off some of your positive reviews and testimonials. If you're creating a Shopping guide, for instance, you could include user-generated posts of people using some of the products you're drawing attention to, rather than using your own business images.
3. Promote Your Products
Instagram Guides features allow you to showcase your products in a variety of different formats. You can structure your guide as a step-by-step instruction manual on how to use an item, or provide tips on making the most of a product. With an Instagram Product guide, you can even link to the products you sell in your Instagram Shop, which may lead to more sales.
When promoting your products with Instagram guides, try to draw attention to their benefits and unique selling points as much as possible. Show pictures of people actually using the items so your customers can get a sense of how they work and what they look like. Don't forget to include some useful tips in the form of text alongside your images.
4. Drive Traffic To Your Website
Instagram Guides allow users to share links and references to other content on the web. This makes it easier to drive viewers back to your website, where they can learn more about your brand. More importantly, with your guides, you can create a thought-leadership image, which helps to boost the credibility of your organization and gain awareness for your business.
If you work with partners and influencers on your Instagram Guides, you can ask them to @mention your business and link photos to your account and website, so you can collect traffic from other sources, too. This is an excellent way to boost your credibility and find more customers.
How To Curate Your Instagram Guide
The good news for social media marketing experts on Instagram is creating an Instagram Guide is pretty straightforward. Start by making sure you have a plan for the guide you want to create. Think about the goals you want to accomplish with your content, such as educating your content, or showcasing your trending products.
Once you have a plan for the kind of Guide you're going to build, ensure you have the relevant photos and content available on Instagram to add to your piece. You may also need to come up with some engaging written copy to accompany your pictures.
Once you're ready to post your Guide, log into Instagram and follow these steps:
· Go to your Instagram profile page from the Instagram app.
· Tap the "plus" icon on the top-right corner you would usually use to create an Instagram post, Story, or video.
· From the options provided, select "Guide"
· Instagram will give you a selection of the three common Instagram Guide types to choose from. Select Posts, Products, or Places, depending on your goals.
· Create your guide by adding your title, description, and any photos you want to include in the content.
· You'll also be able to add a cover photo to your Guide and rearrange the content blocks to suit your preferred format. You can use your own posts and other visuals.
· Tap "Next" once you're done adding all of the information you need to include to your first guide or new guide.
· Instagram will show you a preview of your Guide with your chosen cover photo and title. You can then click the "Share" button, to publish your guide, or save the piece as a draft if you're not ready to publish yet.
Keep in mind, your Published Guide won't be shared on your main profile feed. Instead, it'll appear on the dedicated "Guides" tab within your profile. However, Instagram Guides also appear on the home feeds of your followers immediately after you publish them.
You can also use hashtags to improve the presence of posts advertising your travel guides, guides about your favorite products, and other Instagram marketing guides in new posts. Plus, you can share guide links to FAQ pages and other content with users in DMS.
How To Share Guides To Instagram Stories
Since you won't be promoting your Instagram Guides directly on your Instagram home feed, you may want to boost their visibility by adding them to your Stories. This is simple enough to do once you've published your guide using the steps above.
· Start by going into your post and opening the Instagram Guide you want to share.
· Tap the paper airplane icon located in the bottom-left corner, which you'd usually use to share a link to your Guide with other followers.
· Select the option to "Add guide to your Story." You can then publish your Story with the Instagram Guide, and even take snippets of that Guide to showcase in your Highlights.
Remember to promote your Instagram guides as often as you can to pull attention back to them from your other social media strategies. You can share your Instagram Guide links in emails to customers, on Facebook, and even by highlighting them in your Stories on a regular basis.
Making The Most Of Instagram Guides
Instagram Guides have the power to be a valuable tool for businesses and influencers looking to stand out in a competitive social media landscape. Guides are a great way to showcase your products and services, highlight your brand personality, and draw attention to your thought leadership.
They're also a fantastic opportunity to build your brand on Instagram and engage with your community if you're willing to embed user-generated content into your Guides.
Remember, you can still track the engagement of your Instagram Guides within your Instagram Insights, so it's worth paying attention to which of your guides generate the most attention and traffic, so you know where to invest going forward.
Instagram Growth Hacks
Join over 100k+ marketers and influencers who get the latest Instagram tips & tricks sent to their inbox every week