Instagram Shop Tab Ads: Everything You Need To Know
post
Instagram Shop tab ads are the latest and greatest feature on everybody's favorite social media platform. And with a little know-how, you can leverage these new ads to market your brand.
Instagram Shop is a relatively new feature on the app. Instagram Shop ads are newer still. For brands, these are golden opportunities for Instagram promotion. For the platform itself, it's all part of the plan to morph Instagram into an e-commerce platform versus just a photo-sharing app.
What do you need to know about Instagram Shop tab ads and how they work? Read on to find out how these ads got started, what they look like, and how you can use them to increase your sales.
What Are Instagram Shop Tab Ads?
The Instagram Shop tab looks a little different than it used to. In August 2021, Instagram announced that the Shop tab would now include ads so consumers could discover new brands when they're already in the mood to browse. The platform began testing the ads on August 9th with a select number of U.S. brands.
These ads show up as tiles on the homepage in the Instagram Shop tab as you scroll through. Look for the "sponsored" text in the corner of the image — that's the only thing that differentiates an ad from other content on the Shop tab.
If a user clicks or taps on the ad, they'll see the Product Details page. This page shows more information about the item as well as more photos and the option to browse through other products from the brand.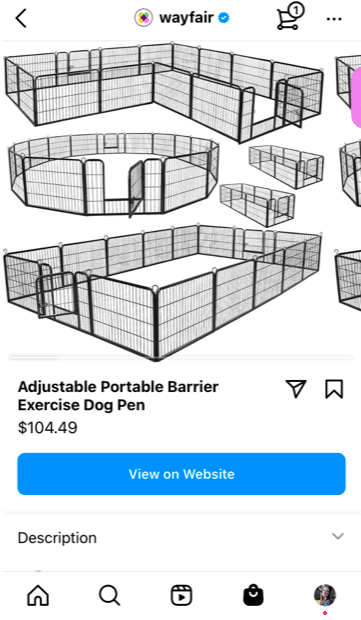 Instagram users also have the ability to save the product to their wishlist, share it with friends, or hide or report the ad.
Who Are Instagram Shop Ads For?
Instagram Shop ads are a great fit for any brand that wants to get its product in front of a ready-to-shop audience. Because these ads are naturally interspersed with content that users are already shopping for, Instagram users are likely to be highly interested in the ads.
And for Instagram, the ads take the platform's e-commerce potential to the next level. This social media platform has expanded beyond simply being a photo-sharing app, planning instead to grow in the Shopping and retail space. 
Why You Should Use Shop Tab Ads
Instagram Shop tab ads are a valuable tool for brands. When you place ads in the Shop tab, you're reaching consumers in an environment where they're already in a Shopping mindset. Instagram users open the Shop tab to look through products they might want to buy. So when your ad pops up, they'll be much more open to that ad than they might have been in another time or place. Placing ads in the Shop section seems like a much more natural fit than Reels or the Explore page. 
Join 100k+ savvy Instagram marketers
If you are struggling to get the attention you deserve on Instagram, sign up for Kicksta today and start attracting more followers who are interested in your brand.
Where It's Available
Originally, Instagram Shop ads were only available to a small number of U.S. brands. Those brands included Away, Boo Oh, Clairepaint, DEUX, and Donni Davy.
As of August 2021, however, Instagram Shop ads are open to brands in any country where the Instagram Shop tab is available. You can set up an Instagram Shop ad even if you don't have an Instagram Shop yourself.
Instagram Shop ads are often created as a single image. However, they can also be set up as a carousel in categories such as travel, beauty, and interior decoration.
How To Run Instagram Shop Tabs Ads
Since Shop tab ads are so new, it's not totally clear how they'll work. But it's likely that the Shop tab will be accessible under the Instagram platform in Ads Manager. The campaign objectives will likely be similar to the objectives available for Reels ads — which fall under the headings of awareness, consideration, and conversion.
Where Is Instagram Shopping Headed?
When it comes to Instagram Shopping, it sounds like the platform is just getting started. With Shopping features added to Reels, the Shop tab, and other Shopping-related features cropping up all over the app, Instagram is clearly moving forward to create a new type of platform — one that goes beyond a photo of what you ate for lunch and focuses on e-commerce instead.
Instagram is becoming a highly Shoppable app. And that's all part of the plan. The platform is trying to create new user behaviors that fit with its new e-commerce focus. Ideally, Instagram wants to make Shopping a habitual response in the app so that any time a user views a post, they'll be able to purchase the items shown with just a few taps.
Don't Be Left Behind
Instagram is heading full steam ahead toward becoming an e-commerce platform. As a marketer on Instagram, you need to get on board with this shift, or you might be left behind. Use Instagram Shop tab ads to expose your products to a whole new audience.
Instagram Growth Hacks
Join over 100k+ marketers and influencers who get the latest Instagram tips & tricks sent to their inbox every week