500 Trending Instagram Hashtags In 2023
post
Hashtags are an important and effective method of social media marketing — and trending Instagram hashtags are even more essential.
Adding hashtags to your posts can help increase engagement: Posts that have at least one hashtag receive 12.6% more engagement than posts that don't.
Trending Instagram hashtags, which can be defined as tags that are frequently used by a large number of accounts, help increase your brand visibility and get that engagement rate up even higher.
Here are the top trending Instagram hashtags in different industries that you should take note of in 2023.
What Are Instagram Hashtags?
Instagram hashtags are a popular way to call out and tag your posts with what's in the photo.
This makes it easy for people to search on Instagram and find posts about dogs, even if the person who posted it didn't use the word "dog" in their caption. As long as it was included as a hashtag, they'll be able to find it.
Hashtags can be descriptive of what's in the image, or they can be explanatory about what's in the caption, for example, #joke.
There are branded hashtags created specifically by and for one particular brand, and there are geographic hashtags that include a location, like #CincinnatiFoodie.
Why Use Instagram Hashtags?
There are many reasons someone would use Instagram hashtags.
First of all, as we mentioned before, they make it easier for someone to search and find your posts. By using hashtags that describe what's in your image, you make it easier for potential audience members to see your posts.
We also mentioned branded hashtags earlier. When a brand creates a specific hashtag, they typically do so for a few reasons. First of all, they might be launching a new campaign, so they want to link all posts that are a part of that campaign together. They could also be hosting a contest and asking for people to create posts about their brand or company and use that hashtag to be entered to win something.
Finally, they could be doing it as a marketing strategy that doesn't involve a giveaway, but simply to get their name out there.
Trending Instagram Hashtags 2023
Let's take a look at the most popular Instagram hashtags in different industries for 2023.
Food
These are some of the best hashtags in the food industry for 2023:
#Food
#FoodPorn
#Instafood
#Yummy
#Foodie
#Delicious
#Dinner
#Breakfast
#Cake
#Yum
#Foodstagram
#Lunch
#FoodPhotography
#FoodBlogger
#FoodLover
#Tasty
#Pizza
#Cooking
#Restaurant
#IceCream
Which of these trending Instagram hashtags should you focus on throughout 2023? #Food is a good one to keep around — this tag is very general, so it's probably not going to stop trending anytime soon. Hashtags like #Foodie and #Delicious can help you reach out to all the foodies out there on the 'gram. And if your post features food from a specific meal, add a relevant tag (#Dinner, #Breakfast, #Lunch) to help people who are truly interested find your post.
Fashion
According to Oberlo, these are the top fashion hashtags to use:
#Fashion
#FashionBlogger
#Fashionista
#OOTD
#FashionStyle
#InstaGood
#Blogger
#FashionAddict
#FashionWeek
#FashionDiaries
#Fashionable
#Beautiful
#Style
#Beauty
#Hair
#Model
#Fit
#OutfitOfTheDay
#InstaFashion
#Pretty
While #InstaStyle used to be a popular tag, this option has fallen off of the list and might not be the most effective way to market your brand.
Instead, use #Fashionista and #FashionDiaries to keep Instagram followers engaged. "Fashion diary" posts are popular because they help users get inspiration for assembling their own stylish outfits. Outside of these top ten hashtags, your brand can get more even visibility by using these additional trending fashion tags.
Fitness
These are some of the top fitness hashtags for 2023:
#Fitness
#Gym
#Workout
#Fitsporation
#Bodybuilding
#FitnessMotivation
#Yoga
#GymLife
#CrossFit
#FitnessModel
#FitnessAddict
#PersonalTrainer
#FitnessGirl
#GymMotivation
#FitnessJourney
#Physique
#Powerlifting
#Gymtime
#Pilates
#Instafitness
The fitness industry is huge on Instagram, and fitness brands can gain a lot of visibility by using trending hashtags. #Fitness, #Gym, and #Workout are a few of the most obvious popular fitness tags. Other popular hashtags in 2023 include #FitFam, #GymLife, and #FitnessMotivation.
If relevant, you can also use tags that refer to specific activities or types of workouts (think #Yoga or #CrossFit).
Retail
These are the most popular retail hashtags on Instagram:
#Retail
#Wholesale
#Fashion
#Shopping
#Design
#Business
#RetailDesign
#ShopLocal
#VisualMerchandising
#OnlineShopping
#OnlineShop
#Merchandising
#RetailTherapy
#Ecommerce
#RetailShopping
#RetailExperience
#StoreDesign
#Boutique
#Brand
#Dreamcolor
Retail companies can get ahead of the game by using #Retail and #Shopping to market their brand. These general tags are hugely popular, with millions of posts each. Consumers regularly browse these tags to find new products to buy.
With COVID precautions still in place in many countries, #OnlineShopping has also made its way onto this list. If you have an online store or you're focusing on e-commerce in any way, this could be a helpful hashtag for you. 
Travel
These are some of the trending Instagram hashtags used for travel in 2023:
#TravelPhotography
#Tourism
#TravelPhoto
#TravelPics
#WorldTraveller
#TravelPhotographer
#WorldTravelPics
#TravelPhotos
#Wanderlust
#Wonderlust
#Cruising
#Sailing
#SailingLife
#WonderlustWednesday
#BeautifulDestinations
#Wonderful_Places
#WonderfulPlaces
#BestVacations
#BeautifulPlaces
#BestPlacesToGo
The travel and tourism industries have historically been huge on Instagram thanks to the app's visual nature, which works well for sharing travel images.
In 2020, however, COVID turned the travel industry upside down. As a result, most Instagram travel posts and hashtags over the past year have focused on future plans, not current travels. Whet your followers' appetites for travel by encouraging them to have patience. Tell your followers that as soon as it's safe to #TravelTheWorld again, they'll be the first ones on a plane.
Wedding
These are the most popular wedding hashtags:
#WeddingHashtags
#Wedding
#Bride
#WeddingDay
#Wedding Photography
#WeddingDress
#WeddingInspiration
#Marriage
#InstaWedding
#WeddingParty
#HappilyEverAfter
#WeddingIdeas
#WeddingGoals
#WorthTheWait
#LoveWins
#WeddingInspo
#DreamWedding
#WeddingDetails
#BrideStyle
#WeddingPhoto
Whether you're planning your wedding right now or reminiscing on the good times, add some hashtags to your post to connect with other brides and brides-to-be.
Hashtags like #WeddingIdeas and #WeddingInspo are likely going to help those planning their weddings to find your post, so if you have a great tip, add it here! Or, if you'd rather just share your memories, use something like #HappilyEverAfter or #WeddingDetails to capture what meant the most to you about your day. 
Sports
These are the top trending Instagram hashtags used for sports:
#Sports
#Football
#Sport
#Fitness
#Motivation
#Basketball
#Fit
#Training
#Soccer
#Gym
#Workout
#Baseball
#MLB
#Athlete
#Nike
#FitnessMotivation
#SportsPhotography
#BallIsLife
#CollegeFootball
#Sportswear
#Sports and #Fitness should continue to trend throughout 2023.
These are basic, general tags that work for anybody from professional athletes to lifestyle brands to sports marketing companies, with a Muay Thai clothing brand using both tags here. Businesses that focus on only one sport will also benefit from more niched-down tags, such as #Basketball or #Soccer, in 2023.
Entertainment
These are the top entertainment hashtags:
#CelebrityNews
#OnlineEntertainment
#Podcast
#TalkShowHost
#Producer
#FunnyVideo
#StageShows
#Updates
#Entertain
#Entertainer
#Hollywood
#Actress
#Celebrity
#LiveMusic
#Comedy
#Entertainment
#EntertainmentNews
#EntertainmentBlogger
#EntertainmentBlog
#EntertainmentCenter
Entertainment companies — think a film company, a local theatre, or a DJ — can get a lot more business by using trending hashtags on Instagram.
Just remember, to create a good user experience on Instagram, it's important to only use hashtags that are relevant to your business (for example, don't add #Podcast to your post unless you actually have a podcast).
Beauty and Makeup
Here are the top trending hashtags for beauty and makeup:
#Makeup
#MakeupArtist
#MakeupAddict
#MakeupLover
#MakeupJunkie
#MakeupTutorial
#MakeupForever
#Portrait
#MakeupOfTheDay
#Model
#Selfie
#Beauty
#Hairstyle
#Skincare
#Lipstick
#DressYourFace
#WakeUpAndMakeup
#MakeupLife
InstaMakeup
#Nails
The top beauty and makeup hashtags show that you don't need to go crazy with hashtags to get some good results. The most popular, #Makeup, is as simple as can be. When picking out hashtags for your beauty posts, just be descriptive: #MakeupTutorial if you're posting a tutorial, #MakeupAddict if you're sharing favorite products, and #MakeupOfTheDay if you want to show off a brand new look.
Lifestyle
These are the top lifestyle hashtags on Instagram:
#Lifestyle
#Love
#Life
#InstaGood
#Motivation
#Fitness
#Happiness
#Fashion
#LoveYourself
#Inspiration
#PhotoOfTheDay
#Goals
#Yourself
#SelfLove
#Mindset
#PicOfTheDay
#InspirationalQuotes
#Positivity
#Entrepreneur
#Training
The lifestyle niche is pretty broad, and the trending hashtags reflect that. In fact, there's quite a bit of overlap with other categories — like fashion, business, and fitness. It's always a good idea to include #Lifestyle on each of your posts and then choose additional hashtags that are relevant to that specific photo.
Home And Garden
These are the top home and garden hashtags:
#HomeAndGarden
#Garden
#HomeDecor
#InteriorDesign
#HomeGarden
#Gardening
#Interior
#GardenDesign
#GardenInspiration
#HomeSweetHome
#Flowers
#Plants
#HomeGrown
#LittleGarden
#InstaGarden
#GardenLove
#GardeningLife
#Greenhouse
#Succulents
#FlowersOfInstagram
There's nothing too surprising in this year's home and garden trending hashtags. Unlike the creative and quirky hashtags you'll find in other niches, the home and garden space keeps things simple with purely descriptive hashtags for the most part. There are a few outliers, like #HomeSweetHome, which is slightly less concrete than other tags.
Parenting
These are the top trending Instagram hashtags for parenting content:
#Parenting
#Parenting101
#Mama
#ParentingQuotes
#Mommies
#ParentingSupport
#GentleParenting
#NewParent
#ParentingGoals
#Parents
#ParentingLife
#BirthdayParty
#MotherhoodUnplugged
#ParentLife
#MomBlogger
#BabiesOfInstagram
#ToddlerActivities
#PositiveParenting
#TipsParenting
#Fatherhood
Like home and garden tags, parenting hashtags stay pretty simple.
The most popular hashtag in 2021 is simply #Parenting, with #Parents and #Mommies on the list too. It's also clear from #ParentingSupport and #Parenting101 that parents use Instagram to find the advice and support they need.
Don't be afraid to offer some valuable advice if you want to get noticed on Instagram. And a healthy dose of humor will satisfy your followers' appetites for #ParentingMemes. 
Business
These are the top business hashtags:
#Business
#Businessman
#Businesswoman
#BusinessOwner
#BusinessOwners
#BusinessCoach
#DigitalBusiness
#BusinessLife
#BusinessTips
#BusinessMinded
#MarketingMindset
#Marketing
#DigitalMarketing
#EntrepreneurLife
#SuccessQuotes
#QuoteOfTheDay
#Entrepreneurship
#StartUp
#SocialMediaMarketing
#Entrepreneur
The business space on Instagram is filled with motivation and feel-good posts. If you want to get attention on Instagram, try sharing your expertise with #BusinessTips to position yourself as an expert in your field.
You can also write motivational captions and post them with tags like #BusinessOwner or #BusinessCoach. This is a great way to cater to aspiring entrepreneurs who are hungry for tips on how to get their mind in the business game. 
Animals
These are the top animal hashtags on Instagram:
#Animals
#AnimalPhotos
#AnimalsOfInstagram
#AnimalLove
#AnimalAddicts
#AnimalLovers
#Wildlife
#AnimalPhotography
#Cats
#Dog
#DogsOfInstagram
#PetsOfInstagram
#InstaDog
#Adorable
#CatOfTheDay
#DogLovers
#AnimalsAreFriends
#AnimalShelter
#AnimalsInfluence
#CuteAnimals
With COVID still keeping some people locked up inside their houses, it should come as no surprise that people are turning to Instagram for nature and outdoors content. If you want to get your posts noticed, hashtags like #Wildlife, #Pets, and #AnimalLove will do the trick. Surprisingly, #Dog is pretty far down the list, so make sure to include #Animals even when posting a picture of your adorable doggo.
Local Business
These are the top local business hashtags:
#ShopLocal
#SmallBusiness
#SupportLocal
#SupportSmallBusiness
#LocalBusiness
#SmallBiz
#SmallBusinessOwner
#Handmade
#SmallBizOwner
#SmallBusinessTips
#SmallBizTips
#SmallBizLove
#SmallBizLife
#ShopLocal
#ShopSmall
#BlackOwnedBusiness
#LocalFood
#SupportSmallBusinesses
#LocalBusinessSupport
#LocalBusinessesRock
If you own a small business or if you have a favorite local business in your hometown, mix some of these hashtags into your rotation. It's also a good idea to check out other local businesses in your area. There might be a city-specific hashtag you can join, like #HamiltonSmallBusiness. Remember, build up other small businesses – don't tear them down.
Photography
These are the best hashtags for photography:
#Photography
#PhotoOfTheDay
#Photo
#Photographer
#PhotoshootReady
#TravelPhotography
#PortraitPhotography
#PhotographyLovers
#Landscape
#PicOfTheDay
#PhotographyIsLife
#PhotographyEveryday
#PhotographyAddict
#PhotographyIsArt
#iPhoneography
#PhotographyDay
#PhotographySkills
#PhotographyDaily
#PhotographyAddict
#PhotographDaily
These are some great hashtags to fall back on if you're looking to round out your hashtag list. If you took the photo you're posting, it can be a great idea to use one of these, especially something semi-generic like #TravelPhotography. It lets your followers know a little more about the photo, and it can help people who enjoy that kind of photography see your image.
Join 100k+ savvy Instagram marketers
If you are struggling to get the attention you deserve on Instagram, sign up for Kicksta today and start attracting more followers who are interested in your brand.
Motivational
These are the top motivational hashtags:
#Motivation
#MotivationalQuotes
#PositiveVibes
#FitnessMotivation
#InspirationalQuotes
#Positivity
#MotivationMafia
#BodyBuilding
#HealthyLife
#QuotesToLiveBy
#LoveQuotes
#LifeQuotes
#Inspiration
#MotivationMonday
#MotivationForLife
#MotivationIsKey
#Motivation101
#MotivationalSpeaker
#Success
#SelfCare
Motivational hashtags range in topic, but a lot of them focus on fitness. That's no surprise as health journeys can be some of the more difficult things people will try to do. You can always swap out words that are more related to what you're feeling motivated about, like #ArtMotivation or #ReadingMotivation, as examples.
Holiday
These are the top holiday hashtags:
#Holiday
#Travel
#Vacation
#SummerVibes
#Love
#Nature
#Travelgram
#Beach
#TravelBlogger
#LuxuryLifestyle
#HolidayShopping
#HolidayStyle
#HolidaySpirit
#HolidaySwag
#TravelBlogger
#HolidaysAreComing
#HolidaySale
#HolidaysMood
#Holidays2021
#HolidaySparkle
Whether you take the word "holiday" to mean a vacation or to mean the holiday season around Thanksgiving, Christmas and New Year's Day, here are a variety of hashtags you can use. Obviously if you want to use hashtags around a specific holiday, like Christmas, you could use something like #ChristmasGiftBox or #ChristmasGiftIdeas – but make sure your content matches the hashtag you use!
Technology
These are the best technology hashtags:
#Technology
#Tech
#Innovation
#Engineering
#TechNews
#Gadgets
#Programming
#Innovation
#Software
#Coding
#ArtificialIntelligence
#Robotics
#Cybersecurity
#ComputerScience
#Apple
#Developer
#Automation
#StartUp
#Laptop
#TechnologyNews
Most of these technology hashtags are fairly straightforward, and they cover a wide range of tech topics. From things like robotics to coding to cybersecurity, there are hashtags you can use to ensure your posts end up in front of the right tech enthusiasts.
Finance
These are the best finance hashtags:
#Finance
#Money
#Trading
#GlobalTrade
#Investment
#StockMarket
#Wealth
#RealEstate
#Markets
#Economy
#Forex
#SustainableFinance
#Cryptocurrency
#FinTech
#FinancialPlanning
#RetirementPlanning
#DebtFree
#FinancialAdvisor
#FinancialAdvice
#CryptoNews
Finance is such a broad overall topic that you want to ensure your hashtags help you narrow down your niche. If your post is all about saving for retirement, you probably don't want to use a hashtag like #CryptocurrencyFans. On the flip side, a post about investing in the stock market might not be great for #DebtFreeJourney.
Advertising And Marketing
These are some of the top trending advertising and marketing hashtags:
#DigitalMarketing
#SocialMedia
#MarketingStrategy
#OnlineMarketing
#BusinessOwner
#ContentMarketing
#eCommerce
#EntrepreneurLife
#MarketingTips
#WebDesign
#SEO
#Advertisement
#AdvertisingPhotography
#AdvertisingWorks
#SocialMediaMarketing
#AdvertisingAgency
#GraphicDesign
#Content
#Creative
#Digital
With advertising and marketing, it can be difficult to find strong hashtags because many people are using hashtags to market their brand or product – not necessarily to talk about marketing. However, there are still great hashtags you can use.
Real Estate
Here are some of the best real estate hashtags:
#RealtorLife
#RealEstateLife
#LadiesOfRealEstate
#MomsOfRealEstate
#ILoveRealEstate
#LoveWhereYouLive
#RealtorsOfInstagram
#HouseHunting
#MillionDollarAgent
#JustSold
#LuxuryRealEstate
#HomesOfInstagram
#ForSale
#OceansideLiving
#DreamHome
#NewHome
#HomeSweetHome
#NoPlaceLikeHome
#BeHome
#HomeTour
Aside from these listed hashtags, it's always a good idea to add a few that are specific to your region, whether that's #LiveInNashville or #BostonApartments or #NewMexicoHomes. When people are searching for realtors on Instagram, they're more than likely going to be looking for someone who's actively posting about their area.
Motoring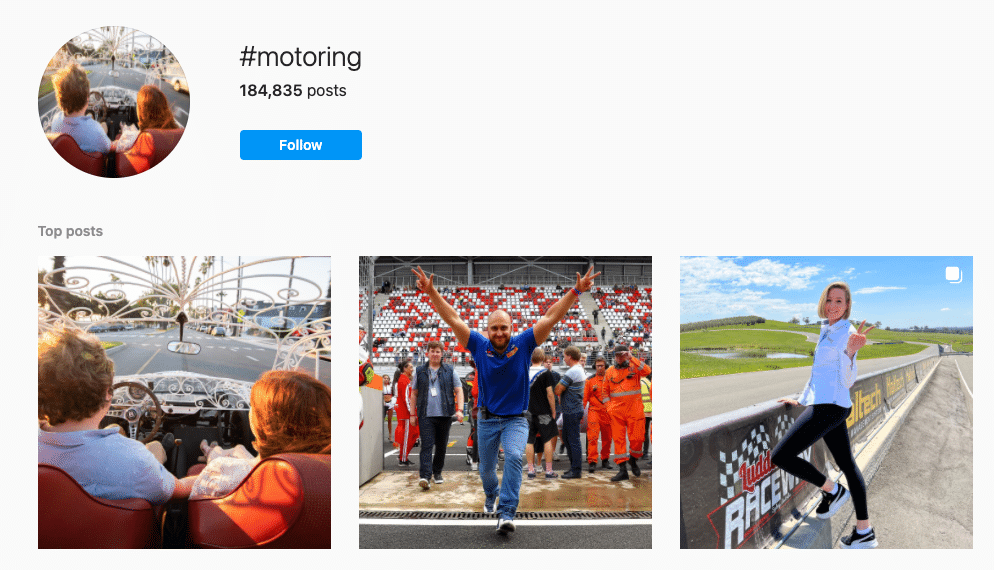 These are the top motoring hashtags:
#Motoring
#Cars
#CarBlogger
#Automotive
#CarGuy
#MotorSport
#CarJournalism
#SportsCar
#SuperCar
#BMW
#CarShow
#ClassicCar
#DriveTastefully
#TopGear
#CarInfluencer
#TheGrandTour
#RoadTest
#RaceCar
#CarReview
#LuxuryCars
Whether you're a car expert or a casual observer, there are plenty of hashtags you can use on Instagram in 2023. It's always a good idea to add a hashtag of the specific kind of car you're posting about, since that will help you to better attract people who like the same things as you.
Education
Here are the best education hashtags to use:
#EduTeach
#Learn
#Educational
#LearningApp
#GlobalEducation
#QualityEducation
#EducationMatters
#GeneralKnowledge
#MachineLearning
#ArtificialIntelligence
#DeepLearning
#Programming
#Instructor
#DataScientist
#DataAnalysis
#DataMining
#Homeschool
#TeacherLife
#Teaching
#Classroom
As you can see from this list, the trending education hashtags range from homeschool topics to traditional education to casual e-learning. No matter the kind of educational content you're searching for or posting about, there will be a few popular hashtags to go right along with it.
Music
Here are some trending music hashtags:
#BestMusic
#MusicWriter
#MusicIsMyLife
#MusicIndustry
#GoodMusic
#MusicLife
#MusicMaker
#Singing
#Songwriter
#Producer
#InstaMusic
#UnsignedArtist
#MusicProducer
#NewSingle
#NewAlbum
#Soundcloud
#Spotify
#Artist
#Musician
#IndependentArtist
Outside of these trending hashtags, don't forget to include specific hashtags about your genre of music. Whether that's #Country or #HipHop, being specific with your hashtags will help your soon-to-be-fans find you quickly. Or, if you're a music fan, there are certainly some hashtags here that you can use, too.
Join 100k+ savvy Instagram marketers
If you are struggling to get the attention you deserve on Instagram, sign up for Kicksta today and start attracting more followers who are interested in your brand.
Top Hashtags of All Time
Now that you have the trending Instagram hashtags for 2023 in hand, there's one more step — researching the top hashtags of all time! You don't need to use all of these hashtags on every post (in fact, it's better if you don't). But sprinkling these tags over your IG feed can go a long way in helping get more eyes on your posts. Here are the top ten Instagram hashtags of all time:
#Love
#InstaGood
#PhotoOfTheDay
#Fashion
#Beautiful
#Like4Like
#PicOfTheDay
#Art
#Happy
#Photography
These tags aren't going anywhere anytime soon. They've stood the test of time on Instagram — and when used correctly, they can help you boost your IG account. Add #Photography to an impressive snapshot or #Like4Like if you're looking for engagement. #PicOfTheDay can expose your account to new users. And if you're #Happy and you know it, adding in that tag is rarely a bad idea.
How to Use Trending Instagram Hashtags Effectively
Use trending hashtags for Instagram strategically to reach as many users as possible. A hashtag categorizes a post where people who are interested in a certain topic can find it — which means that hashtags are a great way to find your target audience. Create a good user experience for Instagram users by only using relevant hashtags on your posts. That way, you won't waste the time of anybody who's not interested.
The first thing you'll need to do is learn how to find trending hashtags on Instagram. One method of doing this is simply searching for hashtags on Instagram. Type a general hashtag — such as "fashion" — into the search bar and Instagram will give you a list of related hashtags to peruse.
Another way to find trending Instagram hashtags is to use hashtag generators. These tools, which are usually free to use, give you a list of related hashtags when you type a word into the search bar. There are also filtering options that allow you to view hashtags with a certain number of posts.
Many companies will also publish round-ups that list the current most popular hashtags in certain industries. Searching the Web to find blog posts like this can further inform your strategy as you work to find trending hashtags for Instagram, reinforcing your decisions as you dial in your list of tags.
Finally, one last method of finding trending Instagram hashtags is to look at what your competitors and industry leaders are doing. By keeping an eye on these posts, you can get a feel for what your target audience is talking about and draw inspiration for some new hashtags to add to your list.
Once you have your list of hashtags, it's time to start using them. Something important to note is that you don't want to use the same exact hashtags on every single post. This can look spammy, and besides, some hashtags may not go with certain posts. To ensure maximum relevance, switch things up! Many brands do several types of Instagram posts — for example, a video on Monday, product post on Wednesday, and employee spotlight on Friday.
Create a list of hashtags for each type of post and then copy and paste the correct list into each of your captions. Using trending hashtags can help you get on users' explore pages, exposing your brand to more sets of interested eyes.
How To Create A Hashtag That Will Start Trending in 2023
You can also create your own trending hashtags for Instagram. Start small, using a simple yet unique branded hashtag on all of your posts.
Promote the hashtag often via posts and Instagram Stories and ask your followers to share posts with the hashtag, too. By taking these steps, you'll slowly begin to see your hashtag grow. If you play your cards right, it might even start trending. 
Here's a good example: World of Dance, a television show, has created a couple of branded hashtags that have amassed a sizable following. One is #thisiswod, created to share videos from the TV show. Another is simply #worldofdance.
World of Dance promoted the hashtag to the show's viewers first and then slowly began to expand into the broader dance community. Now, the hashtags have thousands of posts and followers and are frequently used by dancers around the world. 
To have an even better chance of creating a trending hashtag, find a timely hook to include: Take a story that's in the news or an event everybody's buzzing about and link it back to your company somehow. This will help more social media users pick up on your hashtag and begin using it, too.
The Takeaway
Trending hashtags can be hugely helpful if you use the right ones. It might take a little work to figure out which tags are best for your brand, but once you've got your list of hashtags dialed in, you can start growing your account. Just be flexible and willing to tweak your hashtags throughout the year if needed. By using 2023 trending hashtags, you can give your brand the visibility boost it needs in 2023 and beyond. Consider this article on identifying trending Twitter hashtags.
Instagram Hashtags: Frequently Asked Questions
How do you find trending hashtags?

First off, start by doing a search on Instagram for a hashtag that would work well for your post. (There's no use in using a trending hashtag if it doesn't make sense with your content.) Then, go to the "Tags" tab in the Instagram app and browse the suggested hashtags that arise.
What hashtags should I use?

You should use a mix of hashtags on your post. Some should relate to your brand, some to your photo, some to your content and some to your local area (if you're a local business). You should also use hashtags with a mix of sizes.
Which Instagram hashtags get the most likes? 

There's not really a static list of hashtags with the most likes, because it's always changing depending on what's trending. You can certainly start with the hashtags in this post, though. Once you understand how to use hashtags on Instagram, you'll be off to the races.
Is it bad to use 30 hashtags?

No, not at all! You shouldn't force yourself to use all 30 if you can't think of enough relevant hashtags, as you shouldn't add disconnected hashtags for no reason. But, if you have 30 hashtags that work well with your post, please use them!
Instagram Growth Hacks
Join over 100k+ marketers and influencers who get the latest Instagram tips & tricks sent to their inbox every week