How to Increase Instagram Followers With User-Generated Content (UGC)
post
Increasing your Instagram followers may sound like an easy task; however, in practice, it can take a lot more than that to have loyal followers who will support you throughout their customer journey.
Since Instagram has become one of the most popular and most successful platforms for marketers to expand their reach and increase their engagement, knowing how to get more people to follow you is a must.
Having an engaged audience will power up your Instagram marketing endeavors, help you build your brand image and increase your brand awareness in the most cost-effective way.
To achieve your goals, you need to make sure that you get more engaged followers to interact with your social media posts.
Taking advantage of great Instagram tools like Kicksta can help you boost your Instagram marketing efforts and see your follower count grow.
However, leveraging user-generated content along with it can help you achieve far more than that.
How UGC Can Help You Increase Instagram Followers and Improve Engagement
1. Authenticity
As more and more brands are using branded content to promote their products, social media users have started to get tired by the number of posts that have a sales-y feel.
While these posts will discourage users from engaging with your content, social media followers' tendency to favor unique and creative content can be your secret weapon to succeed.
This weapon comes in the form of content that is voluntarily created by followers, usually portraying authentic experiences rather than promoting products.
Here's an amazing example: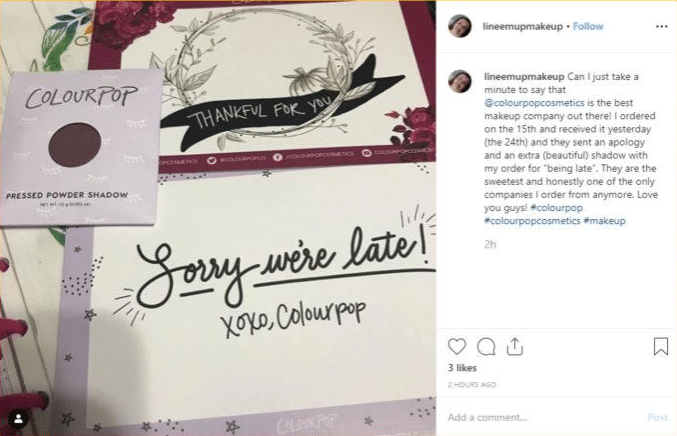 This post manages to show that despite the delay, the compensation in the form of a "sweet" apology and an extra product managed to prevent a bad experience and show potential shoppers that the brand values them.
To leverage content like this, you should focus on acquiring real followers who will share their honest opinions with their followers and help you build your brand image.
And if you are using a growth service to get your numbers up, then you should make sure that you have found the best Instagram growth service to meet your goals and help you increase your Instagram followers.
2. Higher Engagement
As a brand, you should acknowledge that social media followers will always come up with the most creative and most exceptional ideas to get more likes and comments.
This is your secret weapon to increase your Instagram followers and promote a more creative brand that doesn't solely rely on branded content.
Since user-generated content can be more interesting compared to redundant content created by brands, embracing it will give you access to hundreds of unique posts that feature your products and highlight their value.
Here's a great example from Wayfair:
3. People Buy Experiences, Not Products
In a highly-competitive market, brands have to compete with numerous other brands that have similar products with similar features.
While new online businesses will spend a lot of money on paid ads to promote their products, consumers aren't interested in the product itself anymore, but in the experience that the product will give them.
What you need to realize that great experiences have become the number one factor that will help you increase your Instagram followers.
Here's an example from Halo Beauty's vitamins: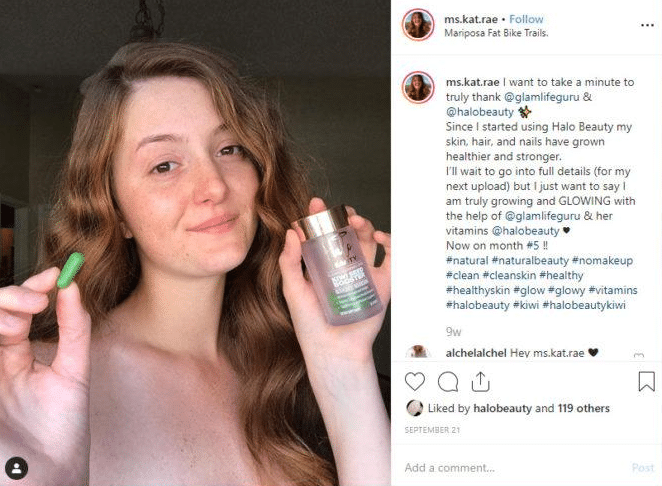 If you want to increase your Instagram followers effectively, then you should focus more on delivering amazing experiences with your products that will motivate Instagrammers to share them with their peers.
4. Build Customer Loyalty
Due to the existence of numerous similar products, it's not certain that one customer will buy another product from your brand instead of another brand with a better price and more perks.
While user-generated content is a great way to increase your authenticity and engagement, this type of content is also your way to power up your customer lifecycle marketing and create relationships with your followers and customers.
One of the best things you can do to increase loyalty is to reward your followers' sharing behavior and make them feel like they can also be story-makers along with you.
Here's an example from Alexander Arnholm and Björn Borg:
How to Make UGC a Key Component of Your Instagram Strategy
1. Leverage Branded Hashtags
Branded hashtags are hashtags that are unique to your business, varying from your brand name, specific products, or taglines that will lead back to your brand even when your name isn't part of it.
To create the best-branded hashtags you need to carefully set out your goals and then make the specific hashtag a part of your brand.
Join 100k+ savvy Instagram marketers
Sign up for Kicksta today and starting attracting more followers who are interested in your brand.
For instance, one of the most trending branded hashtags is Nike's #justdoit, a hashtag that has nothing to do with sports equipment whatsoever, but manages to convey the spirit of sports.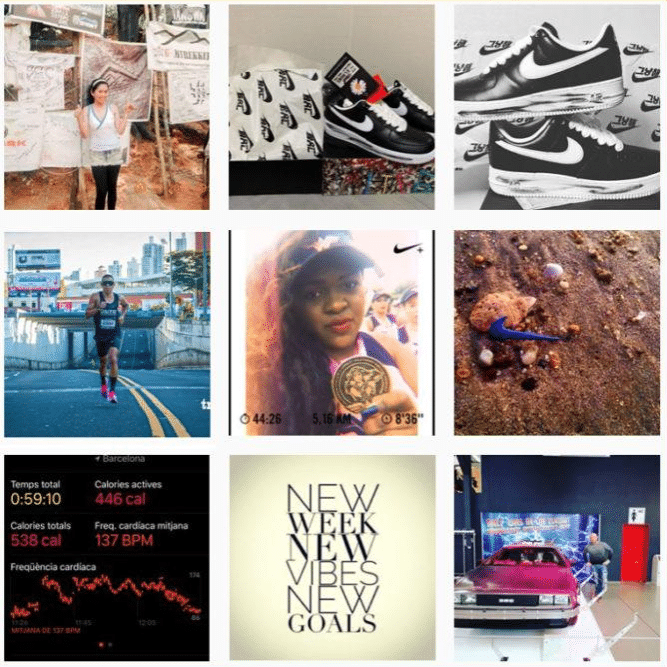 How to Collect UGC Using Branded Hashtags
Now, the only thing left is to learn how to use branded hashtags to collect valuable content, and use it to increase your Instagram followers like a pro.
To be honest, collecting user-generated content with branded hashtags is the easiest way to get one step closer to achieving your goals.
What you need is to come up with an easy-to-remember hashtag and then find the best time to post it on Instagram.
KitKat's #HaveAZenBreak
To promote its new product, KitKat created a new hashtag that combined its tagline and its new product in one unique branded hashtag.
Instagrammers that loved KitKat's new addition to the family took the time to come up with creative and delicious ideas that used the brand's hashtags to show their amazing creations.
Apple's #ShotOniPhone
Apple has an equally well-known hashtag that has become a favorite hashtag among iPhone users who still use it to promote their incredible photos, as well as their iPhones true capturing power.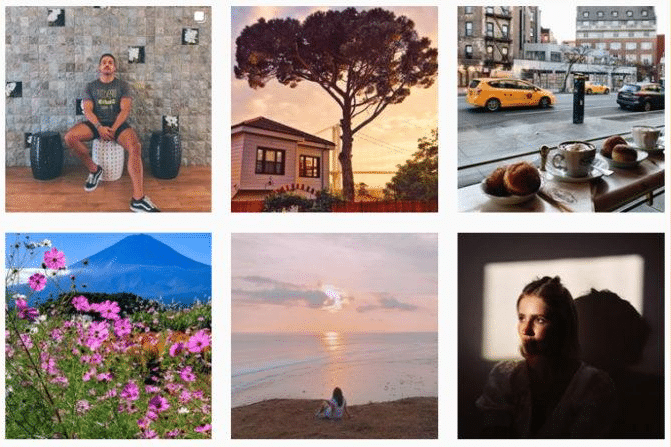 By gaining popularity, their branded hashtag has turned into a major source of user-generated content that helps the brand increase its Instagram followers.
2. Encourage Followers to Create More Content
Having authentic content is your best chance to show Instagrammers that your products deliver experiences they need to include in their lives.
However, since not every follower of yours will create amazing posts, here are some things you should do to increase your Instagram followers and encourage even the timidest of your followers to create more content.
Get Your Followers to Tag You
The easiest way to get what you want is to ask for it.
With the right motivation, you can ask your followers to create amazing posts using your products and then tag you to let their followers know that it was your products.
Encouraging your followers to tag your brand is extremely important since the lack of any acknowledgment won't guide new followers towards your profile, and won't help you increase your Instagram followers.
Leverage Instagram's Mention Sharing Feature
When hashtags and tags aren't enough, you should ask your followers to mention you in their Instagram posts.
To effectively encourage user-generated content, you should give your audience a clear mention-me CTA that you can add in your Instagram bio, posts, or stories.
By letting your followers know what they need to do, you can get one step closer to access amazing content that will help you tell your brand story and help you increase your Instagram followers more successfully.
Use Your Creativity to Get Them to Act
Encouraging your audience to add a tag or a mention might sound easy; however, you need to deliver your CTA in the most creative and authentic way that will make them consider it a creative challenge rather than a dull task.
If you want to incentivize your followers to add you in their posts, try to show them that you want them to make their voices heard and become a part of your brand story.
Giving them extra motivation through Instagram giveaways can also work miracles as it will highlight the challenging part of creation and give them more reasons to include the right tags, hashtags, and mentions for a chance to win something back.
EM Cosmetics' Contest
Taking advantage of the holiday spirit, EM Cosmetics grabbed the chance to organize a giveaway that required its followers to create Halloween look using the brand's products.
By giving them an amazing prize, the brand managed to get an amazing number of user-generated content that featured EM Cosmetic's products.
Suavecita Pomade's Bio CTA
Here, Suavecita Pomade leverages their Instagram bio to incentivize their followers to tag the brand on their looks.

Adding your hashtags in your bio will remind your followers to tag their content and help you increase your Instagram followers in the most cost-effective way.
3. Ask Permission to Repost Content
When it comes to using content that belongs to your followers it's better to be safe than sorry.
To use your fans' content legally you simply need to ask for their permission either by sending them a direct message or by commenting on the post you want to use.
Here's how Petsmart does it: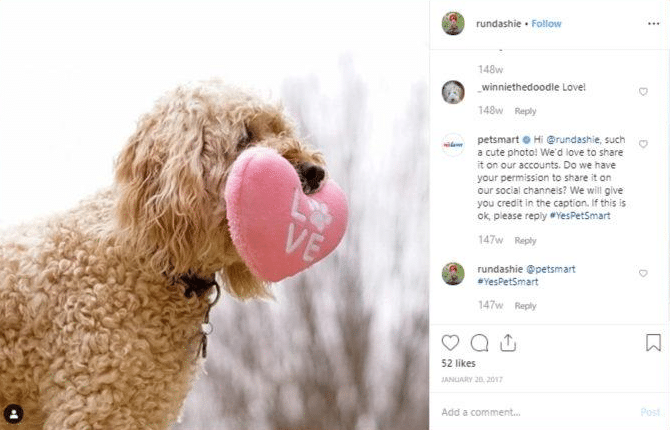 After you get your content, you can use your Instagram automation tools to deliver it to the right people at the right time and boost engagement.
4. Integrate UGC in Your Content Marketing Strategy
Using user-generated content to increase your Instagram followers is a tactic that has proven to be your secret weapon to ace content marketing.
Join 100k+ savvy Instagram marketers
Increase Instagram followers and engagement organically today with Kicksta.
However, to benefit from your followers' content, you need to make it an integral part of your Instagram marketing strategy and in no time you will have a steady source of amazing content to increase your Instagram followers.
According to statistics, 78% of users are more interested in seeing user-generated content over professional photos, so this alone can give you a hint as to why this type of content needs to be part of your content strategy.
So, having a loyal audience who will engage with your brand is an absolute necessity you need to wrap your hands around either by taking things one step at a time, or by using a powerful Instagram growth tool to help you to increase your Instagram followers like a pro.
Aim for High-Quality Content
To increase your Instagram followers, you first need to find the most fitting user-generated content and then add it to your Instagram profile.
As Instagram has a massive user-base with thousands of posts, selecting the ones that will come from your followers, but at the same time look professional, is the most optimal solution to deliver authentic professional-looking posts that will drive engagement.
Just keep in mind that while you may want to please your followers by uploading every creation of theirs, some posts can cause you more problems.
Instead, try to find affordable solutions to help you determine which followers deliver the best content and drive more engagement.
Chubbies, the King of UGC
Chubbies is the king of Instagram user-generated content as its profile mainly features user-generated posts under the #chubbies hashtag.
Since the brand favors funny posts that don't always include their products, their followers tend to create hilarious posts and tag their favorite brand for a chance to appear on the brand's profile.
Aerie's UGC Campaigns
Aerie is a brand that motivates its followers to share their amazing content and even show their seasonal picks.
As a brand that stays true to its natural beauty tagline, Aeries uses user-generated content to boost their engagement and increase their sales.
5. Go Beyond Tags and Mentions
Sometimes, the best user-generated content can appear so unexpectedly that it may go unnoticed.
To never miss the content that will potentially help you bring your Instagram count to higher heights, you need to monitor your tagged posts and even get yourself to search specific hashtags in order to see if there's something that you missed.
If you want to simplify the process you also leverage social listening to monitor your social media channels and then use the information to improve your campaigns and increase your Instagram followers.
6. Analyze UGC to Gain Insight on Customer Behavior
Analyzing user-generated content can also be your greatest ally to identify what your target audience wants from your brand, and help you implement certain changes that will help you increase your Instagram followers and promote your customer success.
To gain customer insights, you can use an analytics tool to help you collect data and then use them to optimize your marketing strategy.
Pro Tip: Finteza, is an amazing Google Analytics alternative to help you gain valuable social insight and use it to optimize your campaigns.
After collecting these insights, you can use them to come up with behavioral marketing campaigns that will target your customers a lot more effectively.
Takeaway – Using UGC To Increase Instagram Followers
So, can your followers' content help you boost your engagement and increase your Instagram followers?
The answer is that it can do much more than that.
If you're serious about Instagram marketing, you should approach UGC strategically, and collect the content that will help you bring your social media marketing through the roof and grow your business.
Since social media users favor content, your brand should make it an integral part of its social presence by encouraging your followers to share, tag, and mention your brand when they create their next big post.
If you do all these, then you'll have an amazing social media and content strategy that will help you increase your Instagram followers and beat even some of your greatest competitors.
Author bio
Marilia is a Creative Writer working for email marketing software Moosend. Her passion for writing has made her find new ways to combine the art of Creative Writing with SEO Copywriting. When she's not writing articles, you'll find her enthusing over marketing tech and automation.
Instagram Growth Hacks
Join over 100k+ marketers and influencers who get the latest Instagram tips & tricks sent to their inbox every week