Instagram Reels: Is This A TikTok Killer?
post
You've probably heard about Instagram Reels, the brand new feature from Instagram that looks like TikTok's sibling. Same looks. Same kind of videos. Same songs. This feature that's just like TikTok, allows you to create short and fun video clips right inside your Instagram app.
If you're not sure where to begin, don't worry, we're here to help. We'll walk you through all you need to know about Instagram Reels, its new features, how it compares against TikTok, and how you can maximize it for your business.
Let's begin with a quick overview of what Instagram Reels are.
What Are Instagram Reels?
Reels are a new video sharing feature on Instagram that allows you to create and publish 30-second videos set to music. Originally, you could only record videos for 15 seconds, but thanks to a new update you can create videos that last up to half a minute.
Since its launch on August 5, Instagram has kept on improving the Reels experience for users. Recently, Instagram added some new features that make it easier and more fun to create Reels. They revealed these updates in a tweet on September 23.
These new features add to the existing features like:
Using an original soundtrack or choosing from the song library on Instagram to accompany your videos.
AR filters.
Adjustable speed.
Although Instagram describes Reels as a new way to create and share entertaining videos on the platform, people have other opinions. Many people describe Reels as an imitation of TikTok.
Speaking of TikTok, let's see how it compares to Reels.
How Does Instagram Reels Compare To TikTok?
Wondering what differences exist between Instagram Reels and TikTok? Let's find out.
Video Length
How long can you record videos on TikTok and Instagram Reels? On TikTok, videos can last up to one minute. But on reels, you can only make videos for up to 30 seconds (Reels originally lasted only 15 seconds).
Editing
In regards to editing, both Reels, and TikTok offer great options. As a beginner, editing on TikTok might be a bit overwhelming. However, when done right, the resulting videos are super neat and creative.
For Reels, editing is simple. This also means the transitions and results are not as creative and visually appealing as most TikTok videos. Reels work well for simple transition videos.
Tiktok comes with an built-in video editor that allows you to add special effects and sounds to your video.
To create a video on Tiktok, click the "+" icon at the corner of your screen. You'll notice a new interface where you can record your video.
Here is what you can do with the icons on this interface:
Speed: Choose how fast or slow you want your video to be.
Beauty: This option enhances your video's quality by removing shadows.
Filters: Here you can access the filter available on Tiktok. These filters are in the Portrait, Life, and Vibe categories.
Timer: The timer helps you choose how long (between 1-60 seconds) you want to record your videos hands-free.
At the bottom of the screen is a big red "record" button.
To the right of the "record" button is the "upload" icon. This is where you'll find videos from your phone gallery to upload on Tiktok.
On the left side of the "record" button is the "effects" button. This button works like Instagram filters in the sense that it allows you to use AR filters for your videos. 
Recording A TikTok Video
Once you're clear on what you want, hit the red button at the bottom of your screen to start recording. To stop recording, press the red button again.
Editing On TikTok
Once you're done recording, press the red check mark on the bottom of your screen. Now you'll be able to edit your videos. The interface changes once again to show up more editing options.
Here, you now have the following buttons:
Adjust Clips to trim or shorten your videos.
Sounds to add music to your videos.
Voice effects to add sound clips to your videos.
Voiceover to add your voice speaking over your video.
Effects to add special AR effects.
Filters (as mentioned earlier) and
Stickers to add more fun to your videos.
Posting Your TikTok
When you're satisfied with how your video looks, you can click the red "Next" button at the bottom right corner of your screen.
It's in this new interface you'll be able to post your videos for others to see. You'll also be able to change the thumbnail image that users will see by clicking "select cover."
When you choose "select cover," you'll also be given additional text to your cover image.
Before posting, you can write a short description, tag your friends, and add hashtags. You can also choose your privacy settings, whether you want others to be able to view your videos. There's also an option to turn off comments.
Click the "post" button at the bottom of the screen to share your video with the rest of the world.
Later in the article, you'll see how to create and edit a video on Instagram reels.
Collaborations
There are more options for user collaborations on TikTok than on Reels. For instance, with TikTok, users can make duets and reaction videos to existing videos – a feature that Instagram reels do not have (yet).
Ads
Brands can run ads on TikTok. This makes it a great revenue-generating opportunity for businesses and creators. While you can run ads on Instagram Stories and feed, there are no ad placements on Reels.
Other Factors To Consider
When compared, it doesn't look like Reels will be a TikTok killer. But if there is anything to learn from Snapchat and Instagram Stories, it's that Instagram can win over a fair amount of TikTokers' hearts.
Instagram Reels' advantage over TikTok, according to Instagram's leadership itself, is the simple fact that all of your friends are already there. Instead of building a new user base (like Facebook tried to with the secreted Lasso), Instagram is planning to implement the new features to its own billion users.
Facebook's substantial licensed music collection of both major labels and indie publishers is another primary asset that Instagram Reels has. Other than that, most of TikTok's core features are available on Instagram Reels as well. You'll find ghost overlay options (for fluid transitions), timed captions, and a timer for speed control.
TikTok still offers some powerful filters, effects, and editing options that Reels lacks and is essential to creating the comic effect that's identified with the content on TikTok. However, it's only a matter of time until Instagram follows suit.
While we wait to see how events unfold, what is happening to creators on TikTok? Are they heading over to use Instagram Reels?
High Profile Creators Joining The Reels Bandwagon
As you can expect, many creators who use TikTok are already experimenting with Reels. They're motivated because of the uncertainty surrounding the future of TikTok.
Some of the top influencers already using Reels include:
Michael Lee @Just Maiko
Simon Yosh the Adventure Cat @Backpackingkitty
Lala @lalamilan
Jojo @jojosiwa
Adam @adamwaheed
Aside from influencers, global brands are also jumping on the reels bandwagon. Examples of such brands include:

Sephora
Netflix
Walmart
Louis Vuitton
Asos
Nike and
Xbox
How to Create Your First Instagram Reel
You can create a Reel by clicking on the camera button on the top-left corner of your home feed. Or you could click on the + sign and then click on "Reels" on the top-left corner of your profile tab to create one.
Once on the Reels screen, you'll see something like this:
It's on this screen that you'll find the video editing icons that Reels has to offer. Here's how these tools can help you:
Length: Choose the length you want your video to be for. It can be between 15 – 30 seconds.
Audio: Choose from Instagram's rich library of songs, or choose a song from your library.
Speed: This allows you to choose how fast or slow you want the video to be.
Effects: Similar to the effects on Instagram Stories, you can add special effects to videos you make from reels.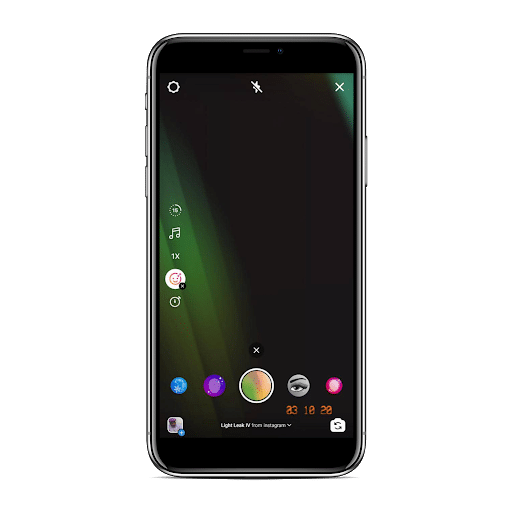 Timer: This feature on Reels allows you to set how long each clip in your reel will be. You can choose from 0-15 seconds.
Once you're ready, hit the big round button at the bottom of your screen like you would when making an Instagram Story. You can also upload a video from your media library/gallery. You can record one clip at a time or decide to make your videos in one big swoop. After recording, you can now add effects like texts and stickers.
Now, it's time to share what you have created with the world. You can either share your Reels to the Explore page alone or the Explore page and also your home feed.
7 Ways To Maximize Instagram Reels For Business
Now that you know how to create a Reel, the questions remain:
What kind of Reels should you create for your business?
How can you make the most use of Reels for your business?
Here are some of our best tips and answers to these questions.
1. Recreate Successful TikTok Videos
If you've already posted content on TikTok in the past, then you'll find it easier to maximize Reels for your business. You can easily recreate your brand videos that people enjoyed on TikTok.
Since the platforms are different, you'll have to change some things about the videos. For example, the maximum video length on Reels is 30-seconds, so you'll have to adjust your video to meet that constraint.
As a side note: you might not want to simply re-post the same video on Reels after posting it on TikTok – at least not without removing the TikTok brand logo. Why? Your Instagram audience will believe that the video was not originally for them, and may start to lose interest in your future videos and brand.
2. Post Educational Content
The best way to turn your followers into buyers is to educate them about your brand and business. Think about it. Most of your followers might not be aware that you offer certain solutions unless you tell them about it.
With Reels, you can make short educational videos that help your followers solve a problem.
Here's an example of how one user @ginnyfears uses Reels to educate her followers on how to put a video in a phone frame using Canva.
3. Start A Social Media Challenge
Only a few organic channels can generate your business more brand awareness than a social media challenge or contest.
One thing we've learned from TikTok is the power that social media challenges have. These challenges catch on fast and can spread the word of your brand fast. Accompany the challenge with a branded hashtag to get all the exposure that your business can generate from Reels.
Here's an example of user @breedesigns_ hosting a 30 day Reels challenge.
4. Show Behind-The-Scenes Footage
Going behind-the-scenes gives your followers a new way to connect with you and your business. If you're a content creator, your followers will be able to see your effort and failures as you try to create content.
If you sell products, you can show your audience the process it takes to create or make the products that they love so much.
Or if you're a content creator, you could show your audience how you create content.
Here's an example of user @zachking showing some behind-the-scenes in a Reels video.
5. Create Original Sounds
Instagram gives you the freedom to use original sounds and audios in your Reels which you can use to your advantage. This freedom offers you the opportunity to unleash your creativity and create a sound that your audience would love and share.
For example, @xbox released an original sound with their first reels.
6. Let Your Personality Shine Through
Don't be a faceless and lifeless brand. Bring your brand to life by showing your face on your reels. This makes you more relatable and stands out from the many faceless corporations.
Allowing your personality to shine through also makes people trust you more and helps you build a community.
For example, this small business owner @thisbatista used Reels to introduce herself and show more of her personality.
7. Tell Stories
Stories have a way of connecting humans no matter our backgrounds. We're drawn to inspiring stories that move us to action.
With Reels, you can tell your brand story in a way that is more personal and interesting than what is on your website's about page.
In this reel, user @vanessalau.co tells the story of how she built a multi-million dollar company.
The Future Of Instagram Reels
Will Instagram Reels be the end of TikTok? We can't say for sure, but we do know that many TikTok creators are using Reels too.
Just like Instagram made something out of the Stories feature, you can be sure that Reels would be around for a while. As a business, you should learn how to create Reels and know that kind of content that will grow your business.
Author Bios
Nathan Ojaokomo is a freelance content and copywriter. He helps SaaS brands and small business owners create content that builds trust and generates sales. You can find him on Twitter @copybynathan
Gili is an experienced copy and content writer who loves using words to bring people together. When not busy as a copywriter on Magisto's growth team, she's an enthusiast baker, a hip hop fan, and a linguaphile, with a penchant for pop culture and creative endeavors.
Instagram Growth Hacks
Join over 100k+ marketers and influencers who get the latest Instagram tips & tricks sent to their inbox every week