Instagram Fonts: Everything You Need To Know
post
Have you ever scrolled through your Instagram feed just to see someone's caption that has fonts that look different from everything else you typically see on the platform? Well, while you can't change Instagram fonts within the app itself, there are a number of third-party tools you can use to customize your Instagram text. These font generators can help you stand out from others and keep your content looking unique.
In actuality, you can't post another font on Instagram. That's not how the software works. However, these unique fonts are symbols that Instagram recognizes, similar to how they see and publish emojis. You've probably seen that sometimes a font isn't shown correctly and little boxes are shown instead. That's because Instagram, or potentially your device, didn't have the capability to show that symbol. That said, it's just as effective to refer to these as Instagram fonts, even if they're technically a little different.
Instagram Font Generators
Font generators are an incredibly useful tool when it comes to adding different fonts to your Instagram bio or captions. While there are many different font generators to choose from, here are six of our favorite options to give your captions or bio a fresh look. Let's take a closer look at how you can use each of these tools for your Instagram strategy.
1. IGFonts.io
This first option is a website that's incredibly easy to use. Just head to IGFonts.io and type or paste the text of your caption. Once you're done typing you'll see your text written out in many different styles. Choose the one you like best and copy and paste it to your Instagram! For the fonts that include emojis, you can simply retype any part of your text. Even if you delete and retype one letter, IGFonts will generate new options with different emojis.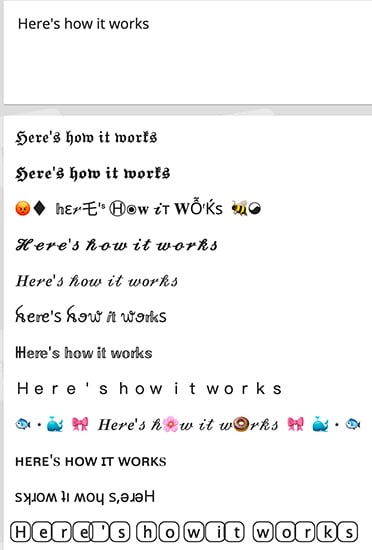 2. InstaFonts
Another good option for creating fancy font captions is to use Instafonts.io. It works almost the same way: type or paste in your text, then choose from over 90 font options. With InstaFonts, you just need to click the clipboard next to your favorite option, then paste it into your Instagram app or scheduling tool. InstaFonts also gives you the option to design your own font, where you can choose how each letter looks when you type it. This design-your-font option is an even more unique way to add an additional layer of branding and fun to your Instagram posts.
3. Fonts For Instagram
Fonts for Instagram, found at lingojam.com/FontsForInstagram, is an excellent tool as well. Once you type or paste your text into the left hand box, you'll see a variety of font options on the right. Then, copy and paste your favorite into Instagram to create a unique look.
4. Fontify (Android Only)
The Fontify – Fonts for Instagram app is available for Android users. You'll be able to do the same process as the web-based font programs, but this way you can copy and paste your text directly on your phone. This is useful if you create your Instagram posts in real-time on your phone, rather than planning them ahead using a scheduling tool on your computer.
5. Cool Fonts For Instagram App (Android Only)
Another Android app you can use is Cool Fonts for Instagram. Simply add your text, pick your favorite font and then copy and paste it to your Instagram account. You'll be creating custom captions in no time. Since the app is free, there's no reason you shouldn't try it out today!
6. Fonts App (iOS Only)
The Fonts app is available in the Apple app store for iOS users. It also works similarly, where you type in your caption or other text, and then the app will convert it to a fancy font version for you to drop into your Instagram app.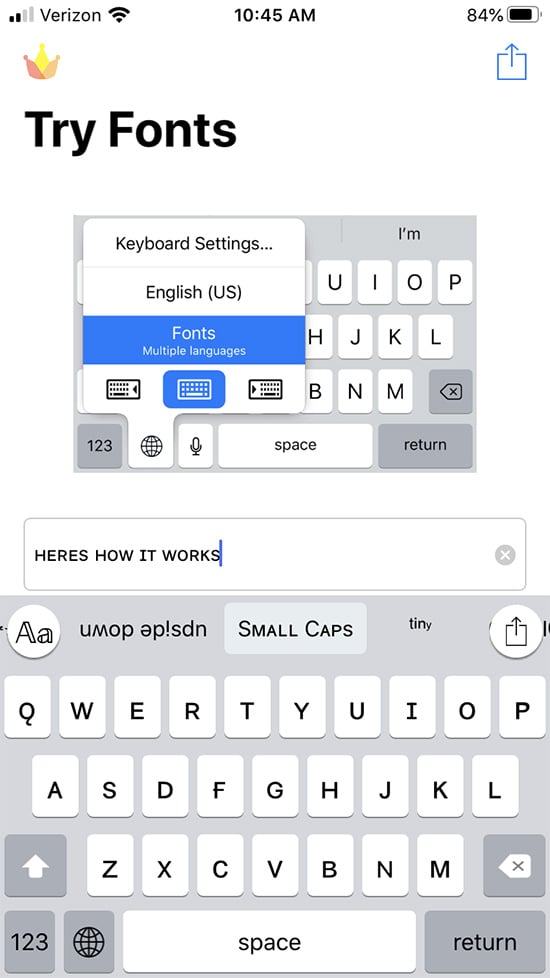 Instagram Font Best Practices
Now that you know how to get these fun Instagram fonts, let's talk about some of the best places to use them. Adding interesting fonts to your Instagram marketing strategy is a great way to make your account stand out and be instantly recognizable to your followers. Plus, with the right fonts you can keep your branding aligned on Instagram.
Instagram Bio Fonts
Your Instagram bio is one of the most important elements of your Instagram marketing strategy. A potential follower is going to visit your account and read your bio before they decide if they want to follow you. By adding a different font to your bio you can stand out and give them insight into your brand.
"To add a font to your bio, just press the edit profile button on your profile. Then you can paste the text wherever you choose."

– @kicksta_co
Using a unique font in your bio will help your account stand out and make a strong first impression. You can also give your bio a little more personality by using the extra emojis available on the font generators.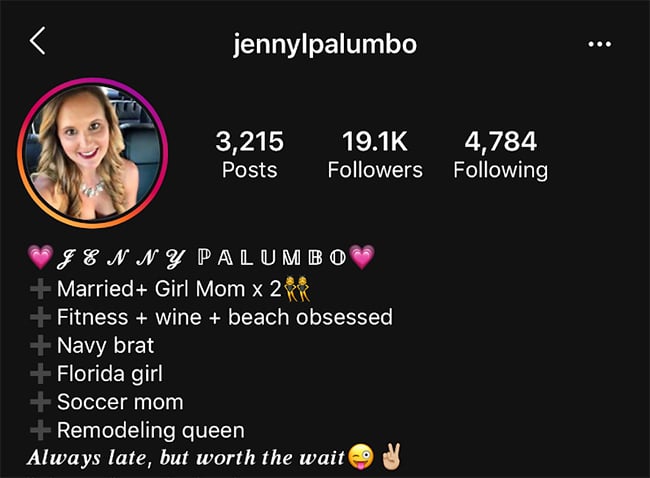 When selecting the font you want to use in your Instagram bio, it's important to consider your brand's personality and aesthetic, as well as your followers and what they're interested in seeing. For instance, it might not make sense for a law firm to use a unique font in their bio, but a fashion blogger could absolutely find one that fits.
Instagram Captions
Your captions are also prime real estate in the Instagram world. Once your scroll-stopping image has captured your viewer's attention, it's up to your caption to go one step farther and actually encourage them to take action. That action could range from visiting your profile to making a purchase.
In your captions, using an interesting font is a great way to emphasize certain words or draw attention to a CTA. This is also where you can create some strong brand recognition. If your followers begin to realize that you always start your captions with a particular font, for example, they'll instantly know which posts are yours.
In the example below, @rebrandingyourigwithvee uses a subtle unique font to start her Instagram post. This is a great way to add these unique Instagram fonts into your strategy. It's simple and similar to Instagram's main font, so it doesn't look out of place. It makes you want to stop and read the caption to see what she's saying.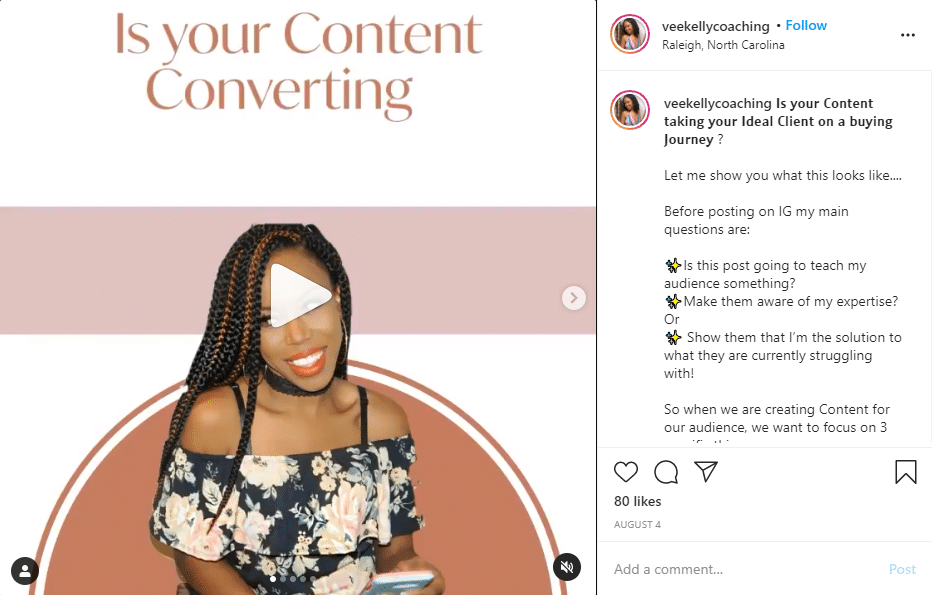 Instagram Stories
Yes, Instagram Stories already provide font options, however they are limited. (Instagram is in the process of rolling out more fonts for Stories right now. We'll talk a little more about these new options later.) By using a unique font that isn't available within the app, you can make your stories stand out from the crowd.

Incorporating different fonts into your Stories isn't quite as easy as the copy-and-paste sites, but it's not a hard process at all. You can make them stand out by using a story art app such as Over, StoryArt, or Canva. These platforms offer more options when it comes to Instagram fonts and also allow you to add multiple photos into one story post.
1. Over
With Over, you can create Instagram Story slides and then have them ready to upload whenever you want to share. Over is great for branding, too, because you can upload your own fonts, logos and color palette to ensure that you're creating the best possible graphics. You can easily blend images together, layer them over one another or mask certain parts of your image to make your text pop.
2. Colorcinch
Colorcinch lets you craft your Instagram stories, make collages, and do basic and advanced photo edits.You can enhance your photos with overlays (like falling rain, snow, flares, bokeh, and much more), style with frames, add artistic masks and choose from a collection of stock photos and premium vector icons.
Also, you can add text in various beautiful fonts and play around with its user-friendly layers panel.On top of that, you can apply hundreds of AI-powered specialty effects and filters to make dramatic changes to your photos.Thanks to its very intuitive interface, you can do all of these with just a few clicks!With Colorcinch, everyone can awaken their inner artist and create stunning Instagram stories to hook followers! 
3. Story Art
Story Art lets you choose from a vast library of over 2,000 Story templates. It also offers highlight cover templates, filters and, of course, plenty of fonts to make your posts unique. You can also easily share your creations to your Stories with just one click. Aside from Instagram fonts, Story Art also has a retro video option that can bring a neat vintage feel to your Stories if that's something that fits with your brand's aesthetic.
4. Canva
With Canva, you can design your Stories on their app or on their website. They offer thousands of templates and many stock photos to choose from when creating your Stories. As a general design tool, Canva lets you save your colors, fonts and logos so anything you create will look flawless together. You could create an Instagram Story graphic and then resize it into a feed post to publish a day or two later. This can help you create consistency with your brand online. If you're running a promotion, this is a great way to stay top-of-mind with your followers.
Instagram's New Stories Fonts
Recently, Instagram dropped some new fonts for most users. As long as you have the most recent update of the app, you should be able to access all of the fonts, but Instagram might still be in the process of rolling them out. If you don't have them yet, check back soon.
This is a great addition if you like to create video Instagram Stories. It's important that you have text overtop of your videos because many users watch stories with the sound off. You don't want them to click through your valuable video content simply because they can't hear it. With these new fonts you're sure to find something that fits with your brand well enough to act as captions for your videos.
The new Instagram fonts they added include serifs, sans serifs and one particular font that looks remarkably like Comic Sans. As of now, Instagram hasn't released the names of these new fonts.
While these new fonts are great, they're still very limited. If you're creating a Story in advance, especially a photo story, consider making it in one of the tools we mentioned earlier. This way you'll have access to a much wider variety of font options and you can find one that fits perfectly with the rest of your branding assets. Plus, by designing your Stories in advance, you'll be able to plan them strategically and post them at the right time. This makes sure that you don't forget to share some important information with your followers.
Instagram Fonts Precautions
Talking about using fun Instagram fonts can be exciting, but before you start using these tools, take a deep breath and think about your strategy. Remember, unique fonts are just one aspect of what makes your Instagram account specifically yours. You don't need to rely on them to encompass your whole brand. Let's take a moment to talk about these precautions that you should consider before adding any extra fonts to any part of your Instagram account.
Less Is More
With fonts for Instagram, too much can come across as spammy. You don't want people to skim through or scroll past your content just because your fonts give off the wrong impression.
It's also important to remember that using strange fonts may also make your content hard to read, which makes it less accessible. This can also make it more difficult for screen readers to interpret your captions for people who have a visual impairment or are otherwise using a text-to-voice tool.
This doesn't mean that you should avoid using these fonts altogether, but it's important to use them in moderation and make sure you're incorporating plenty of easy-to-read fonts, too.
For instance, instead of making your whole caption in a particular font, only use the font for certain words to add emphasis. This will help show your readers the important parts of the text and will make it easy for them to read and understand the content. This can also help your important messages stand out. If your whole caption is in a unique font, your key message could still get lost.
You can see here that @preeti.s.ghandi did this right. She has just a few key words italicized in a different font. It's not overpowering, but it's enough to help you easily grasp her key messages in just a quick glance.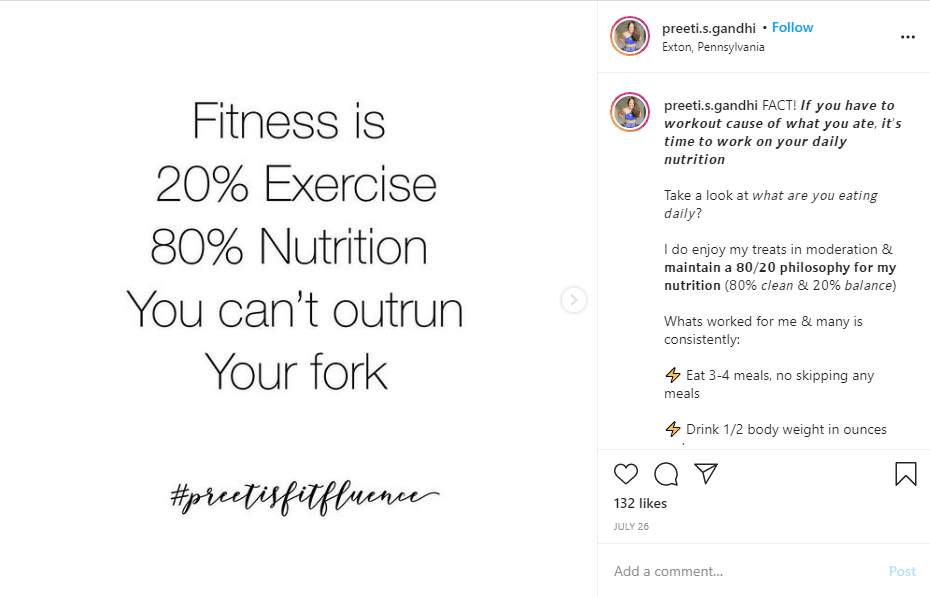 Don't Stray From Your Theme
Your brand is unique, and the Instagram fonts you use to accent your captions, bio and Stories should reflect this. There is a wide range of fonts available to you between Instagram itself and the various tools we shared earlier. Before you choose the first one you see or the flashiest option, think about how that particular font fits with your brand.
Fonts are wide ranging, and so are Instagram brands. Make sure that the fonts you are choosing are consistent with your brand and don't feel out of place. For example, if you are a fashion blogger, an aggressive font ㄥ丨Ҝ乇 ㄒ卄丨丂 may seem inconsisent to your followers and you should instead choose a font like this.
At the end of the day, we want the unique Instagram fonts you choose to use to reflect your brand and match your personality, tone and values. Choosing a random font could hurt you here. That's why it's such a good idea to use apps like Canva when creating your Instagram Stories. You can upload your actual fonts, so you know that your marketing assets will all go together well.
You can see below that @charmedcrates chose a font that is easy-to-read and isn't extreme. It pairs well with their brand, their graphic and the fonts you can see in the photo itself. By choosing this font they've created an overall cohesive look for their post and their brand.
Implementing Instagram Fonts For Your Brand
There are plenty of places you can add a unique font into your Instagram marketing strategy, from your bio to your captions to your Stories. Before you start to get overwhelmed, just choose one to get started with today. Then scroll back up and pick one of the tools we recommended, and start creating your newest fun brand asset.
If you want to experiment with multiple tools or try putting fun fonts in each of these places, go for it! Have fun with this. Adding fonts to your Instagram account should be a fun task, not just another line item on your to-do list. This is another way to share your brand's personality with your followers and potential followers, which will help them feel even more connected to you.
Instagram Growth Hacks
Join over 100k+ marketers and influencers who get the latest Instagram tips & tricks sent to their inbox every week