How To Turn Good Instagram Captions Into Great Captions – With (3̶6̶0̶) 1,000+ Examples
post
Update: We recently expanded this list⁠—from 360 good Instagram captions to now over 1,000 examples
Crafting good Instagram captions can be very, very difficult. It's no longer all about the perfectly staged and filtered photos, Instagram captions hold just as much importance in your content strategy.
Deciding if your captions for pictures should be witty, serious, inspirational, or include a call-to-action only adds to the pressure. If you want to be successful on Instagram, writing Instagram captions that will leave a lasting impression on your audience is crucial.
To help you get the ball rolling and create the best Insta captions for your pictures, we've created this guide with tips, tricks, and examples from industry experts.
1,000+ Instagram Caption Ideas
Fashion Instagram Captions 👠
Here are some great examples of captions for the fashion industry. Use them as inspiration as you craft your own captions on Instagram!
Like my outfit? Gee thanks, just bought it.
"Fashions fade, style is eternal." -Yves Saint Laurent
*Has a full closet of clothes* *Wears the same five outfits"
Shopping is my cardio.
Outfit of the Day: Leggings & Sneakers
Life is a party, dress like it!
It's a denim on denim kind of day!
When your sunglasses and shoes match and you feel like you have your life together.
High heels & big flashy rings…These are a few of my favorite things.
The perfect outfit is Fabulous, Classy and a little sassy.
Look Good, Feel Good. #OOTD
More Shoes, Less Problems.
Love this look? What's your favorite part? Tell me below.
Long dresses & Lipstick type of day!
It's all in the details.
Always dress your best. You never know who you may run into!
When your outfit is so cute you post it twice.
Say hello to the dress of your dreams.
"I'll stop wearing black when they make a darker color."-Wednesday Addams
Fashion first. Everything else second.
"In order to be irreplaceable one must always be different." —Coco Chanel
If I ever put my head down, it will just be to admire my shoes.
Dior not war.
Every piece of jewelry tells a story.
Forget the rules. Wear it if you like it.
I have a degree in retail therapy.
Exercise? I thought you said accessorize…
"Pearls are always appropriate." – Jackie Kennedy
Shortest horror story ever: Sold Out.
Bad vibes don't go with this outfit.
"We try to strike a balance between being fun + playful and informative in our Instagram captions, and I think this post is a good example of that! Users love to know how the photos we showcase were edited so they can replicate the steps and share great photos using A Color Story."
— Ana Elliott, Social Media Manager at A Color Story, @acolorstory
Caption: "Travel the rainbow! 🌈 @colourspeak_kerry_ captured Venice using June from #AColorStorySeasons, Heat from the Blush pack, and Santa Barbara from the Skies Over effects 💕 #AColorStory
Travel Instagram Captions ✈️
Catchin' Flights, not feelings.
I got 99 problems & traveling ain't one.
Forget the caviar & champagne-Taste the world instead!
On Island Time.
Sightseeing like it's my job.
Exploring unexpected places.
Work hard, travel harder.
I've got a bad case of wanderlust.
If traveling was free, you would never see me again.
Vacation Mood: Eat, Tan, Sleep Repeat.
Watch more sunsets than Netflix.
Keep calm and let's go travel.
Life is a journey and the beach is my destination.
Hopped on a plane at LAX, where to next?
Time for some Vitamin Sea.
"Jet Lag is for amateurs." – Dick Clark.
To say I love to travel would be an understatement.
Siri, set airfare alerts to the Bahamas.
Jet lagged, but make it fashion.
Why do you travel?
Go where you feel most alive.
Oh, the places you'll go.
Good things come to those who book flights.
Running to the gate is my cardio.
Guess where I am?
Working is great, but have you tried traveling?
I followed my heart and it led me to the airport.
Up in the clouds…
Start spreading the news, I'm leaving today…
If only my health insurance covered travel therapy.
I haven't been everywhere, but it's on my list.
Not all who wander are lost…but I sure was.
Seeing the world one city at a time.
Sometimes the only solution is a plane ticket!
Always in need of more frequent flyer miles.
"If we were meant to stay in one place, we'd have roots instead of feet." – Rachel Wolchin
Nothing to lose and a world to see
Always take the scenic route.
"I choose to collect memories instead of things." – Elena Levon
I travel so I can never look back and wonder "what if?"
I don't know where I'm going, but I'm on my way.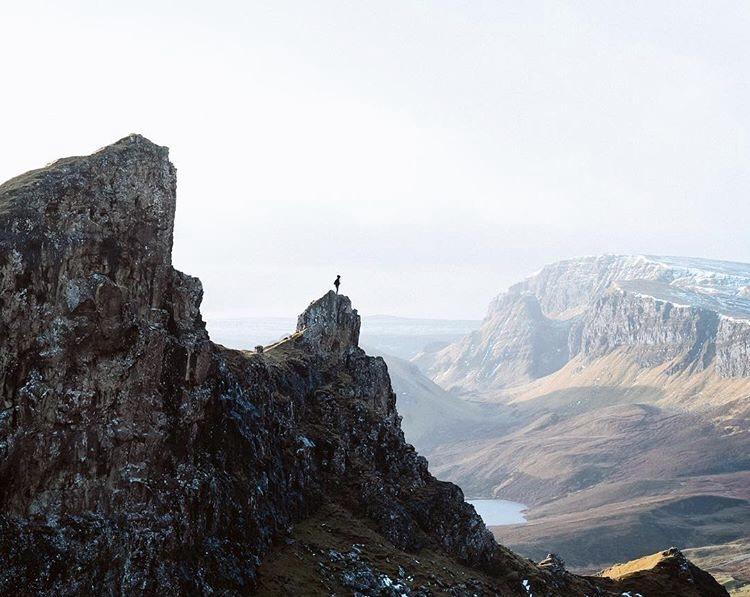 "Be chatty and friendly in captions. Being yourself is important!" — Tessa Holly, www.tessaholly.com
Caption: "Everything the light touches is our kingdom 🦁 I don't know how this guy got the courage to get up there when I could barely stand on flat ground in the wind that was blowing but I'm pretty grateful that he wandered into my shot 👌 Today is our last full day in Scotland and I just don't want to leave, even if it is rainy and windy most of the time ☔️
Join 100k+ savvy Instagram marketers
If you are struggling to get the attention you deserve on Instagram, sign up for Kicksta today and start attracting more followers who are interested in your brand.
Food Instagram Captions 🌮
Say no to drugs and yes to pizza.
I only eat fruit when it's in my Sangria.
Fries before guys.
Nutella makes everything better.
It's happy hour somewhere.
Eat Sleep Happy Hour repeat.
This body runs on carbs.
When in doubt brunch it out.
"Hello it's me"- Pizza
The Dessert Aisle aka the Happiest Place on Earth.
Circular Breakfast of Choice: Donuts of Bagels? Reply below.
This Pizza=A little slice of heaven.
Brunch without booze is just a sad late breakfast.
My love language: Mac & Cheese
It's coffee o'clock.
You guac my world.
Wine + dinner = winner.
Cooking rule: If at first you don't succeed, order pizza.
Donut kill my vibe.
In pizza we crust.
Want to taco 'bout it?
It's kind of a big dill.
Hangry (adj): A state of anger caused by lack of food; hunger causing a negative change in emotional state.
You had me at pizza.
Peanut butter is my favorite food group.
All you need is love pizza.
I followed my heart and it led me to the fridge.
I think my soulmate might be carbs.
Ways to my heart: 1) Buy me food. 2) Make me food. 3) Be food.
I eat cake because it's somebody's birthday somewhere.
If we're not meant to have midnight snacks, why is there a light inside the fridge?
Love at first bite.
I'm just a girl, standing in front of a salad, asking it to be a donut.
Calories don't count on the weekend.
Dough-n't you know the way to my heart is bread?
Sometimes the recipe says family size, but I say I'm a family of one.
Sweet or salty? What's your flavor?
The only time I do math is in the kitchen.
Nothing brings people together like good food.
You only live once. Always like the cake batter bowl.
Cookie dough: better raw or baked? Discuss.
It's nearly impossible to be sad when you're eating a cookie.
Wedding Instagram Captions 💍
Check out these witty and romantic wedding Instagram captions:
Does this ring make me look engaged?
Keep calm and say I do.
Ready to get wed, white and boozed.
Something old, new, borrowed & blue.
The real adventure begins here!
Finally, I have an excuse to change my last name.
He liked it, so he put a ring on it.
Pop the bubbly; I'm getting a hubby.
Finally, he put a ring on it!
Here's to love and laughter and happily ever after.
Sip sip, hooray to the perfect wedding day.
I'm just here for the cake and love.
Confetti here, champagne there, love everywhere.
We tied the knot! Let's Celebrate!
Pop the champagne, I'm changing my last name!
Hoping my wedding is everything my Pinterest boards promised it would be.
Till death do us party.
It's not the royal wedding but it'll do!
The party doesn't start until the newlyweds walk in!
A day full of so many emotions. Even the cake is in tiers.
He stole my heart, so I'm going to steal his last name.
And they lived happily ever after.
Wedding planning is my cardio.
Future Mr. and Mrs.
I can't keep calm — I'm getting married!
And together we'll build a life we love.
Hand in hand, heart to heart, on this day our adventure starts.
He stole my heart, so I'm taking his last name!
I'm planning two weddings: one on Pinterest and one I can afford.
Goodbye Miss, Hello Mrs.!
"Most wedding industry Instagram posts go something like this:

'We loved shooting Bryan and Hailey's beautiful wedding this weekend! Wedding on the blog now.'
But this is what a great caption looks like: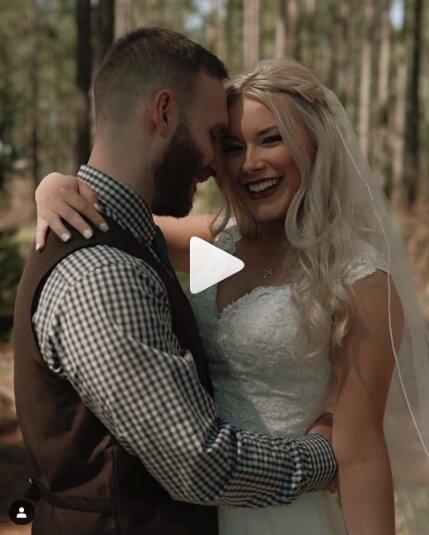 Caption: "@mdfan23 knew he'd found the one when he watched @hayley_mccrackenn eat beignets in New Orleans with powdered sugar all over her face and dress… where are all the men like this?? 🍩 Hey, we think powdered would be the perfect sweet complement to that gorgeous @maggiesotterodesigns dress! And we'd bet this adorable couple would totally laugh it off. 💖 Hit the link in our bio to watch Hayley & Bryan's wedding video by @rickerfilms and shop a similar @maggiesotterodesigns dress."
"What makes it great:
It tells a deeper story about the image/video. I would never know how they met by watching their wedding video, so having a back story draws them in.
There's some interpretation by the storyteller. Instead of just stating the facts, the caption writer jumps into the story with an interpretation.
Relevant people and brands are @mentioned in meaningful ways.
There's a strong call to action at the end that makes sense and offers the next logical step based on the caption and post.
The caption also makes good use of emojis and hashtags."
— Christie Osborne, mountainsidemedia.com
Fitness Instagram Captions 🏋️‍♂️
Shut up & squat.
Do I have abs yet?
Just Do It.
That weight isn't going to lift itself.
Winners train, losers complain.
Rise & Grind.
Go hard or go home.
It always seems impossible until it's done.
Eat. Sleep. Spin. Repeat.
Always have high standards and low squats.
No pain, no gain. Shut up and train.
Do your best, forget the rest & put your body to the test.
I got 99 problems, but I'm going to the gym and ignoring all of them.
Weights before dates.
If you're tired of starting over stop giving up.
My protein shake brings all the boys to the yard.
All progress takes place outside the comfort zone.
You don't get the ass you want by sitting on it.
Making excuses burns zero calories per hour.
Better sore than sorry.
Stronger than yesterday.
Be stronger than your excuses.
Dear Fat: Prepare to die. Sincerely, me.
Train insane or remain the same.
Sore today, strong tomorrow.
Earn your shower.
Meet me at the bar.
Train like a beast, look like a beauty.
Good things come to those who sweat.
Push yourself because no one else is going to do it for you.
What if I CAN do it?
Three months from now, you'll thank yourself.
What seems hard now will one day be your warm-up.
You can't expect to succeed if you only work on the days you feel like it.
Wake up beauty, it's time to beast.
A little progress each day adds up to big results.
Hard work beats talent when talent doesn't work hard.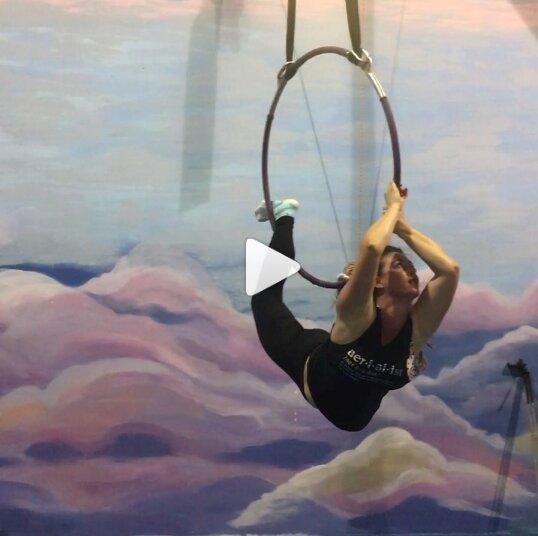 "I love posting aerial videos followed up with a how-to guide on my personal blog.
This is because new users can not only see a new trick to try but they can learn it as well."
— Vanessa Barthelmes, https://www.jadorevanessa.com
Caption: "Oliver Twist! There is a how to guide on my blog. Click the link in the bio!"
Instagram Caption Ideas For Your Tone of Voice
Cute Instagram Captions 🌸
Cute, but psycho, yet cute.
Keep your heels, head & standards high.
Sugar, spice & everything nice!
Slay them with sweetness.
A beautiful thing is never perfect.
La vie en rose.
Sweeter than honey.
Cute as a button.
Find comfort in the chaos.
Eat diamonds for breakfast and shine all day.
Cute is when a person's personality shines through their looks.
Follow this one rule: Don't be boring and dress cute wherever you go.
Always wear cute pajamas to bed. You never know who you'll meet in your dreams.
A hug is like a boomerang you get it back right away.
Beauty in bloom.
High tides, good vibes.
Cutie Patootie.
Good vibes all the time.
Not small, fun sized.
Life is the art of drawing without an eraser.
It's a good day to be happy!
Shining like the stars.
I'm not there yet, but I'm closer than I was yesterday!
A little more kindness. A little less judgement.
I'm a blessed hot mess.
Be your own kind of beautiful.
Let your dreams be your wings.
Collect beautiful moments.
Expect nothing. Appreciate everything.
Besides chocolate, you're my favorite!
Funny Instagram Captions 😂
Make today your bitch.
Sure, I do Marathons…On Netflix.
At least mosquitoes find my attractive.
So excited to visit the happiest place on earth: my bed.
Food, my second favorite F word.
When nothing's going right, go left.
Forget love, I'd rather fall in chocolate.
Always running. Out of time, patience and money.
I'm on a seafood diet. I see food and I eat it.
I hate when I'm about to hug someone sexy and my face hits the mirror.
I'm not fat, I'm easier to see.
If being hot is a crime, arrest me.
Can Bob the Builder fix your attitude?
People are like Oreos. The good stuff is on the inside.
Dear Math, stop asking to find your X. She's never coming back.
Body type: Works out but definitely likes pizza.
Idk who needs to hear this but (s)he doesn't love you.
I'm not lazy, I'm in energy saving mode.
I deserve an Oscar for acting like my life is together.
therapist: and what do we do when we feel this way? me: add to cart. therapist: no
When life shuts a door, open it again. It's a door. That's how it works.
I never make the same mistake twice. I make it like eight times. Just to be sure, you know?
One moment you're young and fun. The next you're turning down the radio so you can see better. 🤷‍♀️
The only cars that impress me are food trucks.
I'm not crazy – I'm happy with a twist!
If you see me jogging…please kill whatever's chasing me!
If you can't say anything nice, at least make it funny!
I'm excited to announce that I have no idea what I'm doing!
I'm not a ride or die. I have questions. Where are we going? Do I have to die? Can we stop for snacks?
"The only time I set the bar low is for limbo." – Michael Scott
Sassy Instagram Captions 🙃
Rejected? Nah, redirected.
When nothing goes right, go left.
Stay classy, sassy, and a little bad assy.
Sorry the person you're trying to reach has moved on.
I'm not searching for my other half because I'm not a half.
Pathetic but aesthetic.
Too glam to give a damn.
A sass a day keeps the basics away.
If you listen closely you can hear me not caring.
"I heard you're a player." "Nice to meet you, I'm the coach."
More issues than Vogue.
Act like a lady. Think like a boss.
Be you. For You. Do you.
Eat, Pray, Slay.
Too glam to give a damn.
People will stare. Make it worth their while.
Throw sass around like confetti.
Confidence level: Selfie with no filter.
There are a million fish in the sea, but I'm a mermaid.
Know your worth. Then add tax.
If my mouth doesn't say it…my face definitely will.
Fifty shades of tired.
"I won't cry for you. My mascara is too expensive." – Adriana Lima
Sunshine mixed with a little hurricane.
You were my cup of tea, but now I drink champagne.
Tell me I can't do something. I'll do it twice and take pictures.
It's okay if you don't like me. Not everyone has good taste.
Life is short. Make each hair flip count.
Keep your head, heels and standards high.
I do a thing called what I want.
Inspirational Instagram Captions ✨
Whatever is good for your soul, do that.
Never cry for that person who doesn't know the value of your tears.
Don't let yesterday take up too much of today.
Creativity is intelligence having fun.
You are never too old to set another goal or to dream a new dream.
Life is 10% what happens to you and 90% how you react to it.
The secret of getting ahead is getting started.
Good things take time.
Life is a one-time offer. Use it well.
Everything you need is already inside you, get started.
By changing nothing, nothing changes.
Today is the first day of the rest of your life.
Do one thing every day that scares you.
Never settle for less than what you deserve.
Success in your twenties is more about setting the table than enjoying the feast.
The best preparation for tomorrow is doing your best today.
Inner peace is the new success.
You are exactly where you need to be.
It is not selfish to do what's best for you.
If you are not doing what you love you're wasting your time.
Don't give your past the power to define your future.
We cannot become what we want to be by remaining what we are.
When things change inside you, things change around you too.
If you see someone without a smile, give them one of yours.
Doubt kills more dreams than failure ever will.
A beautiful day begins with a beautiful mindset.
Little by little, day by day, what's meant for you will find its way.
You're the artist painting the picture of your life. Don't hand the paintbrush to anybody else.
If your dreams don't scare you, they aren't big enough.
Be brave enough to be bad at something new.
I don't know how my story will end, but nowhere will it say "and then she gave up."
"For me, a solid Instagram caption is one that provides perspective, motivation, insight, value, or SOMETHING. I've always made it a point to post with intent, meaning I don't want to be just another photo you're scrolling by – I want it to mean something."
— Natasha Ponomaroff, @natasha_nicole8
Caption: " ✨ Reminder to myself – and to you as well if any of this speaks to you ✨ Repeat after me – there isn't anybody in this world that shines like me, grinds like me, or thinks like me. There isn't anyone who has my back like me, knows me like me, or loves me like me 💕 I am unique in the way I see the world and in the way the world see's me, I have so much to offer to everyone I encounter, I am a catalyst for change, even if that change begins with a simple compliment to a complete stranger – I will seek every opportunity to cast a positive ripple 🌊 Sometimes a shift in perspective, a second of gratitude, and a daily mantra reminder goes a very long way. So remember today and always – I am a force to be reckoned with, I am capable of wondrous things, and the person I am striving to impress is the me in 10 years, I hope she looks back at the work we've done together and is proud of how far we've come 🙌
Short Instagram Captions
Bliss.
On cloud 9.
Just Smile.
Yep still here.
Life is simple. Just not easy.
Don't grow up.
Be Happy.
Live life to the fullest.
Selfie time.
Start somewhere.
Picture perfect.
Feeling good. Wbu?
Saturdays are for the boys (/girls).
Be a nice human.
Live. Laugh. Love.
I'm all the way up!
Escape the ordinary.
Can't touch this.
Your vibe attracts your tribe.
Just Chillin, Wbu?
Good vibes.
Feeling happy.
Fairytale.
Felt cute.
Your loss.
Oh hi there.
Seize the day.
You got this.
Fearlessly authentic.
Make me smile.
I can and I will.
Clever Instagram Captions 😏
I wasn't lucky, I deserved it.
Not everyone can be clever, so you might need to fake it.
Maybe she's born with it, maybe it's a filter.
The world is changed by your example, not your opinion.
Rejection is just redirection.
The best times begin at the end of your comfort zone.
Don't talk unless you can improve the silence.
It always seems impossible until it's done.
Better late than never, but never late is better.
Do more things that make you forget to check your phone.
Remind yourself that being afraid of things going wrong isn't the way to make things go right.
Don't take life too seriously. You will never get out of it alive.
Too clever is dumb.
Nothing can bring you peace but yourself.
If you can't explain simply then you don't understand it well enough.
The time is always right to do the right things.
Yesterday I was clever, so I wanted to change the world. Today I'm wise, so I'm changing myself.
If plan A didn't work… the alphabet has more letters.
Weekend, please don't leave me.
Life is short; false. It's the longest thing you do.
Sometimes the grass is greener because it's fake.
I have mixed drinks about feelings.
"A wise girl knows her limits. A smart girl knows she has none." – Marilyn Monroe
There are 7 days in a week. "Someday" isn't one of them.
The trouble with trouble is it starts out as fun.
Quit talking and start doing.
If you can't convince them, confuse them.
Discipline is the bridge between goals and accomplishment.
Humble, with just a hint of Kanye.
Just because you're still talking doesn't mean I'm still listening.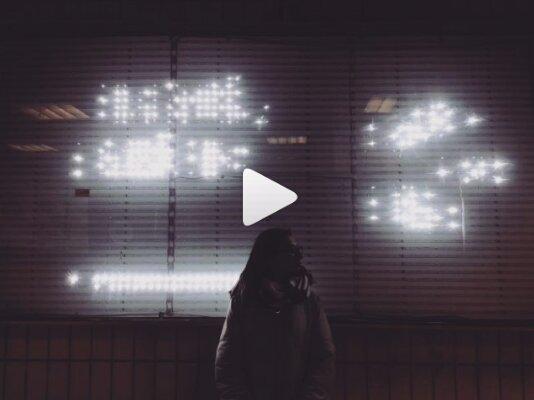 "So there's this concept in marketing for outdoor marketing. It's called out of home (OOH).
And in that video, I was traveling and I found the empty outdoor, so I am both announcing my followers that I was out of home and literally naming the thing behind me."
— Luciana Nitu, Marketing Specialist at Planable
Caption: "Out of home."
Punny Instagram Captions 💡
Tropic like its hot.
Seas the day.
I love you a latte.
You have stolen a pizza of our hearts.
I can sea clearly now.
Don't spell part backwards it's a trap.
Let's Taco Bout it.
Not all math puns are terrible. Just Sum.
Coffee has a rough time in our house. It gets mugged every single morning!
Every calendar's days are numbered.
Thought Santa was gonna be late, but he arrived in the Nick of time.
Orange you glad to see me?
Espresso yourself.
We're gouda together.
Brunch was absolutely eggsquisite.
You're one in a melon.
Bee mine.
Thanks for pudding up with me.
I like you a waffle lot!
Donut even think about it.
My fear of moving stairs is escalating.
This may be cheesy, but I think you're grate!
I stayed up all night to see where the sun went, and then it dawned on me.
I ap-peach-iate you!
In queso you didn't know, you're my favorite.
Bad puns are how eye roll.
You're pearfect.
We're a batch made in heaven!
Be kind to otters.
You have guac to be kidding me!
Join 100k+ savvy Instagram marketers
Sign up for Kicksta today and increase your following and engagement on Instagram organically.
Instagram Caption Ideas For Types of Photos
Instagram Captions For Selfies 🤳
Hello, it's me.
But first, let me take a selfie.
Selfie Sunday
Just me.
I woke up like this.
When the lighting is too good not to take a selfie.
Célfie
Just Cheesin'
Like who you see in the mirror.
Sending my selfie to NASA, because I am a star!
Make them stop and stare.
Crazy hair, don't care!
All natural look for the day!
Fresh out of the shower, no makeup on.
Life isn't perfect, but your selfie can be.
Coffee and confidence is all you need.
Why so serious?
I don't always take selfies, but when I do…
Good Morning Instagram!
Oh hey, didn't see ya there!
Perfectly imperfect.
Hakuna matata.
Good vibes only!
Too glam to give a damn.
Girls just wanna have fun!
I'm not weird, I'm limited edition.
Happy life, happy vibes.
Being a sleepy girl with a busy life is hard.
Stay a mystery. It's better.
Livin la vida broka
"This caption came about because I had been dealing with some doubts and insecurities in relation to my work and some areas in my personal life.
As women we have a tendency to play the comparison game and we can be extremely hard on ourselves + we're constantly bombarded with direct and indirect messages telling us to do, be, and look better.

I was over it! The words we say and the thoughts we think about ourselves are powerful. So I snapped this pic in front of my dirty bathroom mirror and posted it to encourage and inspire someone else."
— Darcel White, The Mahogany Way, @mahoganywaymama
Caption: "You Are Enough. You Are Beautiful Inside & Out. You Are Stronger Than You Think and You've Got This ❤️ Hope the rest of your day is great! 💫 #fantasticallyflawed #count_itjoy
Instagram Captions For Product Shots 📷
New collection drops today.
So you said you wanted something new, we're bringing it.
With so many delicious treats, it's hard to pick a favorite!
What are you eating this weekend?
Sip, sip, hooray! Let us fill your cup today.
What's your favorite way to use (insert product name here).
Everything in moderation- even wine!
Pro Tip: Add (insert product name) to any meal to give it an extra kick!
Lookin' like a snack.
Re-stocked and oh so cute! Come in and snag (insert clothing item) before it's gone!
Can't beat today's little details.
What's your favorite style season? Let us know below!
All the essentials all in one place!
No look is complete without (insert product name).
So many prints, it's too hard to choose!
Explore our collection of new (insert product) online & in-stores today!
Ingredients are our main priority. #guaranteed.
Don't wait. They're flying off the shelves!
Shop till you drop. New flavors drop at midnight.
Restock, restock read all about it!
Countdown to (insert product name): 3 days! Which color will you pick?
Back by popular demand!
It's here but only for a limited time!
You asked. We listened. What's your favorite piece in this collection?
Pre-orders are open TODAY! We can't wait to get (insert product) out to you!
What's your flavor choice? We love (insert product) because…
Unveiling the latest updates in T-2 days!
That glow though. How has (insert skincare product) helped your skin?
A smile is the best accessory, but these (product name) are a close second, that's for sure!
It's here it's here it's HERE! Grab your favorites before they're gone!
Instagram Captions For Landscapes 🌄
Chasing the sun.
Painted Skies.
Stargazing.
Can't beat this view.
Chasing waterfalls.
Where the wild things are.
Heaven on earth.
#nofilter needed.
Turns out the grass isn't always greener on the other side.
The mountains are calling and I must go.
Call of the wild!
On cloud nine.
Letting nature takes its course.
Flower power.
Sun kissed.
From sea to shining sea.
Just another day in Paradise.
Every sunset brings the promise of a new dawn.
Nature never goes out of style.
Nature is the art of God.
"You be the wind, I'll be the wildflower." – J. Lynn
If your dreams don't scare you, they aren't big enough.
Nature is not a place to visit, it's home.
"I took a walk in the woods and came out taller than the trees." – Henry David Thoreau
When life hurts, nature heals.
Hike more. Worry less.
"I hope you still feel small when you stand beside the ocean."
There's something about a wildflower…it grows wherever it wants.
Find a dirt path. Walk til it ends.
Listen to the melody of the waves, the birds, the wind.
Instagram Captions For User-Generated Content 📲
Hats of to one of our favorite gals!
Eatin' good like @inserthandlehere
Just when we thought brunch couldn't get much better. Thanks for sharing @inserthandlehere.
All the workplace essentials *check emoji*. Photo Cred:
Drink of the day! Thanks for sharing @inserthandlehere.
Good times at @insertrestauranthere. Thanks for capturing @inserthandlehere.
FEASTIN' w @inserthandlehere.
Our babe @inserthandlehere look fabulous in her new rags from @insertstorenamehere.
Shop till you drop @inserthandlehere.
Stuff yo face @inserthandlehere.
Wishin' our plate looked like @inserthandlehere.
Share your favorite (insert product) for a chance to be featured on our page!
Looks good on you day or night @inserthandlehere.
No filter required. @inserthandlehere looking absolutely stunning in our (insert clothing product here).
Happy Friday! What color of our (insert clothing item here) are you rocking today? @inserthandle here is loving our (insert color).
Can you say #cartgoals? Thanks for sharing your shopping cart @inserthandlehere.
SLAY @inserthandlehere in our (insert product name).
Fill up your cup with (insert drink brand) like @inserthandlehere.
Cheers from @inserthotelorrestauranthere. Thanks for visiting @inserthandlehere.
What better gift for your BFF than a subscription to (insert brand here). Thanks for sharing @inserthandlehere.
The best way to enjoy (product) is with friends! Thanks @inserthandlehere.
We love seeing how y'all style (clothing item), and we're especially loving how @inserthandlehere paired it with (fill in…)!
Drooling over these cookies by @inserthandlehere!
Living vicariously through @inserthandlehere this weekend!
Photo of the day. Thanks for sharing, @inserthandlehere
Show us how you use (insert product here) in your life for a chance to be featured!
In awe of how @inserthandlehere is using (insert product name).
To share or not to share…@inserthandlehere chose to share, and we're so glad you did!
Share your best recipes using (insert product here)! Tag us and we'll pass them along to the whole community!
We know that life can get busy, and we're glad (insert product here) can make it a little easier! Thanks for sharing your story, @inserthandlehere.
Instagram Captions For Photos Of Friends 👯‍♂️
Not sure what's tighter our jeans or friendship.
If you know you know.
Let me tell you about my best friends.
We'll be friends forever because they already know too much.
Friends like these are one in a million.
Friends that are like family >>>
A bond that will last forever.
Your vibe attracts your tribe.
True friends till the end.
Life is better with these gals.
No friendship is an accident.
Friends don't let friends do dumb stuff alone.
Meet my partner in crime.
Live for the moments you can't put into words.
Friends who slay together, stay together.
Friends come and go like waves in the ocean.
If you don't own matching shirts are you even friends.
Friendship isn't a big thing, it's a million little things.
Friends until the very end—and then some.
Hard times will always reveal true friends.
Friends make you smile brighter, laugh louder and live better.
Friends are the family we choose.
"The greatest gift of life is friendship." – Hubert H. Humphrey
Yes, we know we're obnoxious together. No, we don't care.
Be a friend to find a friend.
True friends are never apart, maybe in distance but never in heart.
A good friend listens to your adventures. A best friend makes them with you.
Friends are like seashells: collected and treasured.
True friends understand what you're not saying.
Without crazy friends there'd be no crazy memories.
Instagram Captions For Photos Of Family 👨‍👩‍👧‍👦
Can live with them, can't live without them!
No family members were harmed in the making of this photo.
If blood makes you related to each other than caring, sharing and loyalty make a family.
Family is not an important thing. It's everything.
As far as everyone else knows, we're a nice, normal family.
Fam till the end.
Cheaper by the Dozen.
Every family has a story. Welcome to ours!
Family matters.
Family means no one gets left behind or forgotten.
You call it chaos. We call it family.
There's nothing better than family.
Family time is perfect content.
You don't choose your family.
Blood is thicker than water.
Two peas in a pod.
Family vacations are always a good idea.
Attention: Dad jokes ahead.
Siblings till death do us part!
BRB: Hanging with my family.
Families are like candy. Mostly sweet, a little salty and with a few nuts thrown in!
I always thought my mom was crazy…now I realize I made her that way. Oops?
Our family is a great mix of love and chaos.
Family: the people you love with all your heart but sometimes want to murder.
This family is more like a really small gang.
My sister has the most awesome sister in the world.
Being a parent is like folding a fitted sheet. No one really knows how.
Ohana means family. Family means nobody gets left behind or forgotten.
"What are sisters for if not to point out the things the rest of the world is too polite to mention." – Claire Cook
Family isn't just an important thing – it's everything.
Instagram Captions for Photos Of Pets 🐶🐱
Home is where the dog hair sticks to everything.
I feel sorry for people who don't have dogs. I hear they have to pick up food they drop on the floor themselves.
Dogs welcome, people tolerated.
I think the reason we're born with two hands is so we can pet two dogs at once.
I work hard so my dog can have a better life.
The only person who understands me is my dog.
Cats have 32 muscles in each ear — all the better to help them ignore you.
If cats could talk, they wouldn't.
You can teach a cat to do anything that it wants to do.
We all know who's really in charge here…
Cats have servants, dogs have masters.
A dog is the only thing on earth that will love you more than itself.
Dog hair don't care
You had me at woof.
Check meowt
"The bond with a dog is as lasting as the ties of this earth can ever be." – Konrad Lorenz
Stay PAWS-itive.
All my best friends have paws!
"The average dog is nicer than the average person." – Andy Rooney
I just want to stay home and hang out with my dog.
"Cats choose us. We don't own them." – Kristin Cast
When all else fails, hug the cat.
Having an animal in your life makes you a better human.
Wake up. Hug dog. Have a good day.
"What greater gift than the love of a cat." – Charles Dickens
No home is complete without the pitter patter of kitty feet.
I'm here to pet all of the cats.
Happy people have pet hair on their clothes.
My cat is judging you. So be nice.
Dog hair is my glitter.
Lyrics For Instagram Captions 🎶
It's your bed babe, it's your funeral.
In my head, I'm yours.
The growing pains are keeping me up at night.
When you fall asleep tonight, just remember that we lay under the same stars.
When we all fall asleep, where do we go?
I'll leave a light on.
There's a million things I haven't done, but just you wait.
Feelin' good as hell!
And I never saw you coming and I'll never be the same.
When I taste tequila, baby I still see ya.
I like me better when I'm with you.
You're the best mistake I've ever made.
It's always darkest before the dawn.
I don't want to be heard, I want to be listened to.
Lights will guide you home, and ignite your bones.
Cheers to the freaking weekend!
Darling, I'm a nightmare dressed like a daydream.
Sometimes I feel like giving up but I just can't — it isn't in my blood.
A million dreams are keeping me awake.
Some dance to remember, some dance to forget.
Meet me in the afterglow.
Who run the world? Girls.
I'm still alive but I'm barely breathing.
You may say I'm a dreamer, but I'm not the only one.
I am inimitable, I am an original.
Be a best friend. Tell the truth. And overuse I love you.
Funny how a memory sounds like a memory.
Take me to your heart, for it's there I belong.
I just wanna make you feel okay.
I am the one thing in life I can control.
Instagram Captions For Birthdays 🎂
Happy birthday to me!
Gonna party like it's my birthday!
Go shawty, it's my birthday.
Dancing queen, young and sweet, only .
The party's just getting started…
I don't know about you, but I'm feeling !
I didn't get older, I leveled up.
Today should be a national holiday.
Today's my birthday, but don't worry, I'm accepting gifts all year long.
Where's my crown? It's the start of my birthday month!
It's my party, and I'll if I want to!
Dear , let's make this a great year.
Ready to see what has in store for me this year!
Another trip around the sun, and I couldn't be more grateful!
"Today is the oldest you have been and the youngest you'll ever be again." – Eleanor Roosevelt
Not aging, just upgrading!
Every day I sparkle, but today I rule!
Another year older, wiser, happier ❤️
Today's a day for extra sprinkles!
Blessed with the start of another year
Some girls are just born with glitter in their veins.
Queens are born in .
Age is just a number!
It is my birthday.
Today's my birthday…it's kind of a big deal!
A little bit older, a lot more fabulous
Birthday cake calories don't count!
I'm accepting birthday dinners all month long!
I'm not getting older, I'm aging to perfection.
Birthdays are good for you! Statistics show that people who have the most live the longest!
Instagram Captions For Couples 💑 👩‍❤️‍👩 👨‍❤️‍👨
The Kanye to my Kim.
I ship us!
I can't help falling in love with you.
My partner in crime!
My favorite place in the world is inside your arms.
Every love story is beautiful, but ours is my favorite.
You make me smile!
How did I get so lucky?
All of a sudden, all the love songs were about you.
Check out that view…
You make my heart smile.
You're my sunshine, my only sunshine…
You're my rainbow after the storm.
I still fall for you every day.
You still give me butterflies!
We go together like cookies and milk.
Nothing to see here, just a couple of kids in love.
I love you more than chocolate!
You're my happy place.
They say home is where the heart is — my home is you.
And together they built a life they loved.
I like the way we feel together.
I found someone that I want to annoy for the rest of my life.
Together is my favorite place to be.
I fell in love with you for a reason: There is no one like you.
I've waited all my life to find someone like you.
I never want to stop making memories with you.
I knew we'd be on the adventure of a lifetime.
When I count my blessings, I count you twice.
My perfect day is whenever I'm with you.
Join 100k+ savvy Instagram marketers
If you are struggling to get the attention you deserve on Instagram, sign up for Kicksta today and start attracting more followers who are interested in your brand.
Instagram Captions For Specific Holidays
Instagram Captions For 4th Of July 🇺🇸
Baby you're a firework!
God bless America!
Red, blue, and my boo.
Let freedom ring!
Land of the free because of the brave.
Proud to be an American.
Keep calm and sparkle on!
Raise a glass to freedom — something they can never take away.
Liberty and justice for all.
My heart beats red, white, and blue.
Can't hear you over all this FREEDOM!
Sweet land of liberty.
Unapologetically American.
Land that I love.
Bold stripes, bright stars, brave hearts.
Faith. Family. Freedom.
Sparkler kisses and 4th of July wishes!
America, you're beautiful
"With freedom comes responsibility." – Eleanor Roosevelt
Little Miss Firecracker
"Where liberty dwells, there is my country." – Benjamin Franklin
Keep calm and let the flag wave on
Party like it's 1776
God shed his grace on thee.
"Let us dare to read, think, speak and write." – John Adams
Red white and boom
Stars and stripes y'all
My country tis of thee
"America means opportunity, freedom, power." – Ralph Waldo Emerson
All gave some, some gave all
Instagram Captions For Halloween 🎃
Creepin' it real.
Just a bunch of hocus pocus.
Ghouls just want to have fun.
No tricks, just treats.
Trick or treat yourself!
If the broom fits, fly it!
Basic witches.
Cutest pumpkin in the patch!
Witch, please.
Eat, drink, and be scary.
Everything's better with a little candy and a little magic.
Double, double toil and trouble, fire burn and cauldron bubble.
#SquadGhouls
You've got me under your spell.
Brooms are for amateurs.
I put a spell on you.
If you've got it, haunt it!
Tis the season to be spooky!
Don't make me flip my witch switch.
Fa-BOO-lous
There is magic in the night when pumpkins glow by moonlight.
BOO ya
I'm a haunt mess
Trick or treat, be so sweet!
By the pricking of my thumbs, something wicked this way comes
Oh my gourd
Broom parking only
Sticky Fingers, Tired Feet, One last house – trick or treat!
Everyone loves a black cat on Halloween
Let's get Halloweird
Instagram Captions For Christmas 🎄
It's beginning to look a lot like Christmas…
Meet me under the mistletoe.
Let it snow!
May your days be merry and bright.
Jingle bell rockin' it around the tree.
All is calm, all is bright.
All spruced up.
My favorite color is Christmas lights.
First, we'll make snow angels for two hours, and then we'll eat a whole roll of Toll House cookie dough as fast as we can, and then to finish, we'll snuggle!
May you never be too grown up to search the skies on Christmas Eve.
Santa, just let me explain!
December 25th — the only day of the year I'm a morning person.
The best way to spread Christmas cheer is singing loud for all to hear.
Tis the season!
The tree isn't the only thing getting lit this year.
Am I on your Christmas list?
Have yourself a merry little Christmas.
Christmas, perhaps, doesn't come from a store. Maybe Christmas means a little bit more.
Dear Santa, please refer to my Pinterest boards.
The elf did it.
I'm dreaming of a white Christmas… but if the white runs out, I'll drink the red.
Have yourself a merry little Christmas
Time to lay under the tree to remind my family I'm a gift
Resting Grinch face
May your heart be as light as a snowflake
I just want to drink hot chocolate and watch Christmas movies
It's not what's under the tree that matters, it's who's gathered around it.
I believe in the magic of Christmas
Tis the season to sparkle!
Mistletoe kisses and candy cane wishes!
Instagram Captions For Hanukkah 🕎
Keep calm and eat latkes.
Eight nights, eight lights.
I love you a latke.
Dreidel, dreidel, dreidel.
Happy Hanukkah from our home to yours.
Love, peace, joy.
Wishing you love and light.
May you be blessed with a glow of prosperity and warmth of joy.
Sending you health and happiness during the Festival of Lights.
You light up my world.
Here's to eight days of light and laughter.
As your menorah glows with light, may all eight days be warm and bright!
Happy challah days
Deck the halls with matzo balls
May your holidays be as bright as a fully lit menorah
Keep calm and dreidel on
Light, laughter and latkes
Boom shaka latke
A little more light every night
Shalom y'all
Instagram Captions For New Year's 🎉
Thank you, next — me to .
New year, new me.
Cheers to a new year!
365 new chances.
Life is short — wear the sparkly dress.
Going into like…
A little party never killed nobody.
Let the good times roll!
Bring on the bubbly!
The best is yet to come.
Out with the old, in with the new.
Now taking applications for my New Year's kiss.
, let's do this.
Conserve water — drink champagne instead.
You know you're getting old when you don't want to stay up until midnight.
Time to go confidently in the direction of your dreams.
Page one of 365.
A little progress each day means big results
Dear , I know we just met, but we're going to do great things!
New year. New me. Same dreams. Fresh starts.
I'm done wishing and hoping. I'm making things happen this year.
Pop the bubbly! We're celebrating all night long!
12 new chapters. 365 new chances.
This is my year to sparkle.
: my word of the year. It's going to be big.
"The best way to predict the future is to create it." – Abraham Lincoln
Every day can be the best day of the year.
I'm resolving to make better bad decisions.
What are you bringing to the new year?
is the year to do everything you didn't in
Instagram Captions For Valentine's Day ❣️
All of me loves all of you.
Long live the magic we made.
I'm in love with my best friend.
Happy Valentine's Day to me.
It's a love story, baby just say yes.
Here's to my one true love: pizza.
I love you to the moon and back.
You knock my socks off.
All you need is love. But a little chocolate now and then doesn't hurt either.
Spending Valentine's Day with my soulmate — food.
I enjoy long, romantic walks to the fridge.
I've been single for a while now and it's working out well. Honestly, I think I'm the one!
Happy singles awareness day.
Just waiting on the discounted chocolate…
Love makes every day sparkle.
Turns out I like you more than I originally planned.
"Love is just a word until someone comes along and gives it meaning." – Paulo Coelho
Let all that you do be done in love.
Skip the flowers, double up on the chocolate.
I love you from my head to-ma-toes!
You're totally my jam
I hate you less than other people
I'm glad our weirdness made us such great friends.
The best things in life are felt with the heart
Friend love is the best kind of love
I love you even when we argue over nothing
Single. Taken. Who cares? I'm amazing!
"Money can't buy love, except on Valentine's Day." – Matshona Dhliwayo
Is your name Wifi? Cuz I feel a connection.
Valentine's plans: Make dinner for two. Eat both.
Instagram Captions For Thanksgiving 🦃
Leftovers are for quitters.
Time to break out my stretchy pants.
May your hearts be as full as your plates.
I feel as stuffed as this turkey.
Giving thanks!
Gobble til you wobble.
Thanksgiving is a verb.
All about that baste.
Today's sports — eating pie and avoiding politics.
Food tastes better when you eat it with family.
There's always something to be thankful for. Like pie.
May your turkey be moist and may no one use that word to describe it.
Turkey time!
Thankful. Grateful. Blessed.
One bite closer to Christmas.
Feeling thankful for family, food, and Shawn Mendes
Pies before guys.
Gratitude helps us see what's there instead of what isn't.
May your Thanksgiving dinner stay off your thighs!
Don't let the turkeys get you down!
Eat, drink and wear stretchy pants!
I'm thankful to have a family that takes eating as seriously as I do!
"People who love to eat are always the best people." – Julia Child
Stop drop and pass the rolls
May none of your real feelings slip out at Thanksgiving dinner.
Be kind. Be thoughtful. Be genuine. But most of all, be grateful.
Turkey, football, nap, repeat!
Autumn skies and pumpkin pies
I'm just here for the pie
Basted. Tasted. Waisted.
Instagram Captions For Seasons
Instagram Captions For Summer ☀️
When you can't find the sunshine, be the sunshine.
Summer lovin', happened so fast.
Good vibes on the tides.
Sunrise, sunburn, sunset, repeat.
Here comes the sun.
Ice cream is cheaper than therapy.
Sunny state of mind.
Sea, sun, and smiles!
Happiness comes in waves.
Forever chasing the sun.
Good times and tan lines.
In a past life, I was a mermaid.
Aloha!
Sandy toes and a sunkissed nose.
The ocean calls and I must go.
My happy place.
Sunshine on my mind.
Happiest when I can see the ocean.
This is my resting beach face.
Girls just wanna have sun.
Nothing but blue skies
Stay wild, ocean child
Mermaids don't lose sleep over the opinions of shrimp
Vacation calories don't count!
Laughs, bonfires & lots of adventures!
The ocean's roar is music to my soul!
Wake me up when it's summer
Salt in the air and the sand in my hair
Life's a beach, find your wave!
Tropic like it's hot.
Instagram Captions For Autumn 🍂
Sweater weather and pumpkin spice everything.
Autumn, the year's last and loveliest smile.
Pumpkin spice up your life!
If the year was tucked inside a clock, autumn would be the magic hour.
Give them pumpkin to talk about.
Pumpkin spice and everything nice.
Happy fall y'all!
I'm so glad I live in a world where there are Octobers.
RIP to all the money I've spent on PSL's this fall.
Life starts all over again when it gets crisp in the fall.
Fall isn't just a season, it's a lifestyle.
My favorite color is October.
I've never met a pumpkin I didn't like.
You're the pick of the patch.
Beanie baby!
Maybe she's born with it, maybe it's pumpkin spice.
New season, who dis?
"And all of summer collapsed into fall." – Oscar Wilde
Autumn came, with wind & gold.
A fallen leaf is nothing more than a summer's wave goodbye!
Hoodies. Hot cocoa. Boots. Jeans. Cuddling. Crisp air. Flushed cheeks. I live for Autumn.
Sweater weather is the best weather.
But I think I love the fall most of all.
Leaves are falling, autumn is calling.
To everything there is a season.
It's that time of year where other girls look cute in their flannels, and I look like I've misplaced my axe.
Thanks to fall, my muffin top is now a pumpkin roll.
Autumn: Misty Mornings and Cozy Nights
Pumpkin kisses & harvest wishes
Autumn dresses up in gold, the richest season of the soul.
Instagram Captions For Winter ❄️
Baby, it's cold outside.
Some people are worth melting for.
It's cold, let's cuddle.
Snow much fun!
The snuggle is real.
Chilling out.
We go together like winter and a sweater.
Ice, ice, baby.
The cold never bothered me anyway.
We're one day closer to summer.
The light of winter is the poetry of patience.
Winter kisses, snowflake wishes
"January brings the snow, makes our feet and fingers glow." – Sara Coleridge
A snowflake is winter's butterfly
Let it snow…somewhere else!
My favorite thing about winter? When it's over.
"The very fact of snow is such an amazement." – Roger Ebert
Tis the season to be freezin'
Winter gives me something to wine about
Hello winter, time to get cozy!
Sweaters. Hot Chocolate. Cozy Fires.
Winter means hibernation.
This snow doesn't match my outfit
Some people are worth melting for
Instagram Captions For Spring 🌷
Spring has sprung!
Sunshine is the best medicine.
Ready for flip-flops, green grass, and birdsong!
I was made for sunny days.
If only the first day of spring was really the last day of winter.
There's a spring in my step.
April showers bring May flowers.
Allergy season has begun…
Stop and smell the roses.
Plant smiles, grow laughter, harvest love.
Business is blooming!
Here comes the sun, and I say, it's all right.
And I think to myself, what a wonderful world.
I'm finally coming out of hibernation.
I'm sorry for the things I said when it was winter.
You can't have a rainbow without a little rain.
Life is short, buy the flowers.
The earth laughs in flowers.
Spring, do your thing!
Bloom, baby, bloom.
Spring: a lovely reminder of how beautiful change can truly be.
Florals? For spring? Groundbreaking.
Bloom with grace wherever life plants you.
Let your joy burst forth like flowers in the spring.
Join 100k+ savvy Instagram marketers
If you are struggling to get the attention you deserve on Instagram, sign up for Kicksta today and start attracting more followers who are interested in your brand.
How A Good Instagram Caption Can Increase Your Instagram Engagement Rate
Good Instagram captions encourage likes, comments, and give users a reason to follow your call-to-action (we'll go into depth on this tactic later).
Captions are a key feature to increase your Instagram engagement and without it, it can be nearly impossible for your brand to stand out.
How does one write Instagram captions for pictures that increase engagement even with the crazy algorithm?
If there's one thing we're sure of, it's that Instagram captions that are longer tend to perform better, because the time a user spends on your post affects how the post performs.
We're not suggesting all your captions need to be novels, but you want to capture the reader's attention, forcing them to spend time looking at your post.
The best Instagram captions have a purpose, so whether you want to write a mini blog or something short and sweet, make it something that will resonate with your followers. The more times your posts are shown, the more likely your Instagram engagement rate will rise.
Unsure if your Instagram engagement is good already?
Kicksta's engagement calculator will help you understand your current engagement rate and give you more specifics on how to increase Instagram engagement.
Writing good Instagram captions is a major component, however, there are so many pieces to the Instagram puzzle.
7 Copywriting Ideas to Convert Your Good Captions into Great Captions
1. Show Your Brand Personality
The key to writing good Instagram captions is showing off your brand personality. Unlike many other technical aspects of your business, social media can be really fun. The opportunities are endless to be creative and cater your brand to a specific audience.
Each image and caption can make or break your brand image, so establishing a brand personality and staying on brand is crucial for boosting engagement and attracting real followers for Instagram.
Then, once you've demonstrated your voice and theme, stay consistent!
Consistency will allow followers to identify your brand in a matter of seconds after seeing a post.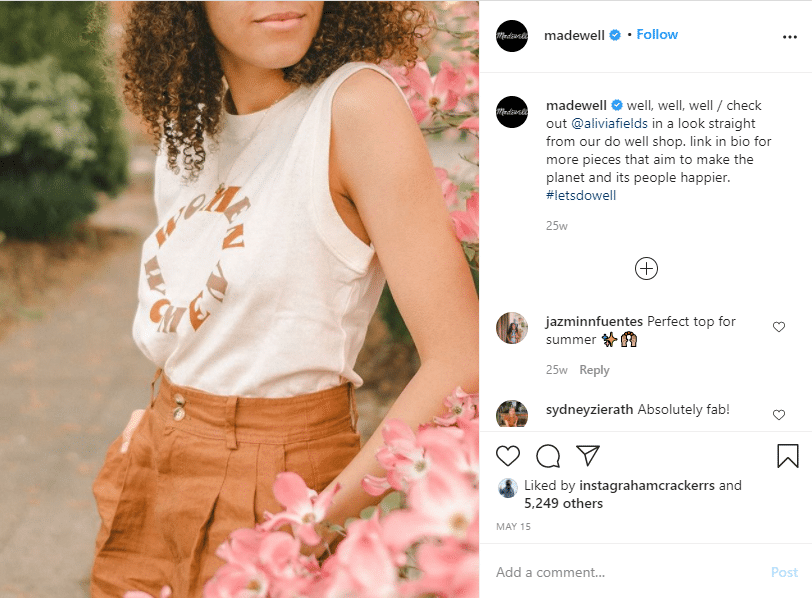 Madewell provides some of the best Instagram captions in the game.
They keep things lighthearted, yet funny when appropriate and all while showing off their tomboy chic style.
The brand even increased overall sales in 2018 by 39% which they attribute to a clear and shoppable social media storefront.
2. Add Context
The best Insta captions add context to a photo.
This copywriting strategy is so powerful and easy to implement.
A strong caption can stop a follower dead in his or her tracks; something that may not occur with no caption or a subpar one.
As the copywriter, don't take your photo at face value. Give the reader added information they wouldn't know just from taking a glance at the picture.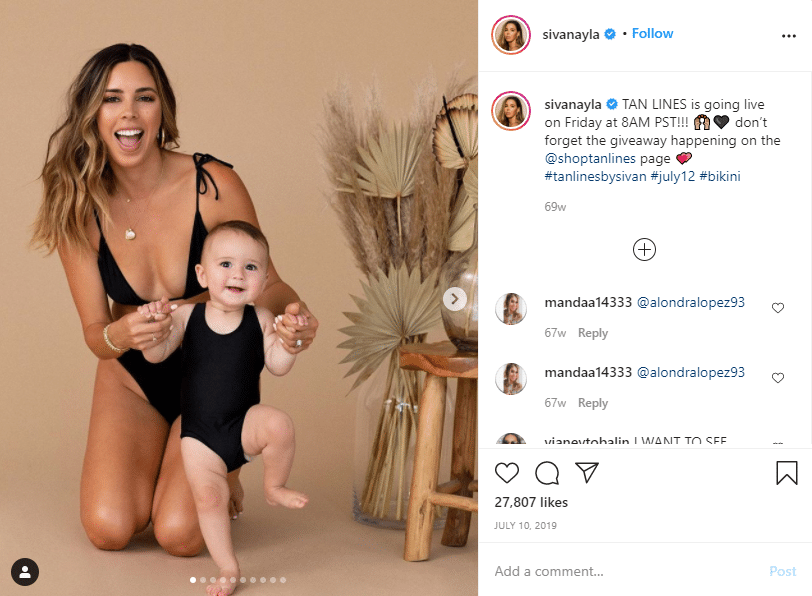 Initially, this photo looks like another happy-go-lucky post from blogger @sivanayla with her daughter Capri.
The capitalization of the first two words draws your attention, and the text to follow gives context as to why the pair are wearing matching swimsuits.
This picture isn't just for fun, it's announcing the launch of the influencer's new swimwear line. As a brand, this monumental news would not be immediately evident from only the picture. Instagram captions add context, emotion, and purpose to the photo.
3. Tell Your Brand's Back Story
Millennials connect better with brands that support causes they care about.
If your brand supports a specific cause or if giving back to the community is part of your brand's story, share it!
The best Instagram captions are relatable ones, so craft one that will truly resonate with your audience. The new age of social media is less about being picture-perfect and more about sharing the behind-the-scenes, unrefined and not-so-glamorous parts about starting a brand.
Telling your brand's unfiltered story on your page is one of the great ways you can turn your good Instagram captions into great ones.

Toms is known for their buy one, give one mantra.
With every Tom's purchase, you create change. Tom's backstory is portrayed on many of their posts, always reminding their audience of the real purpose behind their company.

4. Share Some Inspiration in Your Instagram Captions
Instagram is no short of inspiration whether it be from quotes, personal stories, or memes.
If you're looking to craft Instagram captions filled with inspiration take notes from accounts like Humans of New York. Brandon Stanton, who generally keeps his face and voice off the account, highlights the incredible stories of the people of New York.
He allows people to tell their life experiences, struggles, hopes, dreams, and inspirations. As a brand, if you want to write good Instagram captions, dig a little deeper.
Find something that inspires you and share it with your audience.
Let the good vibes flow and make your content worth sharing.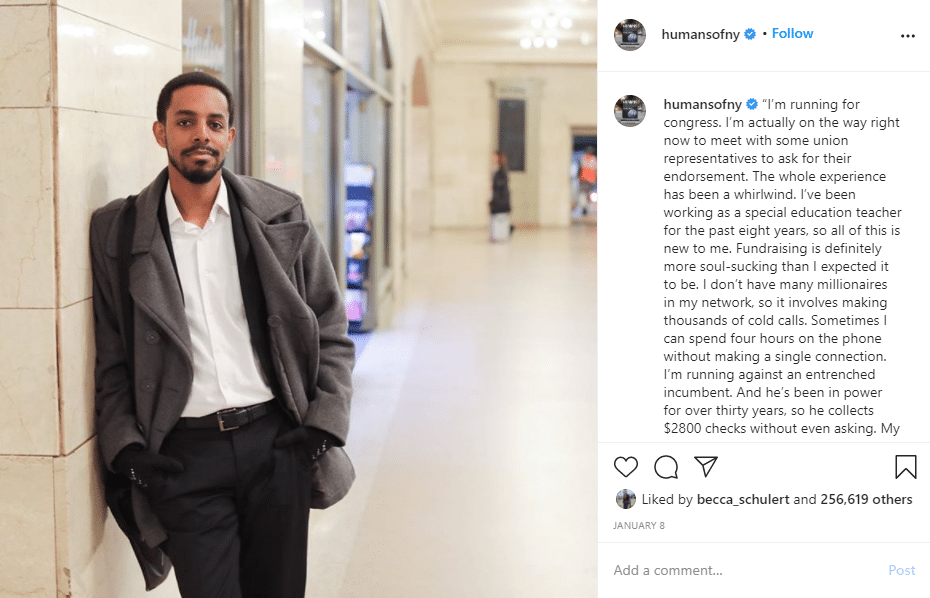 5. Be Relatable
Be relatable. Sounds easy enough right?
Showing off your human side, outside of replying to captions is a tip your brand needs to act on if it hasn't already and you're looking to gain real followers for Instagram.
Instagram captions that are relatable will go a lot further with the person reading it, than ones that read like a robot crafted it.
Tell a story or personal tidbit, that users will connect with and get them to purchase your product.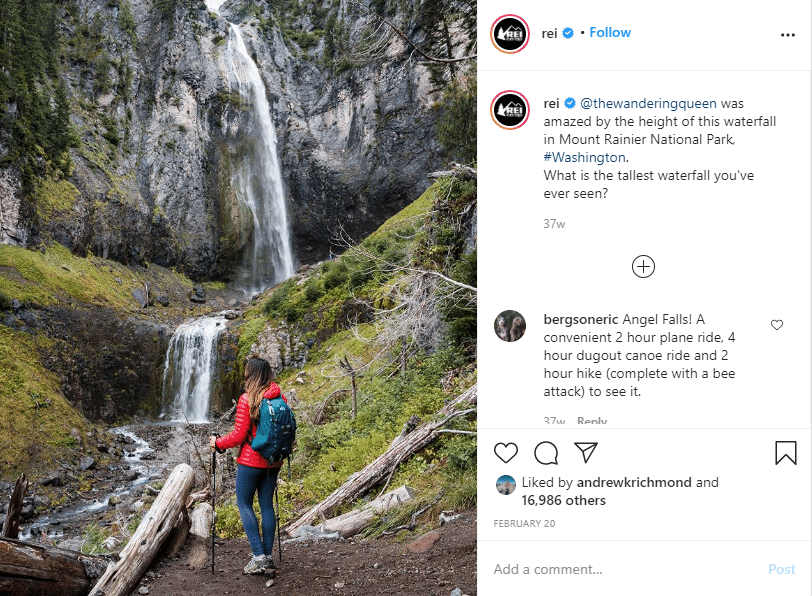 REI posts Instagram captions that highlight real people using their equipment and wearing their clothes. This is super relatable and brings comfort to anyone thinking of purchasing from them.
6. Educate your Followers
It's no secret the best Instagram captions provide value to readers.
Educating your followers on your specialty will not only give them new information but also make your account, brand, and product appear more reliable.
Questions, statistics and fun facts are all excellent components to include when generating Instagram captions and attempting to retain real followers for Instagram who will return to your page and engage in the future.
Berkey Filters, a water filtering system, posts regular statistics and tips to keep followers informed on the importance of consuming water free of toxic chemicals.
These types of posts break up the product shots and user-generated content, while bringing true value to your page.
7. Spotlight an Employee
More than ever, consumers are searching for brands and products that are attainable, relatable, and make them feel good about their purchase behavior.
As a brand, creating captions for pictures that resonate with customers and social media followers, telling a story and showing off a positive company culture, will surely give you a return on investment.
Spotlighting an employee is a great strategy when looking to create the best Instagram captions. Employees know the most about the brand or product and their transparency will shine through your Instagram captions.
If you're looking to boost engagement and gain real followers for Instagram, highlighting a positive experience or quote from an employee is a great place to start.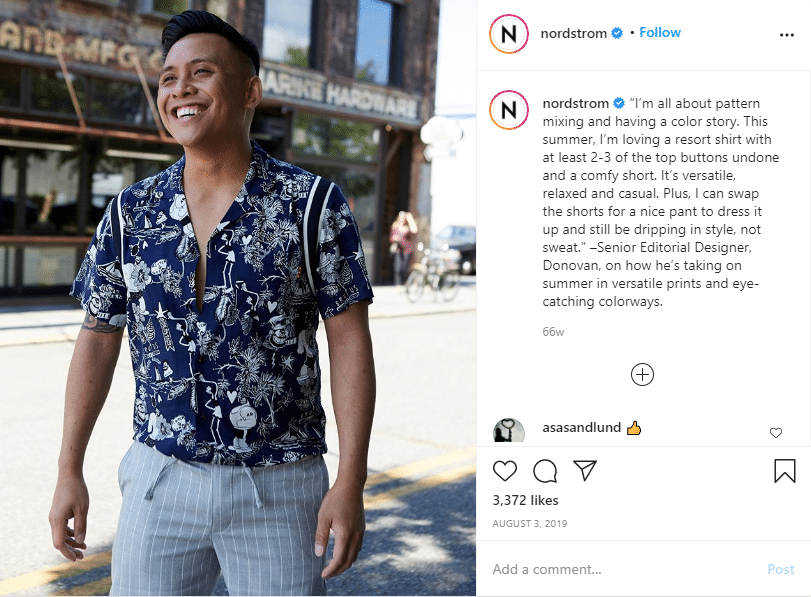 Nordstrom, a pioneer in the social media space, knows a thing or two about crafting good Instagram captions.
Above, Nordstrom's Instagram account quoted Senior Editorial Designer on his thoughts behind pairing colors and prints this summer season.
5 Ways to Further Optimize Your Caption
1. Have A CTA
Adding a call-to-action (CTA) in your caption is a simple act that makes a huge difference with your audience and will help boost overall engagement.
A well-executed CTA will push followers to engage with your business, site, sign up for a digital newsletter, purchase your product or even comment on your photos.
Good Instagram captions include CTAs that are lighthearted and easy to follow, so users are inclined to follow suit.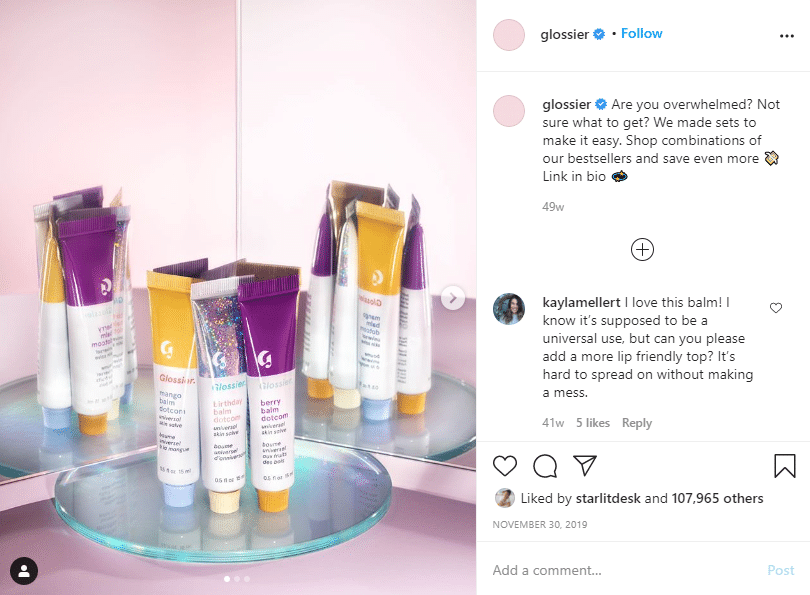 2. Insert Emojis
"Emojis can really bring an Instagram caption to life — but the key is to avoid having them take over. Use emojis to complement your content, but be sure to use complete sentences that can be understood and seen with or without them." — Latasha James, https://www.youtube.com/latmichjam
Caption: "It's #WorldEmojiDay! Here are my tips for using emoji in business content:✨ Use emoji to supplement your copy, not to replace it. Emoji won't always show up the same (or at all) depending on device type, so avoid using them to replace words or phrases entirely. Example: "Our new lipstick is half off this month!💄" vs. "Our new💄is half off this month!"✨Use Emojipedia (emojipedia.org). I copy and paste emojis from this site when using them on social to ensure they transfer correctly. It also tell you exactly what each one means so there are no surprises…"
Sometimes the best Instagram captions contain very few words or even only emojis!
Emojis bring color, emotion, and add life to the words you're posting, turning good Instagram captions into great ones.
Influencer, @briknopf does a great job of implementing multiple strategies in her Insta captions like using emojis for color and hashtags for highlighting the brand and sponsorship.
3. Add Spacing
Lengthy captions are great for your engagement if you can get the lazy users of Instagram to stop and read it.
Instagram captions tell the reader when to breathe and where the next thought or topic begins. You add captions for pictures for a reason, show it!
A long caption with no spacing can be daunting and a turn-off to many of your followers. If you want to write good Instagram captions that are more than a few sentences, add spacing!
Founder of Granola Butter, Ali Bonar has posted many Instagram captions that include separate paragraphs for easy viewing. She generally uses bullets, but emojis, lines, and periods also all do the trick.

4. Add Mentions
Adding mentions, or tagging notifies the user such as an influencer, customer, or another brand that you've tagged them in your photo.
This type of Instagram engagement prompts the user mentioned to engage with your post. Wouldn't you be excited to be tagged or reposted on a brand's page?
Revolve is an incredible example of a brand with Instagram captions featuring mentions.
By including mentions of high-profile celebrities and influencers wearing the clothes they sell and tagging the brand, Revolve is increasing engagement from multiple angles.
The person and brand featured will likely engage as will fans of the tagged users.
Captions for pictures of this nature do not need to be lengthy or fancy, but by including the mentions they are creating a buzz and sense of community on the post.
5. Add Hashtags
Did you know a post with at least one hashtag averages 12.6% more engagement compared to one without any hashtags?
Creating a hashtag strategy is crucial to help your posts reach new audiences, attract followers in your niche, and create a recognizable brand image.
Finding the best Instagram hashtags can be difficult, so our best piece of advice is to search for hashtags on accounts that attract the type of followers you ultimately want to follow your account.
Using relevant, targeted hashtags is some of the best ways to get discovered by new accounts and help you gain new real followers for Instagram.
Also, creating a brand campaign hashtag, if executed correctly, could pay off hugely. Campaign hashtags can be extremely helpful when promoting a new product or event; they can even be used to inspire people.

Outdoor Voices started the hashtag #DoingThings and encourage customers to be active in any way they can and post their various activities like hiking, running, or even walking their dog.
The OV account encouraged this campaign by posting their team #DoingThings too!
If you're stuck on where to begin, many sites offer a hashtag generator that will simplify the process. These generators build out the perfect combination of hashtags for each of your post.
Be careful, however, for recurring hashtags with millions of previous posts.
Pro Tip: Use these generators as a guide to combine with your own researched hashtags. Many times using only hashtag generators can result in recycled and overused hashtag walls.
Share this original infographic material on copywriting ideas with your colleagues and friends!
Share this Image On Your Site
Instagram Growth Hacks
Join over 100k+ marketers and influencers who get the latest Instagram tips & tricks sent to their inbox every week