12 Tips To Conquer Your Instagram Real Estate Marketing
post
Is Instagram real estate marketing part of your strategy to reach new clients?
If not, it should be! There's a massive customer base already on Instagram just waiting to be discovered. And if you put yourself out there in the right way, you'll be able to cash in on all of these potential leads.
Here's your guide to doing Instagram marketing for real estate.
How Instagram Marketing Is Useful For Real Estate
As a real estate agent, you might be wondering if Instagram is even worth it for you. Will this social media platform actually help you get more leads and improve your business? Answer: yes. Here are a few reasons why Instagram marketing is so helpful for real estate.
1. Get More Leads
The first reason why Instagram real estate marketing is so helpful is: You'll get more eyes on your business. You'll also be able to target the demographic you're trying to reach.
There are over 2.35 billion monthly active users on Instagram, and 31.7% of all Instagram users are 25-34-year-olds.
Since 28% of current home buyers are millennials, this means Instagram is the perfect source for you to reach your ideal client — people who are ready to buy homes.
2. Foster Trust
When you use Instagram marketing tactics, it's easy to build a trust-based relationship with prospects. For example, influencer marketing is a highly successful marketing method because people like to use products that are recommended by people they trust. If someone who follows you on Instagram is ready to buy a home, they're more likely to get the process started with a real estate agent or agency they trust — somebody like you.
3. Gain Social Proof
Instagram real estate marketing builds social proof, such as positive reviews and testimonials, that'll push more leads your way.
87% of buying decisions begin with research conducted online. And 70% of people will trust a recommendation from people they don't even know. By strategically using Instagram to cultivate reviews and testimonials, you'll be able to gain credibility and trust in the eyes of your audience — resulting in more homebuyers landing in your lap.
Join 100k+ savvy Instagram marketers
If you are struggling to get the attention you deserve on Instagram, sign up for Kicksta today and start attracting more followers who are interested in your brand.
12 Tips To Apply To Your Instagram Real Estate Marketing
It's clear that Instagram marketing for real estate is incredibly important and effective. Get started with these 12 tips to help map out your strategy.
1. Start With A Business Profile
Before you do anything else on Instagram, you need to make sure you have an Instagram business account. A business profile has many helpful features that a regular Instagram profile doesn't offer. Here are a few of the benefits you can enjoy:
Access to Instagram Insights
Add information about your business
Easily show paid partnerships
Post from a desktop computer
Access Instagram's Creator Studio
Run Instagram ads
These are all features that'll take your Instagram real estate marketing to the next level.
Switch to a business account by going to your profile, navigating to Settings, then tapping Account and Switch to Professional Account.
2. Post Your Successes
Once your business profile is set up, you might be wondering what kind of posts to share. Start by posting about your successes!
Share a post every time you sell a home or are in escrow. This will showcase your success to would-be clients, helping them decide whether to work with you. Atlanta real estate agent Vanessa Berry posted this photo after helping a client close on a home.
As another example, Keller Williams First Atlanta shared a celebratory post when one of its agents won an award in the Southeast Region. This serves as further proof that the agency knows what it's doing.
3. Use An Organic Instagram Growth Service
As a real estate agent or agency on Instagram, you'll want to get as many followers as you can. That's where using an organic Instagram growth service can help. Look for a service that focuses on getting you high-quality followers — no spam, just organic growth tactics that'll help you gain real followers. Kicksta is a great example of a platform to use.
Once you sign up and provide all the information, Kicksta strategically targets and engages Instagram accounts that fit your niche and the type of followers you want by engaging with them. 
When people see your account in their notifications, they'll come back to check out your account, and, ideally give you a follow or engage with your content.
The best part: You're able to pick targets to help ensure Kicksta finds followers in your ideal audience.
As a real estate agent, you might choose to target accounts based in a certain location or accounts that follow location-based profiles (for instance, if you're selling in Chicago, you could target followers of the @chicagofoodscene).
With over 8 years of experience in the Instagram growth services industry, Kicksta knows exactly how to engage with your target audience. The AI-powered technology is effective in building brand presence and growing a genuine audience without fake accounts, bots, or spam.
4. Use Instagram Ads To Promote A Property
Leverage the power of ads to promote any open houses you may be having or any new properties you have on the market. This is beneficial because you can target people who live in a certain area and might be interested in the homes.
Video ads and carousel ads are good formats to utilize, allowing you to show more images of the property. It's easy to keep track of the ads you're running and their performances with Instagram ads management.
5. Use Client Testimonials
Posting client testimonials is another post idea that can be majorly beneficial. This creates social proof and plants a seed in your followers' minds, helping them realize that you'd be a great real estate agent to work with.
If you have permission, post a photo of your client(s) in front of their new home. Then use a quote from them as the caption. Or create a graphic to showcase the testimonial. That's what Holt Team Real Estate did here, sharing a glowing review and adding their phone number and email address in the caption.
Any real estate marketing tips worth their salt will include leveraging client testimonials and accompanying them with images of happy customers to make them even more relatable to potential buyers and sellers.
6. Use Niche Hashtags
Hashtags are a great way to get more eyes on your content. Generally, it's considered a hashtag best practice to use between 5-10 tags per post and to include a mixture of big and small tags. Some niche real estate hashtag examples might include:
#undercontract
#homes
#realtor
#realestate
#homesweethome
#realtorforlife
#homes
#selling
#homesellertips
#realtorpro
#newhomes
#homesforsale
#soldhomes
#listwithme
#moveinready

Check out our blog post on trending Instagram hashtags to find more popular hashtag ideas for real estate.
7. Make Sure Your Bio Is Optimized
Your Instagram bio includes several components. To help people find you on the 'gram (and to ensure they get the info they need once they're on your profile), you need to make sure each one of these pieces is optimized. Give attention to your:
Name and username (shown below: @waldrip_realestate, WALDRIP REAL ESTATE)
Profile photo (the Waldrip logo)
Bio section (Waldrip includes who they are, how you could benefit, and a phone number for agents interested in joining their team)
Website (Waldrip links to their website homepage)
Category (real estate)
Contact info (phone number and email address both included) Alternatively, you can create a digital business card and add a link to it in your author bio. This way people can save your information on their phones and have it handy whenever they are ready to contact you.
8. Post About Yourself
Post about yourself and other team members — not just talking about real estate, but sharing other things you're passionate about, too. How do you unwind after a long day of showing houses? What does the decor in your own home look like? Do you do any local charity work? Share some posts that are more personable so your followers can get to feel like they know you. This will foster trust.
For instance, Atlanta-based agent Jess Bush is part of an accountability group. The group is made up of real estate agents who meet once a week to help each other grow their careers. Jess shared a snapshot on Instagram talking about how much she loves the group.
9. Post Market Insights
Posting the properties you've sold is always a good idea. But don't stop there. Post property insights so that people will go to your page to stay up-to-date with what's going on in the overall market.
One Seattle-based agent shared a well-designed Instagram carousel post listing three reasons why it's still a good idea to buy a home right now.
10. Don't Forget To Utilize Highlights
Add highlights on Instagram so you can save your Instagram Stories. That way, people will always be able to easily access your Stories even after 24 hours is up.
New York agent Peyton Yen has five highlights: "Homes," "Tips," "✨," "Reviews," and "FAQ." In these highlights, she shares snapshots of homes she's sold, educational information for people considering moving to New York, videos of the New York weather, client testimonials, and frequently asked questions.
11. Post About The Community
In addition to posting properties, make posts about the surrounding communities or neighborhoods where you live. These could be big-picture posts such as a post about the most popular tourist attractions nearby. Or focus on smaller things like local community events happening over the weekend.
You could also boost other local small businesses and network with them so both of your businesses will grow.
For this, capitalize on the power of predictive advertising to send your prospects messages that are highly personalized and relevant.
In this image, real estate agent Monica Church shared a photo displaying the amazing view of Seattle offered by a condo building. She tagged Pike Place Market, which is visible in the photo, so her followers could look into the local attraction.
12. Create More Engagement With Instagram Stories
Use Instagram Stories to create more engagement among your followers. Interactive elements such as Stickers, Polls, Surveys, and Question boxes are all good ways to boost engagement.
Agent Tricia Quidley shared an Instagram Story with a poll, asking whether people preferred cupcakes or champagne at an open house. (By the way, the answer was 5+).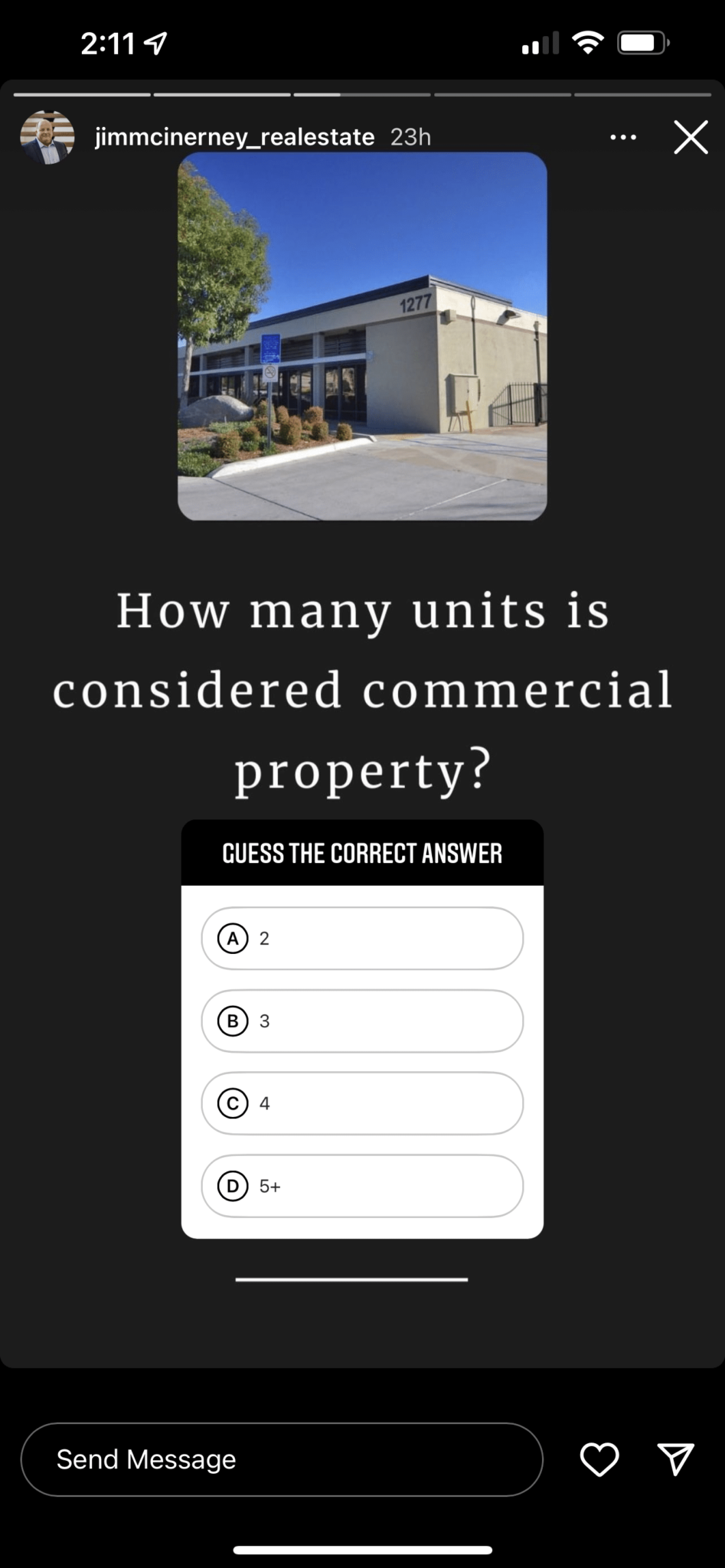 Try Instagram Marketing For Real Estate
Instagram marketing for real estate is a highly effective way to get more clients. And with these tips, you'll have a steady stream of post ideas, helping you engage as many potential homebuyers as possible.
Use this guide to conquer Instagram real estate marketing once and for all!
Instagram Growth Hacks
Join over 100k+ marketers and influencers who get the latest Instagram tips & tricks sent to their inbox every week