Creative Ways to Use the Question Sticker for Instagram Stories
post
It's no secret that features like the Instagram question sticker are some of the most popular features on the Instagram app. Instagram Stories are only increasing in popularity. And features like question stickers are a big reason why.
With these question boxes, you can prompt your followers to submit questions, which can then be answered in a public post. Or you can ask your followers a question and view their responses privately. Whatever your goals are, there are plenty of creative ways you can utilize this tool. The potential to engage with your audience via Instagram Stories is endless.
How to Use Question Stickers: A Step-By-Step Guide
Spotlight an Expert
Give an exclusive perspective and advice by having an employee or influencer take over your story for the day to answer questions. 
If you choose an expert that interests your followers, they'll be very engaged — and more likely to ask questions through Instagram's question sticker. 
In this example, Zappos called on their style director to give followers tailored-to-them advice about choosing clothing. She answered questions such as what style of jeans is best for what body type.
Skincare brand OUAI also got in on this trend by having a dermatologist answer questions about how to care for your skin at home. 
Giving out free advice is a great way to build credibility. It makes your page feel more personal and relatable. 
Prompt Questions About A Certain Subject
When used correctly, the Instagram question feature is amazing for engaging with your audience. To ensure the answers you're receiving are meaningful and helpful, prompt questions about a certain subject. Direct the conversation by requesting questions about a topic your fans are curious about.  
For example, Starbucks solicited questions about ordering your drink in ASL (American Sign Language). Starbucks is known for being a Deaf-friendly business — the company has a Signing Store in D.C. So this is a topic in which Starbucks is well-versed. The company has proven it's qualified to answer questions about ordering coffee in American Sign Language.
Q&A About A New Product or Feature
Create some buzz and clear up any lingering questions about the newest changes to your business or industry. Just rolled out a fall collection? Use the Instagram question sticker to ask your audience what they like about the new line! 
The responses from these Q&A's will allow your business to make improvements and gather feedback for future product launches and collections. 
Using the question sticker in this capacity is also smart for sponsored content. If you're promoting a product, this sticker can open up the floor for followers to ask questions about it. The more they know about the product you're promoting, the more likely they will purchase.
Answering questions about a new product or feature is a super common use for Instagram Stories. Ruggable did an Ask Me Anything and took frequently asked questions about product specs.
Ivy City Co. followed suit: When this dress company rolled out a new holiday collection, they shared a question box so customers could learn more about the new products.
And finally, when Juice Press updated its app and introduced a rewards system, Instagram followers could get the scoop via asking questions on Instagram Stories. 
Use It As A Contest
Contests have grown in popularity as influencers and brands look to connect with their audiences, give away products and grow their audiences. 
Traditionally, contests are run through feed posts, but as Instagram has evolved and added features, using Instagram question stickers has grown in popularity. 
To use question stickers for a contest, ask a question about the topic of your contest and then choose the winner based on who enters the most creative response wins.
Gain Customer Feedback
Instagram stickers are an incognito customer service feature. With more users on Instagram than ever before, the question sticker is an easy way to gain customer feedback in real time. Ask your followers for their opinions or suggestions to get some great perspective directly from your fans. 
Grammarly recently announced a new feature called a tone detector. When you type text into Grammarly, the detector will analyze the writing and tell you its tone (for example, whether the writing sounds more formal or casual). In this Instagram Story, Grammarly called on its customers to ask what tone the tone detector most frequently tells them. This is a fun and interactive way for Grammarly to get some feedback on this newest feature.
Support Your Marketing Campaign
One of the best ways to use the Instagram question sticker is for market research. Stickers allow you to literally tap into the minds of your followers and find out what they are interested in buying or absorbing content wise. 
This feature brings tons of business ideas, content suggestions and real-time strategy pivots to the surface for a company. All the consumer has to do is type in the box and you receive instant feedback. 
The more you know about your followers, the better you can target and tailor content to their needs.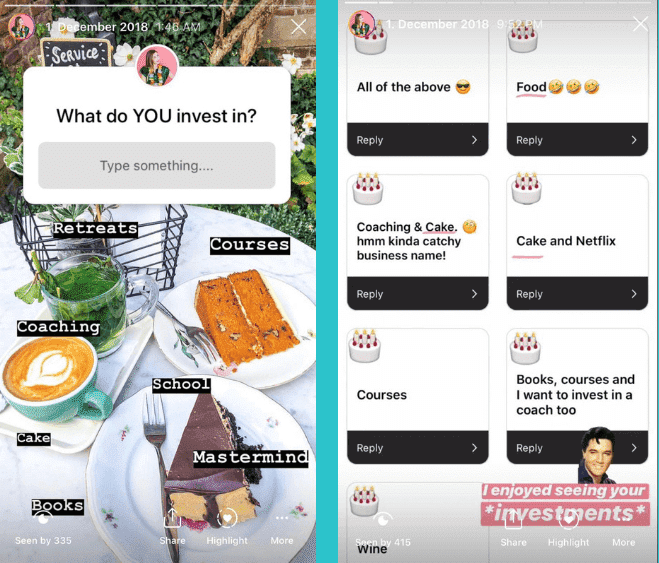 Make Instagram Takeover More Engaging
Instagram takeovers are one of the easiest ways to organically reach new followers and build your Instagram brand. 
Influencer takeovers raise awareness of your brand and products, while still sharing authentic and engaging content. These takeovers are a win-win for brands and influencers. 
Takeovers are even more engaging when you implement Instagram stickers. 
Highlight the Brand Culture
The true success of social media should be measured in exposure and ability to get people to follow and engage in your content. 
Successful companies are able to build brand awareness. To build brand awareness and a following, first get your current following to engage with your content. 
Instagram question stickers humanize the brand and get your followers involved. Because the Instagram question sticker allows you to take questions in real time, you can get the feedback and get to know your audience better and allow them to get to know you too. 
If you're looking to highlight your brand culture, question stickers are the opportunity. Prompt followers to inquire about your company and culture. If they're previously engaged in your content, they'll want to dive deeper and ask further questions. 
Join 100k+ savvy Instagram marketers
If you are struggling to get the attention you deserve on Instagram, sign up for Kicksta today and start attracting more followers who are interested in your brand.
Gather Ideas For Content
Coming up with new content can be difficult, especially when you may feel like you have little direction. The Instagram question sticker feature aids in this problem. 
If you're looking to gather ideas for content, what better way than asking your followers? The question sticker is a great way to know what people are loving, what they're hating, what type of content resonates most with your audience and how you can leverage these trends to adjust to your specific business. Don't be afraid to come right out and ask your followers what they want to see.
That's what influencer Alyssa Webster does in this Instagram Story. Alyssa posts about a wide range of topics, including parenting, fashion and other lifestyle topics. Here, she asked her followers what they wanted to see on her page. Once Alyssa hears directly from her followers, she'll be able to post the content they want to see most — and then her engagement rate will increase. 
Gather Insight on Potential Product Options 
Finally, Instagram stickers can help you gather insights on potential product options and variants. 
If you own a business and want instant feedback from your audience, asking for follower's opinions, likes and dislikes using the question sticker is a great option. 
For example, if you are looking to re-stock previously launched products, you can ask followers to share their size and color preferences to better plan for your next order. If your audience wants to see something new instead of old products, they can voice this using the question sticker too. 
This tactic works just as well for influencers and small businesses. Deanna Wolfe is a dietitian who runs her own small business coaching women who want to stop dieting. She recently had the idea of starting a podcast, but wasn't sure if her current followers would be on board. Deanna posted on her Instagram Stories asking if a podcast was something people would want to see. The answer was an overwhelming yes — giving Deanna the confidence boost she needed to add something new to her business.
Maximize Instagram Question Stickers
If you're not already utilizing Story features like the Instagram question sticker, it's time to start. Whether you're looking to boost engagement, increase feedback or simply hear more of what your followers like, adding Instagram stickers to your Stories is the best tool to do so. Start using this feature now so you won't be left in the dust. 
Instagram Growth Hacks
Join over 100k+ marketers and influencers who get the latest Instagram tips & tricks sent to their inbox every week