8 Reasons to Switch to an Instagram Business Account
post
When you first created your Instagram account, chances are that you created it as a personal account. That's the default, and if you didn't know any better or didn't think about it, your account has probably stayed that way. But now you're using Instagram for business. It has fully become a tool for you, and it's time to think about it that way. Have you ever considered changing to an Instagram business account?
Making The Switch
Business accounts are totally free, and it's very easy to switch from personal to business – it just takes a few clicks. By having and using a business account, you'll have access to more features that help you create an excellent user experience for your Instagram followers.
If you haven't already made the switch to an Instagram business account, we have eight great reasons that will motivate you to make the change today.
Why You Should Switch to an Instagram Business Account
1. Access to Instagram Insights
You probably already know the importance of analytics when it comes to social media. With this information, you can understand what your audience likes, what they don't want to see anymore, and whether or not you're hitting your Instagram engagement goals. You can't measure something if you don't track the data, and Instagram insights helps you do just that. By having an Instagram business account, you'll get access to detailed data about your followers and their actions.
You'll be able to see how your followers are interacting with your content, which in turn helps you plan for future content. With these insights, you can also increase your overall engagement rate. Because you'll know which types of posts are creating the most engagement, you can create more of those for future posts. Your Instagram engagement rate is really important for social credibility and if you want to do collaborations. (As a side note, this is why you want to make sure you have real Instagram followers – fake followers won't engage!)
With the insights tool, you can also see which posts had the most reach. By analyzing this information you can help your account grow faster. Maybe you see that posts where you used a particular hashtag have a much higher reach. Or perhaps posts where you tag other brands are seen by more people. When you're using Instagram for business, analytics are golden.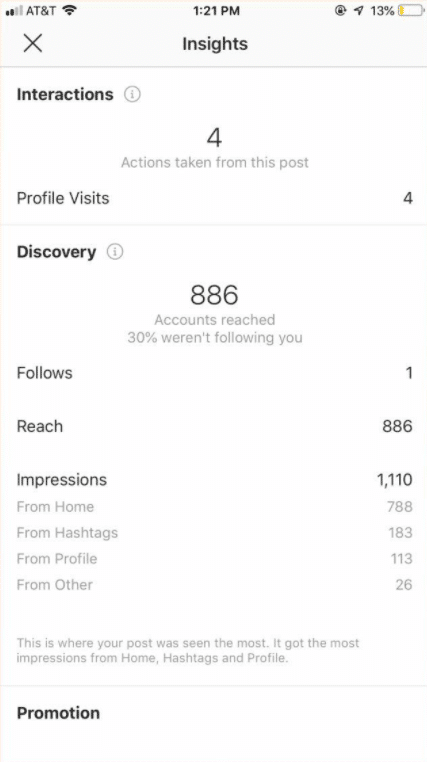 You'll also be able to learn about your audience. While tracking your Instagram engagement and popular posts are certainly important, it's also helpful to know who your audience is. Even if you know your ideal client avatar, it's important to analyze who is actually following you on Instagram. You might find out that a significant amount of your Instagram followers are younger than your target customer. With this information, you can craft content that better meets their needs. Instagram insights also shows you what times of day your followers are online, which can help you plan your posting schedule.
2. Add Information About Your Business
Did you know that Instagram uses SEO, just like your website? If you didn't, now is a really good time to listen closely. You have the chance to optimize the information you include on your profile to better reach people who are searching for your keywords in the app. You can optimize your username, your bio, photos, and so much more. Side note, you can still do that even on a personal profile.
With Instagram for business, you have access to more fields to provide your followers and potential customers with all of the information they could possibly need about your business. For example, you can include your business's location so that people who visit your profile can easily find your address and visit you.
An Instagram business account also allows you to include a phone number and business hours. If you're a restaurant, you can add a reservation button, and all other businesses can add a contact button. This helps your profile visitors more easily reach out to you, decreasing the barriers to entry and encouraging them to become customers. It might sound simple, but adding these pieces of information is one of the strongest Instagram business tools available.
You'll also be able to add a category, which personal profiles can't do, which helps significantly with your Instagram SEO. Users can easily search for a specific category, like "copywriter" or "graphic design." If your business has used the category field, you're more likely to appear at the top of their search. The easier you can make it for people to find your account, the better it is for your business.
Watch this video on why should make the switch to an Instagram Business Account
3. Show Paid Partnerships Easily
If your brand often, or even occasionally, participates in paid partnerships with various brands, this can be an incredibly helpful feature. When anything in a post is sponsored, users are required to indicate that the post is a sponsored advertisement. This way users who view the post are aware that it's an ad and can view it as such. So many people use Instagram for business that it's important to make these distinctions.
With an Instagram business account, there's an easy option to add "Paid partnership with " at the top of typical feed posts or Instagram stories. This makes it very clear to users, brands, and Instagram that a particular post is paid for by a particular brand. There's no longer a need to read through the caption to see if the influencer used #ad, #sponsored, #partner or any other hashtag that would indicate that they are being paid for this post.
You might be thinking that only the influencer who's posting the sponsored content needs to worry about this feature, but that's not the case. In fact, the brands that are tagged in the influencer's posts will also be able to track the analytics of the sponsored post through their Facebook business manager page. These insights will show you the reach and engagement the post got, which you can then use to evaluate the influencer and the work he or she is doing for your brand. The influencers, too, can access these analytics, but their information will appear within their app. This way both partners can see and evaluate the information and can discuss how to improve, if necessary.
Join 100k+ savvy Instagram marketers
Join the 10,000 brands and influencers who grow their following with Kicksta.
4. Use the Swipe-Up Feature
If you have over 10,000 followers and you're still using a personal profile, you're missing out on an awesome feature Instagram created and rolled out for businesses and brands. The swipe-up feature can increase your traffic and help your audience engage more with your brand, even outside of Instagram, but it's only available to verified accounts or Instagram business accounts with more than 10,000 followers.
Before the swipe-up feature, Instagram was notorious for wanting to keep users within the app. We all know that you only get one link in your bio to direct your followers wherever you'd like them to go. With the swipe-up feature, though, you can turn any Instagram story into a direct call-to-action. The app even has stickers you can add that encourage people to swipe because they know people are using Instagram for business.
The swipe-up feature is one of our favorite Instagram business tools. Having it creates social credibility. However, people do know that the swipe-up feature isn't for everyone. But by having the ability to use the feature in your stories, you are showing your audience that Instagram believes you're important enough to have that ability.
It also helps your business outside of the app. Your Instagram followers can now easily visit your website whenever you direct them there. Make sure you create a specific call-to-action and link to a page that fully meets their needs. You don't want to send them to a generic page instead of a particular product you're promoting. With the swipe-up feature, you'll be able to link your followers to your products, thereby most likely increasing your sales and website traffic.
5. Post from a Desktop Computer
Do you use third-party Instagram business tools? You probably do if you use Instagram for business. With most of these third-party tools you need a Instagram Business Account just to sign up, or to use certain features.
Some third-party apps, like Sprout Social, allow you to post to Instagram using a desktop. If you've ever been on your computer, editing a picture so it looks just right, you know it can become quite time-consuming. The last thing you probably want to do at that point is to get it from your computer to your phone and then into whatever scheduling app (or Instagram itself) you like to use.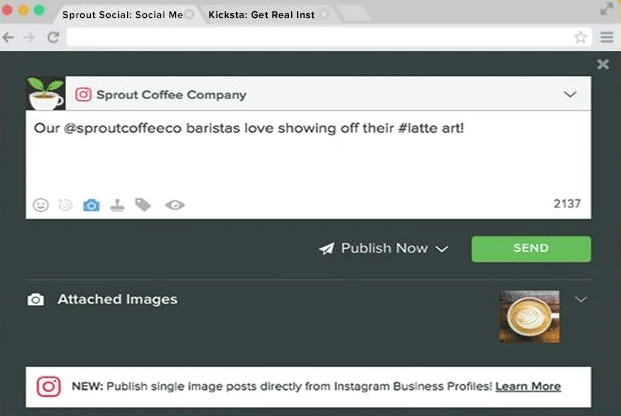 Many businesses and brands schedule their posts, in various third-party apps, but then receive a notification and reminder to actually go and manually post the image and caption themselves. This can be time-consuming, and it means that you need to have your phone with you in order for your post to publish. Now though, some of these Instagram business tools are actually able to post directly for you.
So the next time you're editing photos or videos on your computer, you'll save yourself time, energy, and headaches when you schedule your content ahead of time. You can rest assured knowing that your Instagram business account is ready to publish. Now, we certainly still recommend logging into your account to engage with your followers, and respond to the comments you get on your posts when you're using Instagram for business! But scheduling in advance can help you create consistency, helping you get more followers on Instagram.
6. Access Instagram's Creator Studio
If your Instagram business account is connected to a Facebook page, you can access Creator Studio. You'll need to get into this on a desktop computer, but trust us it's worth the effort.
In Creator Studio, you can see a much more in-depth look at your insights. For example, you can see how many of your viewers return time and again to your content, which can help you evaluate your Instagram growth. (Although it's important to note that Instagram Creator Studio only keeps data from the past week.) You'll also be able to see what actions your visitors take after they see your posts.
Creator Studio is important for anyone who's creating their own content. It's designed to help content creators monetize their creations, whether through sponsorships, partnerships, ad revenue, or fan support.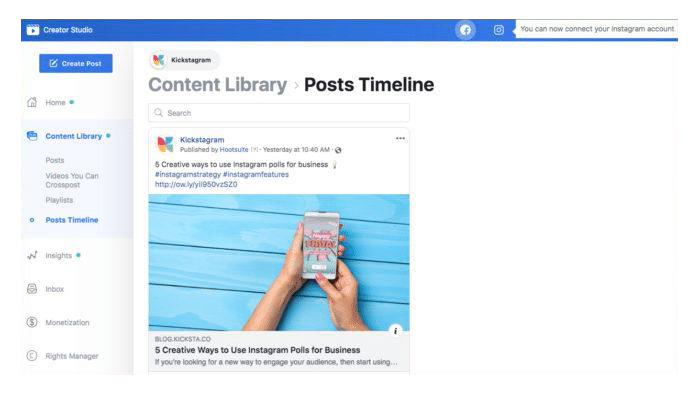 But Creator Studio is not reserved just for influencers, bloggers, YouTubers, and other content creators. While they might have use for some elements that brands don't need, there are certainly reasons brands will want to use Creator Studio when you're using Instagram for business.
You can upload and schedule your IGTV videos directly in Creator Studio. If you're looking to create and publish some longer-form videos for your Instagram audience, you'll definitely want to check out the IGTV tools you can access with an Instagram business account.
"Creator Studio also helps you keep track of all of your direct messages. As a business, your DMs are worth their weight in gold 🤑"

– Kicksta
7. Creating Shoppable Posts
If you are a product-based business, or even if you have any products to sell at all, you'll want to take advantage of the shoppable posts options available to Instagram business accounts. With the shopping option, you can tag products in your stories or your timeline posts just like you would another Instagram account. These tags, though, will tell your followers what the product costs and links them to your Shopify account to make the purchase.
We'll let you in on a little secret now. Currently, these tags take users outside of the Instagram app to your store where they finish their shopping experience, check out, and enter their payment information. Coming soon (hopefully) is a way of making native payments, or maybe even a fully stand-alone Instagram shopping app. This would make it so users wouldn't need to be redirected to make their purchase.
Many Instagram users rely on the platform as a means of discovering new products. This means that any product-based brand using Instagram for business needs to be using that shopping tag to introduce their products to their followers and viewers at the best possible time. People are on the app to find their new favorite notebook, candle, or swimsuit. Make sure they realize you're selling yours and you aren't just showing a beautiful beach picture.
The Caveat
The caveat here is that you do need to have a Shopify account or have your products loaded into a Facebook shop in order to display them on Instagram. Once you have that ready to go, you're only a few clicks away from sending your followers straight to your checkout pages with full shopping carts.
8. Run Instagram Ads
I have a feeling you were waiting on us to add this as a reason. After all, ads are a great way to increase your Instagram growth, which we are all about here at Kicksta. We want to see you get more followers on Instagram, and ads are a great way to do that. When you're using Instagram for business, you need to be prepared to spend some money on ads.
Instagram ads can really help you increase your reach by showing your posts to more of your target audience. There are so many different types of ads, from carousel ads, to story ads, to traditional photo ads. The best ads are carefully designed to blend into the timeline or set of stories. Because ads are becoming so common, many people don't even mind seeing them anymore, as long as they don't detract from their experience on the platform.
Ad Targeting
Inside your Instagram business account, you can set a budget and choose a specific demographic you want to see your ad. This is one of the most important parts: targeting. Instagram lets you get very specific about the audience you want to show your ad. Do your research before this step so you make sure that your Instagram ads are being shown to the right people.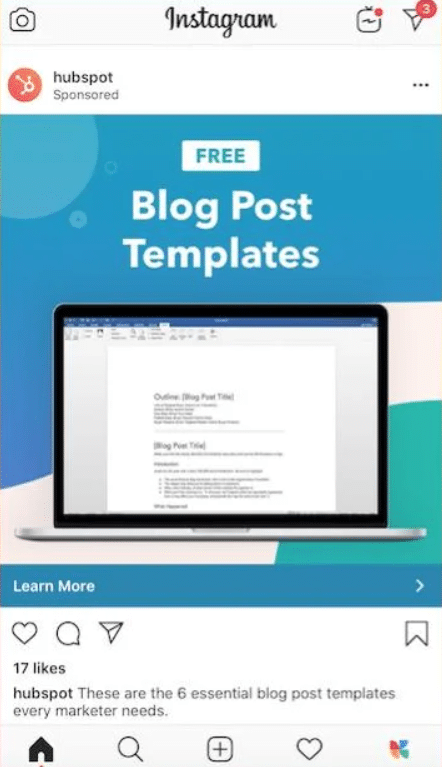 Once you've made those decisions, you can add a call-to-action and then you can even pay for your ads within the Instagram app! Go to Settings > Business > Promotion Payments and fill out your information for easy checkout.
The ads we've been talking about are ads that you create specifically to be used as promotional. If you don't want to do that, but you do want to reach more people, you can promote one of your existing posts. Let's say one of your posts was incredibly popular with your audience. Your viewers left you lots of comments and you got more likes than you can remember. This indicates that your ideal Instagram followers liked that piece of content. If you're looking to turn this into strong Instagram growth, you can simply promote that post so it can reach more people who could turn into Instagram followers and even customers.
How to Switch to a Business Account
So now that you know why you should have a business account, you may be wondering exactly how to switch over.
Log into your personal account and click on the profile icon in the bottom right to pull up your account.
Once you are on your profile, you will see three lines on the top right corner, click on that icon and you will see a list of options pop up and you will need to click on Settings.
From there, click on Account and you will see an option that says Switch to Professional Account:
4. Congratulations, you are now a business account! If you do want to take it one step farther, you can then connect your new Instagram business account to your Facebook business page.
Conclusion
Hopefully one of these eight tips resonated with you. If there's another reason you converted to Instagram business account that we didn't list here, or something you've found within the platform that you love, let us know! We're always excited to learn about what you're loving when you use Instagram for business. What Instagram business tools do you use most often?
Here's an infographic explaining why you should make the switch. Share on your website or social media!
Share this Image On Your Site
Instagram Growth Hacks
Join over 100k+ marketers and influencers who get the latest Instagram tips & tricks sent to their inbox every week