The Ultimate Influencer Marketing Cheat Sheet For 2023
post
Wondering how to get started with influencer marketing?
This type of marketing is a highly effective way to succeed on social media.
And it's becoming more popular by the year.
When done right, an influencer and brand partnership can have enormous ramifications for both parties, benefiting your brand awareness and sales. But you can't just jump into an influencer partnership.
Whether you're an influencer or a brand, there are details you need to learn about influencer marketing and how it works before you get started.
Ready to learn? Here's your ultimate Instagram influencer marketing cheat sheet for 2023.
What Is Influencer Marketing?
Sprout Social defines influencer marketing like this:
"Influencer marketing is a type of social media marketing that uses endorsements and product mentions from influencers — individuals who have a dedicated social following and are viewed as experts within their niche."
Influencers have worked hard to cultivate a high level of trust with their followers. Ninety-two percent of consumers trust an influencer more than an advertisement or traditional celebrity endorsement. When an influencer recommends your product or brand, consumers are going to sit up and take notice.
Brands collaborate with influencers by compensating them with money or free products.
Then the influencer creates content to share with their audience. As social media continues to grow, influencer marketing is growing, too, with hundreds of agencies and platforms out there that focus exclusively on influencer marketing.
It continues to be an effective way for brands and influencers alike to reach new audiences and promote themselves.
Influencer Marketing In Figures
Before we dive into best practices and examples, let's take a look at influencer marketing by the numbers to drive home just how important this marketing tactic can be.
Facts And Figures
The stats make it clear that influencer marketing is important and effective.
Seventy-one percent of marketers think influencer partnerships are good for business. Marketers invest anywhere from $1,000-$500,000 on an influencer marketing campaign. And influencer marketing has an excellent ROI, with campaigns earning $5.78 for every dollar spent.
What tactics and platforms are best? Instagram is often cited as the most popular platform for influencer campaigns, with 68% of brands considering IG as the most important platform.
It's also interesting to note that 56% of brands develop long-term relationships with influencers by using the same influencer for multiple different campaigns.
Influencer Marketing In 2023
The current state of Instagram influencer marketing is strong, with the industry positioned for growth. While the influencer marketing industry was worth just $1.7 billion in 2016, this industry is expected to reach $13.8 billion this year. A quick scroll through your Instagram feed reveals post after post from influencers promoting brands. It's clear that influencer marketing is going to be a major tool in 2023 — and beyond.
Outlook For Influencer Marketing In The Coming Years
All of the numbers point to one thing: Instagram influencer marketing is continuing to rise. The industry's worth is going up year over year. And in one survey, 63% of marketers intended to increase their influencer budget in the coming year. Get on board with the trend and incorporate influencer marketing into your strategy, too. 
How Does Influencer Marketing Work?
Influencer marketing is a pretty straightforward concept.
A brand contacts an influencer (or vice versa) to work together. The brand provides the influencer with either a free product or a cash payment. Then the influencer creates and posts content (on their channels) for the brand.
Of course, there's a little more to it than that.
But at its most basic level, that's how influencer marketing works.
Let's break down more details on how this partnership works.
Influencer Marketing And You (Brands vs. Influencers)
Influencer marketing is important and benefits both parties involved.
But where do you start?
Here, we walk through the best way to get your influencer marketing strategy up and running.
As A Brand
Are you a brand looking to work with influencers?
Here's what you need to do.
Why You Need Influencer Marketing
We've already delved into the numbers that make it clear: Instagram influencer marketing is hugely beneficial for brands, with a high ROI that outpaces the ROI of more traditional marketing methods like SEO or email marketing.
Influencers help your brand forge a feeling of trust and authority with consumers. When an influencer is pioneering your brand message, that message will come across as more authentic.
To get started with Instagram influencer marketing, you'll need to identify influencers that might be a good fit for your brand and then reach out to them to ask if they want to work together.
How To Find Influencers
The simplest place to start is by running a basic Instagram search.
Type "your niche + Instagram influencers" into the Google or Instagram search bar and look through the results; see who your competitors are working with. Or, opt to use a dedicated platform to search an influencer database, seeing information like their account size or how much they charge at a glance.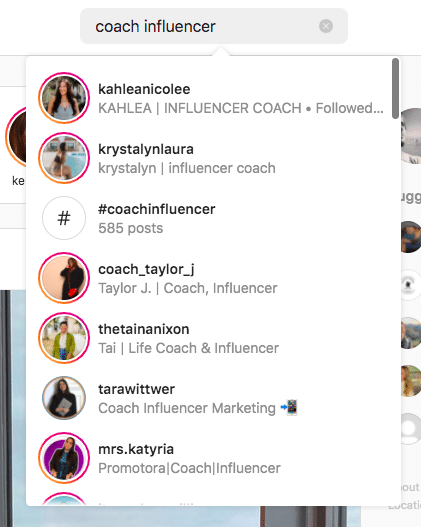 Once you've found some potential options, it's time to consider how to contact Instagram influencers.
Craft an email that offers something of value, explaining how the influencer would benefit. Make sure to also provide numbers and data about your brand. Share details on the strategy behind your campaign and what you would expect the influencer to do.
Ask how many posts the influencer would like to contribute and what their rate is. If you can't work out a deal the first time around, continue building a relationship. Offer to keep the influencer on your email list so you can follow up when the perfect campaign comes around. Think long-term and you may be able to work together in the future.
Influencer Collab Best Practices
Here are a few general best practices for working with influencers.
Communicate clearly and promptly with your influencer, making sure they know what you expect. Treat them as a valued part of your team. Your influencers play a major role in the success of your brand, and any influencer-brand partnership needs to be based on respect.
Consider providing a general list of "do's and don'ts" for influencers. Then give them the creative freedom to produce the content. Finally, make sure you respect their schedule and give them the time they need to finish the campaign.
Measuring Influencer Marketing Success
After your campaign is up and going, you'll want to analyze how it's going.
There are a few things you can do to measure Instagram success and ROI. First, pay attention to whether you're getting new (and active) Instagram followers. Track your growth long-term to see if your influencer partnership is paying off.
If your influencer marketing KPIs like engagement and referral traffic is going up, that's also a good sign.
Comments and shares (instead of just likes) indicate that your audience is highly engaged and cares about your content. And you can measure website referral traffic you're getting from influencers when sending referral emails, too: Add UTM parameters to a URL to create a unique link for each influencer.
Pay attention to what people are saying about your brand. This will help you get a feel for anyways your brand's perception may be shifting. When done right, influencer marketing can almost serve as a type of PR for your business.
Look at comments on your posts and analyze their tone of voice.
Finally, long-term, influencer marketing can increase sales, too.
This probably won't happen right away. But eventually, a solid Instagram influencer marketing strategy will help you build a loyal audience of customers.
As An Influencer
So you want to be an influencer?
Take a look at these basic tips and learn how to get started.
Influencer vs. Micro-Influencer
It's important to understand that there are a few different categories, or sizes, of influencers. An influencer is simply defined as a person who is perceived to have a lot of social influence in their field.
A micro-influencer is defined as an influencer that has between 10,000 and 100,000 followers.
It might seem like a good idea to get as many followers as possible, becoming a large influencer. But while Instagram followers are certainly beneficial, micro-influencers have a lot of benefits, too.
They're able to niche down, often reaching an audience that's much more engaged than other influencer audiences.
The Pros Of Becoming An Influencer Or Micro-Influencer
Today, many people make their living as influencers.
There are millions of influencers in the world. You can find influencers in virtually every industry or niche, from travel to lifestyle to education, and in more specific sub-niches as well.
Making money by talking about things you're interested in is an attractive idea to many people, and it's not difficult to see why.
Being an influencer can be a fun career.
You can earn money, receive free products, exercise your creativity, build a community, and maybe even become famous.
It's a good job option for people who have an entrepreneurial spirit.
However, being an influencer is a lot of work.
It might seem like an easy job. But to be successful, you have to put in many hours of work creating and posting content to engage your audience. It also takes a lot of hustle to connect with brands and get partnerships.
Even if you don't want to be an influencer full-time, an influencer side hustle can be a fun way to pick up some extra cash.
How To Get Started And Get Paid
Get started as an influencer by selecting a niche.
If you aren't sure what niche might be a good fit for you, think about the things you are passionate and/or knowledgeable about. Chances are, one of them will be a good fit.
Outline what problem you're going to solve for people and who your target audience is. For example: "I will use my knowledge as a certified personal trainer to help beginners get started with fitness."
Next, define your brand identity and messaging.
Your brand identity is what you want people to think and feel about your brand.
Your brand messaging is how you communicate who you are.
What are your three most important selling points?
What's your tone of voice?
What is the most effective way for you to communicate with your ideal customer?
Answering these types of questions will help you narrow down your identity and messaging.
When you're ready, let brands know that you're open to collaborations.
You might want to use a third-party influencer marketing platform like Intellifluence, ifluenz, or Tribe. You should also spend time pitching brands directly. Make a list of brands in your industry that your target audience would like.
Then send an email introducing yourself, asking for what you want, and explaining why working together makes sense.
If you're wondering how to get paid on Instagram, sometimes brands pay influencers directly for the content they create.
Or you might receive an affiliate link to share. With this kind of link, you earn a commission if anybody clicks on your link and makes a purchase. Instagram is also working on monetization tools that influencers will be able to use.
How To Increase Your Followers
One of the best ways to get more Instagram followers is to make sure your Instagram profile is optimized.
Your username, bio, and profile photo should all help clearly describe who you are and what value you offer.
This is the best place for you to quickly communicate your brand identity to people who are likely making a split-second decision about whether or not to hit that follow button.
Using hashtags is another good way to make your account more visible.
Hashtags help categorize your posts, and when used correctly, they can get you in front of your target audience. Try using a mixture of larger, more general, and smaller, niche hashtags on each of your posts.
Use a social media scheduling tool to post consistently so you stay top of mind and top of the algorithm.
If you don't post on a regular basis, your current followers might forget about you or even unfollow — and you probably won't get any new followers, either. Stick to a regular posting schedule so that people know what to expect.
The steady stream of high-quality content should entice new people to follow along, too.
A growth service like Kicksta can also boost your Instagram followers. Kicksta uses sophisticated artificial intelligence technology to help your Instagram account see steady long-term growth. Working with over 100K brands and influencers, Kicksta uses your account to safely interact with accounts in your target audience, helping your number of real followers go up.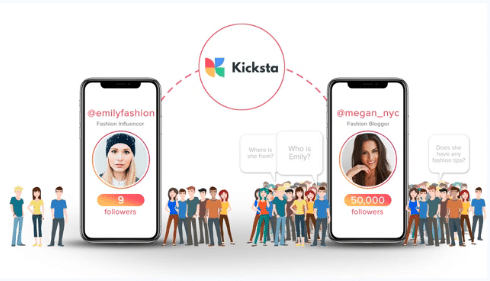 How To Increase Your Engagement Rate
Your engagement is the lifeblood of your account.
But boosting your engagement rate can take a little work.
Wondering how to get more engagement on Instagram?
The easiest way to boost your engagement is simply to post high-quality content (which is something you should be doing anyway!).
Invest in a good camera and learn how to edit photos; use presets or come up with a consistent editing style so all of your photos will look the same, creating a cohesive, branded Instagram feed.
Write captions that ask a question for your followers to answer in the comments. The better your content looks and the more tailored it is to your target audience, the more engagement you are going to receive.
Another helpful tip is to use a qualified Instagram growth service.
When you work with a growth service that focuses on organic growth, you will receive more high-quality followers over time. And when your followers are real people who fall into your target demographic, they'll be interested in what you have to post — helping your engagement go up.
You might also consider partnering with other influencers to cross-promote your content. Try matching up with an influencer who is in your industry, and whose account is about your size.
Chances are, your followers will be interested in both of your accounts. Collaborating with another influencer will open up your content to a new audience.
Finally, try using an influencer platform to up your engagement. Intellifluence, ifluenz, and Tribe are great examples of third-party influencer platforms. They can help connect you with brands that are a good fit. Everything happens on a single platform, making it easier to create engaging content.
Tools for Influencers
Make your life easier by using one of these influencer tools:
Instagram Influencer Marketing Strategies for 2023
You already know what tools to use to find Instagram influencers and connect them with your brand.
Use one of these five ideas to get your campaign off the ground
1. Contest Or Giveaway
Influencers regularly run contests or giveaways on behalf of a brand. Normally, participants are required to follow both the influencer and the brand, as well as interact with their content (such as tagging a friend in a comment). The prize is often a product from the brand.
2. Product Review
Have an influencer review a product and share a post or video with their verdict. This is a great way to get that feeling of trust and authenticity across to your customers.
3. Sponsored Posts
Instagram-sponsored posts are tagged as a paid partnership. This makes it clear to everybody that a brand-sponsored, or paid for, the influencer's post.
4. Branded Content Ads
Branded content is created by influencers to promote a brand. In turn, the influencer receives some form of compensation for their service. Posts that are branded content are clearly marked as a paid partnership. Your Facebook Brands Collab Manager can help you set up branded content ads.
5. Influencer Takeover
Hand over the keys and let an influencer take over your Instagram Stories for the day. This is a good way to cross-promote content. It's also highly engaging, making it fun for your followers to keep tapping. Strategically choose an influencer who can make their takeover both entertaining and informative to watch.
Instagram Influencer Marketing Success Stories
So what does influencer marketing actually look like in practice? Here are three examples of successful influencer and brand campaigns.
Jeanine Amapola And BondiBoost
Jeanine Amapola is a well-known YouTuber and influencer who has 359K followers on Instagram. She regularly works with brands to promote their products to her followers. In this post, Amapola partnered with BondiBoost, a clean and ethical haircare company. Amapola shared more information about the product with her followers and mentioned how it had worked for her, as well as adding two branded hashtags.
Sena Nelson And Far & Wild
In this example, Sena Nelson, a lifestyle influencer with 131K followers, partnered with essential oil company Far & Wild. This brand was likely a good fit for Nelson's followers, who are interested in her motherhood and lifestyle content. Nelson announced a product launch and gave her followers a special code they could use to save 20%.
Kiara Madisen And Fabletics
YouTuber Kiara Madisen has a long-term partnership with athleisure company Fabletics. She recently shared a sponsored post showing the company's new velour jumpsuit. Madisen's informative and engaging caption included more information about the new Fabletics collection and membership.
Instagram Influencer Marketing
There's a lot that goes into Instagram influencer marketing.
But with a little hard work, you can get started with this marketing tactic and begin building your strategy.
Use these tips to succeed on Instagram as a brand or a creator.
Happy posting!
Instagram Growth Hacks
Join over 100k+ marketers and influencers who get the latest Instagram tips & tricks sent to their inbox every week