How To Advertise On Instagram: The Ultimate Guide to Instagram Ads Management in 2022
post
Are you struggling to grow your brand through organic Instagram content? Why not learn how to advertise on Instagram?
More than 70% of users say that brands on Instagram are popular, creative, entertaining, and relevant.
Even better, Instagram is one of the most successful tools available for connecting with potential customers. More than 80% of users discover new products and services on the platform.
Can your brand afford to ignore the advertising potential of Instagram? Considering the above stats, Instagram might turn out to be a major income source for your brand.
On your Instagram feed, you can organically post and use social media strategies that might get your content noticed. However, doing so takes a lot of time and effort. It's a slow build and requires significant investment in order to get conversions.
On the other hand, with Instagram ads, you have an entire suite of tools aimed at promoting your products and services directly to your target audience. When you can get your content in front of the right users, you'll have a higher chance of getting more leads and conversions.
If you're just starting to learn how to advertise on Instagram, you've come to the right place! In this guide, we'll discuss all the aspects of Instagram ads management. Let's start with the basics of Instagram.
What Are Instagram Ads?
The first step of Instagram ads management is understanding exactly what Instagram ads are.
Instagram ads are social media ads that show up in users' feeds. Businesses pay to run these ads in order to promote their products and services. The ads may look like regular posts or videos at first glimpse, but they can be identified by the "sponsored" label.
Instagram ads can be as creative or basic as you'd like. Just like with organic Instagram posts, you can experiment with a blend of beautiful colors, imagery, video, and creative texts to grab more attention from users.
For example, in their ad, 1st Phorm uses an image of their products with engaging text as an overlay.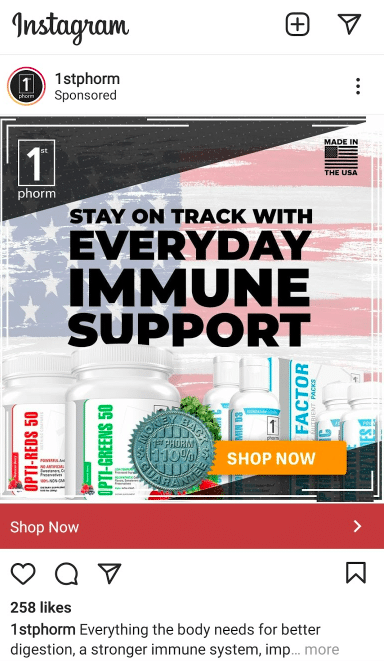 Beyond a static image, you can also use a carousel of images or a video in your ad. Check out this example of a video ad from Zapier. The ad featured comments from real customers and ends with a CTA.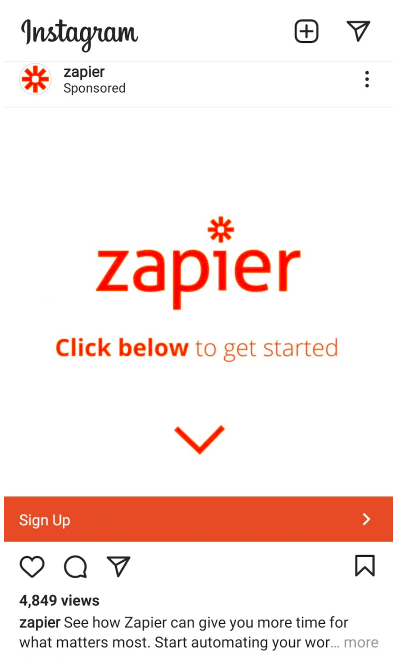 Why Use Instagram Ads?
Instagram ads give you countless opportunities to promote your brand and sell your products. If you're just figuring out how to advertise on Instagram, make sure you know the why before you worry about the how.
Join 100k+ savvy Instagram marketers
If you are struggling to get the attention you deserve on Instagram, sign up for Kicksta today and start attracting more followers who are interested in your brand.
Here are a few of the top reasons to use Instagram ads:
1. Brand Awareness
Instagram is one of the fastest-growing social media channels, and businesses have a great opportunity to spread brand awareness via the platform.
You can build brand awareness with the regular content you publish via feed posts, Stories, or Reels. Don't forget that ads generate brand awareness, too. You can use ads to get your content in front of potential Instagram followers.
By paying to run ads for your brand, you are investing in building your brand's name and product offerings. In fact, some of your ads may not be aimed at selling products. Instead, they'll have a main goal of building your brand's reputation.
2. Better Targeting
If you want to know all there is to know about how to advertise on Instagram, check out targeting. Since the platform is owned by Facebook, you can utilize Facebook's amazing and precise targeting options to ensure your ads are seen by the right people on Instagram.
You can adjust your target audience for criteria like their location, demographics, interests, preferences, behaviors, and more. You can even target people who have already used your products and services by tracking the traffic from your website and importing that information into Instagram.
All of this precise targeting means your ads will show up in the feeds of the people who are most likely to turn into customers for your brand.
3. Visual Appeal
Instagram is built for aesthetics. Just scroll through your feed and you'll find creative filters, amazing Reels, and beautiful stories. If your brand has a high visual appeal, Instagram is the best place for your ads to run.
In your ads, you can let your creativity run wild! Stunning images and videos will appeal to Instagram users and help sell your products. And, even if the users don't make a purchase directly from your ad, they'll remember the unique appearance of your ad and keep your brand top of mind.
6 Instagram Ad Types And How To Choose The Best One
Instagram has a potential advertising reach of more than 849 million users. Considering this is an incredibly powerful tool, you'll want to become very familiar with the various ad types as you learn how to advertise on Instagram.
Here are six different types of Instagram ads that you can use to create engaging campaigns and attract leads.
1. Photo Ads
Photos are the first thing that come to mind when we think of Instagram. Photo ads are the basic ad type on Instagram, and they provide a clean and simple format. The image can be square or landscape. You can pair your image with a great caption and relevant hashtags. Be sure to include a relevant call-to-action, too.
Photo ads can be used to support specific business objectives. They are the best fit for increasing engagement, lead generation, traffic, brand awareness, and conversion.
Billie uses Instagram photo ads to promote their razors and their subscription service—check out the "Shop Now" CTA. They also build up their brand by using a positive quote from a well-known magazine.
2. Video Ads
If you're already creating engaging videos, video ads can act as an easy revenue-driver. These ads add motion, sound, effects, and graphics that catch users' attention in an instant. They're great for showing how a product works, highlighting features of your brand or product, driving traffic to your site, and boosting engagement on your feed.
Video ads can be up to 60 seconds and 4GB. Don't wait until the end of your video to get to the good stuff, though. Include something that'll stop users from scrolling within the first three seconds.
For example, Masterbuilt, the famous grill brand, knows exactly how to advertise on Instagram. They utilized great video content in putting this ad together. It features huge flames within the first three seconds of the video. Users also see a great steak and the burly man who is grilling it. The video wraps up with a full-on feature shot of the grill.
3. Carousel Ads
In carousel ads, you can pick between two and ten images or videos to display in the same post. Users can swipe through to each image or video.
You can use carousel ads to show step-by-step guides to educate your audience about how to use your products and services. They're also useful when you have several cohesive pieces of content that can move the user closer to converting.
In their carousel ad, AAA highlights the various discounts that are available to their customers. The images and text are consistent, creating a seamless ad experience for the user.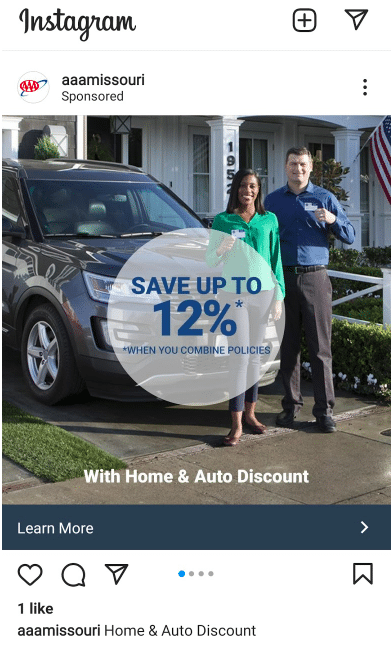 4. Collection Ads
Do you want to encourage direct sales? Then there's nothing better than collection ads. These ads allow you to feature multiple products in a single ad experience. Users can browse and directly purchase your products through these ads.
If you are looking for a way to showcase an exclusive range of products and services and capture them all in a story format, collection ads are best. These ads can drive catalog sales, conversions, leads, and store traffic.
5. Ads In Explore
If you're just learning how to advertise on Instagram, don't miss the Explore section. It's a dedicated section where users search for content posted by pages other than the business accounts or pages they already follow.
If you run ads in the Explore section of Instagram, you'll support goals like brand awareness, traffic, and engagement. Users who are in the Explore section are already looking for something new and exciting to pique their interest—your ad can capitalize on that!
The content you are posting in the Explore section should be unique and provide a clear action path for the users. Give your users a set of steps to be followed in these ads and encourage them to visit your page.
Big Commerce shows that Instagram ads management doesn't have to be complicated. The brand put together a simple ad for Explore, but it's incredibly effective. The copy is minimal, but powerful. The call-to-action is clear: download now.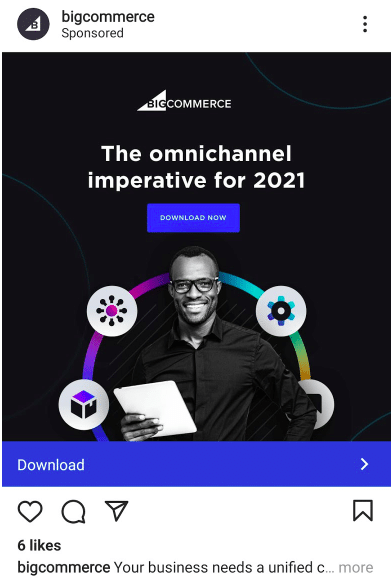 6. Story Ads
Around 500 million people use Stories every day, so why not use Story ads to promote your business? Consider running Story ads to lure your audience while using numerous eye-catching features like face filters, video effects, and texts.
These ads appear when users are swiping through from Story to Story on Instagram. They also come with a swipe-up feature that directs the users to your website or your page.
If you're struggling to get more video views or traffic, create an engaging Story ad with music, or voice to add a unique element. It could make a huge difference for your brand.
In one example of a Story ad, Venmo uses fun graphics and an emphasis on quick cash to get users to pause between Stories. Their "Sign Up" CTA is clear and effective.
Instagram Ads Management: Choosing The Best Ad Format
When learning how to advertise on Instagram, choosing the best ad type for your business objective can be the trickiest part.
The first thing to consider is the action you want your target audience to take. That'll guide you in determining the purpose of creating your Instagram ad.
Ask yourself: "Why do I want the audience to see my ad or come and visit my page on Instagram?" Also, analyze what your brand has to offer to your audience: "What does the audience want to get from my brand?"
You'll also want to take the audience's preferences into consideration. Does your audience respond well to static images or video? Are they most likely to find you in their feed or on the Explore page?
Once you're clear on these questions, analyze which ad format matches what you need and what your audience wants.
How To Advertise On Instagram Effectively
Now that you have basic knowledge about Instagram ad management, here are a few simple steps that you can follow to get started now.
1. Begin With A Business Page
The first step to advertising on Instagram is having an Instagram business or creator account—you can't post ads from a personal Instagram account. Create one if you don't have it.
2. Determine The Ad's Objective
Here's where you put your business goal into play. Determine your objective and create an ad that meets that objective. Some generic business objectives of Instagram ads are:
● Lead generation
● More traffic
● Engagement
● App Installs
● More Views
● Brand Awareness
● Sales
3. Name Your Ad Campaign
Figuring out how to advertise on Instagram can be confusing enough. Don't complicate the process with random campaign names that are unclear and confusing. We recommend you name your campaign with a word or few words that best aligns with your objective. This will help you keep your campaigns straight and track them efficiently.
You can also use various tools to track your ad performance. One tool is Mentionlytics. It allows you to access the insights related to your ads and helps you analyze how many times your brand has been searched or mentioned on the platform.
4. Pick Your Target Audience
Setting your target audience is a crucial part of Instagram ads management. If you want your ad campaign to be successful, you have to set clear parameters for your audience. Targeting is one of the most powerful tools you have in running Instagram ads, so use it to your advantage!
Consider these criteria when setting up your ad targeting:
● Location
● Age
● Gender
● Demographics
● Interests
● Income
● Behavior
● Language
● Connections
● Browsing Pattern
One great strategy is to utilize the data from your website visitors to set up your Instagram ad targeting. Head to your Google Analytics page and look at your audience tab. You'll find a ton of demographic information.
Apart from this, you can also create a custom audience by using the Facebook pixel on your website. This will allow you to use your Instagram ads to retarget people who have recently visited your website. You can also use this retargeting information to create a lookalike audience on Instagram.
5. Determine The Budget
Budgeting is a crucial step in Instagram ads management. It'll determine how long your ads will run.
Set up your Instagram budget based on the ad's goal. Also, consider the needs and campaign type before you pick a daily budget or lifetime budget for the ad.
If you want to boost traffic, you can choose a daily budget, but for conversions and sales, a lifetime budget or monthly budgeting would be a wise choice.
In the daily budget, your ads will run based on the allotted amount. On the other hand, if you choose a lifetime budget, you have the option to schedule your Instagram ads daily, weekly, or monthly.
Join 100k+ savvy Instagram marketers
If you are struggling to get the attention you deserve on Instagram, sign up for Kicksta today and start attracting more followers who are interested in your brand.
6. Pick The Ad Format And Get Your Ad Published
For the last step, pick an ad format: Carousel Ad, Image Ad, Video Ad, Story Ad, Collection Ad, or Explore Ad. Make sure the ad type aligns well with your business objective and your target audience.
Navigate to the ad creation dashboard to upload your content and create engaging ad copy. If you don't have an in-house designer, you can create Instagram-worthy designs quickly with Canva. It's a design tool you can use to create stylish Instagram posts and stories.
When you're happy with your design, publish your ad. As it runs, be sure to keep an eye on your budget and track analytics related to the ad.
An Important Addition To Your Marketing Strategy
Learning how to advertise on Instagram is a critical step in expanding your digital marketing strategy. If you have the right foundation in place, it can turn out to be one of the most impactful methods of marketing your business.
Go ahead, get your feet wet, and post your first Instagram ad. And, don't forget to keep learning about Instagram ads management so that you can stay on top of trends and best practices.
Author Bio

George Mastorakis is a co-founder of Mentionlytics supervising Financial Planning and Analysis and our Cloud Architecture. He is an Associate Professor on Emerging Technologies and Marketing Innovation. His interests include Cloud Computing, Web Applications and Internet of Things.
Instagram Growth Hacks
Join over 100k+ marketers and influencers who get the latest Instagram tips & tricks sent to their inbox every week