B2C Instagram Strategies That B2B Marketers Can Learn From
post
In today's ultra-digitized world, B2B buyers look a lot like B2C buyers. Younger, millennial buyers are the driving force behind this trend with Gartner reporting that millennials are skeptical of sales reps, want access to more and higher quality information, and are increasingly influenced by the B2C buying experiences they've grown accustomed to outside of work.
This article will review how B2C and B2B Instagram marketing intersects, highlighting some elements that B2B marketers should consider when targeting today's B2B buyer on Instagram.
The Presence of Businesses on Instagram
According to the latest data from Instagram, 90% of their over 1 billion active Instagram accounts follow a business on the platform. B2C businesses are already leveraging Instagram's robust audience, networking capabilities, and ad products to reach consumers.
For example, Hydroflask, an insulated water bottle company, created ads on Instagram stories that produced an 80% increase in revenue.
Story ads enable businesses to share photos and videos in a vertical format that's perfect for mobile devices. Unlike organic Stories, which disappear after 24 hours, promoted Stories (e.g., Story Ads) run for as long as the advertiser wants.
The metrics speak volumes for businesses who want to reach customers via Instagram. Per Instagram's business portal:
60% of people say they discover new products via Instagram.
200+ million Instagram users visit at least one business profile per day.
1/3 of the most viewed Stories are from businesses.
So, what are some strategies that B2B marketers can use to target customers? The best way to demonstrate this is by example.
Build a Powerful Profile
Companies like Slack and Cisco use their Instagram profiles to promote their businesses, grow their followers, and share corporate news and stories.
Here are a few best practices that businesses should keep in mind when creating a powerful business profile on Instagram.
Include a link to your business in your bio. Consider creating a dedicated page on your Website for people who click on that Instagram link – this makes it easy to track referrals from Instagram and gives you the ability to customize your landing page experience for Instagram users.
Include a one sentence (very brief) description of your company, product or service.
Keep your profile simple, but authentic—don't use overly promotional or boilerplate copy.
Make sure you upload a clear and recognizable logo as your profile image.
The following are examples of Slack and Cisco profiles on Instagram.


Slack has just over 28,000 organic followers and they use their feed to communicate tips, news, and company information. This post, regarding working from home, is an example of how Slack is reaching out to their community of users with information for those who are impacted by COVID19:
By comparison, Cisco (a company with over 300,000 followers versus Slack's 28,000), leverages their Instagram feed in an entirely different way. They post much more frequently and have a "behind the scenes" feel. Cisco recently posted a photo of a virtual meeting that included over a dozen employees, many of whom had small children or babies on their laps. This is a great way to humanize a B2B organization (particularly, a large one like Cisco) while reaching out and connecting with existing customers and potential new prospects.
While it's free to post to your Instagram profile, profiles with more followers get more interaction. Thus, boosting organic posts and Instagram stories is a great way to expand your following. You can do that via Instagram ads, which we'll outline below.
Instagram Advertising Options for Businesses
As noted above, B2C businesses are already widely advertising on Instagram and this includes Instagram ads. There are several different ad formats that businesses have access to as follows:
Story Ads (Video And/Or Image)
Story ads make full use of a user's screen and are designed specifically for mobile devices. They support MP4 video or .mov files and .jpg or .png image formats. They also allow for up to 120 seconds of video. The ads appear at the top of your followers' feeds and enable people to react just as they would with organic Stories (e.g., by replying with emojis, sharing the story, and commenting).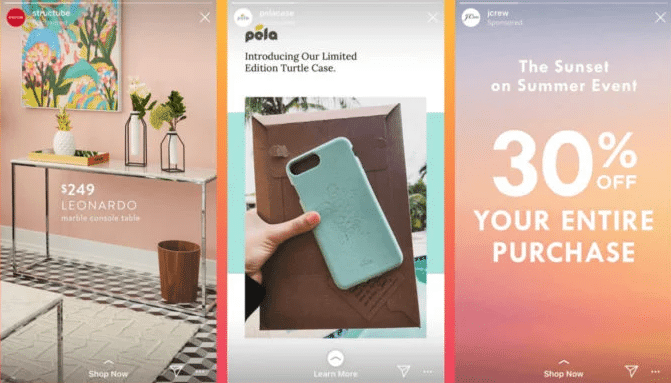 Instant Experience (IE) Ads
These ads, formerly known as "canvas" ads, are supported only on mobile devices. The ads are presented in an immersive, full-screen format which enables brands to tell their story in a visually compelling way. IE ads support images, videos, product carousels, form fill-outs, and tagged products and tend to work best for retailers but can also be a great way to showcase your brand.
Image Ads
The standard ad format users see when you're scrolling their Facebook or Instagram feed, image ads use single images that contain some descriptive text above and below the ad. Image ads can be a "promoted" post—an organic post that the advertiser turns into an ad to get a wider reach on Instagram or they can act as standalone ads, separate from the organic feed.
Video Ads
These are essentially the same ad type as image ads, but they feature a video instead of an image. These ads are great for short promo, DIY, or other videos that highlight your brand, product, or service.
Carousel Ads
Carousel ads are basically image ads on steroids. They allow advertisers to use multiple images which users can scroll through in a "carousel" format. In the B2C space, these ads are great for retailers who have visual products to showcase (e.g., Hydroflask), but B2B marketers can benefit from using carousel ads too, for example, by featuring images of a warehouse production process.
Businesses can buy ads on Instagram within the app itself by promoting organic posts they've already shared on Instagram, in Facebook ads manager (Facebook owns Instagram and the two platforms share a common ads manager), or via a Facebook marketing partner (if you prefer outsourcing your advertising).
Hashtags and Influencers
Most people who use social media platforms such as Instagram, Facebook, and Twitter are accustomed to seeing hashtags, a word or phrase preceded by a hash (#) sign.
On Instagram, posts that use hashtags appear within Instagram's "search" page, so this is a good way for your post to be discoverable by people who don't follow you (if your profile is public). Using hashtags in your posts can help improve the post's visibility in a few different ways. First, since hashtags are searchable, people looking for relevant content on Instagram are more likely to find your post.
Businesses can also create their own hashtags to promote their brand, events, services, and products. This post for Popwallet, a mobile wallet marketing company, appeared in the search results on Instagram for the hashtag #b2bmarketing.
Finally, pairing hashtags with influencers can help brands and B2B marketers achieve incredible reach organically. Social media influencers are people with a dedicated, niche following. These are people with the power to influence purchasing decisions because of their inherent authority. Influencer marketing is a popular trend in the B2C space with some influencers (e.g., Kylie Jenner) amassing huge follower counts, composed of millions of people.
B2B influencers typically have less followers than B2C influencers, but their impact can be significant when it comes to endorsing and promoting businesses. In 2017, Microsoft partnered with National Geographic photographers to motivate women to participate in STEM. The campaign leveraged the hashtag, #MakeWhatsNext and leveraged National Geographic's Instagram account to showcase 30 female scientists and "adventurers." In this case, the influencers included National Geographic and its network of photographers.
The top post featured research scientist (and panda keeper), Liu Juan nuzzling a panda cub. This post received over 500,000 likes and more than 3000 comments and promoted a STEM event at various Microsoft stores.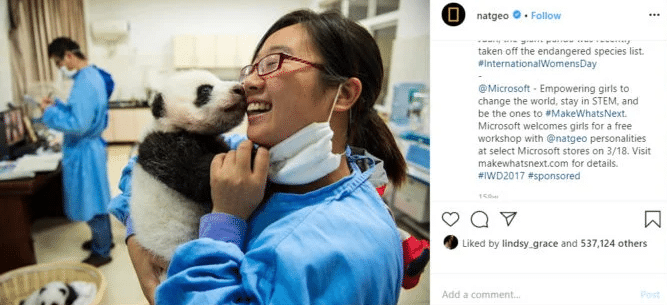 B2C Instagram Tactics Fuel B2B Marketers Strategies
There are clearly many opportunities for B2B marketers to leverage Instagram in their marketing plans. B2B buyers, driven by more and more millennials in the workplace, are already familiar with the platform.
As with any social media outreach campaign, it's important to maintain your authenticity and keep your posts as relevant as possible. Avoid overly promotional posts and ads, and stick with relatable, human stories that help your customers and prospects feel connected to your business.
Author Bio
From legacy Fortune 100 institutions to inventive start-ups, Ryan brings extensive experience with a wide range of B2B clients. He skillfully architects and manages the delivery of integrated marketing programs, and believes strongly in strategy, not just tactics, that effectively aligns sales and marketing teams within organizations.
— Ryan Gould, Vice President of Strategy and Marketing Services at Elevation Marketing.
LinkedIn: https://www.linkedin.com/in/rygould/
Instagram Growth Hacks
Join over 100k+ marketers and influencers who get the latest Instagram tips & tricks sent to their inbox every week