Why Personal Branding Is Important & How To Use Instagram To Build It
post
Do you have a solid brand identity? These days, personal branding with Instagram is crucial for business and customers don't want to interact with a faceless, personality-free entity. They're looking for brands that they can identify with and engage with on a personal level.
The thing is, brand marketing doesn't just apply to startups and big corporations. If anything, creating a personal brand is even more important when you're trying to establish yourself as an expert or consultant in your niche.
So how does establishing a personal brand make a difference? And where does personal branding with Instagram fit into all this, anyway?
What is Personal Branding?
First, it helps to understand what personal branding is and why it can make a difference for your career.
Unlike many brand marketing efforts, personal branding is not shameless self-promotion. Rather, it embodies who you are, how you act, and how you present yourself to potential clients and others. Your personal brand is what makes you unique and how you stand out in your niche.
Like it or not, most consultants, speakers, and other niche experts have similar credentials to you. Your college degree and years in the industry aren't necessarily that unique. But your personality and experiences are.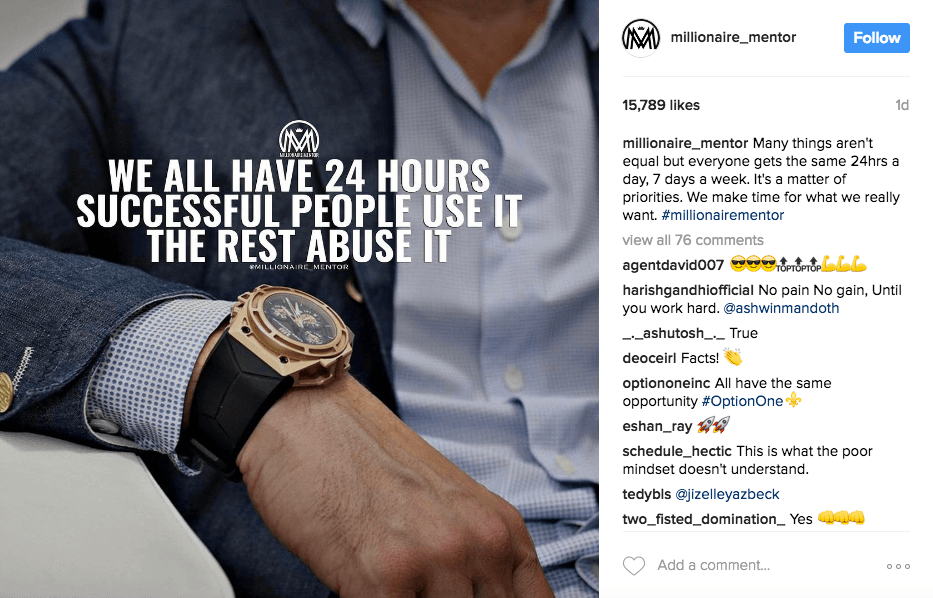 Digital audiences crave distinct personalities. They want interesting personal and professional stories. But most of all, they want someone they can relate to.
Naturally, being a confident public speaker can go a long way in building your personal brand, but it's essential to remember that everything you do contributes to your image. The way you write emails and articles or communicate in day-to-day conversations also influence the way others perceive your personality.
How Can you use Personal Branding with Instagram?
So how can Instagram contribute to your personal branding efforts? As a social media platform, Instagram is the perfect tool to help you control the message as you communicate with your audience.
With this in mind, you should view Instagram as an extension of your current personal branding efforts. Instagram audiences are eager to see the "real you," and when done right, you can deliver the "real you" in a way that furthers your personal brand.
Remember that the same qualities that go into personal branding efforts in other parts of your life, apply just as much as personal branding on Instagram. You need to allow your unique voice to shine through, whether it be humorous, informational or motivational.
To make personal branding on Instagram work, the most important thing you can do is be consistent. To keep your audience engaged and actually reap the personal branding benefits of Instagram, you need to post on a regular basis while also sticking to your main themes.
If you're a fitness coach, don't confuse your audience by posting a workout tip one day, then tips on international travel the next. Use your Instagram account to provide followers with your unique expertise, paired with high-quality images that are consistent with your brand persona.
Sharing photos on Instagram is also a great way to offer your followers a behind-the-scenes look at your work, special events, or even interesting pictures from your life. Don't be afraid to get creative, either. Instagram Stories and other features are a perfect opportunity to connect with your followers in a meaningful, "face-to-face" way.
With the help of Instagram, you have yet another brand marketing platform where you directly control how others perceive your personal brand. As you use engaging imagery to highlight what makes you a unique and valuable industry voice, you'll have yet another positive outlet where potential clients can better understand what you have to offer.
When you follow best practices for using Instagram, leveraging this social platform for your personal branding efforts can ultimately elevate you from being just another Instagram user to becoming an industry influencer.
Conclusion
The persona you display on Instagram and other platforms can ultimately determine the course of your entire career. It will influence which audiences you're able to attract and help you establish credibility in a marketplace that sometimes seems to be overflowing with cookie-cutter personalities.
Personal Branding With Instagram will help you establish your unique personal brand. You'll be better equipped to appeal to your target audience, find new clients, and snag the business opportunities that will jump-start your career.
Instagram Growth Hacks
Join over 100k+ marketers and influencers who get the latest Instagram tips & tricks sent to their inbox every week