How to Use Instagram Direct Messages to Increase Business
post
The ability to send Instagram direct messages is nothing new. In fact, the feature has been around for over five years at this point. Over the past five years, direct messages have increased in popularity to 375 million users, and that number continues to grow.
But are you using direct messages to their fullest potential? Are you connecting with members of your audience individually?
Instagram is an incredible marketing tool because it allows businesses to share content and messages with many followers at once. This can also be a downside, because we as humans like to perceive ourselves as individuals, and spoken to directly.
This is where the magic of direct messaging comes into play.
A Brief Rundown of Instagram Direct Messages and How to Send Them
If you have somehow managed to never send or receive a direct message on Instagram, here's a quick recap of how it works:
When you open Instagram, the little paper airplane-looking icon in the upper right-hand corner is your portal to direct messages.
You can respond to direct messages, create new messages, or see which people have tagged you in your stories.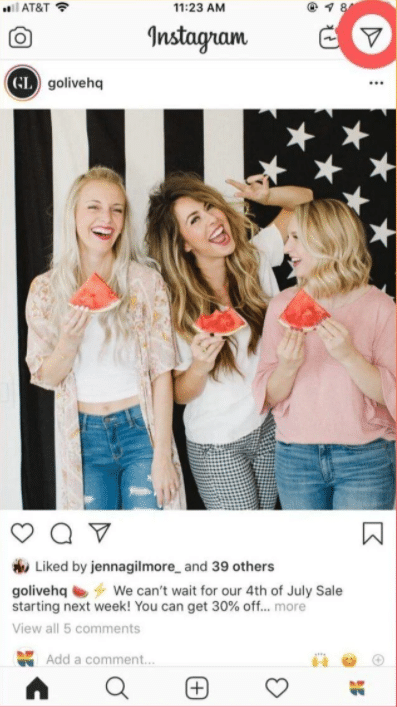 You can send direct messages outside of the messages screen, as well!
If you're watching someone's story, replying to them will send a direct message.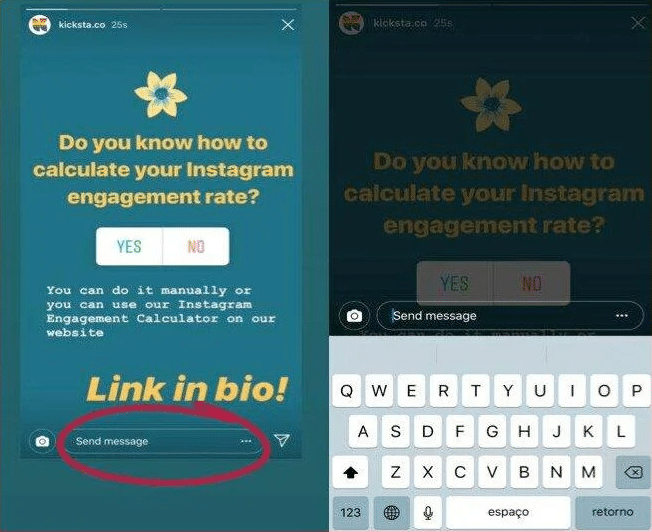 If you go to someone's profile and click the "message" button above their bio, you can send a direct message.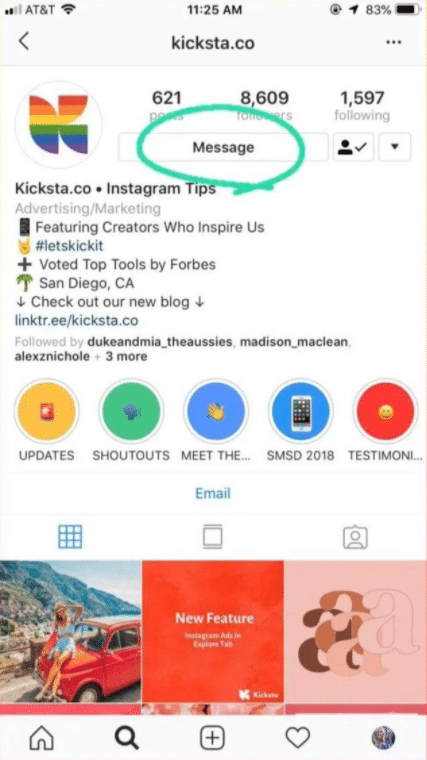 If you're looking at a post and you hit the paper airplane button icon, you can share that post with someone as a direct message.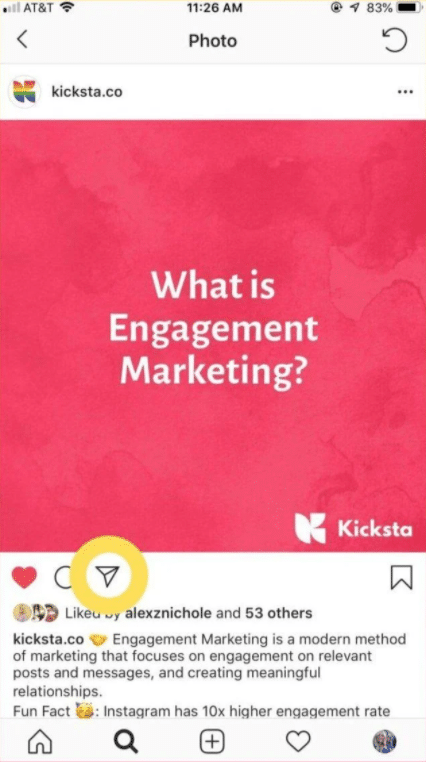 You can send text messages, voice messages, and images through direct messages. If you have lots of information to share with someone, a voice message might be better than text. It's entirely up to you and your brand strategy, how you'd like to interact with your followers.
Use Instagram Direct Messages for Your Business
While the use of Instagram Stories, posting in the feed, and responding to comments are important for engaging with users, direct messages offer a unique opportunity to connect with your audience.
Here are some ways you can use Instagram direct messages to grow your business.
Connect Individually
If someone in your community direct messages you, it's so important that you respond in a timely manner. This is just as important as responding to comments on your feed.
Responding to your followers helps you build trust and make connections with potential customers. If someone takes the time to message you, chances are they're a loyal follower, who's potentially interested in working with or buying from you in the future.
In fact, according to Forbes, "49% of customers bought items they did not intend to buy due to a personalized recommendation from the brand they were doing business with."
Spending time in your direct messages and interacting with your community, is a great way to provide a personalized experience.
Use Your Stories to Get Messages
Instagram's new swipe up feature is all the rage right now, especially for increasing business.
While the swipe up feature is great, what if you don't have a business account or don't have the necessary 10,000 followers? Direct messages can help you fill that gap.
Propose a question in your stories and ask your followers to direct message you an answer. This is a great way to be able to increase your personal connections and get customer feedback.
If you're talking about a new product or service, add a poll in your story asking if viewers want more information. Follow up with direct messages to everyone who answered "yes."
When you share stories about an event that's coming up, ask your viewers to send you a direct message to get more information. Then you can address questions in real time, which can ease people's worries and increase your event attendees.
@Missellinyin used both a poll and a question sticker to answer questions from her followers: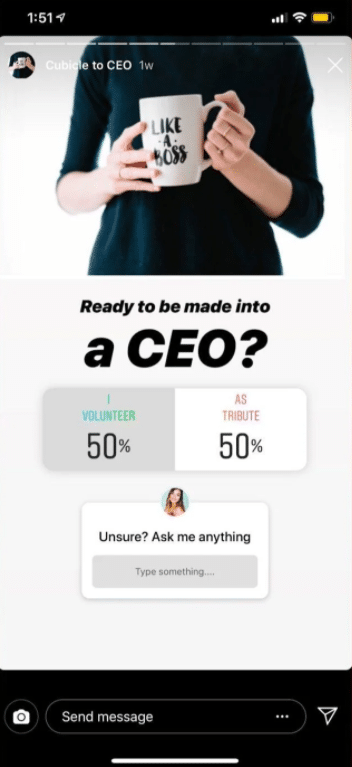 Reach Out to the Constant Engagers
Is there someone in your community who is always commenting on your posts? Do they always respond to your polls and watch your Instagram Lives?
Send them a personal direct message. Be genuine and thank them for engaging with your posts. Giving them that personalized customer experience will likely inspire them to continue engaging with your posts. You can also offer your highest-engaging followers a special coupon code as a thank you, leading to more sales for you!
Use Instagram Direct Messages to Network
Connecting with your customer isn't the only way to utilize Instagram direct messages for business.
Is there someone on Instagram you've been following and engaging with and always wanted to have on your podcast? Do you want to write a blog post with input from industry experts?
Consider reaching out to them through Instagram direct messages.
Our team here at Kicksta did this, and we got a major influencer to re-post us: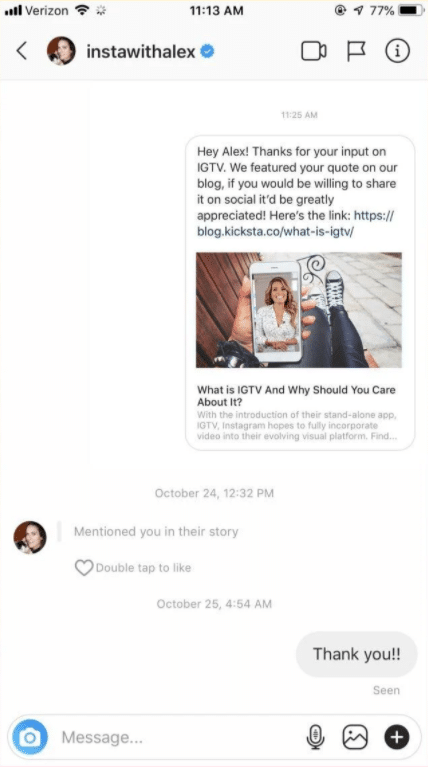 Messaging someone on Instagram is one of the best chances that you'll actually get to talk to that person. It's easier to outsource Facebook messages and emails, but because of Instagram's in-the-moment nature with their stories, your message will likely go straight to the top.
Before you reach out to them though, make sure you've been engaging with their content. It will help them recognize your name when your message appears. Make your message light and friendly while also getting to the point of the matter.
If they don't respond, consider following up – it will show how serious you are about this relationship.
Is there a social media lead you want to reach out to network but you don't know how to start? Here are a few tips:
Do your research to know what value you can offer them.
Make sure you're doing this to create a relationship and not just asking for a favor.
Reference something they just posted about in their feed or in their stories. Bonus points if you respond to the relevant story!
Still unsure of what to say? Here's some examples:
Hey Hannah! I saw in your story that you're starting The Miracle Morning and you're looking for accountability partners. I'm in if you still need one! Thanks, Lynn
Hi Charlie! I just finished reading your book, and I really enjoyed it. I'm a social media manager, and I'd love to create 5-10 posts for you for free if you're interested! Let me know if we can schedule a call. Thanks, Drew
Why Choose Instagram Direct Messages?
When customers, or potential customers, can now easily send a direct message to you while scrolling through their feed. This was not always the case, as Instagram made some changes in May of 2018.
Before then, direct messages from users you weren't following would go into a "pending" folder, much like Facebook messages that are sent to your personal account from people who aren't your friends. This was annoying to customers, but it was awful for small businesses who potentially lost out on revenue.
The May 2018 change made it as simple as possible for businesses to be able to respond to the direct messages they receive. Responding is critical, though, as many people won't reach out again if they don't get a response.
Selling on Instagram
If you aren't convinced that Instagram brings in sales, think again. A study by Business Insider found that 72% of Instagram users purchased a product they saw on Instagram. Combine that with the data from Forbes, that personalized experiences cause 49% of consumers to purchase, and you can unlock so much selling potential in your Instagram direct messages.
A recent blog by Hootsuite shows that 80% of Instagram users follow at least one business, and 60% of users learn about new products on the platform. The techniques previously discussed, like promoting new products or services in your stories and asking for questions, are a great way to engage with your audience and ensure that their needs are being met.
@Stacytuschl does a great job of asking her followers to DM for more information: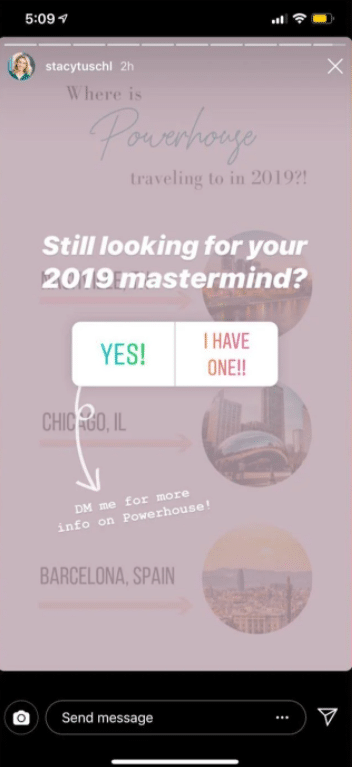 Quick Reply for Business Accounts
Instagram has implemented a feature for its business accounts. You can create and load "quick replies" to make responding to direct messages easier. This can be especially helpful if you post a story about your upcoming event and ask people to direct message you for more information. By creating a quick reply that includes the bulk of the message and a link, you can save time replying. The quick reply could look something like this:
The event is March 12-15 in Nashville, TN at the Nashville Music City Center. Tickets are on sale now and can be purchased at mylink.com. Is there anything specific you'd like to know?

Pro Tip: Don't send entirely pre-written messages to users who have direct messaged you. People like to know that they're talking to an actual person and having an instant connection. Not to mention, when you send a pre-written template, people will be able to tell.

You'll still want to customize each response with the person's name and any specific answers to additional questions they ask. Let's take a look at a couple of examples to make sure this is clear.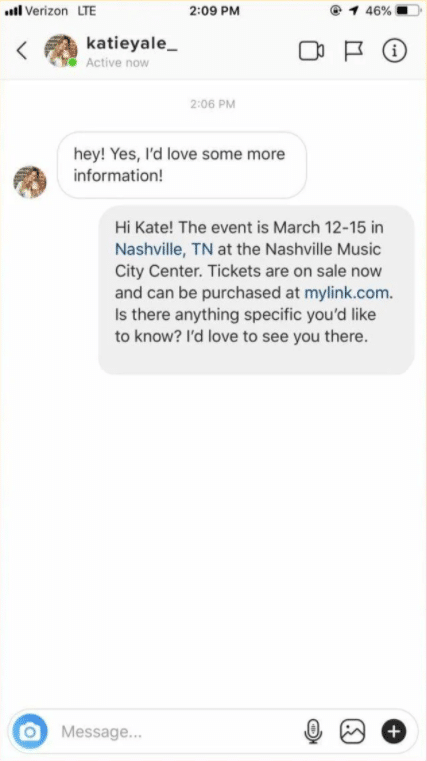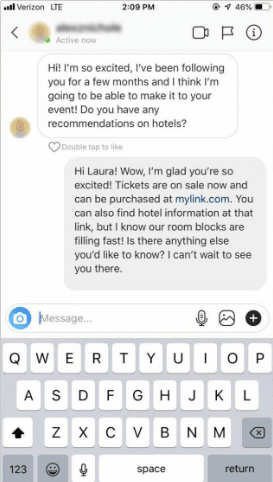 So even though both of these responses included at least some portion of the quick reply, they're two very different responses, and will help solidify a meaningful relationship with your followers/potential customers.
How to Use Quick Replies
If you'd like to create a quick reply, go to the Business Settings portion of your app and choose Quick Replies. There you can add, edit, or delete your quick replies.
To add a quick reply to a message, click on the message icon with three dots, and your saved quick replies will appear. Tap the one you'd like to use, make any edits needed, and send.
Direct Messaging On Mac And PC – Step-By-Step
If you run social media for a business, it's likely that you are doing a lot of your work from a laptop, such as a Mac or PC. As we all know, Instagram is available on these devices as well, and you can still send D3Ms from them just as you could when using the Instagram app on a cell phone. Here's a play-by-play of how to do it:
Step 1 – Getting To Your DMs
First up, log into Instagram on your MAC or PC via their website. This will automatically take you to your feed, where you will see posts and stories from the accounts that you follow. In the top right hand corner, you will see the paper airplane we mentioned earlier.
Step 2 – Choosing An Account To Message
Click on the paper airplane icon to navigate to your direct messages. Here, you will see a list of all your previous private conversations with other accounts. To reconnect with an account that you've already messaged, you can scroll through your message history until you find the conversation you're looking for.
If you want to start a new conversation, or you don't want to scroll through old conversations to find a specific account, you can click the big blue box on the right side of your screen that says, "Send Message." From here, type in the name of the account you want to message, select the correct one, and hit "Next" in the top right corner of the pop-up box.
Step 3 – Composing Your Message
Writing your message is pretty straightforward from here. There will be a bar at the bottom of your screen, in which you can begin typing whatever you'd like to say.
At the left side of this bar is a smiley face icon, which you can press to have quick access to emojis. At the far right of the bar is a heart, which you can click to automatically send a heart in the chat. And to the left of the heart button is a photo icon, which you can use to access the photos and documents you have on your Mac or PC; essentially, this button is used for attaching any files to your DM.
Once you've crafted your message, all you need to do is press the "Return" or "Enter" button on your keyboard, and it will be off!
If you accidentally send your message too soon, or see a typo, no worries – if you right-click on a sent message, you can choose to "unsend" it. Try not to do this too often, though, as your recipient may get a notification that you messaged them and then be confused as to why no message appears in their DMs.
The Potential of Instagram Direct Messages
Instagram direct messages are an underused marketing tactic. When used correctly, they can generate leads, build trust, and increase community with your followers.
One of the most important things to remember though, is to make the messages personalized. It can be tempting to copy and paste messages, but your followers will be able to tell if you're being genuine.
Bring individualized value to your followers, and your Instagram direct messages will become a great way to connect and grow relationships.
Open up Instagram right now and see if you have any messages waiting that haven't been answered. If there are messages waiting in your inbox, those are potential customers and audience members who would love to hear back from you.
Take a few minutes and respond to those messages, whether that's answering a question, saying hello, or thanking someone who has excitedly told you they're going to attend your live event.
Responding to Instagram direct messages isn't time consuming, and it's a great form of networking for your business, helping you build a loyal following of customers.
Instagram Growth Hacks
Join over 100k+ marketers and influencers who get the latest Instagram tips & tricks sent to their inbox every week