The Influencer's Guide to Increase Instagram Engagement Rate
post
How to increase your Instagram Engagement rate has become a major topic of discussion in social media circles recently.
Gone are the days where simply having a lot of Instagram followers meant you could make it big as an influencer.
Measuring an influencers engagement rate has become the most important metric for brands who are looking to collaborate on a new marketing campaign.
As an influencer, the ability to measure and maintain a strong engagement rate is crucial to landing more meaningful partnerships with brands but it has not gotten any easier with Instagram's algorithm change.

Why Influencers Need High Engagement Rates
In a nutshell, any interaction by your followers with any of your posts is considered as engagement, whether it is in the form of likes, comments, or saves.
Needless to say, having a high engagement rate on Insta gives you massive credibility with your audience. It shows brands you are someone who can positively influence others.
"Owning a product based business myself now, the first thing I look at when either someone asks to collab with us or whether we want to approach someone is their engagement and also the quality of their engagement. We want to work with someone who knows how to build a connection with their audience and engage them to get the best ROI." -Amanda Campeanu, Brand Photographer and Instgram Strategist, Plush Content Co.
As an influencer, a high engagement rate also shows that you post high-quality content that resonates with your followers.
Influencers with a high engagement rate are able to pitch brands for better partnerships since they are always on the lookout for influencers who can drive loyal customers and sales to their business.
First off, you need to identify what your current Instagram engagement is to understand how much you can improve…
How to Calculate Instagram Engagement Rate
Unlike the other social media giants, Facebook and Twitter, Instagram does not have a separate dashboard for you to analyze your engagement rate.
Needless to say, how to easily calculate your Instagram engagement has always remained a troublesome task.
You can either calculate it manually or use a tool to automatically determine your current Instagram engagement rate.
Calculate Your Instagram Engagement Rate Manually
Engagement rate is calculated by the 'total engagement' received over a specific period, expressed as a percentage.
Here's the formula:
Engagement = (Likes + Comments)/ Followers
Let's say you received 150 likes on a particular post and 50 comments.
150+50 = 200
Total number of followers = 2000
Engagement rate = (200/2000) x 100 = 10%
Simple!
Typically, your posts from the last 30 days will give you a strong indication of your current overall engagement rate.
Instagram Engagement Calculator
If you're not a math wizard or don't have a calculator handy and are looking to quickly get an update of your overall engagement rate, you can use an Instagram engagement calculator to expedite the process.
Simply add in your Instagram handle and it will calculate your average engagement rate for you!
Instagram Engagement Rate Tools:
Compared with brands who can easily track their campaigns with enterprise software tools, influencers may have trouble trying to find out the true impact of their posts if they lack the proper Instagram tools.
Here's is a list of third party tools to help analyze the performance of your Instagram account:
Simply Measured:
Simply Measured is a great Instagram engagement rate tool to look into how far and wide your brand reaches on Instagram. Simply Measured can prove to be a partner that helps you plan your posts in the right direction, backed by reliable data.
Here are a few things you will be able to gather by using this tool:
New and total follower growth rate.
Performance of your hashtags.
Videos – views, retention, conversions.
Benchmark performance against the competition.
Social conversion funnel – to figure out how all the activities increase your bottom line.
Analytics report.
Feedback on photos.
Iconosquare:
Iconosquare helps you manage your posts on multiple Insta accounts at the same time, making it the perfect tool for freelancers or agencies that want to efficiently manage time while handling different accounts. With Iconosquare you can:
Understand how posting frequency is related to your followers.
Shows comments and interactions on each post.
Ready library of on-the-go content.
Media library of high-resolution images.
Schedule posts.
Track follower growth, gains, and losses each day plus keep a tab on the location of followers.
Keyhole:
Keyhole specializes in providing real-time feedback for your Instagram account for influencers.
Additionally, the tool allows you to :
Evaluate performance of a specific hashtag, keyword or account trending currently.
Get an insight into your own activities.
Track competitor's Insta account.
Easy to read dashboard with pre-defined KPIs.
Squarelovin:
With their in-depth analytics tool, Squarelovin gives you metrics on your recent posts and growth, a monthly analysis, and a history of your posts broken down into year, month, day, and hour.
Gather overall engagement – overall views and follower counts plus individual metrics on each post.
Figure out the best times to post.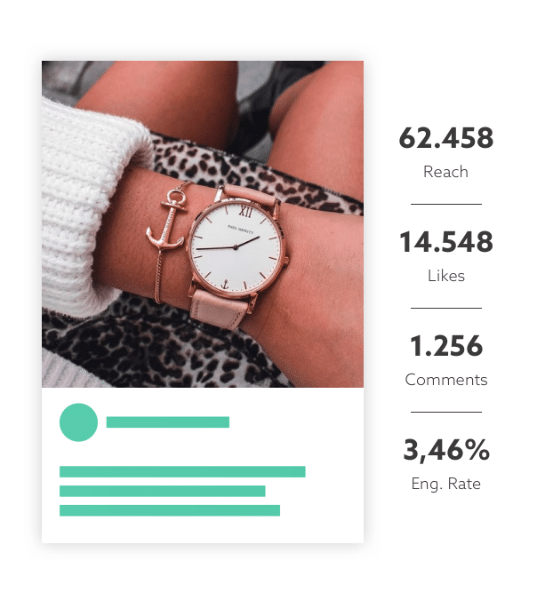 How the Instagram Algorithm Update Affects Engagement:
If you find yourself thinking your Instagram engagement is not as high as it used to be, or lower than you expected, you're not alone.
Many Instagrammers are facing a declining engagement rate and blame it on things like the "Instagram Shadowban".
But in reality, the changes in the engagement levels are due to the new algorithm introduced by Instagram.
So what is it? And how does it affect engagement rates?
Well, here are the three critical factors that determine how Instagram prioritizes what posts you will see on your feed:
Interest: Topics that interest you the most will naturally be at the top of your feed. If you spend your free time following and engaging with fashion brands…Instagram is going to show you more fashion-related accounts.
Recency: Recent posts get more priority over week-old ones.
Relationship: The more you interact with an account by liking or commenting, the more often you will see their posts.
Many people worried about their plummeting engagement levels after the new Instagram algorithm change.
However, if you already have an engaged following with no ghost followers, the new Instagram algorithm should work in your favor.
"The Instagram algorithm now gives engagement more preference than ever before. The algorithm boosts posts that receive higher engagement and customize a person's feed based on their past interactions with posts from other users. This essentially means that posts with high engagement will be rewarded, leading to a further boost in engagement." -Shane Barker, Digital Strategist, Shanebarker.com
Instagram's algorithm is designed to identify the browsing pattern of followers, which means that if someone is regularly engaging in interactions with your account, they are more likely to be viewing your posts in the future as well.
Tips to Increase Instagram Engagement Rate Organically:
With a massive number of influencers on Instagram, how can you even manage to stay relevant?
Previously, to be considered as an Instagram influencer, all you needed was a high number of followers.
Now, with the growing popularity of influencer marketing, brands are focusing on engagement rates much more than the sheer number of followers.
And in addition to just increasing your engagement rates,
recent blogging statistics
also show the importance of building your own platform and readership off of Instagram, as a way to build a more diversified business brands will want to work with.
So, as you continue to grow your following on Instagram, make sure you keep your new audience engaging!
Below we've listed a few strategies that will help you increase your Instagram engagement rate:
Join 100k+ savvy Instagram marketers
Increase your following and engagement on Instagram organically.
1. Post Quality Content:
Posting quality content should be your primary focus. Without it, any other strategy you use to boost engagement simply won't work.
"You want to create a visual gold mine for your target persona. That means creating a lot of beautiful, professional-level imagery that displays your services. You want your potential client to see your work, and fantasize about what their business, big ideas, life, etc., would look like with you in it! It also means being strategic. You want to plan out the types of work your potential client would most want to see (and avoid stuff they probably wouldn't). This allows you look organized, confident in what you do, and like the pro you are!" -Brittany Mash Brittanymash.com, @mashillustrationanddesign
Consumers are being burdened with an overload of information available on the internet today. So you need to make sure to post content that both grabs user's attention and entices them to interact.
Since Insta is a visual platform, your photos need to be above average.
Attractive, vibrant photos gain maximum attention.
Make sure your photos are captured with a high-quality camera and edited to fit your unique style cohesively.
"I realized early on, I didn't really fall into one category since I cover so much. Posting a products pictures never really worked since one day it would be beauty, the next pets, and then beverages, for instance. Posting pictures with you and the products works best. I get tons more likes when I'm in pictures with the products." -Dawn McCarthy Dawnscorner.com, @shopdawnscorner
Take the travel account @passporttofriday for example! They keep their feed consistent by utilizing a light and bright filter on all of their wanderlust-inspiring pics.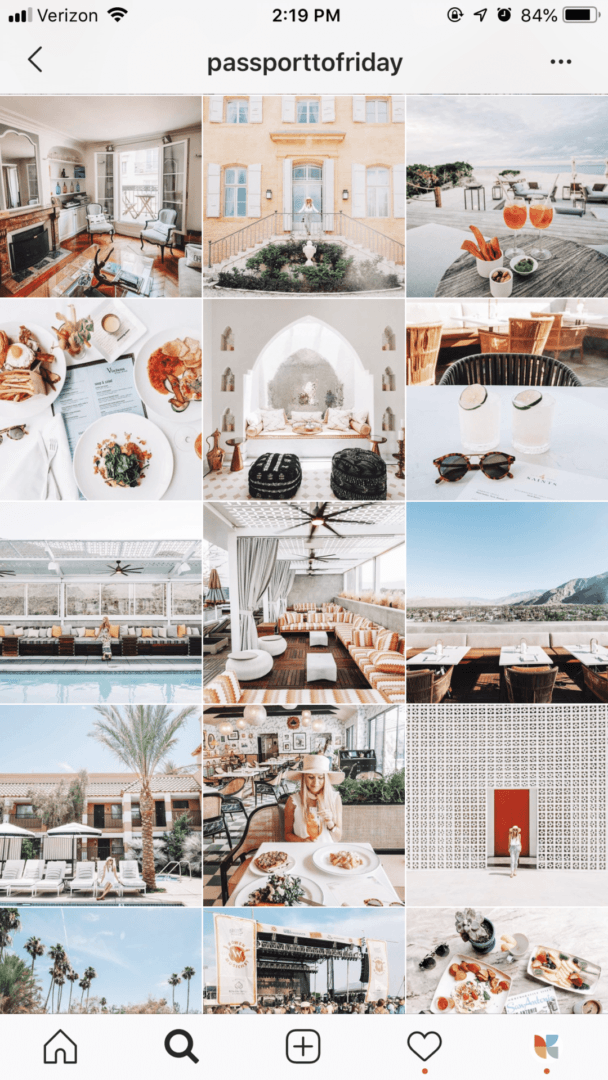 In addition to making sure content is high-quality, it is also important to factor in what time you post.
"The Instagram algorithm tracks how quickly your posts receive engagement in order to rank how 'good' the content is. A sure fire way of increasing your engagement — and therefore reach as Instagram will boost posts that get likes and comments fast — is to post when your audience are online and active. At Hopper HQ we built a free tool to help you find your best time to post on Instagram for optimum engagement!" –Nicola Cronin, Marketing Manager, Hopper
2. Include A Call-to-Action:
When you include a call-to-action on your post, you are starting the conversation with your followers.
One of the best ways to increase engagement organically is by telling them exactly what you want them to do.
A CTA can be a part of your captions, written in a catchy yet straightforward way that evokes a reaction from the follower.
Asking them their plans for the weekend or asking them to tag their friends, will make it more likely that they will leave comments.
3. Location Tags:
Posting pictures along with the tagged location results in 79% higher engagement than in posts without location tags.
Whenever someone searches for a particular area, Instagram will show results of all the posts tagged with that location, which means it is a great way to get up on the explore feed.
The same goes for Instagram stories! Utilize the Instagram stories location sticker to get more engagement on your stories as well.
"Businesses should do a location-based search around their area (e.g. city) for the top-performing posts. The top 9 posts in the gallery (based on location) will be the posts that have gotten the most engagement, and the business owner or social media manager can reach out to the people with the top posts and offer them something. Whether that be complementary product or service, it will cost the business owner very little. That person, because he or she is Instagram-savvy, can post about the experience on their account, thereby raising awareness for the business and their offerings." -Spencer Smith SpencerXsmith.com, @spencerxsmith
4. Reply to Comments:
Did you know that the new Instagram algorithm rewards you for interacting with your followers? It's true! Engagement breeds more engagement.
"Instagram's community is incredible for its magnitude of human interaction. Ensure you're always being yourself and posting captions and content that is a true reflection of your values, messages and lifestyle. Find influencers of similar sizes to you in your niche and make friends! This really isn't a growth strategy as much as it just fun – this is the true beauty of Instagram, and what keeps it thriving as the biggest and most engaged social media platform above overs." -Zach Benson, Assistagram
You cannot expect to have more likes and comments for your future posts if you are not taking the time to genuinely reply to everyone who has interacted with your posts recently.

"'Give to receive' is the key to social media success. The more you give in terms of genuine interaction, the more you will receive. That doesn't mean mass 'liking' or generic commenting. It means establishing connections with meaningful dialog and interaction. The more you interact in a genuine way, the more you'll receive the same, increasing your engagement, loyalty, and following."- Christopher Lin, Photographer and Partner at SLR Lounge
Get creative! Responding with a straight-faced 'thanks' for a compliment ends the conversation. Instead, tell them more about your experience from the picture, or ask them a follow-up question.
Replying to comments shows that you pay attention to people browsing through your posts, which gives them all the more reason to follow your account.
Plus, for every comment you reply to, that is one more comment going towards your engagement rate!
"My biggest advice is not to put a huge weight on the number of followers you have. Yes, the number serves as social proof, but what really matters today is your engagement rate. The best way to keep your engagement rate high is by using Instagram as it was intended to be – a social platform. That means asking questions, commenting on other profiles not just pushing out content." -Monica Woodhams Confessionsmediaco.com, @monicawoodhams
Join 100k+ savvy Instagram marketers
Sign up for Kicksta today and start attracting more followers who are interested in your brand.
5. Use Hashtags:
An Instagram post that includes a hashtag gets 12.6% more engagement than posts that don't. That's how vital hashtags are!
"You should absolutely take advantage of using 30 hashtags on every post. It's not going to appear spammy, but rather, it maximizes your chances to connect with your target audience. Every creative Instagrammers should set aside time to research 90-100 hashtags so they can use them on rotation. Keep all your hashtags on file so they are easily accessible." -Miranda Hassen Mirandahassen.com, @mirandahassen
You can expand your reach to users who follow the hashtags you use. It also makes it more likely that you will show up on the explore pages for people that are interested in that topic.
But to be able to come up in search posts, you need to choose hashtags that are relevant to your specific niche.
Look at competitors and learn the industry hashtags that are trending and receiving strong engagement.
There are also a few tools that you can use to find the perfect hashtags for your page, such as HashAtIt, HashTracking, and Keyhole.
6. Instagram Contests:
Hosting an Instagram contest is hands down one of the best ways to increase your Instagram engagement rate.
If you're specifically looking to boost engagement, try hosting a like-to-win or comment-to-win contest to get the best results.
Bonus Tip: Increase your reach by partnering with a brand or another fellow influencer who will help you promote the contest to both of your collective audiences. Organize a giveaway for winners of the contest where they are rewarded for following both the accounts and tagging their friends.
Contests are highly engaging because they give your followers an incentive to interact.
Shortcuts & Tactics to Avoid:
Becoming a successful Instagram Influencer has a simple formula.
Grow a large following, catch the attention of big brands with a budget for influencer marketing, and then strike up a business deal.
This is how many businesses and influencers use Instagram as a revenue generating platform.
However, with the changes in the algorithm and pressure to attain enough engagement, people have been tempted to buy Instagram followers.
But be warned, this deceptive tactic has some serious side-effects on the integrity of your Insta account.
"Although the number of followers you have is still important, the rise of bots and follow/unfollow tactics negatively impacts the Instagram community and distracts from what is really important, which is quality content. Plus, the focus on engagement rate is a much more meaningful strategy to evaluate influencers collaborations and campaigns." -Lesya Liu, Social Media Strategist, Lesyaliu.com
Here are three worst tactics that you should avoid at all costs if you want to be taken seriously as an Instagram Influencer:
Avoid Buying Followers:
Any brand looking to collaborate with an influencer will first check the validity of the influencer's account, before jumping into a contract with them.
Buying Instagram followers is a sure-fire way to ruin your potential partnership, as brands will easily be able to spot a disconnect between your follower count and engagement rate (or lack thereof).
Engagement rate follows the law of diminishing return.
In other words, as your followers increase, your engagement levels drop or plateau. Don't worry, this is very normal.
But if you come across a profile having 1 million followers and less than 1000 likes per photo, it should raise red flags.
A study of 2 million influencers found that the following numbers can be used as benchmark engagement rates for accounts with all real followers:
<1000 followers average about 8% engagement
1000 – 10,000 followers average 4% engagement
10,000 – 1,00,000 followers average 2.4% engagement
1,00,000 – 1 million followers average 1.8% engagement
> 1 million followers average 1.7% engagement
If any account's engagement levels vary by a considerable margin from the above, it can raise suspicion.
"Remember one basic rule: engagement is more important than numbers." -Ruthann Bowen Thebowenagency.com, @thebowenagencywebdesign
Avoid Buying Likes for Your Posts:
So, let's say you did buy followers. Why not just buy some likes on your posts as well to make up for the lack of engagement?
Purchased likes do not contribute to genuine engagement in any manner.
"Buying followers and engagement will actually ruin your account over time. Numbers aren't everything right now, and brands are extremely educated on the authenticity of someones account. As Instagram becomes tighter on how users build audiences, many influencers and brands who previously purchased engagement in the beginning are now seeing sudden drops with their audience. It's simply Instagram getting onto inactive and 'ghost' followers." –Matt Bell, Marketing Consultant
The value of an influencer is their ability influences their specific community through their posts. Buying fake likes and followers essentially goes against this fundamental rule.
Plus, once you start buying likes, it can be very difficult to stop.
Influencers who buy fake engagement can get caught in this vicious cycle since it will be very obvious that you bought them in the past when your engagement plummets.
Not to mention, it can get very expensive.
Avoid Spammy Bots and Comments:
It is not exactly difficult to spot a spammy comment from a fake follower or bot.
We've all seen an automated 'Nice Picture' comment on a post now and again.
While it is impossible to stop people from leaving these type of comments on your photos, you should definitely avoid using any kind of service that automates fake comments for you.
Again, using these types of tactics puts your credibility as an influencer at risk. At the end of the day, brands partner with influencers to get more website clicks and sales.
"The main thing people forget about social media in general is you need to be SOCIAL! Engage with your community because that builds your brand awareness and trust." -Kayla Perlstein Goldenbirdmarketing.com, @gbm_llc
When your engagement is all automated, the brand will not see any RIO from your collaboration and will not likely choose to partner with you again.
A credible reputation and referrals to other brands are crucial in the influencer marketing game. Don't put yourself at risk by buying followers or engagement for your page.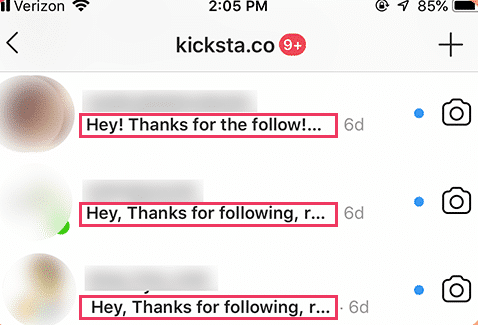 Approved Methods to Help Increase Instagram Engagement Rate:
Don't get bogged down by the challenges associated with the new algorithm and the fake follower trend going around.
There are some solid and approved tools that you can use to boost your engagement rates in the right direction. These are:
Kicksta:
Kicksta, Instagram marketing service, connects brands and influencers with their target audiences in an organic and natural way. The key is to find active Instagram users who will have a genuine interest in your account and engage with them.
Having worked with over 10,000 plus brands and influencers, Kicksta can vouch for organic growth for your Instagram account, without diverting to fake followers.
Collaborations & Partnerships:
Don't be discouraged if you can't land the partnership with big-time brands right away.
Earning quality engagement and a loyal community takes time. Start by partnering with smaller, local brands or other influencers with a similar number of followers.
Each collaboration, big or small, opens you up to new users and new opportunities to grow.
"I am an email marketing copywriter which means I provide services for other biz owners, mostly my peers! I use Instagram to stay in touch with them (and vice versa) and Instagram DM's are often the first place we connect when we're ready to work with one another." -Aleia Walker Aleiawalker.com, @msaleia
Influencer Platforms:
You can also collaborate with more brands in the market with the help of third-party marketplaces such as Intellifluence , ifluenz, and Tribe.
For influencers, it can be daunting to create engaging, share-worthy content, at the same time as trying to find brands to connect with them.
These influencer marketing platforms help connect influencers and brands on a single platform, making life easy for both of them.
It is a win-win deal for both the parties, that centralizes the collaboration process.
Instagram Engagement Groups:
Think of a closed group of like-minded individuals sharing ideas and content. An Instagram engagement group works on the same principle.
Also known as Instagram pods, these groups connect users in the same niche to share new Instagram content they have posted in group conversations, typically via direct messages.
Group members will then like/comment on other member's post in exchange for their posts getting liked/commented.
"As well as having a killer aesthetic in tune with your business, engaging in Comment Pods in the same niche was crucial to my Instagram growth. We were all genuinely into each other's account so no flakey fakey comments. It's not the number of followers, it's the quality of followers you have." -Jacqueline Cunningham Jaccunningham.com, @jac.cunningham
Unlike automated spam comments, these are real comments & likes from real users in your industry.
It is an organic, authentic tactic of creating real and relevant engagement on each other's Instagram pages.
Over to you…
As an influencer, it's imperative to stay in touch with your audience, but also with the overall ecosystem of Instagram which is always dynamic and ever-changing.
"Instagram isn't just a place to build your brand, it's a place to build a community. Speak to people, not at people. Reply back to comments left on your photos and engage with your loyal followers. It takes two parties to build a community, not just one." -Leah Canseco Leahcanseco.com, @leahcanseco
To increase your account's Instagram engagement rate, focus on organic strategies to boost your followers and use relevant tools to calculate the same.
Instagram Growth Hacks
Join over 100k+ marketers and influencers who get the latest Instagram tips & tricks sent to their inbox every week