Top Instagram Models From Every State In America You Should Follow Today (With Infographic)
post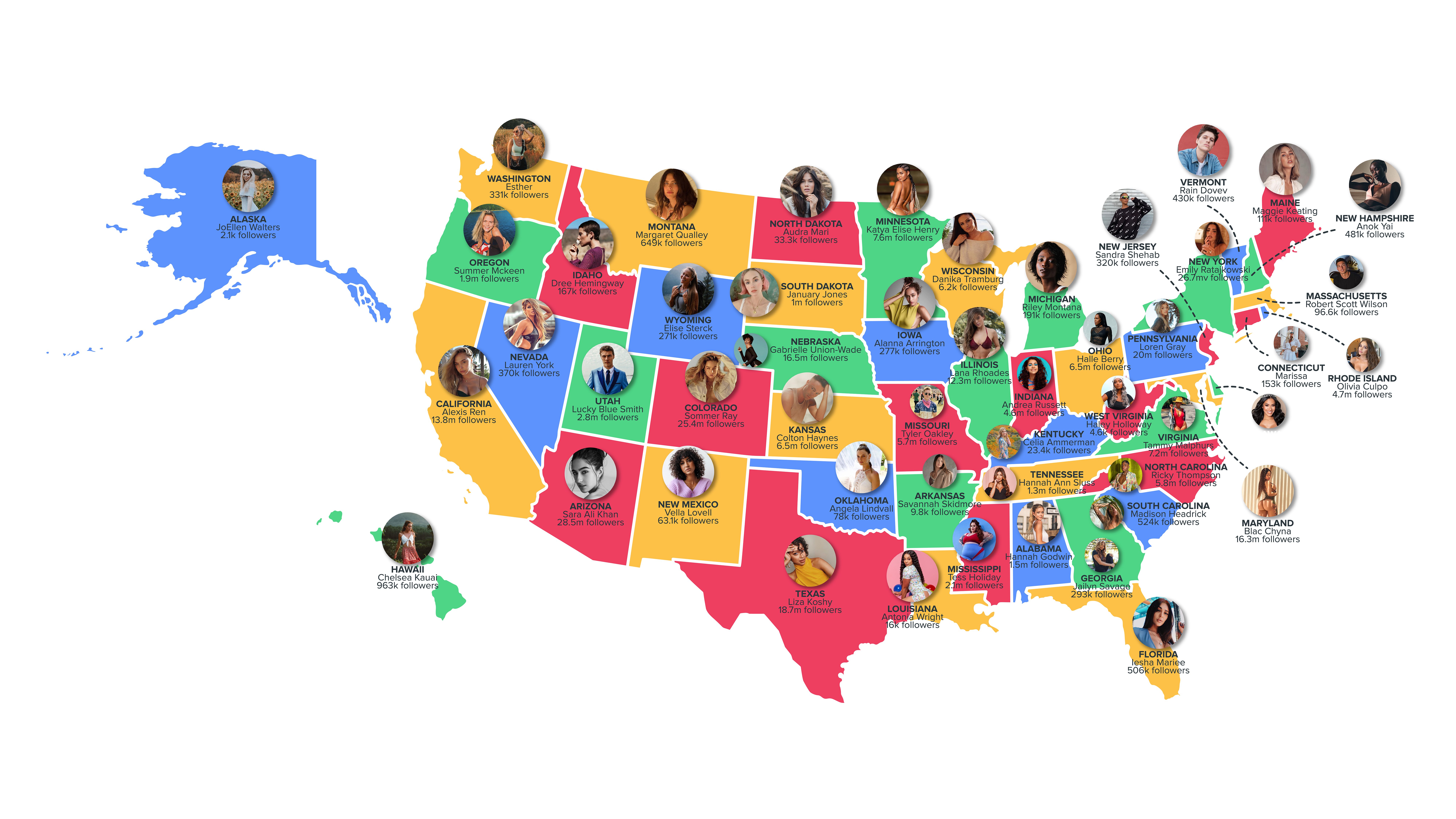 As a visual social platform, Instagram easily became the top choice for Instagram models to introduce their brand and personality. The photo-sharing app made so many top-rated and break-out models famous with their engaging feeds, perfect poses, and appealing videos. It's not surprising that these models have amassed a following of millions of people. So, whether you're a content creator, a brand, or influencer, you might want to follow these top Instagram models from each state in the US.
Quick Links
Top Instagram Models From Every State In America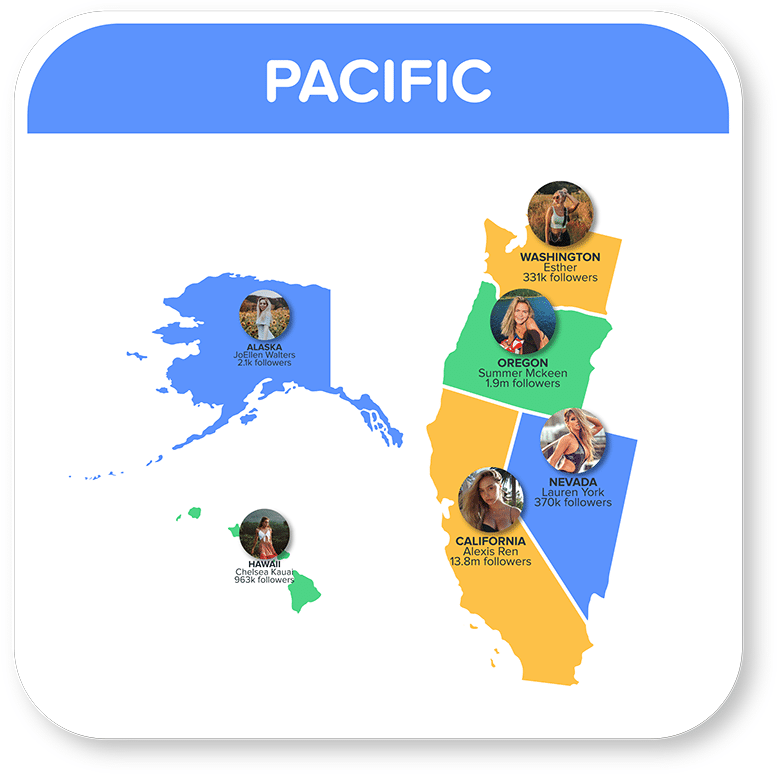 1. Alexis Ren (California)
Alexis Ren is a top Instagram model and Internet celebrity with 13.8 million followers on Instagram, and 1.02 million subscribers on YouTube. She was discovered at age 13 and became a model for the label Brandy Melville. At 15, photos of her in a black string bikini posing by the pool went viral on Tumblr, making her an instant social media hit. Since then, she became a high profile swimsuit model landing the cover of Maxim in 2017, and called Sports Illustrated Swimsuit Rookie of 2018.
Ren has also appeared in advertisements for the mobile game Final Fantasy XV: A New Empire, and competed on the 27th season of Dancing with the Stars with pro Alan Berseten. She starred in music videos of Ed Sheeran and Kyogo. Aside from being a top influencer on Instagram, Ren launched her own activewear brand called Ren Active. Alexis Ren's estimated net worth is $3 million.
2. Chelsea Yamase (Hawaii)
Chelsea Yamase is a social media influencer who started getting famous as a globetrotter since she was 18. Yamase shares tons of artistic shots of her travels in her Instagram feed. Among her most unforgettable ones include photos of her free diving over one hundred feet into the ocean depths, canyoneering up waterfalls, swimming underwater caves without an oxygen tank, and walking five hundred feet in the air. So, it's pretty easy to understand why her Instagram followers grew to 963k.
Being the athletic daredevil and visual storyteller she is, Yamase continues to capture the attention of the world and shares her adventures and amazing stories in her blog, The Adventurers Collective. Chelsea Yamase's current net worth is approximately $1 million to $5 million,
3. Lauren York (Nevada)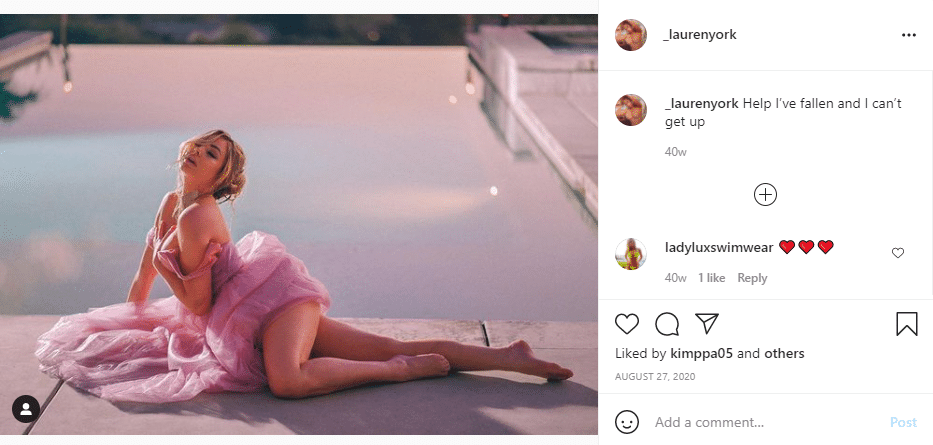 Former Miss Nevada US 2017, Lauren York, is a professional print and runway model. Her bold, blonde and bubbly personality made her one of Instagram's favorite models. As a lifestyle, fashion, and beauty blogger, York built a social-media fan base that turns to her for advice about anything from skin care to life lessons. She now has 371k followers.
One other interesting thing about Lauren is she is also a Victim Impact Speaker and advocate for the organization Mother Against Drunk Driving (MADD). She continues to raise awareness on the problem of driving under the influence.
4. Esther (Washington)
Esther is a fitness and fashion blogger from Seattle, starting out in the fitness and fashion industry when she was 18. To inspire others to get in shape, Esther would post her before-and-after images on social media. People would send her messages inquiring about her diet and workout routine, so she kept sharing more videos on her workouts, nutrition, and supplementation advice. From lifting weights in 2014 to launching her own fitness line, Esther Fit, she naturally gained fans on social media, reaching 332k Instagram followers.
5. Summer Mckeen (Oregon)
Summer Mckeen is best known for uploading makeup tutorials and tricks, product reviews, beauty tips, and travels on her YouTube channel, Summer Mckeen. While her channel has 2.3 million subscribers, the lifestyle vlogger and enthusiast for all things girly has 1.9 followers on Instagram. Her candid empowerment talks and beauty ventures amassed a dedicated following across all her social media accounts. Her net worth today is about $600k.
6. JoEllen Walters (Alaska)
As Miss Alaska USA 2019, Joellen Walters grew a following on Instagram with 2,144
followers. One of the most unforgettable things about Walters is her advocacy for the proper disposal of prescription medication. Her platform gears toward the prevention of opioid abuse and environmental safety. Her strong convictions on community service makes her more than a fashion and Instagram model.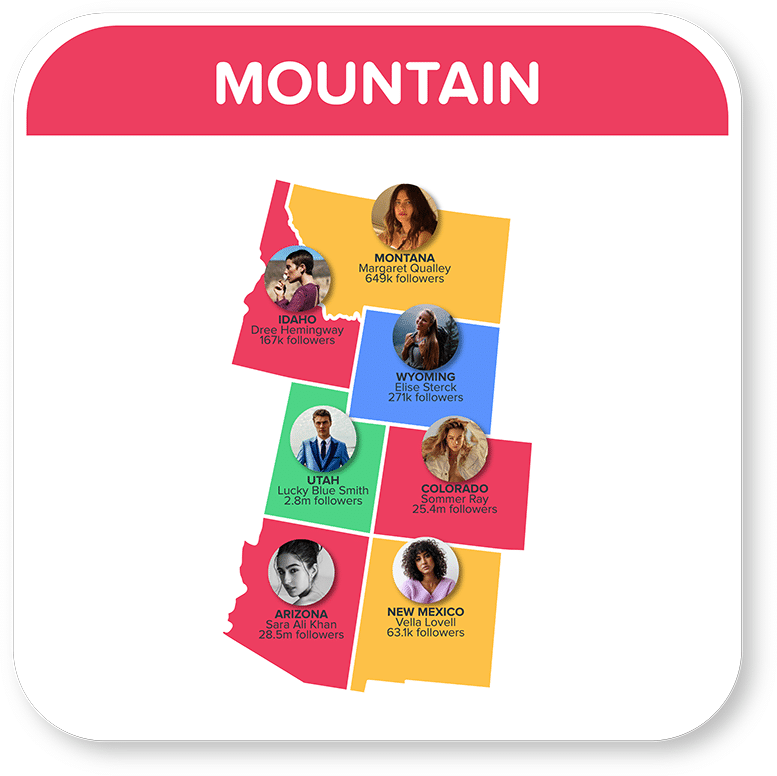 7. Sommer Ray (Colorado)
American social media celebrity and Youtuber, Sommer Ray, gained Instagram stardom after exposing her stunning physique to a massive audience. Her photos as a professional model and bikini athlete took over the internet achieving 25.4m Instagram followers to date. She began taking Instagram seriously in 2015, and when she garnered 40,000 followers, brands reached out to work with her.
In 2016, she was named "Lovely Lady of the Day" by Sports Illustrated. She won several fitness and bodybuilding competitions which is why most of her Instagram posts are related to fitness and bodybuilding. Ray started as a fitness guru and model but is now focused on Instagram and YouTube to show off her brand. With a net worth of $8 , Ray goes beyond boundaries with the launching of her fitness app, Evolve Fitness, and her activewear essentials clothing line via Sommer Ray Shop.
8. Sara Ali Khan (Arizona)
With 28.4m Instagram followers, you'll naturally get curious about Instagram sensation Sara All Khan. Her current net worth of around $2 million began when she made her Bollywood debut with the movie "Kedarnath." She then starred in movies like "Simmba" and "Love Aaj Kal."
9. Elise Sterck ( Wyoming)
Elise Sterck is an American Instagram star, traveler, photographer, and social media influencer known most for her travel and adventure photos. She has amassed 271k followers on Instagram as a professional photographer documenting the interactions and connections between humans and the natural world. She uses her social presence and reach to share branded content. What's even more interesting is, she has degrees in Geography and Environment and Natural Sciences from the University of Wyoming.
10. Margaret Qualley (Montana)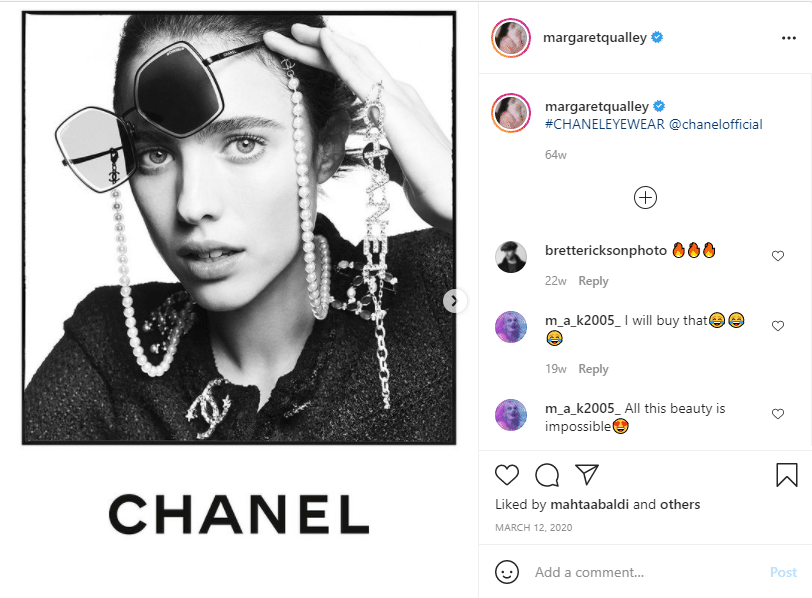 The glitz and glamour of Hollywood is nothing new to Margaret Qualley. Her parents, actress Andie MacDowell and model Paul Qualley, would bring Qualley to high profile events, including walking the red carpet. Margaret performed early on, training at the American Ballet Theatre. She then began modeling at age 16 during the New York Fashion Week for Alberta Ferretti. She also did runway shows for Paris Fashion Week 2012 for Valentino and Chanel. Margaret posed for Vogue, W Magazine Teen Vogue, Interview, Vanity Fair, and Nylon.
Aside from modeling, Qualley also became successful as an actress, landing roles in 'The Leftovers,' 'Palto Alto,' and 'The Nice Guys,' starring alongside Ryan Gosling and Russel Crowe. Since her acting debut in 2012, Qually has earned nominations for an Emmy, a Screen Actors Guild Award, and a Critic's Choice Television Award. Qualley's work as a professional model and actress turned her into an Instagram star with 648k followers.
11. Vella Lovell (New Mexico)
Vella Lovell is famously known as Heather Davis in 'Crazy Ex-Girlfriend.' Her role in the critically-acclaimed series is a fan favorite as a standout comic relief alongside Rachel Bloom. She also played the role of Khadija in "The Big Sick." Lovell studied acting in Julliard and attended the Interlochen Arts Academy, and earned an undergraduate bachelor's degree from New York University. As a fan favorite, Lovell has 63k followers on Instagram. Her estimated net worth is $1 million to $5 million.
12. Lucky Blue Smith (Utah)
Lucky Blue Smith is an actor, musician, and American fashion model. As an Internet personality, he has a large Instagram following of 2.8 million, being called the "Male Model of the Moment" by Teen Vogue. He was scouted when he was only 10 years old, and signed with Next Models LA when he was 12. Smith's modeling career took off after he dyed his hair platinum blonde, which became his signature look.
From 2014 to 2015, Smith walked in 12 fashion shows including Fendi, Tom Ford, and Jeremy Scott. He has been featured in ads for Tommy Hilfiger, H&M, Levi's, Tom Ford, Calvin Klein, Moncler, Philipp Plein, Mavi, Penhoppe, Gap, Big C and L'Oreal. As to editorials, he has appeared for Vogue, Elle, Marie Claire, V, Numero, i-D, LOVE, and W Magazine. He walked the runways for Fendi, Chanel, Roberto Cavalli, Moschino, Emporio Armandi, Salvatore Ferragamo, Ralph Lauren, Marc Jacobs, Versace, Jeremy Scott, Michael Kors, Etro, Bottega Veneta, and more. Lucky Blue Smith's net worth is estimated at $1 million.
13. Dree Hemingway (Idaho)
American model and actress Dree Hemingway, is the great-granddaughter of renowned author Ernest Hemingway. To fulfill her dream of becoming a model, Dree dropped out of highschool to pursue fashion. She debuted in 2009 at the Fall/Winter catwalk show for Givenchy in Paris, and then in the Calvin Klein resort show in New York.
In that same year, she opened the TopShop Spring/Summer 2010 show in London. She has since become known for her high-profile fashion campaigns, walking the runways for Givenchy, Calvin Klein, Karl Lagerfeld, Shiatzy Chen, Giles, and Chanel.
Aside from modeling, Hemingway established herself as an actress, starring in the independent film, "Starlet" (2012), as well as other films like "Nous York" and "Someday This Pain Will Be Useful to You." Dree Hemingway's net worth is $800 thousand and has a total of 166k followers on Instagram.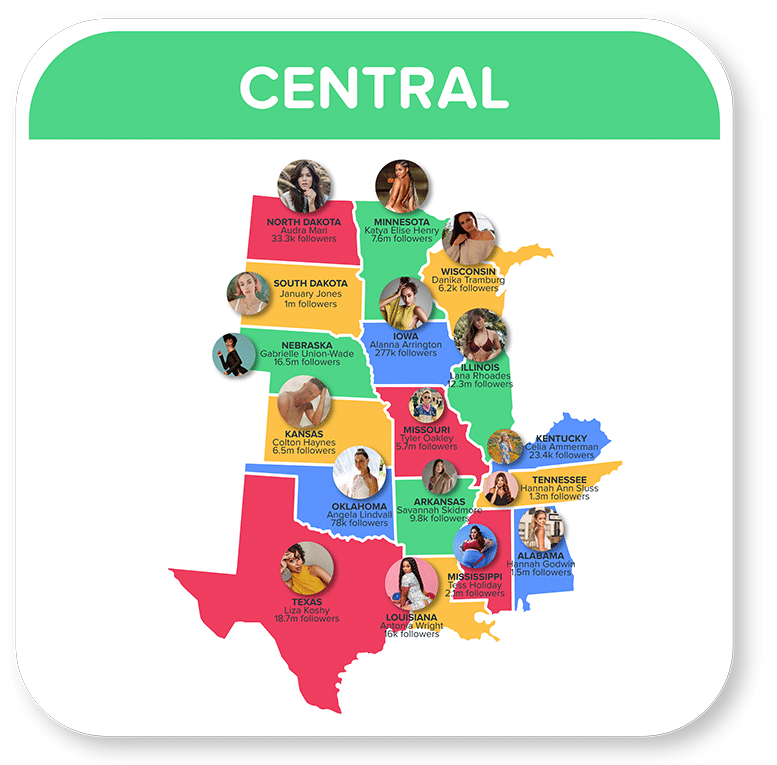 14. Liza Koshy (Texas)
Liza Koshy is an Instagram celebrity, YouTube star, and American actress amassing 18.6m followers on Instagram, and 18M subscribers on YouTube. Her fame on social media began by posting short comedic videos on Vine back in 2013 under the pseudonym Lizzza. When Vine shut down, she had already gained 7 million followers. She then started posting on YouTube in 2016. One famous video she has is her interview of President Barack Obama before the election in 2016, to encourage young people to vote.
Koshy is adored by her followers because of her commitment to the comedic moment, and also because of her high-quality content, and savvy camera and video editing work. She was included in Time magazine's list of 25 Most Influential People on the Internet by Time magazine in 2019. Liza Koshy's net worth today is $6 million.
15. Hannah Godwin (Alabama)
Hannah rose to internet stardom as a Reality Star, Instagram star, YouTube vlogger, TikTok personality, and model. She began her modelling career in 2013 for design companies and swimwear brands. Because she endorses various brands and clothing lines on her Instagram account, she has a huge following of 1.5m followers.
She was featured in music videos, including 'Leave Right Now' by Thomas Rhett. In 2019, Hannah was a contestant in the 23th edition of 'The Bachelor.' She was also in the chance to 'Bachelor in Paradise' (Season 6), also as a contestant. Aside from Reality TV, Godwin established a career in pageants, winning Miss Oak Mountain. She joined three Miss Alabama USA Pageants where she placed 3rd in 2015 and 2016.
16. January Jones (South Dakota)
January Jones is an actress and model born in Sioux Falls, South Dakota. She is best known for her role as Betty Draper in the television series Mad Men and was even nominated for an Emmy for the role. She began her modeling career at the age of 18 for Abercrombie and has been in many magazines. Aside from modeling and acting, she works to preserve endangered sharks for Oceana.
17. Gabrielle Union-Wade (Nebraska)
Gabrielle Union-Wade's stardom has a lot to do with her work as an actress, voice artist, activist, and author. Her career began in the 90s starring in TV sitcoms before landing in bigger roles in films like "She's All That", "10 Things I Hate About YOu," and "Bring it On," which was her breakout role. She landed even more roles in popular films soon after that. She is influential across her social media platforms. On Instagram, she already has 16.4 million followers. Her current net worth is $40 million and enjoys the life she has with her husband, retired NBA player Dwayne Wade.
18. Lana Rhoades (Illinois)
Lana Rhoades has a massive social media following as an adult film actress with 12.2 million Instagram followers. Credits for her acting came in 2016, winning an Adult Video News Award in 2018. She was also nominated for other awards like Female Performer of the Year. In 2017, she won an XBIZA Award for Best New Starlet. Her net worth is $1 million.
Join 100k+ savvy Instagram marketers
If you are struggling to get the attention you deserve on Instagram, sign up for Kicksta today and start attracting more followers who are interested in your brand.
19. Hannah Ann Sluss (Tennessee)
As the most trending contestant in "The Bachelor" (2020), Hannah Ann Sluss gained instant fame as a TV Celebrity, model, actress, and pageant contestant. She also starred in country singer Chris Lane's music video for "I Don't Know About You" which was a hit single. She has 1.3 million followers on Instagram and her net worth is estimated at $1 million.
20. Katya Elise Henry (Minnesota)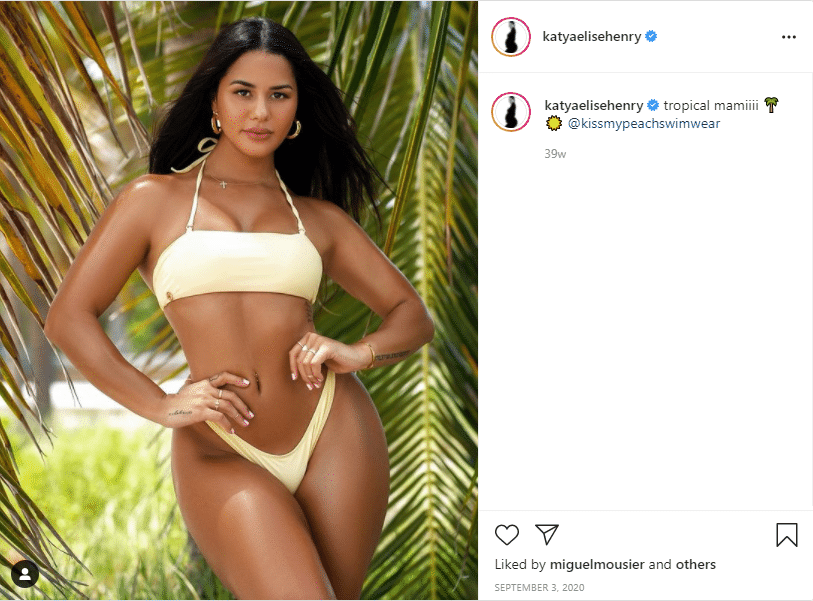 Instagram model Katya Elise Henry has become tremendously prevalent as an online fitness trainer and professional fitness model. Her devotion to wellness brought her enormous acclaim as an Instagram superstar with 7.6 million followers. Her net worth rose to $5 million when she launched her website Workouts by Katya. Everyone gets access to her workout programs, meal plans, apparel, supplements, and accessories on her site.
21. Antonia Wright (Louisiana)
Toya Wright, former wife of rapper Lil Wayne, gained internet stardom as a reality television personality and business woman. Her first TV appearance was in 2009 in the reality show, "Tiny and Toya." After that, she starred in her own show called "Toya: A Family Affair." She appeared in a string of reality TV programs throughout her career including "My Super Sweet 16" (2014), and "Marriage Boot Camp: Reality Stars." She has a successful business owning the boutique named G.A.R.B. in New Orleans, Los Angeles. She also has a shoe store, GARB Shoetiqe, in Smyrna Georgia. Toya authored some books and memoirs too. Today, she has 15.9k Instagram followers. Her net worth is estimated to be 10 million.
22. Colton Haynes (Kansas)
Colton Haynes has 6.5 million followers on Instagram and it keeps on growing. As a model and actor, his net worth is now at $4 million. He began modeling in his early teens. He first gained national attention in an ad campaign for Abercrombie & Fitch. From there, he worked on ad campaigns for Ralph Lauren, Kira Plastinina, and J.C. Penney. As an actor, he has on-camera work credits in 'Transformers,' 'CSI: Miami,' 'Privileged,' 'Pushing Daisies,' and 'Melrose Place.' Among his other acting appearances are 'The Gates,' 'Look: The Series,' and 'Teen Wolf.'
23. Alanna Arrington (Iowa)
Fashion Model Alanna Arrington has been gracing the Victoria's Secret Fashion Show runway for three years now. Since being discovered at age 14 by Jeff and Mary of Mother Model Management (St. Louis, Missouri), and then signing with Next Management in LA, her modeling career has been a sweet streak. She has appeared in editorials for magazines such Vogue, Elle, Harper's Bazaar, Maxim, and Allure. Her professional modeling career also includes campaigns for Stella McCartney, Fear of God, Ralph Lauren, H&M, Forever 21, Urban Outfitters, Aldo, and Mango. As an Instagram supermodel, Arrington has 277k Instagram followers.
24. Audra Mari (North Dakota)
Fil-Am Audra Mari won Miss Tean USA in 2011. In 2014, she got the Miss North Dakota USA title then placed 1st runner up in the Miss USA 2014 pageant. This is the highest placement for a contestant from North Dakota. Mari kept on going as a major beauty queen representing the U.S. at the Miss World 2016 pageant, getting the title of Miss World Americas 2016.
She used her platform to address bullying, openly sharing her own personal experiences on the matter. At age 20, she pursued a modelling career, signing up with Vision LA, accruing 33.3k followers on Instagram. She has posed for H&M and the Ocean Dive swimsuit issue. In July, she was spotted with actor Josh Duhamel, who she is reportedly dating. Mari's estimated net worth is between $1 million to $5 million.
25. Tyler Oakley (Missouri)
YouTube Royalty Tyler Oakley has come a long way since starting his YouTube channel in 2007, in his college days at 18 years old. After appearing and training for the celebrity season of "The Amazing Race" he now has a whopping 5.7 million followers on Instagram. "As time went on," Oakley told Insider, "more and more people were commenting asking for workout routines or what I do at the gym." So, aside from weekly YouTube videos sharing fitness advice, he has hosted a show on EllenTube, and interviews First Lady Michelle Obama. Currently, his net worth is $8 million.
26. Savannah Skidmore (Arkansas)
Savannah Skidmore made it to the Top 5 in the Miss USA Competition in May 2019. As a role model, she established her own student organization called "Speak Up Now", that focuses on suicide prevention and awareness. Being so passionate about this, Skidmore has spoken to thousands of students and adults across Arkansas. Recently, she submitted a video for Sports Illustrated Swim Search 2021, saying that her purpose was to help and inspire others, (especially young women), to believe in themselves. Savannah now has 9,875 followers as an Instagram model.
27. Celia Ammerman (Kentucky)
America's Next Top Model Cycle 12 contestant, Celia Ammerman, rose to fame in the modeling industry appearing in magazines like Vogue Italia, Seventeen, and Allure. Ammerman was also featured in the New York Post style section making her one of the most followed Instagram models out there with 23.4k followers. She knew she wanted to be a model since she was 14, so while growing up she joined every runway show or photo shoot in Lexington, Kentucky. Among her runway credits include Belvedere Vodka, NY, Aveda Hair Show, Ohio, and Beaux Arts Runway. Ammerman's current net worth is between $1 million to $5 million.
28. Angela Lindvall (Oklahoma)
Angela Lindvall has been influential to the industry as an actress, model and fashion consultant. Lindvall's current projects include an ethical jewelry collection for Article 22, that is crafted with landmine shrapnel and layered in geometrical designs. In 2019, she launched "Peace Begins in Me," bringing her knowledge of yogic science, health, and wellness in the form of workshops and classes in Topanga, CA.
Lindvall was discovered by an IMG scout in 1993, when she was only 15 years old while walking in a Kansas City fashion show. Throughout her career, she became one of the world's most sought-after models appearing in major publications like Vogue, Elle, Harper's Bazaar, W Magazine, Marie Claire, Nylon, L'Official, Madame Figaro, and Maxim, among others. She has walked in Victoria's Secret fashion shows from 2000 to 2008, and graced the 2004 40th Anniversary Sports Illustrated Swimsuit Issue.
She is among the favorites of top designers Karl Lagerfeld, Miuccia Prada, and Stella McCartney. She was a Prada Girl and Chanel Girl, and worked as the face of Jimmy Choo, Gucci, Valentino, Calvin Klein, Miu Miu, Dior, Louis Vuitton, Hermes, Versace, Tommy Hilfiger, Gap, Chloei, DKNY, Roberto Cavalli, Fendi, Missoni, and Jill Sander. Lindvall has a total of 78k followers on Instagram,and a net worth of $8 million.
29. Danika Tramburg (Wisconsin)
Danika Tramburg is Miss Wisconsin USA 2019. She grew up playing sports throughout her life, and played basketball while in college. Tramburg graduated from Concordia University Wisconsin, with a Bachelor of Science in Sport and Entertainment Business. Although Tramburg aspires to be a sideline reporter, she is equally passionate about giving back and inspiring others. She uses her lifestyle blog, Perfect Your Purpose, as a platform to connect and help others find their purpose in life. She now has 6,222 Instagram followers as an influencer and blogger.
30. Tess Holiday(Mississippi)
Tess Holiday is a plus-size model, blogger, published author and make-up artist. She is an influential figure in the body positivity community and is behind the viral hashtag #EffYourBeautyStandards, after people left cruel comments on her Instagram account. The body-positive pioneer earned her fame through major magazine covers, and has gained about 2.1 million followers as an Instagram model. 
In 2011, while working as a receptionist at a Los Angeles dental office, she became a professional model. It was at this time where A&E chose her to be the face of the documentary "Heavy", after being discovered online. Since then, she has been featured in fashion blogs, modeling accessories, and plus size clothing lines. Tess Holiday's net worth is $5 million.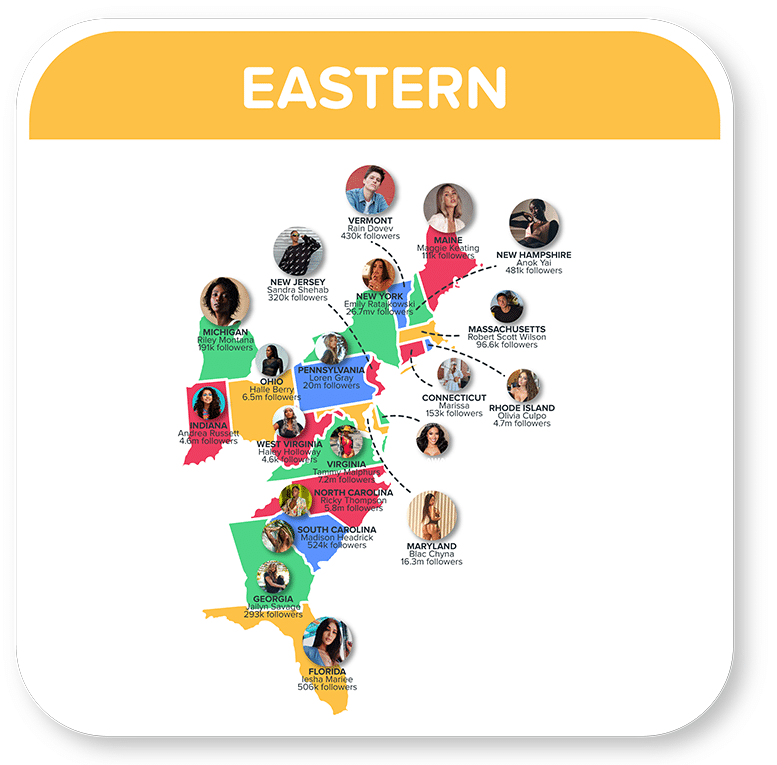 31. Iesha Marie (Florida)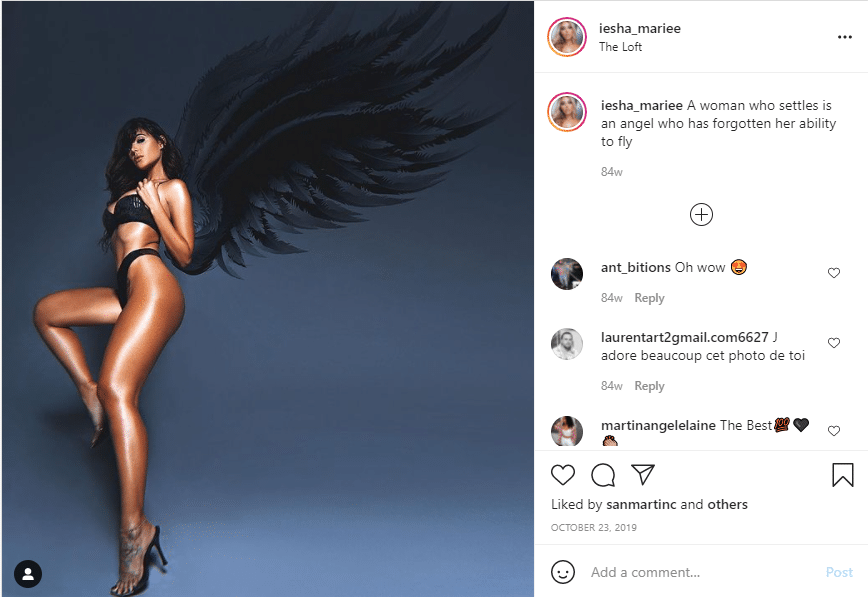 Puerto Rican Instagram star Iesha Marie garnered 506k followers on Instagram as a cover and bikini model. But before breaking into the modelling industry, Marie worked as a bartender in Miami, Florida. She earned fame among urban fans in the hip-hop scene as the leading girl in Omarion's music video, "Let's Talk." She got featured on Mixed Magazine, and in the HBO series, "Ballers." With a net worth of approximately $1M to $5M, the 25-year-old model continues to infiltrate the luxury and street brands of the fashion industry.
32. Emily Ratajkowski (New York)
Emily Ratajkowski is an actress and one of the top Instagram models with a total of 25.7m followers. She first appeared on the March 2012 issue of erotic magazine 'treats!.' Soon after, she appeared in the music videos of Robin Thicke for 'Blurred Lines' and Maroon 5 for 'Love Somebody.' Ratajkowski's professional modeling debut was for Marc Jacobs at New York Fashion Week (2015). She has since walked the runway for Miu Miu, Bottega Venet, Dolce & Gabbana, and Versace. Emily is also the spokesperson for brands like DKNY, The Fryre Company, Kerastase, Paco Rabanne, and DL1961.
Aside from modeling, Emily got into acting as a child. She had roles in the Nickelodeon series, 'iCarly.' She went on to film, starring in'Gone Girl,' 'Entourage,' 'We are Your Friends,' 'Welcome Home,' and more. Ratajkowski is also an advocate for women's health issues and a spokesperson for Planned Parenthood. Ratajkowski has a networth of $8 million, being one of the first models to embrace fame on Instagram.
33. Jailyn Savage (Georgia)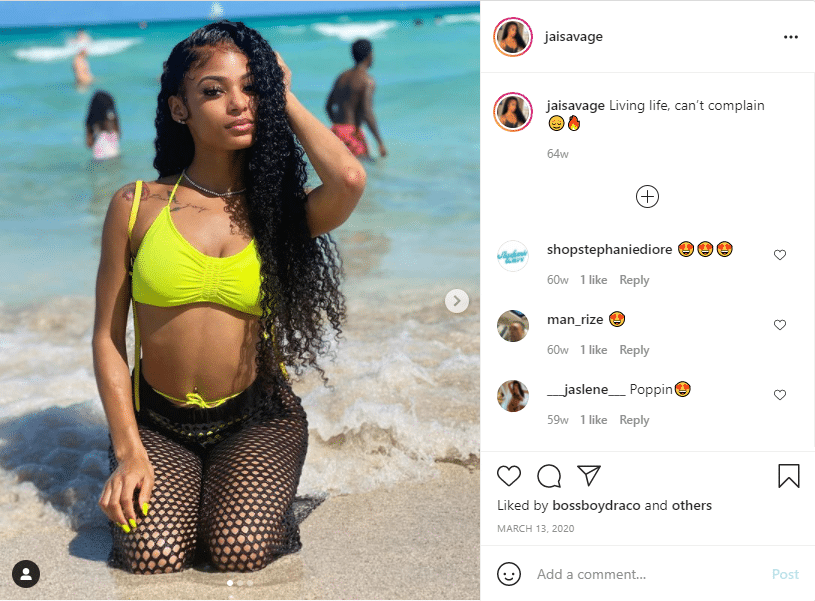 As an Instagram Star with over 293k IG followers, a YouTube host, and content creator, Jailyn Savage is known to have branded her followers as the Jai Mafia. She began her career as a social media celebrity when she launched her YouTube channel in December 2015. Modeling shots and lifestyle photos brought her Instagram fame since 2017. At only 19, Jailyn has an estimated net worth of $1M to $5 M.
34. Marissa Meade (Connecticut)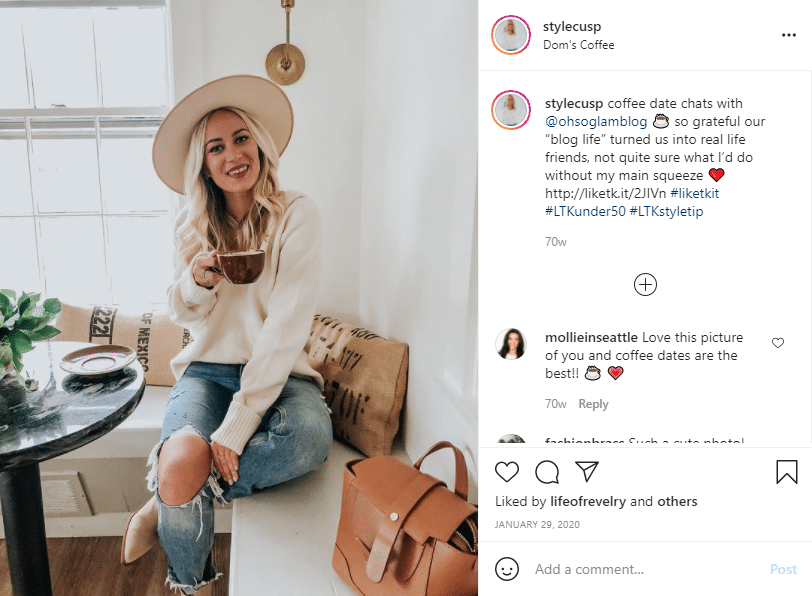 Marissa has style in the cusp of her hand. She is the founder of the fashionable lifestyle site, Style Cusp that got her jet setting to different international destinations and impressive brand collabs. Meade consistently features her favorite things on Instagram, whether it be her shopping finds, her journey with essential oils and healthy living, or her travels and family life. Because of this, she grew a following of 153k followers. She started the blog in 2010 as a creative outlet to share her hobbies. After blogging for 6 years, she made Style Cusp her full-time job expanding into more collaborations. Marissa's net worth is $2 million.
35. Loren Gray (Pennsylvania)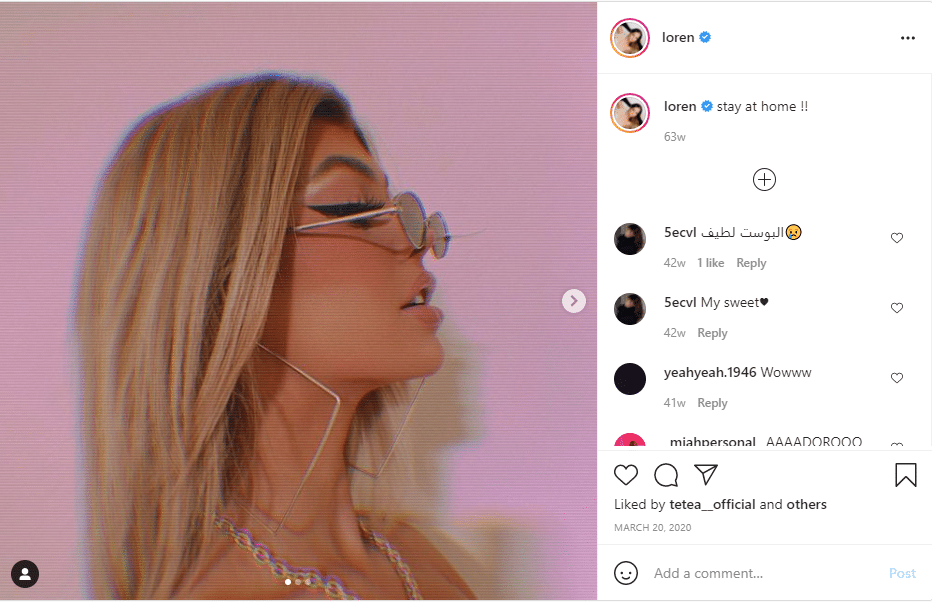 Loren Gray is an internet personality and American singer with one of the most followed accounts on Instagram with 19.9m followers, and Tiktok with 40 million followers. She got famous on TikTok when she was in 6th grade,and got bullied because of the attention she was getting on social media. But this didn't stop her from growing her followers on her other social media platforms like Instagram, YouTube (3.83M subscribers), and Twitter (1.3M followers). Today her net worth has risen to $3 million. Gray is also a singer and signed with Virgin Records and Capital Records. She appeared in the 2020 music video, "The Man," by Taylor Swift.
36. Andrea Russett (Indiana)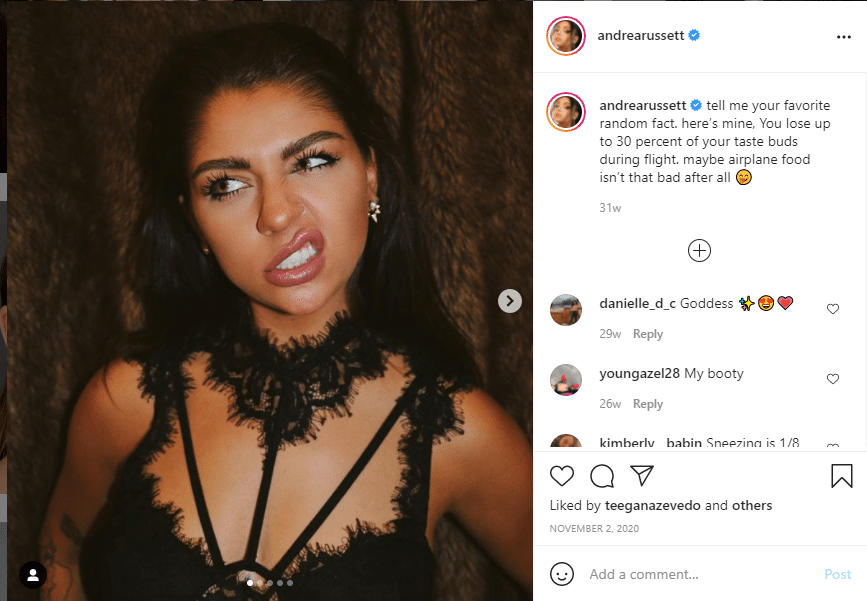 Andrea Russett's career launched in 2009 when the music video she created for a contest to meet Justin Bieber went viral. This led her to success instantly as an Internet sensation. Her YouTube channel, GETTOxFABxFOREVER now has more than 2m subscribers, while her Instagram has over 4.6m followers. Aside from being an Instagram model, she starred in the 2014 film "Expelled" and has been a nighttime radio DJ in Fort Wayne, Indiana. Russett became the youngest nationally syndicated radio host in the country. As a beauty vlogger and fashion designer, Andrea has a networth of $2 million.
37. Blac Chyna (Maryland)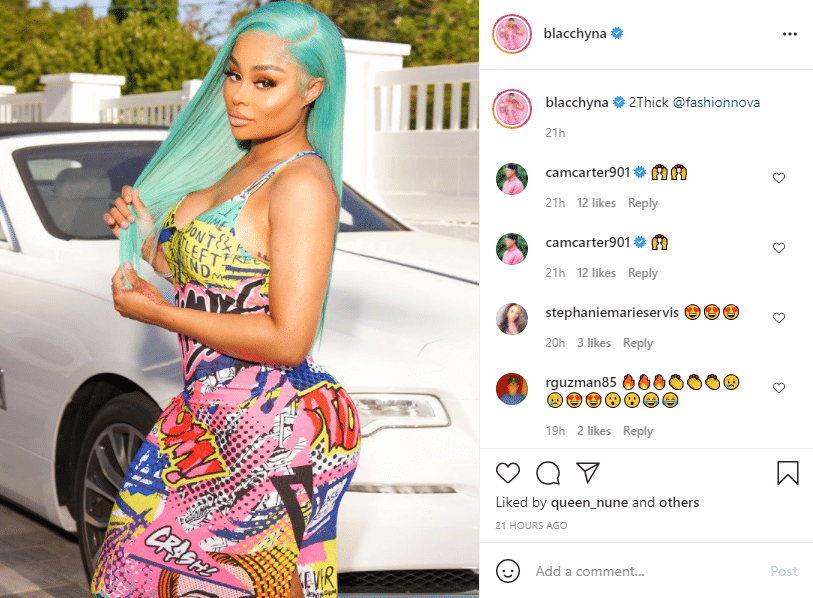 As an American model, music video artist, entrepreneur, and socialite, Angela Renée White, a.k.a "Blac Chyna," won the hearts of all her 16.2 million followers on Instagram. Before her fame at 18, she was a dancer. Her popularity rose when hip hop artist Drake dropped her name in the song "Miss Me" back in 2010. In the same year, she began growing her followers on social media into millions landing her the role of playing the stunt double of Nicki Minaj for the music video "Monster" alongside Rick Ross and Jay-Z.
She posed for magazines like Dime-Piece Magazine, Black Men's Magazine, XXL Magazine, Urban Ink, and Smooth Girl. She starred in the film DGK and was once again named in a song '2 Chainz' by Nicki Minaj. In 2013, she launched her own makeup brand "Lashed by BLac Chyna," and opened a beauty salon in Encino, Los Angeles. Blac Chyna's network is roughly $4 million.
38. Tammy Rivera Malphurs (Virginia)
Tammy Rivera Malphurs has over 7.2 million Instagram followers as a reality TV star with a net worth of 200k. She is best known for being the fiance of Waka Flocka Flame. She was a former cast member of the VH1 reality show, "Love & Hip Hop: Atlanta. She released hit singles like "All These Kisses" and "Only One" in 2017. In 2018, she released her EP "Fate." In 2020 she released "Charlie" ,a lead-in single to her upcoming album, "Conversations." As a fashion designer and businesswoman, Rivera started a swimwear line she called "T-Rivera."
39. Ricky Thompson (North Carolina)
Ricky Thompson is a YouTube Star with more than 1.1 million subscribers. On Instagram, he has 5.9 million followers as a popular internet personality because of his comedic videos. One of his popular roles is starring in an Awesomeness TV web series entitled, 'Foursome' in 2016. He is one of the richest YouTube Stars in North Carolina with a net worth of approximately $1 million to $ 5 million.
40. Maggie Keating (Maine)
Maggie Keating is a professional fashion model and fashion photographer based in NYC and LA. What jump started her career in modeling was when she joined America's Next Top Model Season 24 on VH1. Keating is a sought after social media influencer as an Instagram model with 111k followers on Instagram. Her net worth is approximately $1 million to $5 million.
41. Sandra Shehab (New Jersey)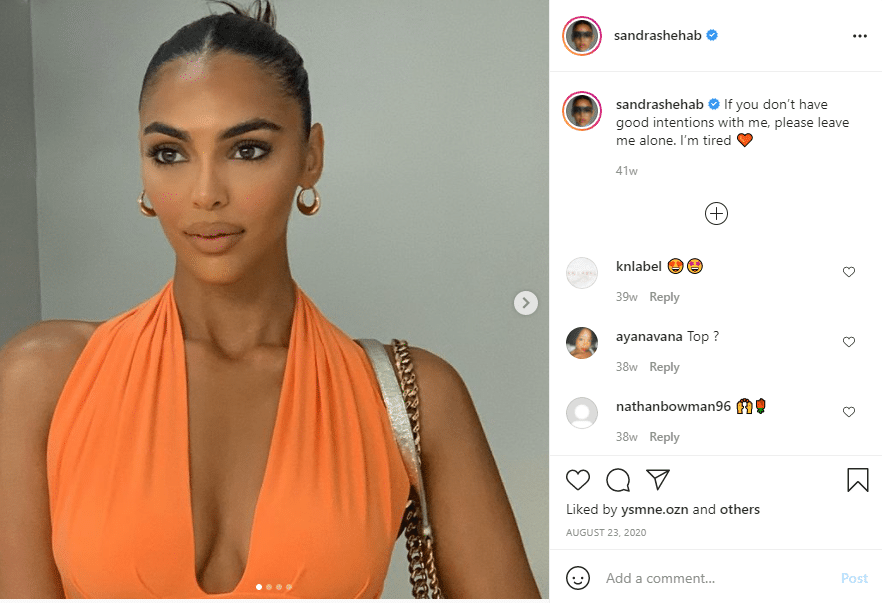 US-Egyptian Model Sandra Shehab was a contestant on America's Next Top model Cycle 24. Since the limelight in the acclaimed reality tv show, Shehab has become a popular Instagram star most especially because she has inspired many Arab women around the world by representing her community well through the show. She remains to enrich other women's lives by sharing fashion, beauty, and skincare tips on her website, sandrashehab.com To date, she has 319k followers, with a net worth ranging from $1 million to $5 million.
42. Katie Guevarra (Delaware)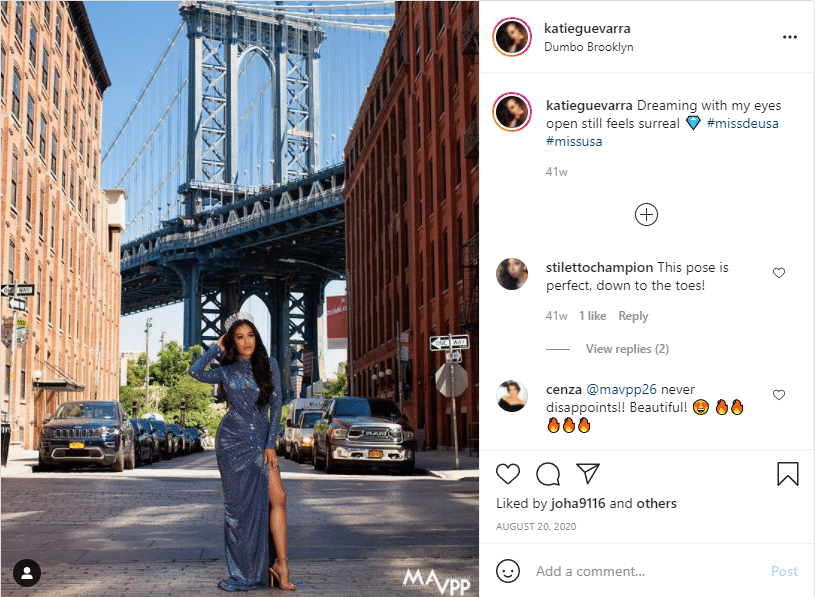 Katie Guevarra won the title of Miss Delaware USA 2020, and will be competing in the Miss USA pageant in Spring. As an Instagram model and freelance makeup artist, Katie travels to "glamorize her talents" and elevates evening wear brands, Jovani Fashions and JVN by Jovani, through social media. Guevarra also has a multidimensional blog she calls "With Love Kat" where she shares her opinions on subjects and products she loves, all inspired by fashion and beauty. Her blog garnered attention from major pageant outlets forming partnerships with Tobi and Almay.
Join 100k+ savvy Instagram marketers
If you are struggling to get the attention you deserve on Instagram, sign up for Kicksta today and start attracting more followers who are interested in your brand.
43. Robert Scott Wilson (Massachusetts)
Days of Our Lives actor has an impressive net worth of $3 million and 96.5k followers on Instagram. The 6-foot model is known as the first male model of "The Price is Right" in 2012. Aside from Days of Our Lives, Wilson appeared in TV series episodes like "'The Secret Life of the American Teenager,' 'The Middle,' 'Entourage,' 'Melissa and Joey,' 'Greek,' 'Suite Life On Deck,' and, 'Make It or Break It.' He also appeared in music videos for Manika, Toni Braxton, David Guetta, and Victoria Justice. Wilson is also in films like 'Bride Wars,' 'Surrogates,' 'Friends with Benefits,' and 'The Social Network.'
44. Riley Montana (Michigan)
Before becoming a runway fashion model, Riley Montana got a nursing degree and worked different jobs in places like Sprint , Popeye's, Claire's, and RadioShack. When she felt that that wasn't working out for her, she went to L.A. Models and trained there for 6 months. After that she moved to New York, and was repped by New York Model Management. It was here where she got her big break.
Montana was cast in Givenchy's spring campaign and pre-fall lookbook, because of Creative Designer Riccardo Tisci. Since he supports diversity, Montana went from fast-food employee, to high fashion model. She scored editorials with Vogue Paris, W Magazine, V, Harper's Bazaar U.K., i-D, Love, Numero, and CR Fashion Book. She has 189k followers on Instagram and a net worth of around $1 million to $5 million as one of the top Instagram models.
45. Anok Yai (New Hampshire)
Anok Yai is an American-Sudanese model and social media superstar. She is best known for being the second black model to open a Prada show after Naomi Campbell, and is the first Sudanese model to do so. Yai ranks as one of the "Top 50" models by models.com with 480k Instagram followers to date.
The Instagram model's career began when a professional photographer asked to take her picture during Howard University's homecoming week in October 2017. He posted the photo on Instagram accruing 20,000 likes. From there modeling agencies, including IMG Models, have reached out to her.
Yai eventually signed with Next Model Management, and became one of the most popular top instagram models out there. She has appeared in the Prada SS 2018 campaign, and the Nike campaign designed by Givenchy's Riccardo Tisci. Yai also became the spokesmodel for Estee Lauder. Her net worth is estimated at $2 million to $3 million.
46. Halle Berry (Ohio)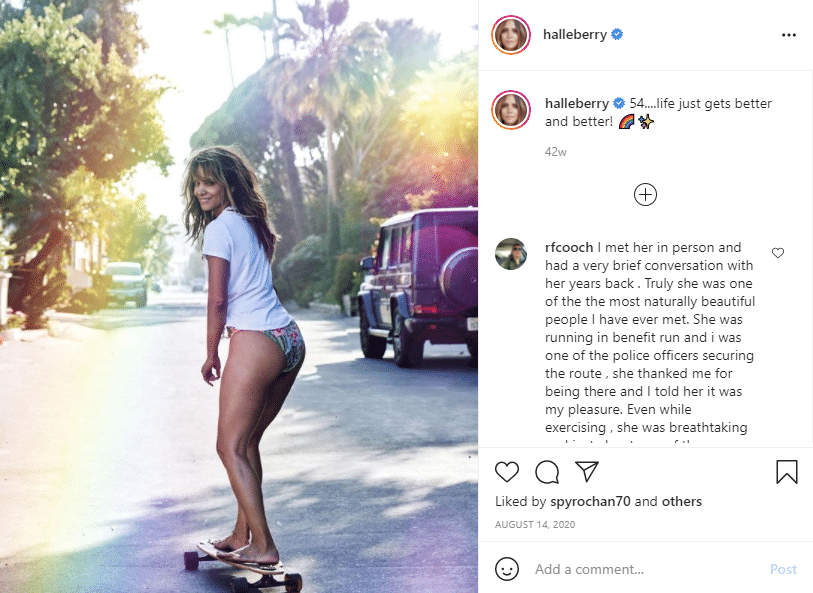 From beauty queen to renowned actress, the 40-year career of Academy Award-winner Halle Berry is nothing short of impressive. In the Miss World 1986 pageant, Halle came in sixth before getting into acting in the 1990s. Berry's big break came with a role in 'Boomerang' (1992), alongside Eddie Murphy, which opened to more roles like 'The Flintstones' in 1984. To date, two of the biggest roles she is known for is playing a Bond Girl alongside Pierce Brosnan in 'Die Another Day' (2002), and 'Monster's Ball' with Billy Bob Thornton. She earned her first Academy Award for Best Actress for 'Monster's Ball.'
In 2014, Berry launched her own lingerie line called 'Scandale Paris' at Target, and a fragrance she called 'Halle' in 2009. Hally Berry's net worth is between $70 million to 80 million. She has 6.5m followers on Instagram.
47. Olivia Culpo (Rhode Island)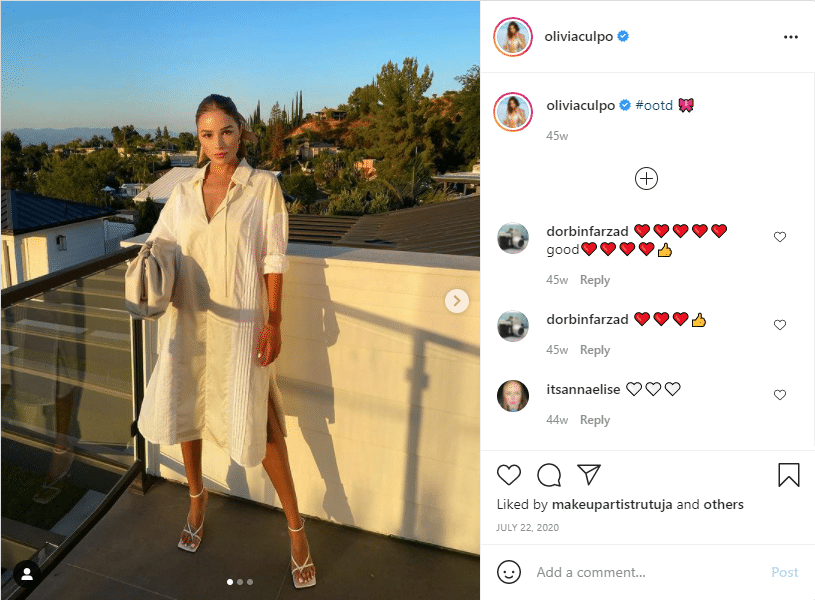 Olivia Culpo is a former Miss Universe winner, cello player, and restaurant owner. She was given the top spot on Maxim's Hot 100 list for 2019. The social media influencer has 4.7 million Instagram followers because of the work she does for various beauty and fashion brands including Cartier and L'Oreal.
She is a style icon, getting photographed regularly at prestigious events like the MET Gala. Her fame began early on when she participated in beauty pageants at 18 years old. The very first pageant Culpo joined, got her the title of Miss Rhode Island 2012. A year later, she won Miss USA 2012. Olivia's net worth is $7 million.
48. Madison Headrick (South Carolina)
GQ described Madison Headrick's Instagram feed as "one long summer party." With 524k followers, Headrick is alluring with her sunny hair and positive vibes. The Instagram top model started modeling at age 16. She debuted as a Prada executive and a campaign shoot by Steven Meisel. She appeared in ads for Calvin Klein, Polo Ralph Lauren, Vera Wang, Max Mara, Rag & Bone, Zuhair Murad, Hugo Boss, Acne Studios, Balmain, and Neiman Marcus. Among her high profile appearances include Vogue Paris, Harper's Bazaar, Vogue Mexico, Vogue Spain, and Playboy. Madison Headrick's net worth is estimated at $1 million to $5 million.
49. Rain Dove (Vermont)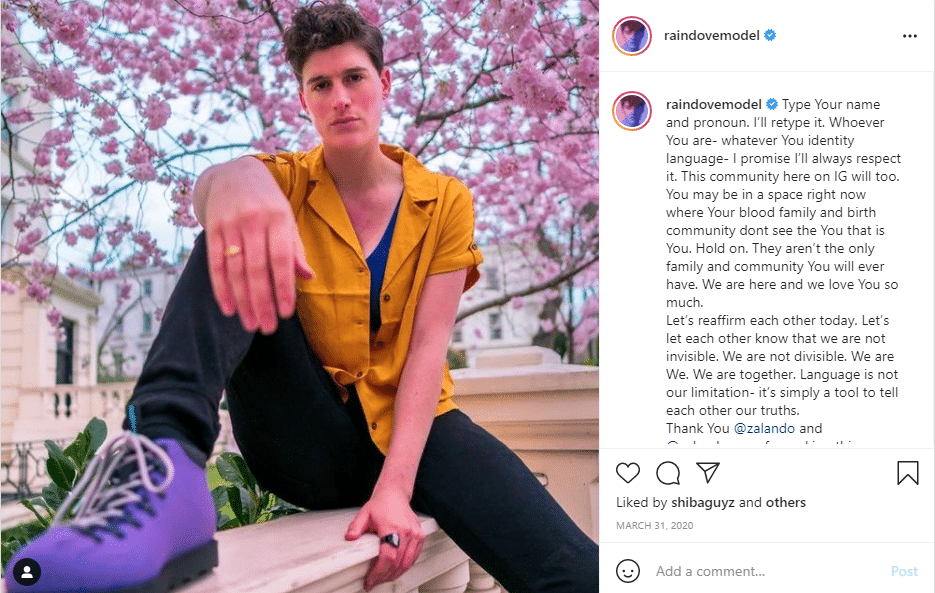 Rain Dove is an androgynous model, actor and activist. Dove became famous for their work in subversive fashion as a nonconforming model, posing alternately as male and female in photoshots, runway shows, and productions. Dove got into modeling after being challenged by a friend to present herself as a man in a Calvin Klein casting for underwear. After the show, people began seeking Dove for modeling jobs, and have since walked at New York Fashion Week on both men's and women's runways.
In 2014, Dove was voted as SheWired's Most Eligible Bachelorette, and named one of Elle Magazine's 12 Women Who Are Redefining Beauty in 2015. Rain describes herself/himself as a "gender capitalist" which has gotten their 430k Instagram followers incredibly smitten. Rain Dove's net worth is estimated around $3 million.
50. Haley Holloway (West Virginia)
Haley Holloway's 4,600 Instagram followers naturally gravitate to her because of her dynamic personality. In her career in pageantry, Hollloway is Miss West Virginia USA 2019, Miss West Virginia Teen USA in 2013, and 2nd Runner-Up of Miss Teen USA 2013. She became big on social media because of the prestigious pageants, and also because of the activewear line, HSA Athletics. She launched HSA Athletics fwith her sisters Ashley and Sydney in 2019. They wanted the line to be unique and offer something new to the community.
So, Who's Your Favorite Instagram Model?
The next time you think 'Instagram Top Models, you'll now know exactly who each of these 50 impressive people are – each of them unique and equally influential in their spheres of influence. Whenever you need some perspective and motivation for whatever it is you've set out to do, you can keep reading this back for that in-demand fashion and lifestyle inspiration!
Instagram Growth Hacks
Join over 100k+ marketers and influencers who get the latest Instagram tips & tricks sent to their inbox every week