60 Instagram Fitness Gurus You Need to Follow Right Now
post
In the pursuit of health and fitness, many people often overlook one secret ingredient – motivation. It's no use if you follow a heavy workout routine one week and gorge on fatty, processed foods the next. While the occasional indulgence is necessary to stay sane and focused on your end goals, the tricky part is sticking to your health regimen day in, day out. Thus, the right sources of everyday Instagram fitness inspiration can have a big impact on your lifestyle.
Fitness is one of the fastest growing influencer industries on the platform with more than 369 million uses of #fitness. From hardcore trainers with sculpted abs to wellness gurus promoting nutritious meals and healing mindsets, Instagram has become a who's who of the fitness world. And it's not surprising given the app's 4.21 percent engagement rate, which is 50 times higher than Facebook.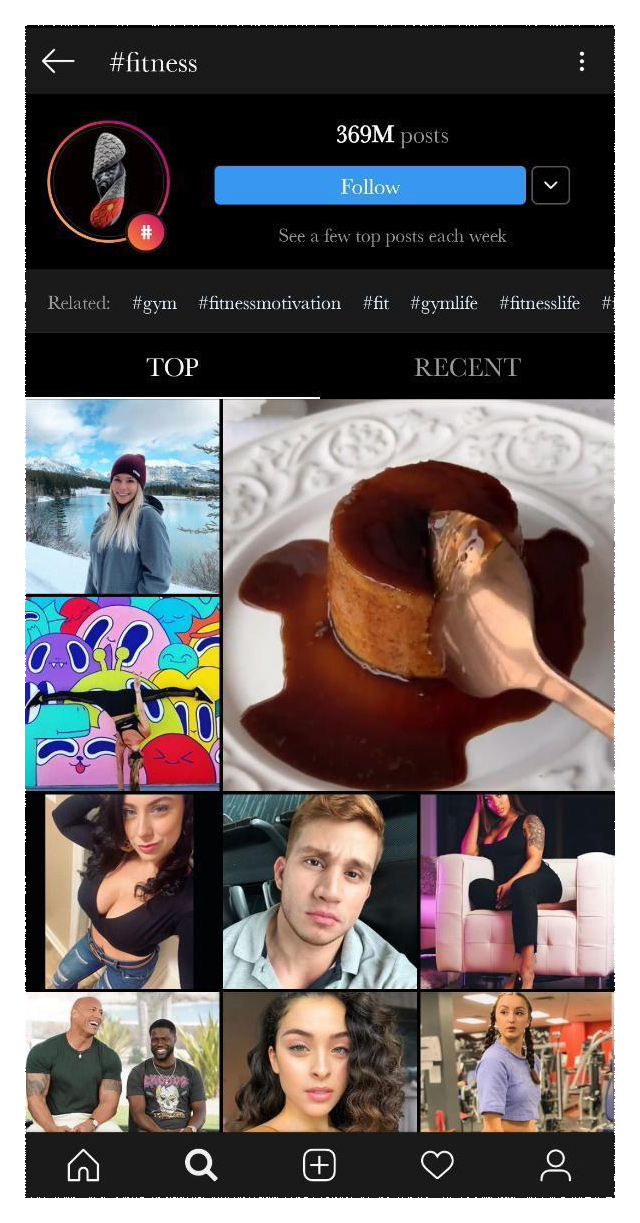 Every fitness influencer on the 'Gram' offers a unique flavor but all of them are committed to delivering helpful content to their followers. So, add an extra shot of motivation to your social media with fitness advice, healthy living tips, workout motivation, and exercises from the best fitness gurus.
1. Kayla Itsines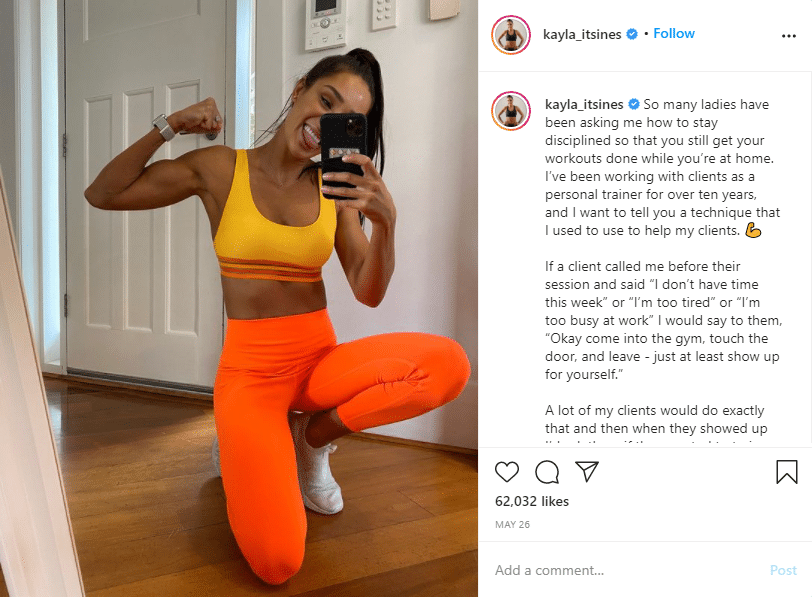 29 year old Australian personal trainer, Kayla Itsines is one of the OG Instagram fitness influencers. She has 12.5 million followers and a combined net worth of $428 million with her partner. She created a series of fitness ebooks titled Bikini Body Guides that sparked a cult following of girls looking to get the same bikini body as Kayla.
She started her fitness journey in 2008 and has since become one of the biggest names in the fitness industry. Since first starting the BBG Guides, Kayla has created a meal-planning and workout app, Sweat with Kayla. Her work ethic is commendable, having recorded her fitness routine when she was pregnant to inspire expecting mothers who want to work out safely.
2. Jennifer Selter
American fitness influencer and model Jennifer Selter has 12.7 million Instagram followers and has appeared on the covers of magazines like FHM, Vanity Fair, and Muscle and Fitness. Jen has come a long way since her introduction to the fitness world in high school when she worked at the front desk of her local gym. Post graduation, Jen used fitness as a stress reliever and created an Instagram to build a community of supportive, like-minded individuals. Her posts motivate you to stay positive, workout harder and eat better.
Selter opened her account in 2012 and shot to fame two years later when she posted transformation pictures, especially those involving her ample behind. But this New York beauty is more than just a 'belfie' queen; she is well-known for her motivational prowess and manages other well-known Instagram accounts, including @motivationforfitness and @couplegoals.
Her dedication to her craft bagged her an annual contract with the Fitplan exercise app. She also served as the creative director of ION Collection, the athletic jewelry brand, and the global spokesperson for Peeks. Selter's list of Instagram endorsements include famous brands, like Tarte Cosmetics, Nike, Lululemon, and NY20.
What started as a hobby turned into a social media empire, capturing the hearts of millions of supporters worldwide. She is known for mainstreaming fitness influencers.
Join 100k+ savvy Instagram marketers
Try Kicksta today and create those relationships and opportunities for your brand.
3. Simeon Panda
Unless they have been living under a rock, every fitness addict is familiar with the name Simeon Panda. The British trainer who began blogging in 2013 has accumulated millions of followers on social media and currently has 6.6 million followers on Instagram alone. He is a regular at fitness competitions, and has graced the cover of various fitness magazines.
As an Instagram fitness influencer, Simeon uses his status to spread motivational and positive messages. He inspires his followers with online workout routines, and has launched his own line of sportswear and fitness accessories called Just Lift. His high standards and stellar character have earned him a reputation in the fitness industry.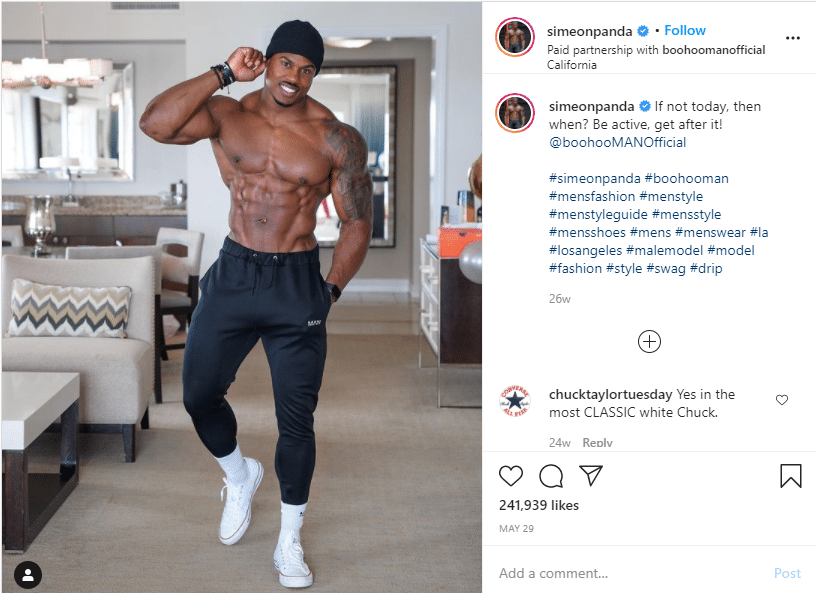 Panda was featured by Forbes as one of the top 10 fitness influencers in the world. The bodybuilding icon focuses on exercises for the chest, shoulders, arms, legs, and back. He regularly does deadlifts, bench press, and squats and inspires his followers with his strict workout ethics.
4. Michelle Lewin
With 13.6 million Instagram followers, Michelle Lewin is one of the biggest fitness influencers on the platform. The rise to prominence has been nothing less than meteoric for this 31-year old, who went from her humble beginnings as a clinic worker in Venezuela to a celebrity in the fitness circuit. In spite of her fame, Lewin's down-to-earth personality makes her relatable and approachable on social media.
She climbed to the top of the Instagram fitness food chain by motivating her followers via short videos. She has been on over 30 magazine covers including, but not limited to, Sports & Fitness, Her Muscle & Fitness and Iron Man.
She is the creator of two apps – Mealplan and Fitplan – that aims to help others with their fitness targets. The Mealplan provides healthy recipes along with personalized dietary plans to complement the user's training while the Fitplan app serves as a personal trainer of sorts with guided workout tutorials, performance tracking, and coaching tips.
5. Lauren Drain Kagan
Lauren is a special breed of fitness influencers, as she is also a registered nurse. This certified personal trainer and WBFF Bodybuilding pro attracts followers with her regular inspirational posts.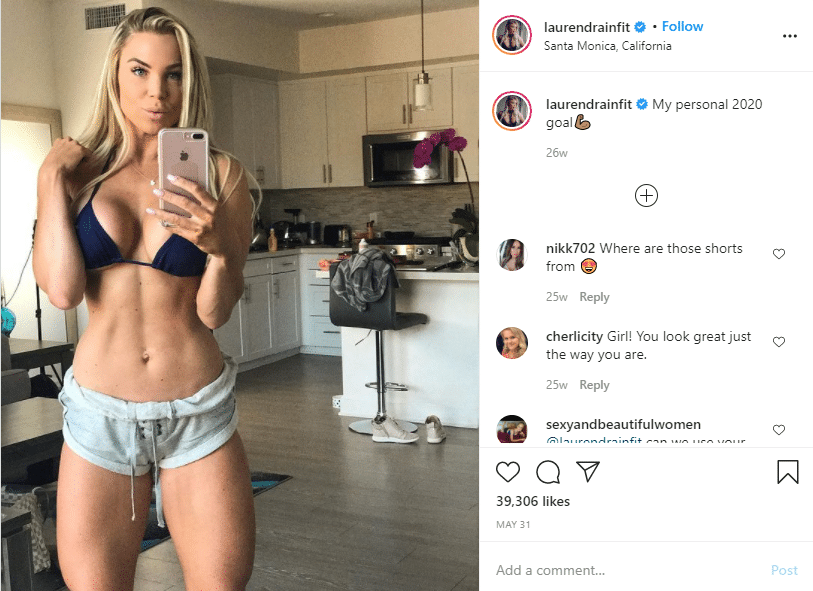 Lauren offers workout programs and meal plans to help people "strive for progress, not perfection". She is also a new mom and New York Times Best Selling Author.
6. Massy Arias
Mom, Health Coach, fitness influencer, and CEO, Massy Arias wears many hats. She is the CEO of Tru Supplements, a vegan friendly, non-gmo, supplement brand that's 100% natural and safe for new moms.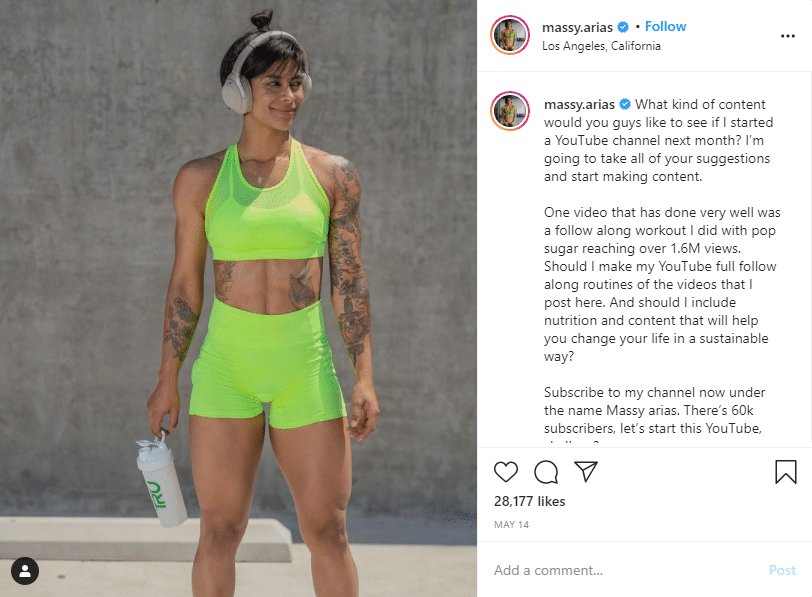 She sets an example for how adopting a healthy diet and active lifestyle can change individual lives mentally, physically and spiritually. She shares success stories and inspiration on her tribe Instagram account M.A. Warriors.
7. Emily Skye
Fitness, health and beauty guru Emily Skye doesn't stay in one line she takes over the whole road. As a model and fitness aficionado, Emily's workout program helps people feel the best they can be.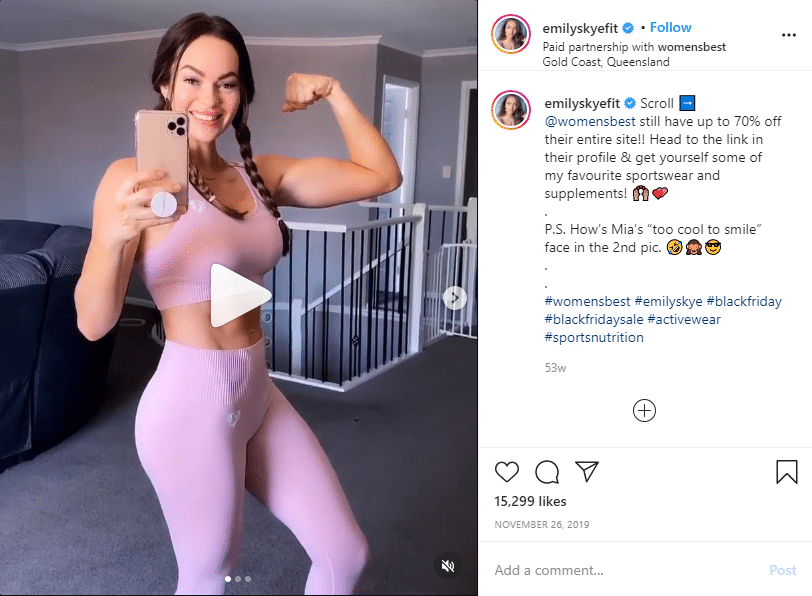 She is a mom of one and with another on the way, she posts inspiring content for not only moms, but also anyone looking to feel good in their skin.
8. Rachel Brathen
Rachel is a Swedish Yogi influencer, New York Times best-selling author, serial entrepreneur and international yoga teacher. She currently lives in Aruba with her husband.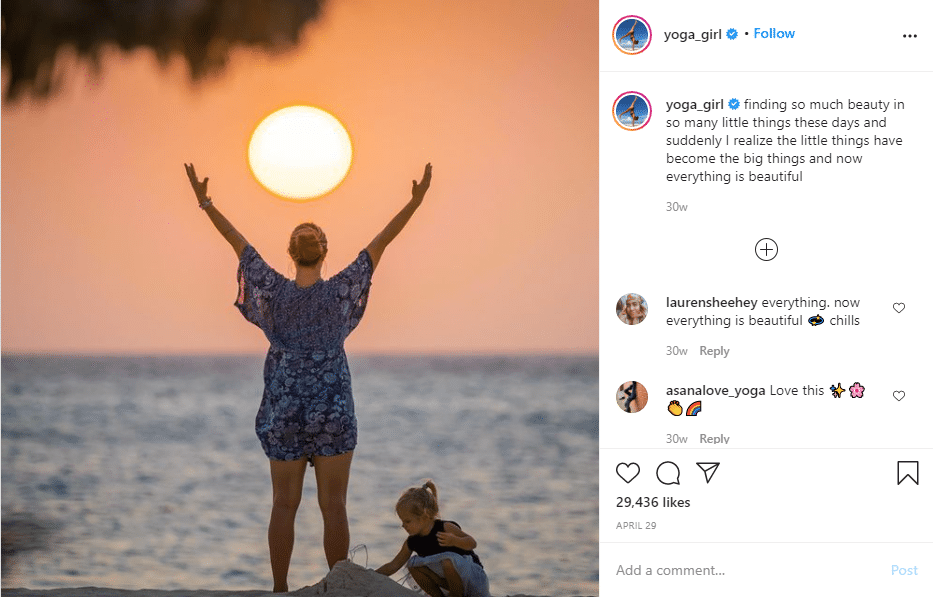 She shares her life on social media to her over 2 million followers and hosts the Yoga Girl podcast. Rachel focuses on creating a space for dedicated practitioners from all over the world looking to cultivate balance, create space for inner healing and to deepen their yoga practice.
9. Karena Dawn
Karena Dawn is a personal trainer and the co-founder of Tone It Up. She is also a leading presence on Instagram with a 223k strong profile that focuses on her love of a healthy lifestyle and fitness. Armed with a Bachelor's Degree in Health Promotion and Fitness, Karena advocates achievable workout goals, holding yourselves accountable, and maintaining a balanced life.
Her Instagram is the perfect antidote if you are feeling sluggish and indulging too much. Working out for her is self-care – you do it because it's good for you. She advocates respecting one's body and finding a sense of community. She started Tone It Up with her friend Katrina Scott to help people achieve their goals via customized plans and live classes.
Karena posts pictures of women banding together and supporting one another on her Instagram to prevent her followers from feeling alone, especially the ones who are just starting out or get discouraged easily. Dawn suggests followers take it easy so they do not get overwhelmed. She motivates her followers by posting images of exercises that make their bodies feel good, such as yoga, hiking or biking.
10. Katrina Scott
Katrina Scott, is the other half of the Tone it Up founders. She found fitness at a young age after being teased at school for her weight. This pushed her to start creating workouts and meal plans from magazines and nutrition books.
She earned her Bachelor's degree in Health Promotion and Fitness and the first certification was for group fitness. She fell in love with teaching classes and after college moved to California to pursue this full time. She met Karena and the rest was history.
11. Joe Wicks
Joe Wicks has almost 4 million followers on Instagram, and with good reason. He goes by "The Body Coach" and offers the promise of a better lifestyle through 15-minute meals and workouts designed to keep people slim and healthy. The author of Lean in 15, Wicks has received considerable praise for his innovative fitness routines and recipes.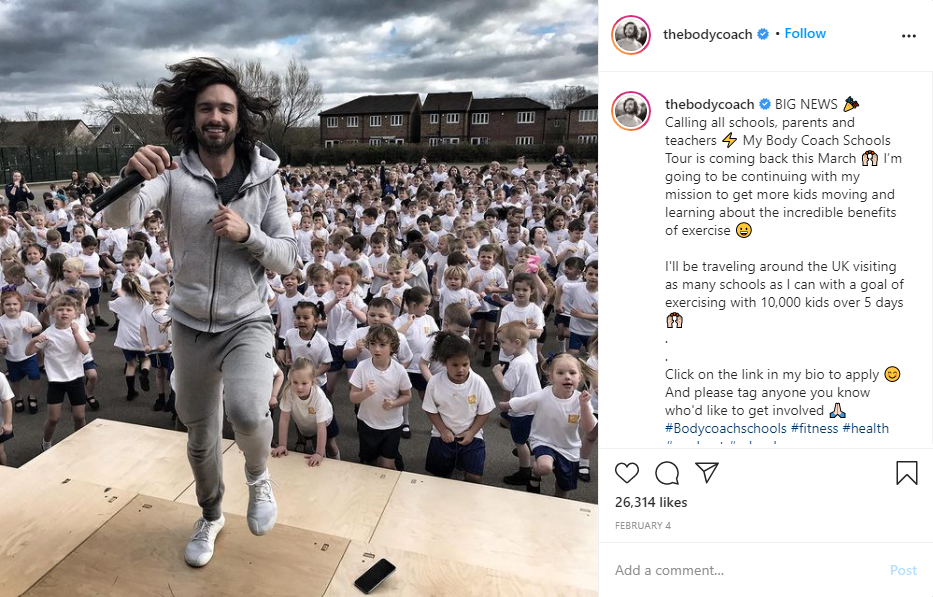 His 90-day plan that makes people "fitter, stringer, healthier and leaner" has inspired singer Adele who works out with his videos at home. He was also featured in the Guinness World Book of Records for hosting the biggest High Intensity Interval Training workout class. No mean feat!
12. Zac Perna
As a chubby kid with low self esteem, Zac found fitness as a way to build his confidence. He became a personal trainer because of the positivity it breeds.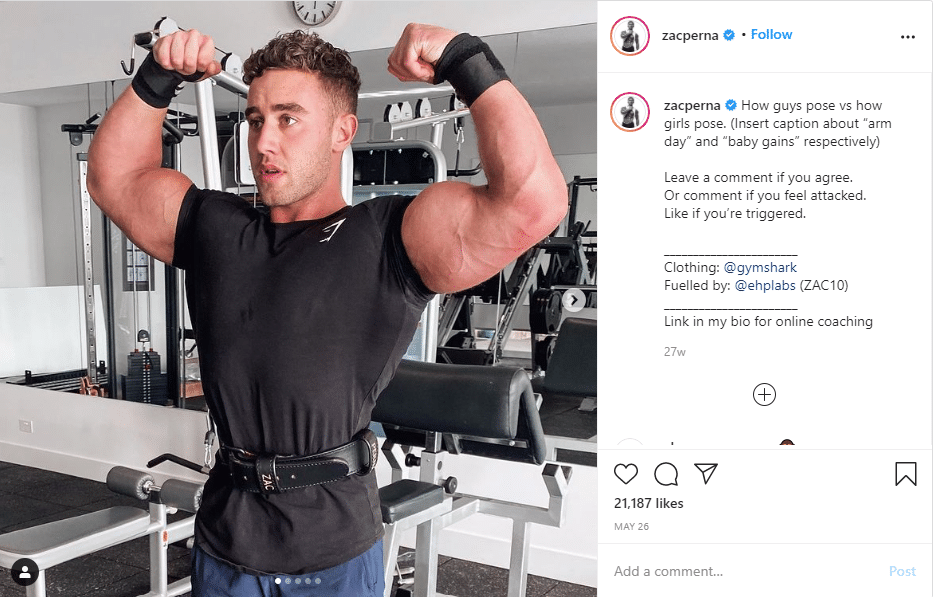 As an Instagram fitness guru, Zac has now been able to reach millions to share his passion for health and wellness. His followers use the Instagram fitness hashtag, #massivefam to represent the community of lifters.
13. Gina DiNapoli
If you haven't heard of Gina, founder of Jabs by Gina (Instagram fitness hashtag: #jabsbygina), you're in for a treat. Gina grew up a competitive figure skater, but after gaining weight in college she looked for a fun way to lose weight and stay in shape. She was able to lose the weight in three months and discovered she had a natural talent for kickboxing.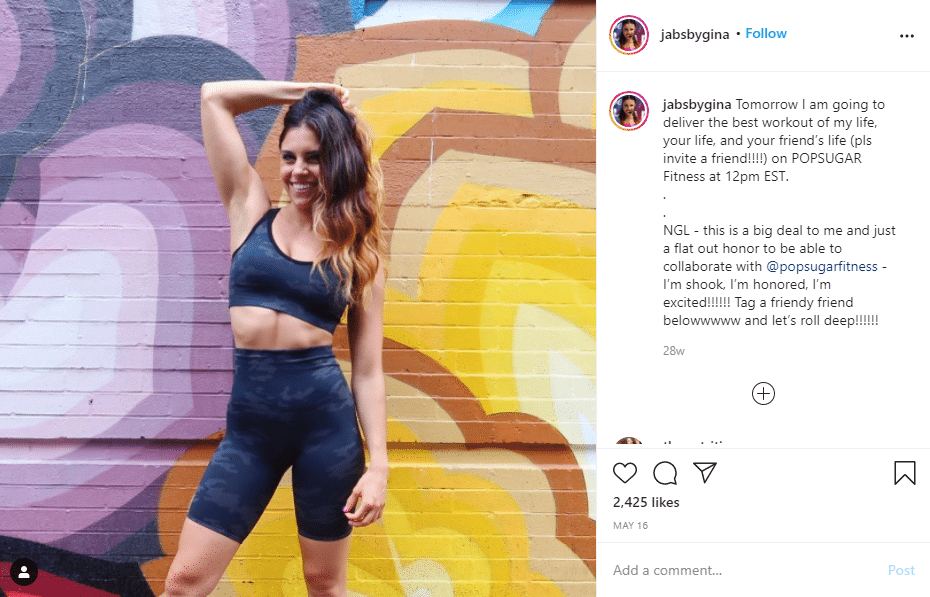 Coincidentally at the time, Equinox was running their nation-wide Prodigy competition where members had the chance to compete to become an instructor. Gina won and after a few months of teaching classes she created JABS. This workout now has multiple formats and thousands of "Jabbers". Gina and the other instructors create a truly magical and positive group workout experience.
14. Rachael DeVaux
Rachael, known as Rachael's Good Eats on Instagram, is a registered dietitian, certified personal trainer and lover of all things health and holistic wellness.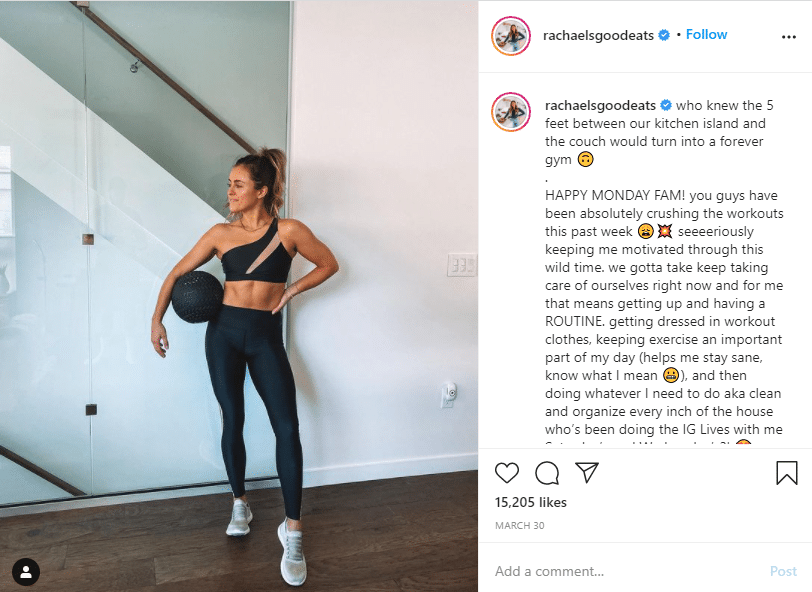 As an Instagram fitness guru, she makes workouts and healthy meals enjoyable and doable. She strives to create a positive environment around food and teach her followers mindful eating.
15. Rich Froning
If you know CrossFit, you know Rich Froning. Rich is an American professional CrossFit athlete known for his achievements participating in the CrossFit Games.
He has over a million followers on Instagram where he showcases not only his fitness routine, but also his overall lifestyle as a dad and follower of christ.
16. Denise Austin
Denise Austin is an American fitness instructor, author and columnist and in recent years and Instagram fitness guru. She has millions of fans across the country and a few hundred thousand on Instagram.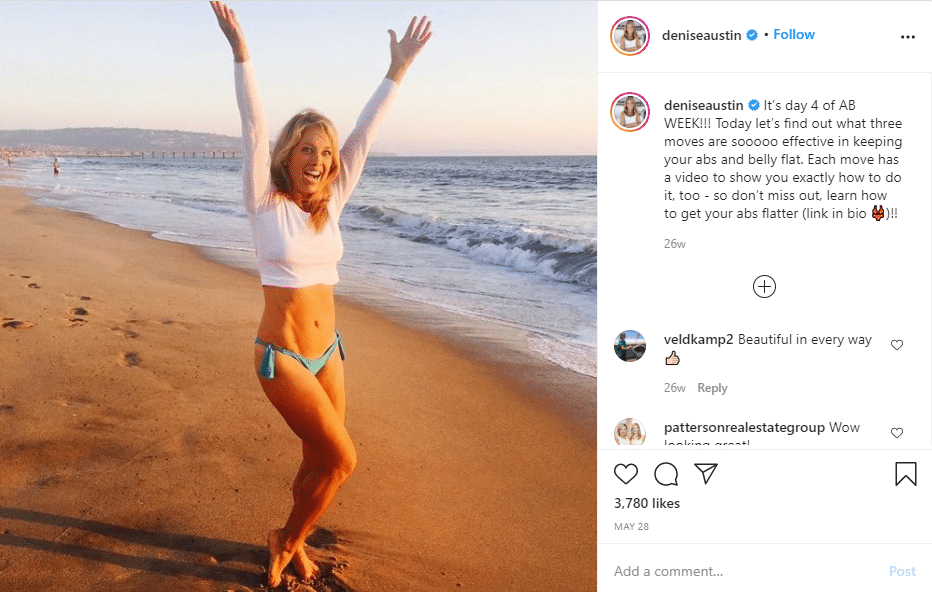 Her zest for life, positive outlook and purposeful attitude have made her a leader in the fitness industry. Denise continues to be as active as ever and has made it her mission to help women reach their goals at any age! Her LifeFit program is all about being balanced, healthy and energized to stay active and be ready for whatever life throws at you.
17. Katie Austin
The apple doesn't fall far from the tree with Denise's daughter Katie Austin. She is a certified fitness trainer, health coach, author, blogger, model and has been featured on numerous television shows.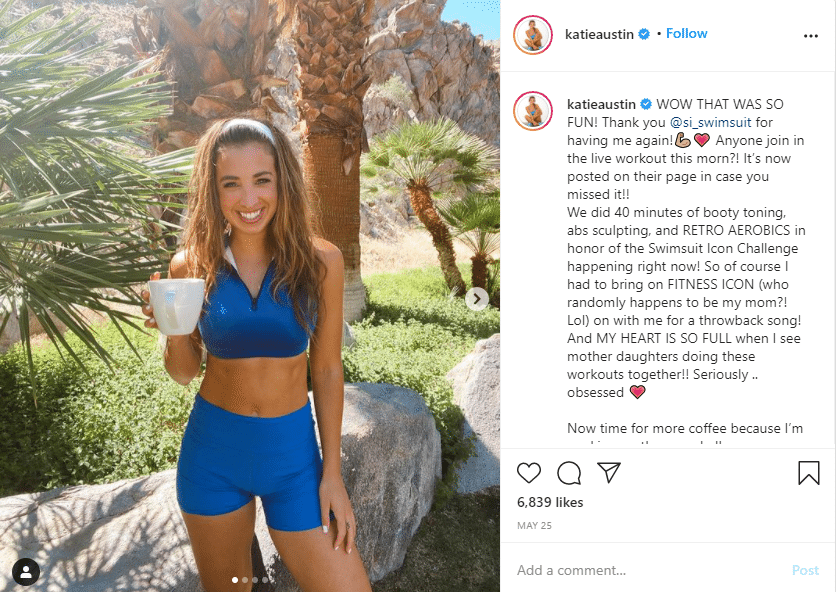 Katie is a great Instagram fitness blogger to follow, with her mix of inspiration from her mom and a love to spread a message of self-love and positive body image. Katie motivates and inspires others worldwide to be more confident with their bodies and to live their best life.
18. Sarah Stevenson
Sarah, better known as Sarah's Day or Sezzy is an iconic Instagram fitness influencer and YouTuber.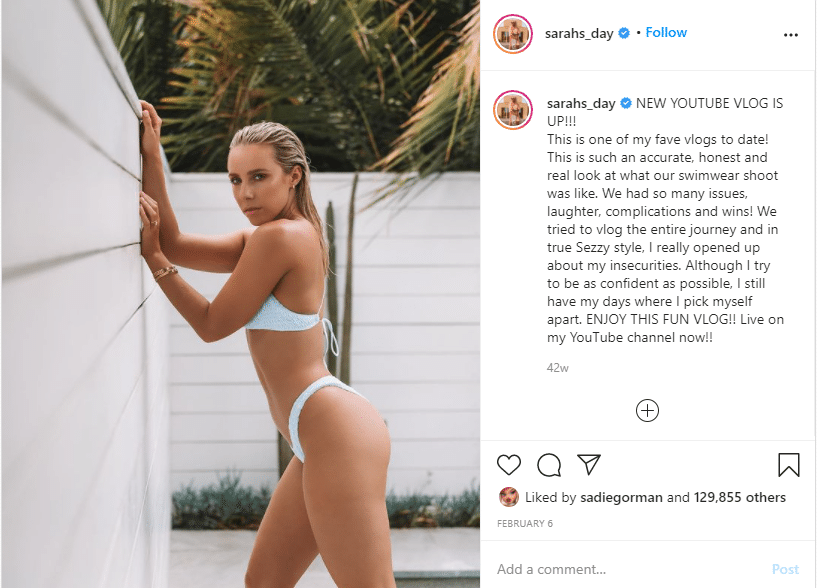 Sezzy, is a holistic health and fitness YouTuber with a love for natural remedies, functional training, healthy recipes and learning to listen to her body. She has over 1 million followers on both platforms and is a recent new mum! Her fit physique inspires others to workout with her 8 week fitness programs called Sweat it to Shred it.
19. Whitney Simmons
Whitney Simmons is a Instagram fitness influencer who preaches the message that a healthy lifestyle is more than working out, it's about feeling good on the inside out. It's all about balance.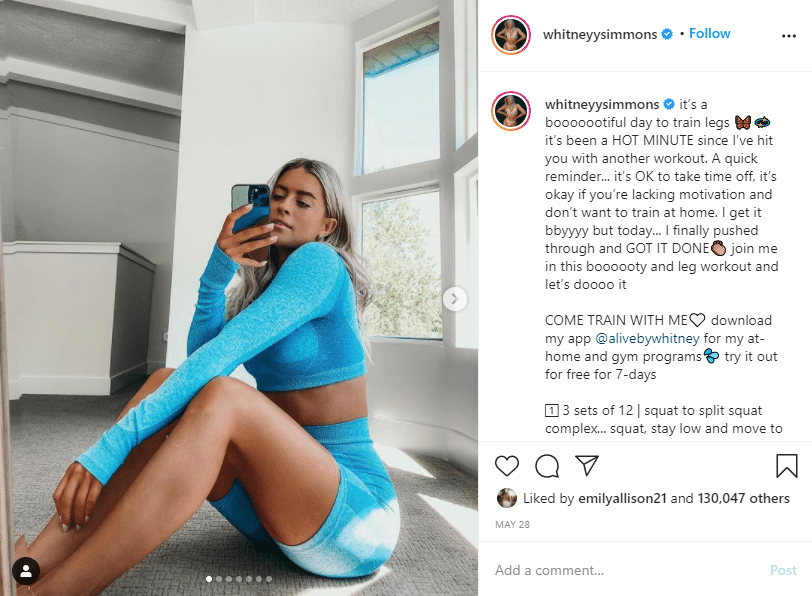 Her positivity has carried over to her app, ALIVE. She wants you to feel alive with ALIVE. To learn more about how to live a balanced life, join the 3 million who follow her on Instagram and subscribe to her YouTube channel.
20. Luke Worthington
Luke is a coach and trainer who focuses on helping people move, think and feel better. Luke spends his time with private clients, educating and mentoring fitness professionals and on the occasion engaging in speaking opportunities. He is also the head trainer on the series "Harry's Heroes".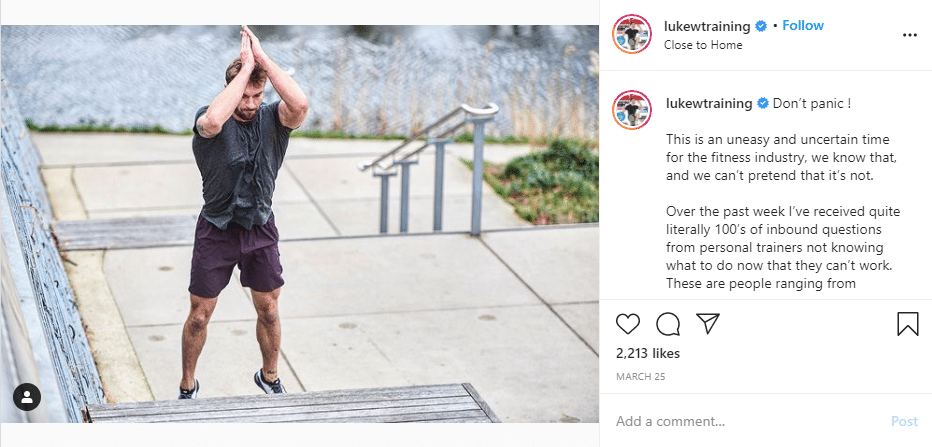 One thing that sets Luke apart from other Instagram fitness influencers is he has prepared artists for lead roles in major productions like Star Wars and theater productions like Aladdin and Hairspray.
21. Alexia Clark
Do you want new, fun home and gym workouts each day of the week? Alexia Clark delivers with a "not your average fitness program". Her program focuses on three pillars: exercise, nutrition and support.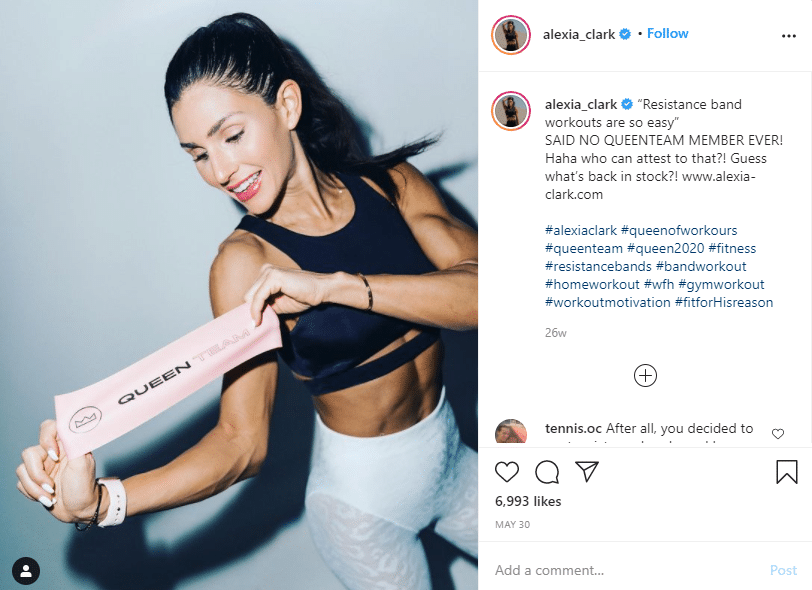 Alexia is a fully certified personal trainer and fitness nutrition specialist. She makes working out enjoyable and it shows through her content, that's why it's no surprise 2 million people follow her every move! Self proclaimed queen of workouts
22. Alexa Jean Brown
Alexa is an Instagram fitness blogger known for developing her own fitness guides which has earned her an audience of almost 2 million. She started blogging to document her fitness activities and it has since become a business with a global audience.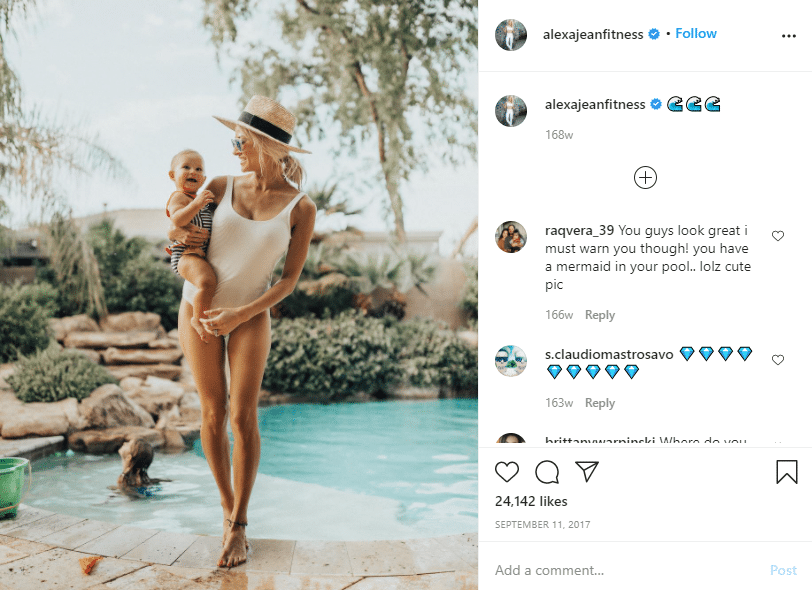 She is a young mom living in Arizona. Every one of Alexa's workouts is designed to target specific muscle groups in an innovative way allowing people to achieve their own best body.
23. Lauren Fisher
Lauren Fisher is not like the other Instagram fitness influencers we've discussed. She's known for her Olympic weightlifting prowess and her USA Weightlifting Junior National Championship. She's a 7x CrossFit Games Athlete.
Lauren's audience hits around 1.2 million, but she has also founded Grown Strong, a community dedicated towards building strong and confident women in all aspects of life. She shares workouts, recipes and other inspirations in the community.
Join 100k+ savvy Instagram marketers
If you are struggling to get the attention you deserve on Instagram, sign up for Kicksta today and start attracting more followers who are interested in your brand.
24. Sam Asghari
You may recognize Sam's name as Britney Spear's beau, but he's also a celebrity personal trainer who's been featured in tons of publications and is followed by over a million people.
The Instagram fitness hashtag he started is #iam1stphorm which represents the 1st phorm supplement brand he stands behind.
25. Shaun T
Shaun T is more than just a popular fitness guru on Instagram. He is an American motivational speaker, fitness trainer, fitness motivator, businessman, television personality and choreographer.
Over 1 million people follow his Instagram account where he teaches people how to express themselves and live their best life! He is the creator of Insanity and Transform 20.
26. Chanel Collette
Chanel is a coach and athlete who is extremely passionate about being stronger, not smaller.
She started the Audacious Athletes Coaching Team which helps you create their goals then pushes you to achieve them. She has vetted and is close with her staff, so you can guarantee these coaches are an extension of her. Her Instagram page is a great source of motivation for all things fitness and coaching.
27. Jordan Syatt
Are you looking to lose fat and gain muscle? Jordan Syatt of Syatt Fitness can get you there. He wants to help you lose weight, get stronger and hit your goals. He is a personal strength and nutrition coach who will teach you how to lose fat and build muscle with simple and easy tips.
His content is different from a lot many fitness influencer's aesthetic, as he chooses to post meme-like posts that cover everything from tips, calorie comparisons and personal anecdotes.
28. Bret Contreras
Meet Bret, aka The Glute Guy! Bret offers a Booty by Bret program and Glute Lab book to help people get their butt in gear. Pun intended. He even opened his own gym in San Diego called Glute Lab.
If we haven't made it obvious yet, Bret is a huge fan of glute training. He is best known for inventing the barbell hip thrust exercise in 2006.
29. Samantha Gwazdauskas
Samantha is a nutrition coach and social media influencer. Samantha applies her passion for helping others as a virtual nutrition and lifestyle coach. Unlike many self proclaimed nutrition professionals, Sam has a B.S. in nutrition and a M.S. in kinesiology and sport nutrition.
She preaches enjoying movement and food in harmony.
30. James Stirling
James Stirling, more commonly known as The London Fitness Guy, confidently believes fitness should be accessible and enjoyable while being tailored to measurable and realistic goals.
He wants fitness to be sustainable in someone's life, so when he started his fitness journey he made it his mission to ensure regardless of ability, his workouts could support a healthy lifestyle.
31. Kelsey Wells
Kelsey Wells is an Instagram phenomenon. With almost 3 million followers and a trainer for SWEAT, Kayla Itsines' fitness app, Kelsey has a very engaged following. She also recently added post-pregnancy workouts to her repertoire.
Kelsey wants to help you uncover the power within you. She makes it easy to train with her anywhere in the world from the palm of your hand. If you want to empower yourself through fitness, she's a great influencer to follow on Instagram.
32. Max Lowery
Max Lowery's mission is to help busy women reach their fat loss goals, boost their energy and transform their health without restriction or deprivation.
He is a personal trainer, online coach and mountain guide. He lives for adventure and fitness and shares this passion with others through leading corporate retreats in the French Pyrenes. If you want to improve your physical and mental health with nature immersion and more, Max is your guy.
33. Cat Meffan
Cat Meffan is better known as the Wellness Wanderer. Her website and Instagram page are a hub for all things lifestyle and wellness. Her mission is to enjoy a very happy and healthy life doing all the things she loves while helping others make a positive change in their lives too.
Her almost two hundred thousand followers come to her for inspiration, yoga and jewelery recommendations.
34. Julia Gilas
Fit is a lifestyle and no one knows this better than Julia Gilas. Julia is originally from the Ukraine but dreamed of more and moved to the United States in 2010. Prior to her move she modeled throughout Europe and learned English, but as her health began to suffer from the grueling days of modeling, she turned to fitness to get her health in check.
If you follow her on Instagram, you can expect to see photo shoots, and fitness, but also grocery shopping, laundry and quiet time around the house with her pets.
35. Claire Fountain
Before ever stepping on a mat, Claire Fountain fell in love with yoga. As a way to cope with life's challenges, she began a journey of learning and studying the body in order to heal her mind, body and spirit.
Claire, or @cbquality, on Instagram posts about how to be a healthy self, tips as a mental health advocate and all things well being.
36. Paige Hathaway
Paige is a huge fitness influencer, with a whopping 4 million followers on Instagram. As a homegrown Oklahoma girl turned fitness model, she helps men and women with online fitness programming, nutrition and supplementation so that they can feel unstoppable self-confidence.
She's been on the cover of tons of magazines including health & fitness. If you're looking for inspiration and want to look and train like Paige, check out her @fitin5challenge.
37. Dylan Werner
Dylan Werner is currently traveling the world sharing his practice and love for yoga. He hosts workshops and retreats teaching others the practice he is so passionate about.
His Instagram photos are breathtaking and taken all over the world. If you aren't able to travel, but want to practice with Dylan, he also teaches on @alomoves.
38. Kaisa Keranen
Kaisa is a personal trainer, fitness educator and social media fitness influencer. She is known for her fun and innovative ways to get moving. She lives and teaches by the motto that health is not a look, but a feeling. She wants everyone to get up and move!
She has over a million followers on Instagram where she motivates, educates and empowers people to #justmove.
39. Misty Copeland
Misty Copeland is not your ordinary Instagram fitness influencer. She is known for making history as the first African American Female Principal Dancer with the prestigious American Ballet Theatre.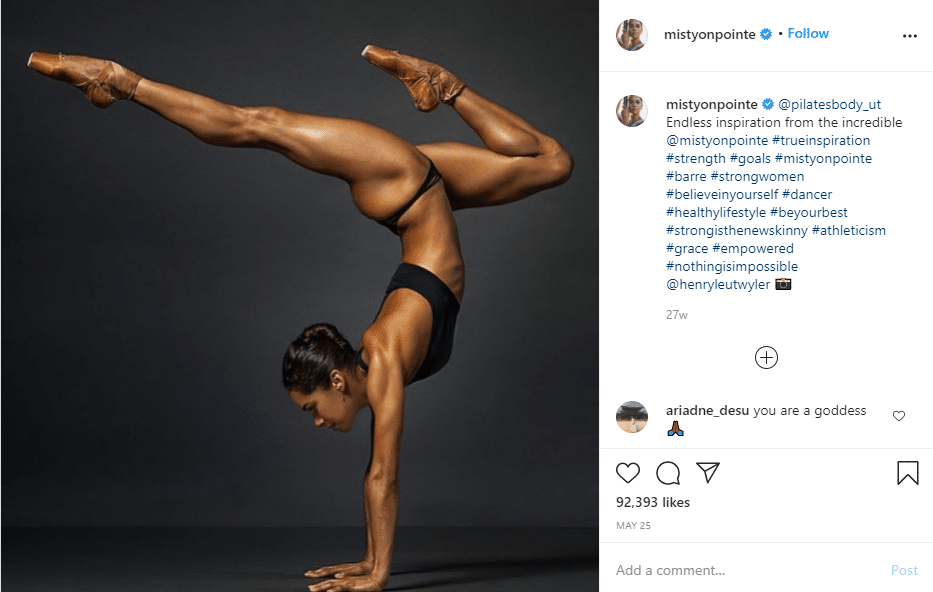 On Instagram you can find her with almost 2 million followers @mistyonpointe, where she posts all things ballet as she demonstrates the true power, grace and fitness that ballet entails.
40. Ross Edgley
Ross is a British extreme athlete, sports scientist and writer, adventurer and fitness trainer. He is known for swimming the 1,780 miles around Great Britain. His over 600k followers follow his page for all things fitness, swimming and life as a Gymshark and PHDNutrition Athlete.
41. Ben Carpenter
Ben Carpenter is a fitness influencer with a huge focus on flexible dieting. He says, "Flexible dieting isn't intended for you to fill your diet full of shit. It is teaching you to be able to swap things in and out of your diet without feeling like you have messed up."
His Instagram page is full of tweet screenshots, tips and videos giving his 100k followers all the info they need to diet flexibly.
42. Katie Crewe
Katie Crewe has a million followers and for good reason. She is a certified strength and conditioning specialist, certified nutritional practitioner, psychology grad and health coach. Growing up she was always very active, but lost her activity when attending University.
One day, she cluelessly wandered into the gym and after venturing to the weight room, eventually gained some confidence and has since changed the way she views herself. Katie started seeing changes in her body and today, her goal is to help others realize their potential.
43. Carter Good
If you aren't familiar with Carter Good, look through your explorer page again, because you've likely seen his food comparison posts. He helps regular people lose weight and keep it off forever. His motto: Yo-Yo dieting stops here.
If you're looking to lose fat and build a lean body for the rest of your life? Visit his homepage and start your journey to a healthier life.
44. Kim French
Kimberly (Kim) French will help you achieve your fitness goals. As a mom of 2, she gained a lot of weight during both pregnancies. She had never been into any type of fitness, so she did the popular starvation and cardio regime, which many of us know now is not sustainable.
She may have kept with it and liked the number on the scale, but not the body facing her in the mirror. In 2016, Kim took to the gym and began weight training. Many women believe lifting weights will make them less feminine, but Kim is living proof this is definitely not the case.
45. Bradley Simmonds
Under Armour UK fitness ambassador and glamour UK columnist, Bradley Simmonds wants to inspire you to get it done with his no nonsense approach.
Bradley is an ambitious fitness influencer on a journey to motivate and inspire people to live a healthy lifestyle through regular exercise and a nutritious diet, no gimmicks or fad diets here. He pushes all ages and sizes to reach amazing long term results so you can feel good inside and out.
46. Chontel Duncan
Chontel is a personal trainer and creator of the FIERCE workout program, available on Kayla Itsines' SWEAT app. Chontel is an Australian fitness trainer, model and blogger who became an Instagram phenomenon by sharing her fit pregnancy journey.
She now has over 900k followers on Instagram, is married and a mom of two and is the co-founder of 4 locations of HIIT Australia.
47. Mari Llewellyn
Mari wants you to feel strong inside and out, and that's what she preaches to her 1.3 million followers. She has her own fitness guides, bands and is a YouTuber out of New York City.
Mari is also the owner of Bloom Nutrition, a quality and clean ingredient energy and recovery supplement brand. Her Instagram page is full of inspiring workouts and lifestyle photos, sure to motivate anyone to hit the gym and love every minute of it.
48. Charlee Atkins
Meet the Founder of Le Sweat, Charlee Atkins. What started as a fitness blog quickly evolved in a community in pursuit of healthier bodies, stronger spirits and sharper minds. Charlee is an NYC based trainer who has been coaching for over ten years.
She created the Le Stretch method, a curated class focused on holding stretch positions with the use of a "LeCrosse" ball. Think of pilates or barre with the incorporation of high intensity, circuit style classes.
49. Claressa Shields
Claressa is not your average fitness influencer, she's an American professional boxer who has held multiple world championships in three weight classes. She's a 2x Olympic champion.
If you want some fitness inspo, boxing techniques and her life sprinkled in between, check out this undisputed and 3x World Champ on Instagram.
50. Deja Riley
Deja Riley is a fighter, mover and motivator. She is the host of Dance FitSugar for @popsugarfitness and the creator of #DanceOutOfTheBox and Deja Riley Athletics. She absolutely kills the fitness game and is also a PUMA trainer.
Is there anything Deja can't do? Her 64k followers look to her for daily fitness and wellness inspiration.
51. Jeannette Jenkins
You're going to want to turn post notifications on for this trainer and health coach. Jeanette, also known as The Hollywood Trainer, wants to change your body and life.
Jeanette believes to achieve anything great in life you must create a plan. With over 25 years of experience in health, fitness, nutrition and motivation, Jeanette's plans are guaranteed to help you get the body you've always dreamed of.
52. Sandra Prikker
Sandra Prikker is a beloved and inspirational fitness model who overcame injury to become an athlete. Her story has motivated many so it's no secret how she racked up 3 million Instagram followers.
On her page she shares her story, diet, training regimen and more. She's a MyProtein athlete, mom, vegan and founder of own wear shop.
53. Sohee Lee
Sohee believes in an evidence based approach to training and nutrition and flexible dieting. She is the founder of #eatliftthrive and wants to simplify the science of fitness for you.
Unlike other self-proclaimed fitness "specialists", Sohee is the real deal as a current PhD student. Her page is full of training exercises, tips and motivational messaging.
54. Jeff Seid
Have you heard of Jeff Seid? With almost 4 million Instagram followers, many people don't answer no to this question. Jeff is a fitness model and IFBB Pro. He wants to help you improve your physique with workout routines and diet plans.
He first started training at the age of 12 when I received his first weight set for his birthday. An unforeseeable injury in high school football rocked his world, but led him to become America's youngest ever IFBB Pro.
55. Eva Andressa
Eva is a Brazilian fitness model, diva fitness ProWBFF and one of the most recognizable figures in the fitness community. At the early age of 17, Andressa wanted to transform her body but didn't know how to.
She met her husband, an athlete and after a short amount of time began competing on a national level and began racking up first-place finishes.
Join 100k+ savvy Instagram marketers
If you are struggling to get the attention you deserve on Instagram, sign up for Kicksta today and start attracting more followers who are interested in your brand.
56. Nesrine Dally
Nike trainer, Muay Thai boxer, coach, mom and wife, Nesrine Daly is a representation of Muslim women in sports. She displays how faith and fitness can coexist. Nike was the first brand to open a massive door for Muslim women in sports and fitness, and Nesrine is continuing that legacy.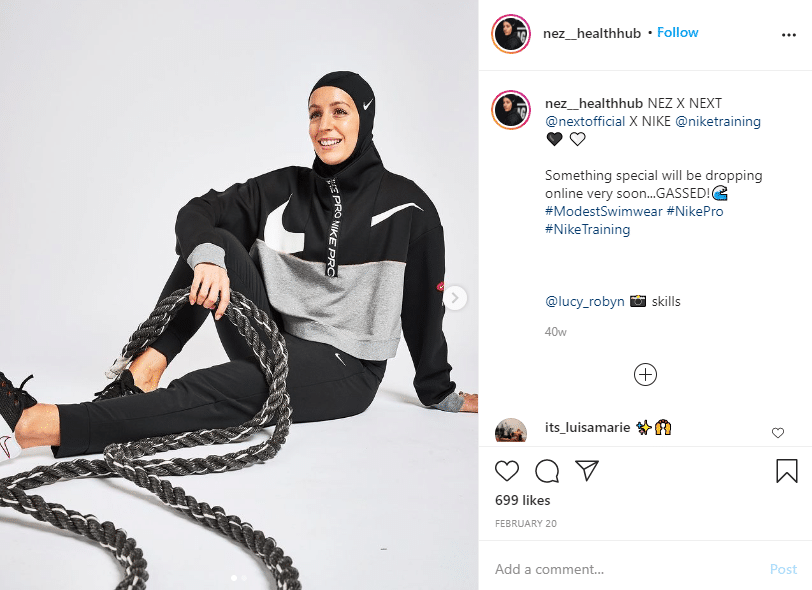 While she is a multi-tasker to the extreme, her greatest achievement is having a family. She wants to create a legacy for all women across the world to feel inspired and empowered while training.
57. Tally Rye
Tally Rye is a personal and group fitness trainer in Central London. She would be nowhere without social media nor would her 102k followers. Tally personally had zero interest in sport or exercise until about the age of 18 when she began training for musical theater.
This training helped her discover a passion for health and fitness. She has shared all her ups and downs on Instagram and Youtube and continues to encourage all her clients to put their health first.
58. Keegan Whicker
Instagram influencer and Seattle founding Barry's Bootcamp instructor shares his exercise and fitness focused photos to his 430k followers. He started his career as an Industrial Engineer and is known for being part of a traveling fraternity. This is frequently captured on his page.
This is not your average fitness content; sometimes funny, out there, and maybe even a little sexual.
59. Tom Kemp
Tom Kemp is the founder of farm fitness and is an Under Armour x SD Athlete. His team focuses on creating an environment where seemingly intimidating exercises become more accessible to the average through a culture of "teamwork and camaraderie".
We love this mentality because who wants to be scared to walk into a workout? When it comes to nutrition, Tom promotes sustainability because the key is 80% maintainable and 20% fun.
60. Courtney Fearon
Rounding out our must follow influencers is Courtney Fearon. Want the power to improve?
Courtney is a Nike trainer, Master trainer at BXR London and former professional sprinter. His brand is making movement a movement. He wants people to get active! If you're looking for a daily dose of workout inspo, tips and tricks, Courtney is your man.
Instagram Fitness Influencers
Instagram fitness influencers fill their profiles with workout ideas and tips along with lots of photos that showcase the advantages of getting fit and leading a healthy lifestyle. So, if it's been a while since you hit the gym or worked up a sweat at home, check out these fitness influencers on the platform to find your lost mojo.
Author Bio:
Vishal Vivek is an eminent Indian serial entrepreneur. Despite having to shoulder huge family responsibilities at a tender age, lack of proper training, and a lack of resources and funding, he started SEO Corporation and scaled it up to a well-known SEO Company. The Times Group recognized him as a legendary entrepreneur and published his biography in the book I Did IT (Vol 2) when he was just 30.
Instagram Growth Hacks
Join over 100k+ marketers and influencers who get the latest Instagram tips & tricks sent to their inbox every week