40 Best Instagram Tools For Marketers (Updated 2023 List)
post
2023 will see some major changes for Instagram and Instagram tools. Video is here to stay, and with TikTok's recent rise in popularity, Reels are going to only become more popular.
In 2023, brands and businesses need to focus on crafting incredible content with the best Instagram tools if they hope to stand out amongst the 2 billion monthly users. To help you achieve your Instagram growth goals, we've reviewed and researched the best Instagram tools to date.
For optimal results, try implementing the following tools in your strategies for social media:
40 Best Instagram Tools For Marketers
Instagram Link-In-Bio
1. url.bio
Url.bio is an effective way to maximize your link realty. With little space available to share links on Instagram, url.bio transforms your one bio link into multiple destinations. With a url.bio account, you'll be able to send your followers to any social account, event, store, or articles you want them to visit.
url.bio's Features:
The following features are available for FREE to all url.bio users:
Unlimited links in url.bio
Link Scheduler
See your total number of clicks, and views
Remove url.bio logo
Pre-designed themes and full customization options
Link Thumbnail
Social Media Links
url.bio's Pricing:
url.bio users can access all premium features for free. All you have to do is sign-up with your email.
2. FeedLink
FeedLink by EmbedSocial helps you connect Instagram accounts and generate a feed from your Instagram posts. Using Feed Link, you can create a clickable URL perfect for enhancing your Instagram marketing strategy.
As a part of the EmbedAlbum platform, this tool generates all your Instagram posts and gives you the option to tag each post with a custom URL. The best part is that you can create a Shoppable Instagram Feed and use your Instagram account as a new traffic and sales channel.
FeedLink Features:
Generate all your Instagram posts in one clickable landing page
Tag each post with a custom URL
Change your feed while the link in your Instagram bio remains the same
Create a Shoppable Instagram Feed
FeedLink Pricing:
FeedLink is a FREE addition to the EmbedAlbum platform. Within the free version, you have the option to create up to 10 Instagram Albums or Facebook Page Albums from one source. Your photos will update every 24 hours.
The PRO plan starts at $19 up to $99 per month. It includes more sources, an unlimited number of albums from different social networks, and many customization and modification options to create an extraordinary feed Instagram users would love to engage with.
Instagram Follower Growth
3. Kicksta
Kicksta is a leading Instagram Growth Service that helps creators, companies, and brands engage automatically with their target audience and increase their follower count. The platform allows organizations to choose "target accounts" with similar followers to the people they want to reach.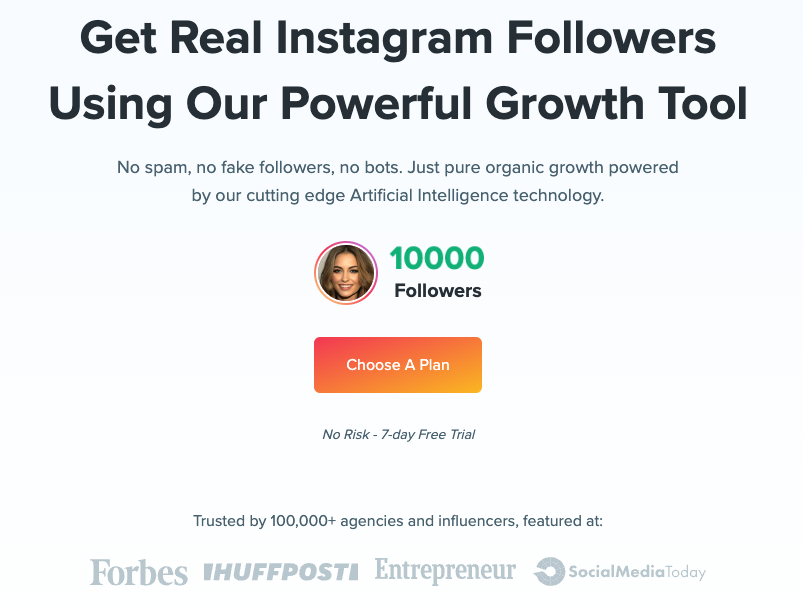 From there, Kicksta can engage automatically with these users in a variety of ways, such as follow/unfollow, like-after-follow, and even Story likes on some plans. You can even take your targeting strategy to the next level, with filters for location, gender, and hashtags.
Kicksta Features:
Organic growth with account targeting
Filter by hashtag, account, location, and gender
Automatic whitelisting and blacklist options
Clean home feed
Analytics dashboard with instant insights
Targeting suggestions
Like after Follow and Follow/Unfollow
Kicksta Pricing:
Kicksta offers a range of three pricing options to choose from, with a 7-day free trial. There are no contracts on any plan, so you can cancel at any time. Options include the Starter plan at $69 per month with Competitor and Influencer Targeting, Account, Hashtag and Location Targeting, Whitelist and Blacklist, Follow/Unfollow, Automatic Whitelisting, Like after Follow, Clean home feed, Analytics dashboard, and Low growth speed.
There's also the Advanced plan for $129 per month for the capabilities of the Starter plan, plus medium growth speed, Story Likes, Welcome DMs, VIP email support, Targeting suggestions, and Gender filtering.
Or users can choose the Ultimate plan for $219 per month for all the features of the Advanced plan, plus access to 2,000 guaranteed followers per month, delivered by InfluenceGrid's network of micro-influencers.
Instagram Hashtag Tools
4. Kicksta's Hashtag Generator
If you've ever been stuck while working on your hashtag strategy, you'll understand how valuable Kicksta's hashtag generator is. It's easy to use and doesn't even require an account!
Kicksta's Hashtag Generator Features:
Type in a hashtag and see related ones almost immediately
No login required, just an email address
Kicksta's Hashtag Generator Price:
Best of all, this is a free tool that you can use anytime.
5. AutoHash (Hashtag Tool)
AutoHash is the tool that automates hashtag research. Brands and businesses upload pictures to this app to generate related hashtags. These relevant hashtags make it easy to attract interested Instagram users.
AutoHash Features:
Location-based hashtags
Hashtag generation using their algorithm
Hashtags counter
Favorite hashtags
Direct posting to Instagram
AutoHash Pricing:
AutoHash is free to download, but can only be used on Android devices. This app also features in-app purchases.
6. Keyhole
Keyhole is a multi-purpose platform that provides influencer marketing, social listening and analytics, and campaign tracking. They have a wide variety of features and provide services for multiple social media platforms.
Keyhole Features:
Influencer tracking
Social media account monitoring
Hashtag analytics
Publishing and scheduling
Social media reporting
Hashtag tracking
Keyword tracking
Twitter historical data
Social media analytics API
Keyhole Pricing:
Keyhole offers a seven-day free trial, but its price is not listed online. Instead, you'll need to schedule a demo and talk with their team to create a custom plan with pricing that fits your needs.
Instagram Scheduling Tools
7. Later
Instagram tools like the Later app make it easy for Instagrammers to schedule posts. The first-to-market scheduler for Instagram, Later is ideal for streamlining your brand's social media calendar, making it easier to engage with others as you keep your accounts up-to-date.
Later's Features:
Schedule and Stories
Schedule videos
Tag users and locations
Access Analytics for Instagram, Twitter, Pinterest, and Facebook
Later's Pricing:
The best Instagram tools like Later offer users a free plan for just one profile and up to 10 posts for Instagram, Facebook, Pinterest, and Twitter.
For $18 per month, Later has the Starter plan for small businesses. This plan allows clients access to one social set, and 60 posts per profile.
For $40 a month, the Growth plan is designed to give growing companies access to 3 social profiles for 150 posts. At $80 a month, brands, agencies, and large teams can work with 6 social profiles with an unlimited number of posts.
I actually LOVE Later because you can plan your grid and drag/drop to make it look perfect before it posts. I also read most of the Later blogs because they are great at keeping someone who manages over 20 accounts on social media up on all the nitty-gritty of Instagram changes. — Jessica Wagner, Jus B Media
8. Hootsuite
One of the most valuable kinds of Instagram tools is one that offers Instagram scheduling, and Hootsuite does just that. When you use an Instagram scheduling tool like Hootsuite, you never have to worry about forgetting to post to Instagram.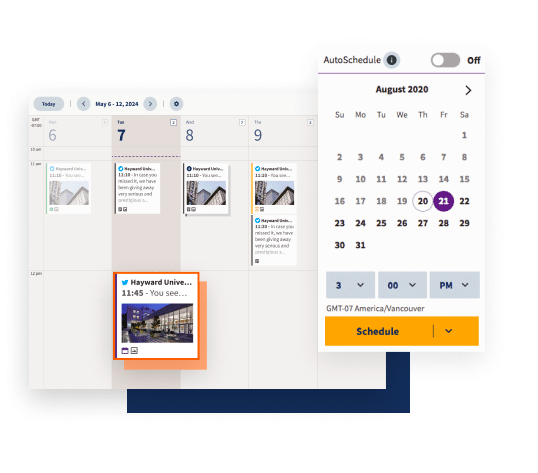 Hootsuite Features:
Create ad schedule posts
Manage multiple social media channels
Plan upcoming campaigns
Keep up with messages
Analyze your results
Hootsuite Pricing:
After a 30-day free trial, you can choose a professional or team plan. The professional plan allows for one user, 10 social accounts, and you can schedule unlimited posts and access messages in one place. The professional plan is $99/month.
At $249/month, the team plan allows for 3 users and 20 social accounts, as well as the benefits the professional plan has. The team plan also allows for team management within the platform, and you can assign posts or comments to certain team members.
Join 100k+ savvy Instagram marketers
If you are struggling to get the attention you deserve on Instagram, sign up for Kicksta today and start attracting more followers who are interested in your brand.
9. Buffer
Buffer makes it simple to plan and schedule all Instagram posts ahead of time. In addition to social media scheduling, Instagram tools like Buffer measures campaign performance and analytics, giving marketers and Instagrammers an effective way to utilize their metrics.
Buffer Features:
Share posts to multiple platforms
Automate your Instagram, Pinterest, LinkedIn, Twitter, and FB from one place
Optimize posting schedules
Add images and videos to posts
Buffer Pricing:
Buffer is free for 3 social media accounts, 10 scheduled posts, and 1 user.
Starting at $6/month, the Essentials Plan offers unlimited channels, unlimited scheduled posts, post analytics and insights, team management features, grid view, and planning and scheduling.
10. Crowdfire
Crowdfire will help you discover and schedule your social media content. You can also manage your accounts in one centralized spot.
Crowdfire Features:
Content curation

Articles
Custom RSS Feed
Images

Publish

Multiple platforms
Schedule in advance
Best times to post
Queue meter

Analytics

Competitor analysis
Your analytics

Mentions in one inbox
Crowdfire Pricing:
Crowdfire offers a free plan with up to 3 accounts, 10 scheduled posts per account, a Chrome extension, unlimited article and image curation, hashtag recommendations, and one day's worth of analytics data.
Graphic Design Tools
11. Instasize
Instasize is an easy-to-use photo editing app that allows you to layer photos, use filters, and resize your images easily. With over 130 filters, you're sure to find something that matches your brand aesthetic.
Instasize Features:
Professional-grade filters for photos and videos
Layering capabilities and unique backgrounds
Easy formatting for any social channel
Vintage effects
Access to stock photos
Add text to your photos
Expand the background on narrow photos
Retouch photos with beauty tools
Instasize Pricing:
Instasize has a free version that gives you access to original filters, vintage overlays, color editing tools, and basic video editing. Their premium option, however, includes access to all of their features and costs $4.99 per month. You can try premium for free for three days.
12. Canva
Canva is one of the best Instagram tools for on-the-go graphic design. With its easy-to-use templates, Canva makes it simple to create visuals for Instagram and similar platforms.
Canva Features:
Support for collaborating
Custom graphs, maps, and flowcharts
1,000+ free templates
Transparency and fade tool
Photo enhancer, cropper, and straightener
Professional print quality
Speech and text bubble maker
Photo blur, texture, and vignette
Web wireframe tools and design grids
Design icons, badges, stickers, and frames
Canva Pricing:
Canva is free to use as an app or natively in your web browser. Users can gain access to premium images by paying $1 per image, $119.40 a year, or $12.95 a month for access to Canva Pro for unlimited storage and access to premium visuals.
"Canva provides powerful editing tools to make scroll-stopping Instagram content—easily. Gone are the days where designers held the keys (and Adobe licenses) to the brand style guide and were responsible for all collateral built with it. By creating templates and Brand Kits with Canva, any one your team can make simple edits to Instagram story and feed graphics — while staying consistent with brand guidelines.
In a nutshell, Canva enables social media managers, marketers, and their agency counterparts to spin up concepts or publish-ready Instagram content with ease and speed." — Josh Krakauer, Sculpt
13. A Color Story
A Color Story is a photo editing app that brings your style to life in a deep, rich way. Available for iOS and Android, it's an easy way to elevate your Instagram game.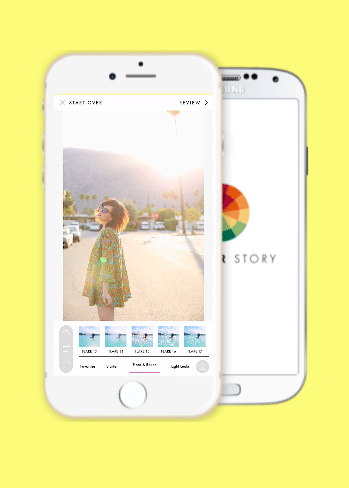 A Color Story Features:
Over 500 filters
More than 120 effects
20+ tools
Save your editing steps to create a custom filter
Touch tools
Grid planning
Frames
A Color Story Pricing:
The app is free, but there are in-app purchases available to unlock certain features.
14. Boomerang
Boomerang app is the sister app Instagram designed to create short looped videos. A Boomerang is essentially a burst of photos put together to create a short video. This innovative app gives brands new ways to share engaging video content.
Boomerang's Features:
Download for Android or iOS
In-app camera access
Share to Instagram, Facebook, and similar apps
Boomerang's Pricing:
Boomerang for Instagram is free for everyone.
15. Unfold
The Unfold app is the perfect tool for editing Instagram stories. Unfold features story templates, making it easier than ever for businesses and brands to edit their stories.
Unfold Features:
You can use Instagram tools like Unfold to carefully curate your Instagram with the following features:
Manage multiple stories simultaneously
150+ premium templates
10 effects and filters with Unfold Camera
25 free templates
Save story drafts
Post directly to Instagram
Unfold Pricing:
Anyone can use the Unfold app for free with access to 25 free templates. Users can also add 60 more templates for a small premium of $1.99 per template. Their Pro plan starts at $12.99 per month.
16. VSCO
Both a platform for creators and an app filled with beautiful presets and filters, VSCO makes it easy for users to make branded, high-quality content for their Instagram.
VSCO Features:
Premium content for members
Video coloring
Film emulation presets
Standard editing tools
130+ VSCO presets
Full access with subscription
VSCO Pricing:
VSCO offers some free filters, but is $19.99 per year for access to members-only filters.
17. Magisto
Develop your video content for Instagram with Magisto. This video creation tool helps users create and edit their videos in the app. Magisto's Emotion Sense Technology helps users develop the perfect video content.
Magisto Features:
Unique business styles
Multiple themes
Add captions and logos
Rearrange and edit scenes
Distribution
Upload photos
Unlimited movie downloads
Insights
Access commercially licensed music
Templates
"A helpful tip that I think all social media managers/marketers should know is that you can customize your video on Magisto not only by orientation; square, landscape, or portrait (story), but as a Business Subscriber you can also choose to make any of our customizable editing styles your own by uploading your brand colors, font, logo, and more." — Cindy Marshall, Magisto
Magisto Pricing:
The Advanced Plan offers agencies and marketing pros access to all features, priority customer support, and 25 million photos and over 3 million video clips for $65/month.
At $20/month, the Standard Plan allows users to access advanced editing features, making this plan perfect for professional businesses and brands.
And for $12/month, the Starter plan is designed for users interested in creating video stories, up to 60 videos and photos with a duration of 2:30 minutes.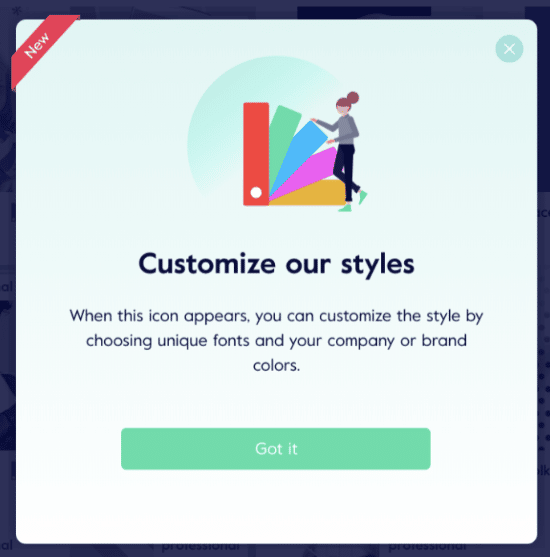 Pro-tip: Brand colors don't have to be set in stone. If you're working with multiple clients, you can customize as you go. Looking for a festive vibe to celebrate the season? Simply plug in the hex codes you'd like to use and you're good to go!
18. Snapseed
Snapseed is a high-powered photo editor that gives users a range of editing tools and access to dynamic filters. Use Snapseed to curate a series of high-quality images for your main Instagram feed and stories.
Snapseed Features:
Compatibility with PNG or JPG
29 filters
High-Resolution Edits
User-friendly interface
Basic editing tools
Smart selective retouching
Snapseed Pricing:
Snapseed for iOS and Android is now free.
"Working on up to 12 accounts daily, I have had success with Instagram tools such as Later, PicFlow, Boomerang, and Snapseed. Offering versatility to my client's content and also a scheduling tool that allows me to work on developing high-quality content around a sound strategy for each client. I will always place some spontaneous posts across their pages and work with stories and highlights to offer real-time content."– Kate Mather, Profile Digital Group
19. PicFlow
PicFlow is a photo editor that transforms photos into a video slideshow. These 15-second slideshows are designed to showcase shoppable content to Instagrammers.
PicFlow Features:
Share to multiple platforms
Adjust photo duration
Add up to 100 images
Rearrange photos by dragging
Add music
PicFlow Pricing:
PicFlow is $2.99 for Android and iOS users.
20. Adobe Lightroom
Adobe Lightroom is an intuitive photo editing platform that is incredibly popular. Many creators sell Adobe Lightroom preset filters.
Adobe Lightroom Features:
Edit, organize, store and share anywhere
Brighten photos, heighten colors and mask distractions
Advanced editing made easy
Tips and tutorials within the app
Adobe Lightroom Pricing:
When you purchase Lightroom as a part of Adobe Creative Cloud, it's available for desktop and mobile for $9.99/month. There are other plans available that also include Photoshop for desktop and iPad. Those are $9.99 (for 20GB) and $19.99 (for 1TB).
Instagram Ads Management
21. AdEspresso
With AdEspresso, you can find your ideal audience through ads on Facebook, Instagram, and Google. AdEspresso is powered by Hootsuite, which we talked about earlier.
AdEspresso Features:
Create ads and campaigns in one place
Manage your advertising
Analyze your results and data
Collaborate on clients' accounts if you need
Learn through educational resources
AdEspresso Pricing:
Begin with a 14-day free trial, then choose the Starter, Plus, or Enterprise plan. The Starter is $49/month, has a spending limit of $1,000/month, unlimited ad accounts, Google, Facebook, and Instagram ads, and essential features.
The Plus plan is $99/month, you can manage unlimited ad spend, and has everything included in the Starter plan. It also allows for cross-campaign performance triggers, Facebook and Instagram bulk creation, campaign approval, up to 15 seats for your team, and more.
Finally, the Enterprise plan comes in at $259/month and has everything in the Plus plan. It also includes a dedicated Facebook and Google Ads consultant, live training each month, unlimited team seats, mandatory campaign approval, API access, and Salesforce contacts sync.
22. Ads Manager
Another way to navigate and run Instagram is through the native Ads Manager. Ads Manager is run by Facebook, so if you're already running Facebook ads, there should be an easy transition to running Instagram ads.
Ads Manager Features:
Easy-to-follow steps to create ads
Track online and offline conversions
Customize your placement, ad design and targeting
Ads Manager Pricing
There's no cost to using Ads Manager, however, you'll obviously pay for your ad placements. Those costs vary based on ad placement and your targeting choices.
Instagram Analytics & Reporting
23. Instagram Insights
You can see your Instagram insights right within your Instagram app. It's a basic analytics tool, but it can give you an overview of your audience.
Instagram Insights Features:
See insights on your posts, Stories, videos, Reels, and Lives
Learn about your audience demographics
Know when your audience is active
Instagram Insights Pricing:
Because Instagram insights are part of the Instagram app, they're completely free. You'll need a business account to see them, though.
Next, they have a Plus plan, which is $7.48/month. It includes up to 5 accounts, 100 scheduled posts per account, and everything the free plan has. It also includes video posts, a custom posting schedule, up to 5 RSS feeds, multiple images, 30 days of analytics for social and 90 days of advanced analytics, and more.
Finally, the Premium plan is $37.48/month, includes 10 linked accounts, 100 scheduled posts per account, and everything in the Plus plan. There's also bulk scheduling, calendar view scheduling, up to 15 RSS feeds, mention tracking, competitor analysis, multiple profiles and team members, and more.
24. Creator Studio
The Instagram Creator Studio is part of Facebook's Creator Studio. The highlight of this platform is the ability to post to Instagram from your desktop, instead of needing to be on your phone.
Creator Studio Features:
Manage posts
Explore insights
Check messages
Creator Studio Pricing:
Creator Studio is free, but you need a creator or business account to access it.
25. Websta
Websta or Webstagram is a social media analytics app that helps users track and analyze their various social media accounts. Similarly, this web-based interface is designed to give users access to Instagram through their computers rather than phones or tablets.
Websta Features:
Growth statistics
View past, present, and future analytics
Weekly email reports
Websta Pricing:
This tool is free to use for any Instagram user.
26. DashThis
DashThis is a reporting tool designed to automate your marketing efforts. Marketing teams, agencies, franchises, executives, freelancers, and small businesses all benefit from Instagram tools like DashThis.
DashThis Features:
Clone reports
Use preset templates for reports
Create customized report templates
Bulk dashboard creation and editing
Unlimited access to data sources and client accounts
34+ native integrations
DashThis Pricing:
You can get their most popular plan (Professional Plan), which includes 10 dashboards and all features, for $109/month. There is a Business Plan that includes 25 dashboards for $209/month, and a Standard Plan that includes 50 dashboards for $339/month. You can also choose to do yearly billing to save on those packages.
DashThis is a marketing reporting tool enabling you to track all your social media strategies with easy-to-use and beautiful reports. They have tons of features, including social media reporting templates, cloning options, clear graphs, automated email dispatches, and way more.
Their marketing dashboards enable you to track all your KPIs, from all your social media accounts (Instagram, Facebook, Twitter, LinkedIn, etc.) in the same report. You can also add sections for each social media channel, or include data from Google Analytics, Google Ads, and every other marketing platform you use for your strategies. — Marie Lamonde, DashThis
27. Iconosquare
Iconosquare allows you to manage not just your Instagram analytics, but also a variety of other social media platforms. Create graphs and charts for your designated time frame for whatever social media accounts you need to analyze, choosing from over 100 different metrics.
Iconosquare Features:
View a detailed analytics dashboard
Export social media insights in an easy-to-follow report
Schedule your content and collaborate with your team for approvals
Identify, respond to, and export unread mentions and comments
Iconosquare Pricing
All plans begin with a 14-day free trial, and all prices are listed in Euros. Iconosquare offers three levels of pricing, primarily based on how many social media accounts you need to monitor. The basic plan, called Pro, is 49 Euros per month and includes three social profiles and two team members.
The next plan, the Advanced plan, is 79 Euros per month and includes five social profiles and unlimited team members. The Advanced plan also includes custom dashboards for promoted posts and mentions analytics on Instagram. The Advanced plan also unlocks post-approval and collaboration.
Finally, the top tier plan is the Enterprise plan, coming in at 139 Euros each month. This allows 10 social profiles and unlimited team members. The Enterprise plan also comes with a dedicated customer service program, as well as company-branded PDF reports.
Instagram Tools For Influencers
28. Brand Collabs Manager
Brand Collabs Manager, from Instagram and Facebook, is a free marketplace for brands and creators to get to know and connect with one another.
Brand Collabs Manager Features:
Discover partnerships
Creators can upload portfolios, media kits, and more
Brands can manage partnerships and measure the performance of branded content
Brand Collabs Manager Pricing
This is a free tool available for brands and influencers on Instagram. As of now, it's only available to creators in the United States.
29. Tint
Tint is a social media influencer platform that for influencers and brands to build connections that'll turn into real, quality content that delivers good ROI. It's designed to help streamline your team's workflows when it comes to building influencer connections.
Tint Features:
Use analytics to find influencers who already talk about your brand
Build landing pages to acquire content to use
Add UGC to web pages
Tint Pricing
Tint offers two pricing tiers. The Starter plan is best for small businesses and is $99/month. You'll get access for one user, two social connections, 500 posts per month, and 100 rights requests. The next level is the Growth plan, which is designed for small teams needing advanced functionality and is $499/month. This comes with access for two users, 12 social connections, 4,000 posts per month, and 500 rights requests. Both plans begin with a free trial that does not need a credit card.
30. Aspire
For brands looking to invest in influencer marketing, Aspire is a software platform to help you discover creators and get promotional content that can make a difference for your business. There are a variety of influencers you can find on Aspire, so you can reach a wide audience.
Aspire Features:
Receive applications from hundreds of influencers
Engage brand fans through social listening tools
Build a campaign around anyone
Create, license, and promote content
Identify where your ROI is coming from
Track sales and monitor campaigns
Aspire Pricing:
Aspire offers three different plans: Essentials, Pro, and Enterprise. Essentials allows you to have one active project and two user logins, Pro increases that to four active projects and user logins, and Enterprise allows for 10 of each. There are only a few other differences between the platforms. The biggest mystery, though, is how much each of these plans costs. The Aspire website doesn't share their pricing information. Instead, you must request a demo to find out. However, in a Q&A section, Aspire does share that their pricing is customizable, with a la carte offerings, and that they don't charge collaboration fees. You only pay for the software that you'll use.
31. Trufan
With Trufan, you can use data to understand your audience and make better marketing decisions. Trufan is an audience intelligence platform, and it helps brands find their valuable followers, compare audiences and work with micro-influencers.
Trufan Features:
Plan and execute campaigns
Incentivize followers to give you their data
Find the profiles that are most valuable for you
Analyze audience segments
Review trends
Influencer marketing support
Trufan Pricing:
The demo plan to try the product is free, but it only allows for one user, a 100-follower limit, and very limited features. To access everything, and have three users and unlimited followers, you'll need to upgrade to the pro plan. The pro plan is $2,000/year, and it comes with far more features than the demo plan.
32. Woorise
On Instagram and other social media platforms, contests, and sweepstakes are an effective way to drive traffic and boost engagement on Instagram. Rather than initiate these contests manually, Woorise makes it easy for businesses and brands to automate this process.
Woorise Features:
Automate contest results
Obtain qualified leads with retweet and hashtag feeds
Distribute unique prizes and codes to winners
Built-in analytics data for campaign performances
Track contest entries with an exportable and searchable database
Woorise Pricing:
At $0/month, the Free plan offers up to 500 entries for an unlimited number of campaigns. The Basic plan allows up to 2,000 entries for $23/month while the Grow plan allows 5,000 entries for $39/month.
The Pro plan is customizable for the number of entries it permits and starts at $79/month for 20,000 entries and goes as high as $960/month for unlimited entries. All Pro plans come with priority email and chat support, third-party integrations, email notifications, and the ability to hide Woorise branding.
33. ShortStack
With ShortStack, you can create and manage contests, forms, and landing pages. This includes engagement drivers like hashtag giveaways, too.
ShortStack Features:
Integrations
Contests
Analytics
Email Marketing
Entries Manager
Moderation
Coupon Codes
Templates
Form Builders
Page Builders
ShortStack Pricing:
ShortStack offers three different pricing levels: Business, Agency, and Brand. There's also a free trial you can experience before you decide to give them your credit card.
The Business option is $99/month, includes 10,000 entries, 50,000 views, and unlimited campaigns and emails. It also comes with random winner selection, website embedding, entry transfers via form integrations, Instagram and Facebook comment importer, and refer-a-friend and instant win contests.
The Agency option is $249/month, which includes 50,000 entries, 250,000 views, and unlimited campaigns and emails. It also comes with business features and hashtag and retweet contests, white-label campaigns, video upload contests, unique coupon codes, prizes distribution, code redemption to enter and team member collaboration.
The Brand option is $499/month, which includes 500,000 entries, 2,500,000 views, and unlimited campaigns and emails. It also comes with agency features and a dedicated account manager, digital rights management, unlimited hashtag and retweet contests, and custom team member permissions.
Brand Monitoring
34. Mention
By using Mention, brands, businesses, and agencies are able to monitor online media and social media in order to analyze their brand's growth, reputation, and associated brand content. By tracking a brand, competitor, or industry topic – insights can be revealed for increasing brand awareness, and finding the right influencers for your content or product.
Important social and web insights are useful for developing your content and/or PR strategies and comparing and analyzing online conversations will give you a solid basis to work with. Want to get into control of your brand? Start by listening!
Mention Features:
Monitoring, listening, and publishing
Monitor over 1 billion sources (web, social media & reviews)
Set up multiple alerts to monitor multiple brands, competitors or industries
Make use of (automated) reports
Analyze sentiment amongst your audience
Connect social media accounts to schedule and publish your posts
A dedicated account manager (depending on your pricing plan)
Chat support
Mention Pricing:
At $29/mo, you can make use of their Solo plan, including 1 user, 2 alerts, 5,000 mentions, and connecting 5 social media accounts. From $99/mo the Pro plan offers 5 alerts, 10,000+ mentions, 10 social accounts to connect, unlimited users, and a dedicated account manager. The ProPlus plan ($199/mo) is the perfect plan for small/medium-sized businesses wanting to monitor their brand and industry by making use of 7 alerts, 20,000 mentions, 15 social accounts, and unlimited users. Learn more on their pricing page.
35. Awario
Awario is a brand monitoring tool so you can know that you're aware of conversations happening about your brand on the internet. This helps you stay on top of any negative mentions and keep an eye out for positive comments, too.
Awario Features:
Constant monitoring
Powerful analytics
Social selling
Boolean search
Important conversations first
Organization options
White-label reports
Log in on any device
Awario Pricing:
The Starter plan is $24/month and allows for 3 topics to monitor, 30,000 new mentions/month, 5,000 stored mentions per product, 1 team member, and Boolean search.
The Pro plan is $74/month and allows for 15 topics to monitor, 300,000 new mentions/month, 15,000 stored mentions per product, 10 team members, Boolean search, data export, and shareable results.
The Enterprise plan is $249/month, allows for 100 topics to monitor, 1,000,000 new mentions/month, 50,000 stored mentions per product, unlimited team members, Boolean search, data export, shareable results, white-label PDF and HTML reports, API, and an account manager.
Audience Segmentation
36. SocialRank
SocialRank helps brands and marketing teams segment their audience with various filtering and sorting options. Many brands use Instagram tools like SocialRank for location-based activations, influencer marketing, surprise-and-delight campaigns, and product seeding.
Social Rank's Features:
With SocialRank, users have access to the following features:
Sorting by Most Valuable, Most Engaged, Best Followers, Most Followed, and Chronological and Alphabetized order
Identify popular hashtags and words among followers
Filter by City, State, or Country
Take Action through saving searches, direct messaging, building lists, and more.
Social Rank's Pricing:
The Basic Plan for SocialRank is free, allowing users to access filters, sort followers, connect multiple accounts, and view their follower profile.
At $199/month, SocialRank Pro offers everything in basic, as well as more advanced features like the ability to export to PDF or CSV, and access to DM campaigns and integration with other platforms. With pricing upon request, the Enterprise plan offers more advanced features for marketing agencies.


Social Media Management
37. NapoleonCat
NapoleonCat is a social management tool that will save your team time and energy while managing your brand's profiles.
NapoleonCat Features:
Analytics
Social Inbox
Automation
Reporting
Publishing
Instagram Scheduler
NapoleonCat Pricing:
As with many tools, NapoleonCat offers a 2-week free trial. They also have a customizable pricing tool that'll shift based on how many profiles you want to manage and how many users you want to have. Along with those decisions, you also need to choose between Standard or Pro.
The Standard plan begins at $21/month for 3 profiles and 1 user. You can publish content, manage comments, and analyze data with this plan.
The Pro plan begins at $42/month for 3 profiles and 1 user. It includes everything in the Standard plan, as well as automated moderation, customized reports, and more.
Reposting on Instagram
38. Repost
Reposting is just as important as posting original, consistent content on Instagram. Brands hoping to strengthen connections with their followers should tap into the power of reposting.
"Repost for Instagram is a fantastic tool to uplevel your IG feed. It allows you to quickly and easily repost other's posts, and with the click of a button you can copy the original caption, as well as move the attribution mark (the account name and image of the person who originally posted) to different areas on the image to keep it from covering up areas of the image you want to share. It's the perfect way to share great content!"– Heather Remec, SaleSong Studios
Repost's Features:
Users with the Pro account can access the following features:
Repost
Repost videos and photos
No watermark
Post with multiple videos and photos
Fast and clean UI
Hashtag library
Saving custom captions
Scheduling repost reminders
Repost's Pricing:
Repost is free on Android and iOS.
"User-generated content can help a brand stand out from others. Repost for Instagram is a great tool to use for reposting what customers are already saying about you."– Chris N. West, https://chrisnwest.com/
E-commerce For Instagram
39. Curalate's Like2Buy
Described as the "missing link" for Instagram, Curalate's Like2Buy tool is an E-commerce platform that transforms any Instagram feed into a shoppable landing page. With Like2Buy, brands can easily transport shoppers to their online stores.
Like2Buy Features:
Seamless onboarding
Ecommerce reporting
Email capture
Like2Buy Pricing:
Prices for Like2Buy range from $10 to $100/ month for the basic plans.
For $500 to $1,000/month, users can take advantage of the best Instagram tools.
40. Have2HaveIt
Have2HaveIt is an Instagram tool that turns your feed into a shoppable landing page. This service makes it easier than ever for followers to tap products or content they love and make purchases.
Have2HaveIt Features:
Embed your H2H feed
Integrate Shopify with existing products
Build email lists
Schedule Instagram posts
Add links to Instagram posts
View user analytics
Track conversions and traffic
Have2HaveIt Pricing:
Users can try H2H free for 7 days.
At $5/month, the Performance plan allows users to schedule posts, integrate their newsletters, add multiple links, and pay per performance. Users can purchase the following Performance Plan tiers: $15, $45, $150, and $300.
Wrapping Up 40 Instagram Tools
With all the Instagram tools available in 2023, there's no excuse for a lack of Instagram growth or engagement. Whether you hope to beef up your graphic design, improve your analytics, or attract more Instagram followers, the Instagram tools featured in this list will help you do exactly that.
Do you use another tool that we missed?
Please let us know in the comments below!
Instagram Growth Hacks
Join over 100k+ marketers and influencers who get the latest Instagram tips & tricks sent to their inbox every week