How To Add A Link To Your Instagram Story: A Step-By-Step Guide
post
Do you know how to add a link to your Instagram story? If not, this is a skill you need to add your social media toolbox right away. Adding a link in your Instagram story is an easy way to get people to your website, helping make more sales, and boost revenue. This feature has a lot of potential, and the good news is that it's not difficult to use — but there are a few things you need to do in preparation to add Instagram story links. Let's take a look at how to add a link to your Instagram story and everything that goes into the process.
Who Can Add An Instagram Story Link?
Before you can get access to this feature, there are a few prerequisites you need to check, focusing on Instagram growth before learning how to add a link to your Instagram story.
Use An Instagram Business Profile
The first requirement is that your Instagram account needs to be a business profile and not a personal one. To make this switch, go to your profile and tap the three lines in the upper right-hand corner; then choose "Settings" and "Account." At the bottom, you'll see an option to "Switch to Professional Account." Select it and follow the steps of adding your business category and contact information. Once you're done, there's just one more hurdle to clear before you can learn how to add a link to your Instagram story.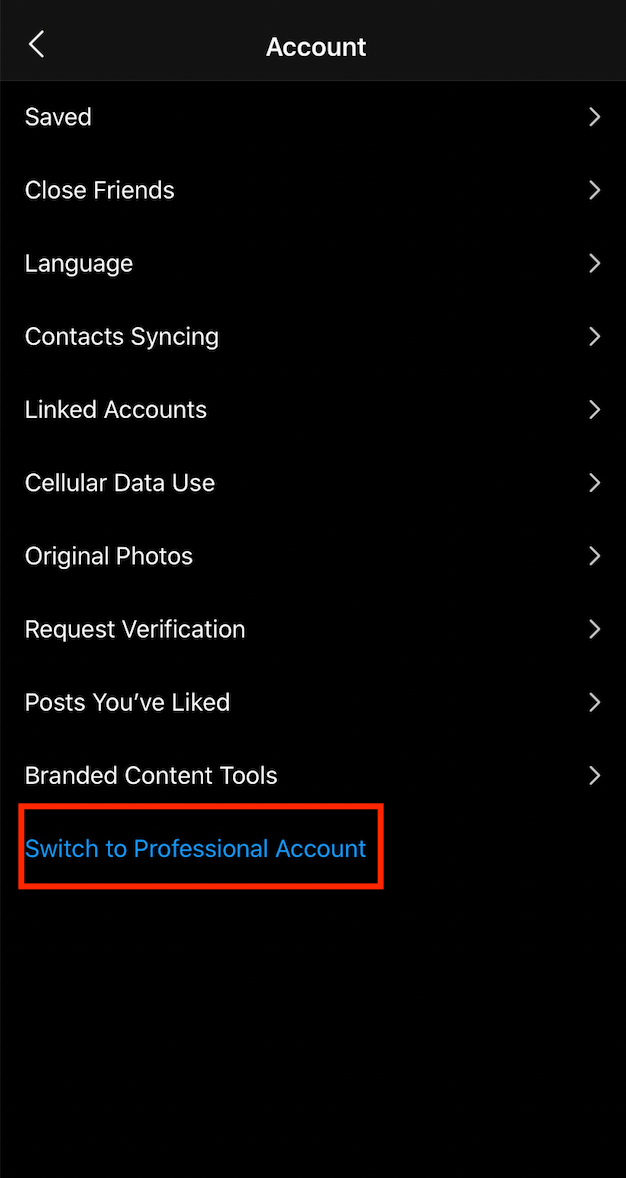 Get 10k followers
Only users with 10,000 followers or more can access the swipe-up feature, so if your account hasn't yet reached the magic number, you'll need to focus on Instagram growth before you can start adding links.
One of the best ways to get more organic Instagram followers is by using a growth service such as Kicksta. Kicksta is a service that helps you grow your following by strategically positioning your Instagram account in front of the correct users. Thanks to Kicksta's non-invasive auto-engaging methods, your account will see a slow but steady increase in followers. Kicksta is beneficial for Instagram growth because it saves you a lot of time and helps you get real Instagram followers who truly care about your product and what you have to say.

Another important component to Instagram growth is to make sure you're posting high-quality content. Any photos, videos, or graphics that you post should tie in with your Instagram theme, provide value to your followers, and include an engaging caption that asks readers to take action.

Hashtags are also a helpful method of growing your account. By using relevant hashtags, you can position your account in front of more users who are interested. Tactics such as an Instagram growth service, high-quality content, and hashtags can help you get enough organic Instagram followers that you get access to Instagram story links. Once you have over 10,000 followers, invest some time into learning how to add a link to your Instagram Story.
Join 100k+ savvy Instagram marketers
Increase your following and engagement on Instagram organically.
How to Add A Link to Your Instagram Story
You have a business profile, you have 10k followers, and you're ready to begin swiping up. Here's a step-by-step guide detailing exactly how to add a link to your Instagram story and see not only Instagram growth but more website traffic and sales too.
Step #1. Create an Instagram Story
Open your Instagram Story camera by swiping left from your Instagram home feed. Take a photo, or swipe up to access photos from your camera roll. Once you've selected an image, you'll see a row of icons at the top. Tap the hyperlink icon (it looks like a chain).
Step #2. Add a URL
If you don't have 10k followers and a business profile, that means you do not have access to the swipe-up feature. You'll be taken to a "More Options" screen that lets you tag a business partner using Instagram's branded content tools.
If you do have access to the swipe-up feature, you'll see an option to add a URL on the next screen. Tap "URL" and then paste (or type) the URL to which you want the story to link.
Step #3. Publish Your Story
And that's it — now you know how to add a link to an Instagram story. Simply click "Done" after adding the URL and you can upload your Instagram story just like usual. Your published story will include a "Swipe-up" link. The process of adding a link to your Instagram story is painless and easy.
Instagram Story Links Best Practices
Your job isn't done after simply adding a URL to a post. To help maximize the performance of your swipe-up feature, there are a few other things you'll want to do.
Include a CTA
Add a CTA, or call-to-action, on your Instagram story to make sure people notice the link. This could be as simple as typing the words "Swipe up," or you can be more direct by drawing several arrows that point to the swipe-up feature. If you're making a video, have the subject of the video imitate the swipe-up action while verbally encouraging viewers to check out the link. Including a CTA is an important method of catching someone's attention and redirecting them where you really want them to be (i.e., the webpage you've linked to).
"Be intentional about the call-to-action copy overlay for the posts! Ensure they are action and value oriented, not simply a "swipe up" gif. People need to be incentivized to take action." — Anna Nassery, Founder & Brand Director of Brand Up
Of course, you also need to make sure your link makes sense given the context of your Story. If you're sharing a photo of a new product, for instance, don't link to your blog — provide the link to where people can purchase the product. Make sure you provide content that's relevant to your followers and that the Story and the URL go along with one another.
"When creating an interactive post with a link, I like to tell a story with my post. I use animation and geotags to grab the viewers attention and then make sure to use a call to action to swipe up on the photo with the link." — Sasha Horne, Creator of SashaTalksTech.com
Track Analytics
Use Instagram Insights to see how well your Stories are performing. By navigating to "Insights" from your business profile, selecting "Content," and selecting "Stories," you can view statistics for the story posts you put up in the past 14 days. Important metrics to measure include interactions (how many people took an action from your Story, such as replying or visiting your profile); reach (how many users saw the post overall); and next story or exited (how many users didn't stick around to see the entire story, and clicked out of it instead). Keeping up with measurements like these can help you improve your Instagram strategy, letting you know if there's anything you need to tweak moving forward.
Follow Content Creation Best Practices
It should go without saying that your Instagram stories need to be high-quality and engaging so people will watch them instead of swiping away. If you don't have access to Instagram story links yet, you may feel disappointed — but actually, this is a golden opportunity. Take the time to make sure you have a solid Instagram story strategy overall, using features such as stickers, polls, and hashtags with ease. That way, by the time you do have access to links, you'll be well-versed in how to create good Instagram stories. Best of all, you'll not only gain valuable knowledge as your Instagram stories improve — you'll gain more followers too, helping you reach that all-important 10k mark more quickly.
"The reason why 95% of my leads and sales come from Instagram is largely because I don't guess what type of content my audience wants to see, I ask them. Every month I use the quiz and poll sticker asking my audience their likes and dislikes in a variety of ways. If you make it fun, more people will give you feedback. Plus the Instagram algorithm rewards you when people engage with your page." — Tiffany Carter, Top Business Coach for Women
Benefits of Instagram Story Links
Adding a link to your Instagram story has a lot of benefits; it makes it a lot easier for people to visit your website, because all they have to do is simply swipe up instead of visiting your profile and finding the link in your bio. Instagram Story links can drive website traffic, get more people to view your blog, website homepage, and online store. Let's take a look at some real-life examples to see how influencers and companies benefit from this Instagram feature.
Abercrombie & Fitch is a brand that takes full advantage of Instagram Stories, regularly including swipe-up links to various product pages. Here, the link took viewers to the product category of women's jeans on the Abercrombie website. When you make the buying process as easy as possible for customers — for instance, ensuring the process takes one click instead of many — they'll be more likely to buy.
Instagram Story links are helpful to influencers too, not just brands. Influencer Whitney Bates regularly uses her Instagram Stories to announce collaborations with brands that are relevant to her fellow young-mom followers, such as meal subscription boxes that make dinner easy to prep. Recently, Whitney used her Instagram Stories to feature a company called Loopy Cases that makes a unique phone case. She included a swipe-up link so her thousands of followers could visit the brand's website and find the product she was using. For Loopy Cases, this was a smart way to position their product, as influencer marketing can lead to more organic Instagram followers.
Another strategic way to use Instagram Story links is to send people to your latest blog post, if applicable, instead of a product page. Here, elopement photographer and business educator Lindsey Roman offered a freebie to her followers: a guide to getting amazing reviews from past clients. Free content doesn't always help you make immediate sales, but it can help you cultivate high-quality leads who will ideally make a purchase in the long run.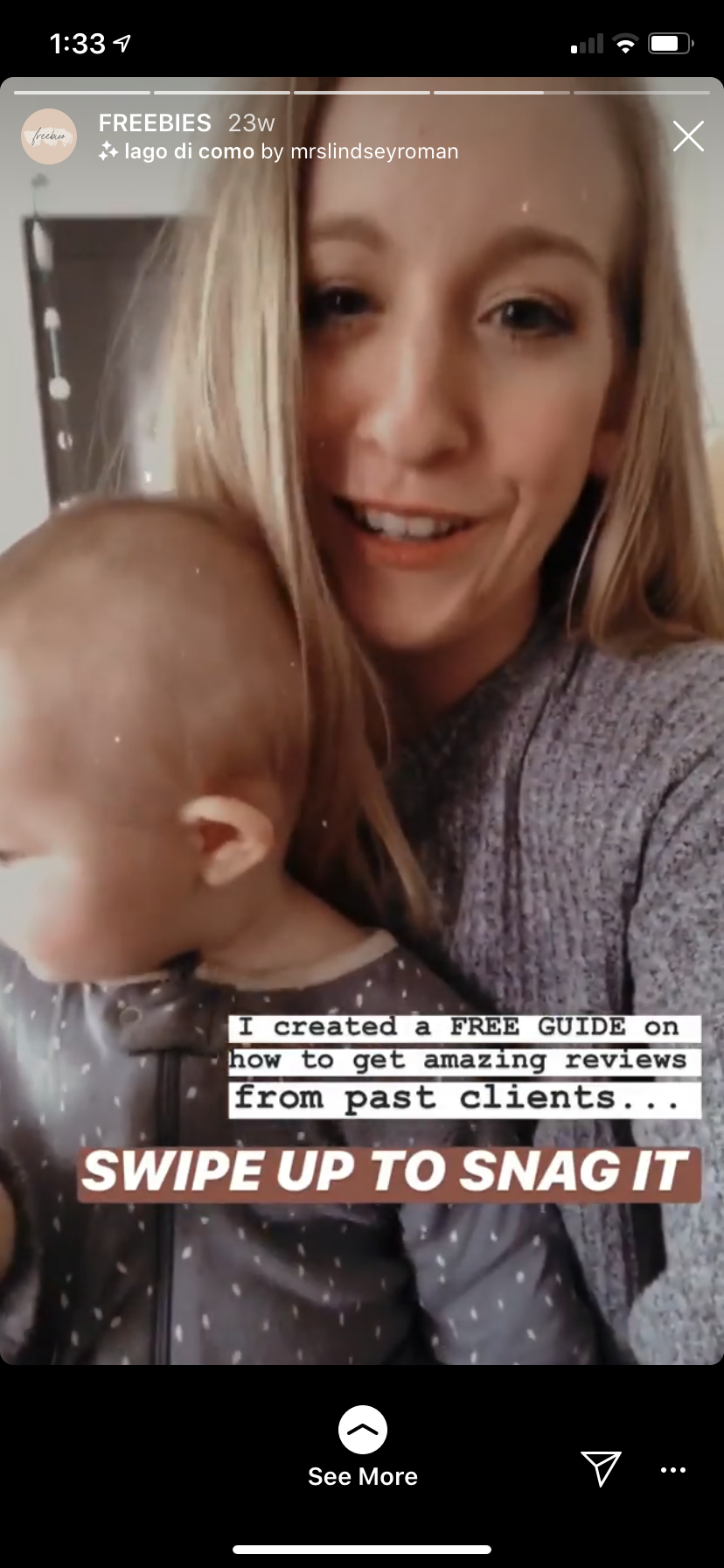 Although driving website traffic is a huge benefit of the swipe-up feature, you don't have to send people to your website every time — you can get creative about what link you choose to include. Actress Candace Cameron Bure of Full House fame does a lot of work with Hallmark Channel, and recently, that work included a Facebook Live talking about her upcoming Hallmark channel Christmas movie. She included a swipe-up link in her Instagram story where people could swipe-up and visit Hallmark's Facebook page to see the video — and in case anybody missed the live video, she posted another story with a link to where the video had been saved. If it makes sense, consider occasionally utilizing your swipe-up link to send people to another social media platform instead of your website.
See Instagram Growth
Through gaining more organic Instagram followers, you can unlock this exciting Instagram feature — and you'll have a bigger base of users who are interested in your swipe-up links. Now that you know how to add a link to your Instagram story, begin utilizing this effective tactic to boost your sales and see more Instagram growth.
Instagram Growth Hacks
Join over 100k+ marketers and influencers who get the latest Instagram tips & tricks sent to their inbox every week