Finsta Culture: 5 Reasons Behind The Growth Of Fake Instagram Accounts
post
Instagram has come a long way from an editing only app to feeds of beautifully curated content and digital portfolios. Creators now use the platform to showcase their best, aka the highlight reel of their life. Posting perfectly staged photos and videos with great lighting and various filters, can add a lot of pressure to the lives of influencers, creators, and business owners alike.
Instagram has become a platform that many people have found fame on or even turned it into their full time job. With life feeling like it's own daily magazine photoshoot, many Instagram users have chosen to create a finsta to post some not so Instagram worthy content.
What's A Finsta As Opposed To A Rinsta?
So what is a finsta anyway? The term "finsta", short for fake Instagram, are accounts that show truer versions of the user. These private, pseudonymous accounts showcase parts of Instagrammers lives people rarely see: unfiltered reality.
From selfies, to blurry photos, inappropriate content, and funny life moments, finstas capture it all.
Life isn't all ring lights and flawless angles; nothing shows this better than a finsta. A rinsta, on the other hand, is a term for your "real Instagram" or your more curated account. This term is used to help differentiate between accounts if a user has both.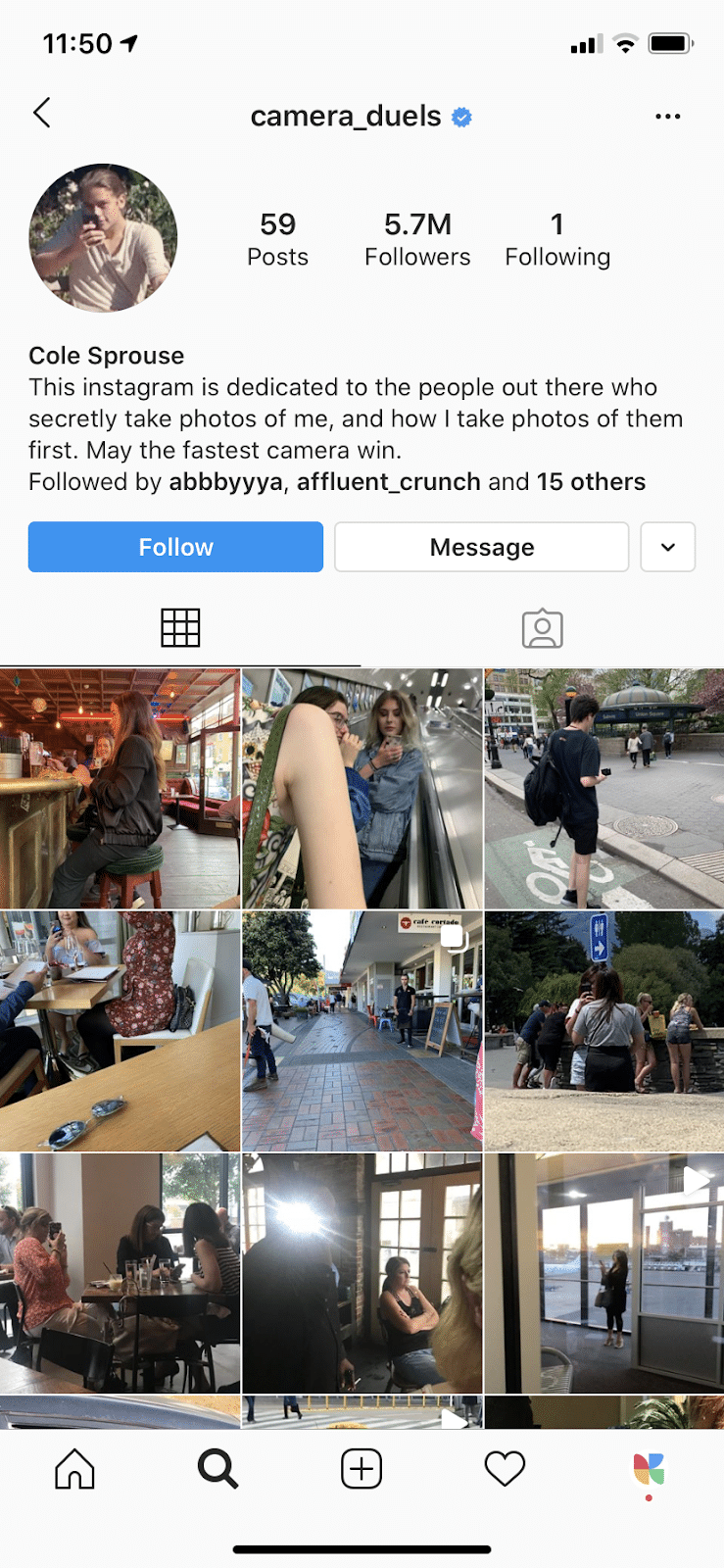 For example, even celebrities have finstas to post content that they want rather then worrying about the appearance of their main account. In the account @camera_duels, Cole Sprouse captures photos of people trying to take photos of him and shares them on his finsta with funny and entertaining captions.
This is a more personal approach compared to his main account which is for his photography and public image.
To get a better idea of why someone would have two accounts we interviewed college sophomore and micro influencer, *Emmy D. (*name changed for privacy reasons).  
Emmy said, "I love having a finsta to post funny and raw content for my close friends. Being an influencer can add a lot of pressure to only post "Instagram ready content" all the time.
A couple years ago, Instagram rolled out the close friends Instagram story feature which allows you to post stories that only a select group of individuals can see. Think of a finsta like this, but an entirely separate account dedicated for your close friends eyes only.
She adds, "A finsta allows you to post things you wouldn't want the followers of your rinsta to see, like unattractive angles, random stories about your day or drunk photos from last night's frat party."
Who Has A Finsta?
If you've made it this far, you may be wondering who uses a finsta anyway? They're more common than you think.
These accounts are created mainly by teenagers and 20-somethings. This age group grew up with social media, and finstas created a more intimate space to share daily life with friends. The follower count on these accounts are much lower in comparison to rinstas.
Obviously, no account is truly private when you post it on the internet, but these accounts are always private compared to rinstas.
Over 72% of teenagers use Instagram, and although all teenagers struggle to project their identities, this generation has it the toughest.
With social media at the forefront of their social lives, business practices and even school work, young people today have turned to finstas as an outlet to be themselves without the pressure of rules, norms, or aesthetics that come with a rinsta.
Why Have A Finsta?
We've scratched the surface, however what are the main reasons behind the growth of fake Instagram accounts?
Here are the 5 greatest reasons behind the growth of fake instagram accounts:
1. Showcase Experiences That Are Raw And Unfiltered
Remember the good ole days when you could post to Instagram without thinking about it? The younger generation of Instagrammers felt this, and thus the finsta was born.
Finstas showcase the most raw and unfiltered content, straight from users' camera rolls. No editing apps required. In a space of extremely edited and curated content, it is rare to see people post with little thought or effort behind a post picture and copy.
Finsta posts showcase the raw photos that normally would never make the gram. These photos can be funny, blurry, inappropriate, random or in the moment. They can be selfies, of friends, scenery, you name it. This type of content is off the cuff and genuine.
Likely your finsta content is similar to the early days of Instagram when people posted whatever they felt like or used it to edit then export to another app or a Facebook album.
2. Enjoy Instagram Without The Stress of Content Curation
We're not joking when we say this, being an influencer can be exhausting. Think about it: You have the pressure to post your every move in a perfectly curated way. This job takes a lot of time, planning and organization.
Many people don't realize the constant pressure surrounding this lifestyle and line of work. It's essentially a 24/7 job, with little to no breaks. In many cases they feel the pressure to be on their Instagram game at all times.
Sometimes you just wanna post what's on your mind, a photo that isn't the best angle or filtered. Creating incredibly engaging content can require, photographers, lighting setups, outfit changes and full on photo-shoots.
When influencers have large followings they have to be "on" all the time. They are expected to produce high-quality content and sometimes this can get exhausting. Finstas make it easier for influencers to share content with close friends, without the pressure to curate elaborate and edited photos.
3. Stay Out of The Eyes of Parents or Future Employer
Did your mom ever tell you not to post things on Facebook that you wouldn't want your future boss to see? Fast forward to the age of Instagram and this is exactly the advice teens are following.
As mentioned before, the internet is in no way a private place, but at least these accounts are more hidden from parents and employers if you're smart about it. This part can be tricky and you need to make sure your username and followers are not linked with your real account or this may blow your cover.
We're not encouraging you to post content that could one day negatively affect your future however, sometimes you just don't want your boss knowing what you're up to on the weekends.
The finsta allows for you to post content that's mildly inappropriate, funny or an inside joke between friends.
Join 100k+ savvy Instagram marketers
If you are struggling to get the attention you deserve on Instagram, sign up for Kicksta today and start attracting more followers who are interested in your brand.
4. Follow Brands or People Without Revealing Identity
Think of this as an incognito browser for your Instagram. By using a finsta to follow people and like posts, you will not reveal your actual identity. This is an option for those who also do not want other users to see who they follow.
Influencers can use finstas as a way to separate their follower lists to easily view their desired content. For example, on their main influencer account the user will follow brands, other influencers and creators. They will then use their finsta account to interact with close friends they know in real life.
The separate accounts allow for influencers to engage with the appropriate audience, stay on top of content and really personalize who's content will show up on their feed.
5. Peer Approval
Finally, we're all just looking for a little peer approval, right? It's no secret most people will go to insane lengths to go viral or become more famous on Instagram.
Teens ramp up their content production for the positive affirmations that come with these posts. Whether you're an influencer or not, in an era of social media platforms, the app adds an extra layer of stress and pressure.
Teens are seeking peer approval around every corner, whether they realize it or not.
Before social media, your peers only had in person interaction to base judgments on. Now, teens are able to connect and view each other's content at all hours of the day. With the need for peer approval, young people are turning to finstas for answers.
Using a finsta takes away this pressure and allows teens to just be themselves, while still connecting with those online. They can be authentic and genuine, showing their true colors on social media without as much pressure to appear perfect and posed.
Wrapping It Up
As we've mentioned Instagram is an outlet to present an "ideal" or "best life" to anyone who follows you. The secondary Instagram account, or Finsta is a private, more lax space that allows you to post your most authentic life instead.
Finstas make it easy to portray your real life, the way you want to. If you want to showcase your raw & unfiltered experiences, stress less about the content creation process, hide content from those you may not want to see it, not reveal your true identity to brands and lastly, gain peer approval, creating a finsta is the best and easiest way to do so.
Finstas started as a way for Instagrammers to escape their true accounts reality and allow their audiences or close friends to gain a glimpse into their lives. Turns out finstas might be the most "real" accounts of them all.
Instagram Growth Hacks
Join over 100k+ marketers and influencers who get the latest Instagram tips & tricks sent to their inbox every week