99 Best Photography Hashtags You Can Use Today
post
If you are a photographer, looking to grow your Instagram and learn the best hashtags for photography, you have come to the right place.
Instagram has become the best and worst place for a photographer. It's no secret this is a photo app by nature, however now that everyone has a camera (whether it's built into their phone or a DSLR) it can be more difficult for photographers to stand out.
As an inspiring photographer, or a seasoned pro looking to grow their network, integrating Instagram hashtags for photography in your posts is a sure fire way to boost engagement, increase brand awareness and stand out on this competitive app. With the proper photography hashtags under your belt, you'll be attracting new followers and clients in no time.
99 Best Hashtags for Photography
Hashtags create visibility, boost reach and engagement. Users follow and engage with specific photography hashtags, which can create a huge opportunity for photographers on the app. Below are 99 best hashtags for photography. Implementing these specific hashtags in your overall photography hashtags strategy will truly benefit your brand and business.
1. Portrait Hashtags
Portrait is one of the most popular types of photography, so it's vital to implement Instagram hashtags for portrait photography that aren't overused. You want to keep these specific photography hashtags relevant to the content.
#portraitperfect, #portraitphoto, #portraitphotographers, #portraitphotoawards, #portraitphotograph, #portraitphotography, #portraitphotos, #portraitphotographie, #portraitsphotographer
These portrait photography hashtags may not be what you expect, but common Instagram hashtags for photography like #portraitphotography, have almost 43 million posts associated with them. If your goal is to find the best hashtags, finding niche tags with less uses, but a relevant presence will ensure your posts have a better chance of being discovered.
2. Fashion Hashtags
Fashion is next on our list of Instagram hashtags for photography. If you did not Instagram your #ootd did you even wear it? Fashion photography hashtags are arguably some of the most popular. Instagram is a favorite place among fashionistas, so as a fashion photographer, you want to get your name out to others in the industry.
#weworewhat #ootdinspo #fashionphotoshoot, #fashionphotos, #fashionphotographers, #fashionphotographers, #fashionpic, #fashionpictures, #fashionphotographyoftheday
3. Sports Hashtags
Sports photography captures games, events, exercise and various physical activities. Shooting the action is a difficult skill which makes sports photographers especially hard to come by.
Additionally, finding the best hashtags for photography in sports can be a challenge. Sports photography itself is very broad. Here are some sports hashtags that aren't incredibly overused to add to your strategy.
#sportsphoto, #sportsphotographer, #sportspicks, #sportsaction, #actionsshots, #actionsportsphotography, #sportsphotos, #sportphotographer, #sportphotos
One particularly interesting thing to note, professional sports photography is a branch of photojournalism, while amateur sports photography, such as photos of children playing association football, is a branch of vernacular photography. This means there are even more people claiming to be professional sport photographers and thus using the associated Instagram hashtags for sports photography.
4. Black and White Hashtags
Are you curious about the best hashtags for photography when it comes to black and white photos? Black and white photography is one of the oldest styles of photography. If you like to shoot in monochrome, pay attention. These hashtags will help you reach the community that goes crazy over greyscale.
#blackandwhiteportrait, #blackandwhitephotographylovers, #blackandwhitephotos, #blackandwhitephotos, #blackandwhitephotoshoot, #blackandwhitephotographers, #bwphotooftheday, #bwphotographer #bwphotograph
5. Travel Hashtags
In recent years, Instagram has become a hub for travel bloggers, influencers and travel gurus alike to post their highlight reel for this season's hottest destination. In order to stand out among millions you have to utilize the best Instagram hashtags for travel.
With so much travel photography content on Instagram it can be excruciatingly difficult to stand out. It seems like everyday a new influencer or nomad is posting about their gifted trip to an exotic location. Even your coworker is posting about her recent holiday trip. Here are the best hashtags for photography when posting travel content!
#travelphotography📸, #travelphotographyoftheday, #travelphotograph, travelphotographers, #travelphotographyasia, #travelphotographyIndia, #travelphotographersociety, #travelphotographyclub, #travelphotographs
In addition to these more generic Instagram hashtags for photography, don't be afraid to include more specific hashtags from the place you visited. You are allowed up to 30 hashtags per post. It is not always necessary to utilize all thirty, but the more relevant they are the better your post will perform.
6. Architectural Hashtags
Architectural photography is also commonly known as building photography or structural photography. The type of shooting has many names, which means the best hashtags for photography in this category definitely varies.
Whether you're shooting building exteriors, interiors, bridges, or cityscapes, these Instagram hashtags for photography will be a great guide.
#bridgephotography, #cityscapephotography, #architecturephoto, #architecturephotos, #architecturephotos #architecturepicture, #buildingphotography, #buildingphoto, #Architecturedaily
7. Wedding Hashtags
Wedding photography is a more broad category that includes different types of photography such as portrait, group photography, event, landscape and more. This special day can be captured in so many ways. With increasing competition to join the wedding industry, using the best hashtags for weddings grows in importance as well. These hashtags will help you boost reach, engagement and bring in clients for you to shoot next wedding season.
#weddingphotographers, #weddingphotoideas, #weddingphotojournalism, #weddingphotoinspiration, #weddingphotograph, #weddingphotographyideas, #weddingphotographersociety, #weddingdayphoto, #weddingphotografer
As we mentioned in the travel section, hashtags can be customized based on region. For example, if you are looking to find clients in a specific city you likely will want to browse popular, but not oversaturated hashtags that include wedding terminology and the city. That way Instagram users in your city will be able to find your content and ideally book you for their big day.
Join 100k+ savvy Instagram marketers
If you are struggling to get the attention you deserve on Instagram, sign up for Kicksta today and start attracting more followers who are interested in your brand.
8. Aerial Hashtags
Aerial photography is captured by aircraft, drone or another flying object. This type of photography can be of anything, however it is usually landscapes, buildings or landmarks. Aerial photography is also commonly used during film production, advertising and environmental strategies.
If you specialize in aerial photography, here are the best hashtags you need to know.
#droneshots, #dronephoto, #dronepic, #dronegram, #aerialphoto, #aerialphotos, #aerialshot, #aerialshots, #aerialphotographer
9. Food Hashtags
Food photography has blown up with the growing popularity of Instagram. Instagram is flooded with the most incredible food pictures you can imagine from restaurant shots to staged product photos. With a camera at the touch of everyone's fingertips, to some extent everyone is a food photographer.
However, if you're the real deal you need to find ways to make your presence known and stand out among the sea of food photography pictures. Keep reading for the best hashtags for photography you need to know in the food space.
#foodphotographytips, #foodphotos, #foodphotograph, #foodporn, #foodphotooftheday, #foodphotographie, #foodphotography, #foodphotographystyling, #foodphotographers
If you want to continue to eat, snap and share your best food photos, attach the hashtags above to reach more foodies, restaurants and brands that might be looking to hire you!
10. Nature Hashtags
Nature photography is a wide range of photography taken outdoors that displays natural elements in our world such as landscapes, wildlife, agriculture and more. If you're thinking National Geographic, your head is in the right place.
Similar to travel and food content, anyone can snap a picture of nature out and about. If you're a serious photographer looking to grow in the nature space, these hashtags will help you reach new people also in the space.
#naturelandscape, #naturephotography📸,, #naturephotoshoot, #naturephotographyday, #naturephotographie, #naturephotograph, #naturepicture, #naturepictures, #wildlifephotographer
11. Generic Photography Hashtags
Now that you have some better idea of the best hashtags for photography in specific areas, let's discuss overall general hashtags to use in conjunction with the ones we have previously reviewed.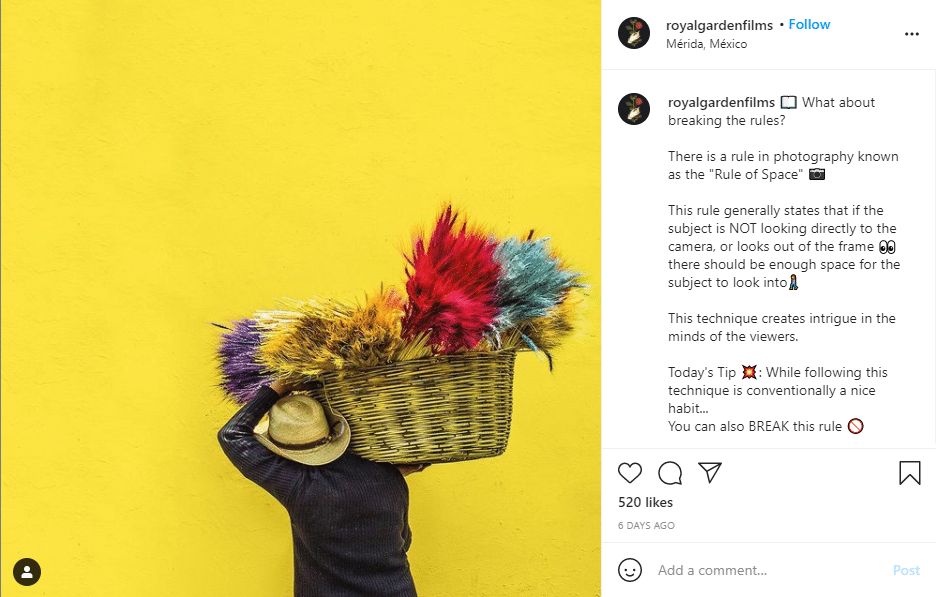 #ruleofthirds, #dslrcamera, #dslrofficial, #photographersoninstagram, #photographersofig, #photographersofinsta, #reflectiongrams, #photographeroftheday, #zonephotographer
These best hashtags for photography are an incredible way for you to grow your presence online. More followers will lead to more bookings and that is our end goal here. Good content, proper hashtags and a well thought out strategy will have you on your way to success.
How to Choose the Best Hashtags
It can seem intimidating at first to choose the best hashtags for photography. The category, photography hashtags, in itself is very broad and used by millions of users on the app.
If you are a photographer striving to grow your brand on Instagram and get your name out there, you want to ensure the photography hashtags you select are the best hashtags for photography.
The best Instagram hashtags for photography are specific, relevant and not oversaturated. When using Instagram, remember roughly one billion other people are hashtagging too, this is not the time to just follow the crowd.
99 Best Photography Hashtags
Trending hashtags can be especially helpful if you use the right ones. It can take trial and error to find the best combination of Instagram hashtags for you! Know this takes time and sooner or later you will have multiple combinations of best hashtags for photography. With these tips, insight and hashtag examples, we hope your brand starts to gain reach, engagement and exposure on Instagram. Then, ultimately your client network will increase too
Instagram Growth Hacks
Join over 100k+ marketers and influencers who get the latest Instagram tips & tricks sent to their inbox every week