What To Do If You're Losing Followers On Instagram
post
Do you want your Instagram account to stop losing followers in the year to come? This is the question many marketers on Instagram ask, who're losing fame despite masses of time and effort they're putting into it.
With more than a whopping 1 billion monthly active users, Instagram is one of the top social networks in the world. Many brands are setting aside a considerable budget to build a sales funnel on it, and boost their business.
But building brand awareness on Instagram isn't as easy as throwing some pictures/videos onto your profile. Keep in mind that every individual with a smartphone can post on Instagram. So, don't expect to gain followers and increase your ROI by a mediocre performance.
If you're losing followers on Instagram, you have to spot your mistakes and try to fix them. In this article, we're going to summarize several common mistakes that may be leading your Instagram account to losing followers, and the way you can stop it.
Review Your Objectives
Every successful marketer needs clear goals to build a brand identity on social media. Without defining certain objectives you can't act based on effective plans and consequently, your effort and investment won't benefit you. More than 50 percent of marketers find it hard to set certain goals and build strategies based on them.
Increasing brand awareness, lead generation, increasing sales, building community engagement, and driving traffic to the website are usually top social media marketing goals. But, more specific and measurable objectives can hold you accountable. For example, a certain number of followers, engagement rates, clicks, more traffic to your website, etc. So make sure you're defining a set of more exact and realistic objectives.
The first thing to consider if you've once gained a noticeable number of followers on Instagram but you're losing them now is, consider whether you're acting based on your goals and strategies or not. You need to find out which of your goals has been neglected in your performance.
For example, if you focus mainly on sales, you can forget about building community relationships. In that case, your followers will drop after a while because you're not connected to the community. You can measure this goal with some metrics such as shares, likes, comments, clicks, etc.
Also, losing followers sometimes happens when you're not connecting with niche accounts or sticking with a certain theme. Remember that your goals and objectives are all connected to your niche and your community. Any quick changes in the style of your account can lead to losing followers. For instance, if your account is related to traveling, changing it to food might have negative results. Stick with a theme for your Instagram that tells each follower and new visitors what your brand/profile is about and creates a lasting impression.
Here's an example of a well-curated brand theme on Instagram:
Re-Define Your Target Audience
Social media marketing is all about reaching out to potential customers and redirecting them to your selling page. Your target audience are those who are highly likely to buy your products/services.
If you're not successful in gaining followers or you're losing your Instagram followers, you might be targeting the wrong audience. Try not to include everyone since irrelevant users probably won't follow your account or engage. You should focus on a more related group in your niche that will follow your account permanently.
"The important thing is that the better you know your niche and potential customers, the better you can target them on social media."

– @kicksta_co
So, you need to re-define your target audience and categorize them based on age, gender, location, language, position, etc. You can start by compiling information from your current and previous customers. This can greatly help you figure out what kind of people really want your products/services. This is especially important for local businesses who want to grow their online presence.
To start off, you can retrieve audience demographic and behavior data from analytics tools to find out who your most engaged audience is. Instagram Insights can provide you with data on follower demographics and actions, as well as your content. However, you have to switch to a business profile if you want to use this feature. Another technique is tracking your competitors' accounts and reaching out to their followers. Competition research can help you to get a general sense of who your niche audience is.
Keep in mind that your target market can change over time. So, a regular test is needed to make sure that you're targeting the right audience. Fortunately, growth tools like Kicksta can greatly simplify the process of targeting the right audience and getting more followers. It works based on finding profiles similar to yours, auto-engaging with their followers, and getting a follow back, ultimately resulting in organic growth and followers that are interested in your content.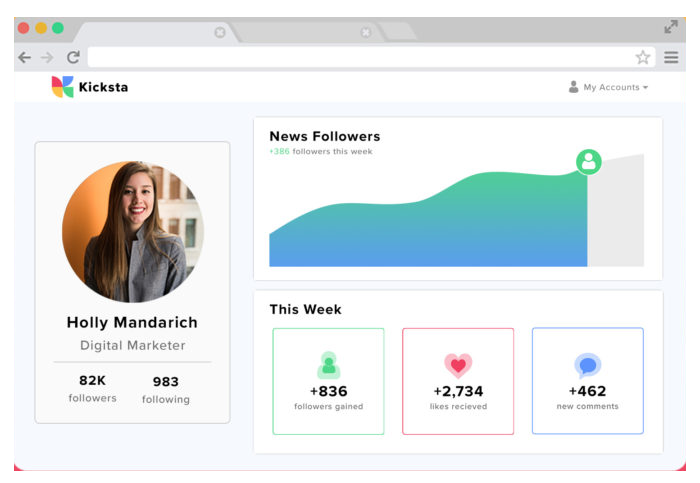 Reconsider Your Following
Many accounts on different social media platforms, especially Instagram, are using black methods to gain followers; buying followers, follow-for-follow method, or using a sketchy Instagram growth service. These are all methods of gaining followers quickly, but in time will cause you to lose followers.These methods won't can't bring you long-lasting followers, or customers that will actually engage with your content or buy your product/services.
Generally, there are three kinds of these followers apps you should avoid so you don't lose followers on Instagram:
Apps that are misleading (apps that promise you real followers overnight).
Apps that use the follow-for-follow method
Apps that take your password and don't deliver.
Using these apps may lead to your Instagram account being banned. Also, these tricks can't bring you long-lasting followers and you'll face losing followers after a while.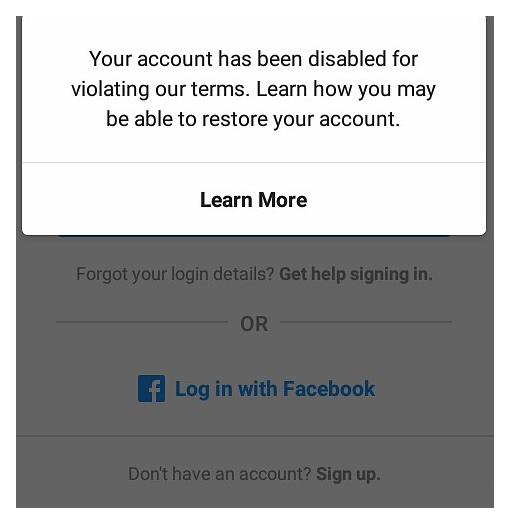 Revise Your Content Generation Strategy
Content creation is at the heart of every online marketing strategy. So, the most important matter that can change your followers' minds is the content you're feeding them with. Create evergreen content and repeat it in different formats. Try to get feedback from your followers to optimize your content in their favor.
Visualization is paramount in today's marketing. Instagram is a multimedia-based platform and you need to be able to produce high-quality posts, stories, and Live videos, to create a long lasting impression. If you're losing followers on Instagram, you need to revise the way you're posting.
Use Instagram Insights to find out the best performing posts with high engagement rates such as likes, comments, or clicks. Also keep track of what type of content performs the best with your followers and focus on creating more of it.
You should also be aware that social media trends are always changing. Countless new things are emerging day by day, each of which can entice your followers such that they'll no longer be interested in your account. For example, video content has been on the rise, so creating more video content could help your content creation strategy.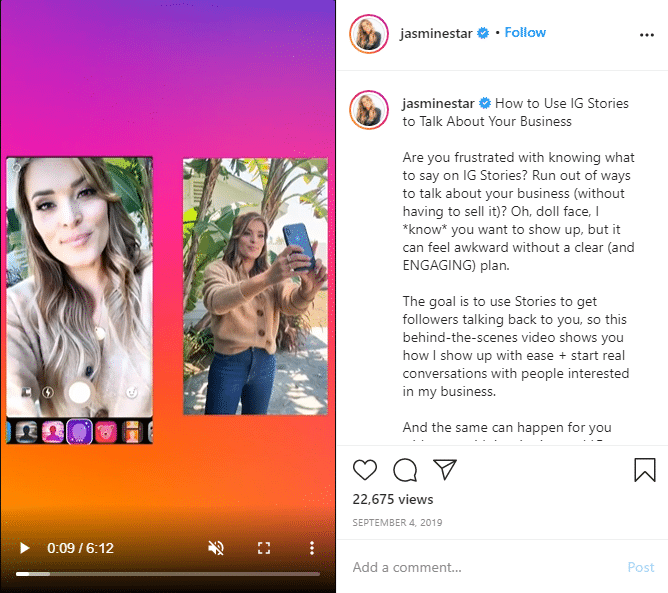 Re-Examine Your Posting Schedule
Be sure to post when your followers are online so that your content appears on top of their feed. Scheduling is an important factor in getting higher engagement rates and making users keep following you.
Although there isn't a specific formula to know the best posting time, you can find peak hours of each day in a week that bring you maximum exposure. The best times to post on Instagram may vary by industry, so using your analytics to keep track of what works best for you in key. Try to find out the best posting time for your industry to put your content in the eyes of more users and avoid losing followers.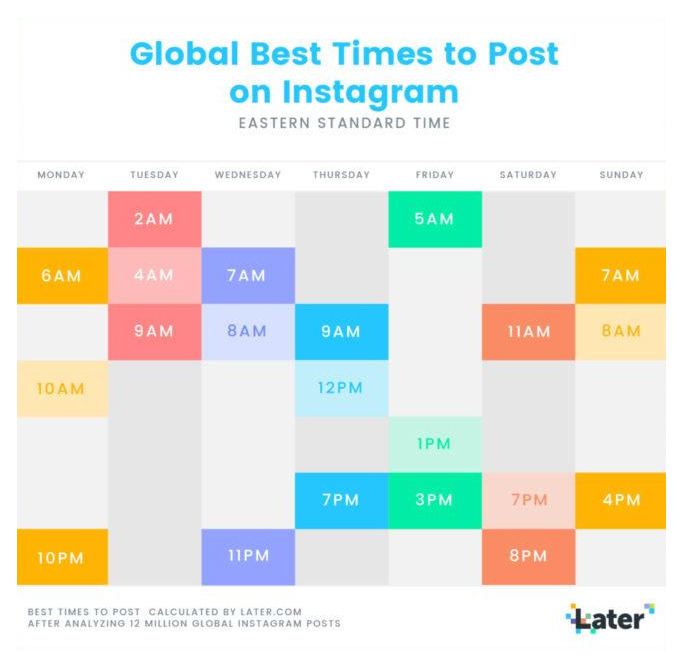 If you're losing followers on Instagram, try to revise your posting time according to your niche, location, and competitors. This can help you to adjust your timing with the recent trends among social users. Many social automation tools provide user-friend scheduling features by which you can optimize your social presence.

Rewrite Your Captions And Hashtags
Without the shadow of a doubt, boring captions and ineffective hashtags are huge factors when it comes to losing Instagram followers. Creative Instagram captions can increase likes, comments, and help your brand to stand out.
First, try to search online and find the best captions for your niche to get some ideas. Then, write unique captions so that they show your brand personality and distinguish it from competitors. Remember that a good Instagram caption adds context to your photo and tells your brand story.
Captions also increase the chance of getting more shares. For instance, using inspirational quotes is a good idea to encourage your followers to share your post. Getting more shares can greatly help you stop losing followers. Keep in mind though, sharing inspirational quotes won't work for everyone. You'll have to test out different captions and content and see what works with your audience.
Inserting a CTA (call-to-action) in your captions is another technique to make users interact with you. For example, asking users' opinion about your products/services can encourage them to comment. The more interactive your content is, the better.
Hashtags make your content discoverable because they're at the heart of the search algorithm of Instagram. If you want your brand to appear on the explore page for a specific search, hashtags are your best option.
There are many free online hashtag generator tools you can utilize to find appropriate hashtags for your content, and to help create a hashtag strategy for your social media marketing.
Try to search your audience and competitors' most used community and industry-specific hashtags. Using these hashtags in your posts and stories will help users find your content easier.
It's also good to create branded hashtags to build a community around your brand and entice users to follow it. Branded hashtags are as simple as your business name or the name of your products/services.
There are different theories about how many hashtags you have to use in your posts and stories. You should be using all 30 allowed hashtags in your posts and 10 hashtags in your stories, since hashtags are the best way to grow your audience and get more followers on Instagram.
Work With Niche Influencers
More than 60 percent of marketers want to increase their influencer marketing budget in 2020 since it is one of the best means of building brand awareness. Influencers can encourage users to follow your account and gain the trust of them by demonstrating your authority. They can also help promote your brand and strengthen its identity on social media.
If you see that your Instagram followers are decreasing, leveraging the power of influencers is a perfect choice. Choosing the rest influencers to work with is important. Collaborating with Mega influencers may cost a lot. Instead, you should try collaborating with other kinds of influencers; micro-influencers who have respectively less than 100,000 and 5,000 followers, are good options if you don't have a considerable marketing budget.
Micro-influencers are niche content creators and usually have a much higher engaged following than larger influencers. When choosing an influencer to work with you should make sure:
You set goals for what you want to achieve (increasing brand awareness, website traffic, gaining more followers/engagement, etc.)
Find an influencer that has the same values and goals because ultimately you want their audience to be interested in what you have to offer
Tell them how they will benefit from the partnership.
You can also use social tools like Awario and BuzzSumo to find niche influencers. In their database, they usually categorize millions of influencers in terms of age, gender, niche, location, and followers. This can greatly help you find the best option for your brand.
Final Word
Building a long-lasting relationship with your followers needs a solid amount of effort and time. If you're losing Instagram followers make sure to go through these key points, and analyze what kind of boost your Instagram marketing strategy needs.
Bonus Content
If you like our content, you may share the infographic version of this post on your website or social media.
Share this Image On Your Site
Author Bio
Tom Siani is an online marketing expert with up to 4 years of experience in this digital industry.
He is also collaborating with some well-known brands in order to generate traffic, create sales funnel and increase online sales.
He has written a considerable number of articles about marketing via social media, brand marketing, blogging, search visibility, etc.
Instagram Growth Hacks
Join over 100k+ marketers and influencers who get the latest Instagram tips & tricks sent to their inbox every week