12 Pro Tips To Boost Your Instagram Reach
post
As Instagram and the algorithm have evolved over the last decade, figuring out ways to achieve the optimal way to boost your Instagram reach has as well. With an incredibly smart algorithm and millions of users striving to stand out, it can feel more difficult than ever to increase engagement.
Although the competition is fierce, Instagram is still one of the leading platforms to market your online business, build a community, interact with consumers, and make a name for yourself. Thankfully for you we're listing out 12 pro tips to boost your Instagram reach to ensure your account is one that stands out among the rest.
1. Partner With An Influencer
If you're looking to reach a new audience, gain Instagram followers, and ultimately boost Instagram reach, partnering with an influencer is a great strategy. Influencers are an authentic way to target a niche audience and bridge the gap between your desired consumer and your brand.
To increase your Instagram reach and thus, revenue, first pinpoint the type of influencer that is best suited for your company. Do you need a lifestyle, fashion, food, or fitness influencer? Maybe even one that overlaps a few niches? Outline the type of audience and values of your brand, then search for influencers who embody them.
So where to begin? Many brands understand the incredible impact influencers can have in terms of Instagram boost, yet miss the mark when approaching them to collaborate. Set clear expectations and deliverables from the start. Influencers are in discussions with many brands at once, so clarifying your expectations from the start is huge.
When communicating with influencers remember, don't be pushy, don't assume it's a hobby, and provide an incentive. It's unfair to assume these people will work for free. If you want the campaign to be promoted professionally and creatively, offering a form of payment is necessary.
A fantastic example of a well executed Influencer collab is popular hotel chain, Hilton, partnering with @doyoutravel to reveal a proposed list of Seven Urban Wonders of the World, aka popular luxury Hilton destinations. This account has an incredible Instagram reach, showing over 3 million followers some of the best properties Hilton has to offer.
2. Use Hashtags Strategically
Originating on Twitter, hashtags can help boost the impact of your marketing message when used correctly.
Hashtags boost your post and profile reach. Because these tags are searchable, people can use them to find specific content and conversations that interest them. Now, Instagram allows you to follow hashtags like you do users, which only further boosts your posts visibility.
"To ensure your posts have high reach on Instagram create hashtag blocks with a variety of uses (less than 1 million and more than 1,000 to increase boost)."

– @kicksta_co
Adding these in the comments of every post will bring new accounts to your page returning higher engagement rates and new Instagram followers.
To avoid Instagram flagging your account for spam, keep your usage of hashtags under 30 tags per post. Additionally, it's crucial the hashtags are relevant to your content or the reach will not yield new Instagram followers.
If you don't know where to begin, Kicksta has a hashtag generator to make building hashtag walls easy. Simply type in a hashtag and it will populate a wall with other tags that are similar to it.
---
---
Finally, creating a branded hashtag will make it easy for users to find your brand. It will not only categorize your brand's posts, but also include user generated content that reflects your Instagram followers idea of your brand. The popular workout line, Outdoor Voices, created the branded hashtag #doingthings, to encourage people to get outside and move. This hashtag has been used almost 200,000 times.
3. Improve the Quality Of Your Posts
Our next tip for maximizing your Instagram reach is improving the overall quality of your posts.
Gone are the days of posting the first photo on your camera roll or using Instagram as an editing tool. Each Instagram image tells a story, and to tell this story your posts must be eye-catching, engaging and original.
If your brand regularly posts aesthetically pleasing images with copy that is authentic and relatable, more users will engage with your content and the algorithm will boost it to more people's feeds. This will further your reach and bring new Instagram followers to your page.
4. Find The Best Time To Post
Every account on Instagram has a unique audience, located in different time zones, so finding the best time to post is a personalized thing. Luckily, Instagram's advanced analytics allows you to see the times your audience is most active, so you can plan your content calendar accordingly.
Once you improve your content and find out the best time to post, boost your Instagram reach by using Kicksta to get your content in front of more people. Instagram growth services like ours, focus on real followers and ensure your content is seen by more active users.
5. Claim Your Instagram On Pinterest
Have you considered boosting traffic to your Instagram account by using Pinterest? Pinterest is a social media tool with a built in search engine that easily attracts users and generates more traffic to your social accounts and blogs.
To make it easy for users to find your content, categorize with Pinterest boards. For example, if you have a food blog, labeling photos under boards with titles like "appetizers" or "snack ideas" will let searchers know what can be likely found under your boards.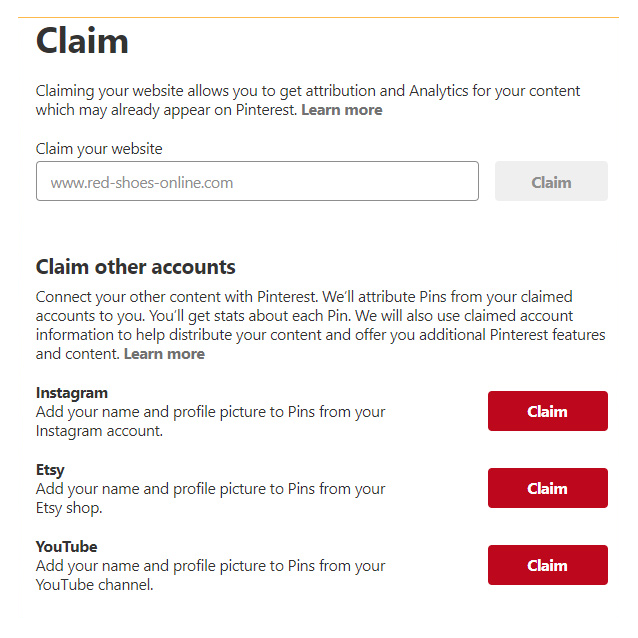 As soon as you post a new Instagram post, pin it to your Pinterest board under the appropriate category. Like on Instagram, you'll want to pay close attention to when your audience is active and pin when engagement is high. Doing these things will increase your Instagram reach to other platforms and bring in potential new Instagram followers.
6. Share UGC
Sharing user-generated content can help build brand loyalty and back your desire to give consumers a great customer experience.
Brands often share UGC to their own social media accounts to diversify their content and add credibility to their product or service. When consumers love a product enough to create and share UGC, it increases your products reach on Instagram, similar to when using Influencers to promote a product.
Consumers are 2.4 times more likely to say user-generated content is more authentic than branded content. For example, the photo below of a Warby Parker customer, an adorable baby, is going to have better Instagram reach because people resonate with this content more than a paid actor and a staged eye-glasses photo shoot.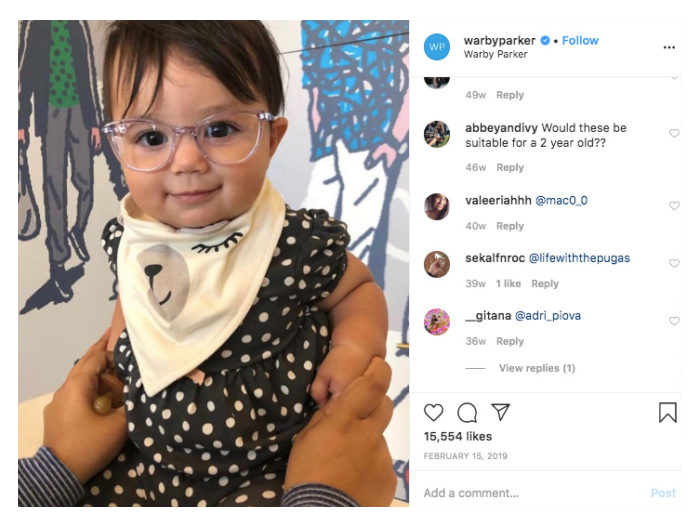 7. Use Instagram Stories
If you want to increase your Instagram reach and following, it is crucial to include the stories feature as part of your overall strategy.
Instagram stories were introduced two years ago and now reach more than 500 million active daily users.
If you have 10,000 Instagram followers or more, you're able to use the swipe up feature on stories. This feature directs people to your website to learn more about what you have to offer and ultimately will drive sales.
In terms of boosting Instagram reach, using polls, questions and other stickers not only make your stories stand out, but also will help them rank higher in the algorithm.
Since stories are viewable for 24 hours, it is important to post new story content daily. This will constantly keep your audience engaged and coming back for more. With the story highlight feature on your profile, you can save and categorize stories to be viewable for anyone who reaches your profile at a later date.
8. Use IGTV
What is IGTV? IGTV is an app that can be used alone or in tandem with your current Instagram account. It's essentially Instagram's way of competing with YouTube. The content can be found in a separate tab on users' profiles and videos can be posted in feed like any other post type.
IGTV provides a perfect opportunity to reach a new audience with previously published video content. If you've posted videos on other platforms like Facebook, YouTube, or Vimeo, you can repurpose those clips for IGTV.
Gary Vee's IGTV channel homes existing content from his DailyVee episodes, edited accordingly to fit the IGTV format. This tactic puts his content in front of a different audience boosting his content's reach.
9. Improve Your Captions
Comments and saves are more important than ever. The best way to improve your Instagram reach this year is to create content that audiences want to save.
Improving your captions is a huge part of this. Savable copy is anything your audience will want to save, so they can return to it later and read again and again.
For example, popular account GirlBoss, shared this post on #LatinaEqualPayDay to inspire and encourage their Instagram followers to support a cause they are passionate about.
This type of checklist has created a resource for followers to refer back to when needed. The more people who save this type of content, the more Instagram will boost your post to people with similar interests, so creating shareable content is crucial for increasing your overall reach.
10. Do Takeovers
Takeovers are a win-win collaboration between a brand and an influencer or celebrity. Takeovers allow you to diversify your content, while also expanding reach and potential to gain new followers from the host's audience.
Similar to when you do a paid collaboration with an influencer, you'll want to ensure the person you choose aligns with your brand's message. A story takeover will only be effective if the storyteller can bring results, engagement, and drive sales to your page.
If done correctly, this Instagram boost can provide a unique experience for viewers that regularly visit your page.
11. Run Contests
What could be better than winning a free trip, lots of expensive snacks, or a lifetime supply of your favorite beauty product?
That's the enticing play of an Instagram contest. These have quickly become one of the greatest ways to boost engagement and grow an Instagram following.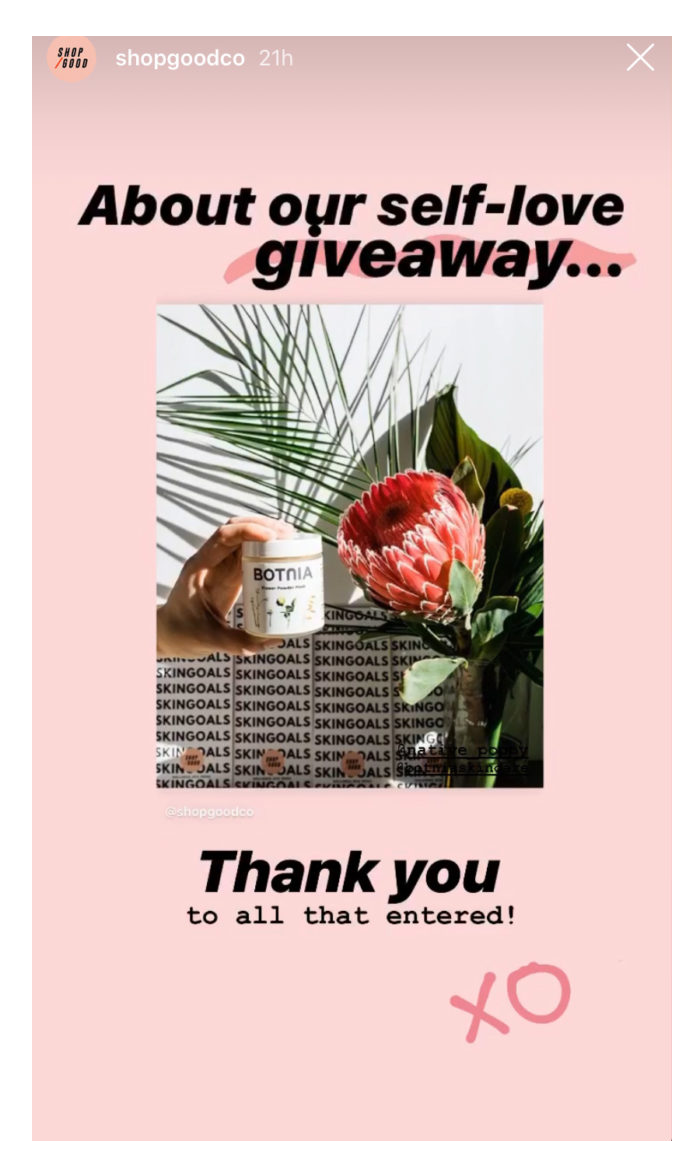 When working with another brand or influencer to set up a contest, define an entry method. Like-to-win, comment-to-win, tag-to-win and photo challenges (UGC) are all types of ways to enter a contest. No matter which method you choose, know your contest will still yield results in the form of increased Instagram reach and an influx of new Instagram followers.
12. Run Instagram Ads
Last, but certainly not least, running Instagram Ads is one of the top ways to boost posts and increase your organic reach. Yes, it may sound counter intuitive but Instagram ads can be effective in organic engagement.
By boosting an existing post and creating a target audience, you can drive more engagement to that post with a specified audience that will likely enjoy the content.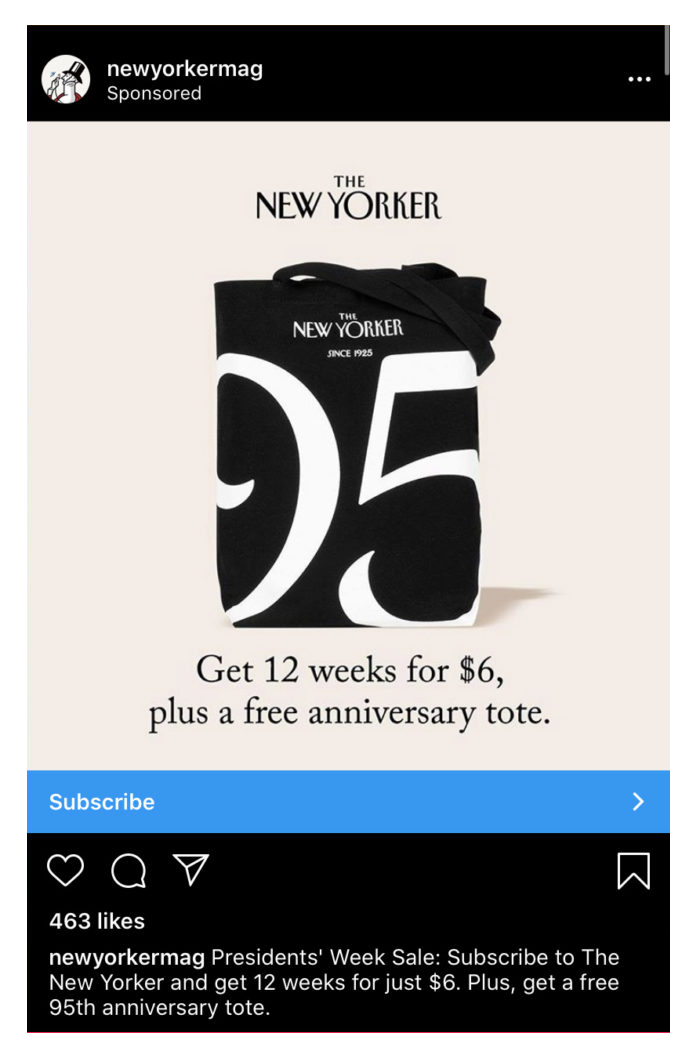 This paid approach will not only bring in engagement on the specific post boosted, but using different call to actions on the ad will direct users to your website or profile. Leading accounts to your profile will yield more Instagram followers if they like the content they see.
Ultimately, running Instagram Ads will boost audience growth, direct users attention to your profile, and unlike other tactics give you the most control over the type of people seeing your content. Do not miss this incredible opportunity to intelligently target users!
Boosting Your Reach On Instagram
When it comes to increasing organic reach on Instagram, think of your account as a whole. There are so many components and opportunities to boost your Instagram reach, you just need to find the right facets of your account that brings in the most engagement.
Get to know your audiences likes and dislikes and with the right attitude you will be fostering an organic reach on Instagram in no time.
Instagram Growth Hacks
Join over 100k+ marketers and influencers who get the latest Instagram tips & tricks sent to their inbox every week