Micro-Influencers vs. Influencers: Everything You Need To Know
post
Influencer marketing and micro-influencers have been a staple of modern marketing strategies since Instagram sprung into existence in 2010. Over the past decade, the practice has done nothing but become further steeped into the digital toolbox, with 65% of marketers noting that they plan to increase their influencer marketing spending in 2020.
But influencer marketing isn't a monolith. It's actually made up of several different subtypes of influencers, including mega-influencers, macro-influencers, micro-influencers, and nano-influencers. Each of these serves its own role in a marketing campaign, and many marketers will want to make use of several different types of influencers to build out a robust campaign with the greatest possible reach.
In this guide, we're going to go over the differences between influencers and micro-influencers, and help you understand how micro-influencer marketing can fit into your brand's strategy. We'll weigh the pros and cons of each, offer some tips, and provide some examples of micro-influencers you should keep your eye on. By the end, you'll have a foundational understanding of influencer marketing and a good idea of how micro-influencers can fit into your marketing efforts.
Quick Links
Types of Influencers
Just like people, influencers come in all shapes, sizes, and follower counts. While most people think of influencers as Instagram celebrities with millions of followers, that's not always the case. In fact, some marketing strategies work best when targeting Instagram users who have a small circle of very dedicated followers instead of a huge amount of casual followers who only check in from time to time.
So, let's dive in and break down the different types of influencers.
Mega-Influencers
Who Are They?
Mega-influencers are true Instagram celebrities. In most cases, the "Instagram" qualifier isn't even necessary — they're famous for their work in music, TV, film, or another non-social media related domain. Think Ariana Grande (@arianagrande), Beyonce (@beyonce), Kylie Jenner (@kyliejenner), and Ronaldo (@cristiano). However, while many are in fact A-list celebrities, some did make their fame through Instagram alone, like Dan Bilzerian (@danbilzerian).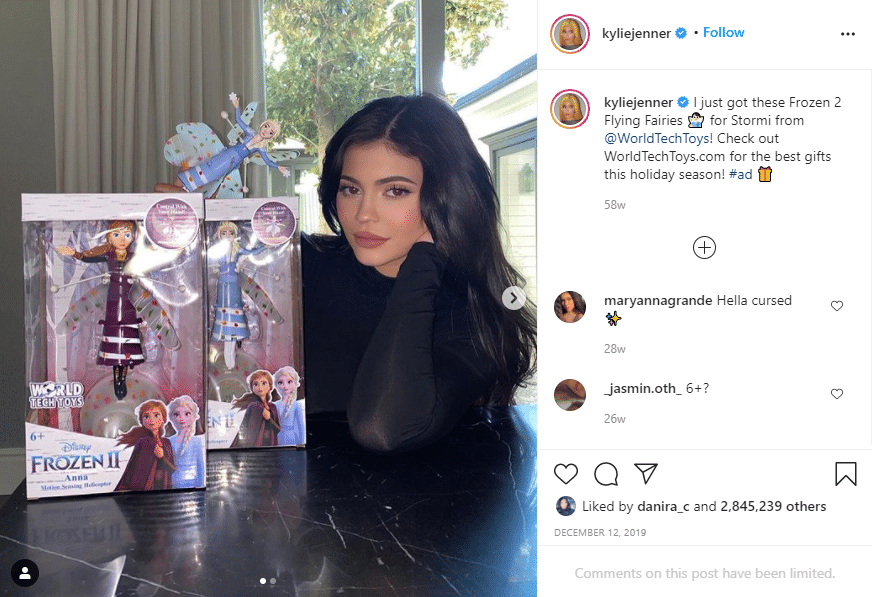 What Are Their Pros and Cons?
Scoring a partnership with a mega-influencer is clearly a big deal, and can lead to some serious exposure and conversions. Plus, given their large platform, you can expect professionalism and a lot of Instagram know-how.
But you do run the risk of running a less precisely targeted campaign. Practically everyone follows one or more of these mega-influencers (partly because they're often immediately suggested when you sign up for Instagram) even if they don't take a keen interest in what they do. As such, when engaging in mega-influencer marketing, you may end up with a much larger reach, but a lower conversion and engagement rate.
Overall, the stakes of working with a mega-influencer are higher: if things go well, they'll go swimmingly. But if they go badly, you can run the risk of seriously damaging your brand's reputation.
How Much Do They Cost?
As you might expect, working with a mega-influencer will typically cost big bucks. According to a study by Mediakix, you should expect to pay between $10,000 and $500,000 for a post from a mega-influencer.
Macro-influencers
Who Are They?
Macro-influencers have between 100,000 and 1 million followers, placing them just below mega-influencers. However, some outlets consider macro-influencers to be Instagrammers with 500,000 to 1 million followers, so the term can mean different things depending on who's using it.
Although they are considered only one step down, this can be a very significant step: working with a macro-influencer with 120 thousand followers will be very different from working with a mega-influencer with 120 million followers.
Examples of macro-influencers include Derek Simnett (@dereksimnett) and Lucie Fink (@luciebfink).
What Are Their Pros and Cons?
Macro-influencers share many of the same pros and cons with mega-influencers, but at a smaller scale. Macro-influencers are Instagram pros, so you can expect an exceedingly professional experience when working with them. Of course, you'll also reach a very large audience when sponsoring one of their posts.
However, unlike mega-influencers, macro-influencers tend to have a bit more of a targeted base, so it can be a bit easier to judge who you'll be reaching when you partner with a macro-influencer.
On the downside, it can be hard to set up a deal with macro-influencers, and when you do, it will likely be quite pricey.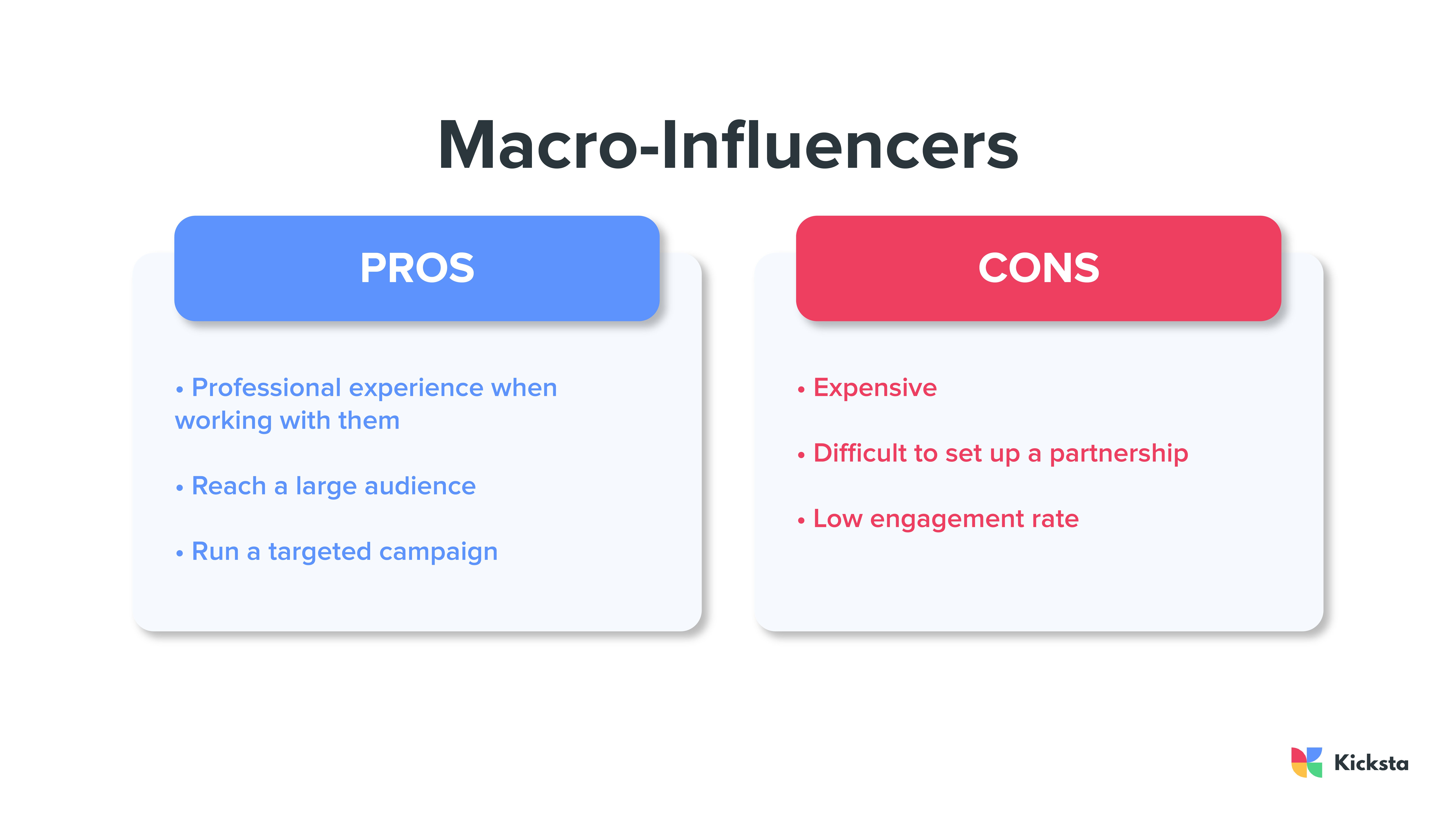 How Much Do They Cost?
According to Mediakix, a post from a macro-influencer with 500,000 to 1 million followers will cost between $5,000 and $25,000.
Micro-Influencers
Who Are They?
Micro-influencers are Instagrammers with 10,000 to 100,000 followers. Overall, micro-influencers tend to have a bit more of a focused follower base.
Examples of micro-influencers include Erica Ligenza (@ericaligenza), Passport To Friday (@passporttofriday), and Sweat and Tell (@sweatandtell).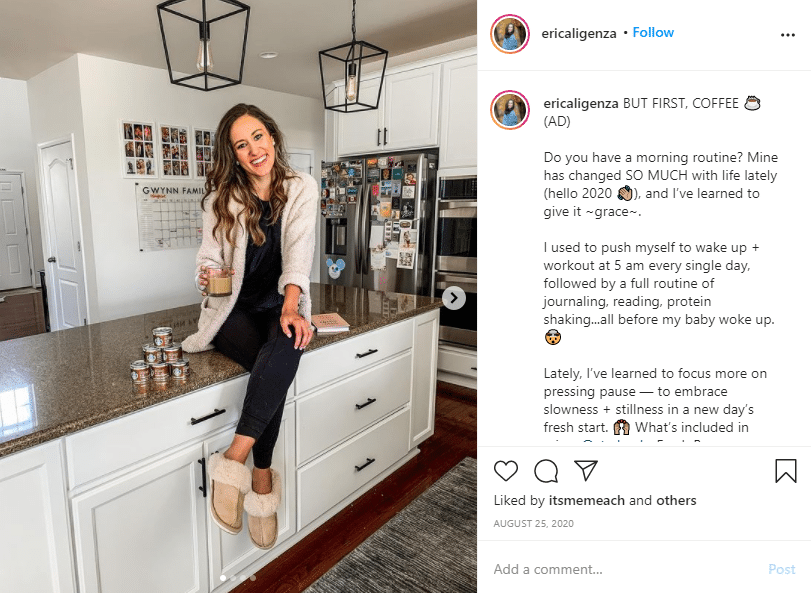 What Are Their Pros and Cons?
Micro-influencers may have a smaller number of followers than the higher influencer tiers, but they also tend to have more engaged audiences. In short, micro-influencers are more likely to be focused on a very particular niche and have a better ratio of true fans to casual followers.
Because of this, you may find that micro-influencer marketing gets you more engagement than other types of influencer marketing. Posts from micro-influencers can appear more authentic, and it's easier to target a niche audience when working with them — but it does take a lot of research to find the right influencer in the first place.
However, you will have a lower overall reach, and if you choose the wrong micro-influencer (one that isn't relevant), you might see lower engagement rates as well. It's also very important to carefully vet any influencers you're considering working with at this level, as some can use sketchy methods to make it seem like they get more engagement than they really do.
How Much Do They Cost?
According to Mediakix, a post from a micro-influencer with 10,000 to 50,000 followers will cost between $200 and $4,000. Other studies suggest that 97% of micro-influencers charge less than $500 per sponsored post.
Nano-Influencers
Who Are They?
Nano-influencers are Instagrammers with between 1,000 and 10,000 followers. This is typically the cut-off point for when someone can be considered an influencer. Examples include Lukas Arbogast (@joudygarland), Jessica Li DDS (@dr.jessli), and Yelena Dasher (@therealyelenadasher).
What Are Their Pros and Cons?
Nano-influencers have by far the most concise and clear-cut follower base of any type of influencer. In many cases, the lines between a personal Instagram account and an influencer account can be blurred: a very popular person can easily rack up a few thousand followers and become an influencer without even realizing it — high school really never ends!
Because of this, posts by nano-influencers will come across as the most authentic of the bunch and are more likely to be viewed like a personal recommendation from a friend than as a paid advertising campaign. Of course, you will sacrifice some reach for this, but if you choose the right nano-influencer, it can be worth the trade-off.
How Much Do They Cost?
According to Mediakix, a post from a nano-influencer typically costs less than $500.
The Benefits of Partnering With a Micro-Influencer
As you can see, influencer marketing is a lot more nuanced than simply shelling out a boatload of cash for a post from Kylie Jenner. Doing the research to find relevant micro-influencers can often turn out to be the better option for many brands. Let's take a look at the reasons why.
Micro-Influencers Are More Cost-Effective
While a macro-influencer or mega-influencer will typically charge anywhere from $5,000 to $500,000 per post, you can work with a micro-influencer for less than $500. If you pick the right influencers, the ROI can be huge, giving you more bang for your buck.
Micro-Influencers Bring Better Engagement Rates
A recent study by Markerly shows that there's generally an inverse relationship between the number of followers that an influencer has and the engagement rate on their posts. While influencers with over 10 million followers received likes only 1.6% of the time, Instagram accounts with less than 1,000 followers received likes a whopping 8% of the time.
Similarly, accounts with less than 1,000 followers received comments 0.5% of the time, whereas larger accounts with 10 million or more followers received comments only 0.04% of the time.
In fact, engagement rates seem to peak right around 1,000 followers. So, if you want to get the most engagement from your posts, micro-influencers are where it's at.
Micro-Influencers Have More Targeted Audiences
When you sign up for Instagram, the app will automatically suggest accounts from mega-influencers like Ariana Grande, Dwayne Johnson, Lionel Messi, and other A-list celebrities. Because of this, pretty much everyone follows at least one of these accounts just out of the pure power of suggestion, not necessarily out of any true connection.
Micro-influencers, on the other hand, have to be sought out. While Instagram will indeed suggest micro-influencers, it will only do so if you're already following related accounts in the same niche. As a result, micro-influencers tend to have audiences that are genuinely interested in their posts and not simply hopping on a bandwagon.
This means that an influencer's followers are more likely to truly take an interest in their sponsored post because they already have a verified interest in that niche. For marketers, this means more relevancy and likely a better ROI.
It's Easier To Strike a Deal With A Micro-Influencer
Big accounts get tons of DMs, which means that it's more likely than not that your message will get lost in their inbox. Micro-influencers, on the other hand, receive a much lower volume of DMs, so you have a much better chance of actually getting through to them and working out a partnership.
Considering that micro-influencers are generally cheaper and time is money, after all, this also plays into the cost benefits of micro-influencers: you'll spend less time sending out DMs that go nowhere, and when you finally do land a deal, it will cost you less. However, you should be prepared to spend a significant amount of time researching the best micro-influencers to partner with, so the time investment can even out in many cases.
5 Examples of Micro-Influencers
Let's take a break from the theory, and bring things a bit more down to earth with some examples. There's tons of micro-influencers out there, but we're going to look at five that are truly killing it.
1. Erica Ligenza Gwynn (@ericaligenza)
Erica Ligenza Gwynn is a "wife, mama, believer, author, podcaster, wine drinker — & your new BFF!" Along with this host of titles, she's also a micro-influencer in the lifestyle and fashion niche, with a healthy following of 87.8k Instagram users.
In the past, she's worked with brands like Olay and Ivory Soap, running the gamut from small brands to household names. Here are a few samples of her posts:
2. Lauren Paige Magenta (@laurenmagenta)
Lauren Paige Magenta is a micro-influencer in the lifestyle niche with 26k followers. Most of her posts detail her life with her husband and daughter, but she does do sponsored posts as well. Two of her recent sponsored posts include Sparkling Ice (@sparklingice) and The FruitGuys (@fruitguys).
Join 100k+ savvy Instagram marketers
If you are struggling to get the attention you deserve on Instagram, sign up for Kicksta today and start attracting more followers who are interested in your brand.
3. Conscious Chris (@consciouschris)
Conscious Chris is an Instagram influencer near the top end of the micro-influencer tier. With 96.5k followers, he'll most definitely become a macro-influencer soon enough. Chris posts in the vegan niche. He is content is a smorgasbord of food pics with a focus on sandwiches.
In the past, Chris has partnered with brands like Alpha Foods (@alphafoods) and Koia (@drinkkoia) on giveaways. He has also made posts sponsored by brands like Gardyn (@gardyntech) and Follow Your Heart (@followyourheart).
4. Liz Arch (@lizarch)
Liz Arch is an influencer primarily in the yoga and motherhood niches. With 60.4k followers, she is right in the middle of the micro-influencer tier.
As you might expect, her partnerships are primarily with yoga equipment brands like Manduka Yoga (@mandukayoga). However, she has also done sponsored posts with brands from other industries, like SmartyPants Vitamins (@smartypants).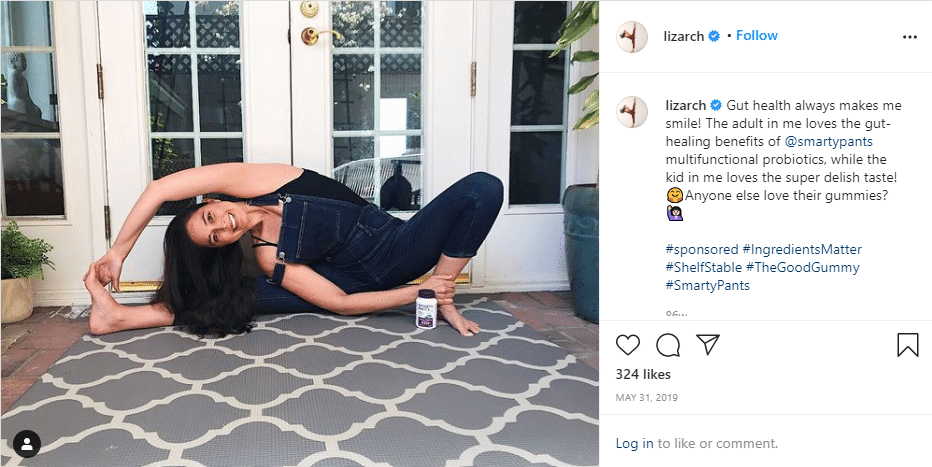 5. Mr Sug-Sean (@sugsean)
Mr Sug-Sean is a micro-influencer in the male fashion, lifestyle, and grooming niches. However, he places an emphasis on causes that he feels passionately about, such as environmentalism and human rights.
In the past, he has worked with brands like Vitabiotics (@vitabiotics) and Peregrine Clothing (@peregrineuk).
How To Partner With Influencers
By now, you should have a pretty good idea of what a micro-influencer is. But how exactly can you use micro-influencer marketing to your advantage? Here are a few ways you can get started.
Giveaways
Giveaways are a mainstay of the influencer marketing game — micro or otherwise. In a giveaway post, an influencer will typically ask their followers to engage with the post in one way or another, such as commenting, liking, or tagging someone in it. In exchange, the engager will be entered into a "raffle," and if they win, they'll receive the item that's being promoted.
People always love free stuff, so this is a pretty sure-fire way to get some engagement and expand your reach. In fact, a recent study by Tailwind suggests that Instagram accounts that host giveaways grow 70% faster than those that don't
Takeovers
In an Instagram takeover, an influencer takes over a brand's page for a specified period of time. This can be a great way to get new followers to a brand's page, as many of the influencer's followers will want to see the content they'll post and will follow the brand's page in order to do so.
Affiliate Programs
An affiliate program is a promotional program in which an influencer gets a kickback or commission for every sale they facilitate. Typically, commissions are awarded through an affiliate link, however, it's also possible to set these programs up using codes or another type of tracking mechanism.
IGTV
IGTV is a fairly new part of Instagram, which means there are lots of opportunities to come up with new ways to make use of it. Since IGTV is a video platform, the types of branded content that typically perform best are unboxing videos and tutorials. In these cases, a brand will send a sample of the product to the influencer and ask them to demonstrate its usage or show them opening up the package. Asking for a video review can also be another viable way to use IGTV for micro-influencer marketing.
Once you've settled on an influencer you'd like to work with and figured out a campaign, the last thing to do is to reach out to them. Unfortunately, this can be one of the most intimidating steps, and if you don't get a response, all your planning can be for naught.
At the end of the day, influencers are people just like you and me, even if their lives may seem somewhat extraordinary. That means that there's no golden ticket to approaching them, and every influencer will respond to sponsorship requests in a different way.
As a brand, your job is to thoroughly research the influencer you're interested in and figure out the type of pitch that will resonate with them based on their personality. For example, some influencers assume a very casual and laid back tone throughout their posts, indicating that a friendly DM may be the best approach. However, other Instagrammers are a bit more standoffish, in which case a professional sounding email may fare better.
In general, you'll typically end up reaching out to an influencer in one of four ways:
DMs
Emails
Comments on their posts
In-person
Just like your approach, you'll need to conduct some research to determine what the best mode of contact is. Some influencers will kindly state it in their bio, while others will require a bit more digging. In some cases, influencers will direct you to their manager or publicist.
Of course, there's also always the possibility that you'll run into an influencer in real life, either at a conference or just by chance at a coffee shop. In some cases, this can be a real stroke of luck. But do keep in mind that influencers do have personal lives of their own and won't necessarily want to be bothered with sponsorship offers while spending a Sunday with their family.
So, if you do run into an influencer out in the wild, make sure you're in the right context to approach them and do so skillfully, lest you end up annoying them and sinking a deal that would have worked out had you just sent them a DM.
The Bottom Line
Influencers aren't just Instagrammers with hundreds of thousands or millions of followers. In many cases, micro-influencer marketing can be just as (if not more) profitable than macro-influencer or mega-influencer marketing. By carefully researching influencers in your niche, you may well be able to sponsor posts with micro-influencers that reach your audience with laser precision and rack up tons of engagement.
Instagram Growth Hacks
Join over 100k+ marketers and influencers who get the latest Instagram tips & tricks sent to their inbox every week