How to Contact Instagram Influencers With Cold Emails (and Actually Get Replies)
post
Instagram can be a great fit for visually-driven industries like fashion, beauty, and travel. However, its reach isn't limited to those areas alone.
Engaging with Instagram influencers to produce visual testimonials, particularly through the use of Stories, can give followers an up close and personal connection with your product, regardless of your line of business.
Overall, influencer marketing has a higher ROI (11x more than other digital marketing options) because it's driven by people your potential customers already know and trust.
But how do you land these opportunities if you don't already have connections? Here's how to reach out to Instagram influencers with cold emails to set up new collaborations.
Target the Right Instagram Influencers
No matter how well-drafted your emails are, they won't make the impact you're looking for if they're not directed to the right people. If you want to raise brand awareness through visual testimonials on instagram, it is important to ensure that you are contacting influences that your customers will engage with.
Take a look at who your potential buyers admire by researching which Instagram influencers are well-respected across multiple platforms. Look for the same people who appear on Twitter lists, LinkedIn profiles, and even Amazon bestseller lists related to your business.
You can also search based on hashtags related to your niche, but remember that you don't have to shoot for the moon. It's better to have the influencer that fits your needs than to connect with the platform's top names.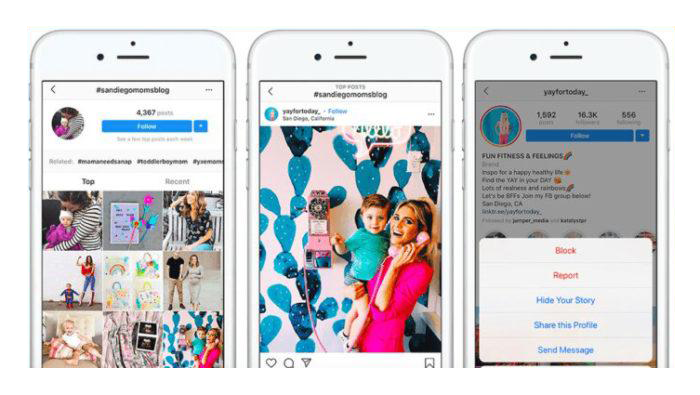 For example, if you're reaching out to parenting bloggers, you don't have to have Dooce or The Pioneer Woman to attract attention from your audience. You may be able to find someone who's a powerful influencer and trendsetter in your local area – and who'd actually have a stronger, more authentic appeal to your base of customers and prospects.
Craft the Right Message
Once you have a starting place for making connections, you'll need a cold email message that'll make your preferred influencers take notice (note – that might actually mean crafting more than one email).
Segmenting Your Cold Email List
The average cold email campaign has less than a 1% response rate. Segmenting your target email list to create smaller, more personalized audiences can increase your chances of getting an influencer's attention.
With segmented audiences, you can tweak your content to focus on the elements that'll appeal most to them. It's simple math. The more specific you can make your email's content, the more relevant it'll be to your recipient's situation – and the more likely they'll be to emotionally connect and take action.
Once you have your targeted messages, upload your contacts and prospects into an email outreach platform, build your lists, and focus on highlighting the benefits of working with you through your cold email communications. You can even use automated email marketing to ensure that you are saving time and creating emails that will actually be opened.
Offer Something of Value
Offering "something of value" doesn't necessarily have to mean offering money. This is an area where segmentation can help you determine which items might provide value to which influencers.
While many Instagram influencers prefer to be paid for their contributions, others are open to goods, experiences or promotions that allow them to grow their audiences. Break your cold emails into target groups with different compensation options to test how different groups respond to comped experiences, pay or promotion.
And because cold contacts generally require multiple follow-ups (Jason Zook from IWearYourShirt famously generated 75% of his business from follow-ups), you can always increase your offerings if needed as you engage and negotiate with your influencers.
Treat Influencers as Colleagues
When you're reaching out to Instagram influencers, remember to treat them with respect – not only as human beings, but as fellow business people. You're a marketer; they're marketers too.
Building a social following isn't just a hobby for the average influencer; it's their business and, for many, their livelihood. Give them numbers and data to work with when they're considering your campaign so that they can easily see what's in it for them.
Join 100k+ savvy Instagram marketers
Join Kicksta today so you can create those relationships and opportunities.
Remember that the reason you're connecting with your chosen influencers is because of their fit with your niche. They've been able to connect with your coveted potential customers and gain their attention and loyalty. Every email you send should demonstrate how much you value their role in your future relationship.
Have a Plan
When you reach out to influencers with cold emails, share some details of what you expect, as well as the strategy behind the campaign you want them to support.
Offering a strategic angle makes it easier to inquire about their interest and move them forward with an easy-to-accept call to action.
Instead of asking their opinions on whether they want to do stories, or posts, or both, and how many posts they'd like to contribute, and what their rate is, simplify it. Give them an overview of what you want and how they'd benefit, then ask them to say yes to moving the conversation forward.
Give them one thing to say yes to, and you make it easier for them to make a decision. In fact, one study suggests that cold emails with one CTA receive a 42% increase in click-through rate, compared to those making multiple asks.
Build a Relationship
Finally, keep in mind that relationships between your company and Instagram influencers should be mutually beneficial. You may not be able to work out a deal the first time around, but you can still keep the relationship going.
Offer to keep them on your email list, transforming them from a cold contact to a nurtured lead that you can then follow up with when a perfect campaign comes around. And remember, the influencer network can be tight-knit – especially in small niches. Bad or disrespectful behavior can mark you as a not-very-enjoyable client to work with.
On the other hand, building good relationships and connecting authentically may yield an introduction to another influencer who is a perfect fit for your business. Even though it takes up more time, setting up a meeting and jumping on calls to get to know people better makes a huge difference. Same deal with going to conferences. Face time goes miles in a world where we're constantly behind screens.
Think long-term. Build relationships before you send cold emails by engaging with their profiles, posts and stories. This turns you into a person who wants to connect in order to benefit each other, instead of someone who's simply cold emailing for a favor. A reference to your engagement with them (or to something mentioned in their profile or shared in their posts) can lay the foundation for a good relationship.
Imagine, for example, that you were reaching out to Arcana, a fashion brand with the goal of bringing healing to the fashion industry. When reaching out to this particular account, a cold email might reference their #drawarcana annual contest, and by doing so, pay homage to the social purpose of the brand.

Connecting with Instagram Influencers Through Cold Email
Influencers can play a huge role in your social selling strategy, but only if you can succeed at making that first cold email connection. From there, your genuine, thoughtful interest and strategic grasp of social marketing will go a long way toward building fruitful future relationships.
Instagram Growth Hacks
Join over 100k+ marketers and influencers who get the latest Instagram tips & tricks sent to their inbox every week