Trends On Instagram For Food Bloggers
post
Instagram is an excellent social media platform where users can share their work, promote their services, or just put up their casual holiday pictures. But this space has been widely taken over by Instagram food bloggers as well, and it's become very popular content. The food-based accounts have garnered many new followers, and new trends are always on the rise.
Foodies are on Instagram an average of 18 times each day, and the hashtag #food is used on 250 million posts every month.Instagram has become the ideal place for food bloggers to share their creativity and recipes for their dishes. In turn, food fans can get first-hand information about their favorite dishes and give feedback.
Top food bloggers like Food Network Star Ree Drummond use Instagram to connect with their fans. Ree has over 3.1 million followers and posts behind-the-scenes content of her cooking show, shares recipes, and gives us a peek into her personal life.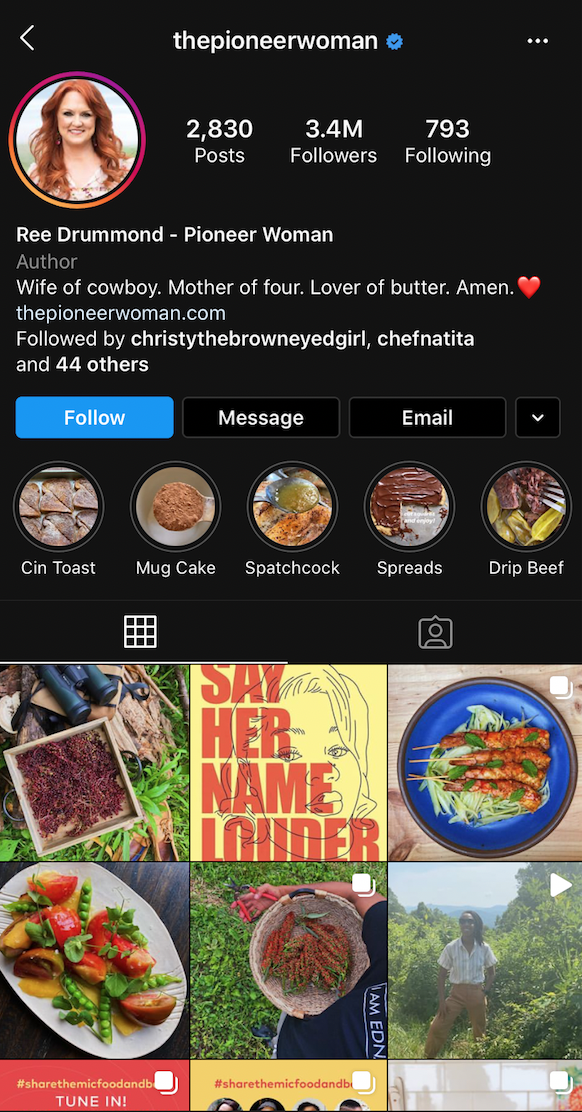 Smaller food bloggers like Lorie Yarro have built a following on Instagram, too. She shares delicious recipes, her own journey with food and, like Ree, shows her followers a look behind-the-scenes into her life. Lorie frequently talks about intuitive eating and shares recipes and posts that are "anti-diet."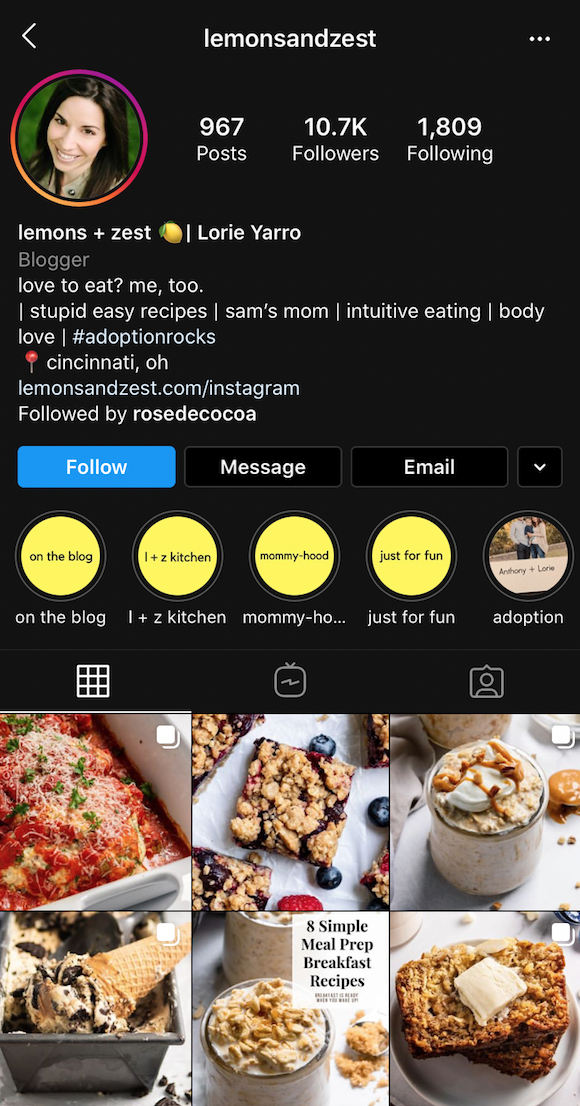 So, whether you're a food blogger with an established following or someone who's just finding a way to get a career in the food industry, Instagram is a great place to be. If you're looking to grow your account and engagement, here are the key Instagram food trends for you to follow:
Join 100k+ savvy Instagram marketers
Sign up for Kicksta today so you can target your ideal audience and boost your growth.
Health-Conscious Posts
The trends of the food industry in general have moved towards healthy food. One of these shifts specifically is towards more gut-friendly fermented drinks and dishes. Instagram is filled with healthy dishes and drinks, and this trend is emerging now due to more awareness about health and lifestyle concerns.
Other popular healthy food trends include things like gluten- or dairy-free, or following a specific diet like keto or paleo. Many people are also becoming vegan or vegetarian nowadays, so content that meets these needs is also becoming increasingly popular.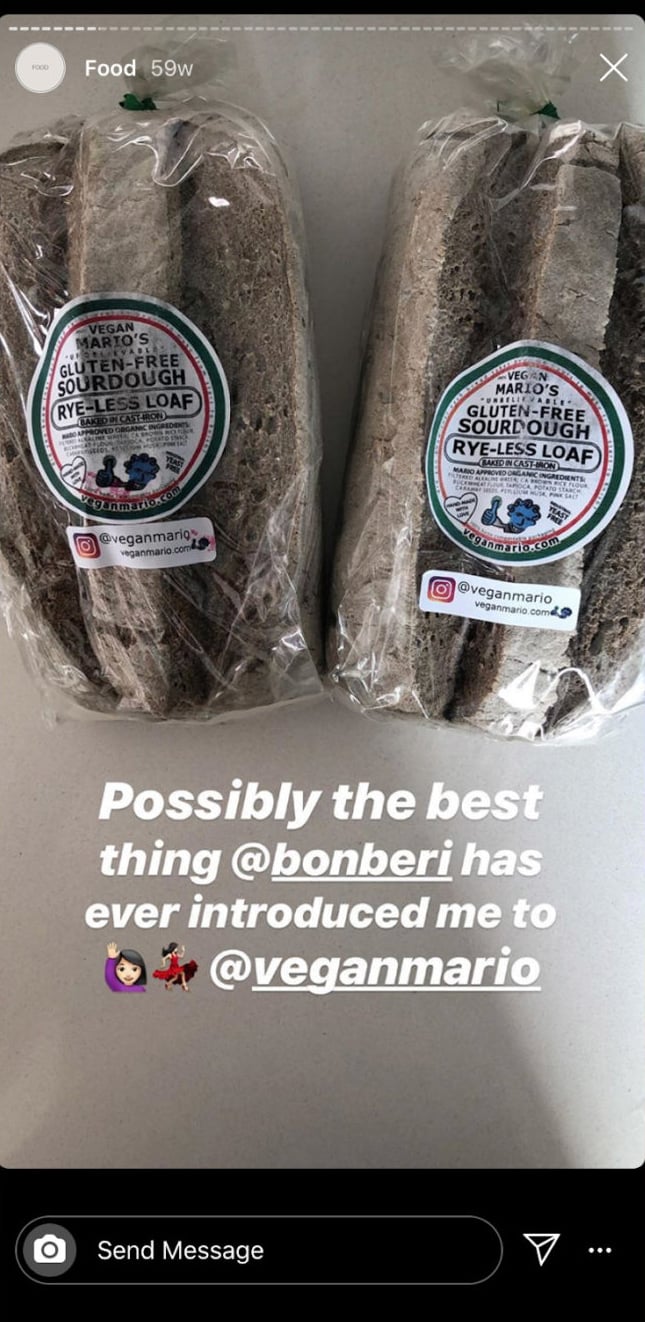 Getting Started On Your Food Instagram Account
When you're getting started, it can be a good idea to browse Instagram to see what other brands are doing. There's some great examples of famous stories and drool-worthy campaigns you can use for inspiration. You can study the success stories of major brands like Walker, and start-ups like Batch Organics, and understand the hard work they all put in to deliver great products. There are many food and drink brands that are doing well on Instagram, including Food Network, Monster Energy, Brewdog, and others.
They make great use of Instagram by launching new products, running successful campaigns, and offering vouchers to followers. Instagram is a key opportunity for food marketers and bloggers to promote their work and broaden their presence. You can see here that Batch Organics is letting their followers know where they can find their product. This is a great way to sell softly on Instagram. They're not outright asking their followers to make a purchase, but they're letting them know where to find their protein when they want it.
Watch What's Trending
It's important to study customer insights to see what trends are impacting the industry. As a food blogger or a marketer, it's good to know what the audience wants to see so you can create content that resonates with them. You can find trending posts from your Instagram account.
Go to the search tab and select the "Food" category. There you'll see trending posts so you know what's popular right now.
There's a good mix of health-conscious products as well as indulgent dishes. But there are other ways you can find new trends on Instagram. Choose other bloggers as well as popular industry brands and follow them. Watch what content they're creating and see if it fits well with your brand.
Try searching for food accounts with #foodie, #food. Type #chef or #cook for searching for chef accounts. You'll certainly find food enthusiasts and perhaps even accounts you could partner with in the future. Watch these accounts to see what they're posting and talking about to get a feel for what's trending.
You can also find trending topics off of Instagram, as well. Whether you subscribe to other bloggers' sites, use a service like feedly or follow popular foodies, be aware of what's happening in the industry and how it fits with your blog.
Turning Customer Trends into Actions On Instagram
Instagram stories are used by over 500 million account holders every day. Even the biggest brands share their stories and engage the audience in their business. They use interactive elements like hashtags, and @mention or poll stickers for more engagement and easy interaction with their audience.
For example, a food blogger can share a picture of his creation on his Instagram story and add a hashtag to attract more viewers or add a poll sticker where the viewers can vote yes (if they like it) or a no (if they don't). These engagement trends on Instagram are becoming more popular as they are an easy way to increase user engagement.
Another great way to encourage engagement is to ask your users to send you a direct message about something in your story or your post. Once they're in your direct messages, you can have personal conversations with them to build a relationship. You can ask for input on new recipes, learn what types of dishes they like to see and you can answer their questions. This will help you be more relatable and real.
As your followers understand that it's really you on the other side of the messages, they might be more likely to share your account with their friends. People are often looking for connections on social media, and when you offer that, you can quickly become increasingly popular. You can:
Host Instagram Lives where you invite your followers to come on with you and ask questions.
Let your followers vote for what dish you should create next on your Instagram stories.
Share your favorite options from a particular grocery store and encourage your followers to share their favorite picks that you missed.
Instagram gives you countless ways to encourage your followers to take action.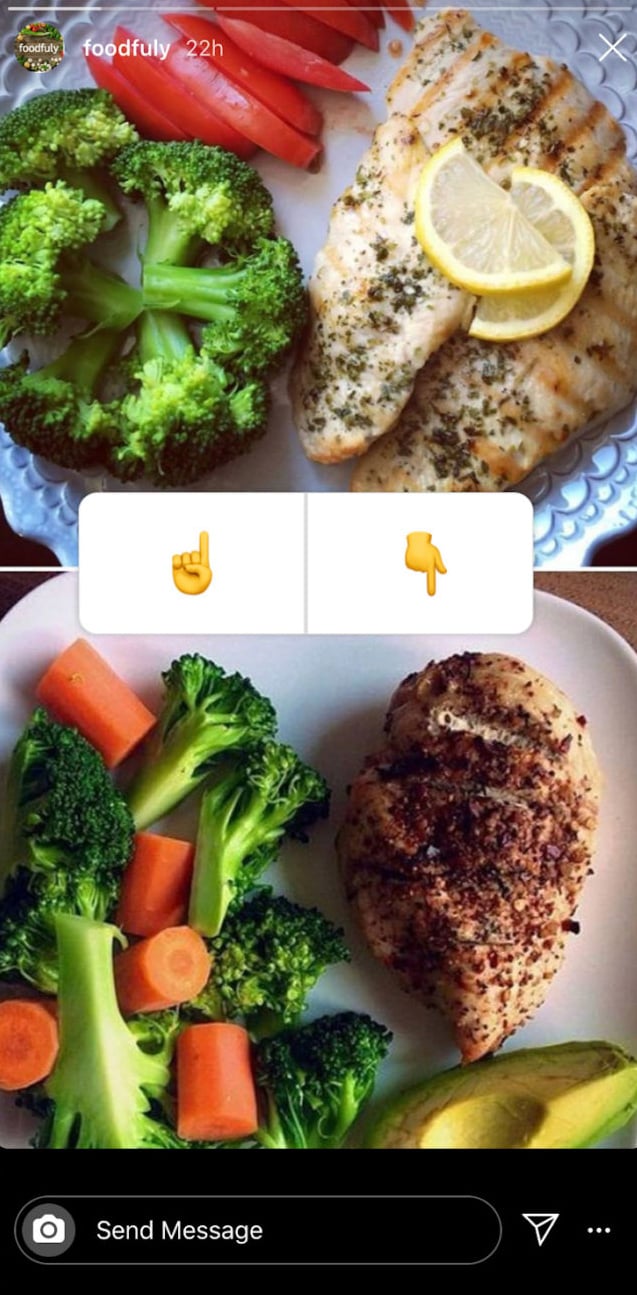 Instagram For Food Bloggers – What To Post?
Instagram is a fantastic platform to showcase your best work. It's an open stage where bloggers can post delicious-looking food pictures in an innovative way that attracts a large audience. The pictures should stand out from the rest and be irresistible to those who see them. Moreover, the way you post your work should be consistent. If you post a picture with a caption, a tag or a proverb, do so consistently. That said, it's also a good idea to try new tactics to see if a different method would resonate more with your audience.
By creating an overall consistent feed, you'll improve your visual branding on your profile. The photos can show the ingredients that have been used in preparing a dish or drink, and also the final dish/drink after it's prepared. These detailed posts help people know more about your culinary skill.
It's also a good idea to add a call to action feature like "double tap if you agree" so you can encourage engagement and know what your followers like. Another way you can drive engagement and more traffic is by adding a call to action in your caption to visit the link in your bio, or swipe up in a story post to view the full recipe. Adding a call to action can help the customer feel connected, and they'll be willing to tell you what they want to see.
How To Take Quality Instagram Food Photos
It's rightly said, "the first impression is the last impression." And when a user goes through your food pictures, creative and eye-catching photos are what will capture their attention. Then, your CTA will take them to your blog to read the recipe you have shared. So, posting delicious and brightly colored food photos will be more appealing (and more likely to trend).
Be more experimental in your approach and try different compositions. Look for good props and backgrounds to enhance the effects. Add fancy frames to make the picture look more alluring. For example, if you're sharing a photo of a smoothie, then you can place it neatly on a table cloth and put the fruits that you used in the smoothie to give it a natural effect. When taking your photos, use natural light as much as possible to create a beautiful look.
How Can People Discover You On Instagram?
Believe it or not, one great way to help people discover your Instagram account doesn't have anything to do with Instagram at all. Whether you have a blog, a YouTube channel with food videos or a popular Facebook page, chances are you have a presence on another platform, too. Talk about your Instagram on your other platforms. Showcase and link to your latest post in your weekly newsletter. When you post your next YouTube video, include a link to an Instagram post about that dish. Send your fans from other platforms to your Instagram.
You can also take part in food challenges on Instagram so that your work gets showcased. For example – you can follow the #foodchallengenetwork and #foodchallenges pages and participate in their contests to showcase your work. Or, you can post a challenge with your own hashtag so that others participate in it. This practice will make you more visible on Instagram and good work will always get appreciated.
Local Food Hashtags By City
If you have a brick-and-mortar business location where you want to advertise locally, try geo-modified hashtags that are based on global hashtags. For example, take a global hashtag #foodie and then add a geo-modifier. Hashtags will help a food blog start-up to find an audience. It's a very effective way to attract customers. For example, if someone has opened up a new café in San Diego, he can use the hashtag #CafeSanDiego or #CafeForFoodiesAtSanDiego, etc. So people looking for good eating joints in San Diego can do related searches and can find your café easily through Instagram.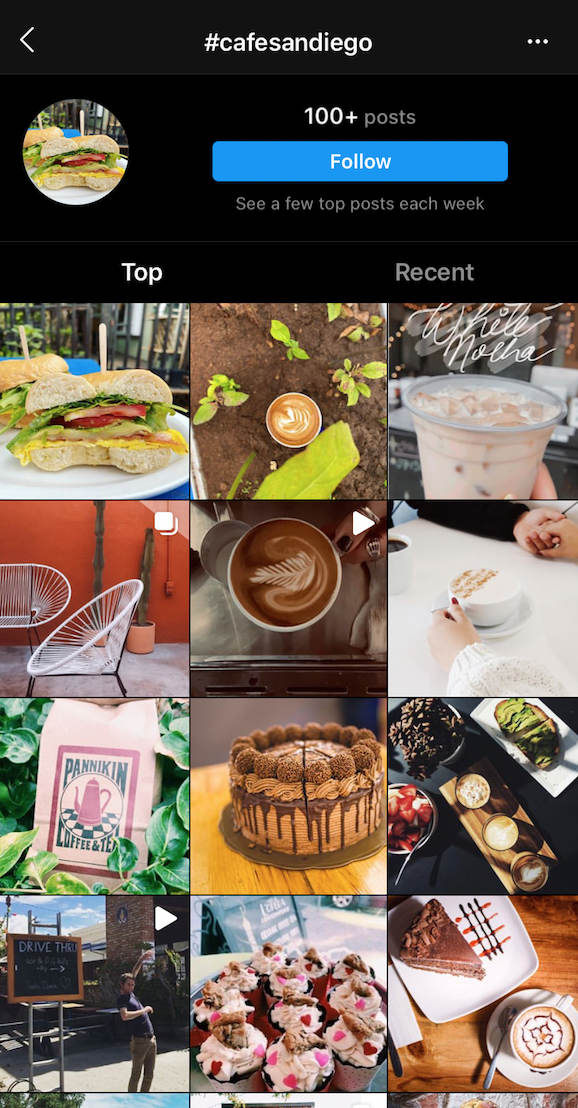 Even if you don't have a physical location, you can use hashtags like #CincinnatiFoodie to connect with other food accounts in your local area. If you're traveling and enjoying local cuisine in a different city, using geography-based hashtags can be a great way to even get recommendations of restaurants to visit and dishes to try.
Best Food Hashtags for Every Occasion
To get more consideration for the food posts, you can use over-popular hashtags like #food, but you don't want to only use large hashtags. You also want to use other hashtags that share more detail about your particular food post. When you use specific hashtags, Instagram puts your post in a specific section. Make use of good hashtags to ensure that your food posts are found by the right Instagram users. For example, if your specialty is Italian, then you can use #ItalianSpecial or #ItalianSavory. Instagram will then put your post under the Italian food section and all the Italian food lovers can easily check your posts.

20 Best Food Instagram Accounts
Their motto: Everything you need to make a plant-based lifestyle easy and enjoyable. If you're looking for photos of delicious food, that's sans meat, you've found the right account. With 1.3 million followers it's no secret people are obsessed with these plant-based food recipes.
Miami based Sam Schnur, posts mouth-watering restaurant specials, home-made tasty-like videos and delectable treats. Her photos and videos are guaranteed to make you want to hit the kitchen or these Miami restaurants as soon as possible.
The Feed Deed has become a foodie Instagram empire. Julie Resnick has become the go-to person for everything you want to cook, bake and drink. These perfectly curated food photos look straight out of a magazine and will surely have you saving them to recreate later.
Tieghan Gerard is a New York Times best selling author of HBH Super Simple Cookbook for good reason. She cooks and bakes good food that will leave you drooling at your screen. Check out her page from everything from pizza and key lime pie, to pizookies and polenta fries recipes.
Rachel Mansfield is one of the OG food bloggers. She focuses on posting healthy and tasty unique recipes. If the ingredients aren't top notch, you likely will not find them in her recipes. Her cookbook Just the Good Stuff showcases some of her best wholesome recipes.
Want to feel inspired inside and out of the kitchen? Monique at Ambitious Kitchen is your go-to food account. She posts nourishing recipes that will have your family and friends shocked when you tell them the ingredients are better for you.
Many food bloggers today claim to be chefs, but Gaby is the real deal. She has three cookbooks to prove her mad cooking skills. If you're looking for food as good as grandma used to make, with a modern twist, head over to @whatsgabycooking.
Amanda lives by, "eat plants, not animals" and this shows in her content. If you want to be inspired by her vegan food and lifestyle this account is for you. She posts mouth-watering recipes that will surely make you question, "Is this really vegan?"
Ever see the most delicious looking food photos on Instagram only to discover you can't eat it? Jane has a lot of food allergies and posts photos that not only accommodate those allergies, but look absolutely delicious too.
When it comes to fueling your body with real food, Jeannette is the spokeswomen. Wife and mom of 2 makes sure her family eats a wholesome, well rounded diet. She commonly posts recipes of thick smoothies, quality meats and farmers market finds.
Kale Junkie herself, Nicole, shares easy recipes & lifestyle content to inspire others to live healthy. She is known for her life changing cookie recipes and posts other easy recipes, guaranteed to blow your mind.
Eat thoughtfully and live joyfully with food 52. These mouthwatering food photos will take your breath away. They are intricately styled and easy to make at the same time. If you're looking to step up your game in the kitchen, head over here for some inspo.
Carissa creates healthy & easy recipes using simple ingredients. She is the perfect balance of good for you and good mood food. She is known for creating an at home Taco Bell Crunchwrap Supreme and making her own version of the La Scala chopped salad.
This Kindergarten teacher will teach you a thing or two in the kitchen. She preaches attainable health and wellness, frequently shopping at Trader Joe's for groceries. Her delicious recipes are easy to follow and make. Check out her page for more incredible dinners, desserts and more.
If you're looking for some real talk about food, leave it to the kween. Ali preaches real talk about food and body image, while posting easy and delicious recipes. She created Granola Butter, which is as creamy and dreamy as it sounds. If you need some nut butter alternatives, dank recipes and some real advice, head over to @avokween.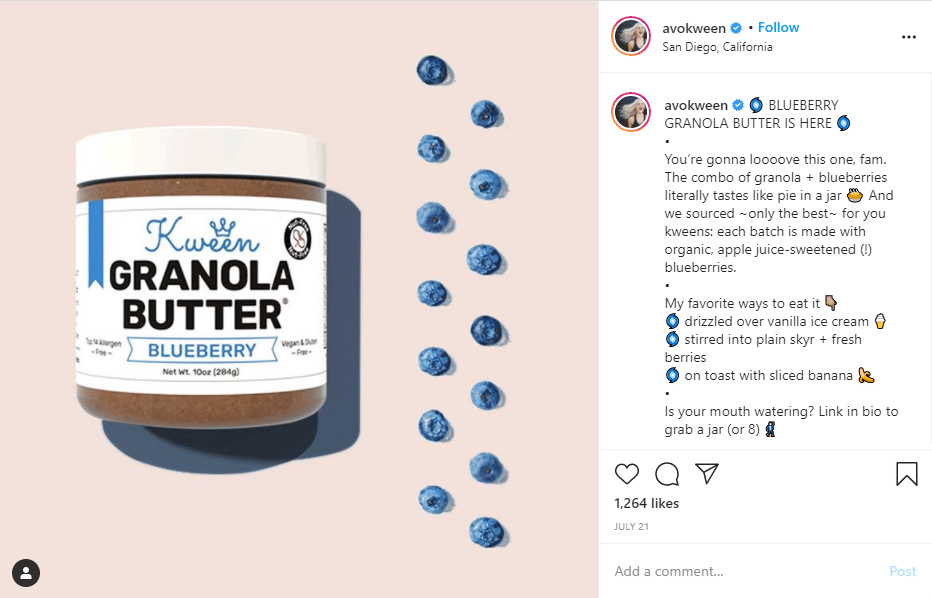 You might be familiar with the publication, Well and Good, but meet Well and Good Eats. They obsessively cover superfoods, nutritious recipes, healthy hacks + more. This is your one stop shop for better-for-you recipes and ways to change your habits in the kitchen.
Rachael doesn't mess around when it comes to good food that's also good for you. She is a registered dietician and trainer who shares delectable and nutritious meals. Whether you're looking for a HIIT workout or Taco Night Ideas, her page is the place to go.
Sharing food and plants, sparks joy for Rachel Conners. Her page showcases the highest quality recipes with ingredients that are always gluten free, refined sugar free and dairy free. We can guarantee there is one thing her food isn't free of, incredible taste.
No bread, no problem for this gluten-free queen. LA based, Nicole Cogan shares how it doesn't have to be a burden to be gluten-free. She shares photos of delicious recipes and restaurants that, that's right, you guessed it…are all gluten-free. Whether you eat this way or not, Nicole's feed makes you want to hop in the car and explore all the best healthy food LA has to offer.
Baked goods, bowls, and Boston, oh my. Amy shares the real deal on everything food and lifestyle. Her delicious bowls, lattes and restaurant finds are portrayed in the coolest filter and light. Next time you're in need of some breakfast inspo, dessert or last minute dinner ideas, Amy is your gal.
Food Trends On Instagram
If you're a food blogger or run a food business, now you know which trends are hot and how to watch for new trends to make it big on Instagram. Using Instagram effectively can help you share your food posts, gain followers, and expand your reach. By using these strategies, you can share your photos and delicious recipes with people who are excited to follow and learn from you. Let us know in the comments section below which tactics you're ready to implement to grow your Instagram and follow the trends.

Bonus Content
Looking for an infographic version of this article you can easily share on your website? Check out the material below and repost on your site easily using the embed code.
Share this Image On Your Site
Author Bio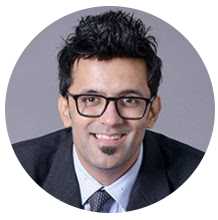 Jitendra Vaswani is a digital marketing practitioner & international keynote speaker. He's the founder of www.bloggersIdeas.com, and has been a marketing consultant, trainer, speaker and author of "Inside A Hustler's Brain: In Pursuit of Financial Freedom".
Instagram Growth Hacks
Join over 100k+ marketers and influencers who get the latest Instagram tips & tricks sent to their inbox every week