The Ultimate Cheat Sheet To Affiliate Links On Instagram
post
Affiliate links on Instagram are one of the best ways to passively make money on the platform. This marketing strategy allows anyone with a growing and engaged following to monetize Instagram.
How are Instagrammers making money with Instagram affiliate marketing? With the link in their bio! Though Instagram allows only one link per bio, we are going to give you the ultimate cheatsheet to use this link to effectively monetize Instagram.
Benefits of Creative Affiliate Marketing
Though affiliate marketing is a saturated field, there are many benefits of getting into Instagram affiliate marketing. The following are the most popular reasons Instagrammers turn to affiliate marketing:
Make Extra Money
As Instagram has become the go-to for PR and marketing campaigns, it isn't uncommon for both small and large brands to have some type of affiliate program. Instagrammers that want to earn extra money can promote their favorite affiliate products to interested followers. As your followers engage with you and make purchases, both you and the brand you're promoting will get a cut of the sales.
Making money with Instagram affiliate marketing may seem like the only benefit of using affiliate links on Instagram, but there's more to love about this marketing technique. In addition to earning more money, many influencers and brands choose to use Instagram affiliate marketing tools to increase brand awareness and engagement on Instagram.
As you promote services and products on Instagram, you'll tag the brand to mention them in a post. This engagement increases incoming traffic for the brand, generating more brand awareness for the product and service. Likewise, tagging this brand also helps you to attract new followers that are already interested in the brands you're promoting.
Build New Relationships
Instagram affiliate marketing is all about building connections. While the main benefit of creative affiliate marketing may seem to be making money, it's also an important way to build relationships and lasting partnerships.
Instagram affiliate marketing fosters these new relationships with interested followers as well as brands. This can lead to more opportunities for future sales and marketing efforts. Just as you'll deepen your relationship with new Instagram followers, affiliate marketing opens up the door to continued business collaborations for future campaigns with trusted brands.
What Are Affiliate Links on Instagram?
The link you use in your bio is the portal that your followers will go through to shop your favorite products and services. Successful Instagram affiliate marketing campaigns entice other Instagrammers to click through your link and make a purchase. Though this link is a crucial part of monetizing Instagram, you need to give your followers a reason to click through the link.
Upgrade Your Link-in-Bio
The first step in using Instagram affiliate marketing is to update your bio and the link in your bio. Instagrammers with successful affiliate marketing side hustles typically have creative and concise bios that give visitors a reason to want to click the link. With only 150 characters to do so, it's important that you share a little about yourself, relevant keywords, and hashtags.
Affiliate links on Instagram help connect your followers to the product or service that you're partnering with, allowing you to make money off the purchases.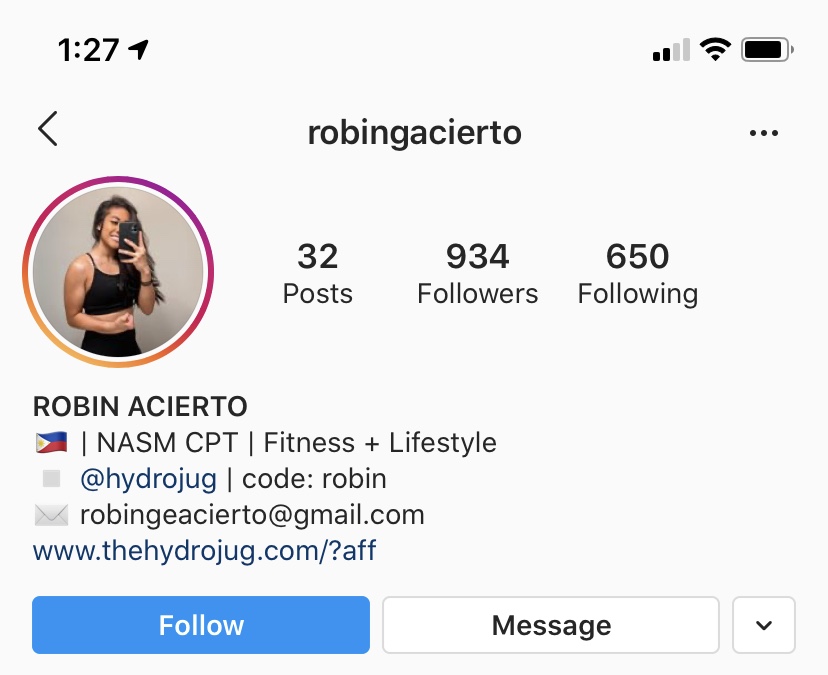 These affiliate links on Instagram are designed to drive traffic to particular products, eventually to convert interested visitors to customers. Affiliate marketers rely on Instagram influencers and the like to place these links in their bios.
How Affiliate Links on Instagram Work
The main benefit of Instagram affiliate marketing is to monitor the performance of marketers through specific links. While every affiliate program is different, the basic idea is this: you sign up to be an affiliate for a product or service, and whenever someone signs up for the service or purchases that product through your link, then you get a cut of the commission. Pretty cool right?
Through these affiliate links on Instagram, marketers are able to track transactions, giving Instagrammers that use a personalized link a cut of the sales they're responsible for.
This unique affiliate ID is added to the affiliate link, allowing vendors to identify who is responsible for the sale. Though each affiliate link is different, all links are made up of the vendor's URL and each individual's unique identification number.
How to Use Affiliate Links on Instagram Properly
Though affiliate marketing seems pretty straightforward, not all affiliate marketing is created equally. You'll need to know the best practices to use affiliate links on Instagram in order to optimize your profile.
To guarantee you'll get sales from your affiliate links on Instagram, it's essential that you already have a strong relationship with your followers that you know will interact with your affiliate links on Instagram. If possible, build up a larger following before joining an affiliate marketing program, this way, you'll already have a captive audience once you join an affiliate program.
In addition to growing your following, make sure your Instagram posts and profile are discoverable with the help of related hashtags. The right hashtags will help you monetize Instagram by putting your content in front of your target audience and interested Instagrammers. With the help of hashtags, you'll be able to convert any new followers to customers that shop with your affiliate links on Instagram.
Getting Started with an Affiliate Program
To get started with affiliate marketing, you'll need to find an affiliate program that meets your needs. Though there is no guarantee of sales with affiliate links on Instagram, thousands of users successfully monetize Instagram through this type of marketing.
As you look for an affiliate program, you'll see that affiliate marketing has two different approaches, either your company creates an affiliate program for others to join, or you can sign up for another company's program. In this blog, we are focusing on the latter option. 
When picking an affiliate program it's important to consider the following factors:
What is their product/service?
Honesty and transparency is a major part of how you monetize Instagram by helping you connect with your followers on Instagram. It's important to extend this level of authenticity to your affiliate marketing as well.
Look for affiliate programs that offer products and services that you already use and like. This way, you'll be able to provide an honest review when promoting your products, giving your followers the motivation they need to go through with a purchase as you monetize Instagram.
Does this product/service align with my brand?
In addition to determining whether you actively use or believe in the product you're choosing, it's important to consider an affiliate program that will help bolster your personal brand.
For example, promoting certain products and services that go against their brand's ethics or image is something that will negatively affect their marketing efforts and even their relationships with their followers.
Influencers like @DennisthePrescott make sure each brand's vision aligns with his own when working with an affiliate marketing program, like in this post promoting a hotel he stayed at when shooting his Netflix show, Restaurants on the Edge. You can promote your affiliate links on Instagram in the same way through captions and content that fits your brand.
What is the company's reputation?
Just as you should make sure that the affiliate marketing program fits in with your brand, you must determine whether or not the company you're considering is reputable. While they may have a popular product or service, if the brand itself has a shady history, this type of notoriety may eventually spread to you and damage your reputation. Avoid this by choosing to only work with reputable companies.
How does the commission work?
Through affiliate marketing works by giving influencers a commission of the sales they generate, each program may differ slightly. Be sure to carefully read the fine print of how the affiliate program compensates its affiliate marketers.
As affiliate marketing relies on multiple methods like discount codes, unique affiliate links on Instagram, and similar techniques, each program will have its own method of payment and rate of commission that its marketers earn, though affiliate marketing commission rates typically range from 5% – 30%.
For example, we at Kicksta have our own affiliate program where affiliates can make 50% commission on each sign-up, pretty cool right? Some other benefits of our program include bonuses for extra monthly commissions, timely payouts, and a dedicated affiliate management team- all things that you should be looking for when picking an affiliate program.
What is the method of payment?
Researching this aspect will help you determine which program is right for you. As 41% of affiliates experience payment issues with partners, it's better to work with a program that uses a reliable method of payment.
Many affiliate programs use popular payment methods like PayPal, FirstChoice Pay, Paxum, Payza, ePayments, WebMoney, Skrill, Neteller, Bitcoin, Western Union, wire transfers, and similar methods to pay their marketers. As you search for the best Instagram affiliate marketing programs, be sure to find one that uses a payment method that you're already familiar with. Once you have found an affiliate program right for you, you can now focus on how to best promote the product or service.
Join 100k+ savvy Instagram marketers
If you are struggling to get the attention you deserve on Instagram, sign up for Kicksta today and start attracting more followers who are interested in your brand.
How to Use Instagram for Affiliate Marketing
With more than 1 billion users, Instagram is still the best way to reach as many people as possible, which makes using Instagram for business the perfect way to promote the company that you work as an affiliate for. Get the attention of your followers with the following strategies to promote your affiliate program on Instagram:
Post to Your Feed
Even though affiliate marketing may be saturated with influencers, 60% of users learn about new products through Instagram, and one-third have purchased through the platform. There's always room for one more Instagrammer with a loyal following to start using Instagram for business!
Get started promoting your affiliate products by posting a photo of you using a product or service. Since your followers trust you, they are likely to want to try it as well.
Promote in Instagram Stories
Take advantage of using Instagram stories to promote your products. @Gossmakeupartist is one Instagrammer that is fond of using this method. Makeup artist Wayne Goss uses his stories frequently to promote his latest products.
While many affiliate marketers rely on sending their followers to the link in their bio, including a link and photos of the product in your stories will increase your reach.
If you have 10,000 followers or more, you'll be able to add the swipe-up link to your stories.
Even with fewer than 10k followers, it helps to post about your promoted products.
Use IGTV
When people understand something better, they are more likely to purchase it. You can use IGTV to demonstrate a how-to tutorial or a Q & A to help your followers understand the product or service better.
Set up an interview with one of the employees of your affiliate company and spend time discussing the product or service together. By giving your followers insight into the companies you're working with, you'll be able to boost their trust and build a stronger relationship with your audience.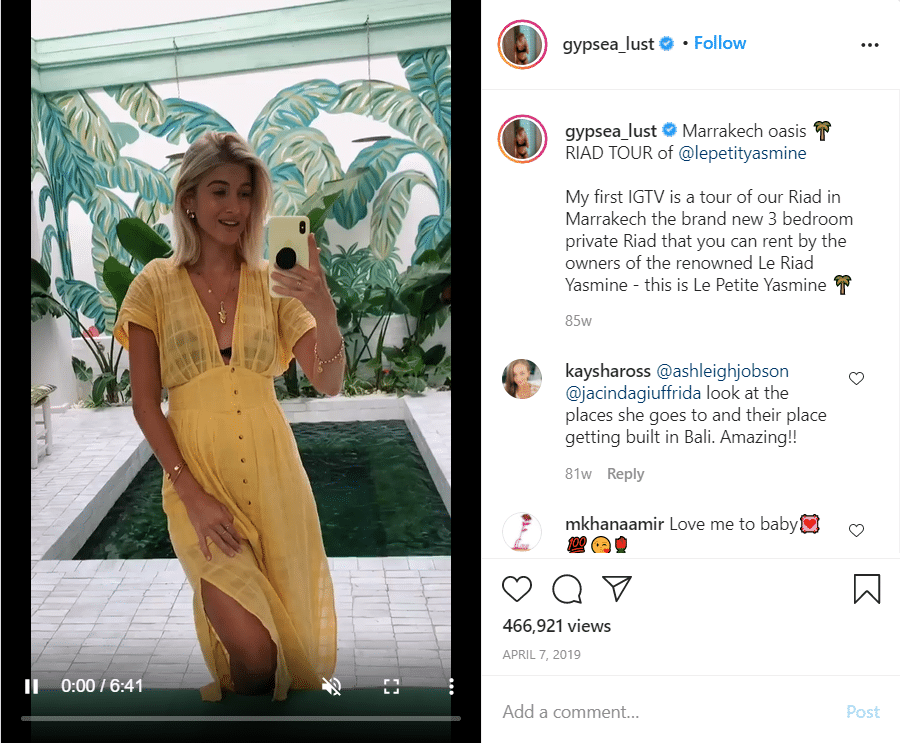 @gypsea_lust is fond of using IGTV to promote her travels and the brands she partners with. In this IGTV video, Lauren Bullen gives a tour of her recently rented Marrakech Riad, giving her followers a reason to try it for themselves.
The more your followers believe in the products or services you promote, the more willing they will be to try it themselves.
Product Comparisons
Product comparison posts are another way to use Instagram for business to show the benefits of the service or product you're marketing. With a comparison post, you'll be to show your followers how your affiliate products compare to the competition.
In a successful comparison post, it's important to list the reasons you use the brand you're marketing, why your followers should listen to you, easy-to-follow information, key comparison points, and a clear winner that your followers can invest in.
Reviews
Reviews are another popular way to use Instagram for business to sell affiliate products. As your audience looks to you for your honest and reliable opinion, you should always strive to share your real thoughts on whatever you're promoting. Giving an honest review that lists all the pros and cons of a product or service will help you build trust with your followers.
Gift Guides
If the holidays are around, create a gift guide with products that you recommend and make sure to include the product that you are an affiliate for. In addition to holidays like Christmas, you can create a gift guide for birthdays, Mothers/Fathers Day, Valentine's Day, and even a guide for a gift to a good friend.
Use Descriptive Captions
When posting a promotional post on your Instagram, it's helpful to describe the product or service in your caption and include a CTA at the end to encourage engagement with your followers
Depending on your product or service that you are promoting, good Instagram captions are those that are relatable, yet have a call to action to promote your affiliate link.
For example, @molllyyeh shares a personal story about her life that ties into her promoting the link in her bio. This is also a great way to promote your affiliate link.
Setting Up Affiliate Links on Instagram
Now that you know how to pick a program that's right for you and promote the program on Instagram, the next step is to set up your affiliate link. Instagram does not allow you to link in every post or put multiple in your bio, but there are many ways around this problem.
Affiliate link in Bio permanent vs. semi-permanent
The first option is to just use the standard one link that Instagram allows you to place in your bio. If you are only partnered with one program, then this is easy and you can keep the same link there all the time. Make sure to update the link every time you post about a new product.
If you choose to be an affiliate for different companies, then you will have to change the link depending on what you are promoting at the time. This can be a tedious task to constantly change the URL, so luckily we have a solution for you: use a link panel.
Link Panels on Instagram for Multiple Links
Link panels are apps that allow you to have one URL where you store multiple affiliate links on Instagram which you can then use for your bio.
Confused? Here's how it works:
Here at Kicksta, we created our own link panel called url.bio and it's super easy to use:
1. Go https://url.bio where you will see a short description of the product.
2. Next, click the blue Sign Up button in the top right corner.
3. Creating an account is free and will allow you the access to premium features such as unlimited links, customization options, analytics, and more.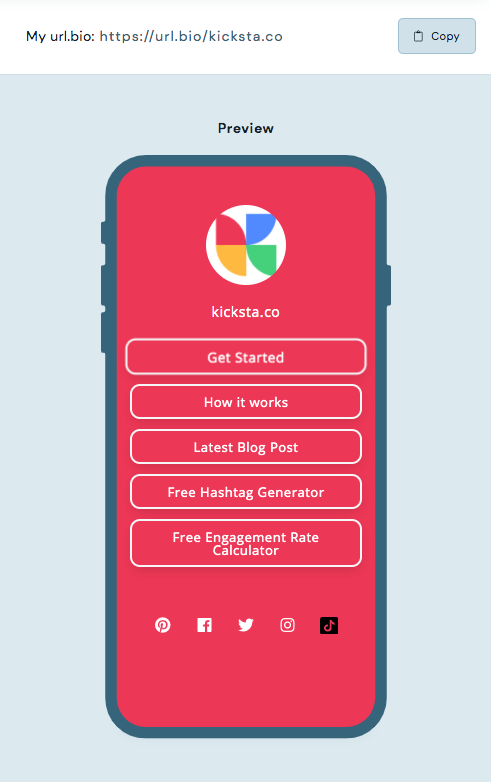 4. Now your account is ready to go! Now you can add as many affiliate links on Instagram as you would like under the URL and promote as many affiliate programs as your heart desires. url.bio will even let you see the analytics behind each link to see which or your pages is driving the most traffic!
To Wrap It Up
Using Instagram for business for successful affiliate marketing comes down to properly promoting your link through Instagram posts, captions, and stories, building solid relationships with your followers, and finding affiliate programs that work for you. With higher engagement and best practices for affiliate marketing, you'll be able to quickly turn the affiliate links on Instagram into a booming business. Be sure to keep this guide in mind as you monetize Instagram with creative affiliate marketing.
Instagram Growth Hacks
Join over 100k+ marketers and influencers who get the latest Instagram tips & tricks sent to their inbox every week