How to Monetize Instagram: Advice from a Full-Time Blogger
post
If you're a food blogger or hoping to become one, you're probably trying to figure out how to monetize Instagram as part of your promotion strategy.
It's true. Instagram is one of the most popular social media platforms to share content about food.
But simply posting hunger-inspiring photos of your lunch is not going to cut it. It's competitive out there.
In fact, it's predicted that there will be over 31.7 million online blogs by the year 2020.
So how can you get your blog to stand out from the crowd, not to mention actually make money while doing it?
Meet Carina Berry, Austria's Biggest Fitness & Food Blogger
While studying for her Master's degree Carina created an Instagram account focused on healthy food, fitness, and travel.
As her followers continued to grow, she realized an online blog would give her the opportunity to provide more value to those who were really interested in her content. And thus, The Carina Berry Blog was born.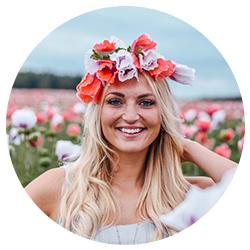 "I started food blogging really out of a passion and a hobby and not with the end goal to become a full-time food blogger."
Fast forward a few years and now Carina Berry is an incredibly popular food blog sporting over 50K followers on Instagram and landing dozens of paid partnerships each year.
So the question becomes: How can you take your food blog from side hustle to a full-time business.
To help answer that, we've teamed up with Carina herself who gave us her step-by-step strategy to monetize Instagram as a food blogger.
Here's Carina…
How do you create your content as a food blogger?
I live and breathe content creation on a daily basis. It starts by sharing daily Instastories, goes to different photo shootings for my gallery posts, food photography, recording YouTube and IGTV videos as well as writing out posts for my blog.
I actually have a content calendar, which I define every month that helps me stay organized and on top of everything. Every first of the month I sit down and define what kind of content I want to create for my followers this month.
I divide it into videos for YouTube, Freebies for my blog and Email lists, stories for more engagement on Instagram and new recipes for my blog readers. With that, I try to cover my main categories such as fitness and clean eating.
Creating your own unique style is important as well. The certain way you edit or take your pictures will make you stand out from others.
I edit my photos in Lightroom, which I believe to be the best choice for a food blogger. You can really go into details with the colors and enhance certain parts of your photos incredibly well. Sometimes I also use photoshop to retouch some bread crumbs or stains on towels.
Also, don't underestimate the importance of Instagram aesthetics and a cohesive feed. I actually wrote a whole blog post about how to create a color-coded, aesthetic feed.
What are your top 3 tips for gaining followers on Instagram?
1. Consistency is key.
Show up consistently. Don't post one day and then don't post for weeks and then three days in a row again. This is confusing. Pick a schedule and stick with it. I post every day at the best time for my industry.
My followers know when to expect my postings, which makes it easier for them to like and comment.
2. Content is king.
Get a camera and editing program and work on your photography and Lightroom skills.
It will be hard to grow on Insta if you don't have great content. Outstanding content is a must these days.
If you're having trouble locking down a style you love, check out these ten popular Instagram themes and how to get them.
2. Be social.
As simple as it may sound, Instagram is a social platform after all. If you give a lot, you will receive a lot in return. Spread the love. Like, Comment, Message people and create your own awesome network.
Want to automate your Instagram growth outreach?
What tools do you use to manage your Instagram account?
I manage my Instagram account with UNUM. It is a scheduling platform that I absolutely love.
Since I color-code my feed I really need an app that lets me preview my future posts and put them into the best order possible.
What are your favorite Instagram features?
I love the poll feature. It lets your followers engage with you. In general, I love everything that brings you closer to your followers and lets you learn more about them.
I try to use an interactive sticker every day on my stories. I also like that you can use hashtags in your stories now and can be found by new people this way.
When did you start to monetize Instagram?
It took me a year of hard work before I was able to monetize my Instagram account.
I started off with product sponsoring and after a while started charging some money for stories and posts. I remember when I first started out I was already super happy to receive products for free and I took photos for the companies in return.
With every client, I got better and more experiences. Like this, I was able to charge more and more with each following client and found new ways to monetize Instagram.
Once I made a good amount of money with cooperations, I branched out creating online courses that are making me passive income now.
Here is the link to my food blogging success online course. It will teach you everything you need to know in order to kickstart your own food blog.
Finally, I grew my blog and can charge for target-specific blog posts now, that have a lot of value for brands. As an influencer, you can not only charge for an Instagram post or story.
You can also charge for blog posts or recipe/photo or video production. Since you are basically a content creator expert companies will see the value for high-quality content and are also willing to pay for it. More options to make money are affiliate programs or making money through ad networks on your blog.
Soon I am planning on launching my own product as well as another income source.
How do you go about reaching out to brands for collaborations?
I am currently in a lucky position that brands reach out to me.
I get around 2-3 requests a day, having to turn most of them down, since I pick my cooperations very thoroughly.
Before that, I would specifically contact brands via email or Instagram direct message that I really wanted to work with.
I think it is important to find brands that really fit into one's portfolio and that you can really stand for and promote authentically.
Interact with the brand before contacting them. Comment on their posts, give them a follow and let them get to know you. After that send them a friendly personal message.
To help move the negotiation process along, make sure you have a professional media kit to show off your stats and list potential collaborations that would be beneficial for both you and the brand.
What have been some of your most successful collaborations with brands and why?
For me, the most successful collaborations are those where I see that the companies really love to use my photos for the company's online activities and are very happy with my content.
For example when I find myself all of a sudden on their website or they use my content for advertising.
It is also always a great honor if companies are so satisfied with my work that they invite me for hand-selected influencer events where only a couple out of their entire blogger pool can attend.
What are your goals for your brand as you continue to monetize Instagram?
My big goal is to create a whole online empire where I can share my knowledge and help others.
I would love to start a food blogging academy with different online courses and workshops. It should grow into a whole community of motivated foodies!
I also dream of creating my own product. Something that goes in line with everything that I do and communicates on my channels.
What the biggest piece of advice you would give someone who is just starting out?
Have a clear picture in mind of what kind of content you are going to create.
Define what you will stand for and also define what you won't stand for. Pick a niche and stick with it.
Too many people want to do a bit of everything. I recommend that it is better to really pick that one thing you are super passionate about and blog about that specific thing.
For example, I stand for clean fitness recipes and an active, balanced lifestyle. My brand has a happy and positive vibe trying to inspire others.
Working in a specific niche will give you a much better standing and will make it easier to work with brands as they will know exactly what you stand for and what your audience is interested in.
Do what you love and you will find success in it!

Instagram Growth Hacks
Join over 100k+ marketers and influencers who get the latest Instagram tips & tricks sent to their inbox every week