The Most Effective Methods To Get Instagram Followers and Likes
post
When thinking about social media goals, two of the most important things to grow are likes and followers on Instagram. For businesses, Instagram acts as a marketing tool, introducing new audience members to their brand, sharing what makes them unique, and converting them into customers.
Without an audience or a content strategy for growing your follower count, it can be hard to be successful.
You don't necessarily need hundreds of thousands of likes and followers on Instagram in order to make Instagram a successful, ROI-positive marketing tool. It's far more important that you have real, genuine followers who are excited to see your posts and are engaging with them.
Having a follower count filled with bots won't do anything except distort your numbers and analytics.
Likes and engagement on Instagram are important, too. The algorithm is incredibly powerful, and it's more likely to show and promote posts that are receiving quality engagement. You might not be able to pay your bills with Instagram Likes, but you can certainly use your audience's engagement as feedback on your content, messaging, and products. This information is valuable as you create your offers and sell on social.
Getting more Instagram followers and likes is important, but it can also be difficult or time-consuming to do. Many times it can feel like you simply don't know where to start.
That's why we've pulled together our best tips for implementing real, actionable methods to grow your following and increase your engagement rate.
Most Effective Methods To Get Instagram Followers
Let's start with growing your follower base since you'll need people following you to be able to get more Instagram likes and improve your engagement.
1. Automate Follower Growth
Engagement marketing is one of the best, most genuine ways to grow your following on Instagram, but it can take a lot of time. With engagement marketing, you can directly connect with potential customers, by following them on social media or interacting with their posts.
This acts as a tap on the shoulder, letting them know you're here and you like what they're creating. Then hopefully they'll come to visit your profile, and if they like what they see, they'll hit "follow."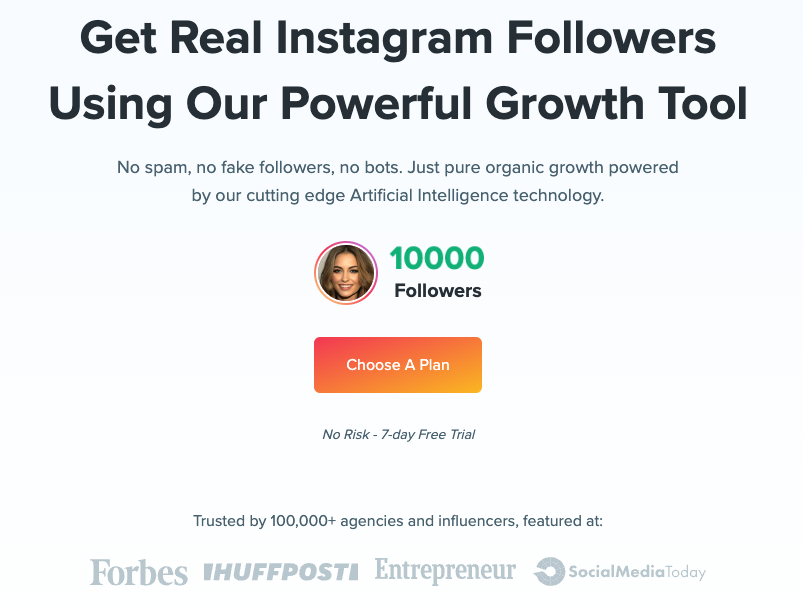 This is a great method, but finding and visiting every individual potential follower's profile can be tedious. If you can outsource and automate this process, you can save yourself time while still growing your following organically.
That's where a service like Kicksta comes into play. 
As a leading Instagram Growth Service, Kicksta gives companies the opportunity to automate actions capable of driving new followers to their profile. The platform allows companies to choose accounts they want to target with similar followers to the people they want to reach.
You can even go deeper with your targeting options, using hashtags, locations, and even gender-filtering tools on some plans.
Once you've chosen your target accounts, Kicksta uses an intelligent algorithm to automatically reach out to potential fans and "follow" their accounts and implement like-after-follow strategies. This encourages new followers to click on your profile and follow you in return.
Kicksta offers the option to unfollow accounts after they connect with you (improving your follower/following ratio). Plus, different plans come with a range of engagement options, such as Welcome DMs and Story Likes.
You can even track your growth progress in a handy dashboard, and leverage automatic whitelisting and blacklisting tools.
2. Ensure Smart Use Of Hashtags
Hashtags are an important part of any Instagram strategy, as they'll help new accounts find you on the platform. Instagram allows you to use up to 30 hashtags, and it's a good idea to use most or all of those. After all, this is a great way to land in front of new eyes and get more likes and followers on Instagram.
Before you start adding any hashtag that comes to mind, there are a few things to remember to ensure you're being smart.
Use hashtags that relate to your image as well as your caption. Don't use #icecream if your photo is of your dog.
Don't use banned hashtags or your post might not show up on any hashtag list. Check your hashtag ideas against this complete list of banned hashtags.
Use brand-specific hashtags if you want to create a campaign or movement centered around your brand.
Make sure you have a mix of location-based (if applicable), industry-based, image-based and brand-based hashtags to target as many new people as possible.
In this post, @ColourPopCosmetics uses a variety of different hashtags to connect with both their wider audience, and specific niches. Alongside trending tags like #CrueltyFreeMakeup, the company even uses a branded hashtag "#ColourpopMe". Branded hashtags are great for encouraging user-generated content, and audience engagement.
3. Create High-Quality Content Consistently
The real secret to getting more likes and followers on Instagram is consistent content. That's why your audience is going to show up every day to see your posts. You don't have to post daily, but choose a posting schedule and stick with it.
If you don't feel like you can commit to posting daily in the feed, but you know you can show up every day in Stories, great! Create three or four quality feed posts each week, and then spend time each day in your Stories connecting and engaging with your audience. 
Your feed posts should have a scroll-stopping image and a captivating caption that makes your readers want to stay and engage. Creating this kind of content on a regular basis isn't easy, but it's what can help set your account apart from your competitors.
When someone visits your page and debates about whether they're going to follow you, if you haven't posted in two weeks or two months, chances are they're going to click away.
In this example, @kellyroachofficial posts content in her feed daily – sometimes even multiple times a day. She shares a variety of types of content, from videos to personal pictures to quotes and more.
4. Partner With Other Brands Or Influencers
Partnering with another popular account in your industry can be an excellent way to grow your following on Instagram. When you choose a brand or influencer who is also focused on your industry, you'll know you're reaching the right audience.
There are a number of ways you can do a partnership like this. You can run Story takeovers, pay for a sponsored post on the influencer's page, or do a giveaway with a complimentary brand. Partnerships like this can be helpful because most of the time people who follow brands or influencers do so because they like and trust them. Therefore, they're ready to like and trust anyone new that is shared with them by the original account.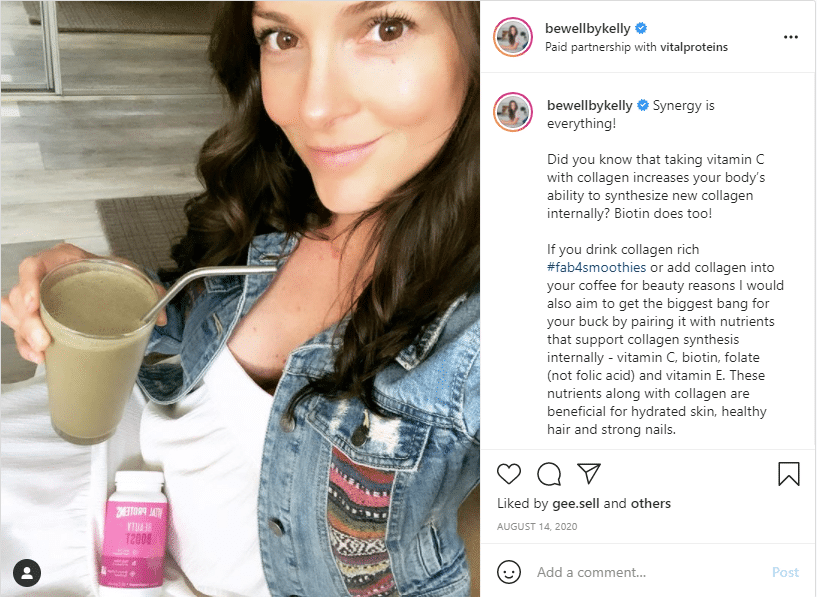 Here, @bewellbykelly has partnered with @vitalproteins to do a sponsored ad post for them. She has other posts that are not sponsored where she still just talks about the brand because it's one she uses and loves. 
Another great way to partner with brands and influencers is through a takeover. Here's an infographic on how to successfully host an Instagram takeover:
Share this Image On Your Site
5. Maximize Social Media Cross-Promotion
Cross-promotion can help you get likes and followers on Instagram.
"A current trend is posting TikTok videos on Instagram and encouraging people to follow you on TikTok."

– @kicksta_co
You could do the same thing in reverse, or promote your Instagram account on Facebook, on your blog, or in your email newsletters.
You might think that if someone is already following you on one platform, they'll be following you anywhere they have an account, but that's not always the case. Occasionally promote your Instagram account on Facebook or somewhere new and see if your followers elsewhere come over to Instagram.
Here, OrangeTheory Fitness Fairfield Township linked to their Instagram post encouraging people to thank their heroes. Not only will this spread kindness, it's also a way to promote their Instagram account on another platform. Cross-promotion doesn't have to be Facebook, though. It could also be YouTube, Twitter, TikTok, or Linkedin. Anywhere you're creating content is a good place to promote your Instagram account.
Most Effective Methods To Get Instagram Likes
Now that you've increased your following, let's talk about how you can encourage those Instagram followers to like and engage with your content.
1. Use Crisp And Catchy Images
Your Instagram images matter more than you may realize. After all, Instagram is a visual platform. Your images should be scroll-stopping and make your followers want to hit the Like button. Whether you choose to have photos of people, use flat-lay photos or even create graphics with text, make sure they're clean and beautiful to encourage people to stop and engage with the photo.
In this example, @christinajonesphoto uses beautiful, clean images to help her photos stand out. With a neutral white background her subjects pop, which encourages people to stop and look.
2. Write Engaging Captions
Once your beautiful photo has captured your audience's attention, it's time to write an engaging caption that asks them to do something. You want to start with a call-out to catch their eye, then share some good information, and finally end with a call-to-action that asks them to like the photo, leave a comment or do something else. Engaging captions can be the secret to improving your engagement.
In this example, @ZavviUK generates excitement about a trending topic in their caption, then encourages customers to engage and get involved with the post with a question. This helped the company to earn over 300 likes, and a number of comments, in less than a day.
3. Employ Instagram Contests And Giveaways
With a contest or a giveaway, you can ask your followers to like your post, leave a comment or even tag a friend in order to be entered to win. You can even partner with another brand or influencer to give your contest more reach and grow your following as a bonus.
People really like the chance to win things, so contests and giveaways can be an excellent way to boost your engagement and get more likes and followers on Instagram.
To celebrate their website launch and birthday week the @AshleyOlsonPhoto company created a fantastic giveaway, offering customers the option to win a huge range of prizes. All fans needed to do to be in for a chance to win was follow the account (as well as some connected accounts), like the post, save it, tag a friend, and share the content.
4. Post User-Generated Content
User-generated content (UGC) helps your audience trust you, and it encourages them to engage with your posts. UGC shows that real people like your brand and want to post about it. Typically these posts are easy for people to engage with because they're relatable, and it's a great way to grow your likes and followers on Instagram.
@GoPro is fantastic at not only using, but encouraging user-generated content on their Instagram account. They give customers a variety of branded hashtags to use for campaigns, and celebrate the best images on their accounts. This encourages customers to constantly showcase the amazing shots they get with their Go Pro cameras, giving the company plenty of content for social proof.
5. Interact With Your Audience By Responding To Comments
The best way to improve your presence on Instagram, and in this case increase your engagement, is by engaging with your audience. If people take the time to leave a comment on your post, respond back to them, especially within the first hour or so of posting.
Even with a massive 473,000 followers, @AshleyLemiex ensures she's always taking the time out to connect with her fans. On this post, which earned more than 10,000 likes within just a few weeks, Ashley has responded to various comments with heartfelt messages, motivational comments, and emojis. Not all of her responses are particularly long, but she constantly commits to showing her followers how much she cares.
Gaining Likes and Followers On Instagram
With these 10 tips, you're sure to have some new strategies you can use to grow your Instagram followers and likes. There are plenty of Instagram users who want to see your content and learn about your brand. It's time to give them the ability to find you and the encouragement to engage with you. And remember: Instagram is a social platform, so whenever you can engage with others, they'll be more likely to engage with you.
Instagram Growth Hacks
Join over 100k+ marketers and influencers who get the latest Instagram tips & tricks sent to their inbox every week