Instagram Search & Explore: All The Tips & Tricks You Need To Know
post
A brand that's aware of its strategy around Instagram search, is a brand that knows its social media game. The digital content consumption world is super competitive and brands that know how to remain visible are the ones that can thrive and grow their businesses. Instagram is no longer a simple photo-sharing platform that it was when it first began; it has grown into a huge sales tool for businesses – big and small.
Why Instagram Search?
Did you know that 80% of Instagram users follow a brand account? Getting discovered on Instagram search is something that brands should be at the top of their marketing strategy, especially for those whose target audiences love Instagram. Creating the visual content their audience wants to see is a brand's key to becoming more visible on the platform, finding more followers, and increasing their overall engagement.
Fueling Instagram Search & Explore via Engagement
For Instagram, engagement indeed feeds engagement. So, the goal of each part of your brand's Instagram strategy should be to drive engagement. Using the Instagram Search directory is a great way of telling the Instagram algorithm where you're headed when it comes to helping your audience discover your brands, posts, hashtags, and locations on Instagram.
If you question the power that lies within the 'Explore' page in relevance to your brand's visibility, please know that it is your best chance at earning additional organic engagement that goes beyond your unique follower base. This also highlights the importance of putting your best into each of your IG posts because you never know which post might go up on the Explore page.
Remember that every post should have the x-factor that would compel people to check out your brand's Instagram page and follow it further, if your content appeals to them. It is your chance at getting face-to-face with your prospective audience even when they are not seeking you, which might be the best marketing trick ever. So, learning the functions of your marketing strategy for Instagram Search and Explore is almost as important as knowing what to do after you purchase your domain.
Using the Search Engine
Instagram's Search page is a powerful tool, and it's unlike the search feature on most platforms. When you hit the magnifying glass, you'll be taken to a page that is already showing you posts the algorithm thinks will be relevant to you. You don't even have to search in order to see new content. These auto-populated posts are considered the Explore page. You can use the buttons at the top to access various categories of posts, whether that's IGTV, shoppable posts, travel, decor, food, art and more. Each of these categories acts as its own Explore page, with more posts automatically generated.
Within the actual Search function, you can choose to search accounts, tags or places. Instagram will auto-populate the most recent items you searched for and clicked on, and when you begin to search it will also provide you with suggestions.
So now that you know why having your posts on the Explore page is important, let's talk about actionable ways you can nail your brand's Instagram search and Explore feature to its full potential and gain an edge over your competition.
However, before you go full 'action item' on the points below, you need to keep this in mind: your prospect's Instagram search and Explore page is highly tailored based on their individual interests. It eventually becomes a mixture of posts from the people they follow or the posts they like. As soon as you figure out your way to fit into this equation, you will be able to improve your brand's Instagram marketing more than ever.
So, here are all the tips and tricks you need to know:
The Hashtag Optimization
To become discoverable on just about any social platform, hashtags play a very important role. This is even more accurate for Instagram, as hashtags are a critical component of all marketing strategies. Using the right hashtags that are relevant and trending can help you make the cut to land on people's Explore page and get the extra organic engagement your brand deserves.
Many sources suggest that using the most trending hashtags on all your posts is a great approach to becoming more discoverable on Instagram. We beg to differ from that, because the reputation of a brand lies in its integrity and not spamming with a dozen hashtags that may or may not relate to your brand. Long-tailed hashtags now exist, and they carry substantial value as well.
For example, if you're an activewear or fitness brand, you need to figure out the hashtags that are working in the workout and sports gear industry. You might choose hashtags like these:
#activewear #fitness #sportswear #leggings #gymwear #fashion #workout #gym #yoga #fitnesswear #yogawear #athleisure #fitnessmotivation #yogapants #fit #sportwear #sports #motivation #fitfam #fitnessgirl #style #running #active #apparel #activewearfashion #clothingbrand #sport
Based on what works for your brand, you can incorporate these hashtags effectively and reap the benefits of hashtag optimization.
Don't forget, though, that your hashtags need to match what your post is about, otherwise Instagram could flag it as spam. Make sure most of your hashtags relate to objects in your photo or things you talk about in your caption. Then, you can add a few that are more general that apply to your industry as a whole.
Consume Your 'Explore' Page Thoroughly
It is very important for new brands out there to understand how things work for Instagram marketing. Sometimes the best way to learn is by seeing. Before you start trying to get your posts on other people's Explore page, start by looking at what you see on the Explore page. Look for patterns that could be emerging from your Explore page, and create a summary of recurring tactics and strategies followed by others who made it there. This is where you should thoroughly take advantage of the Instagram Search feature and look through everything that is out there that stays relevant to your brand and your industry.
Instagram Stories Help You Sell Continuously
When all social platforms started rolling out 'Stories', no one was aware of their potential as a marketing enabling tool. Today, though, Instagram Stories are not just visually compelling points of engagement, they are discovery tools that work.
Don't be surprised when we tell you that over 400 million people use Stories daily. Your original, high value, and visually attractive stories have a very high chance of getting to the Explore page. So, here are some Instagram story formats that you can swear by:
Special Announcements
Sharing User-Generated Content (UGC) as stories, tagging users
New launches
Customer testimonials
How-To's and Tutorials
Brand/Influencer behind-the-scenes stories
Deals and promotions
Giveaways
Polls and quizzes
Stories are a great way to not only generate engagement with your audience, but they also help them connect more with you. For some, Stories are a great place for behind-the-scenes, which can allow the people who see your Stories to really see you. People connect with other people.
Add Location Tags
The more you can tag your posts and Stories to classify the information shared in them, the better. Using hashtags, geotags or mentions can also help you increase your chances of having your content shared on the Explore page. People who frequently search for a particular city, hashtag or account could easily be shown your content that talks about that particular topic. One of the easiest ways to ensure the algorithm accurately categorizes that content is by adding tags.
As a bonus, tags can also be used as great conversation starters. New people who come across your post or Story might have something to say related to the location you tagged. Now you have the chance to talk with them one-on-one and help them get to know your brand better.
Use Trending Filters
In an extension to the use of Instagram stories as mentioned above, using trending filters is like getting on the bandwagon to the new fair in town that everybody wants to attend (a little countryside reference, eh!). For example, very recently 'the Gibberish Challenge' and 'Lil Icy Eyes' filters were tending on Instagram and everyone was posting theirs, even fun brands.
The augmented reality face filter went viral on IG and became synonymous with popularity. That's your clue there! Now, you don't need to try every new filter when it starts to trend, but adding filters as a tactic can be a great tool
IGTV Works for Brands That Want to Be Discovered
For all brands out there on Instagram trying to get their followers, IGTV videos are a great way of getting traction by making it to the Explore page for their target audience. People love watching IGTV content and Instagram knows this as the algorithm is ever-learning based on the consumer behaviors on the app. So, it's time to create highly-engaging and fun IGTV content for your brand and push them out for your audience to see.
If you are new to the concept of creating IGTVs, know that it is an app-specific video platform for your content. This content platform works best for portrait or vertical mobile videos but don't consider this a bottleneck if you are just starting out.
If you have a brand account on IG, you can create and upload IGTVs that are up to 10 minutes long. However, if you have a verified account, you can provide your audience with hour-long IGTVs. Here are the most important factors that will help you create a great IGTV for your audience.
Duration of your IGTV
The vertical orientation of your videos
The chosen content format
Targeting the right audience
Vlogs, make-up tutorials, quick styling videos, time-lapses, User-generated content, BTS, and other DIY tutorials are some of the most trending IGTV ideas at the moment. However, individuals and brands are experimenting with other types of content and posting their videos in a series of parts to keep their audience hooked.
When getting started with IGTV videos, it's best to just start. Once you've made a few for practice and have gotten the hang of it, you can begin to optimize them. Try adding various camera angles so it's not a 10-minute talking head video. Or, if you want to keep the talking-head style, add in captions, stickers or other elements to keep it entertaining. Make sure your first few seconds are compelling, because that's what will captivate people to continue watching (or make them want to click away).
Join 100k+ savvy Instagram marketers
If you are struggling to get the attention you deserve on Instagram, sign up for Kicksta today and start attracting more followers who are interested in your brand.
Your Posting Schedule Matters
The core of finding your way to the Explore page is by finding the time when people are looking for content so you know when to post yours.
Finding the best time to post your content on IG will amplify your posts in people's Instagram Search results. However, this is going to differ for the business profile of various brands. So, take some time to look through your Instagram analytics to see when your audience is online. Then, make sure you're posting your content at that time. Not only will it make it easier for your followers to see your content, but you'll help yourself be shown on the Explore page, too.
The Content You Post Matters
It won't do you much good to be featured on the Explore page if your content isn't compelling enough to encourage someone to click on it and follow you. The best way to increase this click-through is by creating and posting eye-catching photos. You may choose to create quote graphics that are easily shareable using a program like Canva. Or, maybe you prefer to use photos that you edit. Adobe Lightroom is an excellent tool for one-click editing when you have presets. This allows you to create an overall cohesive brand.
If your photo has a person in it, most people are more likely to engage with it, because people are drawn to people. Adding text to your photo is also a great way to capture people's attention. And, depending on your industry, sharing a few slides of text teaching on a particular subject can also capture people's attention, especially if your customers are other businesses.
Editing photos doesn't have to be a difficult process, but it can make a major impact when it comes to how people engage. You don't need to be a professional editor to brighten a photo, reduce shadows or even highlight contrasts. Doing so will encourage people to click on your photo, which leads them to reading your caption and potentially following your brand.
Engaging is a Great Way to Become Discoverable
In best community engagement practices, brands need to engage with their counterparts in order to become more discoverable. Following and engaging with similar brands gives Instagram access a wealth of information about the nature of your account. You'll also be able to find real, organic new followers this way, as well as accounts you can build relationships with and maybe even partner with in the future.
Commenting and liking others' posts and collaborating with them to create a content piece together are some other ways to let Instagram know that you are ready to appear on the Explore pages of the new prospective audience. Because you're engaging with this particular account, Instagram will think that you're interesting to their audience, and be more likely to share your posts with them.
Hosting or participating in an Instagram takeover is also a very popular form of collaboration happening on the platform these days. Based on what suits your requirement, you can choose from types of Instagram takeovers i.e. Stories, Lives, and Posts. It is a great way to amplify your audience or simply promote your new launch.
Instagram takeovers allow you to share your information with a new audience or bring someone new to your audience. Either way, you're likely to increase your followers and build credibility with Instagram for appearing on the explore page.
Customize your Instagram Search and Explore page
The best thing you can do about optimizing your Instagram's Search and Explore functionalities is engaging with that page, too. Spend some substantial time on the Explore page as your brand's social media curator. While you're there you'll be able to interact with accounts and individuals that are relevant to your brand. Take some time to think about what content is being shown to you and why that might be the case. Did you recently start engaging with a new account, and now their posts are on your Explore page? The more you interact with accounts that are relevant to you, the sooner your page will be curated and customized, and you won't have to filter out unnecessary content to go digging for what matters.
If you're ready to start now, you can always reset the explore page for a fresh start. All you need to do is let Instagram know that you are not interested in a content type. You just need to simply click on the three dots at the top right corner and select "See fewer posts like this."
Continue to do this with any posts that are no longer relevant, and soon Instagram will follow up with content that you really want to see.
In a nutshell
Instagram is indeed a very smart platform, which makes it an effective marketing tool that generates extensive engagement. The Instagram algorithm is smart and at times can be hard to get through. However, by creating content that your audience is interested in and ready to engage with, you can use the algorithm to your advantage. By following the tips and tricks mentioned above and driving high engagement rates by posting what their audience wants to consume, brands can indeed find themselves on people's Instagram Search and arrive on Explore pages of many others.
Which tactic will you implement first?
Author Bio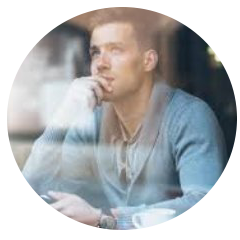 Mark Coleman is a passionate writer, currently working as an Editor at MarkupTrend. He enjoys blogging and interacting with the marketing community. Follow him on Twitter @mark_colemn.
Instagram Growth Hacks
Join over 100k+ marketers and influencers who get the latest Instagram tips & tricks sent to their inbox every week