How to Use the Instagram Swipe Up Feature to Ramp Up Traffic
post
The Instagram "swipe up" feature is a wonderful way to connect with your target audience and score more visits to your website. 
With over 800 million active users (and counting!) to its credit, Instagram is an increasingly important platform if you're serious about building your brand.
Today, social media marketing consists of more than just posting good content. You need to find new ways to keep your audience engaged.
Utilizing this Instagram Story feature will help you do just that.
So, let's go over everything you need to know to get started with a bang.
What Is Swipe Up (and How Does It Work)?
If you're already familiar with Instagram, then you also know that you have two choices as to how you can approach a new post.
You can make a standard post to your main Insta-feed or you can post the content to your story instead.
Feed posts stay up permanently, but stories disappear after 24 hours. At first glance, the story feature may seem unnecessary or redundant, but using it can help your business by:
Allowing you to post more frequently and boost engagement

without over-flooding people's feeds

with your content.

Helping you leverage the power of real-time marketing to build brand awareness and get people's attention when it matters most.

Keeping you as visible as possible when it comes to your followers' feeds. (Stories always appear at the top of everyone's Instagram feed.)
"Swipe up" is a handy feature you can use to make choice story posts more powerful.
Swipe up posts look just like any other story share except for a "see more" or "swipe up" arrow at the bottom.
When the viewer instinctually swipes up as directed, they're magically transported to a destination of your choosing (e.g. a product page or your company website). Pretty cool, right?
How Do I Add Swipe Up to My Story?
Swipe up isn't available to every Instagram user, so if you're interested in using it to boost your brand cred and site traffic, you'll need to meet a couple of baseline requirements first.
Is your business's Instagram an actual business account? (If it's not, it's fairly easy to convert it to one.)

Does your account have a minimum of 10,000 followers?
Once you can answer "yes" to both of those questions, you can start embedding swipe up links into your stories and reaping all the benefits. 
@faredepot uses the GIF's and animation to promote their swipe up link: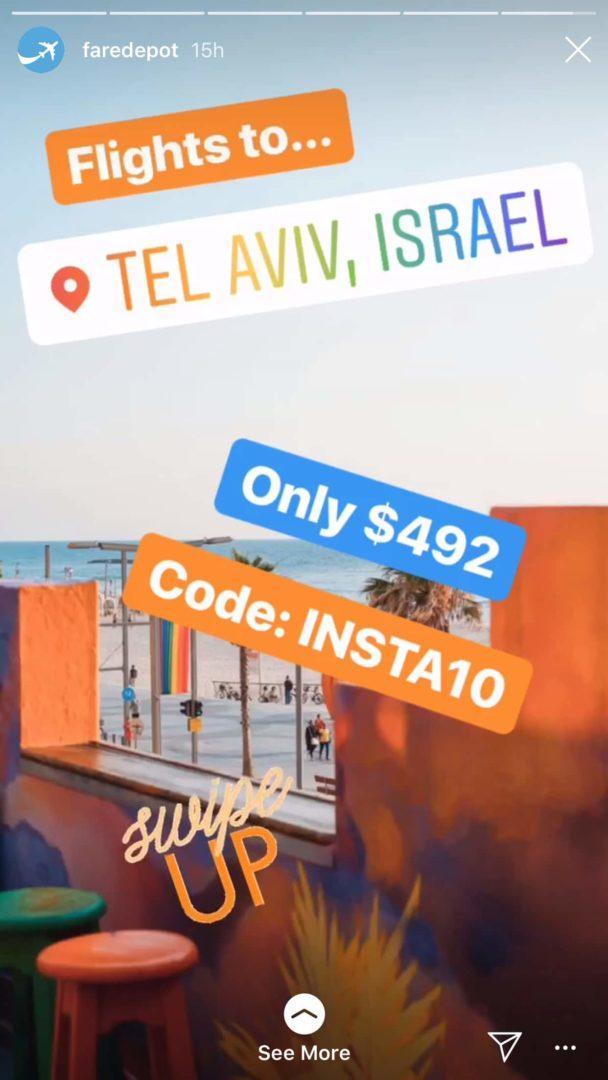 Just choose your base image, click the indicated link icon at the top, and paste in your link of choice. That's it!
Using Swipe Up to Your Advantage
Like stories themselves, adding swipe up to your Instagram strategy is a game changer on a number of levels. The following are just a few of the biggest reasons why eligible businesses should be taking advantage of it.
Boost Your Traffic
Naturally, you have your business's main website link included in your Instagram bio, but that's not enough if you really want your followers to check out what you have to offer.
For one thing, people's attention spans are short, so most aren't going to click away from a post without a really good reason. Plus, you only have one bio link, so yours may not be an efficient way to showcase new products.
Of course, you can still showcase new additions to your product or service catalog by using your feed, but definitely include a swipe up link in your stories as well. (Use the same strategy to make customers aware of flash sales, limited time events, and specials as well.)
People are more likely to actually see the post in the first place. The easier you can make it to click through to your actual product page, the more likely you are to get an actual sale out of the deal.
Show Another Side to Your Company
Since anything shared to an Instagram story disappears after 24 hours, most people use theirs to present a side to their life that's more spontaneous and "real" than they'd otherwise show.
For businesses, stories represent a golden opportunity to humanize themselves in the eyes of their target demographic.
That said, swipe up posts can undoubtedly help you boost your web traffic and sell more product. However, they can also help you connect with your customers on a very personal, pleasantly human level.
Modern consumers – especially those that use social media to keep up with their favorite brands – like to feel like they "know" a company on a deeper, more meaningful level.
@jennakutcher shares meaningful stories that are easily accessible through a swipe up link:
Stay Visible and Relevant
Posting too frequently to your standard Instagram feed can overexpose you by flooding your followers' feeds with an abundance of content that may or may not be of interest to them at a given moment. Plus, you can never really be sure that everyone is seeing your most important time-sensitive posts in time to actually act on them.
Stories stay right at the top of a user's feed at all times, especially those of valuable social media influencers, so they're ideal ways to alert followers to ultra-relevant information, news, or links. The format of Insta-stories also makes it easy for people to flip through all your posts quickly, paying most attention to the ones they're most interested in.
In other words, swipe up stories are a terrific way to add more flexibility and range to your Instagram presence as a business, so it's well worth exploring.
Instagram Growth Hacks
Join over 100k+ marketers and influencers who get the latest Instagram tips & tricks sent to their inbox every week